Dubai is undoubtedly a shopper's paradise. It is home to some of the most well-known fashion, perfume, accessory, and jewelry brands and designers. While Dubai's glittering malls are quite famous around the world, the city's bustling and traditional souks are also quite popular among locals and tourists. Hidden gems and rare finds can be found in Dubai's old souks, often at competitive prices. The Deira Gold Souk is one such popular souk, which is also the world's largest gold market, home to over 300 shops. Walk through this glittering bazaar to find designs from around the world that are crafted with a variety of carats.
Here's all you need to know about Dubai's Gold Souk along with some shopping tips.
About Dubai Gold Souk:
The Dubai Gold Souk in Deira is the most famous and oldest souk in Dubai and is one of the best things to do in the city not only for those who wish to buy gold but also for tourists who want to admire the dazzling jewelry without the intention of buying. The Dubai Gold Souk offers a gigantic selection of gold pieces with designs from around the world. It is home to hundreds of shops whose exquisite craftsmanship makes this gold market unlike any other. Some of these jewelry shops have been in the Gold Souk for decades which guarantees you to find the best of the best gold and precious gemstones pieces here. Whether it's a beautiful addition to your everyday jewelry collection or splashing out for a special occasion, The Dubai Gold Souk makes it very easy for you.
Also Read : Your Guide around Dubai's Oldest Market - The Gold Souk
What to expect?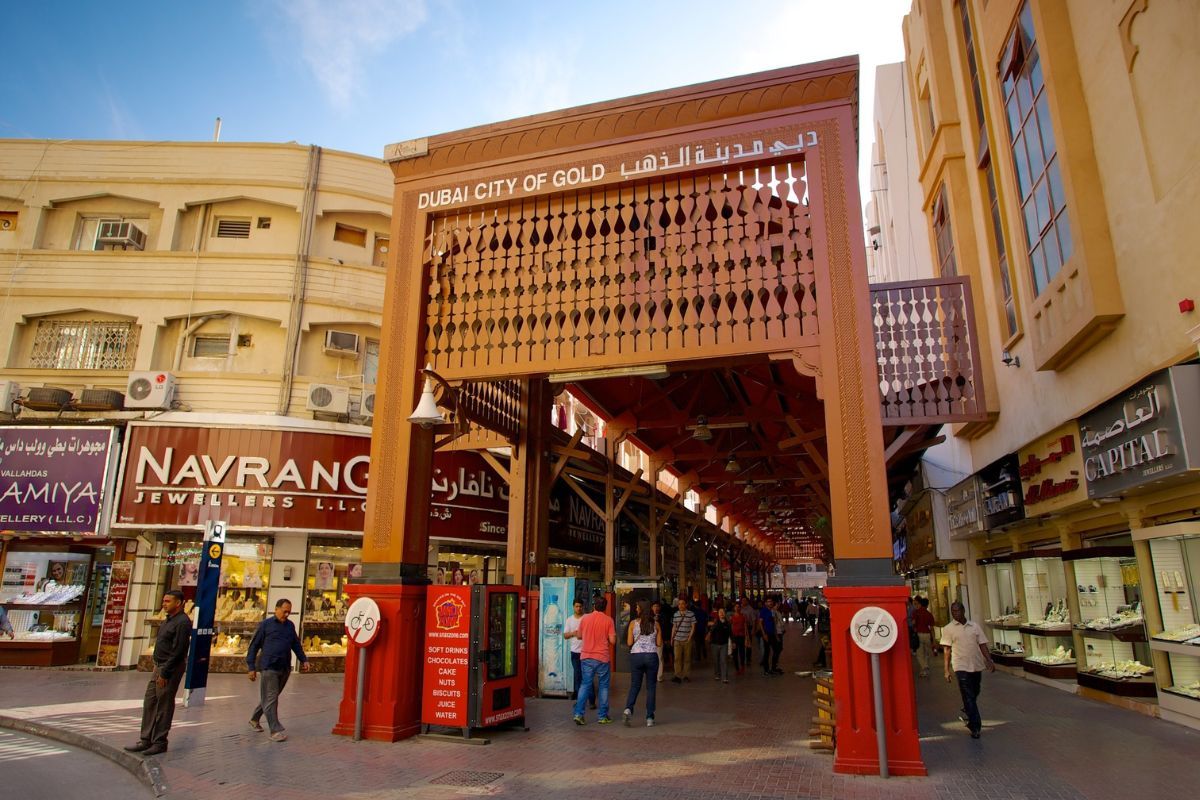 The Dubai Gold Souk is one of the world's largest gold markets, it has helped to boost the trade of precious metals and gold in Dubai, which has been going on for over a decade, earning the city the moniker "City of Gold." If you enjoy history, fashion, or simply love being surrounded by tons of gold, don't miss out on this gold market in Dubai. Since UAE has no import duty tax on gold and has very low taxes on jewelry, buying gold in Dubai is significantly cheaper than in most parts of the world, hence the gold souk in Deira attracts buyers from all over world.
As soon as you enter this bustling souk, you'll notice long lines of market stalls selling a wide range of authentic and eye-catching gold jewelry. The Dubai government strictly regulates all merchandise, so you can be confident in the authenticity and quality of the items you want. In addition to gold, there are diamond-encrusted ornaments, pearl strings, platinum, and silver.
Shopping at Dubai's Gold Souk:
Deira's Gold Souk has an amazing collection of jewelry. There are hundreds of stores that sell jewelry with designs from all over the world.
Popular jewelry stores in Deira Gold Souk include:

· Malabar Gold and Diamonds
· Bafleh Jewellery
· Joyalukkas
· Damas Jewellery
· Kalyan Jewellers
· Jawhara Jewellery
· Damiani
· Pure Gold Jewellers
· Rosella
· Kanz Jewels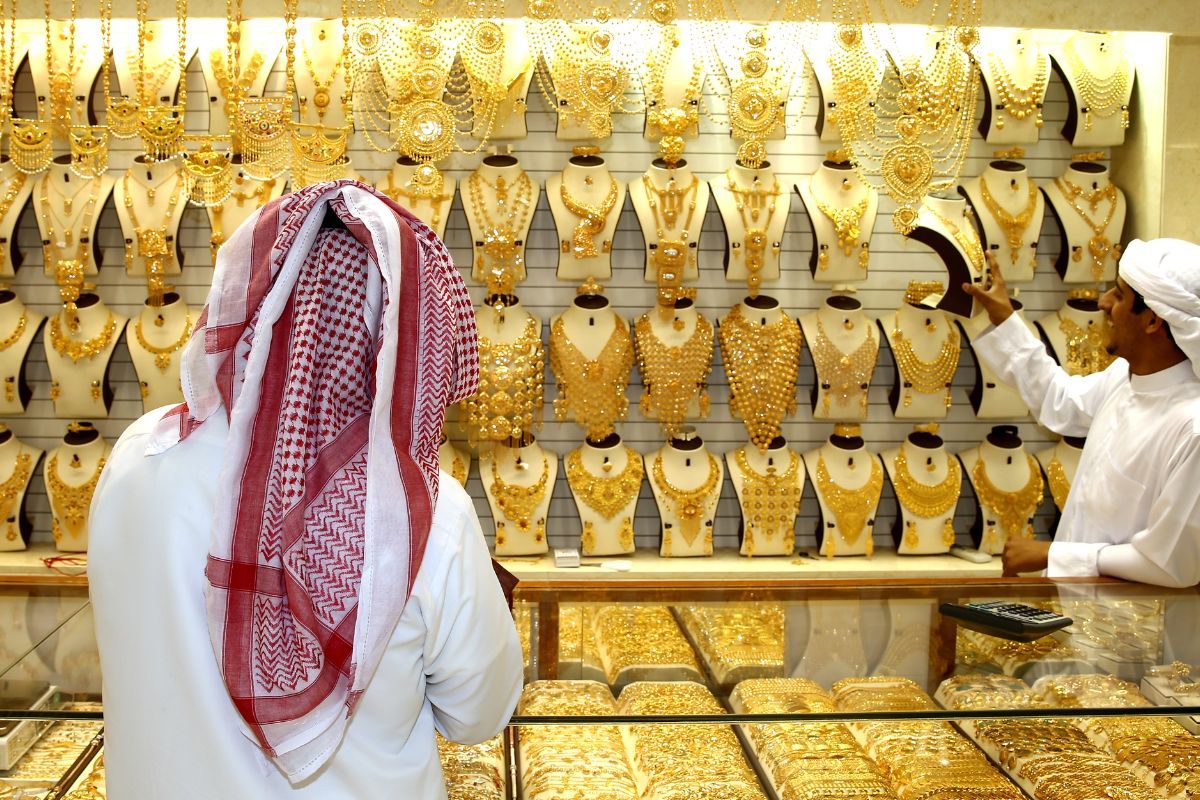 Along with several other smaller gold stores. Deira Gold Souk has something for everyone's taste and budget, with elegant rings, delicate bracelets, grand necklaces, and pretty earrings.
Fun Facts about Dubai Gold Souk:
· Did you know that the Dubai Gold Souk was home to the Star of Taiba, the world's largest ring and a Guinness World Record? Taiba from Dubai owns the piece, which weighs 64 kg. It cost slightly more than half a million dollars to build, and its current cost is estimated to be three million dollars.
· There was also a Gold ATM in Dubai where you could exchange money for gold bars, coins, and medallions. You didn't have to wander around the Gold Souk looking for a piece of this precious metal: you chose the grams you wanted, pay the amount through the machine and you have your piece of gold packed in a box and ready to go.
· Every year, the Gold Souk participates in the Dubai Shopping Festival, offering buyers giveaways and special prices, so make sure you mark your calendars and satisfy your gold cravings.
Location:
The Dubai Gold Souk is located in Al Ras Deira, on the other side of Dubai Creek which is a short walk from the other bustling souks and Abra stations. It is next to Dubai Fish Market and Vegetable Market.
Also Read- Dubai Creek Harbour: The Iconic Waterfront

How To Reach Dubai Gold Souk:
You can visit the Dubai Gold Souk by metro, The Al Ras Metro Station is a 10-minute walk far for the Gold Souk. The Baniyas Square Station is also near the souk. From either of these stations, you can anyone the directions to the gold souk as it is a popular location in Deira. You can also reach there by RTA bus by taking any of these busses – C07, C09 and C28. Or you can also take taxi or book other taxi services like Uber or Careem to reach your destination.
Timings:
The Dubai Gold Souk in Deira opens from 10:00 am to 10:00 pm on Saturday to Thursday (Many Gold Souk shops close from 1 :00 pm to 4:00 pm). On Fridays, the Gold Souk opens from 4 PM to 10 PM.
Attractions near Dubai Gold Souk:
The Dubai Gold Souk is a popular tourist attraction in the heart of Old Dubai. Nearby attractions include the Al Fahidi Historical Neighborhood, the Textile Souk, the Shindagha Historic District, and the Bur Dubai Grand Mosque. The neighborhood is also close to the popular Al Seef neighborhood.
Shopping tips:
Below are some handy tips for those visiting the shops in Deira Gold Souk:

· Take your time and visit several stores before deciding.
·  Check the gold prices online before you go to the Gold Souk Market. The gold price in Dubai is determined by international market rates and can fluctuate on a daily basis. This means you can take advantage of lower prices to get a good deal.
· Be prepared to bargain. While the gold rate is fixed, the making charges, or fees charged for the creation of the piece, are negotiable. There is a wide range of prices between what jewelers will quote and what they are willing to accept. When you bargain, jewelers expect you to have price buffers.
· Because of their prime location in the Deira gold souk, many retailers charge a higher price. So, make sure to take a glance into the nooks and crannies to find a good deal.
· In Dubai, gold is sold by the karat and weight. The higher the Karat of gold, the higher the price. If you want pure gold, you must buy 24 Karat gold, which is the most expensive. Since, pure gold is soft, it is mixed with other metals to achieve the desired finish.