The Area:

The record-breaking structures and the cutting-edge technology integration are, of course, the main draws in a city as lavish as Dubai. Dubai continues to be one of the most exquisite tourist destinations in the world, with dozens of malls, parks, and hotels. The genuine and authentic aspects of Dubai, however, are frequently overshadowed by luxury and extravagance. Deira is where Dubai's history began. Deira, which is frequently referred to as "Old Dubai," is still one of Dubai's most genuine neighborhoods and has a strong identity all its own. Its history can be traced all the way back to the middle of the eighteenth century when it served as Dubai's commercial center and the ideal location for all travelers to exchange goods. And, while the area has evolved over time, it has remained true to its roots. One of the traditional and historic attractions in Deira that has also adapted to the changes while staying authentic is the Deira Waterfront Market!
Here's everything you need to know!
Overview:

The Deira Waterfront Market is a one-stop shop for all of your food shopping needs, and it's conveniently located close to the Hamriya Port in the center of Dubai. The market takes the place of Dubai's well-known landmark, the Deira Fish Market, which has been open since the beginning of 1958 and beautifully combines the traditional Emirati Souq with the more contemporary city that Dubai is today. It serves nearly 800,000 visitors each month and is one of the largest food markets in the Middle East.  The market is an energetic hub of activity. You will see a variety of fish that the fishermen have recently caught as you pass through the facility's lovely corridors. The market has a modern retail area that is air-conditioned and furnished with cutting-edge technology to help shoppers in their experience. You don't need to haggle over prices because everything costs much less than at other stores. If you're exhausted from shopping, you can unwind with a delectable meal or a revitalizing beverage at the Deira Waterfront Market's restaurants and cafes. This market is open 24 hours daily, which only adds to its popularity and its high demand. It is also very accessible for all visitors and especially traders, as it is right across the port where they can use the dhows to catch the freshest goods! The market holds five different and popular sections: seafood, meat, fruits, and a hypermarket.
Here are the details:

Seafood: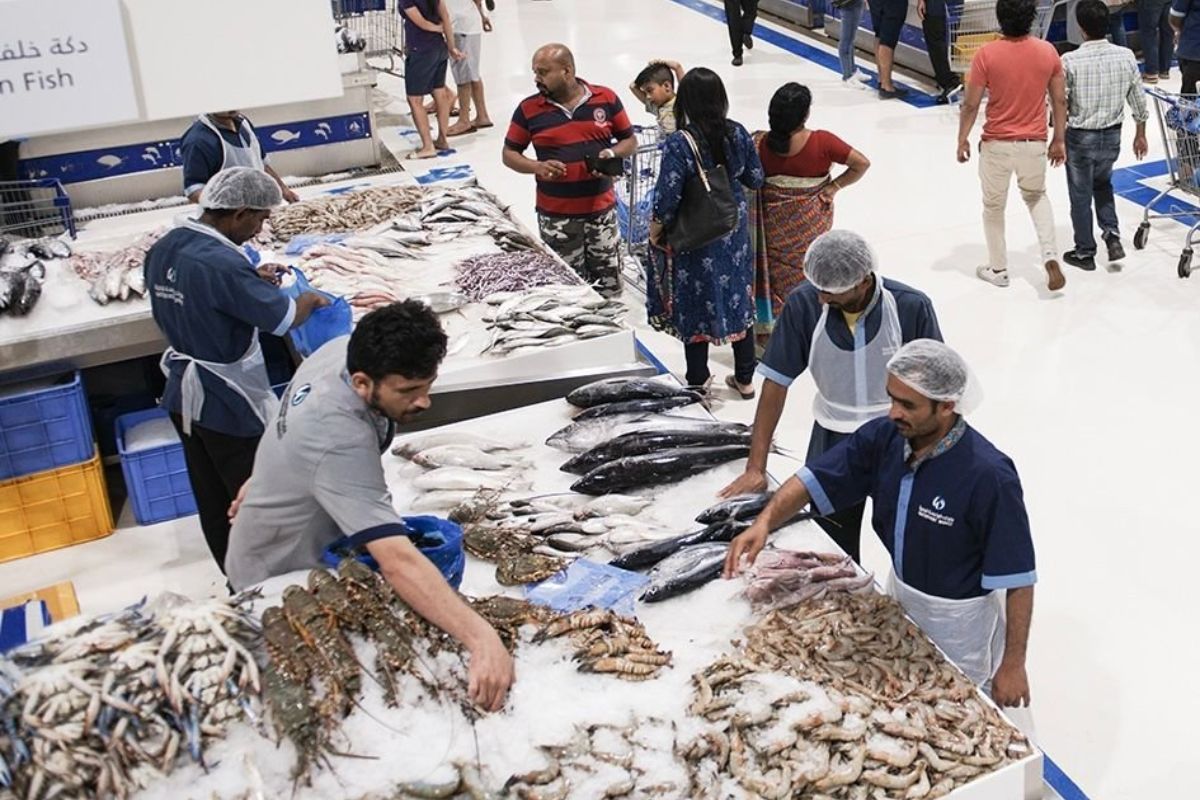 The Waterfront Market, which is primarily known for being a seafood-selling hub, has over 500 vendors who display and sell more than 350 different kinds of seafood and fish from the Arabian Peninsula and other parts of the world. The Waterfront Market originated as the Deira Fish Market Dubai, however, in 2017 it was renovated into the Waterfront Market. Since then, the market stayed to its roots and dedicated a spacious area for the fish market, making it the largest section. Any fish and seafood lover must pay a visit to The Fish Market Dubai if they're looking for fresh, delectable seafood. You can find everything from live and fresh fish to dried fish and seafood goods. Kingfish, hammour, Omani prawns, yellow bar angelfish, sea bream, and other international fish can all be found at this famous market. Additionally, the market has an integrated cutting and cleaning area where customers can have their fish and seafood cleaned and prepared according to their preferences.
This popular section is open 24 hours a day
Meat & Poultry: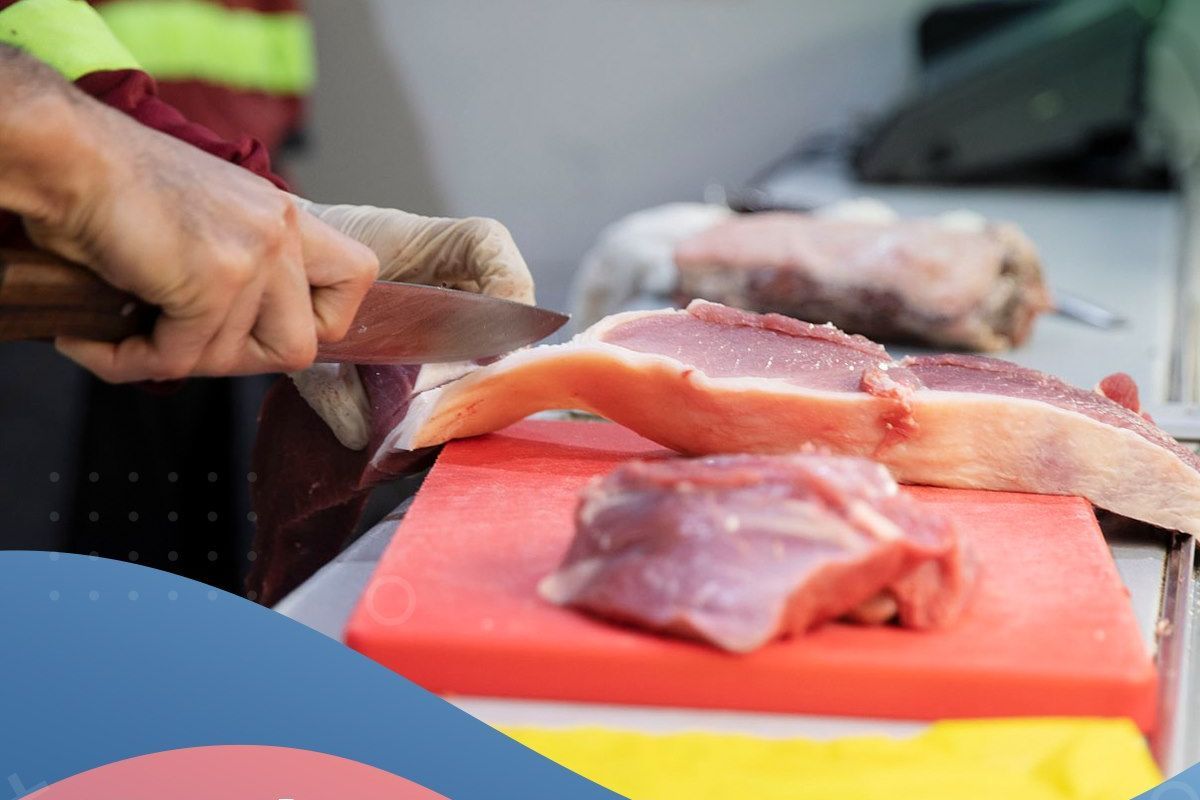 Waterfront Market has one of the largest meat and poultry sections in the UAE. The Deira Waterfront Market's meat section has over 80 butchers who prepare a variety of meats, from lamb and beef to camel, goat, and chicken, according to your preferences. You can find prepared meat here, including sausages, mince, patties, kebabs, cubes, and strips. These cuts, which are divided into various stands, are either domestically produced or imported. You can choose your cut without worrying about the quality because everything is fresh. The specially designed facility has a cleaning and cooling area that makes sure the meat stays fresh. To keep the areas clean and hygienic, the sections are also flushed frequently with fresh water.
You can visit the Meat and Poultry section anytime, as its open 24 hours a day.
Fruits and Vegetables: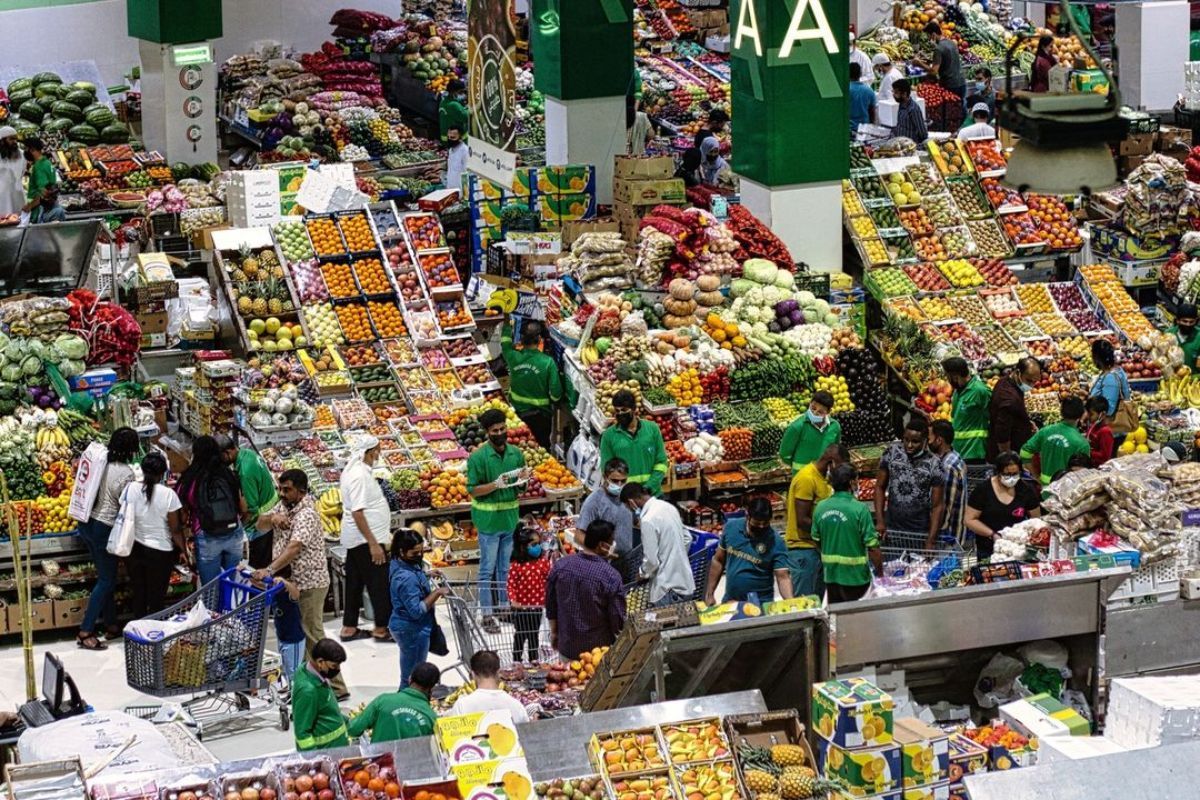 Although meat and seafood may be the main attraction, if you look a little further you will find a scene of fruits and vegetables. More than 150 stalls that sell fresh local, regional, as well as imported fruits and vegetables can be found at the Deira Waterfront Market. Due to Waterfront Market's good connections with regional farmers and connections to both domestic and international delivery networks, the produce is always absolutely fresh when it is sold. Many seasonal products, such as jujubes, figs, pineapples, herbs, and other locally grown and sourced produce, can be found at the market in addition to year-round produce. You can even find fruit baskets for as little as 1 AED, making it very convenient to shop in bulk while ensuring the fact that you're getting the highest quality.
The Fruits and Vegetable sector is open 24/7
Spices & Dry Goods: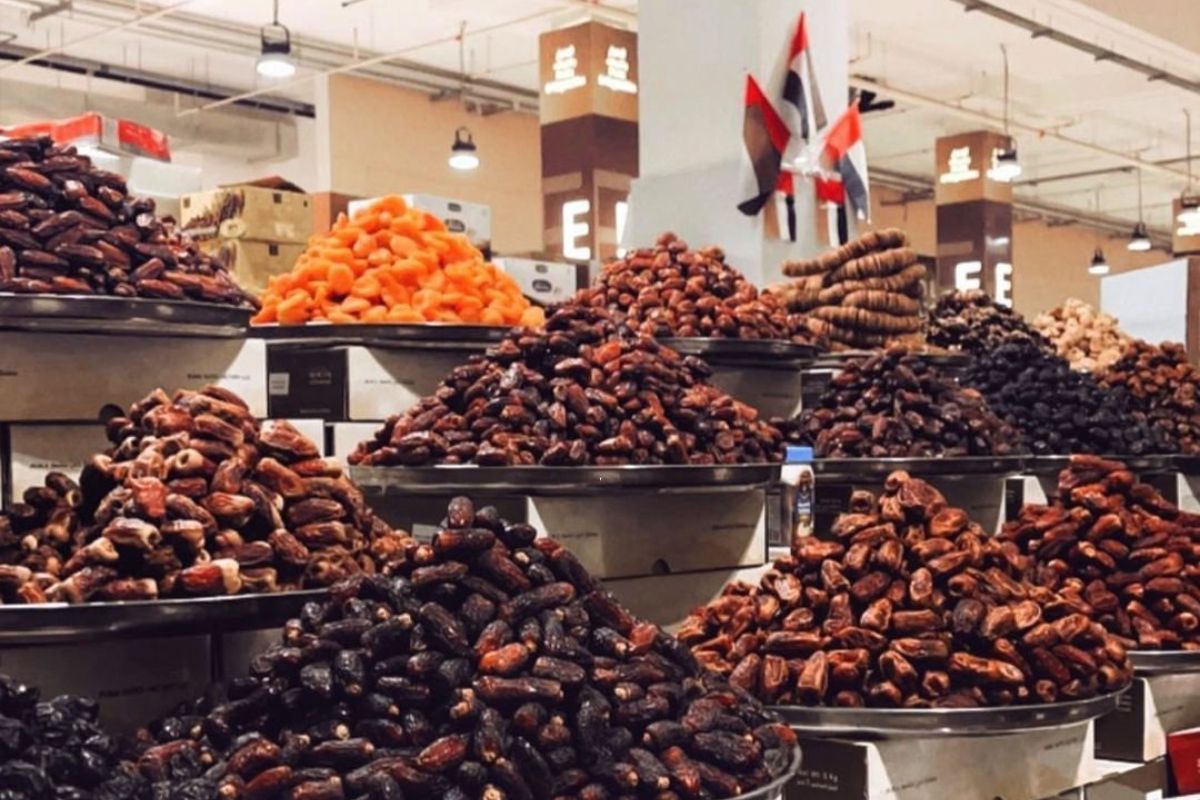 One of the market's liveliest and most exciting areas is the Dry Goods and Spices Sector. The stalls are filled with dozens of a variety of dried fruits, nuts, spices, pasta, olives, and other basic foods. This region is a great place to restock cooking essentials and pick up some intriguing new flavors to experiment with. Additionally, the Deira Waterfront Market has more than 60 shops where you can purchase spices and goods not just from the Middle East but from other parts of the world as well. This area, which replicates an authentic Arabian souk, is the best place to buy spices like saffron, dukkah, za'atar, ras el hanout, and Baharat.
The Spices and Dry Goods section is open 24 hours a day.
Also read about - Dubai Spice Souk the best  Spice Market Dubai
Lulu Hypermarket:
In addition to the Deira Waterfront Market's five distinct sections, the first floor also houses a Lulu Hypermarket. LuLu Hypermarket is one of the biggest supermarket chains in the UAE, carrying everything from groceries and everyday items to electronics and home appliances. By providing great deals on high-quality products, exemplary customer service, and excellent discounts, the brand has gained the loyalty of its customers and carved out a niche for itself in the industry. The hypermarket usually offers significant discounts on already low prices, which is especially convenient if you prefer to buy in bulk. The hypermarket complements the markets below and is a convenient place to stock up on all of your necessities.
The hypermarket is open 24/7
What else to find:

Aside from the five sections of the market, you can find other areas to explore in the spacious market. Some things to look out for at the Waterfront Market include:
Retail: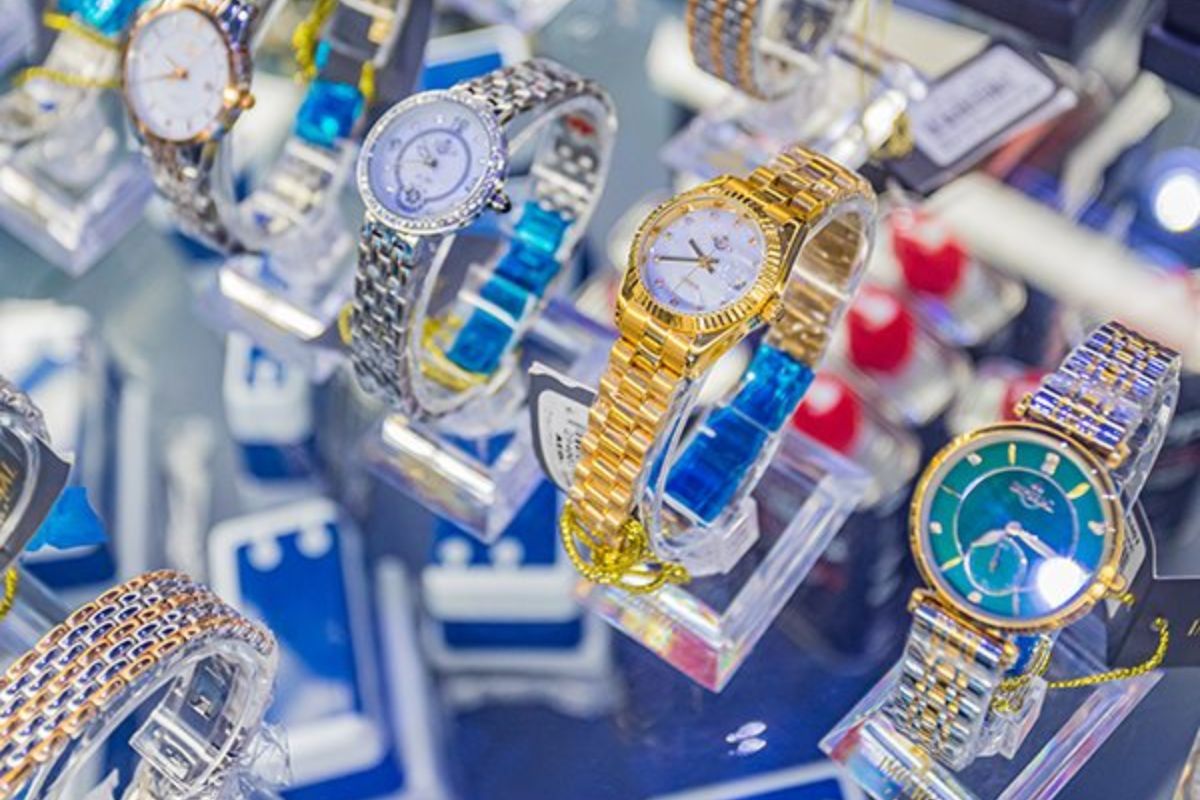 The food alone isn't everything. The Waterfront Market is also a popular spot for fashion and jewel shopping in the area. You might just discover a hidden gem that stands out from the typical off-the-rail clobber in this area, which has shops selling clothing for men, women, and children. Whether you want to buy traditional Arabian clothing like abayas and kanduras or just simple pieces, you can find them in the waterfront Market. A variety of goods are available in the shops as well aside from clothing, including, perfumes, souvenirs, and jewellery. What's even better is that stores will hold seasonal sales so you can buy clothing for a much lower price and take advantage of the good deals.
Bazaars:
Similar to the clothing stores, you can walk along the 700-meter-long promenade and explore the countless bazaars. These shops attract over 42,000 visitors just on the weekends! Shoppers can find everything there, from simple touch screens and electronics to a variety of exotic and aromatic perfumes, all for low costs if your haggling skills are good. Additionally, there are discounted books and toys available for purchase, along with workshops for kids that give the market a true sense of community.
Dining: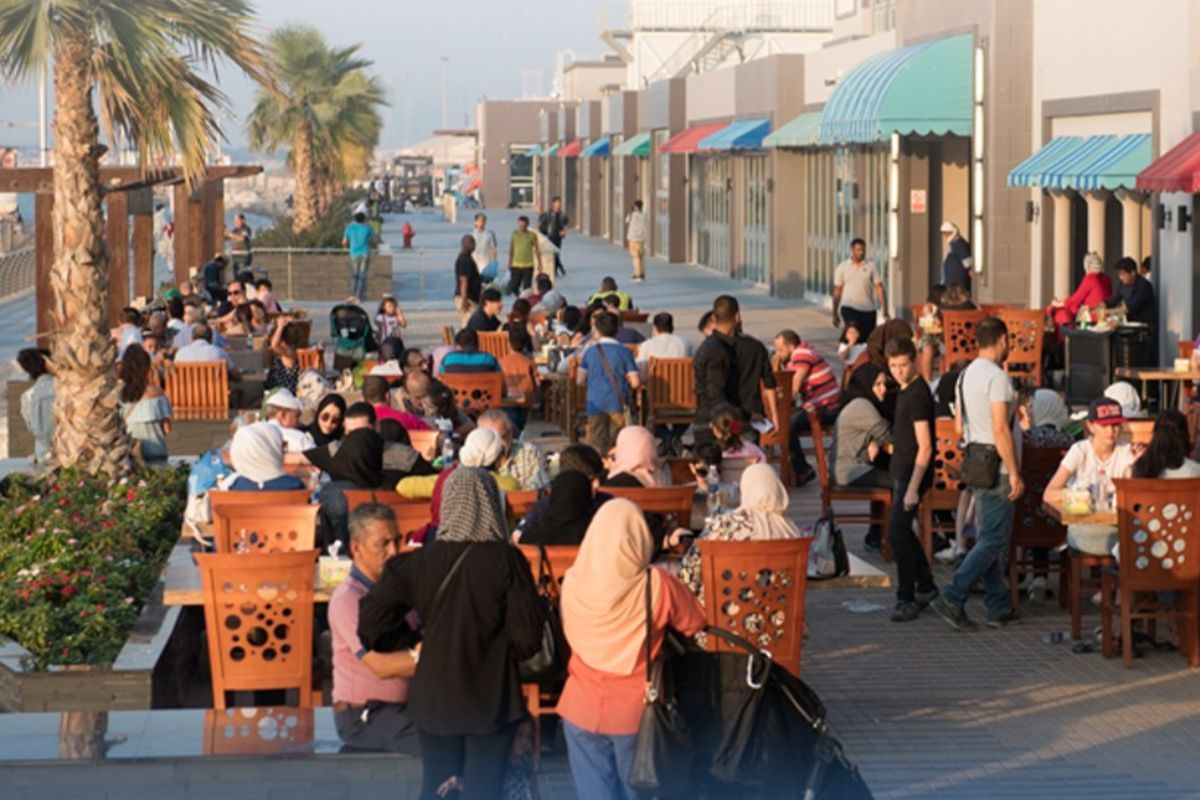 Shopping can be tedious, so if you don't feel like preparing all that food right away, let someone else handle it. With countless cuisines to choose from, the market offers a variety of dining options where you can unwind and rejuvenate after your haul. There are a variety of dining establishments along the promenade strip of the market where you can savour delectable food, including sit-down food outlets, cafes, and take-out options. The majority of the market's food and beverage establishments are situated on the promenade side, providing breathtaking views of the water.
Numerous restaurants are available to satiate your appetites and suit your moods, including Papa John's for some pizza, Costa, Coffeetea, and Dome for coffee breaks, Paluto Restaurant by Chef Boy Logro serving up barbecue and seafood, and Gelato Divino and Baskin-Robbins for an icy treat.
Additionally, in a first-of-its-kind service, you can purchase fresh seafood from the market and have it prepared live in front of you at one of the market's many live cooking stations.
Also Read: