Dubai is home to the country's most ambitious real estate projects.  With the recent launch of Expo City, developers and architects are continuing to conceptualize projects that will further establish Dubai's reputation as one of the world's leading cities.
Dubai Creek Harbour by Emaar is one of these up-and-coming projects that is currently gathering a lot of attention in the media. Dubai Creek Harbour provides the city with a new commercial hot spot that includes retail, cultural, and residential spaces. This iconic waterfront district, located 10 minutes from Downtown Dubai, will also redefine the future of city living. This Emaar Properties development combines innovation and elegance to provide a one-of-a-kind neighbourhood in Dubai. So, here's a closer look at what Dubai Creek Harbour holds and what makes it different from any other district in Dubai!
About Dubai Creek
The 14-kilometre long natural Creek, which is located in the centre of Dubai, divides Deira and Bur Dubai, two key neighbourhoods that have contributed significantly to the advancement of Dubai into the megacity it is today. Although the Creek is essentially a saltwater passageway, it has evolved over time into the centre of the city's commercial and residential activity. A pleasant place to stroll in Dubai and take in the breeze, it is still one of the city's most popular tourist destinations. It also has a variety of local dining options, entertainment choices, as well as other Dubai attractions. And now, it is home to the record breaking and luxurious community, the Dubai Creek Harbour!
Also Read: Dubai Sight Attractions - The Best Things To See and Do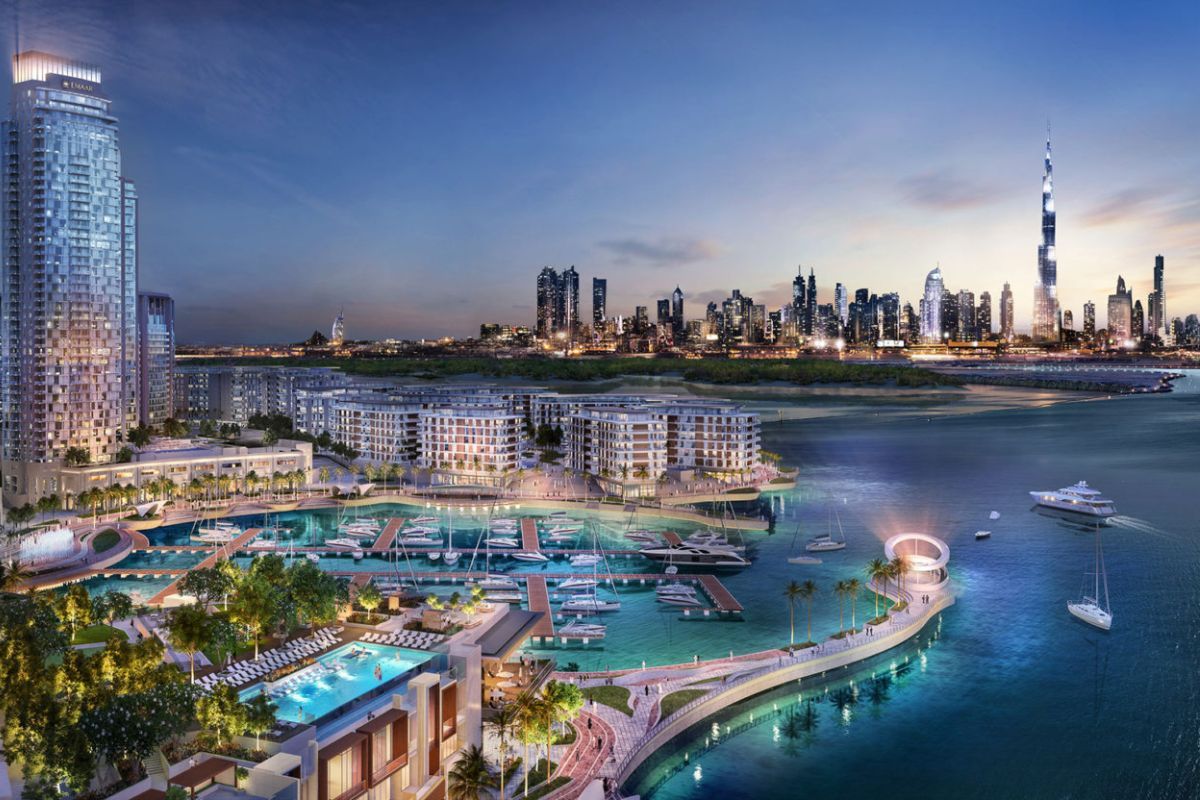 The Neighbourhood
Dubai Creek Harbour covers over 550 hectares of the Dubai Creek ground, with 7.3 million sqm dedicated to residential spaces. With four different districts: the Island District, Sanctuary District, Retail District, and the Urban Core District, Dubai Creek Harbour is full of fun activities for families to do together.
The residential spaces, located in the Island District, offer an incredible view of the Dubai skyline, the famous Creek Tower, and Burj Khalifa. There are also districts in the districts! The residential areas can be divided into four neighbourhoods. The Creek Residence, which contains 6 towers and amenities like pools and parks, and the Creek Horizon, with 2 towers that are adjacent to the Creek Park and offer a gorgeous view of Downtown Dubai.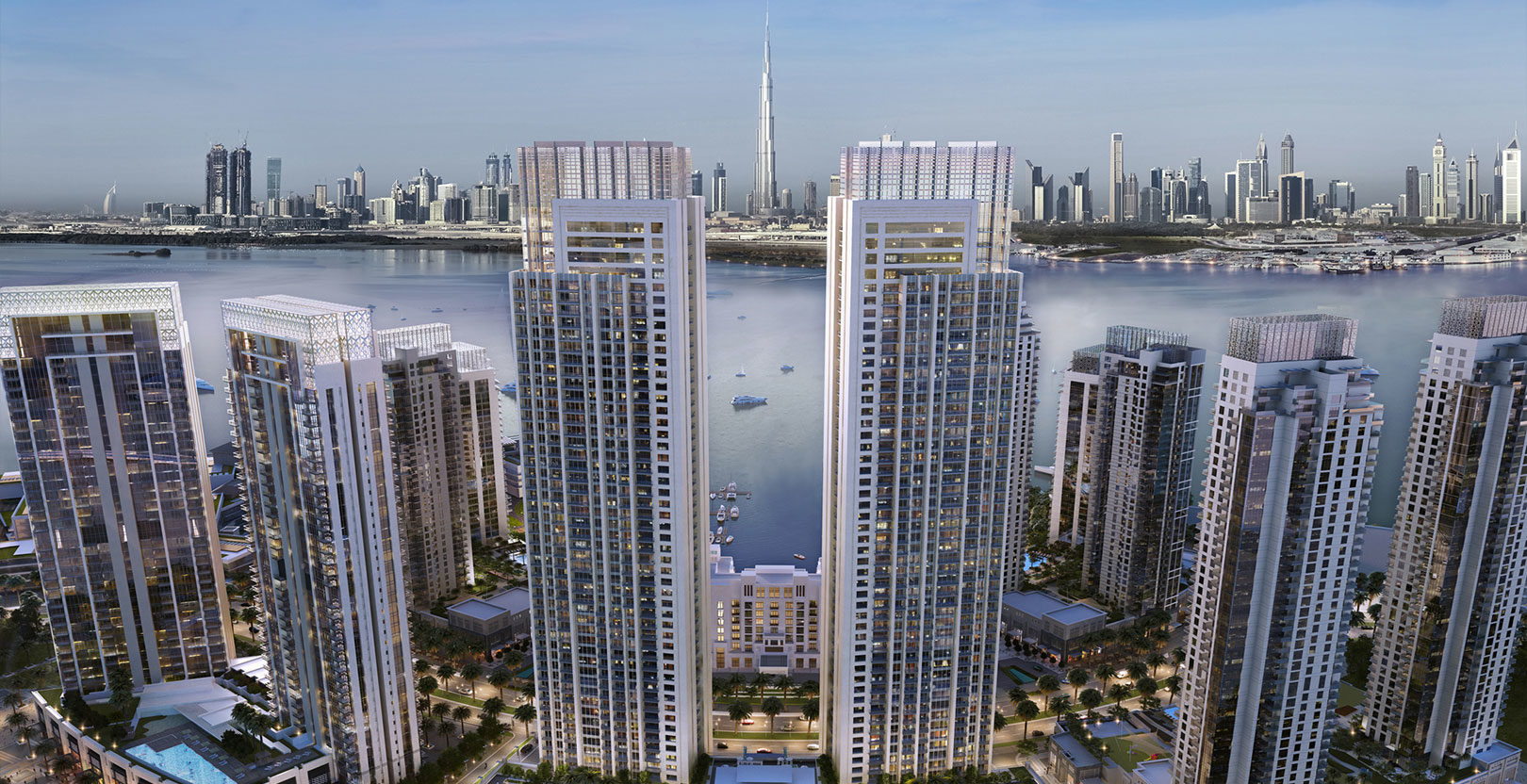 Harbour Views, the third neighbourhood, holds the two tallest twin towers in the Creek area, with 51 floors, and gives you a view of the stunning waterfront. Finally, you have Creekside 18, a palm tree-lined community located in the heart of the Island District. Additionally, you have
The Cove at Dubai Creek Harbour, the most sophisticated of all. The Cove covers over 1,000 sq. ft. and seamlessly combines the gorgeous landscapes of Dubai with extreme luxury with its podium decks, infinity pools, and gyms. These districts provide studios, apartments, and villas with up to four bedrooms, all starting at 1.1M AED.
The area holds stunning and unique views as well, with countless unique and brand-new artwork.
Some of this artwork includes: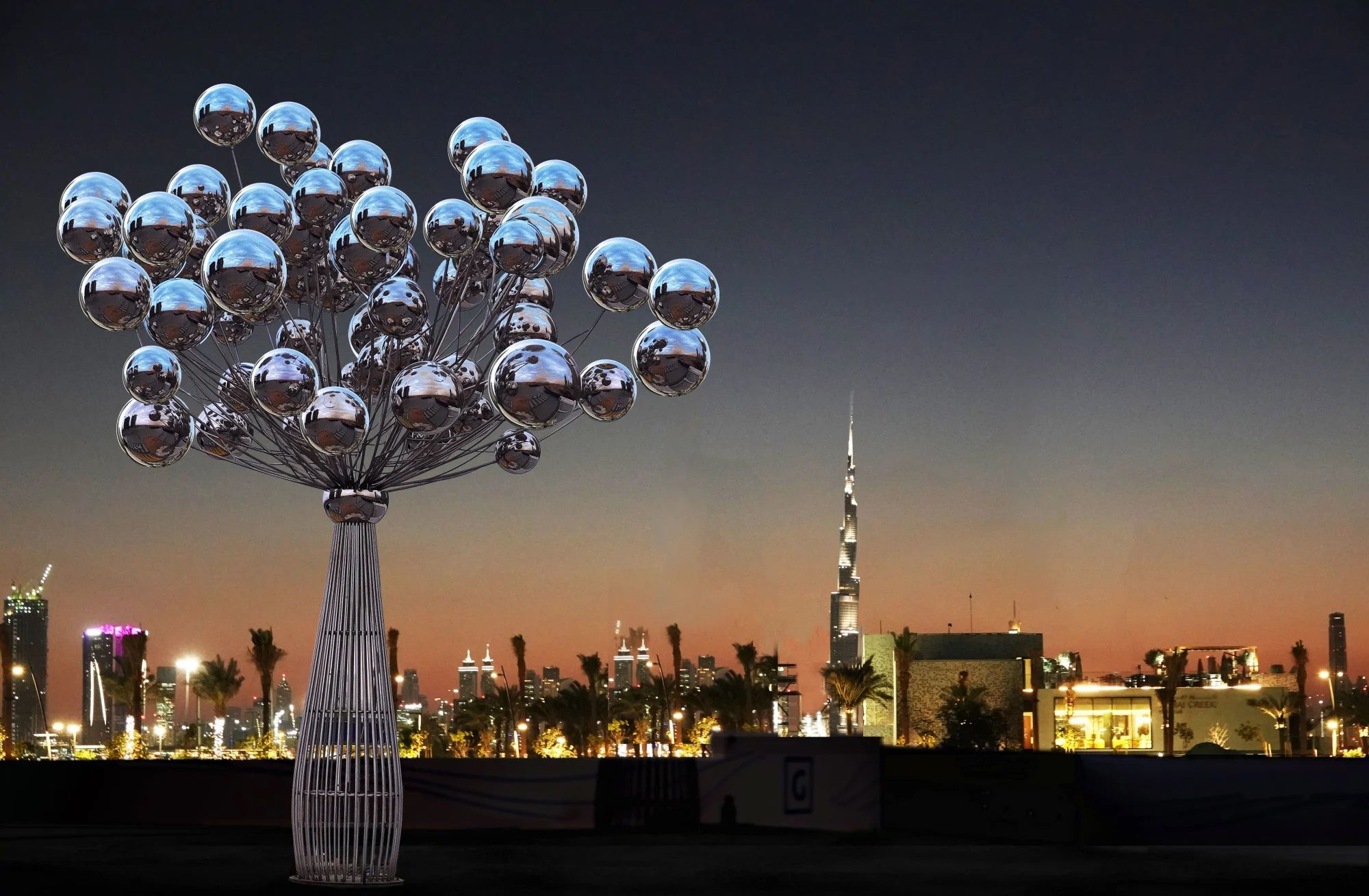 - The Joy Tree: Designed by artist Vibhor Sogani, the 30 ft tall Joy Tree is made of dozens of stainless steel and reflective balloons. Passers-by can view themselves in the reflections of the balloons and can feel the celebration of joy in life.
- World Flower Tree: This giant flower sphere was designed by Choi Jeong Hwa, a Korean visual artist. Specifically commissioned for Emaar, this piece of artwork is made to show the relationship between the natural world and the man-made world, with hundreds of local flowers merged to create a breathtaking piece.
- Musical Shadows: This pavement is perfect for all music lovers. Made by Daily Tous Les Jours, Musical Shadows uses interactive tiles that are triggered by one's shadow, and then proceed to play voices, melodies, notes, and instruments. The melodies change depending on the time of day, the shape of the shadow, and the intensity of it, meaning that a combination of the same melodies can never be played twice!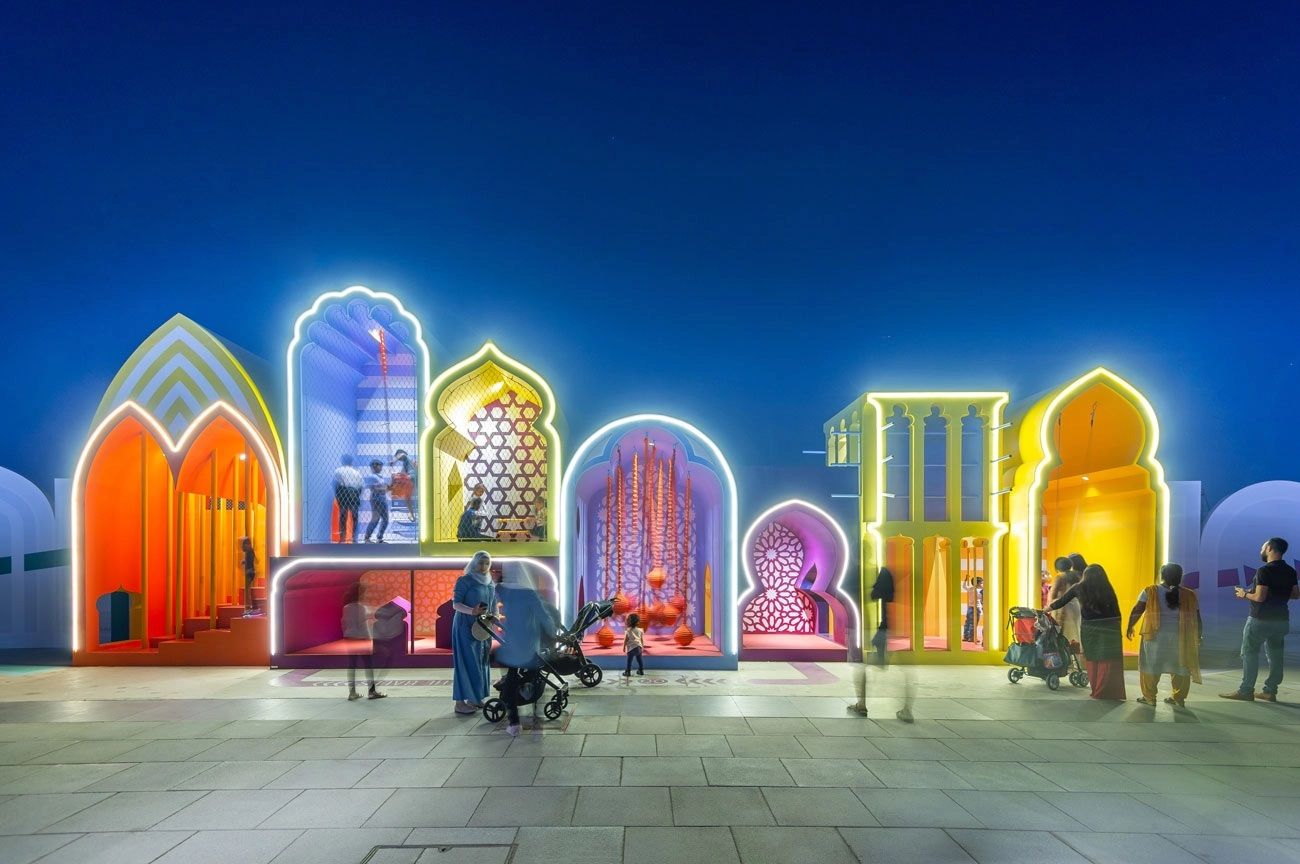 - Creek Play: Creek Play is a perfect area for the little ones to have fun. Designed by the 100 Architects, this is one of the longest playscapes in the world, covering over 350m. With its traditional and Arabesque architecture, Creek Play has 7 different areas of activities, representing the UAE's 7 emirates. These 7 areas, like the emirates, have their own distinctive qualities and can be seen as independent, but they all link together with their colourful walls and graphics. While this is mostly a children's play area, including swings, slides, and climbing walls, adults can also have a great time here!
What's around
The Dubai Creek Harbour location is just 15 minutes away from all the hottest spots in Dubai. It is 10 minutes away from Dubai International Airport, 15 from Burj Khalifa and Dubai Mall, 25 minutes from Dubai Marina, and only 5 minutes away from the Ras Al Khor Wildlife Sanctuary.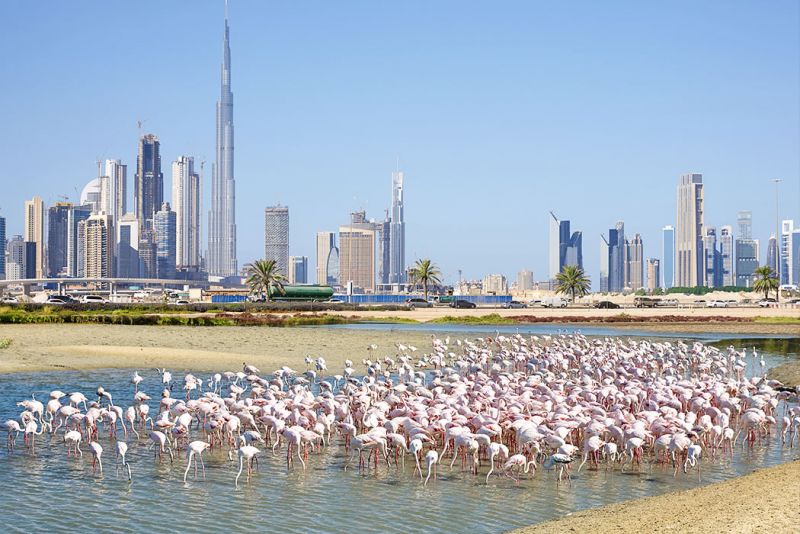 The Ras Al Khor Sanctuary is a wetland reserve where you can find over 450 species of animals. Every year, this vast reserve serves as a breeding site for animals like crabs, mammals, and fish, but the flamingos are the real attraction, they always steal the show in winter. You can look closely to find thousands of native bird species including the grey herons, great egrets, reef herons, cormorants, black-winged stilts, sandpipers, osprey, and other colourful bird species.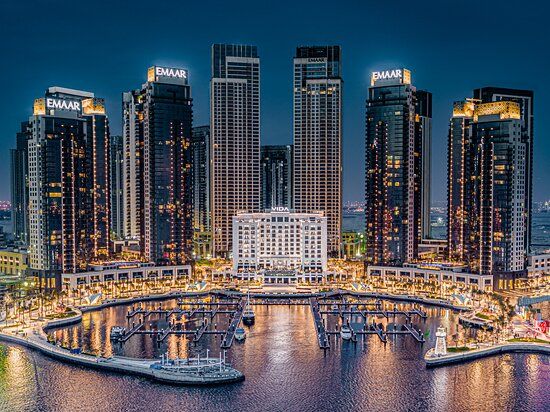 Dubai Creek Harbour is also located next to the Vida Hotel and Dubai Square. Vida Hotels and Resorts provide the ultimate luxury stay for tourists on vacation or residents on staycation! This high-end hotel contains countless restaurants and incredible amenities that include an infinity pool, a gym, a kids' play area, a spa, sports courts, a pet-friendly environment, and so much more. You can never get enough of the views from the Vida Hotel terrace and viewing deck, where you can enjoy a perfect Dubai sunset with the skyline and the cityscape in view.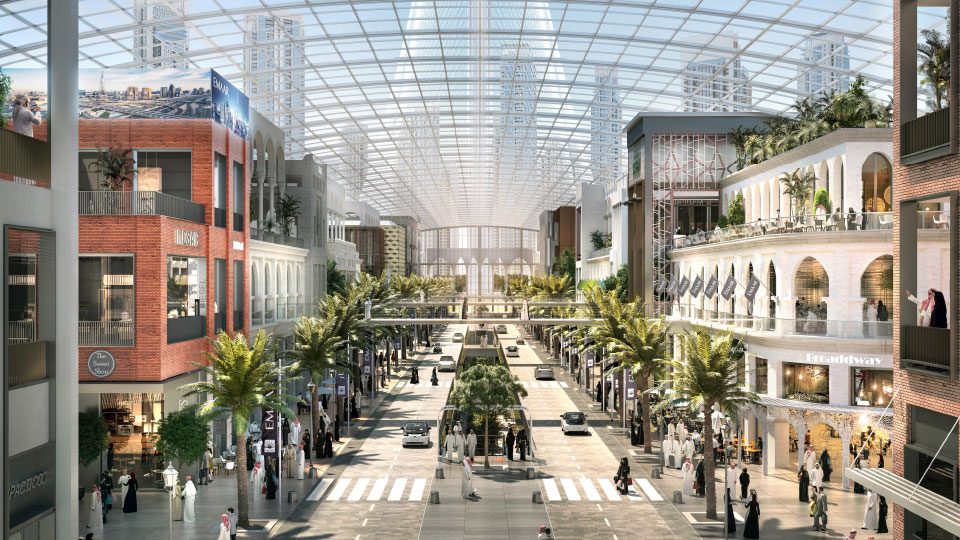 Dubai Square is a 750,000 sqm community area. The Dubai Square is both an indoor and outdoor area where residents, visitors, and tourists can enjoy its retail, dining, entertainment, and views of the Creek Tower. The entertainment at Dubai Square includes a VR Park, an ice adventure park, and countless play areas.
Dining
In an area as luxurious as Dubai Creek Harbour, you're bound to find the best dining areas. Some restaurants in and near Dubai Creek Harbor include:
- Mondoux: A sophisticated, chic, and laid-back restaurant serving all international cuisine and uses completely fresh ingredients. The average price for two is 260 AED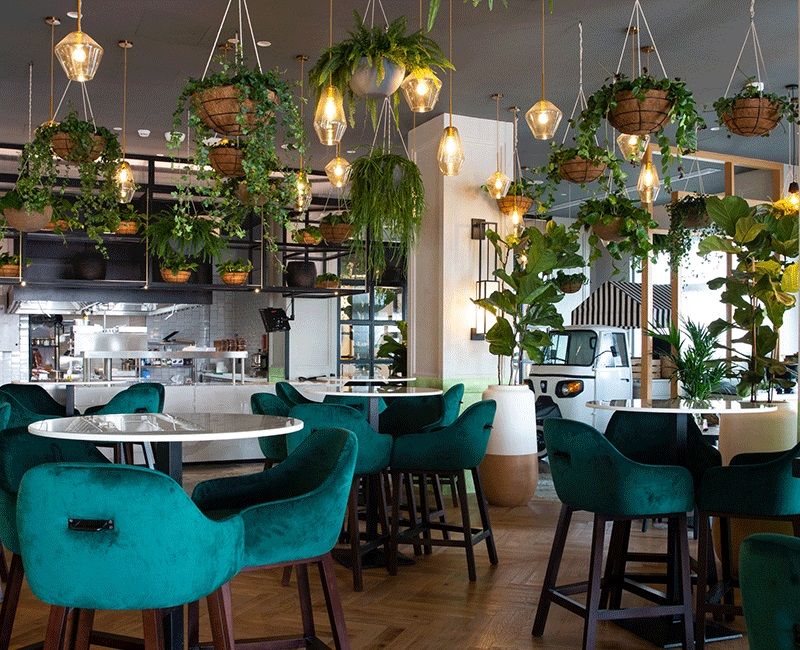 - SoulGreen Dubai: This restaurant focuses on the super-healthy lifestyle, offering a vegan and vegetarian menu, and a Thai, Asian, Indian, Japanese menu, and more! This delicious food averages around 220 AED for two.
- Stage 2: Located in the Vida Hotel, Stage 2 is the perfect place for lunch with a view. With a large terrace, happy hour, and delicious food, you can enjoy an extraordinary meal, which is around 200 AED for two!
- Amici Miei: Directly translating to "My Friends", this Italian restaurant ensures an awesome day out with your best friends! Sitting in the Vida Hotel, Amici Miei specializes in Italian food, but you can also enjoy all the international delicacies offered!
Also Read: