Dubai is one of the world's most popular tourist destinations. Known for its extravagant shopping, luxurious hotels, prevalent nightlife, magnificent architecture, and breath-taking views. It is a city that has an ever-growing list of new, exciting, and one-of-a-kind attractions, activities, and experiences. This city can never bore you! There are many things to do, places to visit, and experience in this magnificent city. From Skyscrapers, shopping malls, thrilling activities, tourists hotspots and many more... the city of dreams has it all!
Find out more about Dubai's sight seeing attractions and the best things to see and do in the glorious city:
The top tourist places to visit in Dubai:
1. Burj Khalifa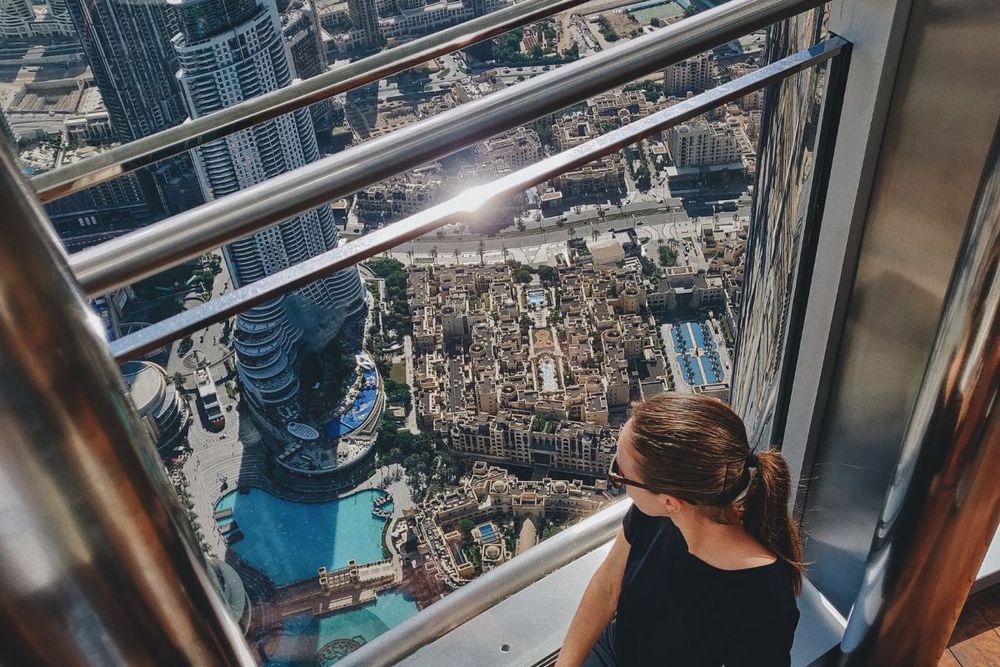 The Burj Khalifa is the tallest skyscraper and the best place to watch catch magnificent views of Dubai. Visit At the Top and marvel at the stunning view from Burj Khalifa's observatories on levels 124th and 125th. You can even visit few more levels head on the 148th floor for an even higher view of Dubai. Take a 360-degree panoramic view of Dubai and get mesmerized at its beauty. Step onto the open-air terrace and observation decks to take in the unparalleled sights of the city though the telescopes given on the decks. The best time to visit is early mornings or evenings so that you can experience the beautiful sunrise and sunsets paired with Dubai's skyline. Don't miss your chance to this once in a lifetime experience!
2. Museum Of the Future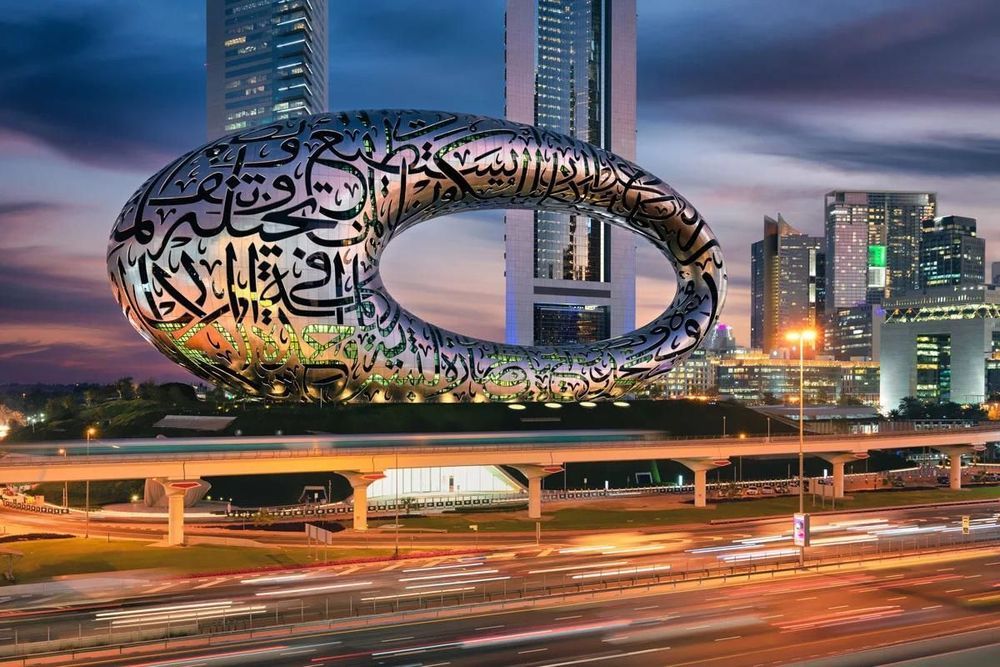 The Museum of the Future is Dubai's most famous and picturesque landmarks that explores how society will evolve in the coming decades. The museum combines elements of traditional exhibition, immersive theatre, and themed attractions in an unimaginable way. Experience a fascinating insight into the future of human technology and innovation with practical exhibits, installations and unique inventions that are yet to be introduced to the world and allows you to gaze beyond the present to the possible. Look beyond the present and towards the future's limitless possibilities across a range of sectors, including space travel, climate change and ecology. Not only is this museum a sight to behold from its exterior but it is a beautiful masterpiece from the inside too.
3. Dubai Miracle Garden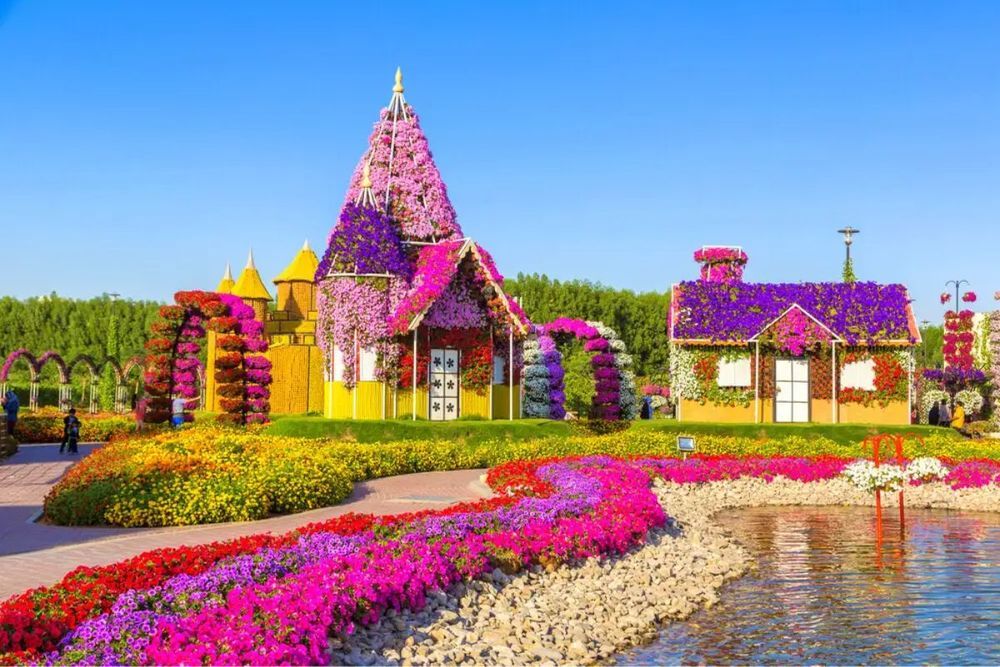 The Dubai Miracle Garden is the world's largest natural flower garden which showcases about 150 million beautiful natural flowers and plants. Stunning blooms are arranged in breath-taking ways in this one-of-a-kind garden, making it a sight to behold. They are organized in eye-catching patterns, distinctive structures, and bright arches. The Floral Clock, Emirates A380, Disney Avenue, 3D Floral Designs, Lake Park, Floral Villas & Castle, and Heart Tunnel are just a few of the noteworthy creations. You can also make unforgettable memories here at the photo booth it offers or purchase souvenirs to capture your memories. If you want to visit this Instagrammable garden, keep in mind that it is only open from November to May each year.
4. Ain Dubai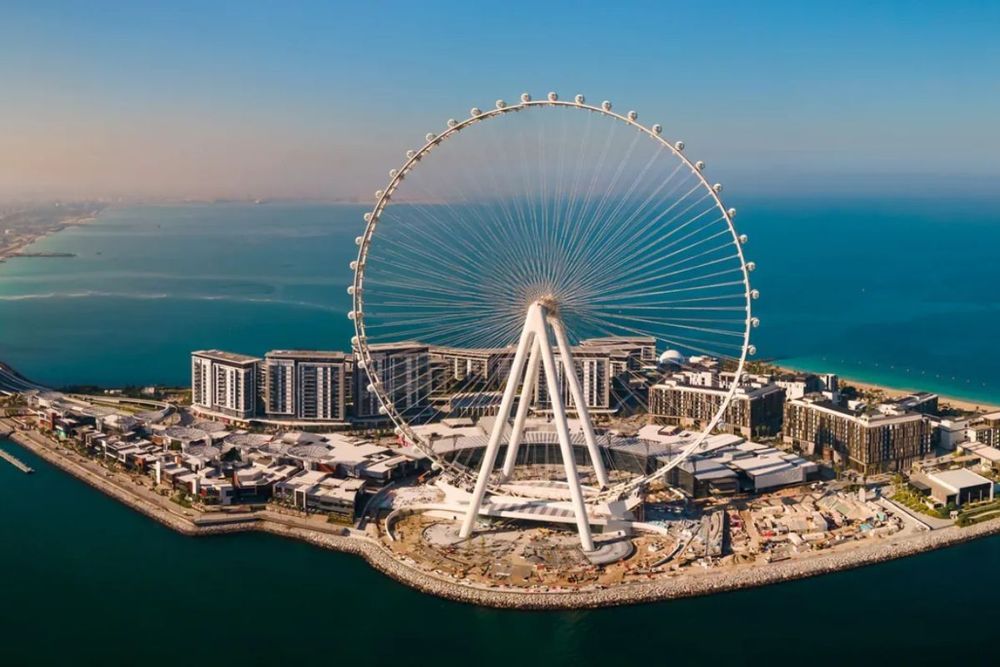 Take a scenic tour of Dubai on the Ain Dubai, the magnificent Ferris wheel. It is the world's tallest observation wheel that stands at a spectacular height of 250 meters. A ride in one of its luxury capsules lasts around 48 minutes and will reward you with spectacular 360 views of Palm Jumeriah, JBR, Burj Al Arab and Downtown Dubai. This monument is surrounded by unforgettable experiences around it, making it a must visit attraction for all. LED screens in each capsule provide information on all the landmarks you can spot from the capsule amidst the captivating 360 views of Dubai.
5. The View at the Palm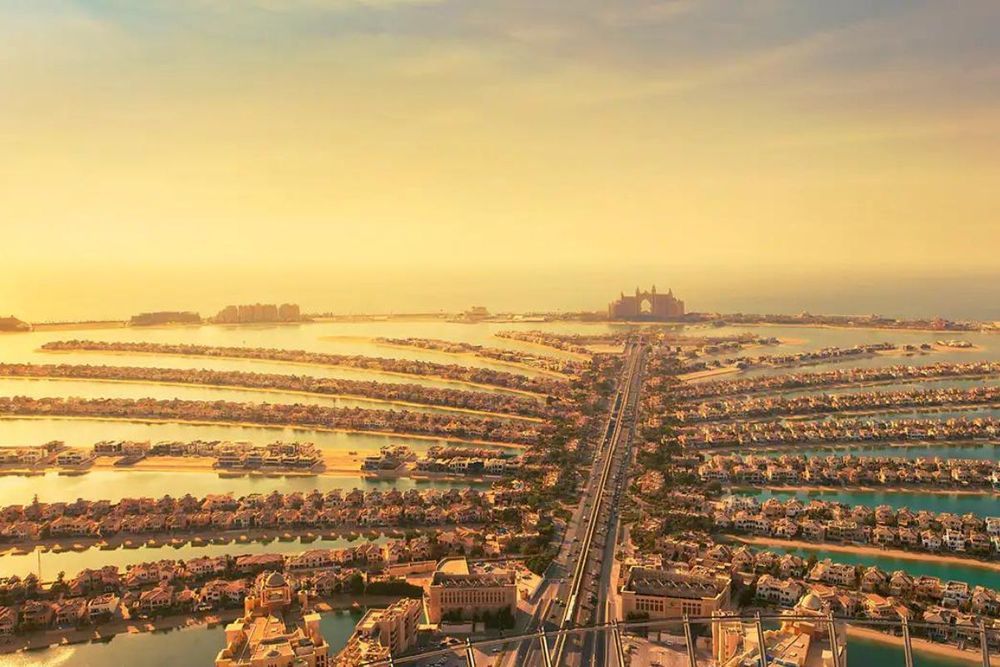 Ever imagined what the Palm Jumeriah looks like from a height? Now you can witness that! Located 240m high, the observation deck on level 52 at The Palm Tower gives you a never seen before 360-degree panorama view of the Palm Jumeriah with the sparkling waters of the Arabian Gulf and a view of Dubai's skyline in the distance. You experience a view like no other! Nearby attractions include The Pointe, Club Vista Mare and the famous Atlantis, The Palm resort. This year, The View has further elevated sky-high experiences with the opening of The Next Level. At 250m above ground, the barrier-free viewing space has achieved the title as Palm Jumeirah's highest vantage point.
The best things to do in Dubai:
1. Skydive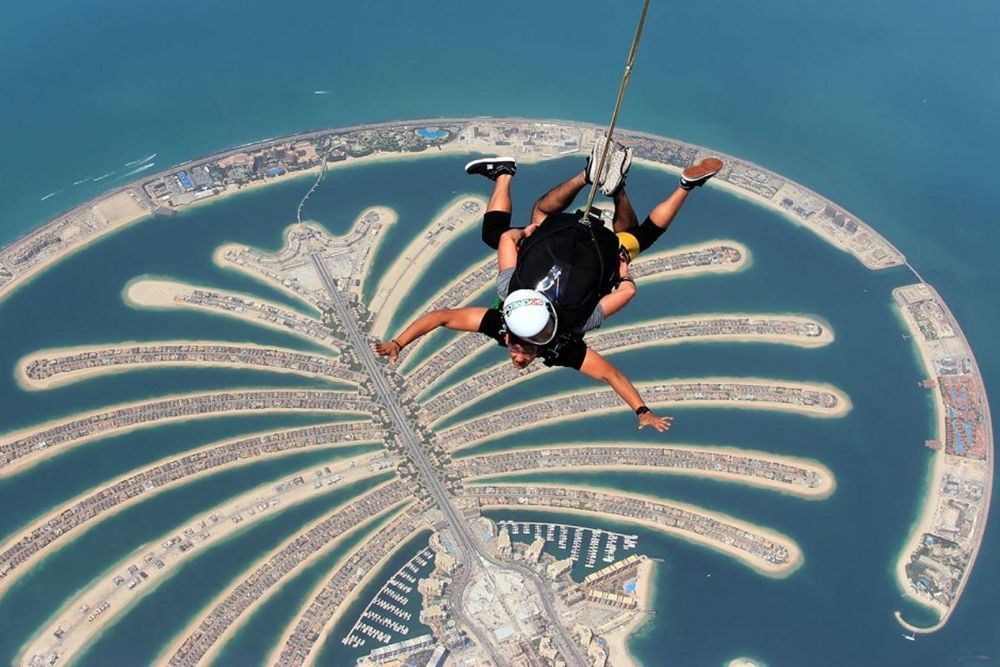 Taking a jump from 13,000 ft up in the sky has to be the best thing to do in Dubai! The thrill of jumping from such a height along with the 360 views in the sky and the stunning views of Dubai below you, an experience of a lifetime! Skydive Dubai is one of the most exciting skydiving facilities in Dubai offering both indoor and outdoor skydiving areas with landing areas on the Palm and the desert. View the city of Dubai through a completely new lens. The Palm Zone drop costs AED 2199 while the desert drop costs AED 1699.
Also Read: https://focus.hidubai.com/thrilling-activities-to-do-in-dubai/
2. Sky Views Dubai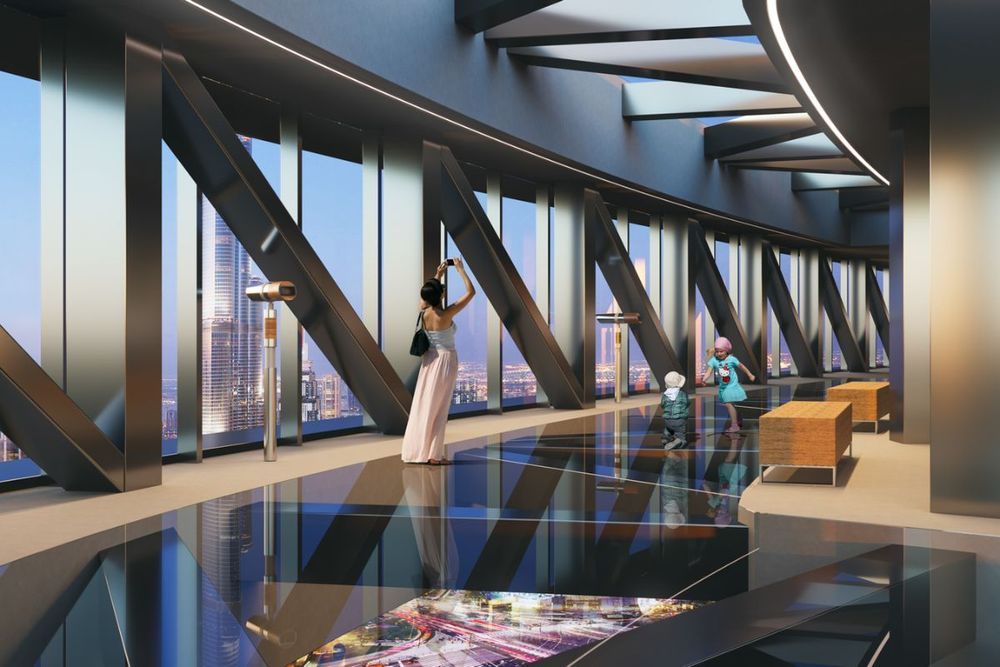 Head on over to Sky views Dubai and take a bird eye view of Dubai's mesmerizing skyline from 219.5m above ground. It is a popular attraction for those who love to breath in spectacular 360 views of Dubai and have a ick for an adrenaline rush. Located in the Address Sky View Hotel, this wonderful marvel offers you unforgettable and thrilling experiences - The Sky views Observatory, Edge Walk and Glass Slide. The sky views observatory gives you a bird's eye view of Dubai including stunning views of the Burj Khalifa and Dubai Fountains. With the Edge Walk, you get to be tied up to a harness on such height and walk along the glass that encircles the exterior of the hotel while also getting a once-in-a-lifetime view. The Glass Slide is a transparent tube that wraps around the tower's exterior and links level 53 with level 52 for a unique adrenaline rushing experience. You'll be mesmerized of the sight around you!
3. Dubai Safari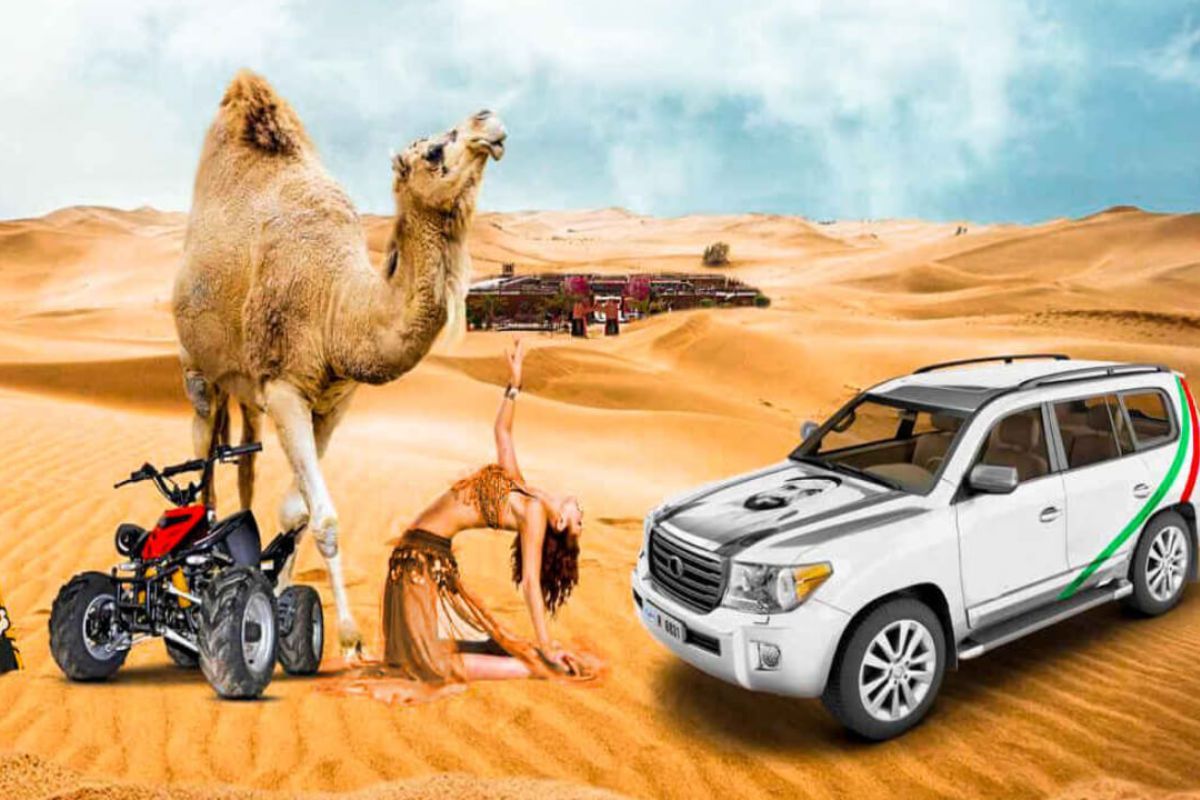 The Dubai Safari has to one of the must-do-once activities on your trip to Dubai. Experience the desert of Dubai and take part in the thrilling dune bashing where you get to take a thrilling ride over the sand dunes. If you love adventure sports, you can also try sandboarding or ride the jeep around the desert. Take part in cultural experiences in viewing traditional belly dancing, photo op in cultural dress or get traditional henna drawn on your hands. Catch the unobstructed views of the setting sun and breathe in the mesmerizing sunset of Dubai. You can also enjoy a barbecue buffet dinner to end your day choose from a plethora of vegetarian and non-vegetarian options.
Also Read: https://focus.hidubai.com/9-new-experiences-that-help-you-get-closer-to-the-animals/
4. Global Village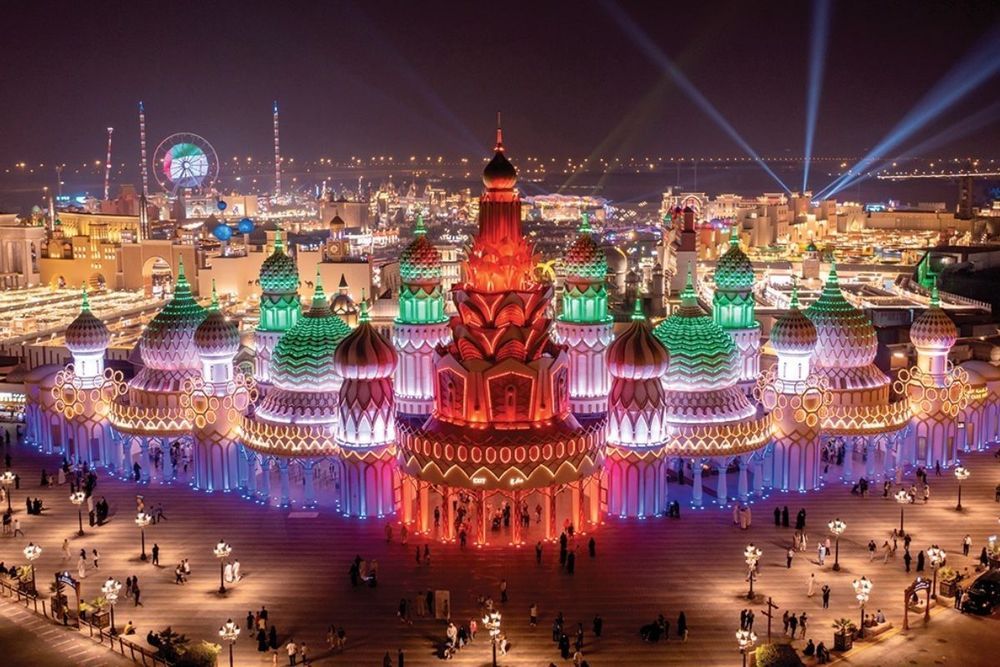 Global Village lets you travel the world in just one night. Experience international diversity at this renowned multicultural event which showcases several pavilions of varying cultures. It is the world's largest tourism, leisure, shopping, and entertainment project, featuring more than 20 pavilions that represent international arts and crafts, authentic cuisine, traditional dance and entertainment, and local produce. Each location is curated in such a way that it gives you a feeling of being in the country itself. Feast your eyes and your bellies at over 200 restaurants, cafes, and knowledgeable street food specialists. They also offer a variety of live entertainment and events including stunt shows, children's shows, fireworks, fountain shows, street shows and cultural shows. Mark your calendars for this multicultural event, which runs from October through April every year.
Also Read: https://focus.hidubai.com/global-village-big-balloon-ride-stunning/
Shopping in Dubai:
1. Dubai Mall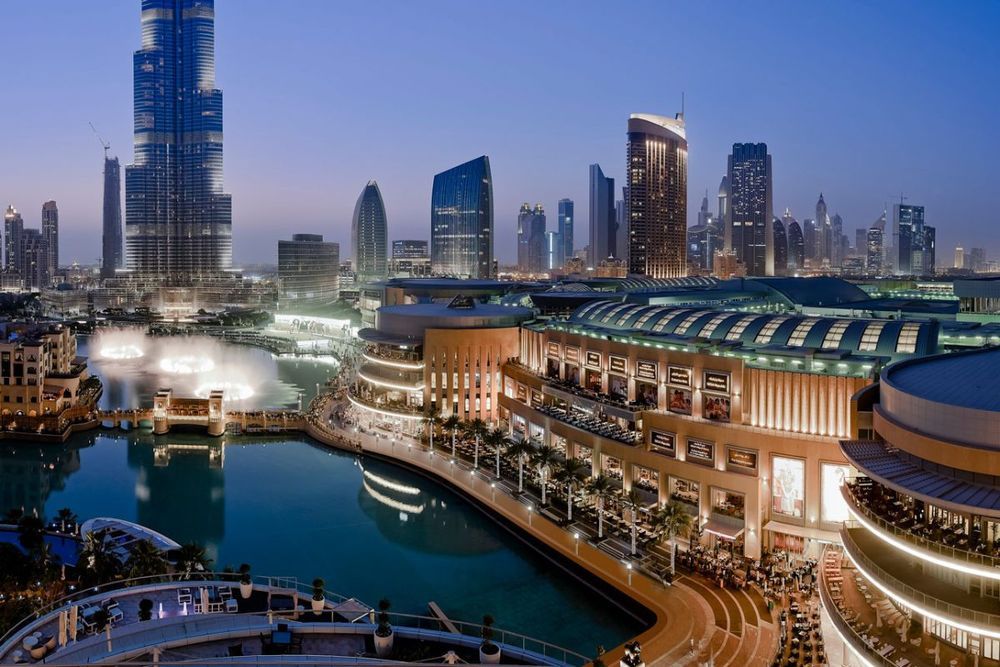 The Dubai Mall is the largest mall in Dubai and the second-largest mall in the world. Spanning over 12 million sq. ft, this mall has over 1,300 shopping outlets, unlimited must-see attractions, entertainment and leisure destination, various thrilling indoor activities, and over 200 restaurants. If you're looking for a retail therapy or indoor activities, it is one of the best places to go in the city. Located right next to Burj Khalifa, it provides direct access to the Address Hotel Dubai Mall. The Dubai Mall is the most popular shopping mall among residents and tourists. It also holds various world records like largest candy store, largest bookstore, largest indoor aquarium, and largest LED Screen. This mall is a perfect spot for entertainment and provides something for everyone. Some of the most popular attractions at Dubai Mall are – Dubai Fountain, Dubai Aquarium, Kidzania, Dubai Ice Rink, and many more.
Also read: https://focus.hidubai.com/downtown-dubai/
2. Karama Centre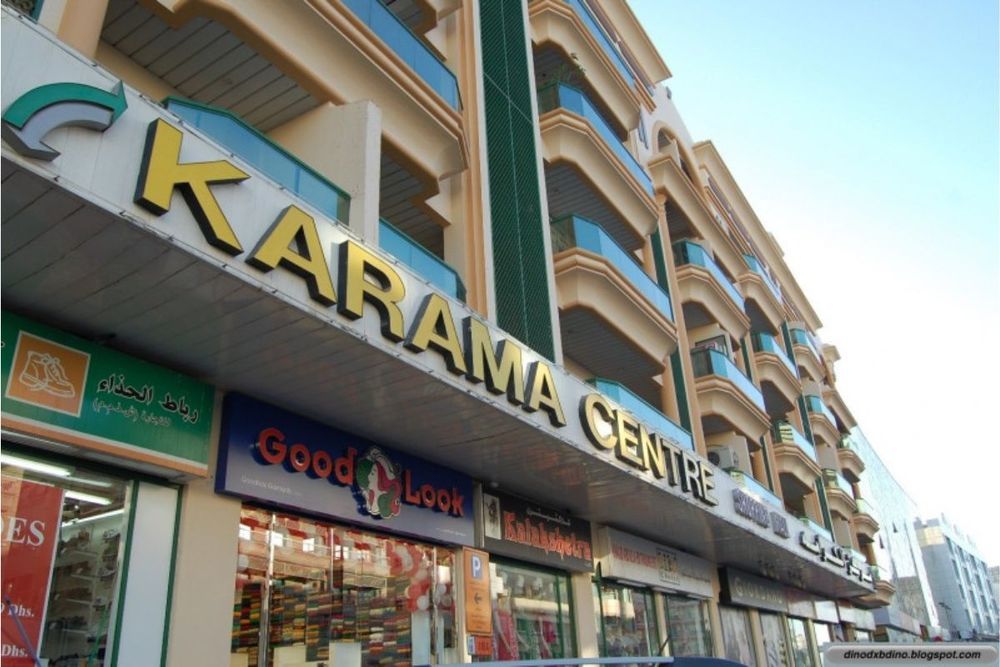 There is a plethora of stores to shop from in Karama that sell anything and everything from leather goods, sportswear, watches, sunglasses, souvenirs and many more. You will literally "shop 'til you drop" in Karama. The central shopping hub, better known as Karama Market, is home to more than 300 shops spread across several buildings. The area is known for selling a huge range of fashion items, you'll find plenty of handbags, clothing, sportswear, and accessories here – just don't forget to bargain!
3. Gold Souk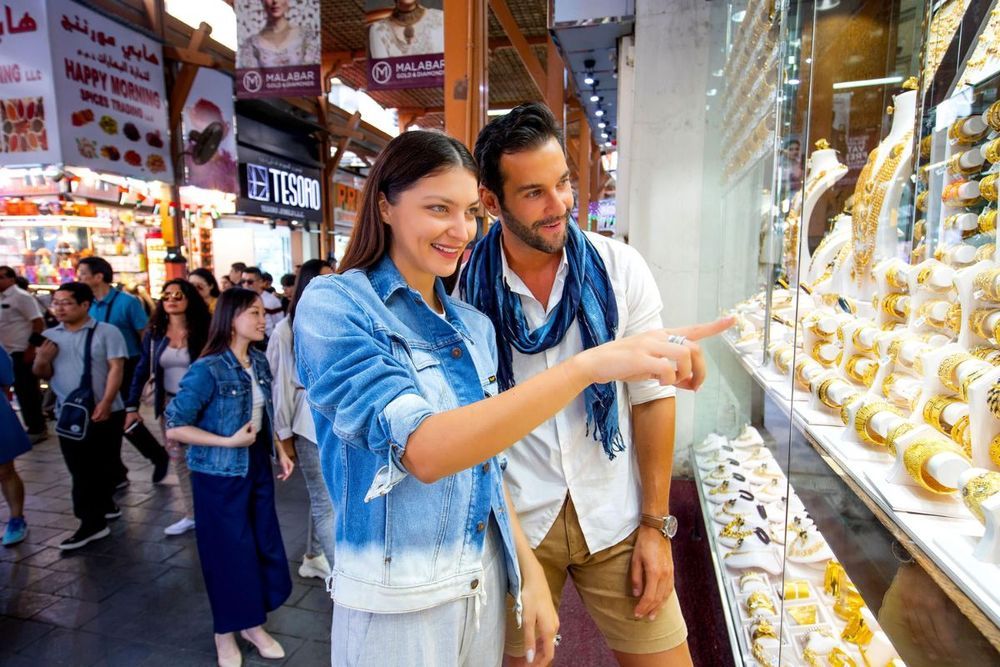 Buying gold has to be a must-do when visiting Dubai! The Dubai Gold Souk is the most famous and oldest souk in Dubai and is one of the best things to do in the city not only for those who wish to buy gold but also for tourists who want to admire the dazzling jewelry without the intention of buying. The Dubai Gold Souk offers a gigantic selection of gold pieces with designs from around the world. It is home to hundreds of shops whose exquisite craftsmanship makes this gold market unlike any other. Whether it's a beautiful addition to your everyday jewelry collection or splashing out for a special occasion, The Dubai Gold Souk makes buying gold in Dubai easy for you.
Also Read: https://focus.hidubai.com/deira-dubai/
Nightlife in Dubai:
1. Dubai Garden Glow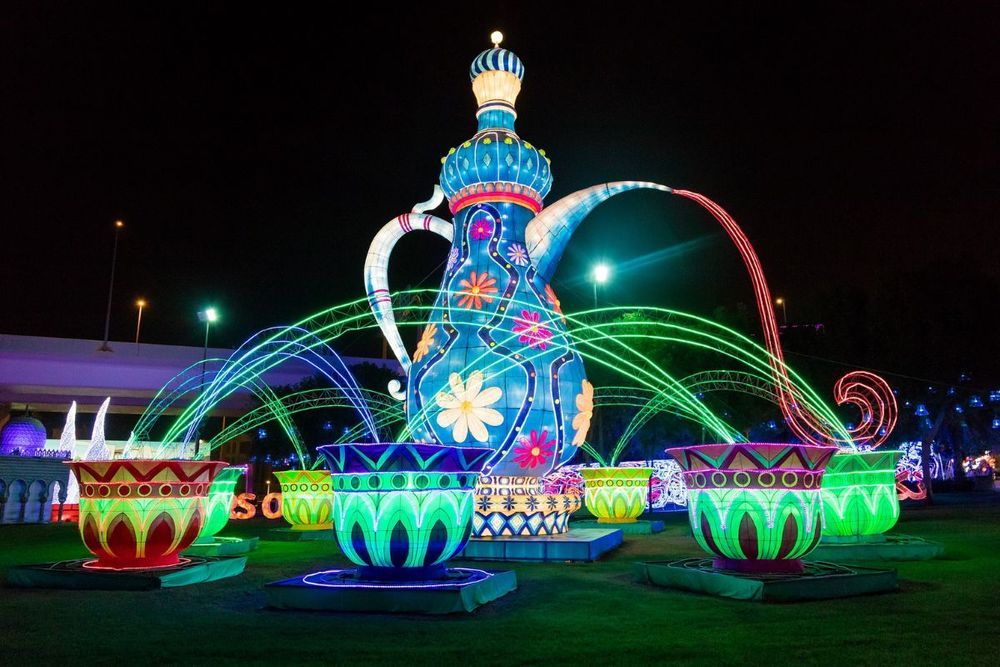 The Dubai Glow Garden is the world's first unique glow garden. This glow-in-the-dark garden has over 10 million LED lights and many eco-friendly models and structures that are built based on a theme with handmade lights. You can wander around the different attractions and be amazed by the world of imagination. The park changes themes every season to keep you entertained and amazed. It is bright, magical, and colorful, the perfect place to have a good time your family. This park is only open for a limited time in a year from October to April so, mark your calendars to visit this one-of-a-kind garden.
Also Read: https://focus.hidubai.com/16-spots-to-see-the-best-views-in-dubai-at-night/
2. Dubai Fountain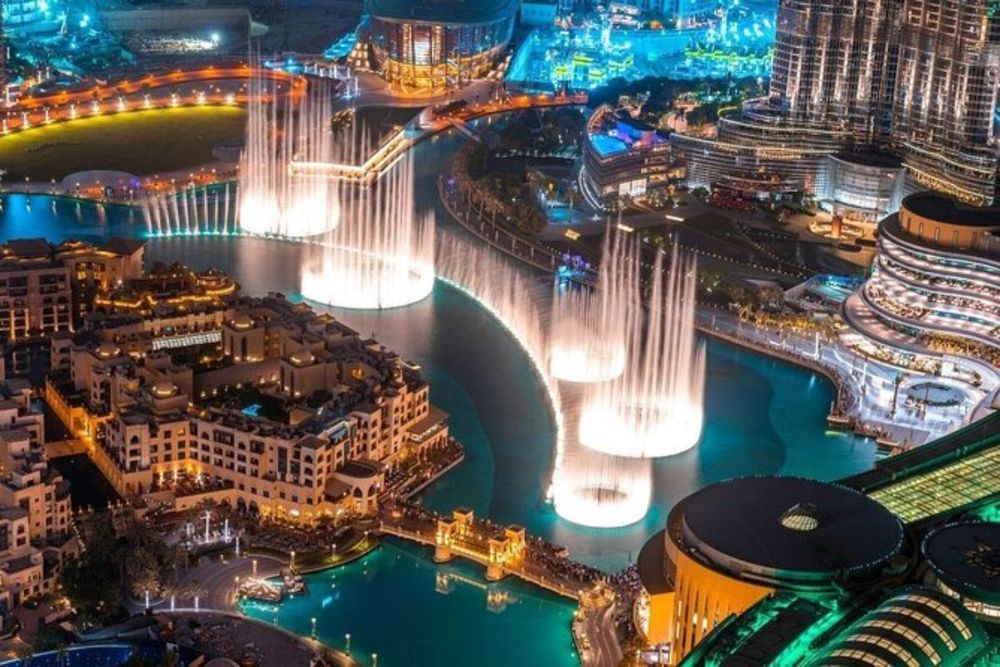 Dubai Fountain is the tallest performing fountain in the world, providing a once-in-a-lifetime opportunity to immerse yourself in a fascinating water, music, and light experience. With a length of 250 meters and a height of 150 meters, the fountain is one of the largest and tallest in the world, roughly equal to the height of a 50-story building! The Fountain's technical abilities are truly astounding, it raises approximately 83 tons of water per second during each performance. Its system uses wet lights and color projects to provide a stunning full spectrum of color, while the incredibly powerful high-pressure pumps ensure the fountain's operation and create spectacular water shoots. The musical accompaniment is chosen in such a way that the fountain appears to be dancing. An experience you can't miss at night!
Also Read: