Dubai is known as the city of dreams. It has some of the most iconic and interesting structures in the world. From the tallest of buildings to the highest infinity pool in the world. Whether you're walking on the streets or admiring the beauty of Dubai from a distance you're in for a treat as it has amazing views all around. Take a scenic tour of Dubai on the Ain Dubai, the magnificent Ferris wheel. It is the world's tallest observation wheel that stands at a spectacular height of 250 meters. A ride in one of its luxury capsules will reward you with spectacular 360 views of Palm Jumeriah, JBR, Burj Al Arab and Downtown Dubai. This mind-blowing observation wheel is a major highlight of the spectacular man-made Bluewaters Island.
Here's a complete guide for you to Ain Dubai, the magnificent Ferris wheel in Dubai:
About Ain Dubai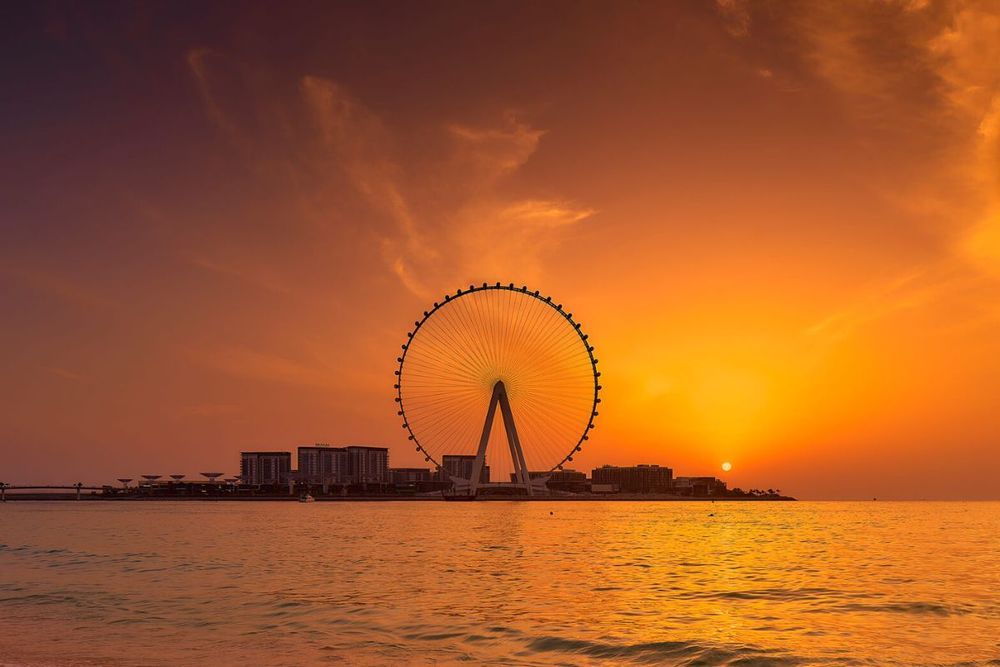 Ain Dubai is another eye-catching landmark to join Dubai's long list of world record-breaking attractions. Located on the Bluewaters Island, the giant observation wheel stands at a staggering height of 250m which makes it the highest and largest observation wheel in the world. It is an amazing piece of construction with each leg of the wheel standing high at 126 m the assembled weight of the hub and spindle is equal to four A380 aircrafts!
Ain Dubai which literally translates to Dubai Eye in Arabic which is a fitting moniker. This monument is surrounded by unforgettable experiences around it, making it a must visit attraction for all. A ride on this observation wheel gives you a one-of-a-kind experience and lasts around 48 minutes. LED screens in each capsule provide information on all the landmarks you can spot from the capsule amidst the captivating 360 views of Dubai.
Interesting Facts about Ain Dubai
• Ain Dubai stands at a height of 250 m which makes it the tallest Ferris wheel in the world, knocking out the London Eye and the Las Vegas giant wheel.

• Each run on the Ferris wheel is longer than a full-sized football field!

• The Ain Dubai features the world's highest rope-climbing platform at a height of 150 m.

• Ain Dubai's 48 capsules can accommodate approximately 1900 visitors per ride.

• 9000+ tons of steel was used to construct Ain Dubai

• 25% more steel than the Eiffel Tower was used to build the Ain Dubai!

• Each leg of Ain Dubai stands at a height of 126 metres and is long enough to fit 15 London buses!
What to expect at Ain Dubai: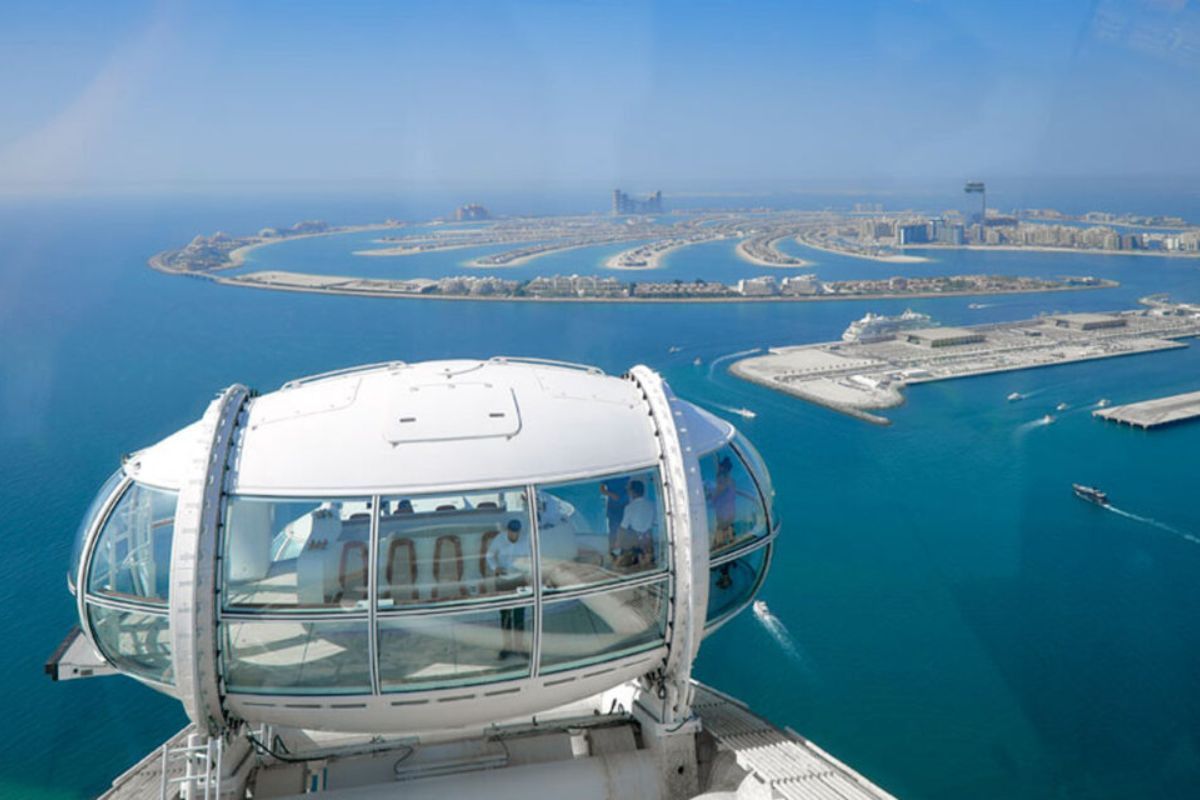 Ain Dubai, located across the water from the popular Jumeirah Beach Residences (JBR) beachfront, provides unrivalled 360-degree views of the city skyline in a relaxing yet mesmerizing 38-minute journey. With 48 air-conditioned passenger cabins, the breath-taking experience can be enjoyed by 1,750 visitors in a single revolution. It highlights the city's stunning coastline, Dubai Marina's sleek sights, and dreamy glimpses of famous landmarks such as the Burj Al Arab, Palm Jumeirah, and the Burj Khalifa. Visitors can take in two sides of Dubai on a ride that is open day and night, with its skyscrapers shining brightly in the sun's rays or the scenery gently glittering into the night as night falls.
Ain Dubai is more than an elevated vantage point for transforming city perspectives, the wheel's base serves as a world-class entertainment zone with a large LED screen mounted on it. Before you hop on to your capsule, you will be allowed to take a seat in a 4D cinema that features an impressively portrayal of Dubai's advances & history. This magnificent Ferris Wheel has 48 capsules with a total capacity of 1900. Each capsule is 30 square meters in size, made entirely of glass and can fit about 40 people in each of its capsules. A complete ride/round takes about 45 minutes. Not to mention, the luxurious cabins of Ain Dubai offer unusually high exclusivity with magnificent parquet floors, sofas, tables and more.
Cabins of Ain Dubai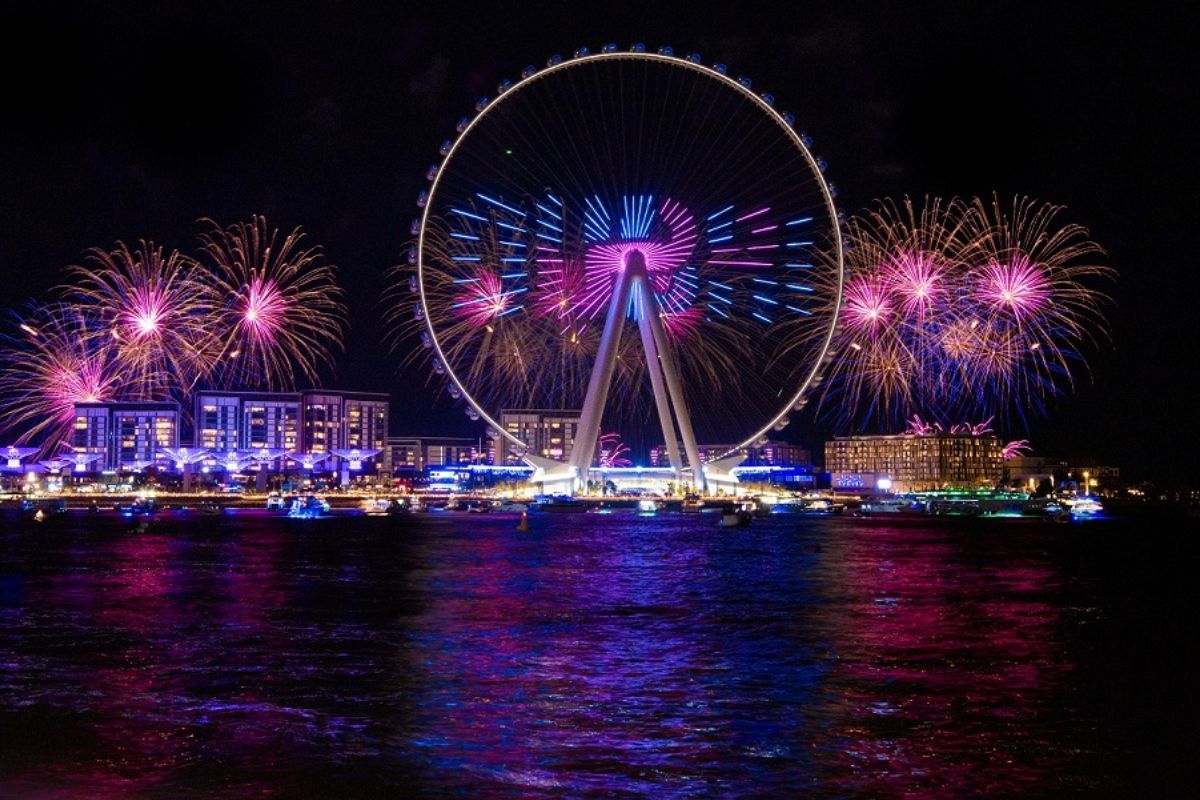 There are 48 high-tech cabins on Ain Dubai, which are broken down into three types: observation cabins that offer a 38-minute trip for a good look at the city below, social cabins which is a premium option and includes beverages and private cabins that are perfect to enjoy with groups or events.
Observation Cabins
These shared cabins are open all day and night and include a special sunset ride. The experience lasts about 38 minutes and can be shared with loved ones. A family pass is also available (with or without snacks).
Social Cabins
The social cabins are more than just admiring the view and allows you to relax at the end of a tiring day or start of a memorable nigh out. These cabins have access to the VIP lounge and a bar in the middle of the pod. The Lounge Plus ticket provides access to the VIP lounge as well as a complimentary beverage. The Vibes Plus ticket is only available to those over the age of 21 and includes free access to the pod as well as two drinks from the dedicated bar. The Premium option includes a more luxurious private cabin, three drinks from the bar, and F&B at Seaview Lounge after the trip.
Private Cabins
The private cabin is the ideal option to book for birthdays, engagements, weddings, business functions, or any other celebration. A variety of package choices are available, including a private three-course dinner experience over two-wheel rotations.
Restaurants near Ain Dubai
Two of the most popular restaurants near Ain Dubai are:
1.  Hell's Kitchen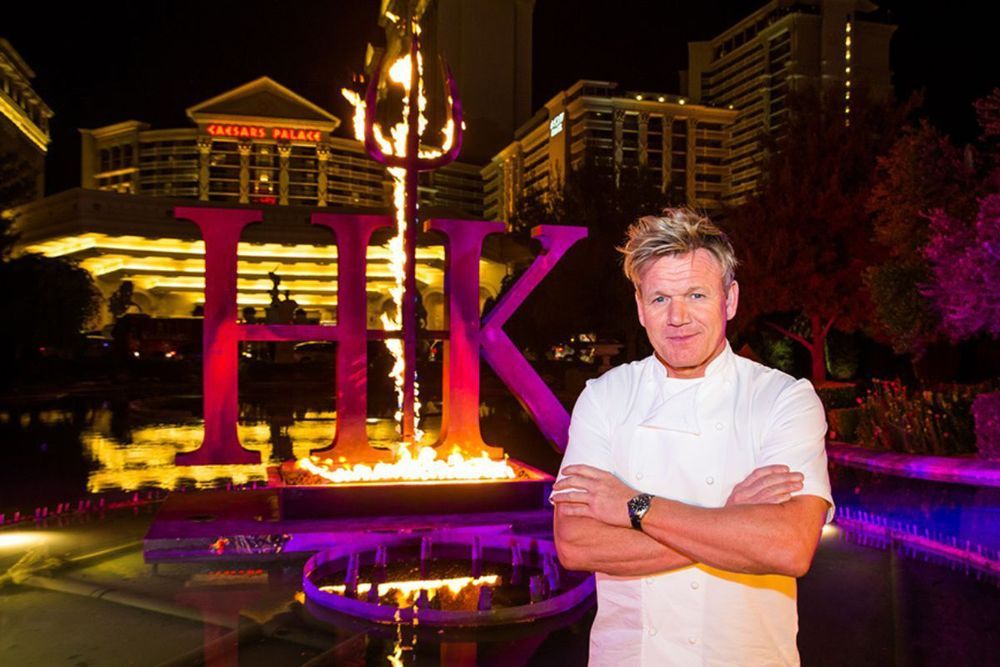 Gordon Ramsay is most popularly known for being the fiery headed judge on the popular TV show MasterChef US. Him yelling out profanities at the contestants and calling them an 'idiot sandwich' is what made him stand out and a favourite of many around the world. His restaurant 'Hell's Kitchen' is based on the reality show of the same name where the red and blue kitchens battle it out to win. Being situated at Bluewaters, it is set against mesmerizing scenic views of Dubai. Diners at Hell's Kitchen get to enjoy many of Ramsay's signature dishes like the Beef Wellington and Sticky Toffee Pudding. Other dishes that are a must try are 'Citrus & Beetroot Cured Salmon', 'Hell's Kitchen Lobster Bouillabaisse', 'Jidori Chicken', 'Hell's Kitchen Burger', 'Beer Battered Onion Rings' and 'Coconut White Chocolate Panna Cotta'.
Location: Caesars Palace, Bluewaters, Dubai |Timings: 07:00 am –12:00 am
2. Demon Duck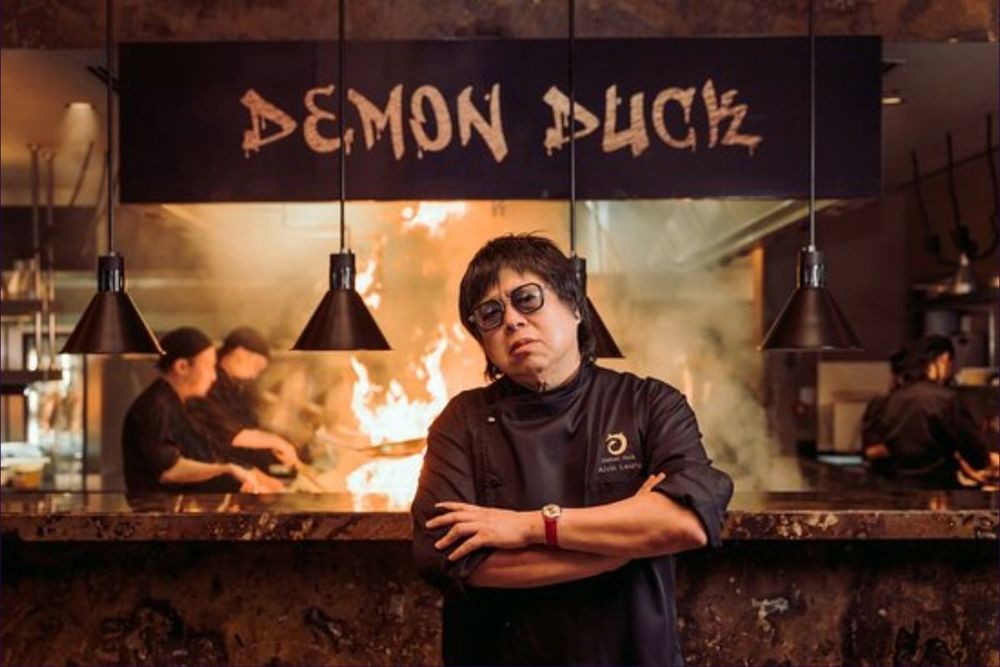 Hong Kong-based Alvin Leung known as the 'Demon Chef' gained popularity with being a judge on MasterChef Australia with a fiery temper. He has many Michelin-starred restaurants to his name. His Demon Duck restaurant in Dubai is a modern Chinese restaurant that is located on the serene views of Bluewaters. The restaurant takes diner on a journey though the Far East with a fresh take on classic Cantonese, Malaysian and Korean dishes. The Duck Journey with whole slow-roasted Peking duck served with citrus calamansi baos is the highlight of the menu. Other dishes you must try are 'Wasabi shrimp on toast', 'Soft shell crab spring roll', 'Chop chop suey', 'Signature duck soup with crispy rice', 'Sweet & sour chicken', 'Wagyu beef fried rice', 'Toffee banana' and 'Bubble bath'.
Location: Demon Duck, Caesars Palace Dubai, Bluewaters | Timings: 6:00 pm- 12:00 am
Other prominent restaurants near Ain Dubai are:
• The Selfish Bull
• Zhen-wei
• The London Project
• Alici
• Cove Beach
• Mitts & Trays
• The Coffee Club
• Sah El Nom
• La Brioche
• Basanti & Co.
• Americana
• Un Dimanche à Paris
• Tete Brazilian & Lebanese Restaurant
Location and Timings
Ain Dubai is located on Bluewaters Island which sits right off the coast of JBR.
Timing of Ain Dubai are Sunday to Saturday from 11:00 am to 09:00 pm.
Day/Night Experience: 12pm to 10pm
Sunset experience: 6pm - 9pm (Apr-Sep) or 5pm - 8pm (Oct-Mar)
*Please Note: Ain Dubai is currently temporarily closed for enhancement works. No reopening date has been confirmed yet.
How to reach to Ain Dubai
You can reach Ain Dubai by metro by getting down at the nearest metro station DMCC Metro Station from there you can either take a tram (the nearest tram station is Jumeriah Beach Residence Station), bus, or taxi to reach Ain Dubai. If you are travelling by car through Sheikh Zayed Road towards Abu Dhabi, take Exit 31 and follow the signs for the Bluewaters Island. There is also a Marine transport station on Bluewaters Island if you'd like to travel through the Dubai Ferry. You can also take a taxi or book an Uber or Careem to reach your destination.
Ticket information
A regular ticket for the observation cabins is priced at AED 13(adults) and AED 100(children)
Sunset prices increases to AED 180 (adults) and AED 150 (children)
The family pass plus ticket includes snacks which costs AED 450
The social cabins include access to the VIP lounge, as well as beverages within their package. A lounge plus pass in a shared cabin costs AED 175, while a premium pass includes a welcome drink and a premium cabin and costs AED 380. The vibes plus ticket is for over 21 only and comes with house drinks for AED200.
Book a private cabin for a truly exclusive experience for up to 10 people. The Celebrate Ain Dubai club package can be booked at sunset and prime times at AED 1,800 and the Celebrate Ain Dubai Plus includes mocktails, sparking and bubbly options costing AED 4,700
Things To do near Ain Dubai
• Brass Monkey
• Madame Tussauds
• Bluewaters Island
• Aqua Fun
• Marina Beach
• Flying Beach
• The Walk JBR
Also read: