Dubai is known as the city of dreams. It has some of the most iconic and interesting structures in the world. This glamorous city offers a variety of lavish and luxurious neighborhoods that provide a high standard of living. From the many luxury districts Dubai has, Business Bay is one such area. It is a mixed-use neighborhood in Dubai that is the most sought after for residential and commercial places.
Learn more about this trendy area in Dubai, Here's a complete guide to Business Bay in Dubai.
About Business Bay:
Business Bay is one of the trendiest residential and professional areas in Dubai. It is known for housing the most dynamic business communities in Dubai. Developed with a vision of being a 'new city' within Dubai by the city's leading property developers Dubai Properties in 2003. Business Bay spans across 64 million square feet and encompasses landscaped areas, pathways, and an impressive collection of commercial and residential towers for sale and on rent. It is located next to Dubai's iconic neighborhood, Downtown Dubai, and is surrounded by the glistening waters of the Dubai Canal. Business Bay is quickly achieving its goal of becoming Dubai's central business hub, offering a variety of first-rate amenities and a fast-paced lifestyle.
Business Bay is one of the most well-connected areas in Dubai, as it is located between two major highways and has its own metro station. Public buses and taxis are also easily accessible. Business Bay is also one of the most self-sufficient areas, with everything from massage parlors and spas to clinics and pharmacies.
Why is it called Business Bay?
Business Bay has gotten a lot of attention since its initial conception as it was meant to change the dynamics of Dubai's economic market; and it did. Because of its convenient location to most parts of the city, Business Bay has become one of the most desirable areas for many leading international and local corporations. Business Bay has evolved into a thriving business community over the years. The introduction of the Dubai metro in 2009 increased the area's popularity by making it even more accessible; this resulted in an increased number of companies setting up offices there, all of which were looking to take advantage of the area's connectivity, fast-paced environment, and availability of top-notch amenities. This neighborhood has maintained its position as a central hub of business activity in Dubai to date and continues to increase in popularity, which explains why there are so many businesses in Business Bay.
Things to do in Business Bay area:
1. Bay Avenue Park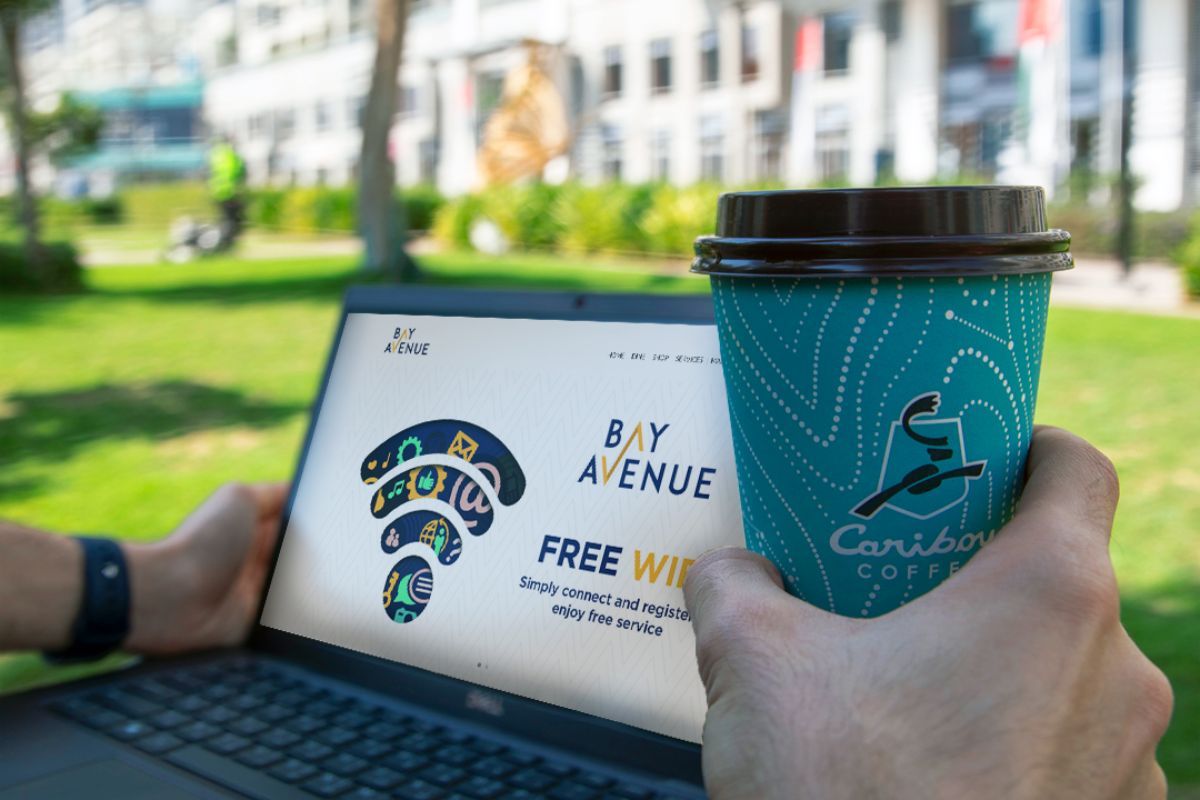 At this lovely Park in Business Bay, you'll find a jogging track, two outdoor gyms, a skate park, a trampolining area, butterfly shaped light installations, lush green gardens, and uninterrupted views of the Burj Khalifa. It is conveniently located next to a Spinneys nearby so you can also grab some snacks and have a picnic with your friends and family in this park. The highlight of the Bay Avenue Park is its free open-air skate park that attracts all levels of skateboarders. They have ramps to drop in, ledges, rails, and slopes to grind and is accessible for all levels and ages.
Location: Al Amal Street, Business Bay | Timings: Open daily 24 hours
2. Dubai Canal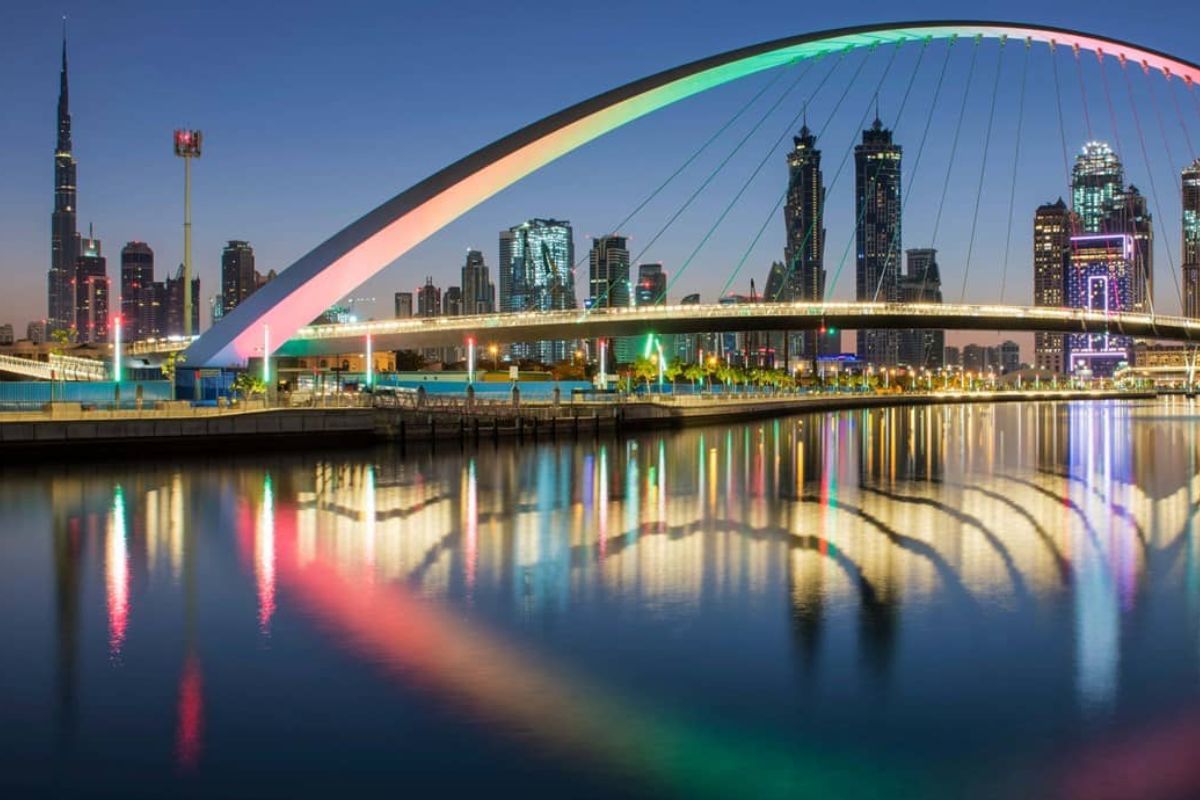 The spectacular Dubai Canal, a man-made project that highlights the free-flowing waters of the iconic Dubai Creek, is undoubtedly the defining feature of Business Bay. The 3-kilometer canal not only looks breath-taking, but it also connects Business Bay to the older parts of Dubai via an extremely efficient water transport system. It also holds 7,800 million liters of water and five Water Canal marine transport stations, making it a convenient place to visit. There's a 3km jogging track and a 12km cycle path for those who want to stay fit while strolling, running, or biking. If you're looking for something magnificent, don't miss the mechanical waterfall near the Sheikh Zayed Road Bridge. It is the best thing to do in Business Bay where you can just sit, relax, and breathe in the beautiful views around you.
3. La Perle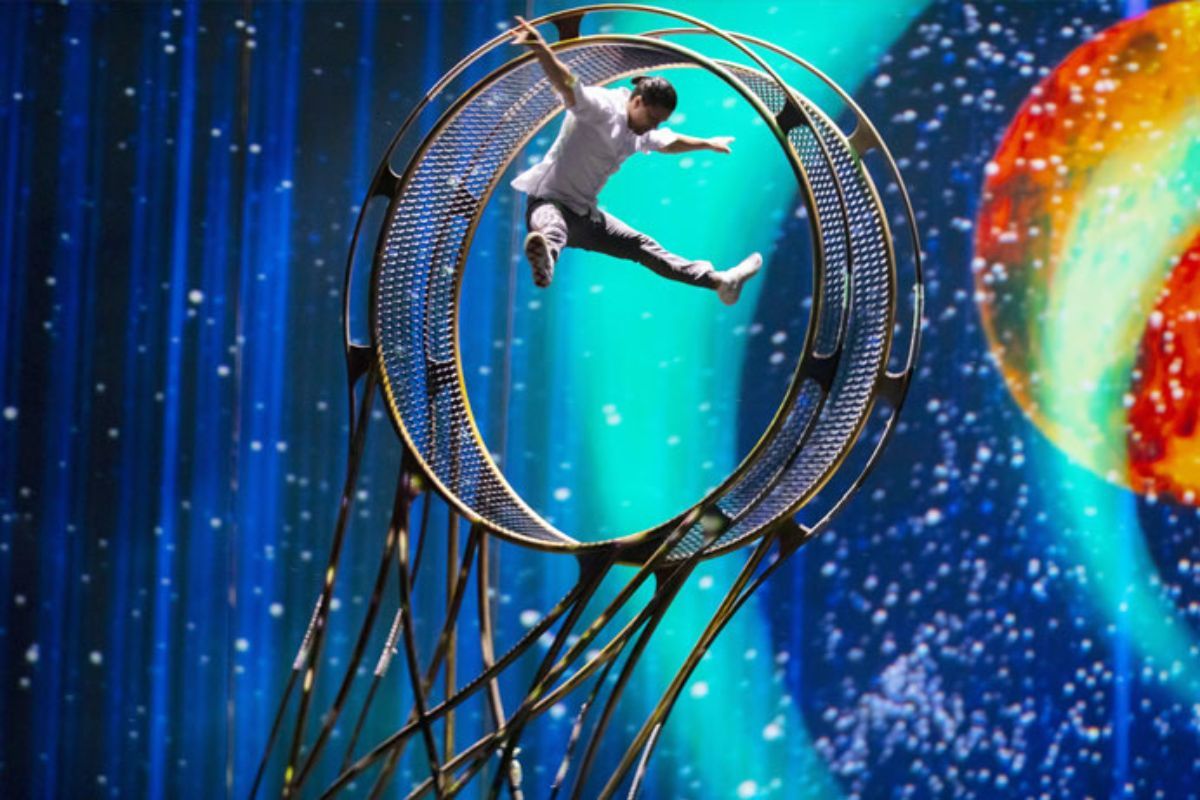 Business Bay is also home to the famous production La Perle designed by creative director Franco Dragone. Located in the W Hotel, it features breath-taking fusion of immersive artistic performances, imagery, and technology. This magnificent show is influenced by Dubai's rich culture, vibrant present and aspirational future that are brought to life by awe-inspiring stunts and special effects that will leave you mesmerized and speechless.  Experience the history of Dubai's pearl diving culture with the show's aqua theatre. Witness the stage flood with water and drain in a matter of seconds as the artists perform mind-blowing aqua and aerial feats.
Hotels In Business Bay:
Business Bay area has many popular 5-star hotels. The Steinberger Hotel is one of the most popular hotels in the area. It is home to The Backyard, a nightlife spot that is one of the best bars in Business Bay. Radisson Blu Hotel Waterfront is another hotel that is located adjacent to the Dubai Water Canal. The hotel consists of 432 rooms and 8 fine-dining restaurants and bars. The JW Marriott Marquis which was known as the tallest hotel in the world until 2018, is also one of the best 5 – star hotels in Business Bay. This beautiful twin-towered hotel can be seen from all over the Business Bay area. The Taj Hotel Dubai is also located on the edge of Business Bay and is within walking distance from both the Business Bay and Burj Khalifa/Dubai Mall metro stations. The Oberoi Hotel is also located in Business Bay and offers views of Burj Khalifa from the balconies of its luxury hotel rooms. It also features Ananta, one of the best fine-dining Indian restaurants in Dubai.
Here are some of the most popular Hotels in Business Bay:
•             Double Tree by Hilton Dubai
•             Radisson Blue Hotel, Dubai Waterfront
•             JW Marriott Marquis Hotel
•             Taj Dubai
•             The Oberoi
•             Grand Millennium Business Bay
•             Renaissance Downtown Hotel, Dubai
•             ME Dubai
•             W Hotel
•             Steinberger Hotel
Restaurants in Business Bay area: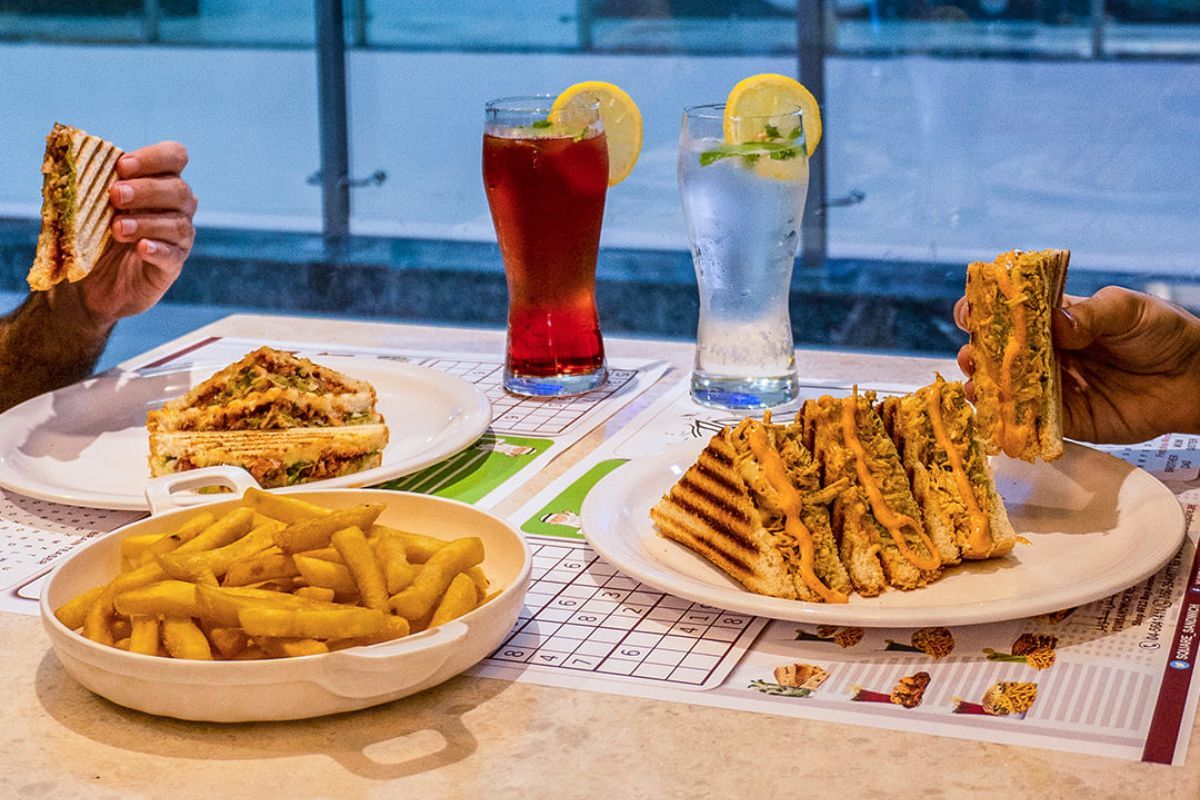 Dubai offers a wide variety of culinary options. There's plenty to experience in the city for true foodies, whether it's caviar in a fine-dining restaurant delicious street food from cafeterias. While many areas in Dubai are known for their abundance of restaurants, few districts offer as many options as Business Bay. So, if you want to indulge in gourmet food and have an unforgettable experience, go to Business Bay. Business Bay restaurants range from casual to fine dining establishments. The numerous dining options in Downtown Dubai, City Walk, and DIFC are also nearby.
Here are the most popular restaurants in Business Bay:
• Kitchen 6
•  Basta
• Bleu Blanc Oysters & Grill
• Bombay Brasserie
• Tong Thai
• Prime 68
• Miss Tess
• Tangerine
• Long Tong
• Nurai
• Pacific Grove
• ROKA
• The Eloquent Elephant
Cafes in Business Bay area:
• Mama'esh
• Circle Café
• The Kana Café
• Healthy Little Secrets
• La Brioche
• Café Délices
• Espressini Café
•Barista's Corner
• Café Barbera
Bars, Pubs and Nightlife in Business Bay:
• Café Artois at Bridgewater
• Hotel Cartagena
• La Mezcaleria
• Makar
• PizzaExpress Live
• Seven Sisters
• Treehouse
• Weslodge Salon
How to Get to Business Bay:
Getting to Business Bay is not difficult at all. If you're relying on the metro then, the Business Bay Metro Station is available with a selection of taxis and buses that ply the area. If you are headed there by car, you can easily access it through Sheikh Zayed Road. The Business Bay Metro Station is available for those relying on public transportation in Business Bay along with a selection of taxis and buses that ply the area. You can also use the public transport Bus there are many busses that go towards the Business Bay Metro Station like X22. You Can also book a taxi or other taxi services like Uber and Careem. Since Business Bay is adjacent to Downtown Dubai you can easily reach Business BAY from Dubai Mall and Burj Khalifa metro station of near by areas.
Places to Visit nearby:
Business Bay is located near Downtown Dubai, with the industrial area of Al Quoz to the north and the modern Al Habtoor City across the Dubai Canal. It's close to DIFC, Al Safa, Jumeirah, and Sheikh Zayed Road, making it an ideal location for city professionals looking to rent or buy property.
• Downtown Dubai is a 11-minutecar drive from business Bay.
• Sheikh Zayed Road is 18-minute drive away.
• City Walk and Jumeirah are 10-minute drive far from Business Bay.
• From Business Bay, it takes a 15-minute drive to reach the Dubai International Airport.
• It takes around 38 minutes to reach the emirate of Sharjah from Business Bay area.
• Dubai Marina is a 20-minute car drive from Business Bay.
• You can also reach Palm Jumeirah by a 21-minute car drive.