Emirati entrepreneurs and national enterprises affiliated with the Mohammed Bin Rashid Establishment for Small and Medium Enterprises Development (Dubai SME), part of Dubai's Department of Economy and Tourism (DET), were awarded approximately AED1.12 billion worth of contracts and purchases in 2022 under the Government Procurement Programme (GPP), a remarkable growth of over 21.5% compared to 2021.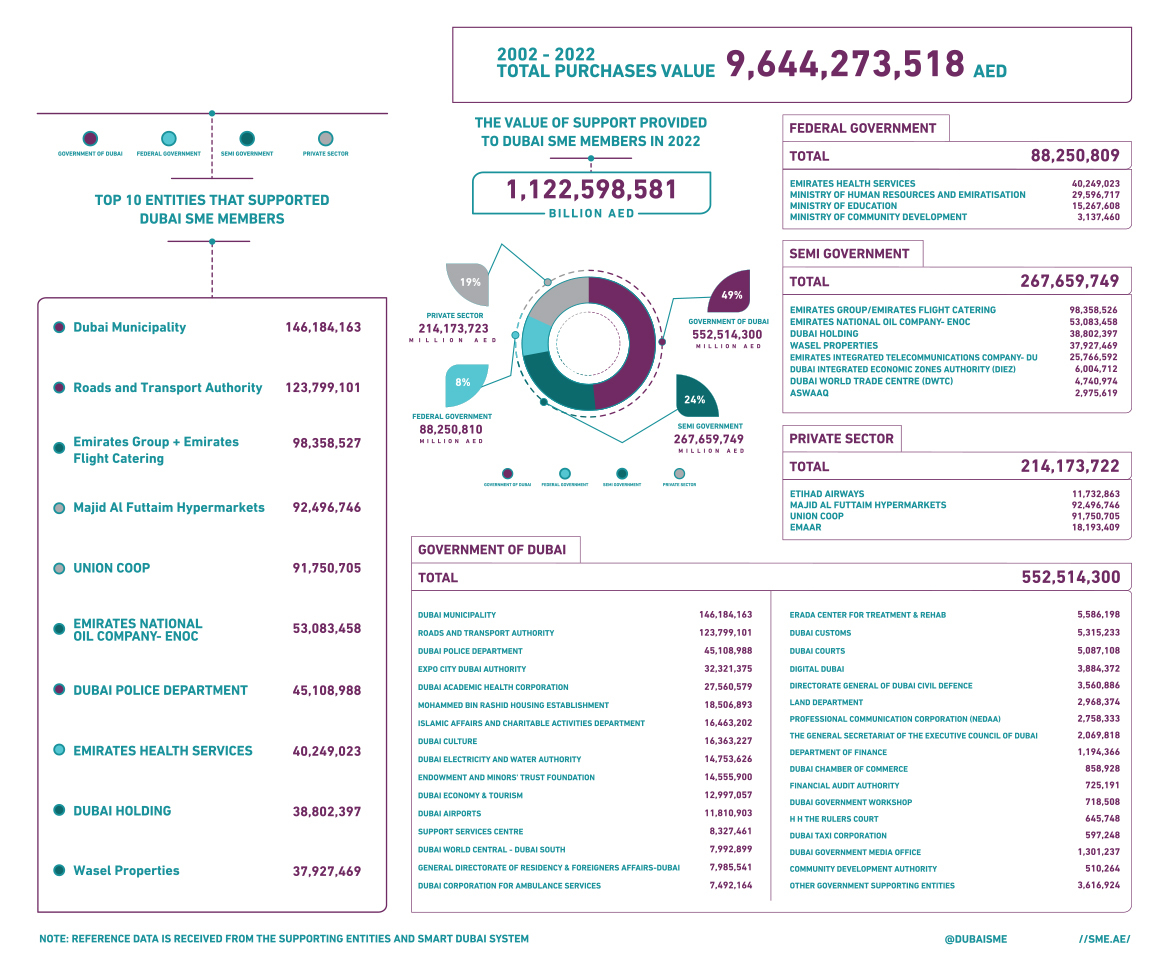 The contracts were secured by Dubai SME members from several local and federal government entities, semi-government organisations and private businesses. Launched in line with the directives of His Highness Sheikh Mohammed bin Rashid Al Maktoum, Vice President and Prime Minister of the UAE and Ruler of Dubai, the Government Procurement Programme requires government and other entities, in which the government holds 25% or more equity, to allocate 10% of their purchasing to Emirati companies that are members of Dubai SME.  

His Highness Sheikh Hamdan bin Mohammed bin Rashid Al Maktoum, Crown Prince of Dubai and Chairman of The Executive Council of Dubai, stated that under the directives of His Highness Sheikh Mohammed bin Rashid Al Maktoum, the emirate continues to enhance the supportive environment necessary for small and medium enterprises to thrive. SMEs represent a major pillar of the economy, and the government is committed to providing them with the growth-friendly ecosystem needed to launch new ventures, tap opportunities and expand their business, both in the country and beyond its borders, he added.

His Highness also stressed that Dubai is keen to create opportunities for Emirati SMEs to access markets and raise the uptake of their products, services and solutions.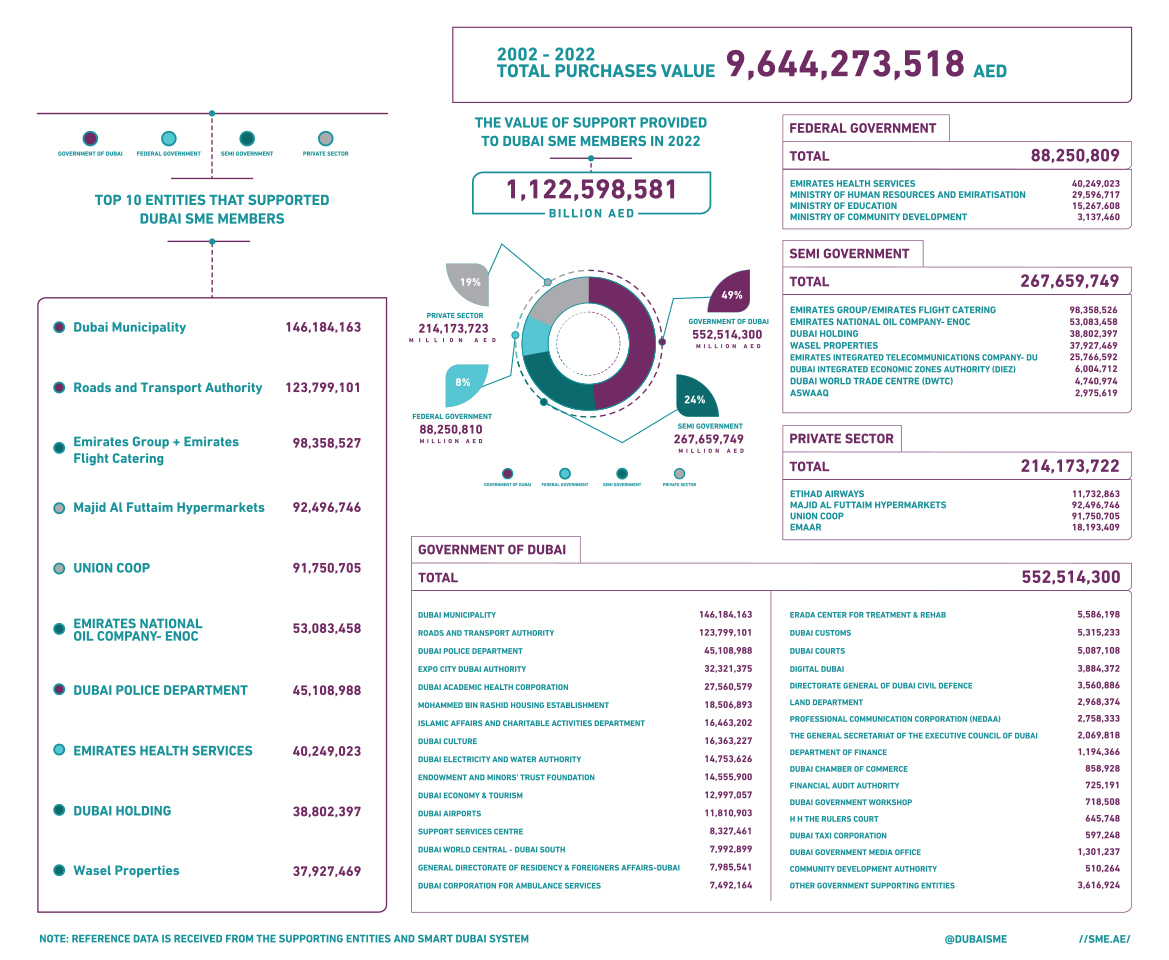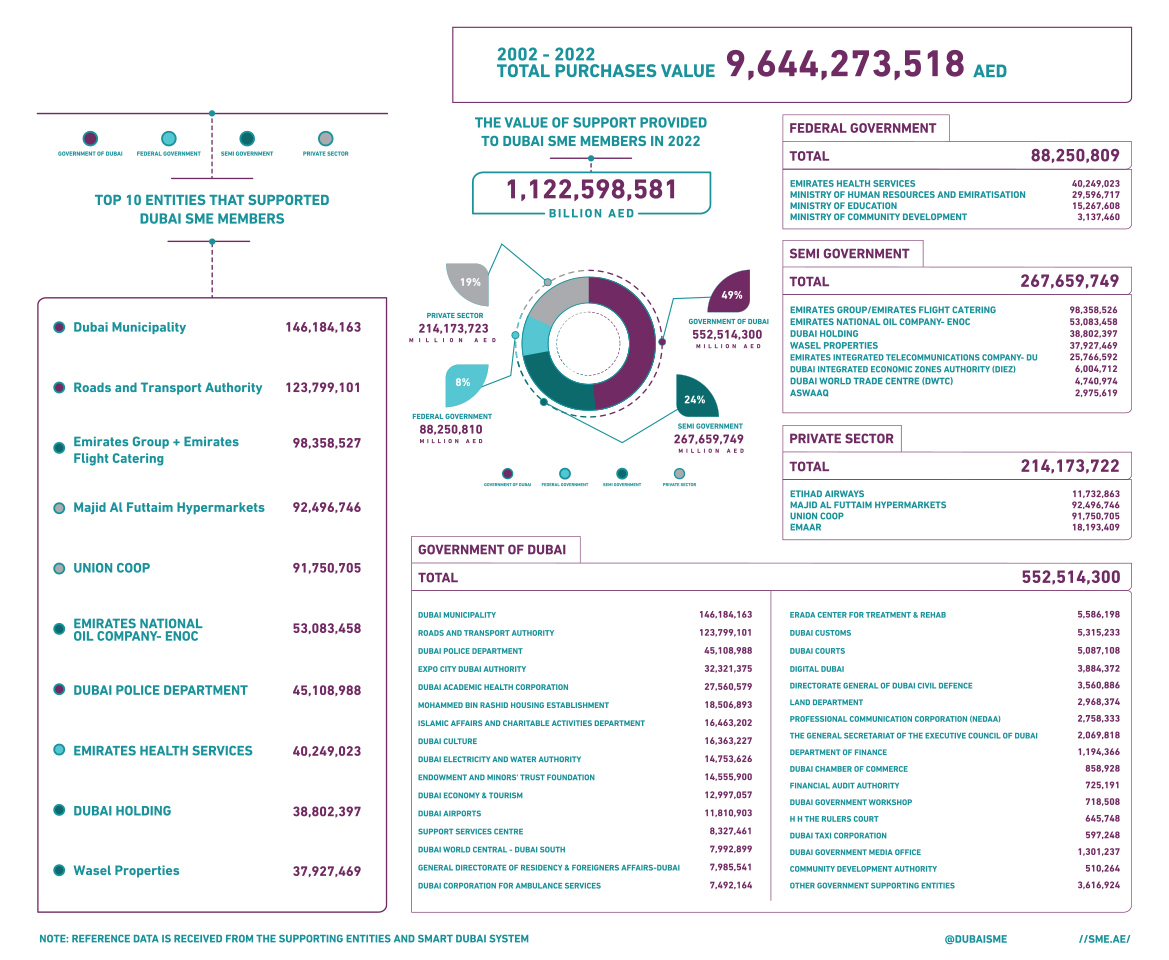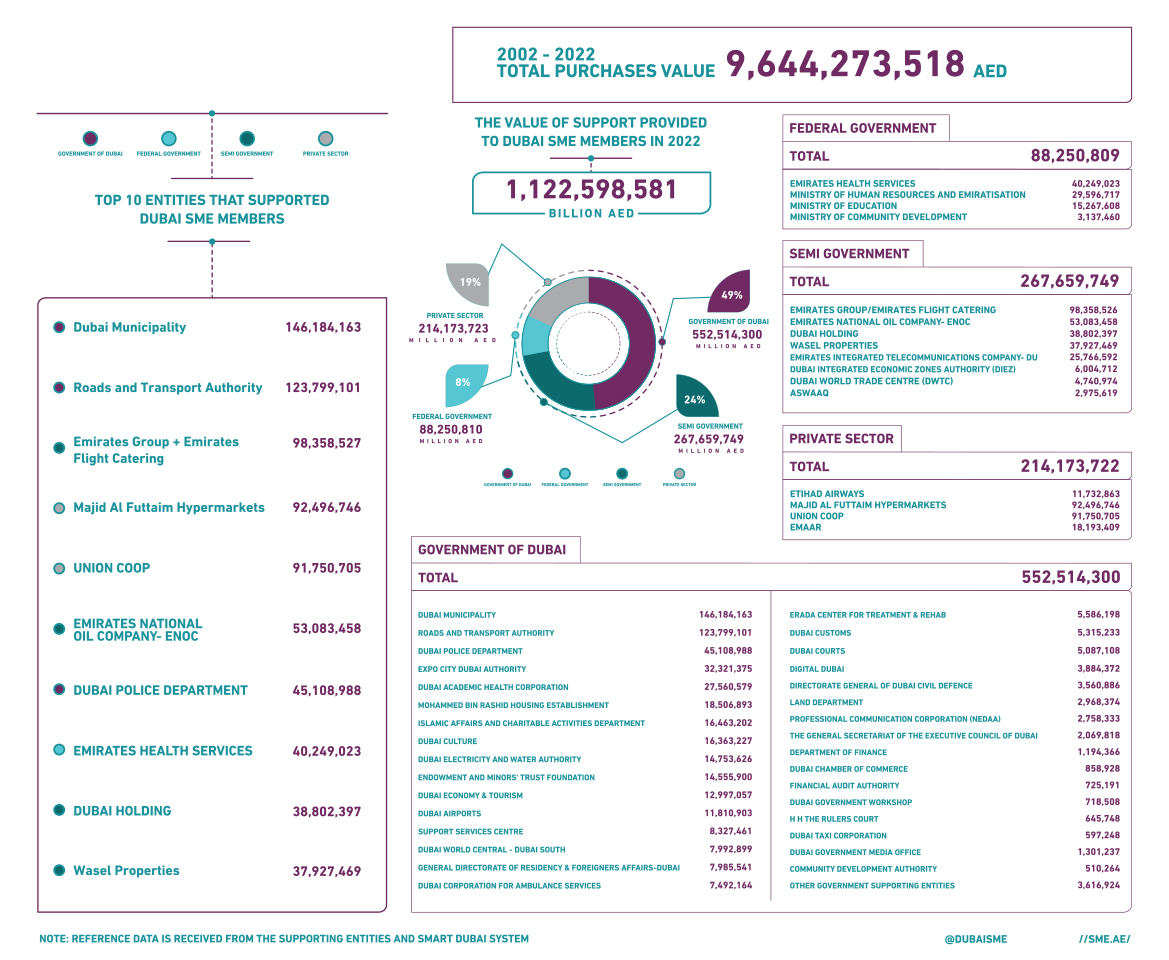 "Dubai will continue to build on its status as one of the best platforms for SMEs to thrive. The Government Procurement Programme reflects our commitment to empowering SMEs and raising their contributions to Dubai's sustainable economic development,"
he said.

The Government Procurement Programme provides a significant impetus to DET's efforts to further consolidate Dubai's status as one of the top three global cities. As part of the D33 strategy, Dubai aims to boost government spending, increase the value of domestic demand for goods and services and empower Emirati talent with the knowledge and skills required to integrate into the workforce of the future.

The contribution of Dubai government entities towards the programme in 2022 was worth AED552.51 million, while federal government entities granted contracts worth AED88.25 million. Semi-government entities contributed AED267.65 million, while private sector establishments provided support amounting to AED214.17 million.

Several national companies benefitted from contracts in 2022 through the Government Procurement Programme. The programme's purchases and supplies were diversified to include various sectors, with the commercial sector accounting for 83% of purchases, followed by the professional services sector at 13% and the industrial sector at 4%.

The Government Procurement Programme has been playing a significant role in facilitating the success of Emirati entrepreneurs since its inception in 2002, contributing up to AED9.64 billion in contracts and purchases by the end of 2022. The programme has been instrumental in supporting members of Dubai SME to meet the market's demands and has served as a vital component in promoting entrepreneurship in the emirate.
At a recent meeting of The Executive Council of Dubai, HH Sheikh Hamdan bin Mohammed approved the adoption of the 'future model' of Dubai SME. Through this strategic model, which aligns with the objectives of the Dubai Economic Agenda D33, the emirate aims to support innovative ideas and projects, create 86,000 new job opportunities, enable 8,000 Emirati entrepreneurs, establish 27,000 projects, and contribute approximately AED9 billion to the GDP.
His Excellency Helal Saeed Almarri, Director General of Dubai's Department of Economy and Tourism, commented:
"A key driver of Dubai SME's growth strategy, the Government Procurement Programme is aligned with the strategic vision of His Highness Sheikh Mohammed bin Rashid Al Maktoum, Vice President and Prime Minister of the UAE and Ruler of Dubai, to bolster the entrepreneurial ecosystem and position Dubai as a global hub for business and investment."  

"The increase in the value of contracts awarded to Dubai SME members in 2022 underlines the confidence and trust in the local SME sector and its pivotal role in building a competitive and diversified economy. As we focus on driving the continuous development of Dubai's SME sector in line with the goals of our ambitious D33 Agenda, we encourage increased support from government, semi-government, and private sector establishments to create more opportunities for Emirati entrepreneurs and pave the way for top-performing SMEs to grow into successful global enterprises."
Abdul Basit Al Janahi, CEO of Dubai SME, said:
"Dubai SME operates within well-defined objectives designed to promote and enhance entrepreneurship, enabling its members to play a significant role in Dubai's economic development, in line with the directives of our visionary leadership, which lays emphasis on facilitating business set up and growth for Emirati entrepreneurs. Since inception, we have been able to support them with the necessary guidance, innovative ideas and incentives and ensure they have access to the resources, expertise and opportunities. The significant increase in contracts under the Government Procurement Programme in 2022 has had a huge impact and given a timely boost to the projects launched by Dubai SME members. As we recognise the important role that SMEs play in stimulating economic growth, we are committed to doing our part to ensure that they will continue to have all the support they need to succeed."
Dubai Government entities supporting SMEs include Dubai Municipality, the Roads and Transport Authority and Dubai Police. Federal government entities at the forefront of supporting SMEs include Emirates Health Services and the Ministry of Human Resources and Emiratisation.

Majid Al Futtaim Hypermarkets, Union Coop and Emaar were the top contributors from the private sector, while the Emirates Group, Emirates National Oil Company (ENOC), and Dubai Holding topped the list of entities from the semi-government sector supporting SMEs.

The Government Procurement Programme is notable for its inclusivity, covering a wide range of economic activities that cater to the needs of relevant stakeholders and partners. It also directly promotes Dubai SME members to these partner entities, providing them with opportunities to obtain membership in the Dubai government's e-procurement portal. Registered national companies in the programme are also exempt from registration fees in the approved suppliers' register.
News Source: Dubai Media Office