The freshly-cooked meals will be available in canteens of 17 schools in the first phase, and will be extended later.
Live cooking and hot meals will be made available at select public schools in the UAE, it was announced on Tuesday.
The freshly-cooked meals will be available in canteens of 17 schools in the first phase once they reopen for the new academic year on August 28.
Subsequently, the initiative will be extended to all schools in collaboration with private sector partners.
Mohammed Al Qasim, director-general of the Emirates Schools Establishment, said the provision of fresh food is part of a larger plan to promote healthy eating among students.
The upcoming academic year promises a host of groundbreaking initiatives aimed at enriching the student experience.
As students return to their school, a range of programmes awaits them. With over 450 extracurricular activities planned for the coming year, students can look forward to expanding their cognitive and practical skills. The comprehensive programmes encompass diverse areas, including skill empowerment, capacity building, and skill-based activities. Reading initiatives, entrepreneurship workshops, student camps, and community service projects form an integral part of this multifaceted approach.
Efforts will also be directed towards identifying and nurturing gifted and innovative students. Scientific Olympiads, sports championships, and other specialized programs will provide students with platforms to excel and showcase their capabilities.
Beyond programmatic enhancements, school infrastructure and technology upgrades have also taken centre stage. A total of 30 schools have undergone comprehensive maintenance, while an impressive 47 schools have been renovated with14 new schools have been inaugurated.
A schooling model called Ajyal has been implemented in 18 schools, benefiting 13,000 students.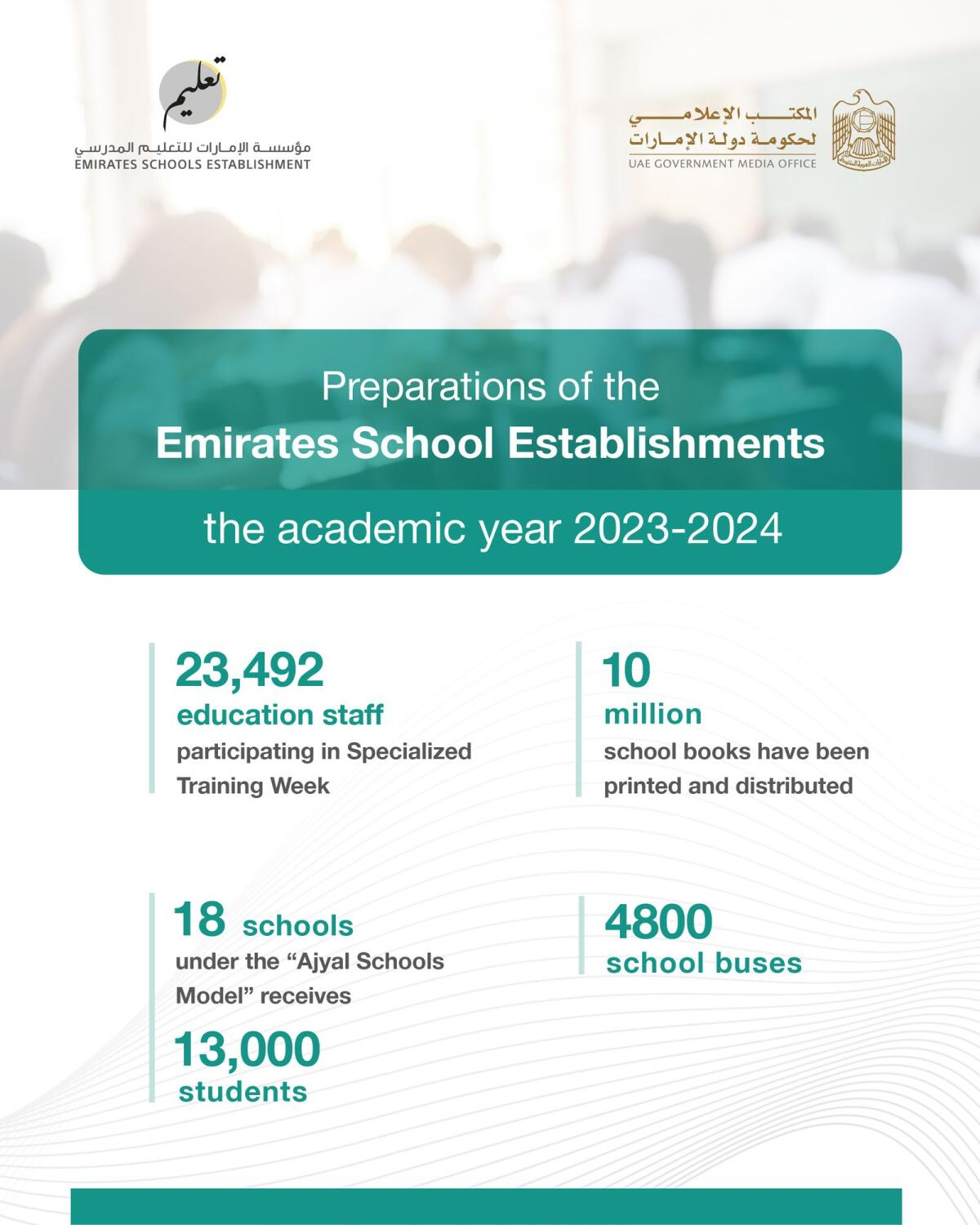 A total of 3,600 computers have been distributed to students, empowering them with digital tools for learning. Furthermore, 2,000 new interactive devices have been provided to schools, ensuring a dynamic and engaging learning experience.
A strong transportation network has also been bolstered. Over 4,000 school buses equipped with latest technology and upholding rigorous health and safety standards have been introduced, ensuring the safe and efficient movement of students.
News Source: Khaleej Times