In a world where sustainability and financial flexibility are becoming increasingly important, a groundbreaking solution has emerged in the UAE that aligns with both these principles. Say hello to YJOZ, a revolutionary app that is changing the way we think about ownership. YJOZ isn't just another platform, it's a paradigm shift that allows you to rent a vast array of items and earn money by renting out your belongings.
This is great when you're planning a house party but don't want to invest in speakers. If it's a one-time event, you won't want to spend money on something pricey that you'll probably never use again. This is where YJOZ comes in to save the day, it saves you money and is sustainable towards the environment.
Let's learn more about this one-of-a-kind app, how it works, explore its features, and how it is transforming the rental landscape in the UAE.
About YJOZ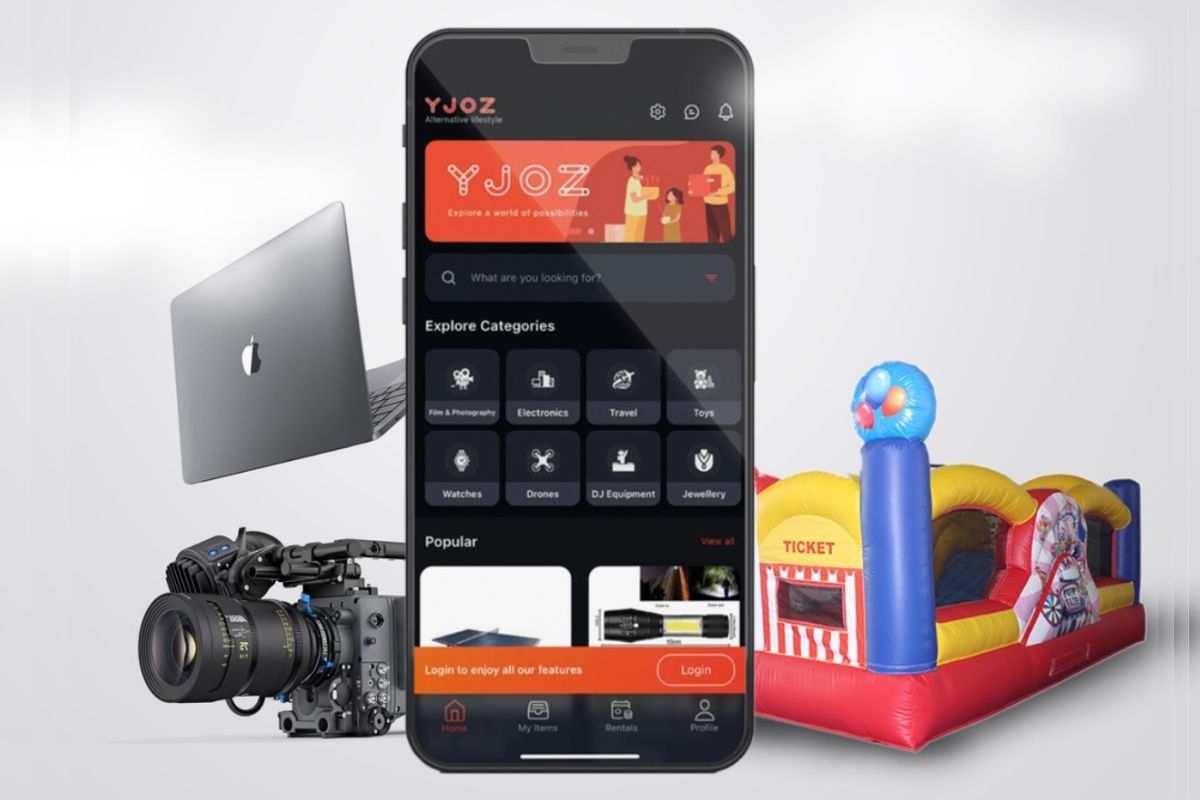 YJOZ is a pioneering mobile application in the GCC and the Middle East that offers a new perspective on ownership and consumption. Founded by Emirati businessman Yousef Bin Saeed Al Lootah with the goal of encouraging sustainable living, reducing waste, and promoting the reuse of products rather than purchasing them outright. YJOZ allows users to rent out items they own, while simultaneously enabling them to rent products they need. The platform operates on the principles of ease, affordability, and community engagement, making it an excellent solution for people seeking a more responsible and flexible lifestyle.
"We are living in an era that requires us to confront numerous environmental challenges, such as protecting the environment and reducing carbon emissions. We are also concerned about the excessive exploitation of natural resources and the unsustainable production of consumer goods. This is where YJOZ emerges as an innovative solution contributing to environmental protection and sustainable development,"
says, Yousif Bin Saeed Al Lootah, Founder of YJOZ
By providing rental options, YJOZ seeks to promote a circular economy and reduce the environmental impact of excessive consumption. By renting instead of buying, customers can access a wide range of products without the need for long-term ownership, reducing the overall demand for new items and conserving resources.
"Caring about the environment is a must and has never been more important than now,"
says Al Lootah.
YJOZ rents out a wide variety of products, including electronics, appliances, furniture, fashion items, sports equipment, tools, accessories, cameras, gaming consoles, camping equipment, and more. If you have something that someone else would find helpful rather than collecting dust in the back of the cupboard, you can rent it out using the app. You won't have to worry about your item getting destroyed, either, because all items are insured up to Dhs20,000.
How YJOZ works: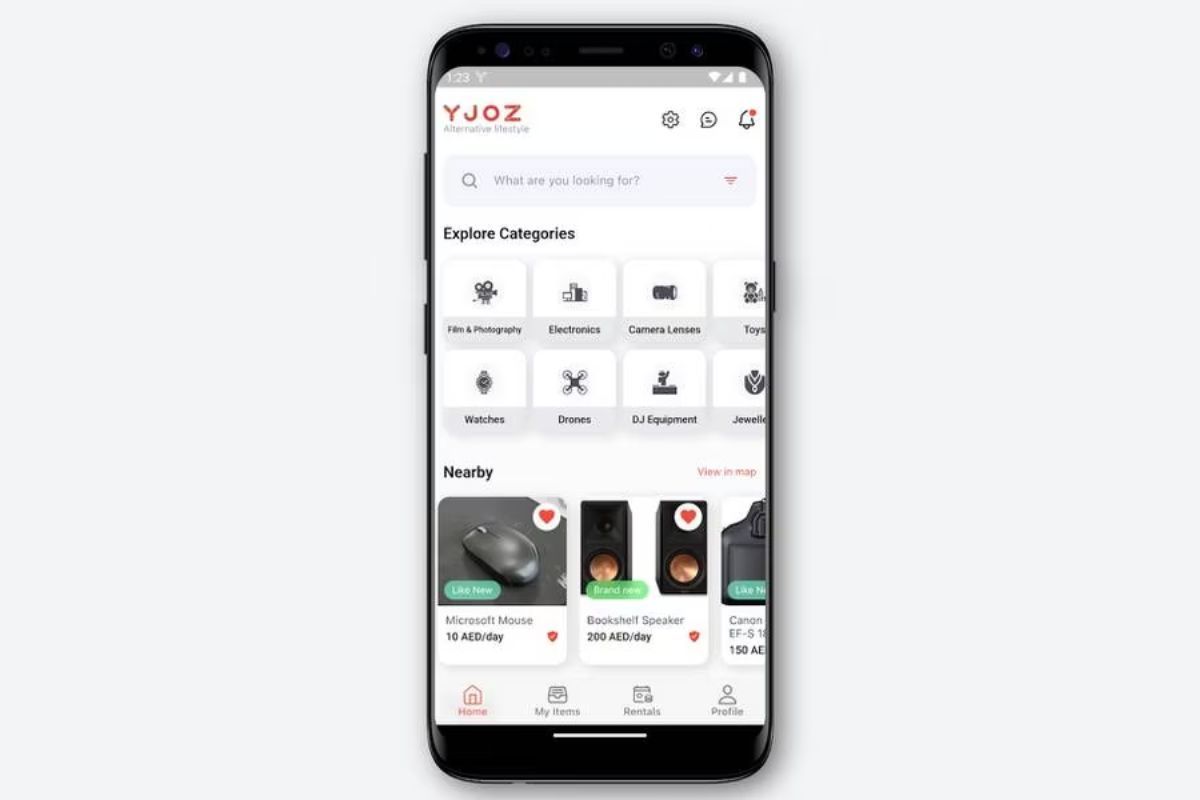 At its core, YJOZ operates on a simple yet powerful principle: connecting people who need items temporarily with those who have them to spare. The platform offers a vast range of items available for rent, ranging from everyday tools and equipment to recreational gear, electronics, and even high-end fashion items. Whether you're planning a camping trip, need a professional camera for an event, or want to try out a luxury handbag, YJOZ has you covered.
The process is seamless:
Download the YJOZ mobile app available on ios and Play store
Create an account with YJOZ adding in your log in details
Browse: Easily navigate the app to find the item you need. The app's user-friendly interface categorizes items by giving you various drop-down buttons and filters which makes it convenient to explore different options.
Place an order: Once you've found the perfect item, you can request to rent it from the owner. Select the product of your choice, with the duration that your prefer and complete it you're your preferable payment mode. Owners on YJOZ can also set their own rental terms, including duration and pricing, giving renters flexibility and choice.
Get your order: Get in touch with the owner to arrange a date for picking up the item. Once the date is confirmed, go to the owner's location, and collect your order.
Earn: On the flip side, if you own items that are in demand, you can list them on YJOZ for others to rent. This provides you with an opportunity to earn cash by leveraging the assets you already own.
Transactions and Security: YJOZ facilitates secure transactions, ensuring that both renters and owners feel confident in their interactions. The platform employs secure payment gateways and offers insurance options to protect items from accidental damage.
Categories of products available on YJOZ: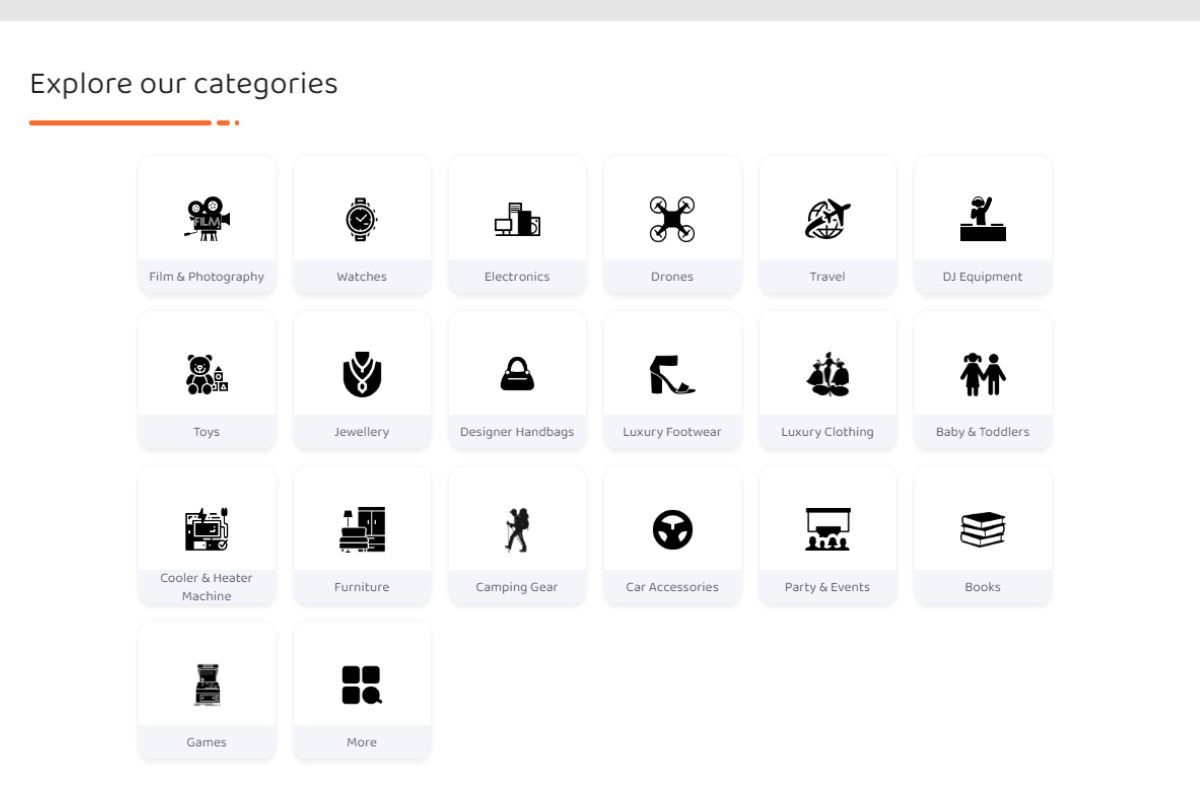 YJOZ caters to a diverse range of needs through its wide array of categories and products. Here are the categories you can find on YJOZ:
Film & Photography: You can rent high-quality cameras, lenses, tripods, lens covers, ring lights, phot lights, phot umbrellas and more to make your memories truly unforgettable. Whether you're a professional photographer or an aspiring enthusiast, YJOZ has the gear you need to capture every frame.
Watches: Elevate your style with YJOS's collection of Watches. From designer pieces to limited edition models, you can find the perfect accessory to complement your look without the commitment of ownership.
Electronics: Stay up to date with the latest gadgets and devices. You can rent out speakers, gaming devices, PA System, Home and Kitchen appliances, Tv Screen, and other accessories to experience cutting-edge technology without the upfront cost.
Travel: Travel smarter with products from the Travel category. You can rent out luggage, travel essentials and other items to make your journeys more convenient and enjoyable.
DJ Equipment: Turn up the beat with the DJ Equipment category. You can rent out controllers, mixers, speakers, drums, lighting, and other accessories to create an unforgettable audiovisual experience for your events.
Toys: Make playtime extraordinary with the Toys category. You can rent a wide range of toys and games for kids of all ages, keeping them entertained and engaged without accumulating clutter.
Jewelry: Adorn yourself with elegance through the Jewelry collection. You can rent stunning pieces for special occasions and make a statement without the hefty price tag.
Designer Handbags: Carry luxury at your fingertips with the Designer Handbags. You can rent iconic bags from renowned brands to accessorize your outfits with sophistication.
Luxury Footwear: Step into style with the Luxury Footwear category. You can rent designer shoes for a special event or to complete your everyday look with a touch of luxury.
Luxury Clothing: Dress to impress with the Luxury Clothing selection. You can tent high-end apparel for weddings, parties, or any occasion that demands a show-stopping outfit.
Baby and Toddlers: Find everything your little ones need in the Baby and Toddlers category. You can rent baby gear, strollers, toys, and more to keep them comfortable and entertained.
Cooler and Heater Machines: Stay comfortable in any climate with the Cooler and Heater Machines. You can rent portable cooling and heating units to create the perfect environment wherever you are.
Furniture: Transform your space with the Furniture offerings. You can rent sofas, tables, chairs, and home décor to enhance your living area without the commitment of ownership.
Camping Gear: Embrace the great outdoors with the Camping Gear category. You can rent tents, sleeping bags, cooking equipment, and more for a memorable camping experience.
Car Accessories: Upgrade your ride with products from the Car Accessories category. You can rent gadgets, accessories, and equipment to enhance your driving experience and hit the road in style.
Party and Events: Host unforgettable gatherings with products from the Party and Events category. You can rent event furniture, decorations, and equipment to create a vibrant atmosphere for your celebrations.
Books: Feed your mind with the collection of Books. You can rent fiction, non-fiction, and educational titles to expand your knowledge and enjoy literary journeys.
Games and More: Entertain yourself with various items from the Games category. You can rent board games, video game consoles, and other forms of entertainment to have fun without accumulating clutter.
YJOZ provides a wide range of categories, making it a one-stop shop for all of your renting needs. Whether you've been looking for luxury items, useful tools, or exciting experiences, YJOZ offers something to suit your tastes and needs.
Advantages of Using YJOZ:

1. Cost-Effective: YJOZ helps users save money by eliminating the need to purchase items they'll only use occasionally. Renting instead of buying can be significantly more cost-effective, especially for high-ticket items.
2. Sustainability: YJOZ promotes sustainability by encouraging the sharing of resources. This reduces the overall demand for new products, leading to less waste and a smaller carbon footprint.
3. Convenience: The app's extensive inventory ensures that users can find the items they need quickly and easily, saving them time and effort.
4. Earning Potential: YJOZ provides an additional stream of income for individuals who have items they're willing to rent out. This can be particularly appealing for those looking to monetize assets they rarely use.
5. Variety: From practical tools to luxury goods, YJOZ offers a wide range of items to choose from, catering to diverse needs and preferences.
Conclusion

YJOZ is revolutionizing how we consume and interact with the items around us. By offering a platform that encourages renting, sharing, and earning, the app is contributing to a more sustainable, affordable, and community-driven lifestyle. Whether you're a tech enthusiast, an outdoor adventurer, a fashionista, or someone looking to declutter and earn extra income, YJOZ has something valuable to offer. Embrace the future of ownership with YJOZ and be part of a movement that's reshaping the way we live and connect in the UAE.
Also Read: