Consumer demand for electric vehicles has been rising across the world, says an expert.
Indian motorcycle manufacturer TVS Motor on Wednesday launched its electric two-wheeler in the UAE.
The company priced the electric scooter – named TVS X – at Rs249,990 (Dh11,120), with the first 2,000 buyers getting additional benefits.
KN Radhakrishnan, director and CEO of TVS Motor Company, said the booking has started, and delivery will begin in India from November 2023.
"We plan to expand it to other cities in the last quarter of this financial year,"
Radhakrishnan said during the launch.
For the UAE and other markets around the world, the TVS e-scooter will be rolled out from the next financial year that starts in April, the chief executive said. Prices in the UAE, he added, will be competitive.
"This is just the first model and it will evolve as we will continue to invest, in it,"
he added.
The launch of TVS X was also displayed on the world's tallest building Burj Khalifa on Wednesday.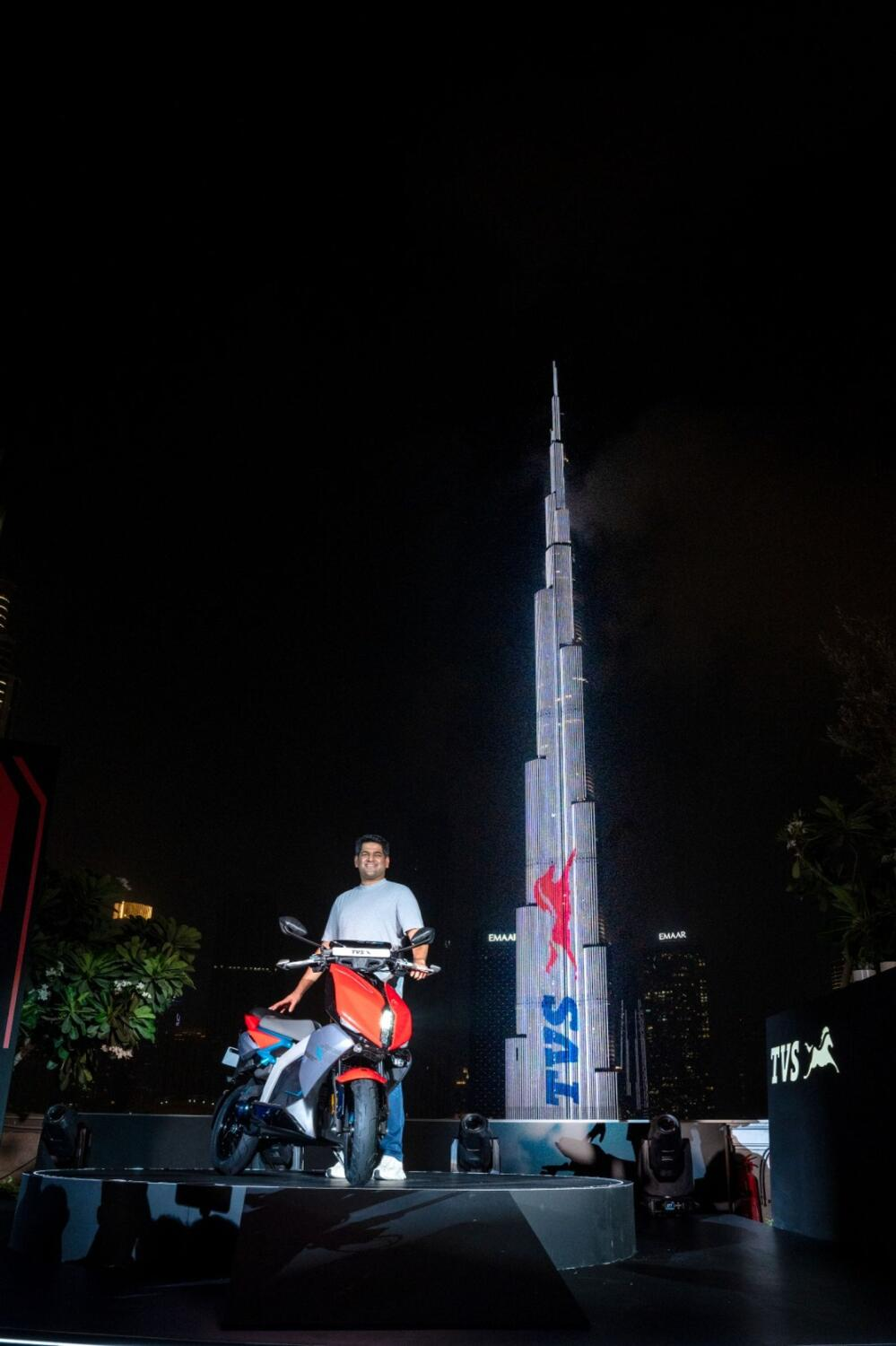 Here are some of the two-wheeler's features:

105kmph – top speed
Range, Indian drive cycle – 140 km
Acceleration from 0-40 km – 2.6 seconds
Acceleration from 0-60 km – a 4.5 seconds
Motor power rated/peak – 7/11 kW
Batter capacity, installed – 4.44 kWh
Home charging time up to 50% SOC 0:50 (3000W)
Sudarshan Venu, managing director of TVS Motor, said that considering climate change has been affecting people around the world, it is heartening to see steps taken in the mobility sector to cut carbon footprint.
"India is the fastest growing economy and also the world's largest two-wheeler market. Indian companies are encouraged by the steps taken by the government to invest in electric vehicles. Indian consumers are also trendsetters globally. Consumers' demand for EVs is increasing globally,"
he added.
The company launched its first electric scooter iQube in 2020. In Delhi, it costs Rs123,776.
"In three years, it has become one of the leading brands, with hundreds of thousands of delighted customers. And the future is even more promising,"
said Venu.
News Source: Khaleej Times