Dubai is a bustling city known for its lavish lifestyle and extravagant events. Every month, Dubai plays host to a wide range of exciting events that attract people from all over the world. From music festivals and sporting events to cultural celebrations and business conferences, there's always something happening in this vibrant city.
In this article, we'll take a closer look at some of the upcoming events in Dubai during the month of March that you won't want to miss. Whether you're a local or a visitor, there's something for everyone in Dubai's event calendar, so get ready to mark your calendars!
Dubai International Boat Show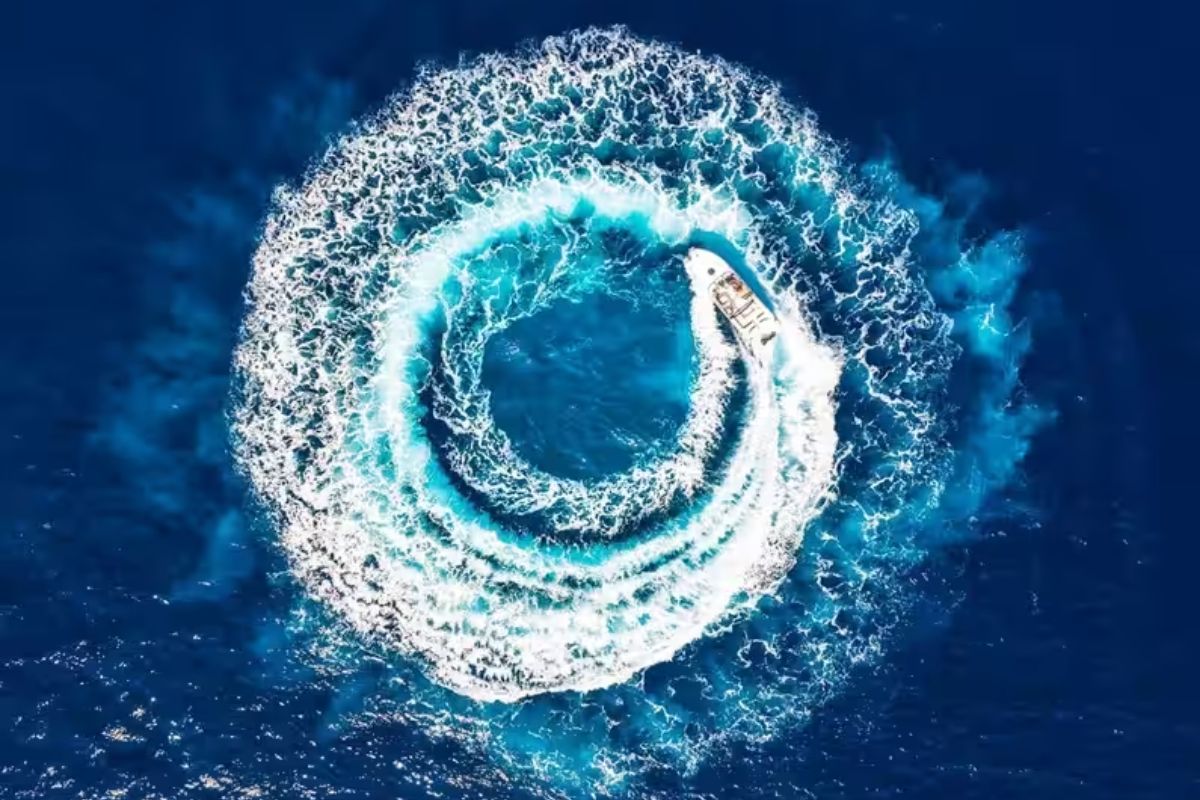 For over 20 years, the Dubai International Boat Show has established itself as an essential event in the region's marine calendar. This remarkable exhibition features the most opulent superyachts and premium leisure crafts from all over the world, providing buyers, sellers, and boating enthusiasts with a unique opportunity to witness the latest and finest offerings in the market.
The 2023 edition will be hosted at Dubai Harbour, which is set to become the largest marina in the region. Along with a stunning array of boats lining the pier, visitors can also expect to discover cutting-edge yacht technology and design on display.
Whether you are a prospective buyer seeking to make a purchase or an exhibitor looking to expand your network of clients, attending the Dubai International Boat Show is an absolute must.
Location: Dubai Harbour | Date: 1 - 5 March 2023 | Timing: 15:00 - 20:00 | Ticket price: from AED 30
InClassica: Evening of British Glory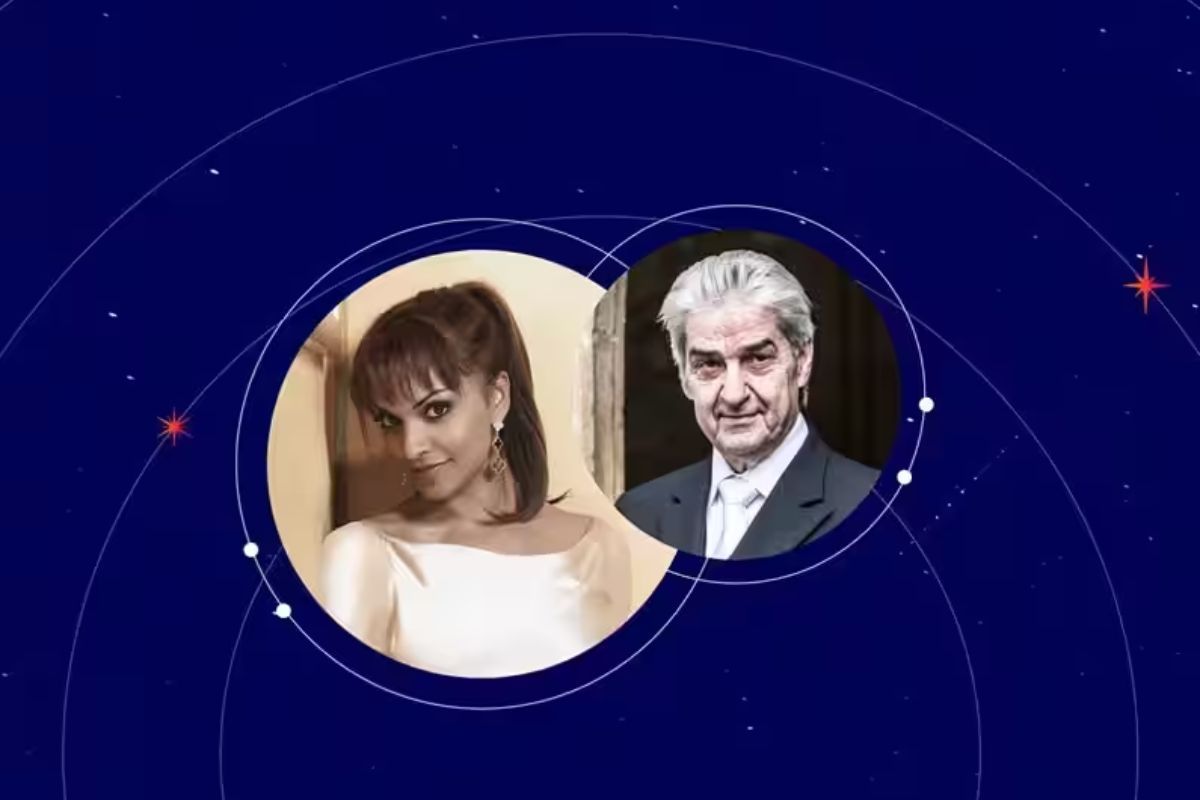 On 1 March, get ready to be entertained by classical music as the Oxford Philharmonic Orchestra takes the stage at the Coca-Cola Arena. The Founder and Music Director, Marios Papadopoulos, will lead the proceedings once again. Accompanying the musical troupe is the renowned soprano Danielle de Niese, who has won numerous accolades including the Emmy, ECHO Klassik, and Orphee d'Or Award. With her past performances at the InClassica International Music Festival being highly appreciated by audiences, this upcoming event is sure to be an unforgettable experience. The doors will open at 7:30 pm.
Location: Coca-Cola Arena | Date: 1 March 2023 | Timing: 20:00 | Ticket price: from AED 75 - AED 250
Lord of the Dance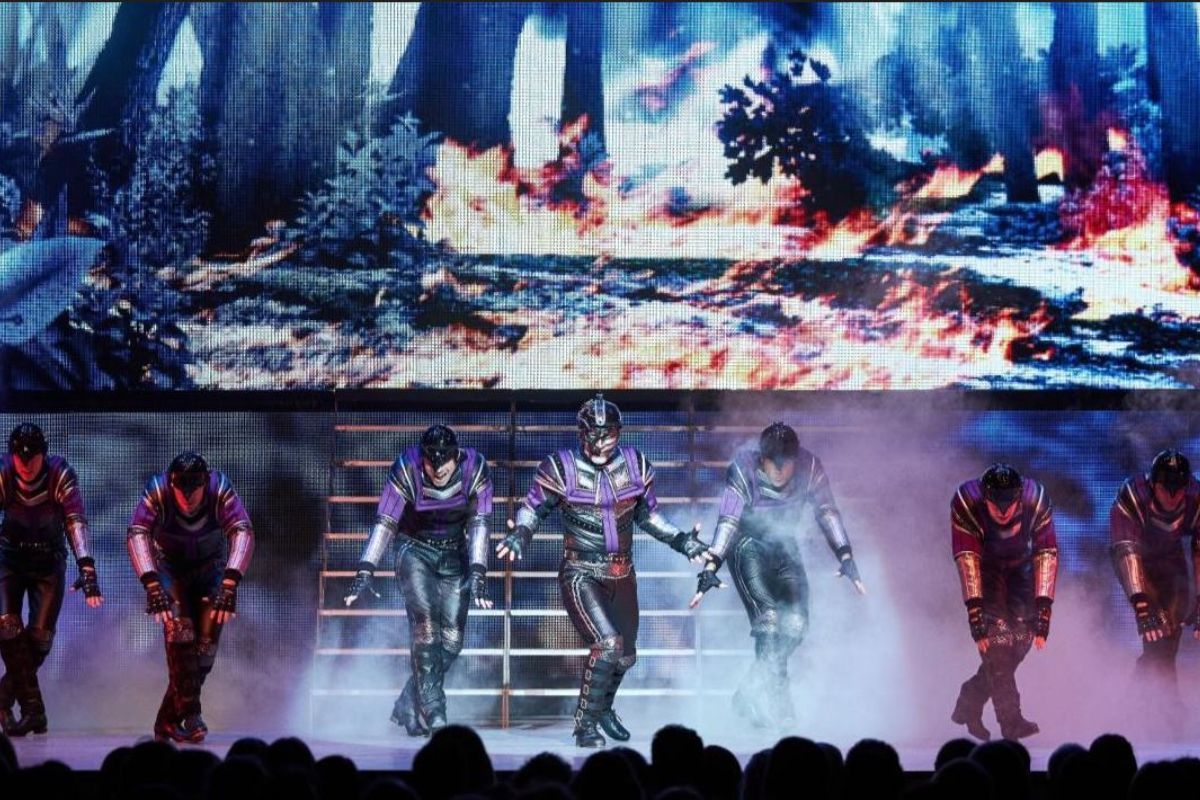 Prepare to witness the exhilarating renaissance of Irish dance and music through 'Lord of the Dance', the worldwide sensation that captivated audiences 25 years ago and is now arriving at Global Village from March 2 to March 21.
This grand production is helmed by Michael Flatley himself and showcases a talented cast led by seasoned dancers Matt Smith and Cathal Keaney.
Featuring awe-inspiring choreography and stunning special effects, this latest iteration of Lord of the Dance has been hailed as the most remarkable of them all. Immerse yourself in a world of music and dance as 40 young performers take center stage and embody Michael Flatley's prophecy after Riverdance: "Nothing is impossible, follow your dreams." Don't miss out on this mesmerizing audio-visual spectacle! Be swept away by unforgettable melodies and witness music come to life before your very eyes.
Location: Global Village | Date: 2 - 21 March 2023, every day except Tuesday | Ticket price: Global Village entry ticket
Art Dubai 2023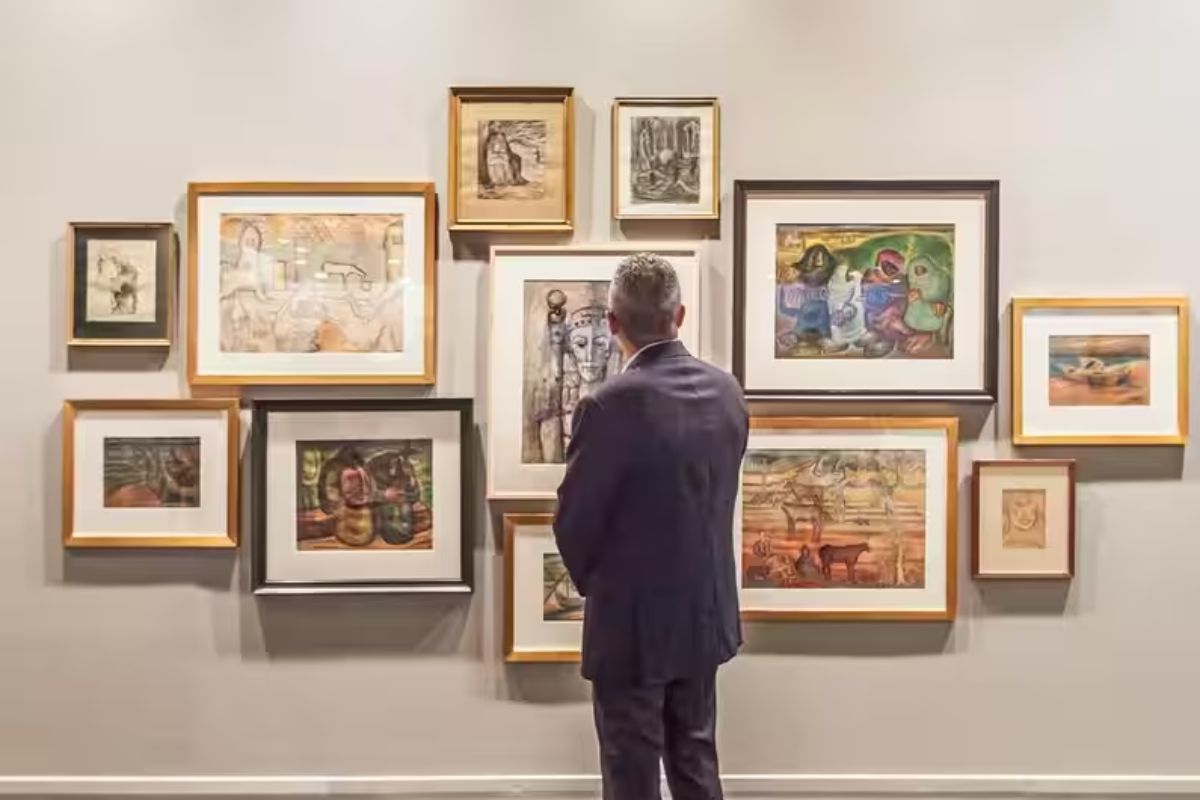 Art Dubai is a highly anticipated event marked in the calendars of devoted art enthusiasts in Dubai, showcasing contemporary and modern creations from various corners of the world. The 16th installment of this event is scheduled to take place at Madinat Jumeirah from 3-5 March 2023 and promises to be a highlight for the art community. The three-day event will feature exhibits from over 400 artists hailing from 40 countries, encompassing a range of sections such as Contemporary, Modern, Bawwaba, and Digital. Visitors of all ages can participate in artist-led workshops, talks, education programs, conferences, and installations. Further details will be announced in due course.
Location: Madinat Jumeirah | Date: 3-5 March 2023 | Timing: 3-4 March: 14:00 - 21:00, 5 March: 12:00 - 18:00 | Ticket price: from AED 90 - AED 150
Atif Aslam Live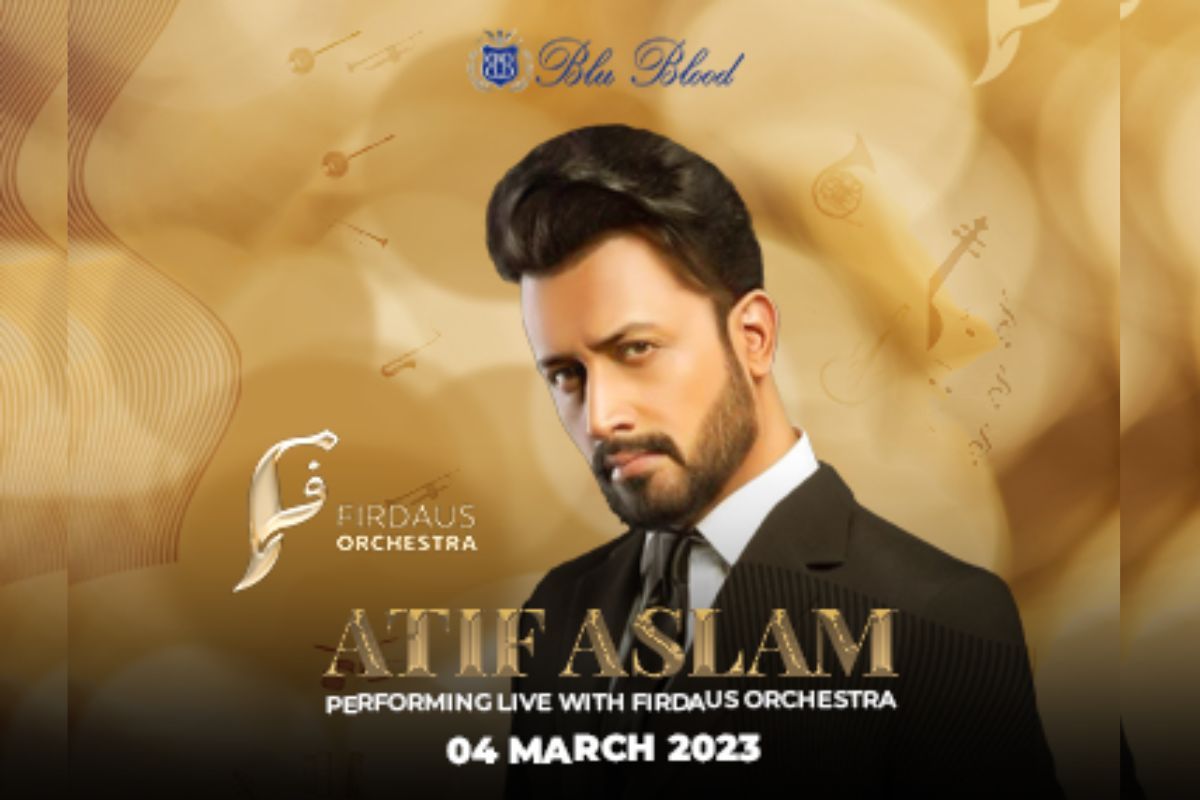 Prepare to be captivated as the international sensation, Atif Aslam, and the phenomenal Firdaus Orchestra unite for the first time to deliver a spectacular and mesmerizing live experience in "Firdaus Ka Mausam".
The Firdaus Orchestra, mentored by the award-winning Indian composer and music icon A.R. Rahman and guided by the talented conductor Monica Woodman, is a trailblazing women's ensemble comprised of over 23 nationalities from the region.
Atif Aslam's music is a celebration of love that has enchanted and connected millions of music lovers worldwide. With numerous super-hit songs and albums under his belt, Atif's versatile talent has earned him several prestigious awards and recognition in the music industry.
Fans can anticipate hearing Atif's most popular hits, including "Pehli Dafa," "Jeena Jeena," "Rafta Rafta," "Be Itehaan," "Dil Diyan Gallan," and many more, transformed into a musical masterpiece.
This performance at the Coca-Cola Arena marks the Firdaus Orchestra's debut and Atif Aslam's first major concert of 2023, celebrating the power of music.
Location: Coca-Cola Arena | Date: 4 March 2023 | Timing: 19:30 | Ticket price: from AED 270
White Beach presents Black Coffee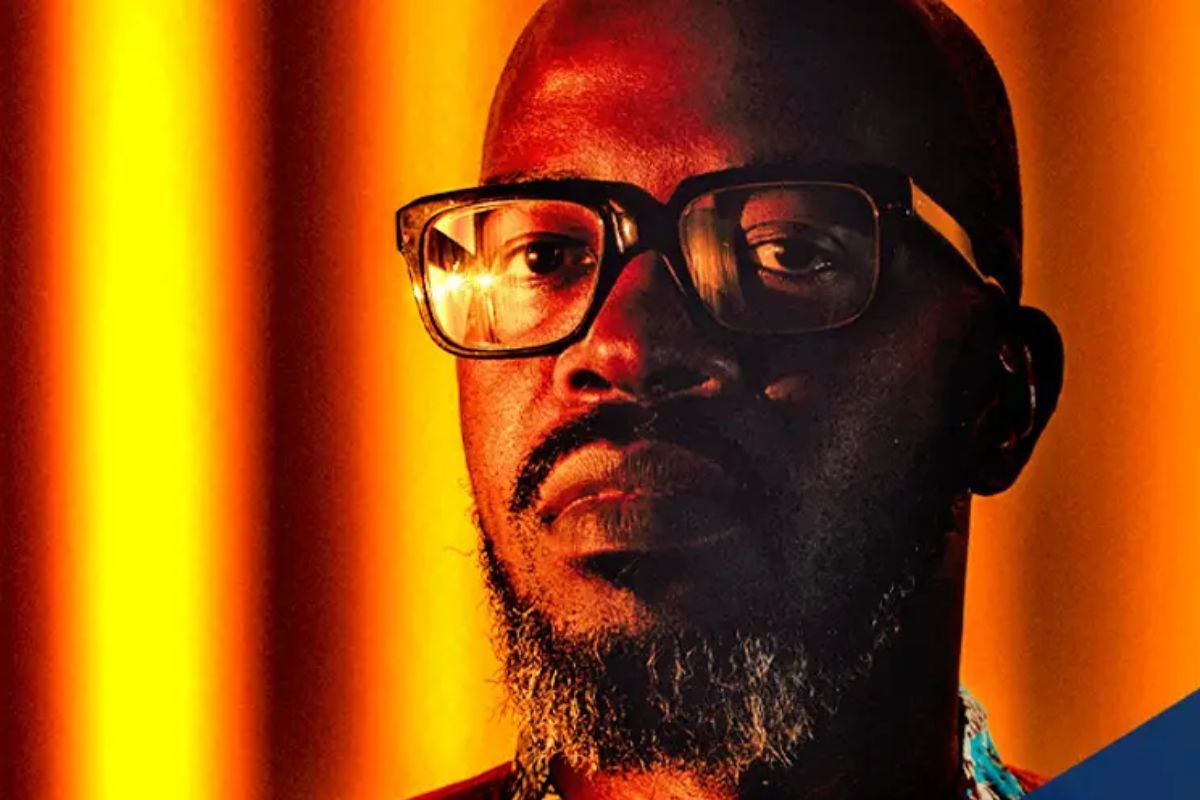 Experience an unforgettable evening at Dubai's hottest beach club as WHITE Beach presents the world-renowned icon, Black Coffee, who has won a Grammy Award for his exceptional musical talents. As a DJ, producer, and entrepreneur, Black Coffee has shattered musical boundaries, infusing his South African roots into his craft to create a unique and exceptional experience.
To start the evening, Paul Svenson and Frederick Stone will be warming up the crowd, setting the stage for an unforgettable night. Don't miss out on this exclusive event!
Doors will open at 6 pm, and the dress code is beach elegant. For more information, please feel free to contact us at +971 4 426 0701.
Location: White Beach | Date: 4 March 2023 | Timing: 18:00 | Ticket price: from AED 400
Self-help Singh - Masood Boomgaard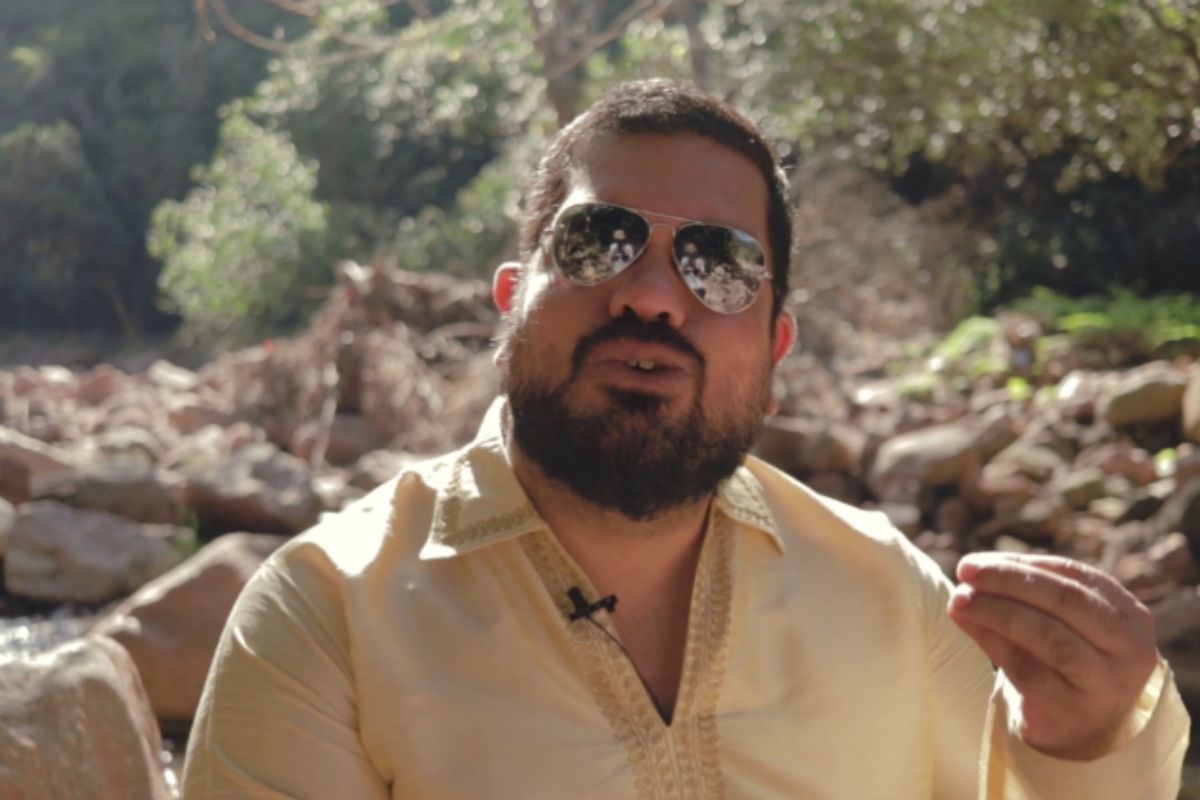 Masood Boomgaard is an international comedian who has created a comedic alter ego known as Self-help Singh. Self-help Singh is a satirical life coach and motivational speaker who offers unconventional wisdom and discouragement. Boomgaard was inspired to create the character after hitting his head while rushing to the bathroom following a bad lamb vindaloo. Since then, he has shared Self-help Singh's teachings with millions of people on the internet.
Self-help Singh's live show combines stand-up comedy, parody, and motivational speaking in a humorous and thought-provoking manner. Boomgaard has performed in various cities around the world, including New York, London, and Dubai. During the pandemic, he even performed in his father's garage. He currently resides in South Africa with his feline companion.
Location: Half Walnut, Aloft Hotel | Date: 4-5 March 2023 | Timing: 19:30 | Ticket price: from AED 100
Atrangi Holi Fest 2023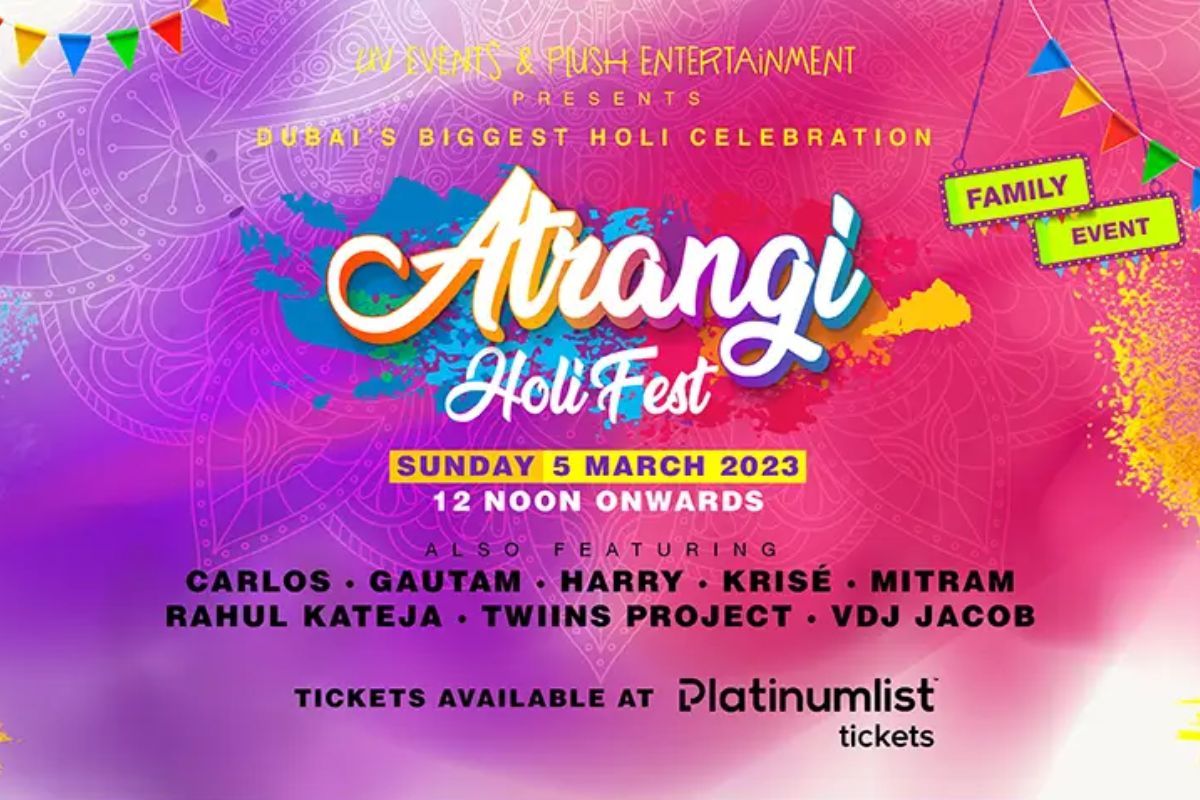 Get ready for the ultimate celebration of Holi at AtrangiHoliFest2023 in Dubai, featuring India's most trending superstar duo 'ZEPHYRTONE' live in concert for the first time ever, alongside international pop sensation 'KNOX ARTISTE'. Also, groove to the beats of your local favorite DJs Carlos, Gautam, Harry, Mitram, Rahul Kateja, Twiins Project, and VJ Jacob.
This colorful extravaganza has something for everyone, including a kid's play arena, live dholis, food and licensed beverage stalls, herbal colors, an exclusive VIP arena, state-of-the-art sound, light, and visual experience, and ample parking space (complimentary).
Early bird tickets are now available at AED 49/- (single) and AED 89/- (1 couple/2 ladies). Kids below 10 years get free entry, while colors, food, and beverages from outside are strictly prohibited. For more information and VIP bookings, please contact 054-7161114 / 056-4567897.
Location: The Square, Dubai Sports City | Date: 5 March 2023 | Timing: 12:00 | Ticket price: from AED 49
Color Fiesta Holi 2023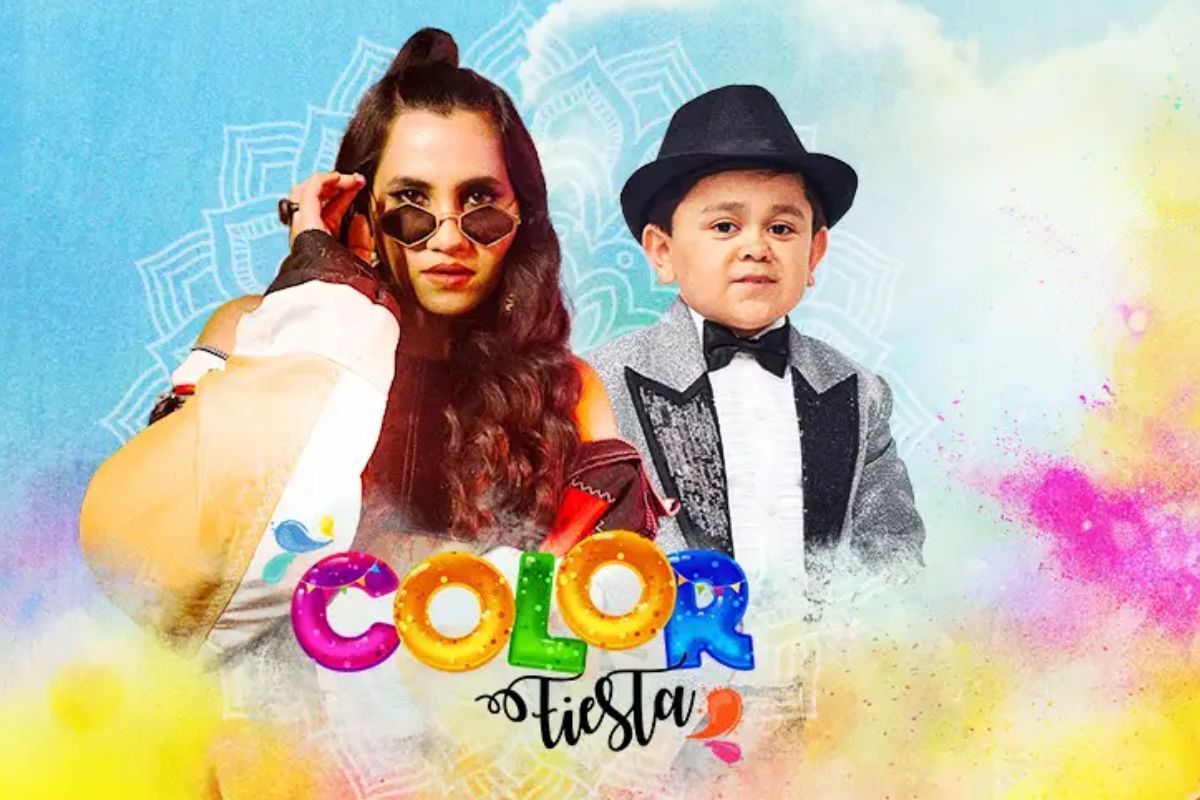 The most prominent Holi celebration in UAE - Color Fiesta 2023 is presented by ARK Middle East, Knite Events Management, and XYZ Experience in association with Candour Property!
Featuring Nikhita Gandhi and Abdu Rozik, along with an impressive lineup of DJs including DJ Ashwin, DJ Varun Sharna, DJ G2, DJ Sunny & Harneet, DJ Pierre, DJ Mayank, and DJ Essam, this event is not to be missed.
Early Bird Tickets are available for AED 30 (excluding park entrance). Book now at 050 877 6611, 052-227 2296, or 056-903 2800.
Location: Zabeel Park Amphitheatre, Gate Number 3 | Date: 5 March 2023 | Timing: 10:00 | Ticket price: from AED 30
Women's Empowerment Convention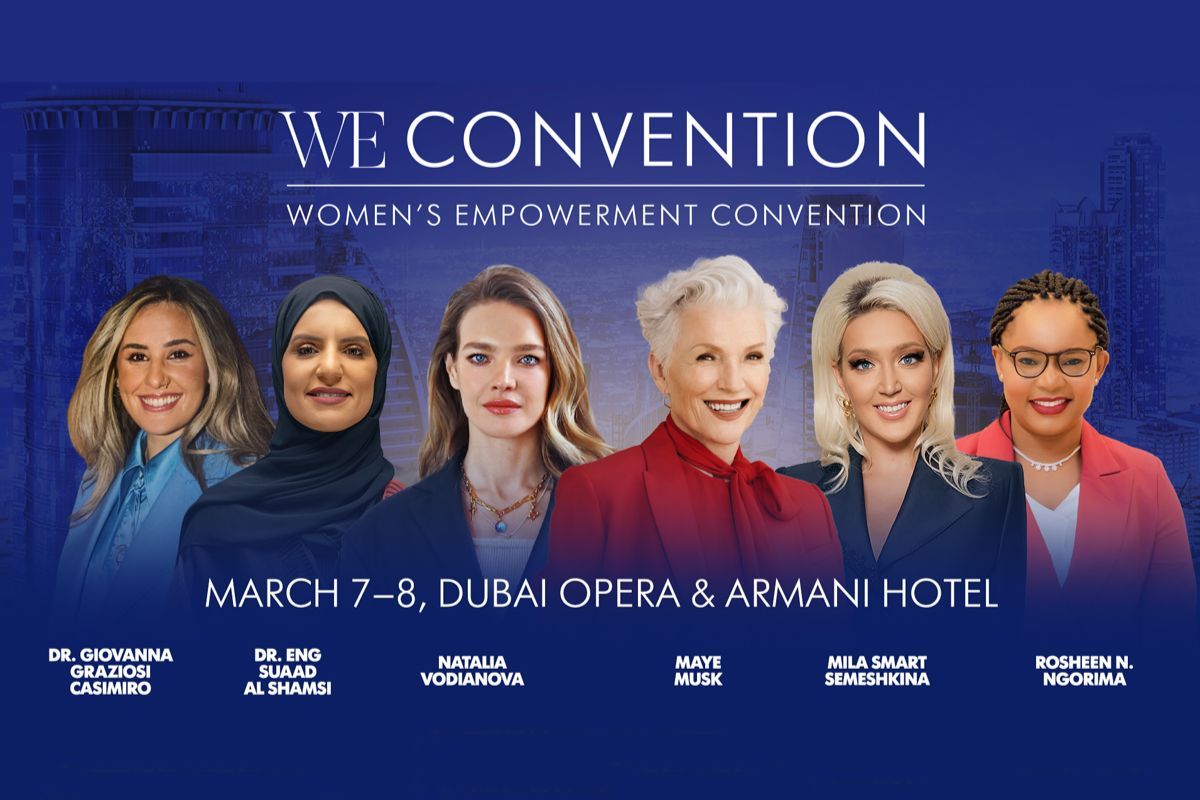 Looking to learn from some of the world's most successful and inspirational women and connect with over 2000 like-minded individuals? The Women's Empowerment (WE) Convention is the perfect place for you! Join us to learn from renowned women such as Maye Musk and Natalia Vodianova, as well as other accomplished speakers like Dr. Eng Suaad Al Shamsi, the first female aircraft engineer in the UAE, Mila Smart Semeshkina, CEO & Founder of the international learning platform Lectera.com, mental health specialist HH AlSayyida Basma Al Said, Emirati Formula racing driver Amna Al Qubaisi, and more. The full program can be found on the WE Convention website: www.weconvention.com.
The WE Convention is more than just a conference; it's a celebration of women's empowerment and leadership. The event is divided into two stages: the main stage, featuring keynote speakers and thought-provoking conference sessions, and a startup stage that focuses on supporting and encouraging female entrepreneurship. Held at the breathtaking Dubai Opera, the WE Convention is the ultimate destination for women seeking empowerment, leadership, and success.
Location: Dubai Opera | Date: 7 March 2023 | Timing: 09:00 | Ticket price: from AED 1,800
Jony & Asti live in Dubai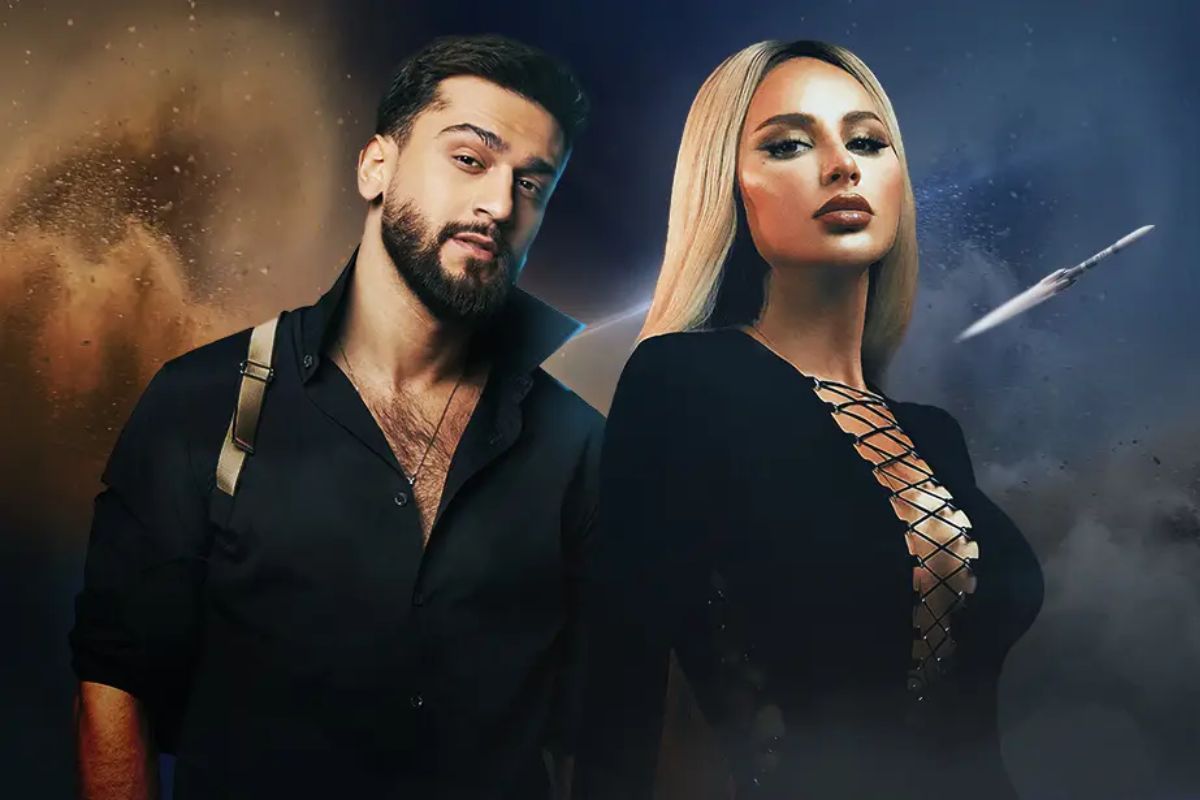 Rockit Events is set to launch in the UAE at the Atlantis Hotel, Palm Jumeirah on March 8th, bringing to Dubai the legendary JONY and ANNA ASTI for their first live concert. As the A-list stars take the stage, guests will be transported into another dimension with a galaxy of shows and art installations. The evening promises to be an out-of-this-world experience, complete with thrilling scenery, special effects, and customized side acts directed by an award-winning team. Indulge in a menu of handpicked dishes and premium beverages to complete the cosmic sensory journey. Join Rockit Events for an unforgettable journey and get ready for a beautiful spring filled with beautiful people.
Ticket prices include live shows, a 4-course set menu, and a selection of premium beverages. The doors open at 7 PM, and the show starts at 8 PM. The dress code is cocktail/smart casual, with the colors silver, blue, and black. For more information, please contact +971547970427.
Location: Atlantis Hotel, Palm Jumeirah | Date: 8 March 2023 | Timing: 19:00 | Ticket price: from AED 2,750
Najwa Karam live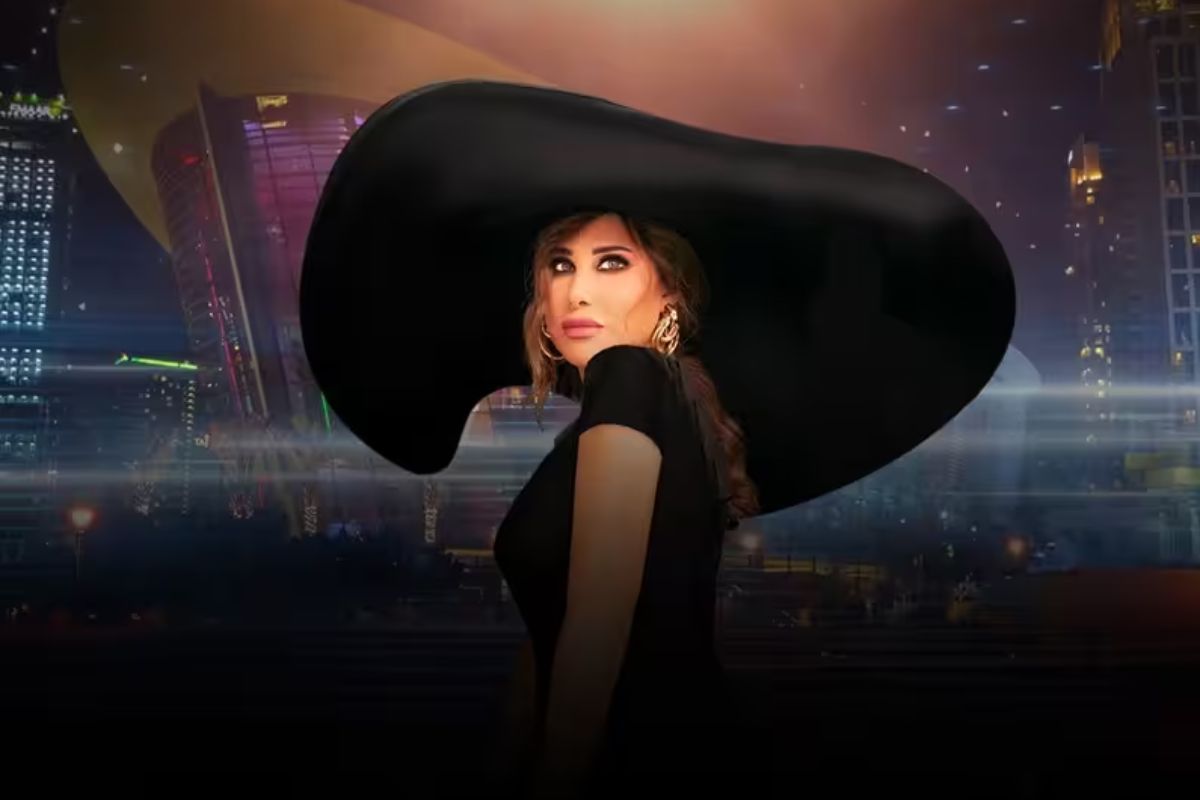 Najwa Karam's dominance of the Arabic music charts has spanned several years, making her a perennially popular artist who can easily fill venues across the region. On March 10th, her fans in Dubai will have the opportunity to see her perform live at the Dubai Opera; tickets are selling fast, so don't delay in securing yours.
Karam, known as The Sun of Arabic Song, has achieved immense success by blending contemporary and traditional musical styles in a unique way. She has earned numerous accolades, sold over 60 million records worldwide, and served as a judge on all six seasons of Arabs Got Talent. Her status as the queen of the Arabic music industry is firmly established. When you attend her concert, you can expect a crowd-pleasing performance filled with beloved hits like El Layli Laylitna, Ktir Helou, and Beirut.
Location: Dubai Opera | Date: 10 March 2023 | Timing: 21:00 | Ticket price: from AED 250 - AED 2500
Dimitri Vegas & Like Mike live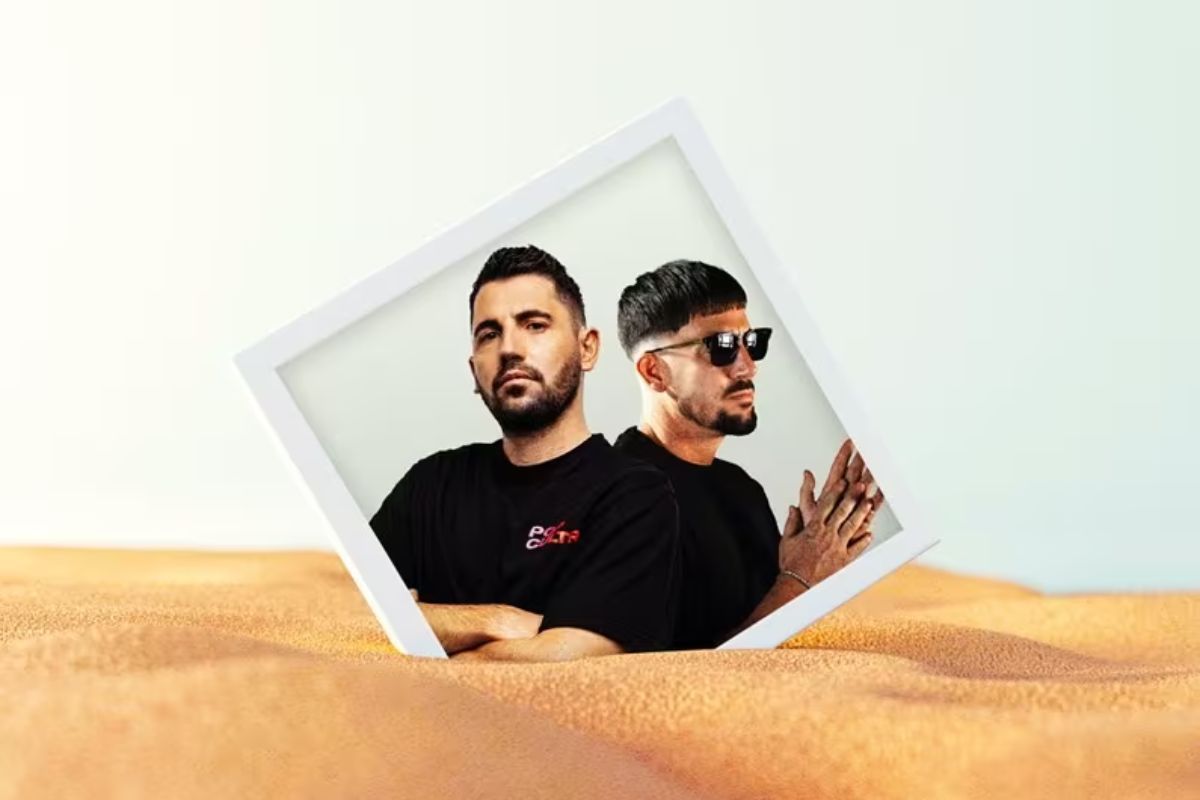 Dimitri Vegas & Like Mike, one of the world's most prominent electronic music duos, are scheduled to showcase their unique sounds at Zero Gravity's upcoming all-day concert in Dubai. On 11th March, head over to the beachside location to hear the Greek-Belgian siblings play a continuous stream of their famous tracks from their illustrious discography.
The duo has earned the top position on DJ Mag's Top 100 DJs list twice and has also held residencies at renowned Ibiza hotspots like Ushuaia and Amnesia. Moreover, they have collaborated with many of the industry's most prominent names, including Armin van Buuren, David Guetta, Afrojack, Hardwell, and others, throughout their fifteen-year career. The festivities will begin early with Zero Gravity's well-known pool and beach brunch, while the lively music will keep the atmosphere lively until 2 am.
The doors will open at 10 am, followed by the brunch from 1-5 pm and the performance.
Location: Zero Gravity | Date: 11 March 2023 | Timing: 10:00 AM | Ticket price: from AED 149 - AED 499
Holi Hai - Color Mela 2023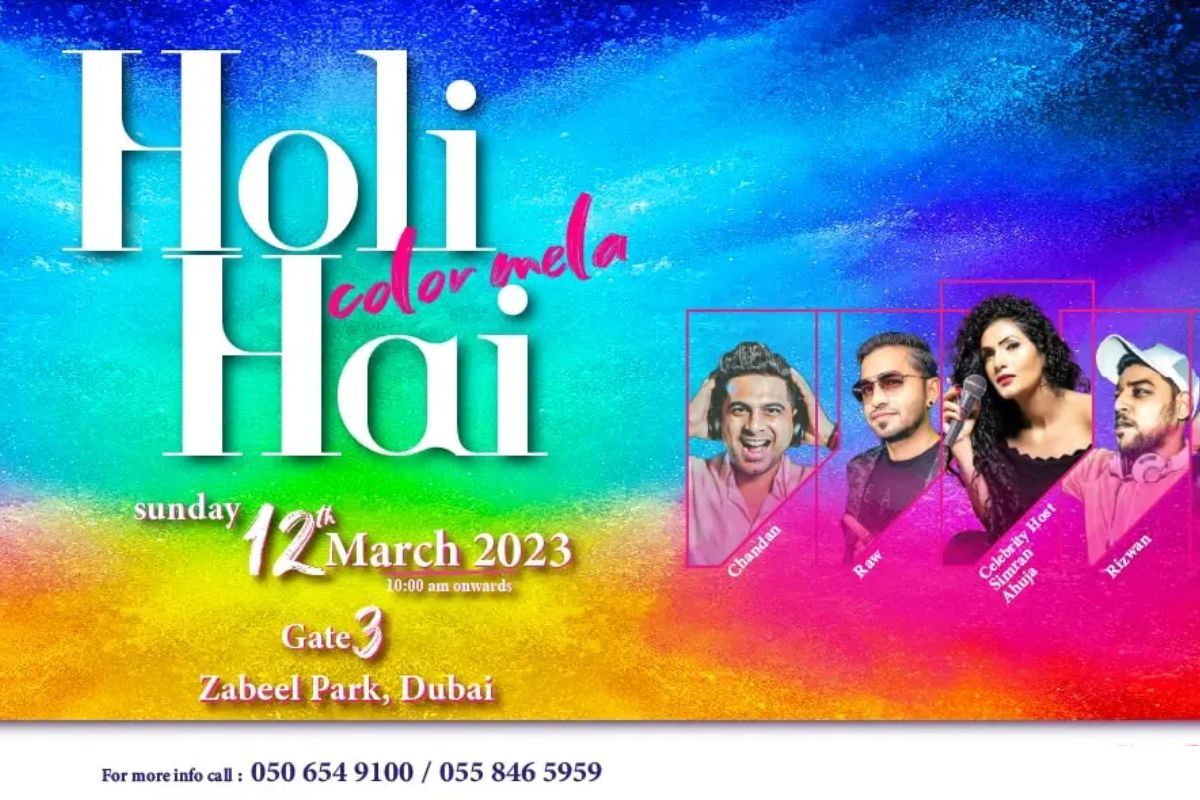 Join hands and celebrate Holi Hai - the festival of colors! Experience a day full of joy and festivities with exciting activities such as live DJs, Color Blast, Food Stalls, Live Dhol, and Organic Colors.
The event entry starts at 10 AM and is open to everyone except children below three years who can enter for free. Please note that park entry charges are not included and need to be paid at the gate. Additionally, outside food and colors are not allowed inside the premises.
The event is located near Dubai Frame, and the nearest metro station is "Max" (previously Jafiliya). Parking is available, and T&C's apply.
It's a Signature Event that you wouldn't want to miss! For more information, contact +97150 654 91 00 / +97155 846 59 59. Please note that the ticket does not include park entrance charges.
Location: Zabeel Park, Gate 3 | Date: 12 March 2023 | Timing: 10:00 AM | Ticket price: from AED 30
Holi Fest DXB with Badshah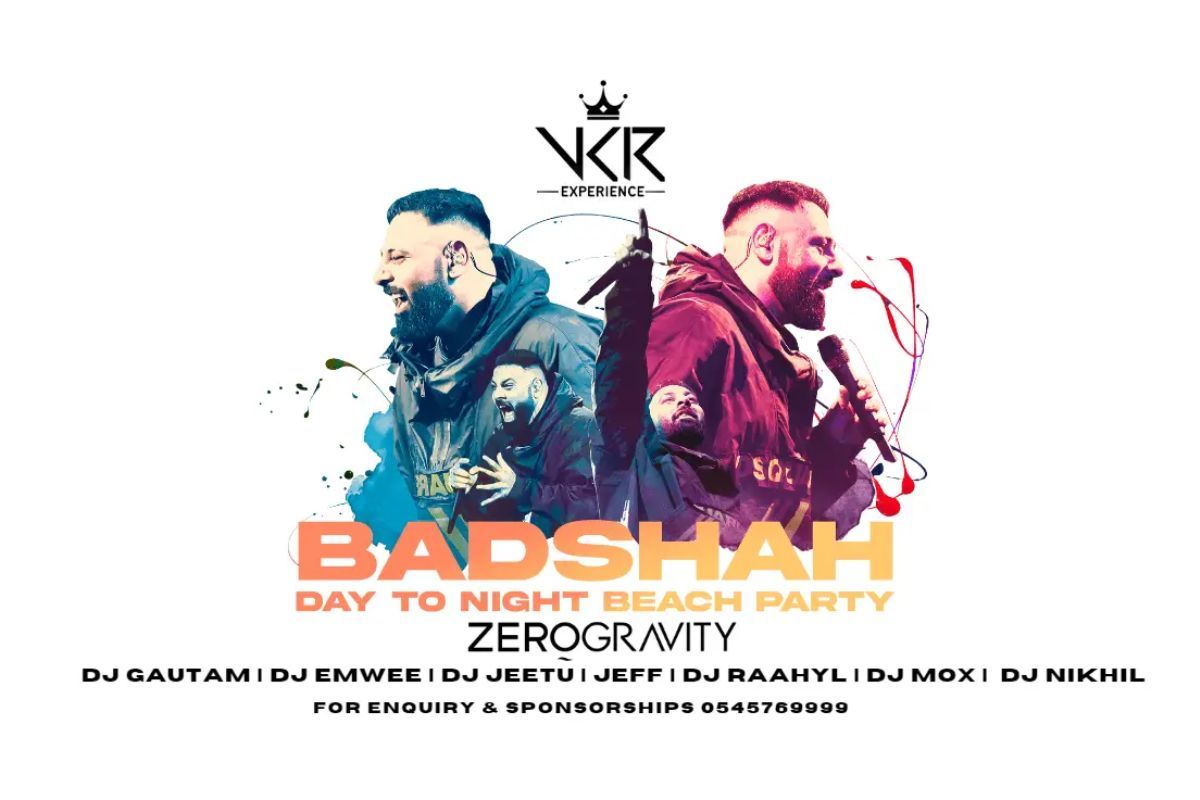 The HOLI FEST DXB with BADSHAH, Raghav, Deep Money, and seven local DJs will be a day-to-night beach party presented by VKR Experience on March 12th, 2023 at the Zero Gravity Beach Club in Dubai. The gate will open at 10 AM, and the party will continue until late at night. Don't miss out on the best Holi celebration in Dubai and get your tickets soon.
This is a VKR Experience, and the local DJ lineup includes DJ Gautam, DJ Emwee, DJ Jeetu, Jeff, DJ Raahyl, DJ Mox, and DJ Nikhil. Please note that there is a "no re-entry" policy, and all ticket holders must enter before 9PM. The pool, garden, and restaurant will be closed during the event, and only the beach section will be in operation. Colors will be available for purchase, and outside food and drinks will not be allowed. Bringing outside colors is also prohibited. Guests are allowed to bring their own towels, and the beach will be open for use until sunset. Swimming is only permitted with proper swimming wear, and lockers will not be available. The venue will not accept foreign currency, and there will be no tab-opening system. VIP ticket holders will have a front-of-stage standing area allocated for them.
Location: Zero Gravity | Date: 12 March 2023 | Timing: 10:00 AM | Ticket price: from AED 99
Video Lab for Kids: Adventures in Moviemaking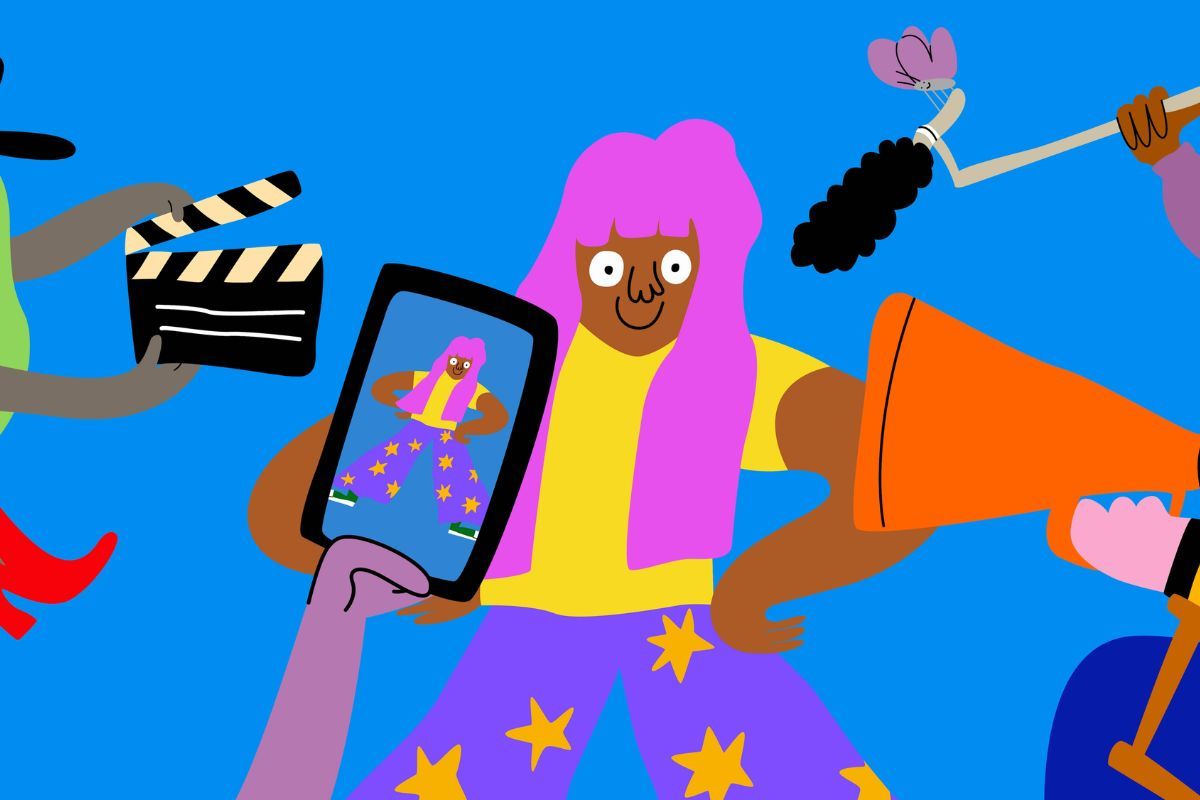 During this session, children between the ages of 8 and 12 will engage in an entertaining and imaginative moviemaking adventure. A team of creative professionals will guide them through the process of producing short videos using the Clips app on an iPad. The children will discover how to plan, try out various transitions, and enhance their films with Memoji, stickers, posters, and other features. Devices will be supplied.
If necessary, hearing loop technology can be arranged upon request for sessions with amplified sound.
Location: Apple Dubai Mall | Date: 16, 19, 22 March 2023 | Timing: 16th, Wednesday, 17:00 - 18:30, 19th, Sunday, 18:00 - 19:30, 22nd, Wednesday, 13:00 - 14:30 | Ticket price: from AED 150
Bongo's Bingo - St Patrick's Day Special in Dubai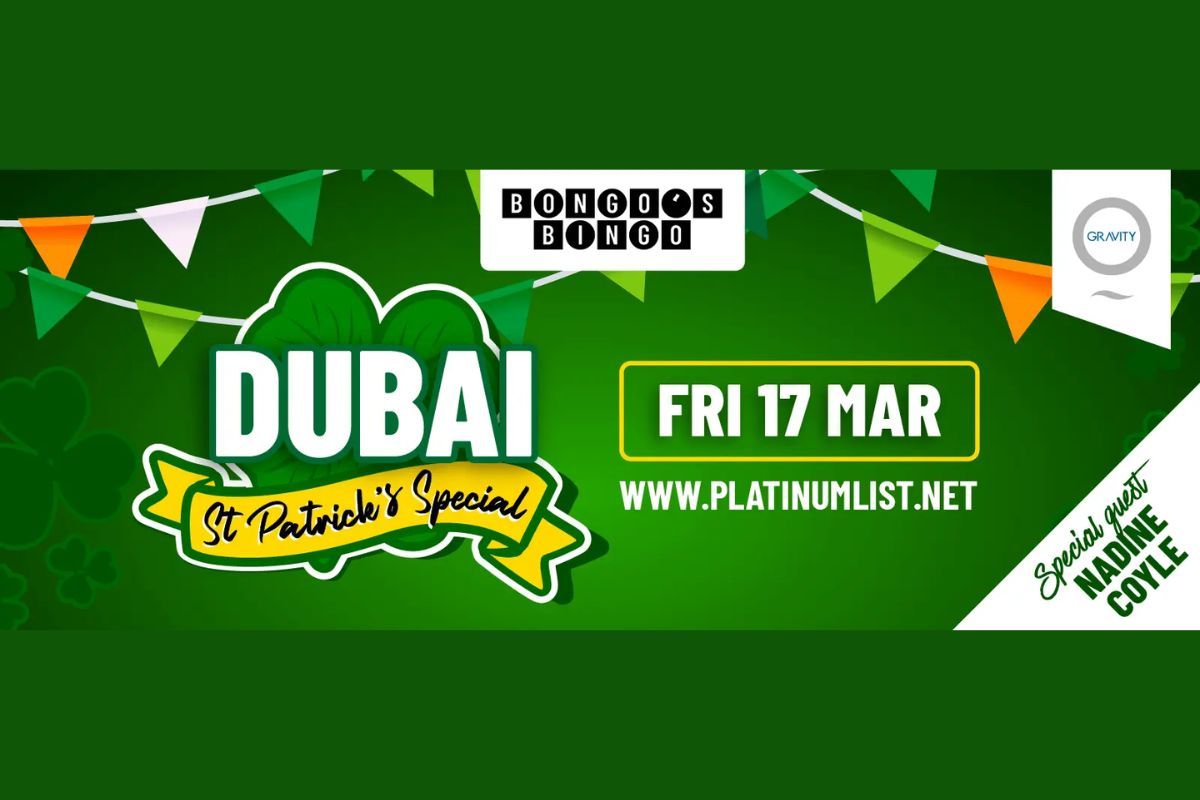 Get ready to celebrate St. Patrick's Day in true Irish fashion at Zero Gravity on March 17th! Join us for an amazing themed show featuring everything Irish, with the luck of the Irish on our side.
And what's a St. Patrick's Day celebration without an Irish performance? We've got you covered with the talented Nadine Coyle, former Girls Aloud star and queen of Ireland.
So don your best green outfit, grab your face paint, and get ready to play bingo with us! Don't miss out on one of the best shows of the year - get your tickets early to ensure your spot.
Remember, there will be no re-entry allowed for this event and the last entry is at 9:30 PM. Don't settle for anything less - accept no imitations!
Location: Zero Gravity | Date: 17 March 2023 | Timing: 20:00 AM | Ticket price: from AED 150
Majid Al Mohandis live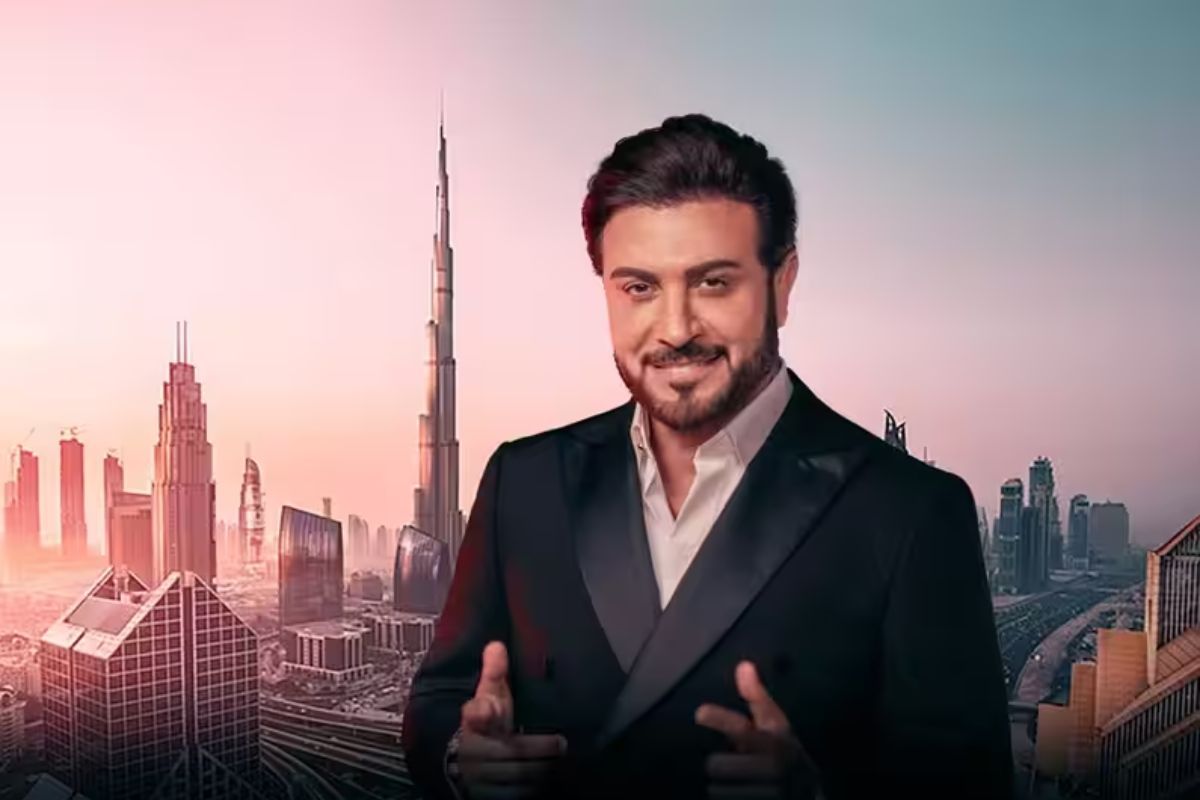 Join Majid Al Mohandis in a musical extravaganza this March at the Coca-Cola Arena as he graces the stage. This Iraqi singing sensation, known for his captivating performances that have sold out shows all over the region, will be delivering some of his most adored hits on 17 March.
Al Mohandis' remarkable vocals have earned him the title 'Engineer of Arabic song'. Anticipate an electrifying show with a collection of crowd-favorite songs from his albums Ana Wayyak and Ensaa, as well as tunes from his 2022 albums Meshtaqelak and Eateni Waqtan. It is highly likely that tickets will sell out fast, so secure your spot in the audience early to avoid disappointment.
Location: Coca-Cola Arena | Date: 17 March 2023 | Timing: 21:00 | Ticket price: from AED 195 - AED 1250
Demi Lovato live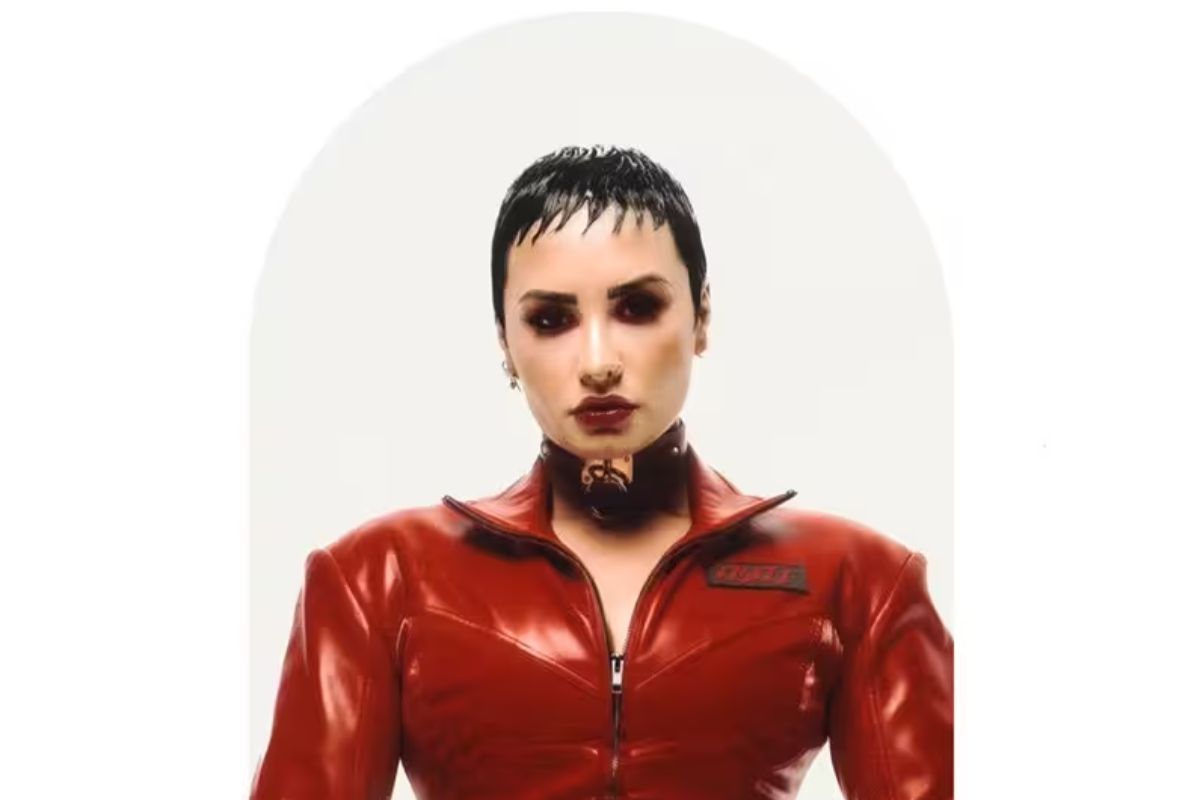 Demi Lovato, the renowned global pop sensation, is set to perform her first concert in Dubai on March 18th at the Coca-Cola Arena. The talented artist, with a staggering 149 million Instagram followers, will return to the city after a six-year hiatus since her remarkable 2017 performance.
The musician gained instant fame with her debut single "This Is Me", which achieved the ninth spot on the prestigious Billboard Hot 100 chart, and has since won numerous accolades, including 14 Teen Choice Awards and five People's Choice Awards. During her upcoming show, Demi Lovato will deliver a breathtaking performance of her popular hits, including the platinum-certified "Skyscraper", "Tell Me You Love Me", and "Sorry Not Sorry", in her signature electrifying style. Book your tickets soon to avoid missing out on this incredible event.
Location: Coca-Cola Arena | Date: 18 March 2023 | Timing: 19:30 | Ticket price: from AED 195 - AED 49
Kunal Kamra Live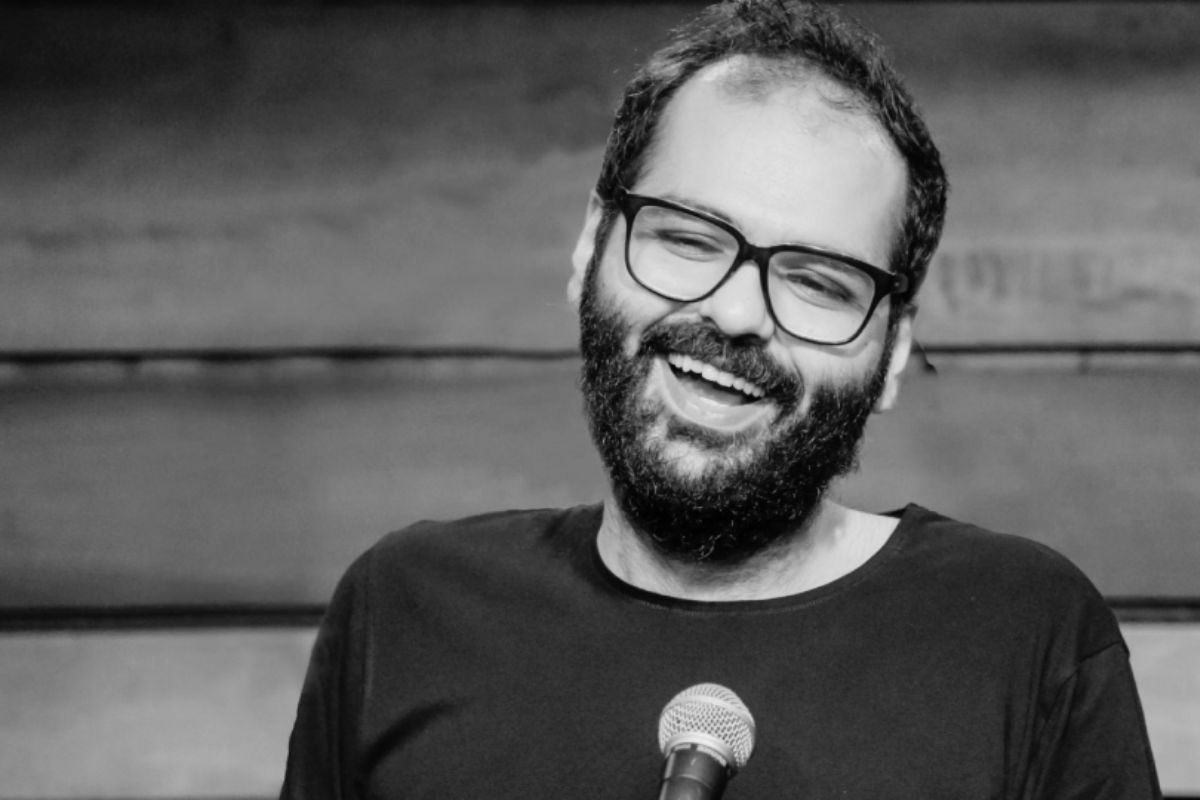 Kunal Kamra, one of India's top comedians, will be performing in the fifth season of the Funny Side Up event presented by FacingLites Events. After spending eight years in advertising, Kunal ventured into stand-up comedy in 2013 and gained popularity with his political-comedy podcast Shut Up Ya Kunal. He has quickly become one of India's most prominent and well-liked voices on stage and social media, known for his bold, penetrating, and often controversial material. Kunal is not only popular among the masses, regularly selling out venues, but he is also highly respected in the comedy community.
The event will be held at the Dubai Auditorium in Dubai College on 18th March 2023. The gates will open at 7:30 pm, and the show will start at 8:30 pm. Kunal has a massive online following, with over 1 million subscribers and 100 million views on his YouTube channel. However, please note that parking is not available on-site, and no alcohol is allowed at the venue or permitted to be brought from outside. The event is open to those aged 16 and above, and those below 16 years of age will not be permitted to enter the venue.
Location: Dubai Auditorium, Dubai College | Date: 18 March 2023 | Timing: 19:30 | Ticket price: from AED 139
McGettigan's St. Patrick's Festival presents The Script Live in Dubai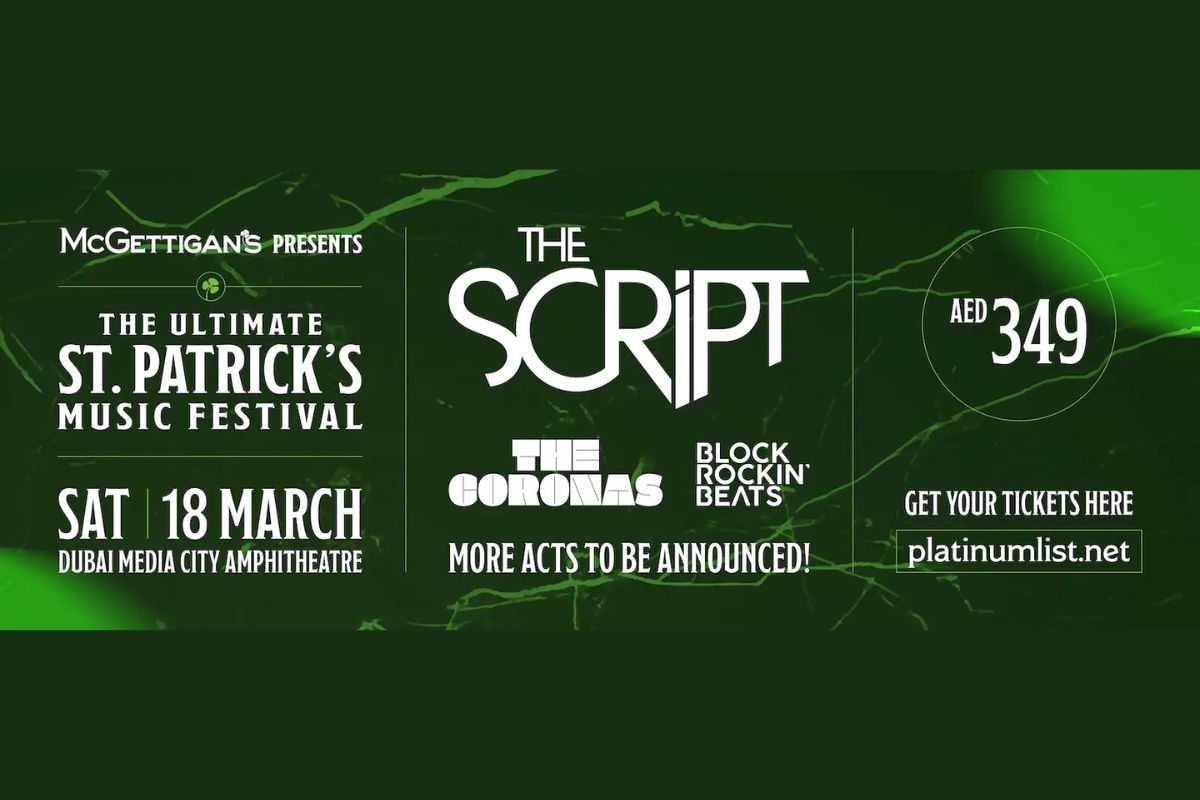 On Saturday 18th March 2023, McGettigan's is presenting The Ultimate St. Patrick's Music Festival at the Dubai Media City Amphitheatre. The festival will feature an impressive line-up including The Script, The Coronas, Mundy, Lea Hart, Block Rockin' Beats, Fergal D'Arcy, The Jimmy Coup Band, and Tone Crew, with performances from 12 midday until 2am.
The Script, who have achieved six UK #1 albums, six billion streams, and over two million ticket sales, will be showcasing classic hits from their extensive catalogue, including 'Hall of Fame,' 'The Man Who Can't Be Moved,' 'For the First Time,' and 'Superheroes' from their 'Greatest Hits Tour,' which has taken them around the world.
Other Irish favorites, such as The Coronas, Mundy, Lea Hart, Block Rockin' Beats, and more, will also be performing at the festival.
Tickets are available for AED 349 for Regular tickets and AED 499 for Golden Circle tickets. Alternatively, AED 699 Brunch & Concert tickets offer brunch at a McGettigan's bar of your choice from 1-4 pm and a coach to the festival, or brunch on The Deck at Media City itself.
Please note that only those over 21 are allowed to attend the festival. Brunch & Concert tickets are exclusively available at mcgettigans.com/thescript.
Location: Dubai Media City Amphitheatre | Date: 18 March 2023 | Timing: 19:00 | Ticket price: from AED 349
An Evening with the late John Cleese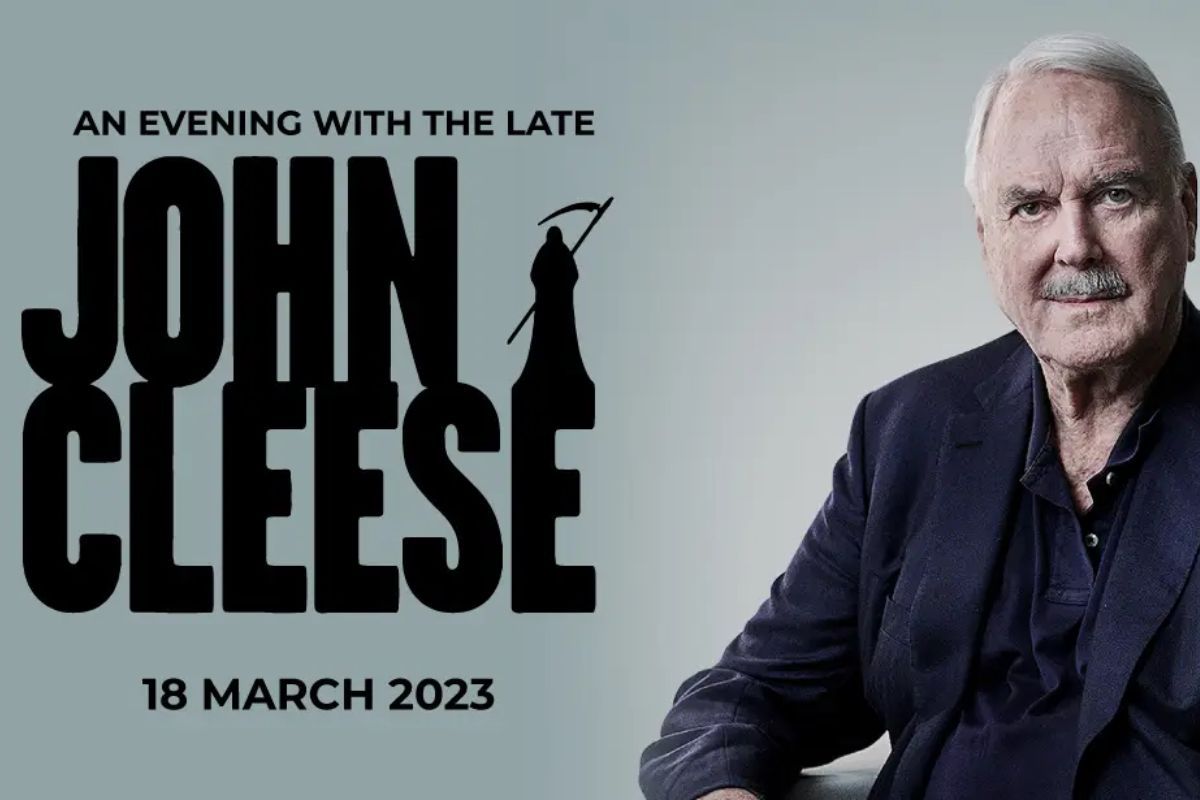 Experience a night of laughter with the iconic John Cleese at Dubai Opera on March 14, 2023 at 8 pm. Get ready for a comedic journey through his life and career, filled with amusing anecdotes and witty humor. At 83 years young, John Cleese is still considered the "World's Funniest Man," having made his mark with the legendary Monty Python Troupe in the 1960s. He has since written, produced, directed, and starred in some of the most beloved comedic films of the past half-century, even earning an Oscar nomination for Best Screenplay for A Fish Called Wanda. Don't miss out on this must-see show that is sure to leave you in stitches.
Please note that anyone aged 2 or above will require a ticket to enter the Auditorium, and children under 2 are not permitted. Patrons under 16 must be accompanied by an adult. Latecomers will only be admitted during a suitable pause in the performance, and the use of mobile phones, cameras, and other electronic devices is strictly prohibited inside the auditorium. The Opera Café will open two hours before the show for your convenience.
Location: Dubai Opera | Date: 18 March 2023 | Timing: 19:30 | Ticket price: from AED 235
Dj Bliss and Friends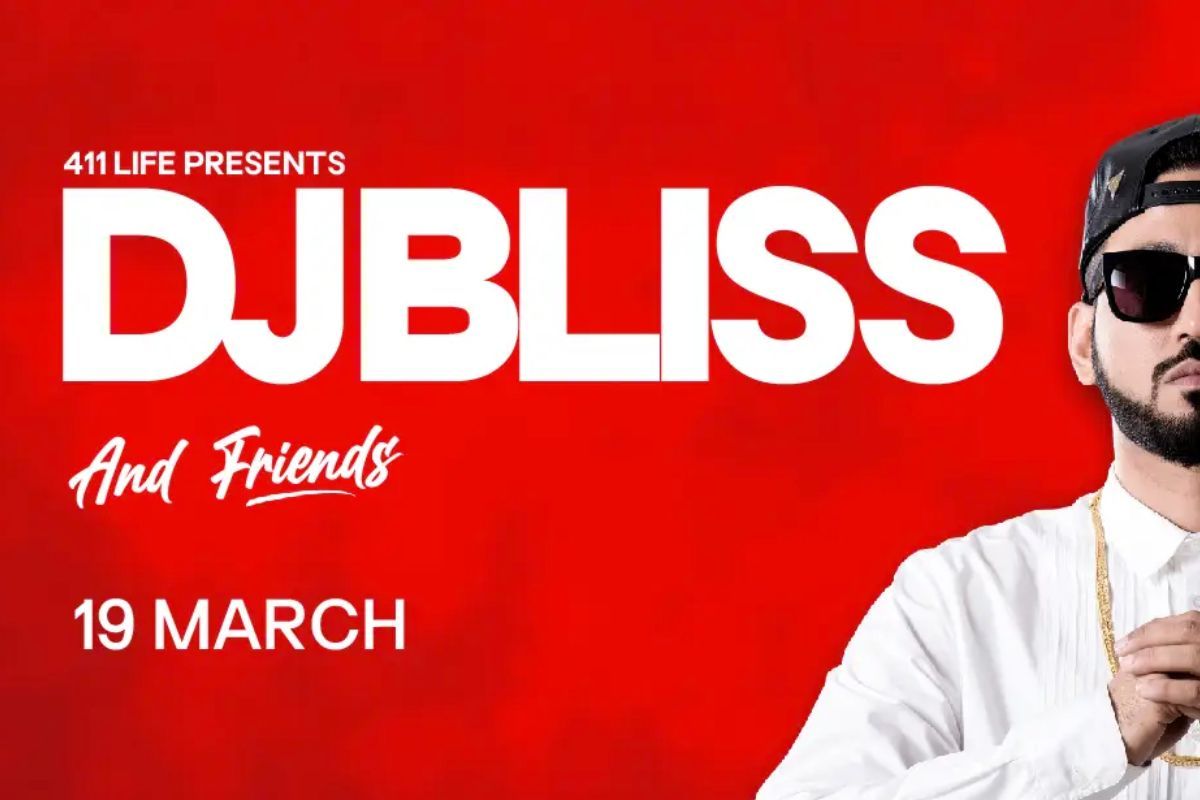 Initially motivated to start mixing in order to be invited to popular high school parties, the young DJ known as DJ Bliss, whose birth name is Marwan Al Awadhi, has come a long way. He is now poised to make history by becoming the first Emirati DJ to headline a show at Dubai's renowned venue for live entertainment, the Coca-Cola Arena.
As the star of the immensely popular Netflix reality TV series, Dubai Bling, which boasts the title of the most-watched show in the Arab world and the second most-watched regional show worldwide, DJ Bliss will be headlining his own event on March 19th at the venue. This will also mark the first time that a local DJ has headlined a show at the Coca-Cola Arena.
Get ready for an unforgettable night of chart-topping hits mixed by DJ Bliss and special guest appearances. The highly anticipated event will only take place for one night, with doors opening at 6:00 PM and the show beginning at 7:00 PM.
Location: Coca-Cola Arena | Date: 19 March 2023 | Timing: 18:00 | Ticket price: from AED 125
Dubai World Cup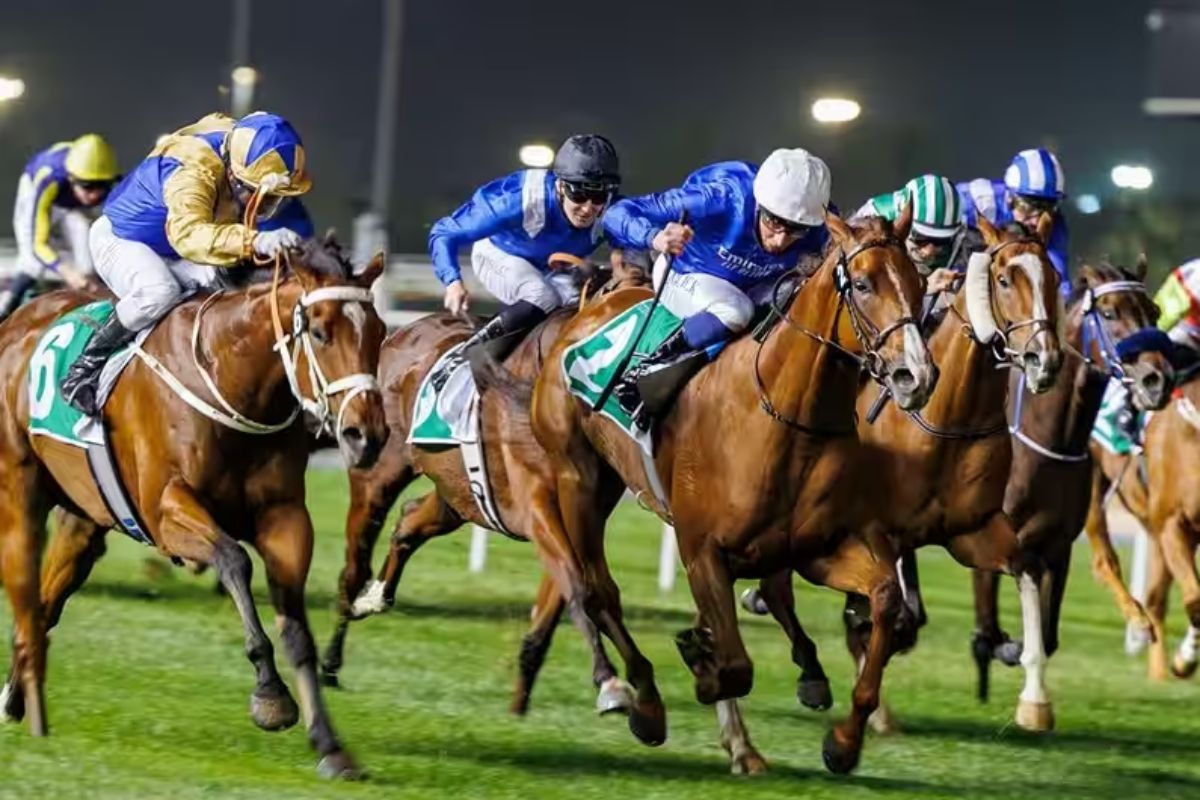 Experience the thrilling horse racing season in Dubai, which reaches its pinnacle of glamour and competition at the Dubai World Cup. This highly anticipated event, considered one of the world's most spectacular race days, features six Group 1 and three Group 2 fixtures, offering a total prize purse of USD 30.5 million. It is a highlight in both the sporting and social calendar.
As always, the grand affair on March 25th will showcase the fashionable Style Stakes competition and the incredible Dubai World Cup Closing Ceremony. Created by His Highness Sheikh Mohammed bin Rashid Al Maktoum, Vice President and Prime Minister of the UAE and Ruler of Dubai, the Dubai World Cup provides a global stage for the world's best horses to compete every year. Held at Meydan Racecourse, it is the pinnacle of the UAE racing season, with gates opening at 1 pm and the first race starting at 5 pm.
Location: Meydan Grandstand | Date: 25 March 2023 | Timing: 17:00 | Ticket price: from AED 20 - AED 5750