National Ambulance launched a new campaign called 'Be Ready for Summer Emergencies' to promote emergency preparedness during the current summer season.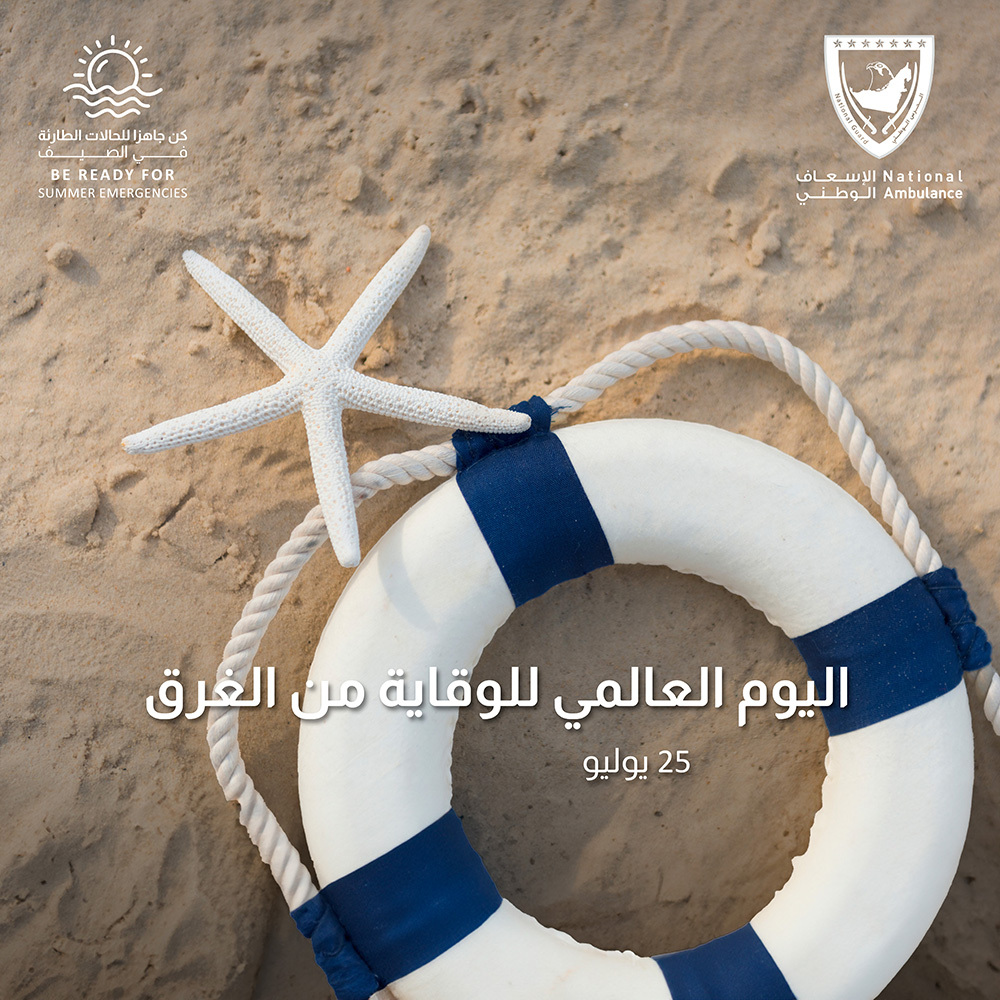 The campaign aims to raise awareness about public safety practices and provide guidance on preventing heat-related issues and managing common summer emergencies.
The 'Be Ready for Summer Emergencies' campaign coincides with the International Day for the Prevention of Drowning, observed annually on July 25th.
This campaign includes the release of a series of informative posts and videos on social media, which will be available until the end of August. These materials will offer valuable first-aid tips to enhance people's preparedness for summer emergencies, enabling them to prevent and effectively manage such situations.
Aligned with the International Day for World Drowning Prevention Day, the campaign commences with the sharing of water safety guidelines and preventive measures. On this occasion, National Ambulance urges the public to follow the top safety tips below to protect themselves in and around water and enjoy a safe summer:
• Be cautious and adhere to safety instructions at the pool and beach.
• Learn to swim and avoid swimming alone.
• Check the weather forecast to ensure safe swimming conditions.
• Swim only in designated areas.
• Refrain from entering the water if the red flag is raised.
• Always swim in the presence of a lifeguard.
• Wear a life jacket during water activities, especially for children.
• Maintain constant supervision of children and ensure they wear life jackets when in or near water. A moment of distraction can have severe consequences.
• Enter the water feet first and assess its depth before diving.
• Avoid running around the pool area.
• If feeling tired, cold, or hot while swimming, exit the water and take a break in a shaded area.
• If caught in a rip current, do not swim against it; swim parallel to the shore instead.
• Never attempt to save someone drowning or in distress by jumping into the water. Immediately inform the lifeguard and call 999 (Police), 997 (Civil Defense), 996 (Coast Guard), and 998 (Ambulance). You can assist by throwing a life ring or using a long object like a stick to bring them to safety.
• If struggling in the water, stay calm to conserve energy. Signal for help and float on your back to keep your head above water until assistance arrives.
In accordance with National Ambulance's dedication to delivering high-quality pre-hospital emergency care services in the UAE, this initiative is part of the organisation's ongoing commitment to enhancing community preparedness for emergencies and promoting health and safety practices.
News Source: Emirates News Agency