Data presented by Buy Shares indicates that the top ten global royal families control a fortune of $2.45 trillion. The wealth is as of Q3 2020.
Saudi Arabia's House of Saud is the wealthiest royal family with a fortune of $1.4 trillion. Kuwait's House of Al Sabah ranks second with a wealth of $360 billion followed by the House of Al Thani from Qatar with a fortune of $335 billion.
Elsewhere, the Al Nahyan family from the UAE controls a fortune of $150 billion while the British Royal Family closes the top five categories with a fortune of $88 billion.
Other wealthy families include Thailand's Chakri dynasty ($60 billion), Brunei's House of Bolkiah ($28 billion) UAE's Al Maktoum family ($18 billion), Morocco's Alaouite dynasty ($8.2 billion), and Liechtenstein's House of Liechtenstein ($4.4 billion).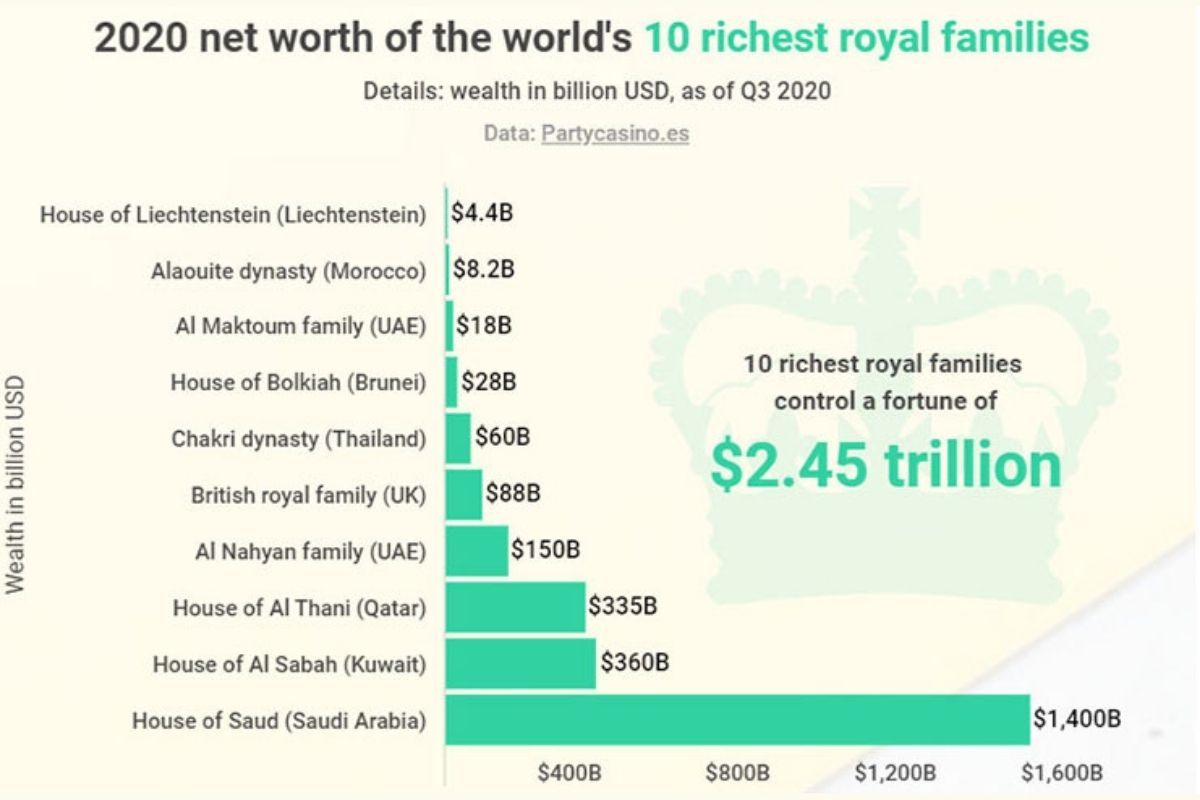 The research also overviewed the top ten richest royal family members. The group cumulatively control $114.4 billion. The King of Thailand Vajiralongkorn controls a fortune of $30 billion followed by Hassanal Bolkiah the Sultan of Brunei with a net worth of $20 billion. In the third spot, there is Salman bin Abdulaziz Al Saud the King of Saudi Arabia with a fortune of $18 billion.
Khalifa bin Zayed Al Nahyan is fourth with a fortune of $15 billion while Al-Waleed bin Talal closes the top five spot with wealth worth $13.4 billion.
Other wealthy royal family members include Azim of Brunei ($4.2 billion), Mohammed bin Rashid Al Maktoum ($4 billion), Grand Duke Henri ($4 billion), Hans Adam II ($3.5 billion) and Juan Carlos I ($2.3 billion)
Canonical Link: https://www.bizbahrain.com/ten-worlds-richest-royal-families-control-wealth-of-over-2-4-trillion/
© Copyright 2020 bizbahrain
Image: CNN