Dubai is famous for its lavish night scene, extravagant parties and record-breaking fireworks display on New Year's Eve. The Burj Khalifa is especially known for its out of the world firework display on NYE that is viewed by thousands in the city and millions from around the world. These fireworks are a phenomenal display of fire and light, a treat for your eyes. Celebrate this year's NYE in style and awe by watching these spectacular wonders from the footsteps of the worlds tallest building. This year, the display is expected to feature several new elements in addition to the fireworks.

Here's all you need to know about watching the Burj Khalifa fireworks in 2022 and all the top places you can view them from.
Top places to view the fireworks from up close:
1. Burj Khalifa/ Dubai Fountain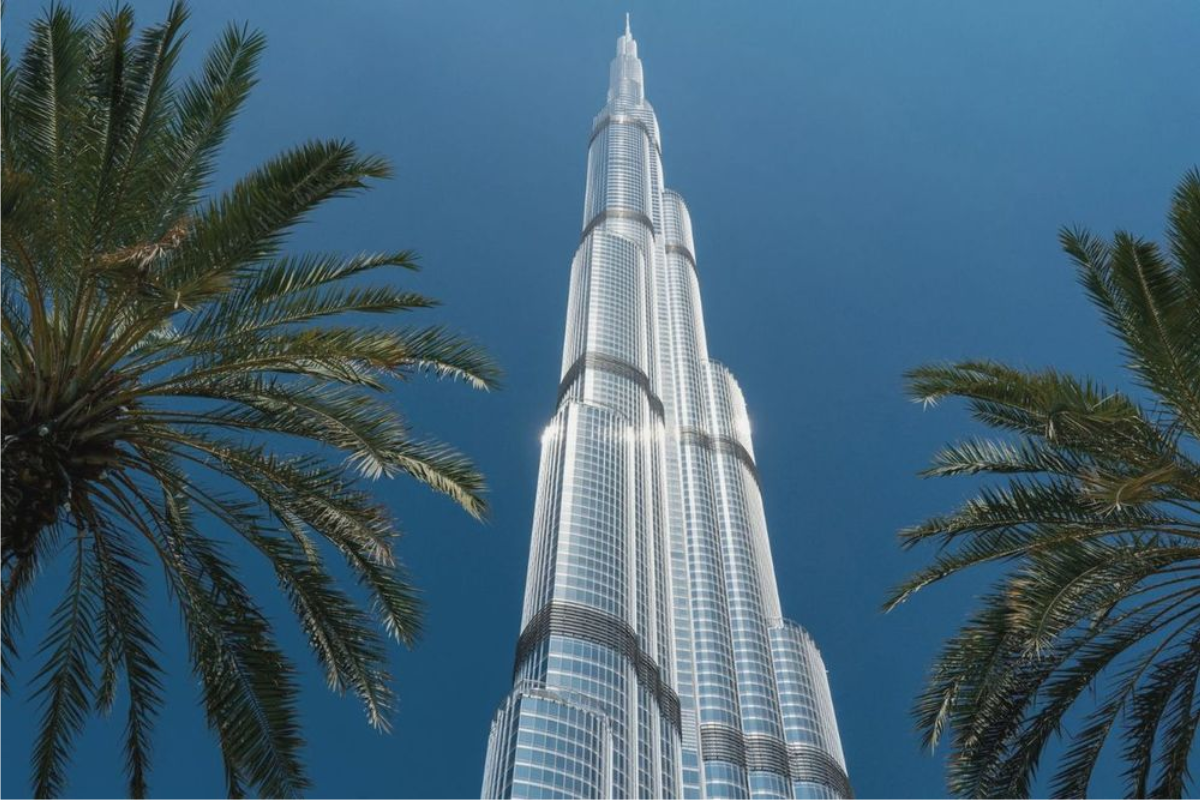 Without a doubt, standing on the steps of the Burj Khalifa is the best place to view the fireworks display. These hypnotic displays can be seen from the waterfront promenade near the Dubai Fountain or from any of the Burj facing balconies in Dubai Mall (the Apple Store has a great view!). Be warned that this area will be swarmed two hours before the fireworks, so arrive early and secure a good spot for yourself by 9 p.m. If you're coming from other parts of the city or Emirates in the UAE, you should arrive as early as 6 p.m. to secure a prime spot. Plan ahead as roads and access to the Downtown area will be restricted after 8 p.m. for crowd control. You can enhance your experience by going to At the Top of the Burj Khalifa on the 125th or 148th floor while you wait for the clock to strike midnight.
2. Souk Al Bahar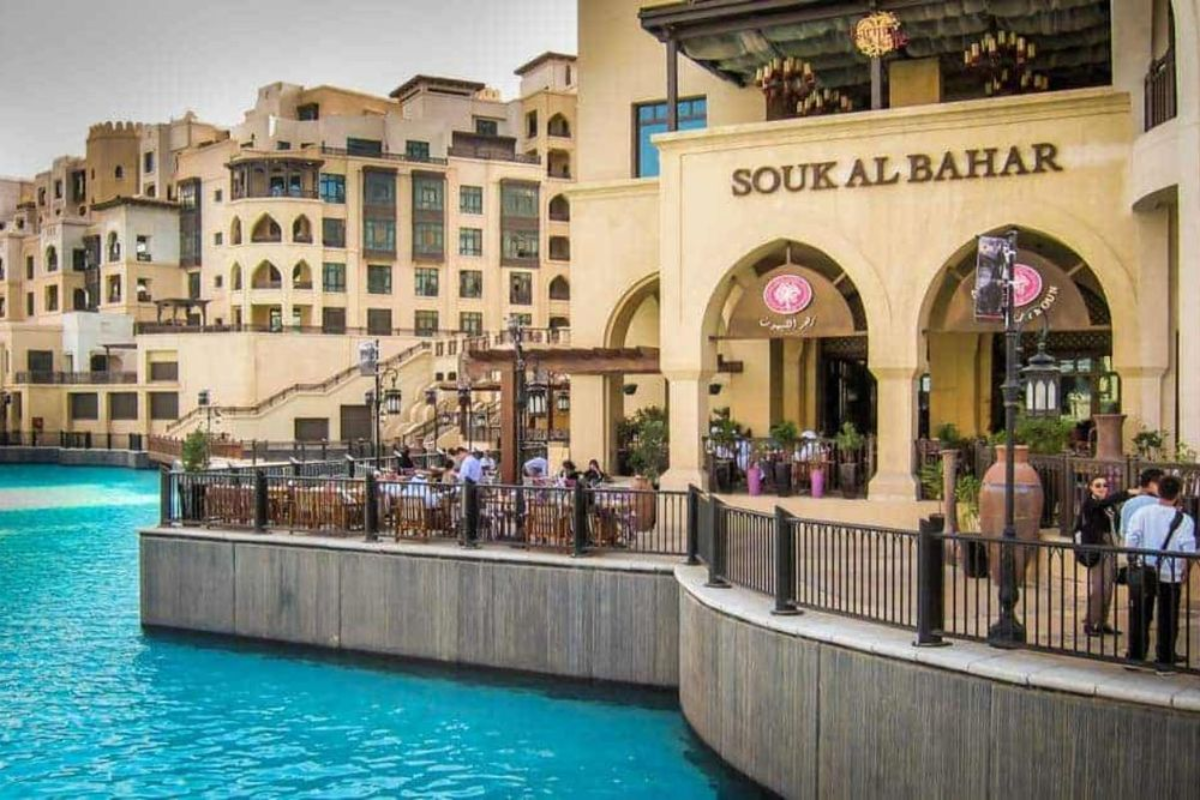 The entrance to Souk Al Bahar can be reached by crossing the bridge from Dubai Mall over the man-made Burj Khalifa Lake. It is a popular shopping, entertainment, and dining destination for residents of Downtown Dubai as well as tourists visiting the area. It has a great view of the Burj Khalifa and allows you to spend the day exploring local antiques, carpets, jewelry, and other luxury authentic objects with your family. If you want to dine with your friends or family and watch the fireworks as the new year begins, make a reservation at one of the many restaurants in Souk Al Bahar at least a few weeks in advance. If not, you can also view the Burj Khalifa's mesmerizing fireworks from near the bridge and the market's railings.
3. Dubai Opera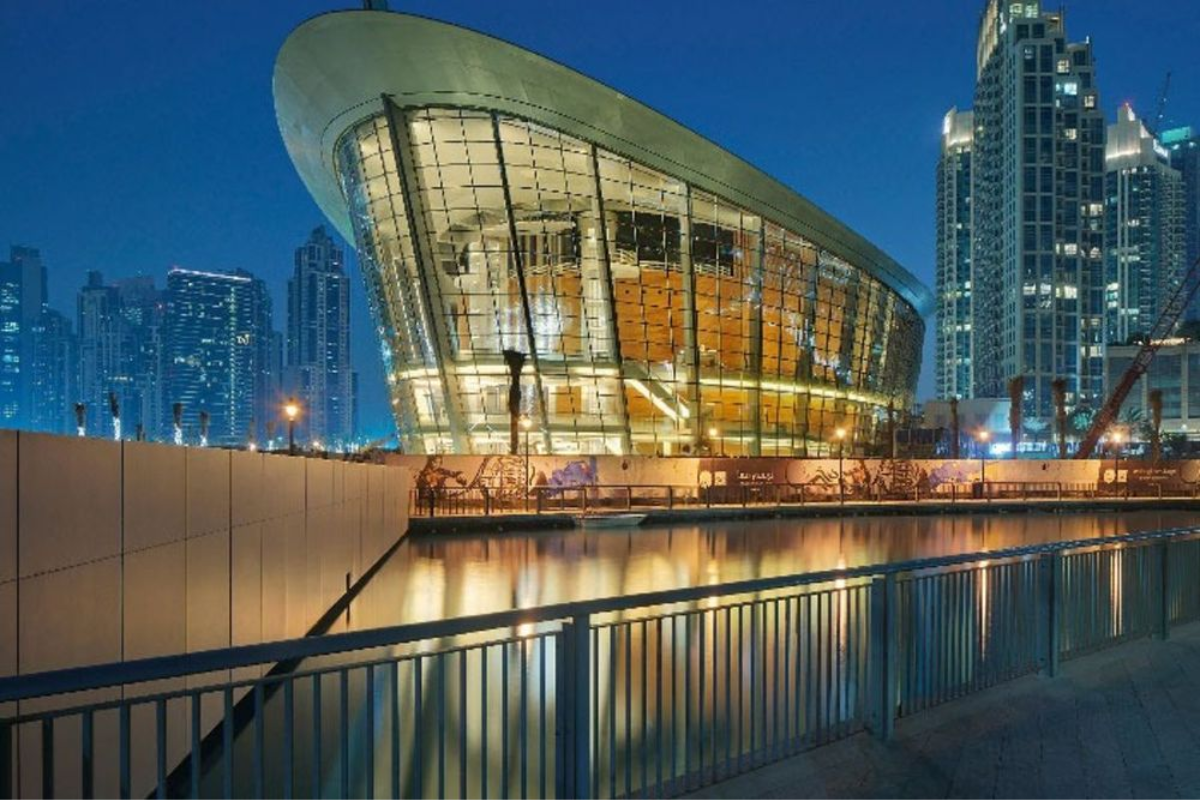 Dubai Opera is a multi-format performance arts center and one of the most prestigious attractions in the area. It is within walking distance of the Burj Khalifa, making it an excellent location for viewing the Burj Khalifa fireworks. The Dubai Opera is the UAE's first opera house and hosts a diverse range of concerts, theater, conferences, operas, ballet performances, and exhibitions. While you're waiting for the clock to strike twelve, treat yourself to a spectacular show at the Dubai Opera or take the highly recommended Dubai Opera Tour. Dubai Opera is hosting an incredible New Year's Eve Gala and Disco till Dawn themed party this year. With a live performance by Britain's Got Talent 2020 finalists Jasmine and Aaron, DJ Bliss and DJ Keza on the decks, and a three-course set menu with six hours of free-flowing beverages, the celebrations will be in high gear. Just before midnight, you will be able to go outside and watch the Burj Khalifa fireworks from one of the best vantage points in town.
Location: Dubai Opera, Downtown Dubai
Timings: From 06:30 pm
Price: AED 11, 000 for a table of 4 (12 yrs and above)
4. Burj Plaza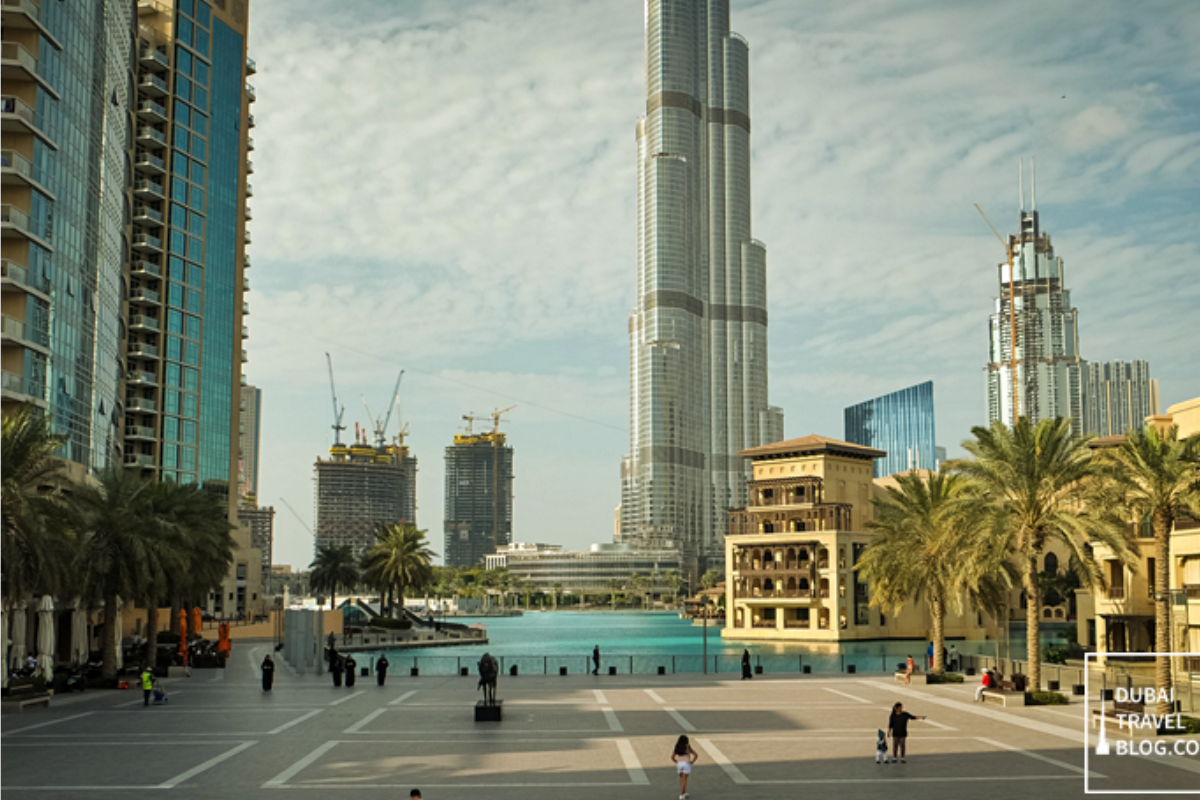 The Burj Plaza is slightly further away than the other locations, but it provides unobstructed views of the Burj Khalifa, making it ideal for watching the spectacle. It's a great place for families to watch the fireworks because there's plenty to keep the kids entertained. The Downtown slide and Aurora Gaming will keep your children entertained while you wait for the fireworks. To make your day even more exciting, you can board a boat and see the dancing fountain up close and personal! The Dubai Fountain Lake Ride is a highly recommended experience for anyone visiting the area, so try your luck on New Year's Eve.
5. Al Khazzan Cadillac Park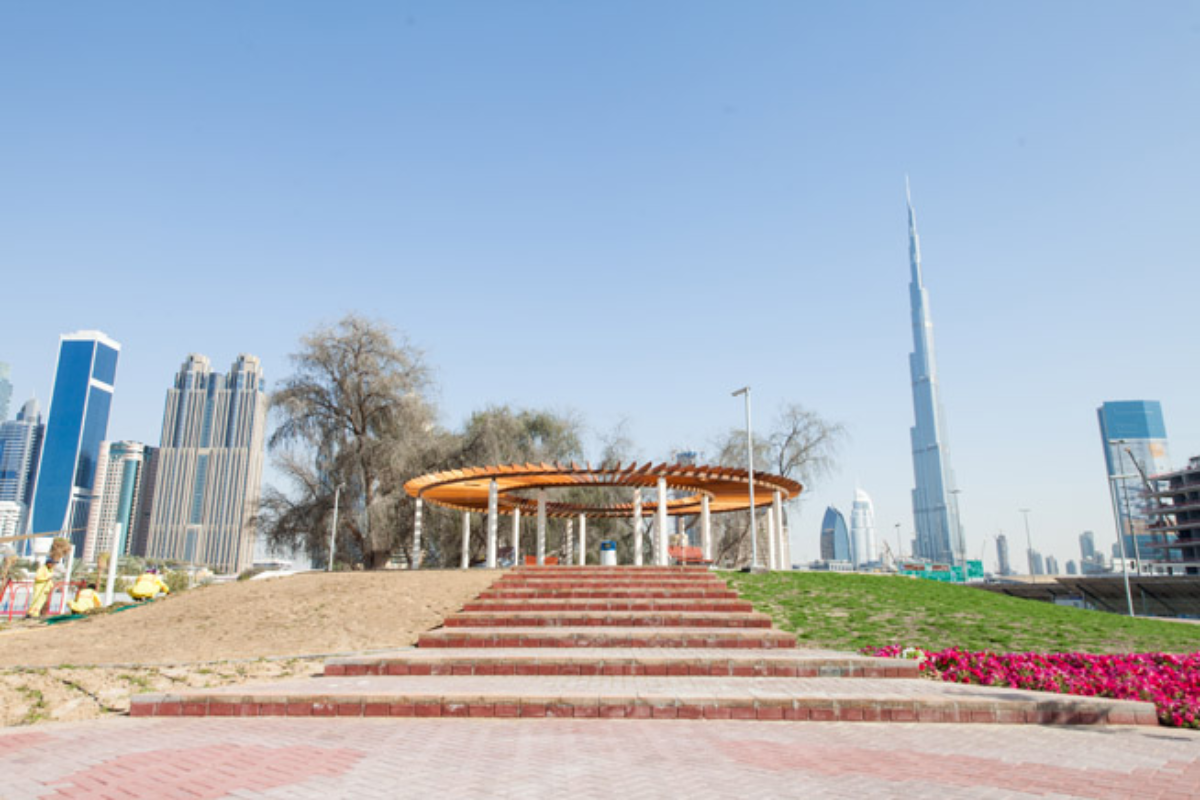 Al Khazzan Cadillac Park, near the Burj, is one of Dubai's newest parks, with free admission for UAE residents. The park's proximity to the Burj Khalifa makes it an ideal location for viewing the fireworks display. If you're looking for a healthy way to start the new year, stop by the healthy café Inn the Park. Their salads are said to be spectacular! As it is a newer location, you can enjoy the spectacular view without being bothered by crowds. So, take a seat and watch as the magic unfolds in front of your eyes, and be amazed by the Burj Khalifa's fireworks display.
Top restaurants with Burj Khalifa fireworks view:
1. ROKA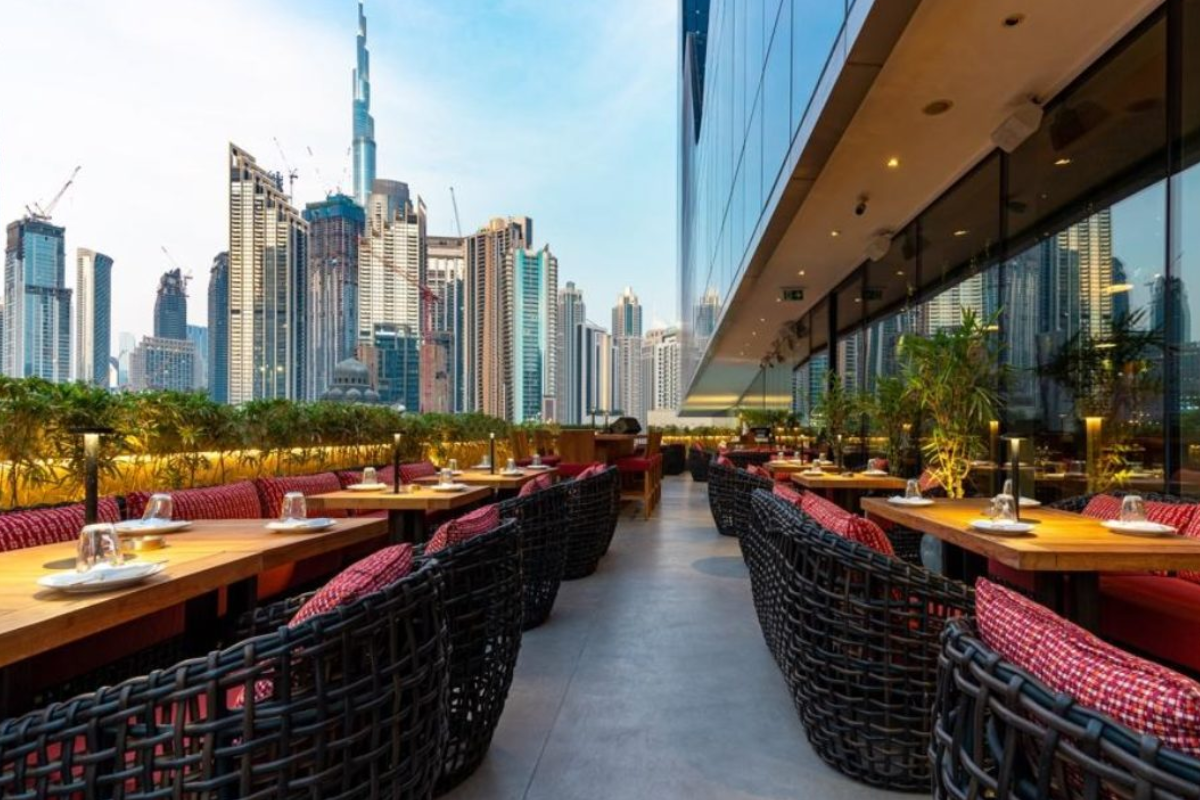 ROKA is an award-winning Japanese restaurant located in Business Bay at The Opus by Omniyat hotel. It embodies the distinct style and flavors of modern Japanese Robatayaki cuisine. At their NYE celebration gala, you can enjoy a contemporary Japanese feast, cocktails, and a live DJ. From 06:30 p.m., you can enjoy a relaxed family atmosphere, and from 9:00 p.m., the lively celebrations of welcoming the new year will begin on the terrace, with the addition of the NYE tasting Menu. Book your table now so you don't miss out on this exciting opportunity! You can select from the seasonal or premium tasting menus, both of which offer a variety of delectable Japanese delights. At midnight, you can watch Dubai's famous fireworks from the Terrace, which overlooks the Dubai skyline, before dancing until the early hours of the morning.
Location: ROKA, The Opus by Omniyat, Business Bay
Timings: 06:30 pm onwards
Price: AED 500 (06:30 - 07:30 reservation ) | AED 600 (Restaurant) | AED 700 (Terrace) | AED 420 per person (Seasonal tasting menu) | AED 570 per person (premium tasting menu)
2. 99 Sushi Bar & Restaurant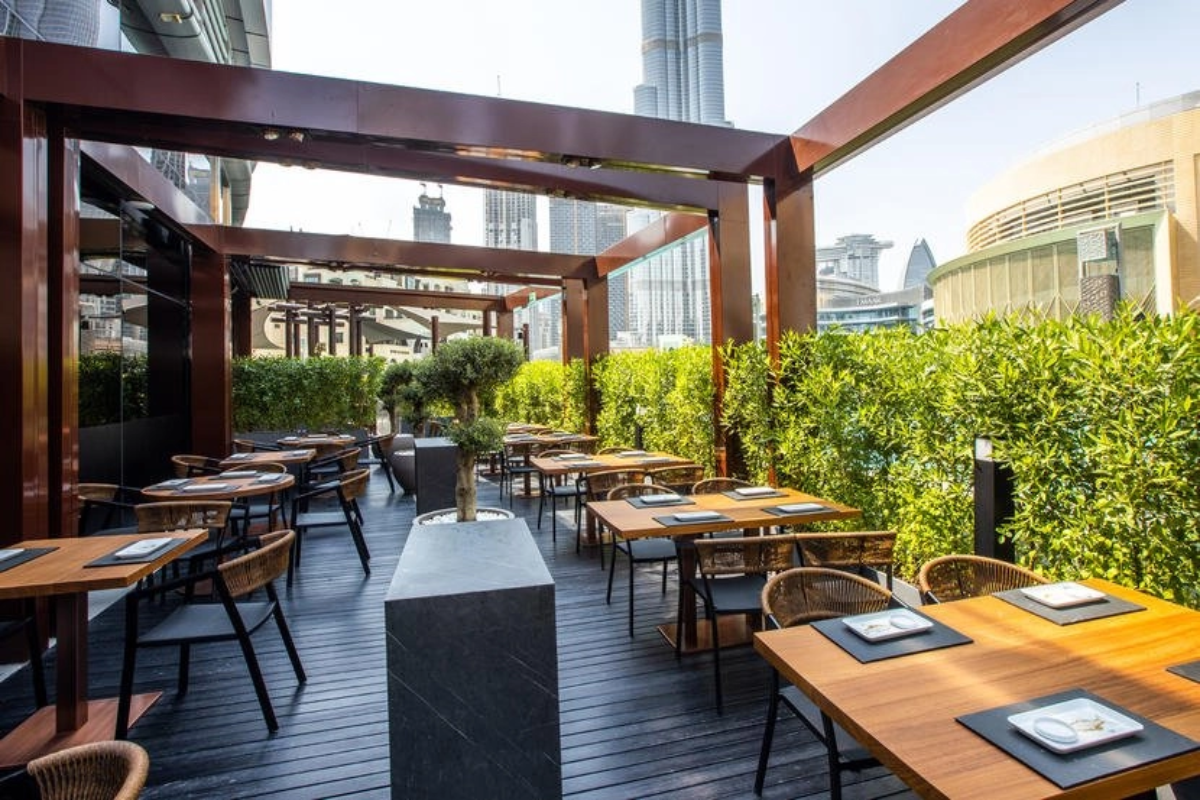 Book a table on the terrace of 99 Sushi Bar & Restaurant for uninterrupted and prime views of the Burj Khalifa. The restaurant is offering a 15-course menu for this year's New Year's Eve celebration, which includes oysters, caviar, king crab, sea urchin tempura maki, Uni, Kobe a5, truffle, and 99 black cod. You also get unlimited drinks and a glass of Champagne at midnight, which is a very classy way to spend New Year's Eve! There will also be a DJ and live entertainment until 2 a.m., so you know it's going to be a good time! So, if you want front-row seats to the Burj Khalifa's spectacular fireworks and light show, book your tickets soon.
Location: The Address Downtown, Downtown Dubai
Timings: 08:00 pm – 02:00 am
Price: AED 4,500 (Dining Room) AED 7,500 per person (99 Lounge) AED 6,500 per person (Terrace)
3. Black Tap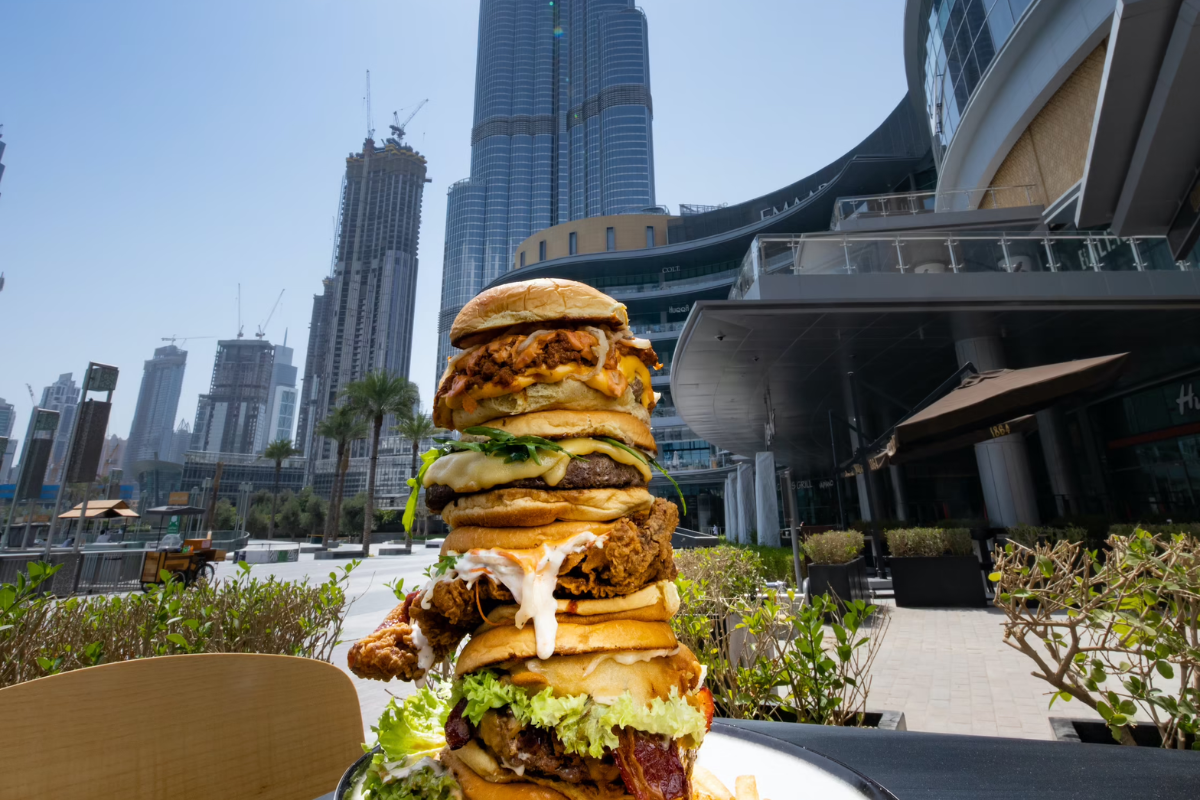 Black Tap is an American restaurant that serves some of the most Instagrammable crazy shakes and gourmet craft burgers. These burgers taste just as good as they look! They serve an impressive selection of sandwiches, wraps, salads, beverages, and even vegan burgers. This New Year's Eve, they're serving a set menu at their Dubai mall location, which has spectacular views of the Burj Khalifa. On the menu are wings or tenders, a variety of appetizers, a main course with options such as beef, chicken, or vegan burgers, a Crazy shake, two craft cocktails, and unlimited soft drinks per person. Indoor dining is also available for a minimum spend of AED 200 per person. Book your table now for a night of delectable food and breathtaking views of the spectacular Burj Khalifa fireworks.
Location: Dubai Mall, Downtown Dubai
Timings: From 08:00 pm
Price: AED 200 (indoors) AED 1, 200 (indoor terrace seating) AED 1,500 (Terrace seating) AED 1,700(Premium promenade seating)
4. Ce La Vi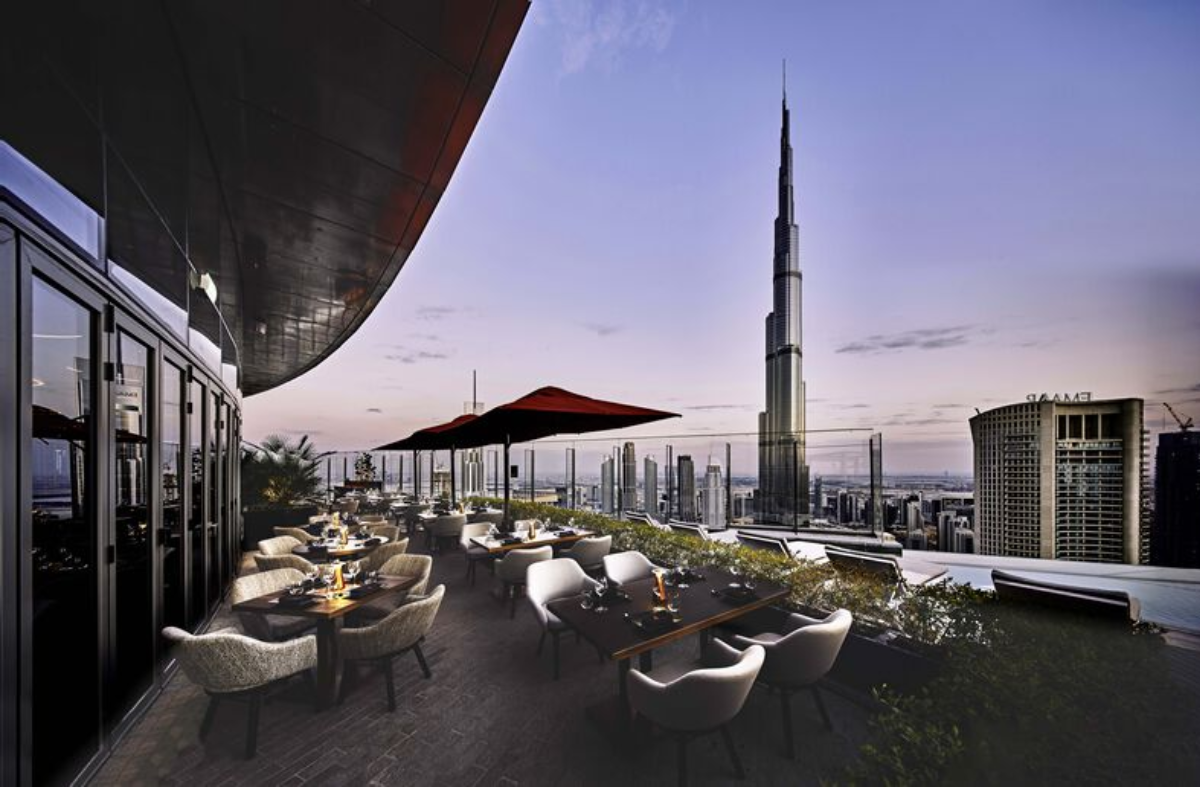 Celebrate 2023 with a delicious feast while watching the fireworks from your seat and enjoying live entertainment at Ce La Vi. Ce La Vi is offering a special menu curated by Chef Howard Ko and guest Chef Roger van Damme this year, highlighting the seasonal a Pan-Asian la carte menu with customized highlights. Along with live entertainment by the SWAY Allstars, who have performed for celebrities and A-listers all over the world, you can expect the best party until the sun comes up. All of this, combined with the unforgettable views of the Burj Khalifa's show, will make your night complete. Welcome 2023 in grand style!
Location: Address Sky View Hotel, Sheikh Mohammed Bin Rashid Boulevard, Downtown Dubai
Timings: 08:00 pm – 04:00 am
Price: AED 5,000 per person minimum spend
5. Chic Nonna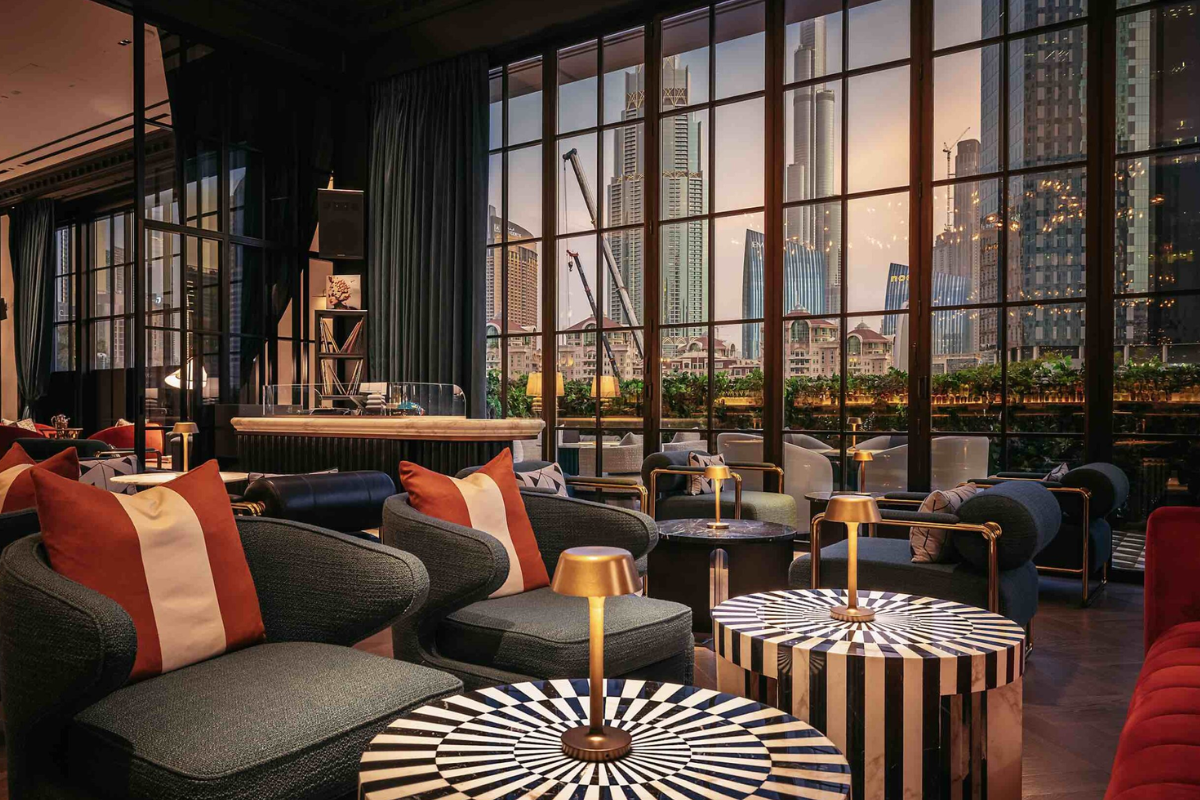 Chic Nonna is celebrating the new year with a "Le Freak C'est Chic" party. Chic Nonna (family-friendly dinner reservations) and Il Salotto will host the event (the late-night lounge on the second floor). Guests can enjoy spectacular views of the Burj Khalifa show while dining from the a la carte menu in the restaurant, on the terrace, or at Salotto. Enjoy an Italian-inspired gourmet dinner, live entertainment, and spectacular views of the Burj Khalifa fireworks!
Location: DIFC Gate Avenue
Timings: from 08:00 pm
Price: Starts from AED 1,200

Know Before you Go:
Price: The Burj Khalifa Fireworks are not ticketed and is free for all.
Getting To Burj Khalifa: The Burj Khalifa is located in Downtown Dubai, right next to the Dubai Mall. While it's quite easy to find, all visitors must walk through the mall to get to the entrance. Unless you are a resident, a guest at the Armani Hotel, or have a reservation at At.Mosphere restaurant, no taxi will take you right up to the Burj. When you arrive at Dubai Mall, make your way to the Lower Ground Floor (LG).
Duration of Burj Khalifa Fireworks:The display lasts approximately 20 minutes, making it one of the world's longest and largest fireworks displays.
Timings: The fireworks are lit shortly after midnight but arrive as early as possible to get a good viewing spot.

Tips For Burj Khalifa Fireworks Experience

• If you live in Dubai, you already know how difficult it is to get to Downtown Dubai on New Year's Eve. Many people end up watching the fireworks from their car as they were unable to get to where they planned. Tight security and restricted access to most areas add to the traffic, making it difficult to get around the city. As a result, arrive early.
• The metro station at Dubai Mall will close at any time between 2:00 p.m. and 10:00 p.m.
• Parking at Dubai Mall will be available until it is full. If you parked your car inside Dubai Mall, it would take some time to get out. Consider this when making plans for the rest of your evening. There is nothing like it if you can find alternative parking arrangements around the Burj.
• The Sheikh Mohammed bin Rashid Boulevard will be closed starting from 06:00 pm. Once the road is closed, no taxis will be able to access the boulevard. If you intend to watch the fireworks from one of the nearby restaurants, reserve your table in advance.
Also Read: