Twitter, Tuesday, 26 January 2021: Twitter is where people go to see and talk about what's happening in the world. It's where writers, experts and curators – from individual creators to journalists to publishers themselves – go to share their written work, spark meaningful conversations and build a loyal following. These writers and long-form content curators are a valuable part of the conversation and it's critical we offer new ways for them to create and share their content, and importantly, help them grow and better connect with their audience.
To jumpstart our efforts, Twitter has acquired Revue, a service that makes it free and easy for anyone to start and publish editorial newsletters. Revue will accelerate our work to help people stay informed about their interests while giving all types of writers a way to monetize their audience – whether it's through the one they built at a publication, their website, on Twitter, or elsewhere.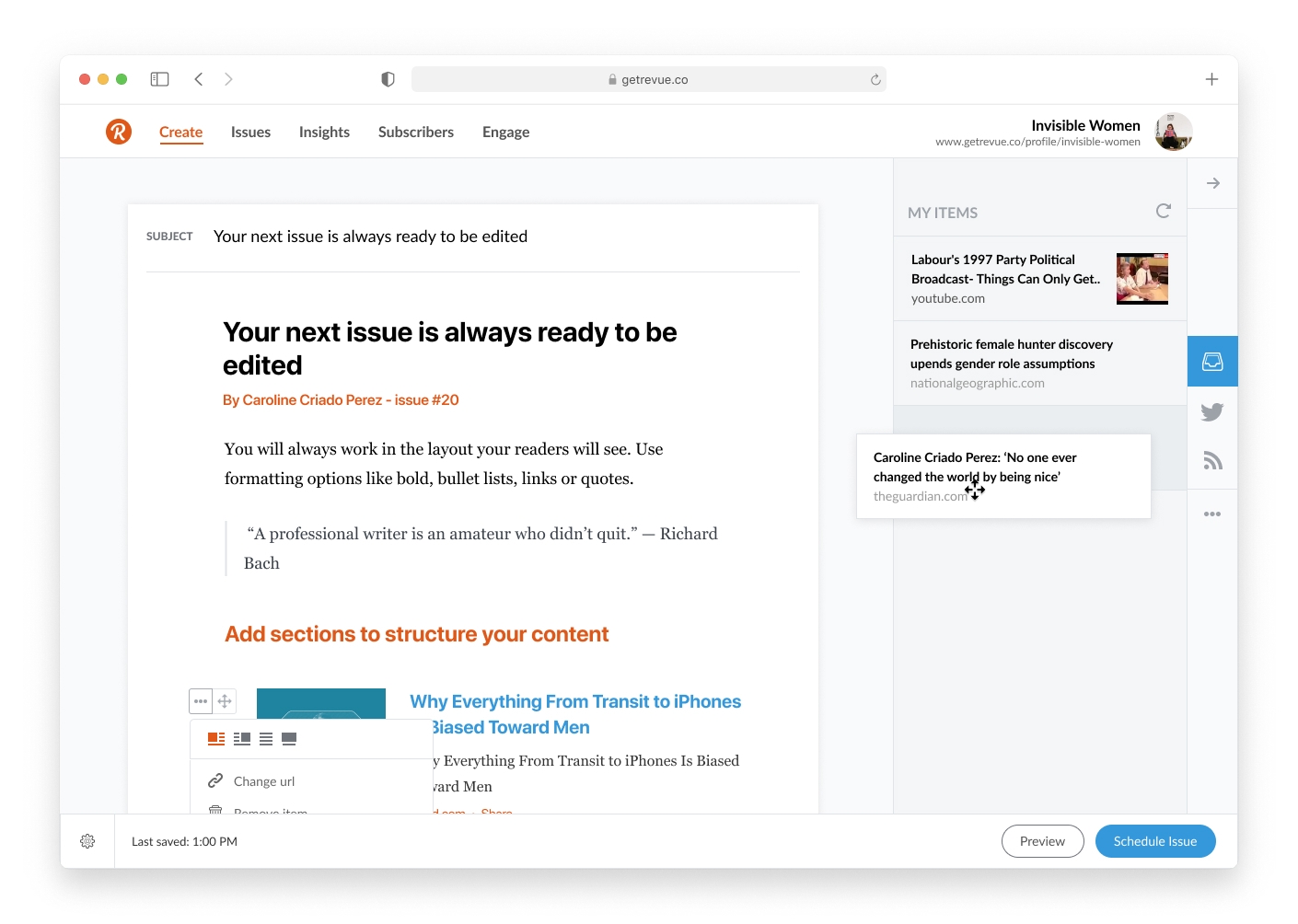 Compose a newsletter quickly and easily in Revue. Drag links, videos, and Tweets into the issue.
Supporting writers across our service
With a robust community of writers and readers, Twitter is uniquely positioned to help organizations and writers grow their readership faster and at a much larger scale than anywhere else. Many established writers and publishers have built their brand on Twitter, amassing an audience that's hungry for the next article or perspective they Tweet. Our goal is to make it easy for them to connect with their subscribers, while also helping readers better discover writers and their content. We're imagining a lot of ways to do this, from allowing people to sign up for newsletters from their favorite follows on Twitter, to new settings for writers to host conversations with their subscribers. It will all work seamlessly within Twitter.
And for those looking to generate revenue, we're creating a durable incentive model through paid newsletters. Bringing Revue to Twitter will supercharge this offering, helping writers grow their paid subscribers while also incentivizing them to produce engaging and relevant content that drives conversations on Twitter. You can expect audience-based monetization to be an area that we'll continue to develop new ways to support, whether it's helping broaden revenue streams or serving as a cornerstone of someone's business.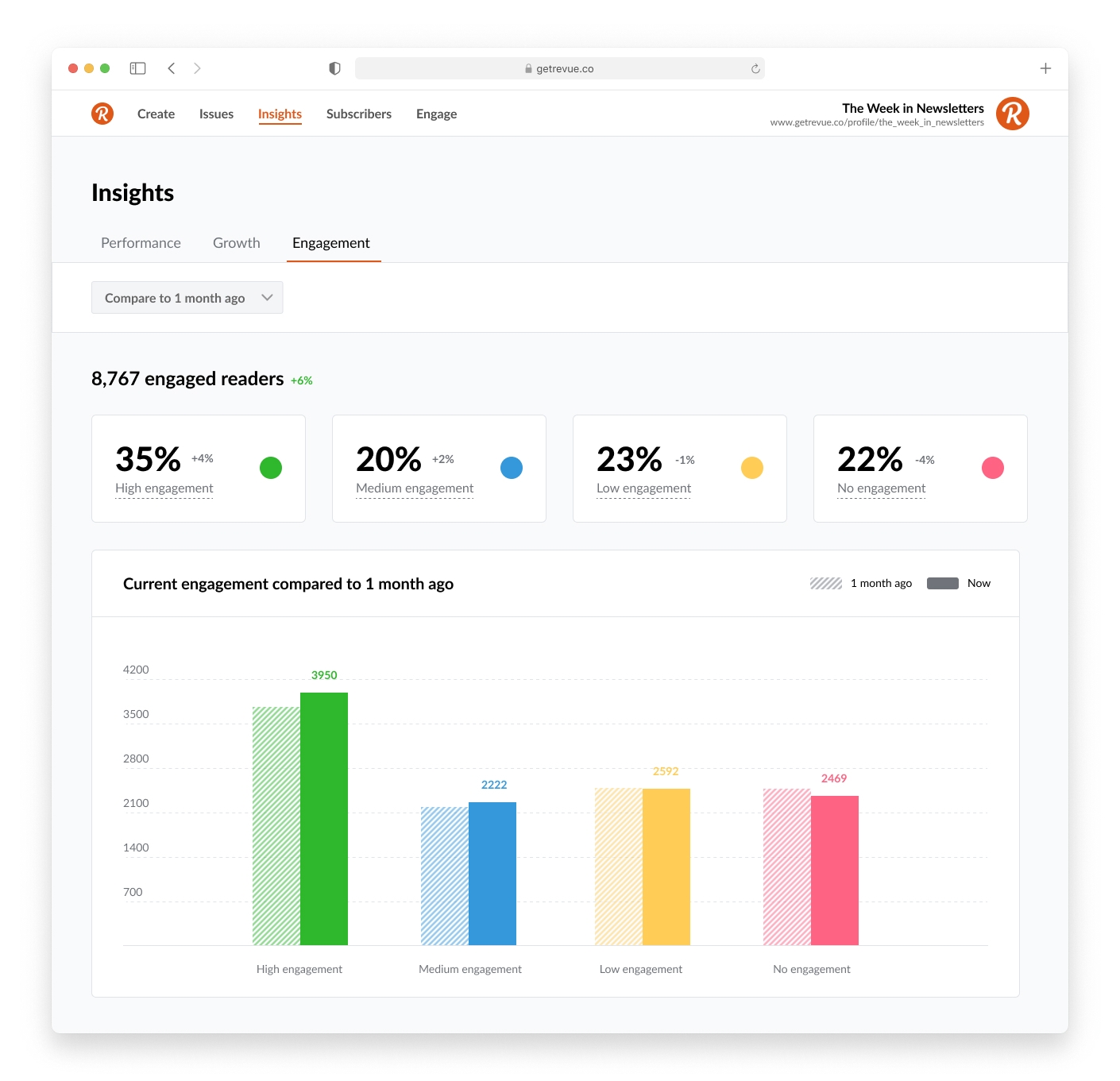 Audience insights by Revue. Track growth and examine engagement in aggregate or by issue.
What's next for Revue and Twitter
Starting today, we're making Revue's Pro features free for all accounts and lowering the paid newsletter fee to 5%, a competitive rate that lets writers keep more of the revenue generated from subscriptions.
We will continue to invest in Revue as a standalone service, and its team will remain focused on improving the ways writers create their newsletters, build their audience and get paid for their work. We're also expanding their team and hiring for key roles across engineering, design, research and data science. Over time, this team will build more discovery, reading, and conversational experiences centered around long-form content on Twitter.
This is just the first step for us as we continue to enhance the public conversation on Twitter, and we welcome all creators – from experts and curators to journalists and publishers – to join us on our journey. We can't wait to share more on our progress soon.
News Source: https://blog.twitter.com/