The significant growth in the volume of non-oil trade between the UAE and India signifies the positive progress of the Comprehensive Economic Partnership Agreement (CEPA), more than a year after it entered into force, which puts it on the right track to deliver the target of reaching US$100 billion in non-oil trade annually over the next five years.
During 2020-2022, the volume of non-oil trade exchange between the UAE and India has grown by 84 percent, from AED102.5 billion to AED188.8 billion last year, according to data from the Federal Competitiveness and Statistics Centre.
During the past ten years (2013-2022), the trade growth rate between the two countries amounted to 18.2 percent, from AED 159.72 billion to AED188.8 billion last year, to reach AED1.41 trillion in 10 years.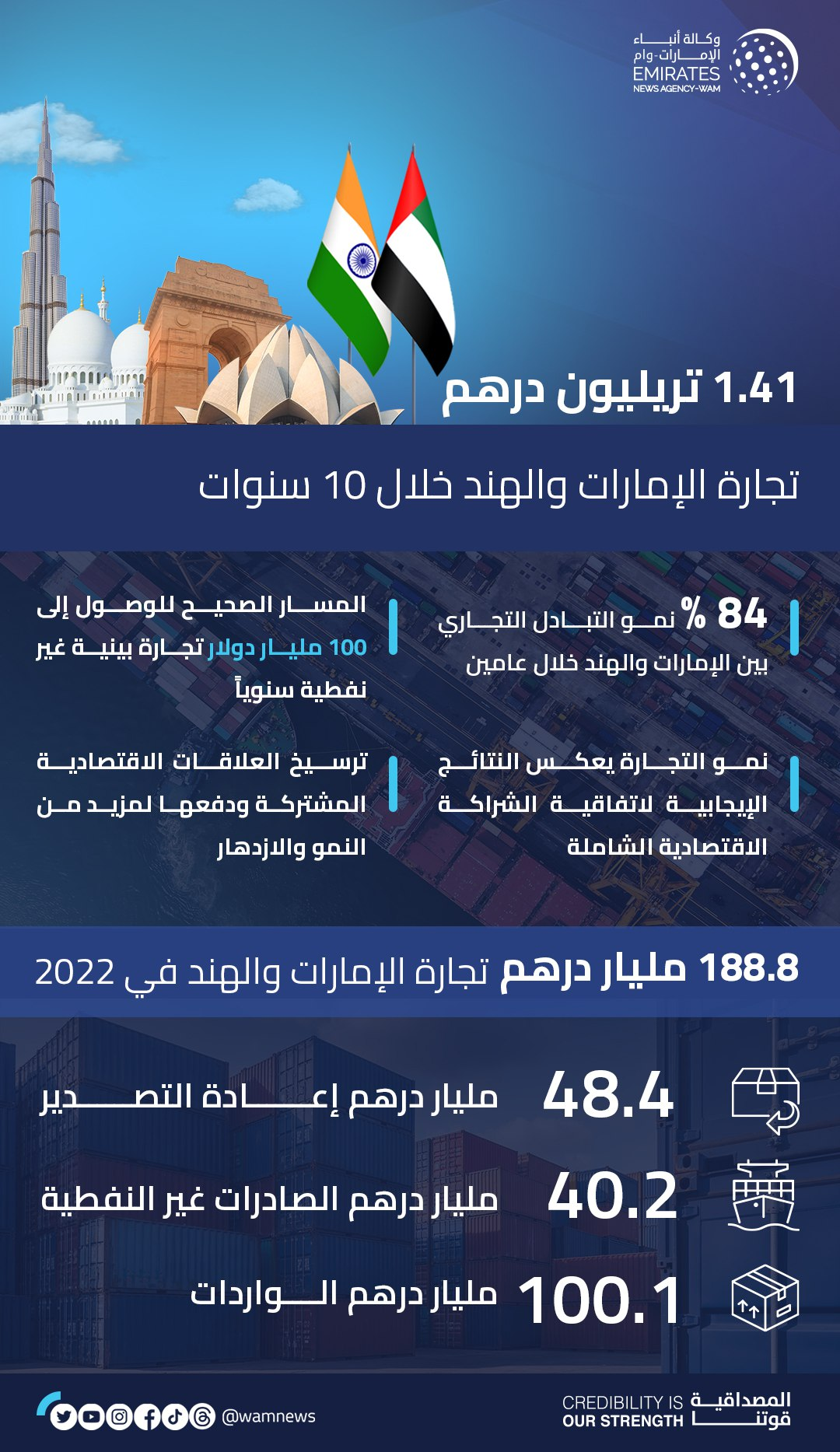 The UAE-India CEPA represented a platform for joint growth and constructive collaboration to increase the strategic importance of the two countries' economies, stimulate the flow of mutual investments, and provide opportunities for the business communities in the two countries, which stimulates economic prosperity in both countries, as it is a partnership for sustainable growth.
In the period from May 2022 to April 2023, the first 12 months of the entry into force of the agreement, the value of bilateral non-oil trade amounted to US$50.5 billion, a growth of 5.8 percent over the same period last year, so that the partnership achieved distinguished and positive economic results that enhanced the increase in the flow of trade exchange between the two countries.
The UAE-India CEPA played a vital role in strengthening joint economic and trade relations towards further growth and prosperity, and creating a momentum of opportunities for the Emirati and Indian business communities.
The foreign trade between the two countries last year was represented in re-exports at a value of AED 48.4 billion and non-oil exports stood at AED 40.2 billion, while imports amounted to AED 100.1 billion.
News Source: Emirates News Agency