The Water, Energy, Technology, and Environment Exhibition (WETEX) and Dubai Solar Show (DSS), which is being held under the directives of His Highness Sheikh Mohammed bin Rashid Al Maktoum, Vice President and Prime Minister of the UAE and Ruler of Dubai; and under the patronage of His Highness Sheikh Ahmed bin Saeed Al Maktoum, Chairman of the Dubai Supreme Council of Energy; and organised by Dubai Electricity and Water Authority (DEWA), is a platform that sheds light on the sustainable circular economy in the UAE. It encourages global partnerships and investments to support innovation and adopt sustainable solutions and technologies in this vital field.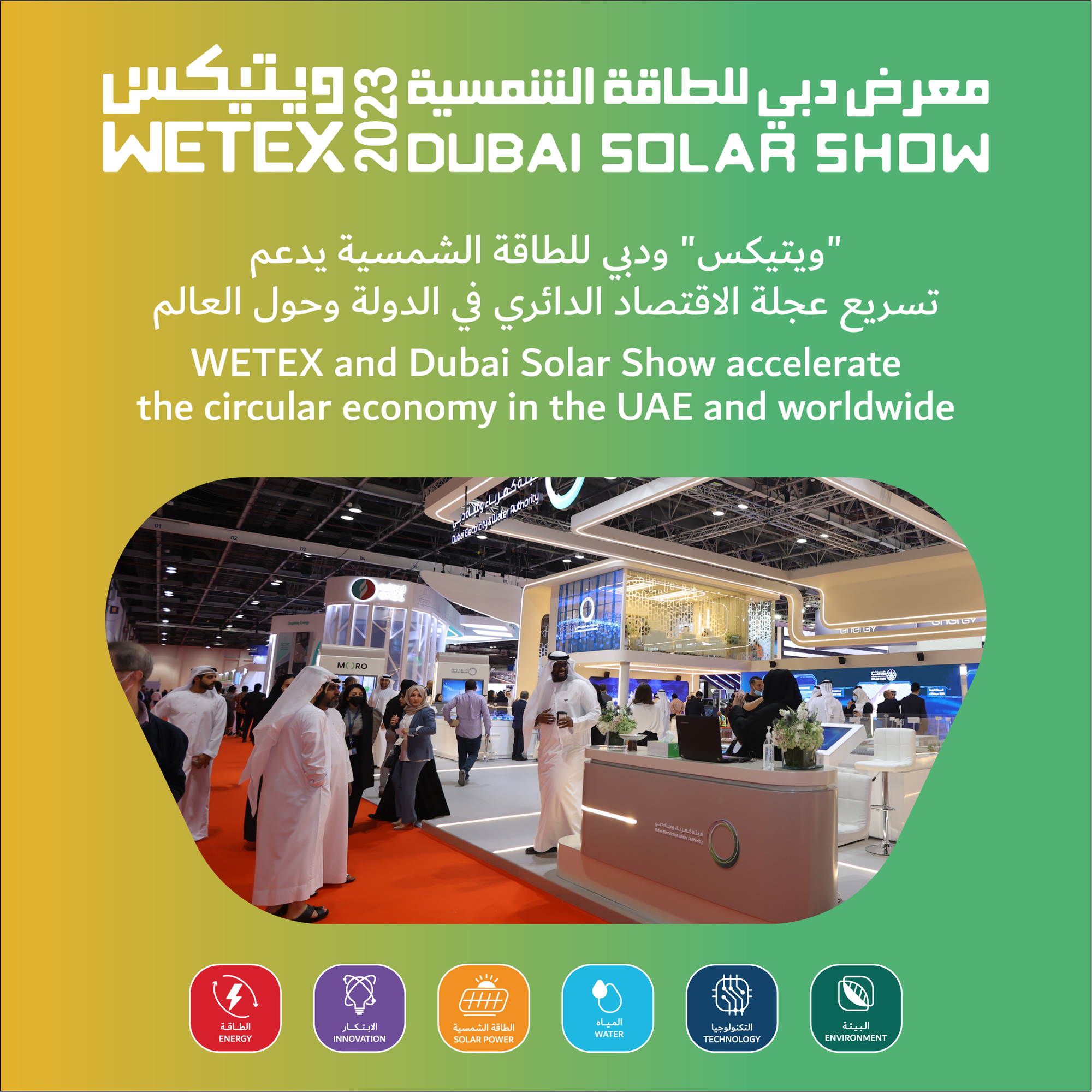 This contributes to reducing risks, greenhouse gas emissions and costs. It also creates promising opportunities, new sources of revenue, and constructive business models to improve resource efficiency and effectiveness. It promotes competitiveness and sustainable economic growth in the UAE and worldwide, while preserving the environment and encouraging sustainable practices.
According to Accenture research, the circular economy could generate $4.5 trillion of additional economic output by 2030. The International Labour Organisation estimates that the transition to a circular economy could create six million jobs worldwide.
"WETEX and DSS play a vital role in advancing the UAE's pursuit of sustainable resource management and effective utilization through circular economy investments and global best practices. Aligned with the visions of His Highness Sheikh Mohamed bin Zayed Al Nahyan and His Highness Sheikh Mohammed bin Rashid Al Maktoum, the exhibitions support the UAE Circular Economy Policy 2031 by showcasing innovations across sectors like green infrastructure, sustainable transportation, manufacturing, and food production. As a premier international platform, the exhibitions enable companies to present cutting-edge solutions, while emphasizing the importance of integrating circular economy principles throughout the value chain for a seamless transition and contributing to the UAE's net-zero by 2050 goal,"
stated HE Saeed Mohammed Al Tayer, MD & CEO of DEWA, Founder and Chairman of WETEX and DSS.
HE Abdulla bin Touq Al Marri, Minister of Economy, United Arab Emirates, highlighted the UAE's visionary strategy for economic diversification, with a focus on circular economy and renewable energy as pivotal to sustainable development over the next five decades. As the nation prepares to host COP28, he emphasized the UAE's commitment to achieving net-zero greenhouse gas emissions by 2050, with the circular economy policy playing a crucial role. The Circular Economy Council and its Policies Committee are working in collaboration with private sector partners and civil society to implement policies that align with national sustainability goals and drive a transition towards an improved economic model.
HE Omar Al Suwaidi, Undersecretary of the Ministry of Industry and Advanced Technology (MoIAT), emphasized that the UAE's National Strategy for Industry and Advanced Technology strives to elevate the industrial sector, foster entrepreneurship, and attract manufacturing investments. Events like WETEX serve as platforms for spotlighting innovations, entrepreneurial initiatives, and startup partnerships, contributing to the 'Make it in the Emirates' initiative's goals. The Ministry aims to enhance sector competitiveness through technological adoption, sustainability, and a shift towards a circular economy, aligning with the vision to establish the UAE as a global industry and innovation hub.
"The WETEX and Dubai Solar Energy Show demonstrate the UAE's commitment to sustainability and efficient resource consumption, solidified by visionary leadership, advanced infrastructure, and global engagement in circular economy and sustainable development. The event aligns with the UAE's 'Year of Sustainability' declaration and the Dubai Clean Energy Strategy 2050, driving innovation, clean energy, and knowledge sharing in water, energy, and environmental sectors,"
stated HE Dawoud Al-Hajri, Director General of Dubai Municipality.
News Source: Dubai Media Office