Dubai Marina is one of the most luxurious districts in Dubai. Opened in 2003, it is close to Downtown Dubai and a perfect spot for any weather and any time. It holds the largest man-made canal, countless restaurants and entertainment options, and of course, absolutely stunning views. Dubai Marina is a classic spot not only for tourists, but for residents as well.
So, here's your guide to the top things you can do to spend your day (and night) at Dubai Marina!
1.  Stoll on the Marina Walk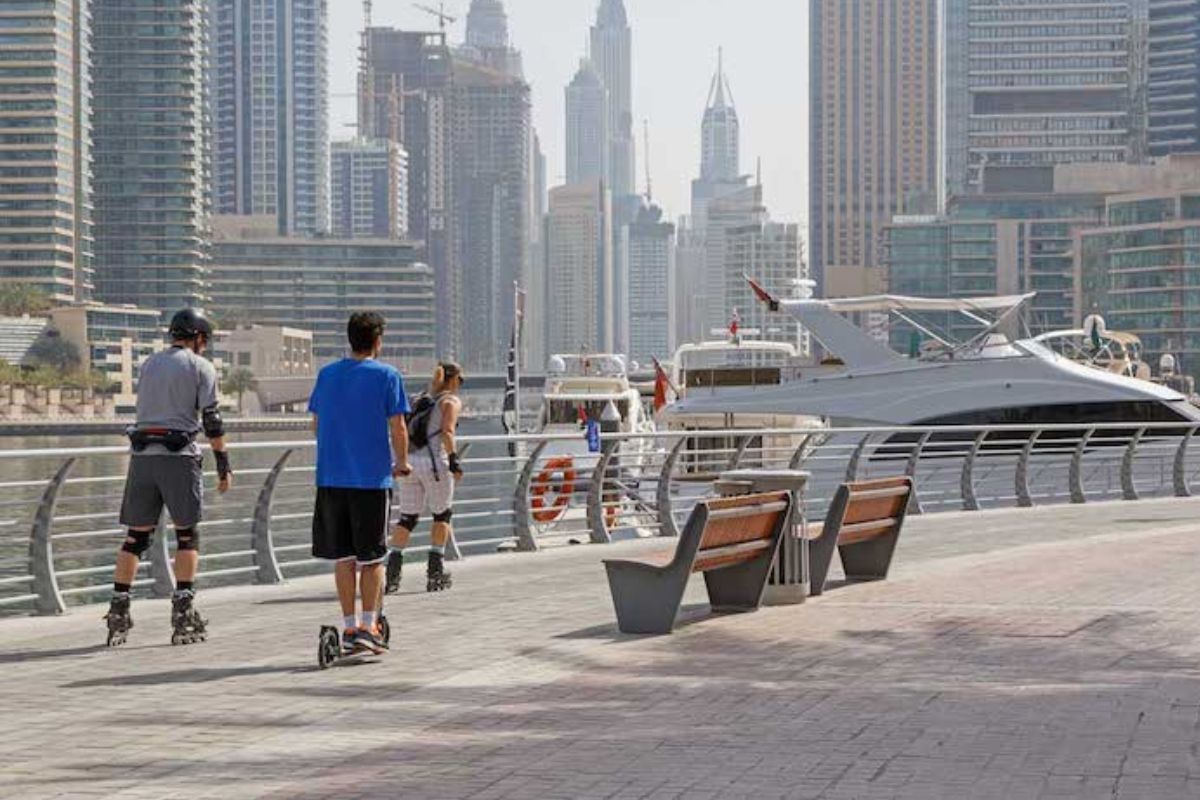 You can enjoy a calming stroll across the waterway on the 7km walking track at Marina Walk. Take in all the glory of one of the most popular spots in Dubai. Marina Walk is surrounded by dozens of skyscrapers, which come together to make the world's tallest block of skyscrapers. But don't let all those buildings fool you, Marina Walk is also covered in greenery, with palm trees shaping the track itself and countless trees, flowers, and bushes. If you don't feel like walking, that's okay! You can rent a bike of your choosing from the bike rentals scattered all over the track. Or you could rent one of the dozen yachts that bobble up and down on the water! Not only that, but the Marina Walk has a bunch of play areas for the little ones to enjoy, and even a small dancing fountain where they can make a splash!
2. Shop till you drop at the Marina Mall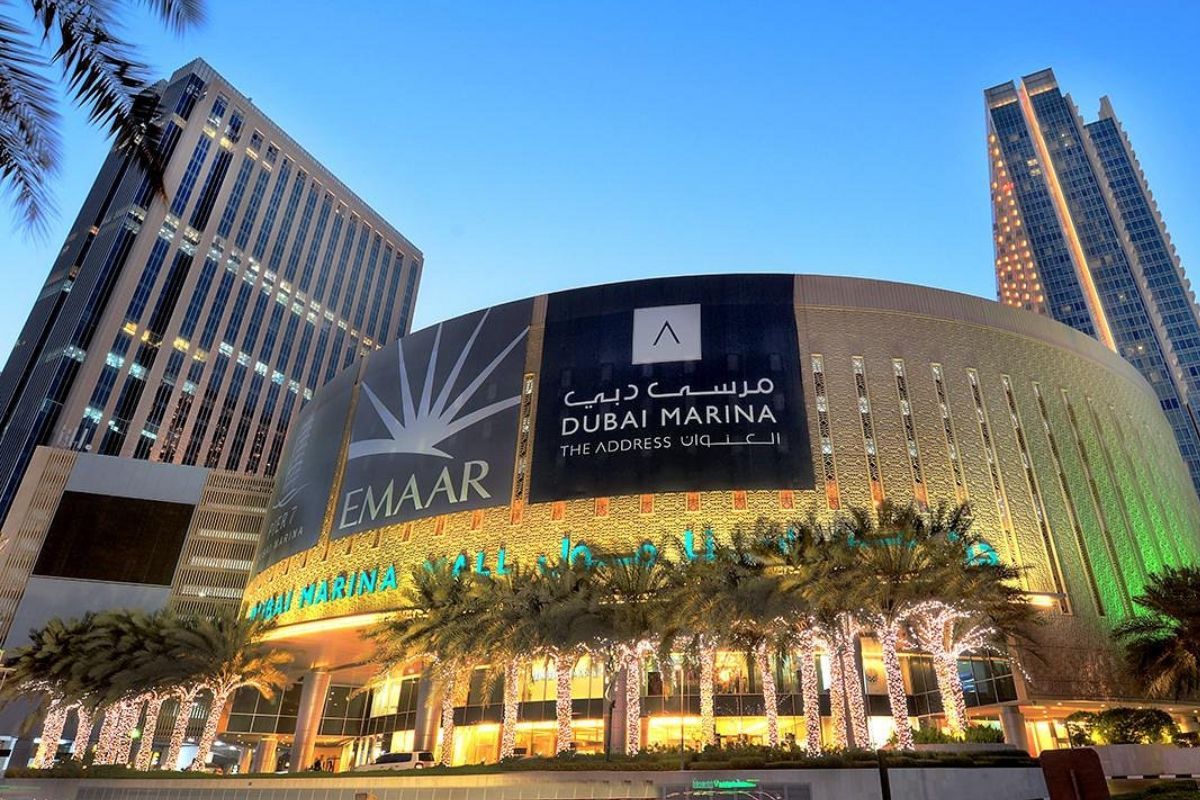 Although in comparison to all the other malls in Dubai, Marina Mall is small, that doesn't apply to its popularity and quality. Covering almost 400,000 sq. ft., this four-story mall holds over 140 different shopping outlets, where you can shop till you drop! You can also enjoy countless cafes and restaurants across the promenade, where you can dine with a gorgeous view of the entire area. Marina Mall also has direct access to the 5-star Address Hotel, which lets you shop and visit the mall with the ultimate luxury.
3.  Dine delicious food at Pier 7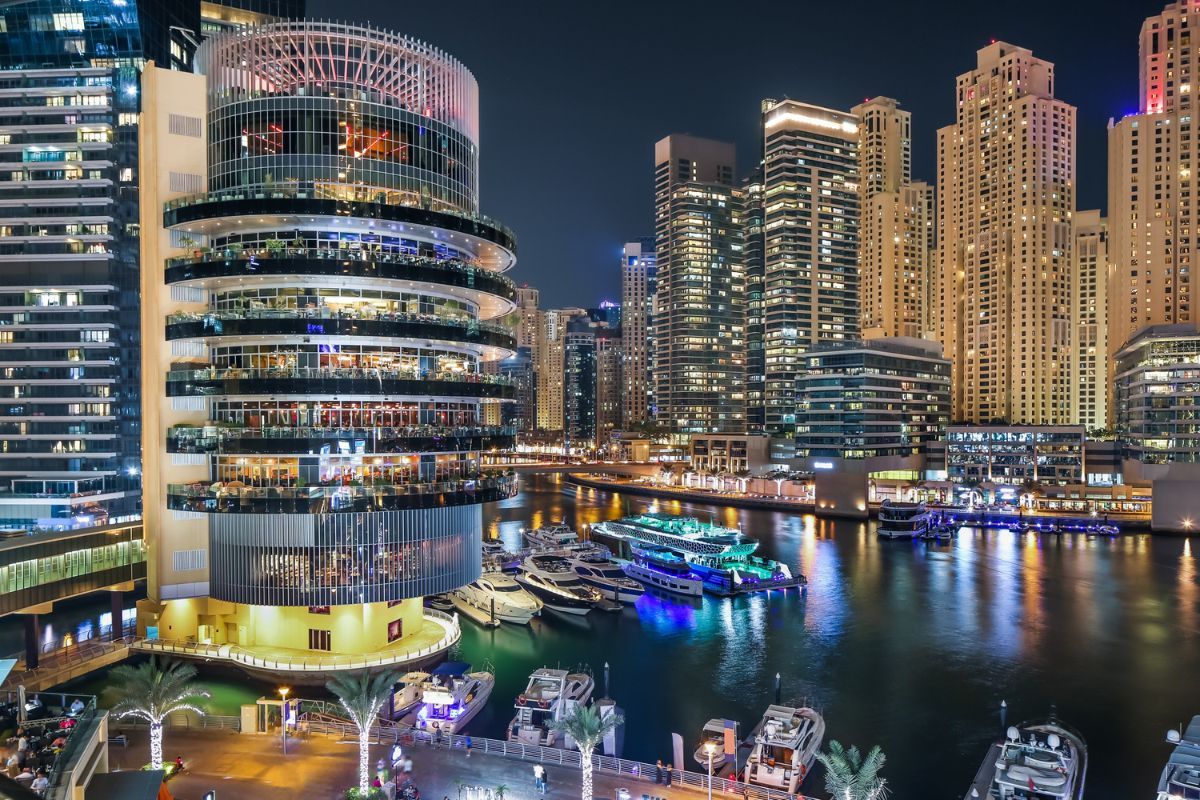 In Dubai Marina, there are countless areas to dine, but the most popular and special by far is Pier 7. As the name suggests, this fine dining scene has 7 different restaurants, each with its separate floor! On the top floor, you have Atelier M, where you can indulge in international cuisine. Below it, you have Asia Asia, which gives you the perfect fusion of all Asian delicacies. For Middle Eastern cuisine, you have Abd El Wahab on the 5th floor, where they serve traditional Lebanese dishes. Craving some fish and chips? The Scene is a perfect British restaurant on the fourth floor! The two floors below them also offer a new take on Asian food, with Cargo on the third floor and Mama Zonia on the second. Finally, on the first floor, you have Fume, which is all about simple and affordable dishes! Each of these restaurants gives you a stunning view of the Marina water's edge, and the building's circular structure gives you a perfect 360 view of the whole area!
4.  Stay in one of Dubai Marina's luxury Hotels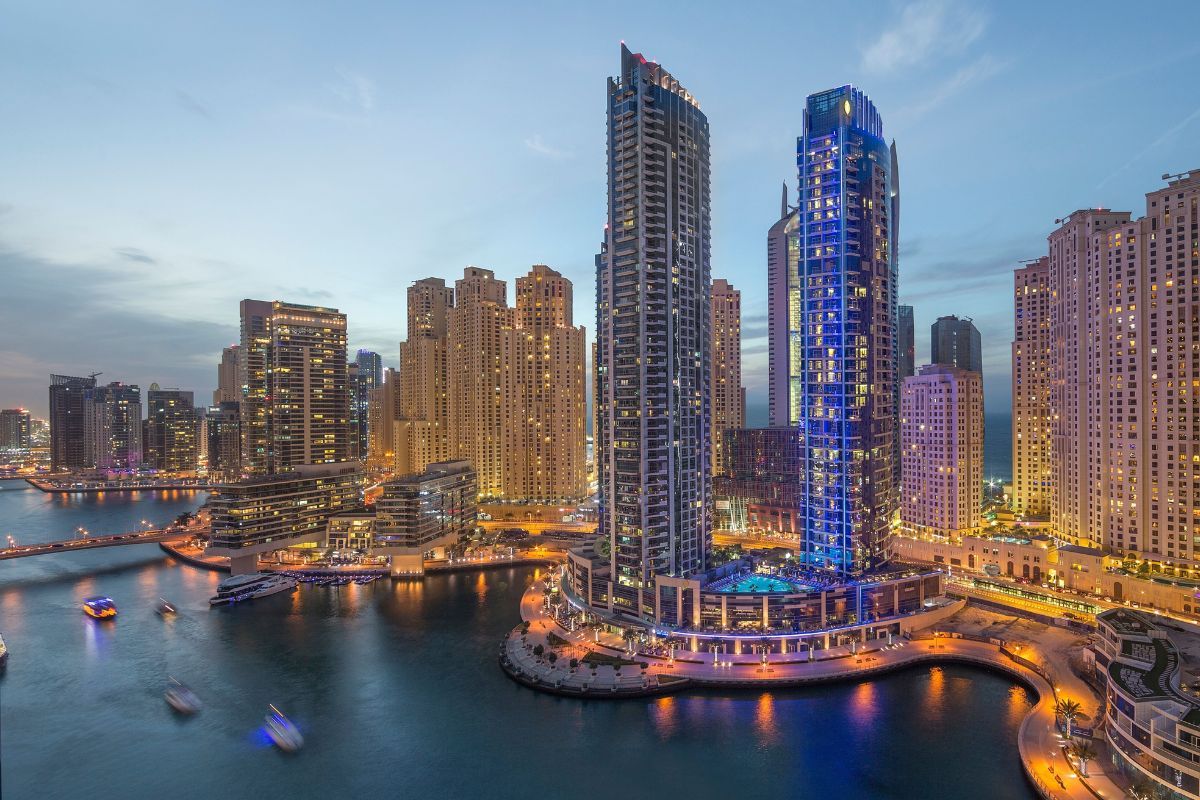 In this luxurious and bustling area, you're bound to find the most sophisticated hotel apartments in Marina. Dubai Marina is surrounded by countless 5-star hotels, which all add to the area's glamour and glitz. These hotels include the Address Hotel, which has direct access to the Dubai Marina Mall, the Ritz- Carlton Hotel, Crowne Plaza, Wyndham, Millennium Palace, and more! Each of these hotels has a unique and one-of-a-kind quality to them, whether it's a sky pool, a rooftop bar, or simply a stunning and perfect view.
Other Popular Hotels in Dubai Marina are:
• Le Royal Meridien Beach Resort & Spa
• W Dubai
• La Verda Suites & Villas Dubai Marina
• Dusit Residence Dubai Marina
• Dubai Mariott Harbour Hotel & Suites
• Rove Dubai Marina
5.  Relax at the Elvi lounge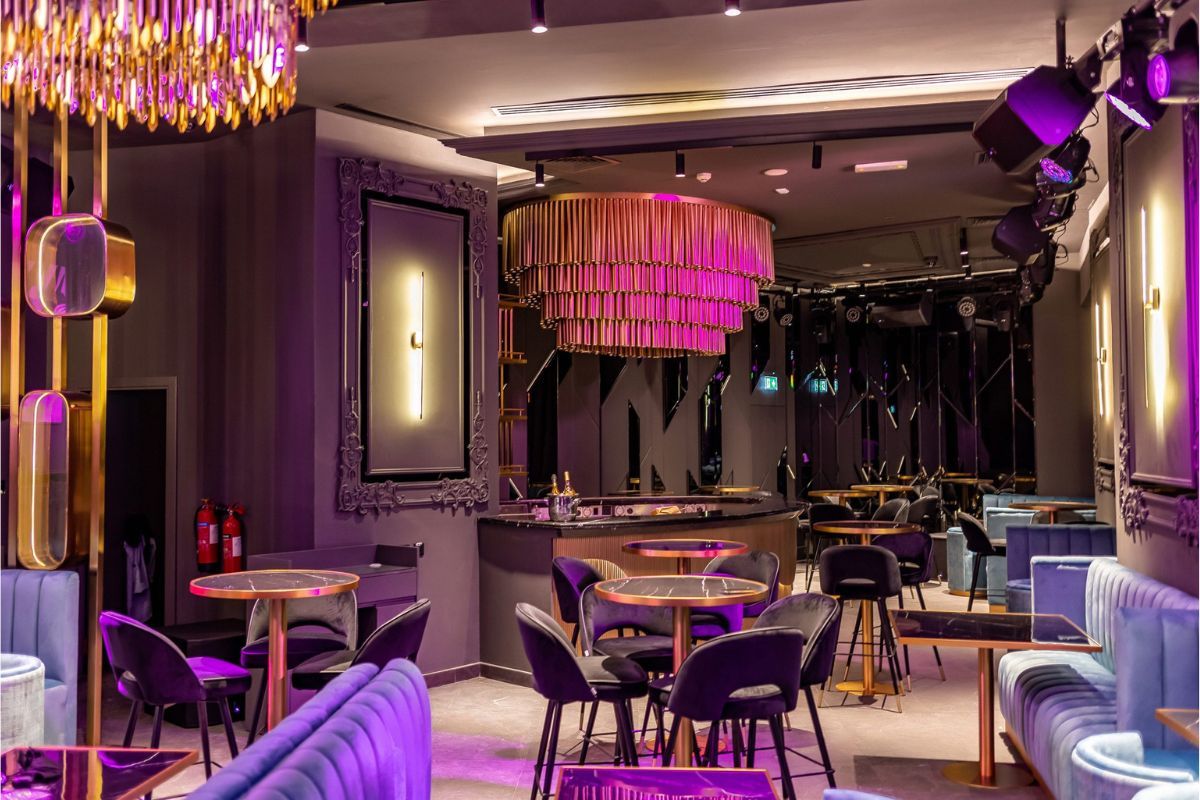 Located on the fourth floor of the Address Hotel, Elvi Lounge is a laid-back chic club to spend your evening at. With countless weekly events, including ladies' night on Wednesdays and a Desi night on Tuesdays, you're bound to have the time of your life at this lounge. They even have Happy Hours on Tuesdays and live DJs and music throughout the day!
6.  Close your eyes and jump at Gravity Zone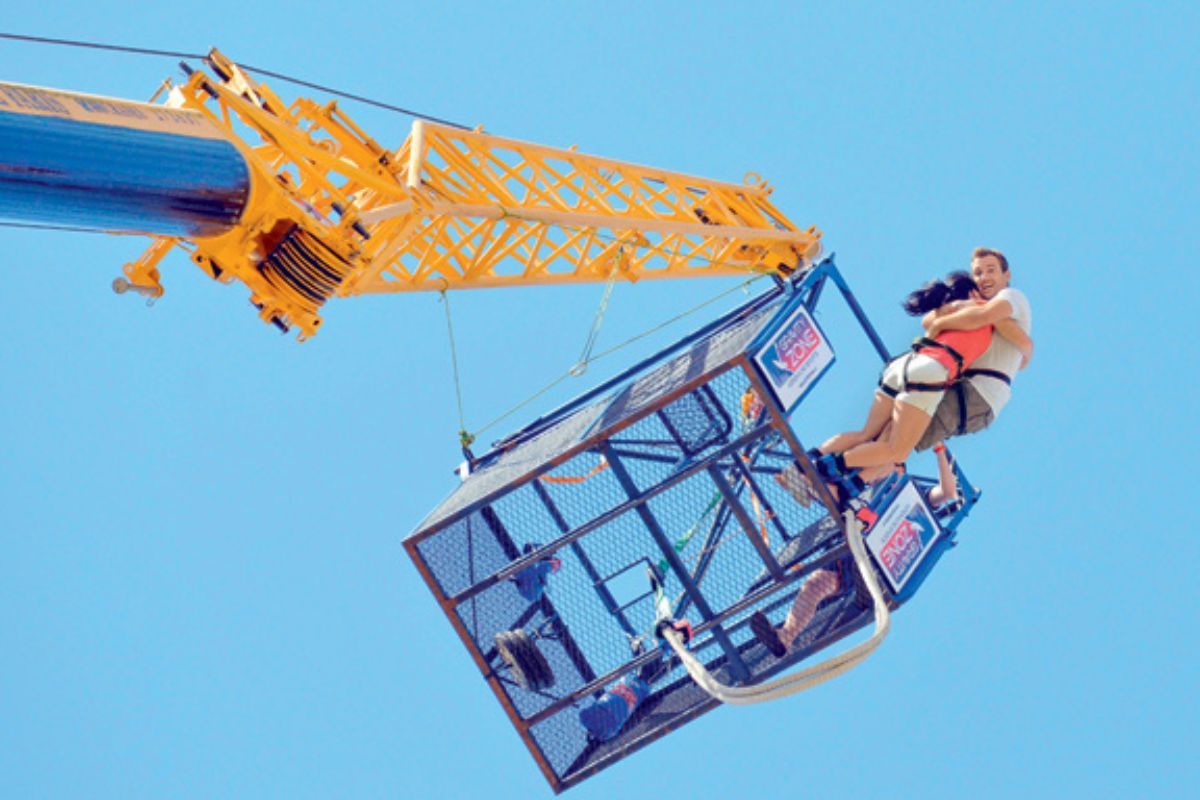 Take a leap of faith at Gravity Zone. You can get an exhilarating experience by bungee jumping from over 50 meters in the air! With strict safety precautions in place, including gear like helmets and ropes, and an elastic cord to pull you up, all you need to do is a trust fall!
7. Enjoy a great night out at Zero gravity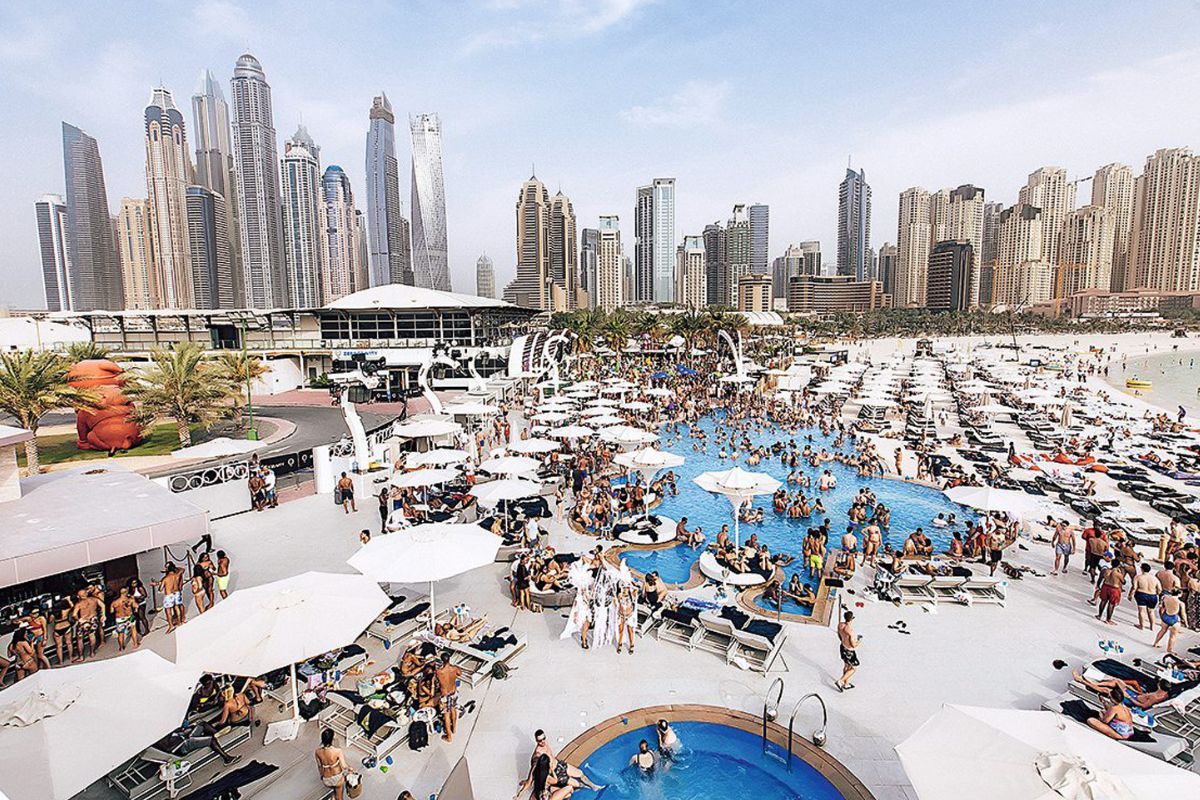 Zero Gravity is a beach club during the day and a nightclub at night. Located next to Skydive Dubai, this area has a crystal-clear beach and a glass terrace on its two-story restaurant that overlooks its gorgeous pool. At night, Zero Gravity transforms into the perfect venue for all visitors. With dozens of international DJs and the open air, this area checks all the boxes for a perfect day in Dubai Marina!
8.  Promote your small business at Covent garden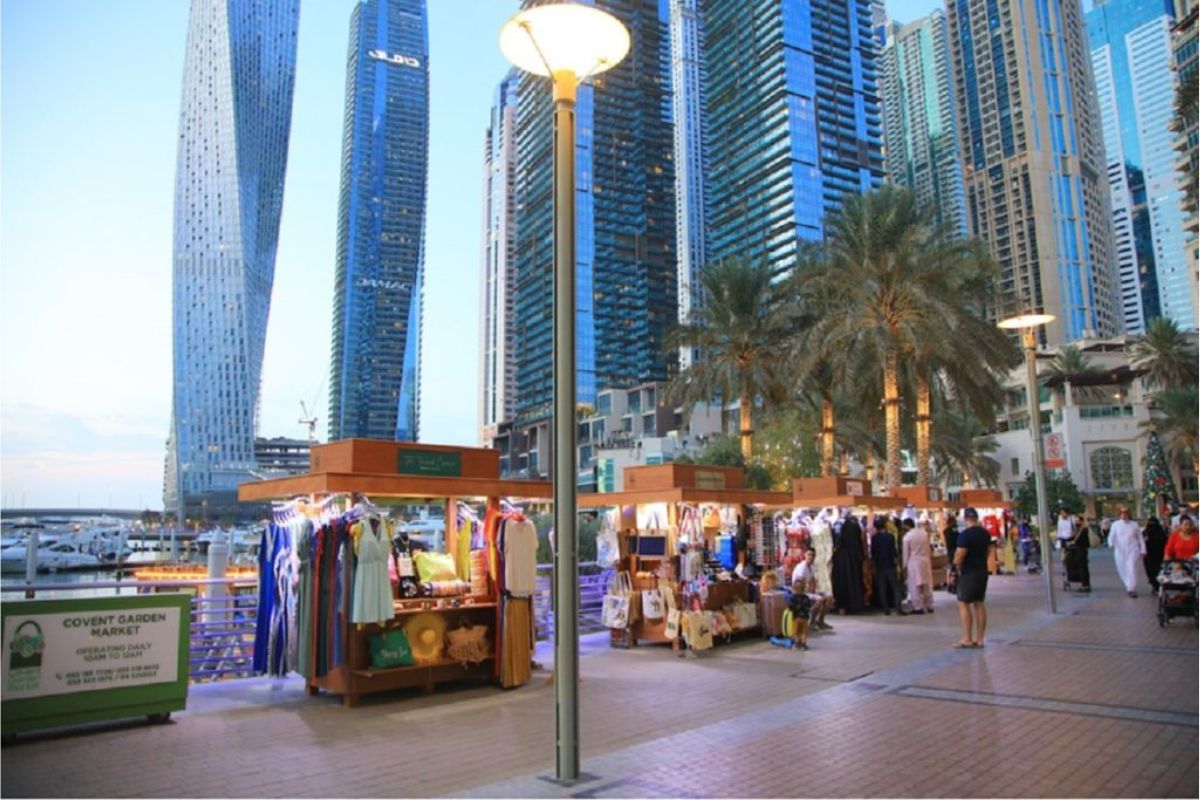 Since its founding in 2005, the Covent Garden Market has given hundreds of small businesses platforms to promote their business. From October to May annually, this market has kiosks of art, fashion, food, and even crystals, scattered all over the Marina waterfront.
9.  Relax and Unwind at Dubai Marina's Massage Parlors & spas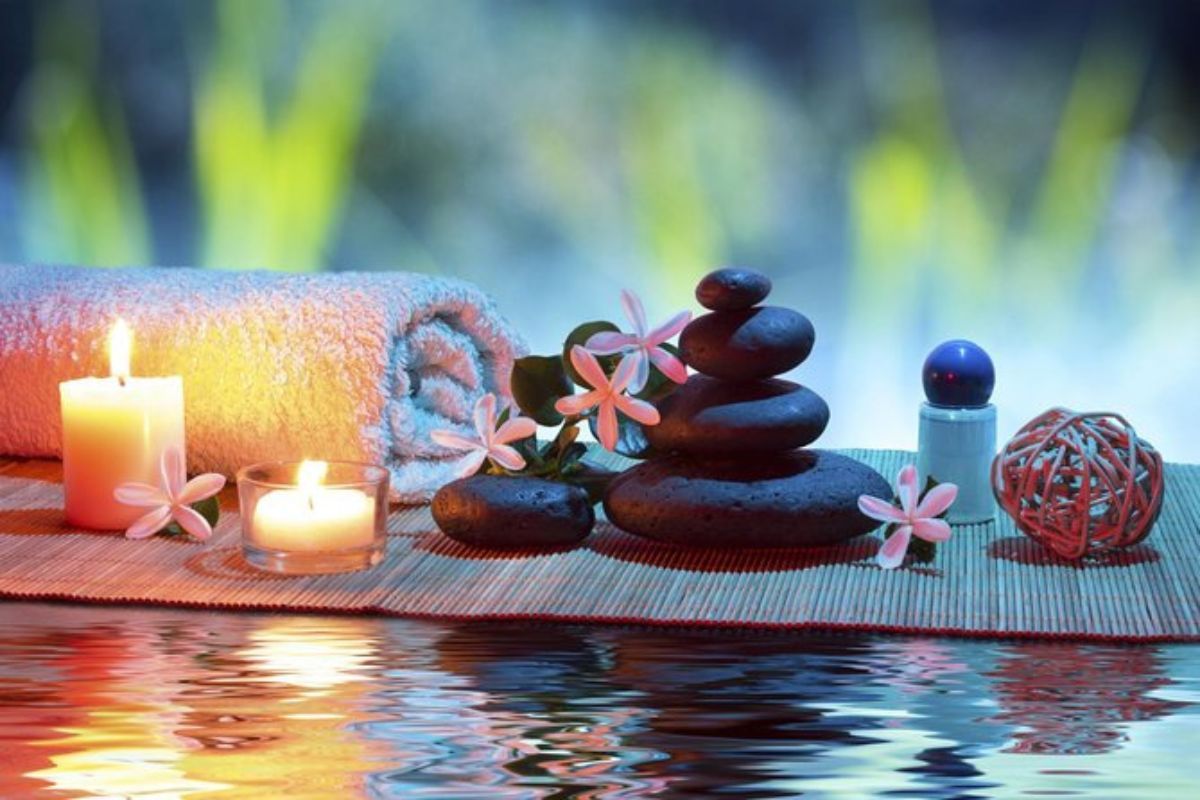 Treat yourself to have a "me-day" at the countless spas in Dubai Marina. You can visit the One&Only Mirage Spa, one of the top massage centers in Dubai Marina, B/Attitude Spa, where they provide international massage types including Swedish and Thai, the roman-themed spa Caracalla, or the other spas in the hotels like the Address! You can come down after a long and exhausting day and get your tensions down at any of these spas with a facial, a massage, or hammam treatments!
10.   View magnificent views from above by Skydiving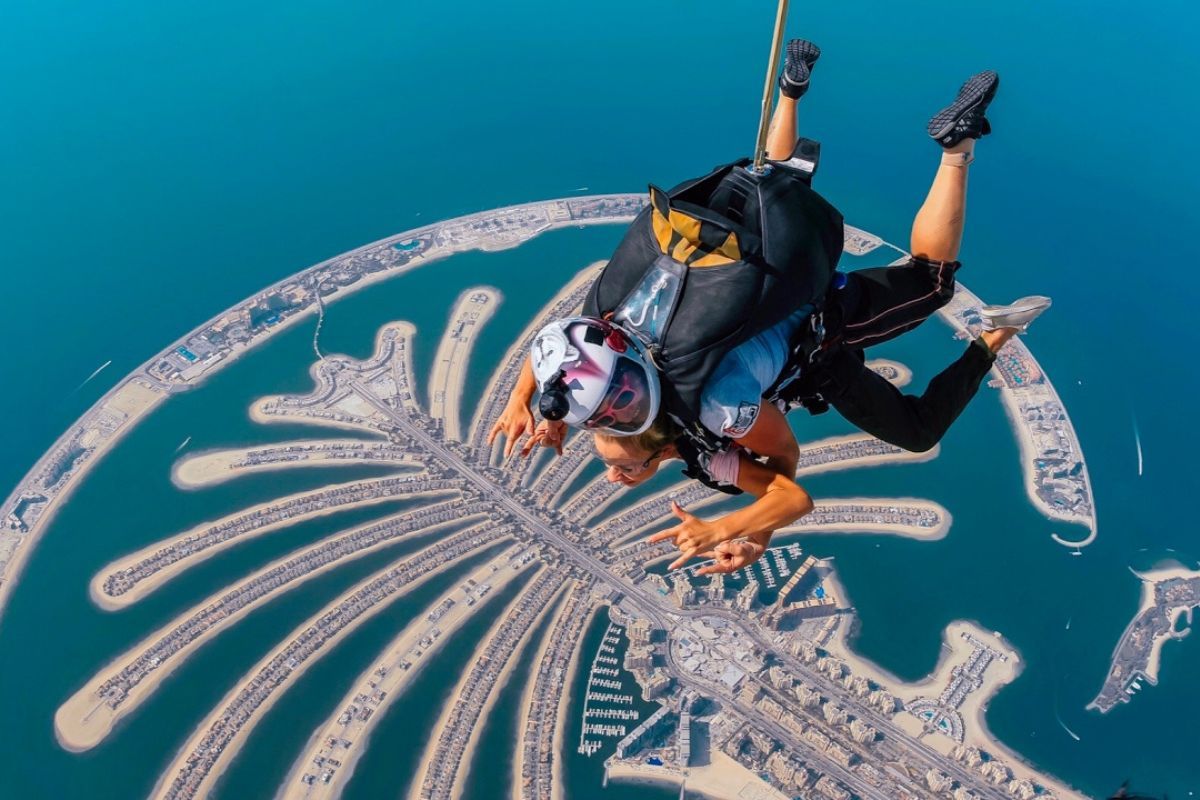 Sky Dive Dubai is the most popular and the most exciting thing you can do at Dubai Marina, and in Dubai in general! With both indoor and outdoor skydiving areas, and landing zones on The Palm and the desert, you can take a jump from 13,000 ft high and see the city in a new way!
11.   Zip through a thrilling zipline in Dubai Marina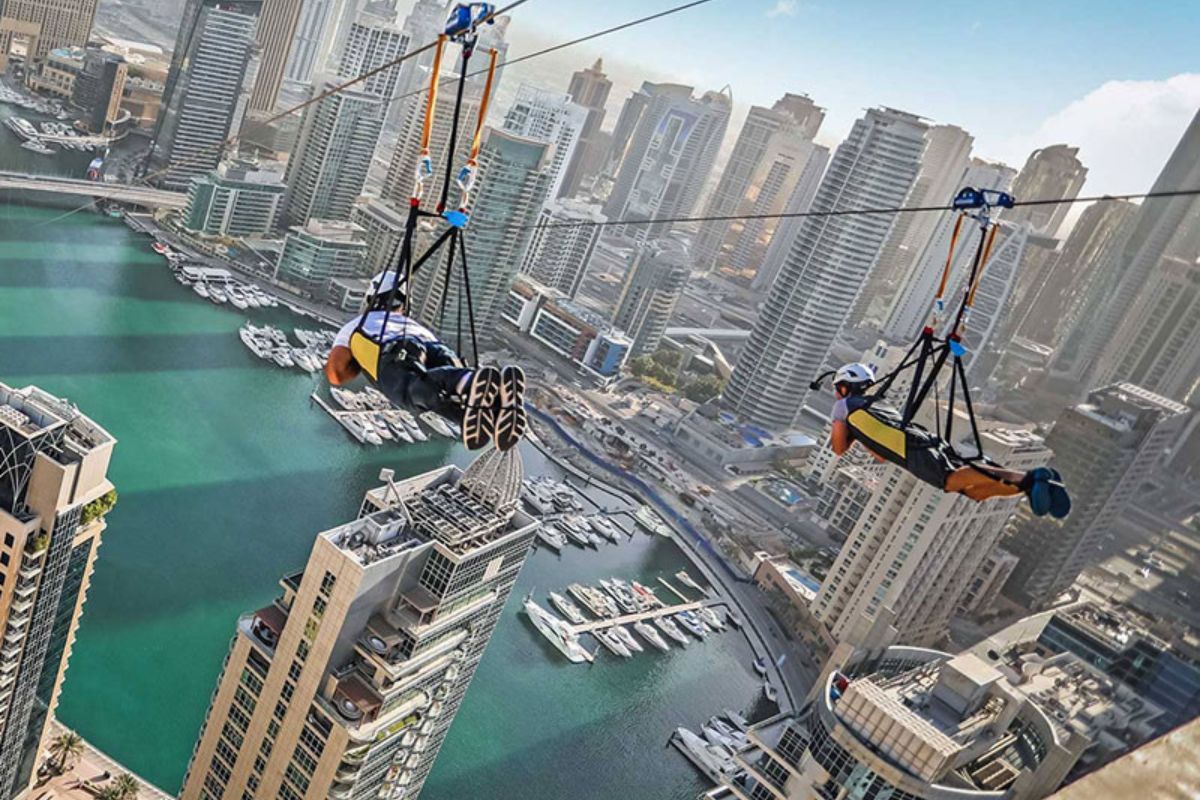 XDubai is the perfect place for all adventures in Dubai Marina. You have a variety of insane activities to choose from; you can zipline across the whole area at 170 meters high at the Dubai Xline, or you could visit the XPark where you can skate, graffiti the walls, and do some rock climbing. You can also try the Dream Jump, a collaboration between XDubai and Sky Dive Dubai, where you can take a jump from the world's second-tallest residential building, the Princess Tower.
12.   Splash and enjoy the water at JBR Beach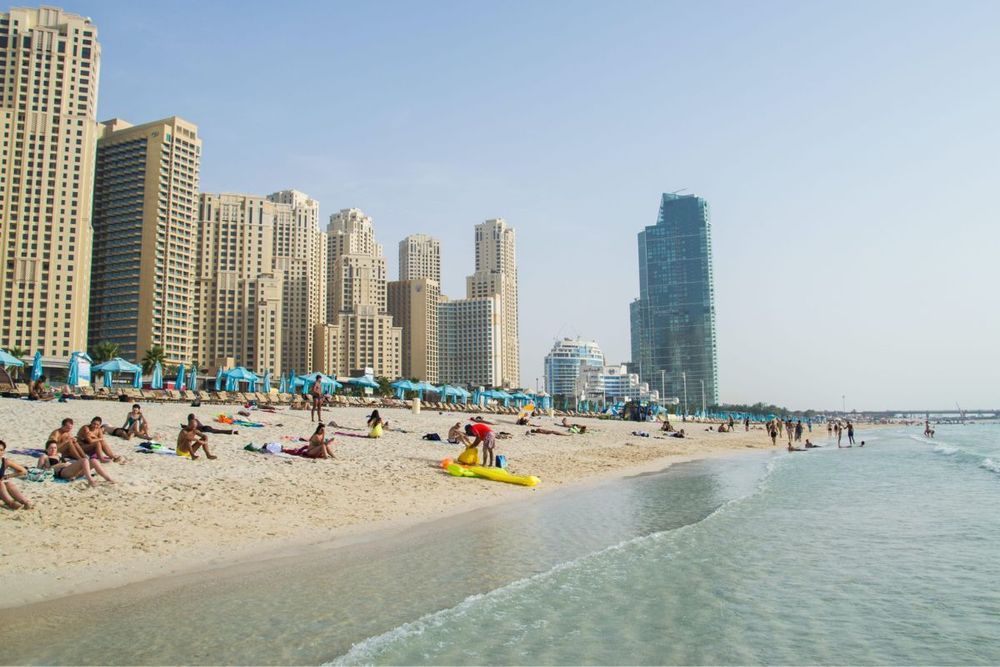 The Beach JBR is a buzzing hive of activity that is lined with sun-soaked cafes and shops. It is located alongside JBR which is a bustling cosmopolitan area with a contemporary Arabian touch. It offers a variety of water sports like waterboarding and parasailing, kids can enjoy rides like the banana boat ride. Besides sparklingly sun-soaked water, The Beach also offers Camel rides, Beach loungers, showers, a 600 m running track, outdoor gym, volleyball court, and food options. The Beach is easily accessible from anywhere in Dubai and you can enjoy your time at the sea with mesmerizing views and a range of restaurants that provide mouth-watering food.
13.   Go deep sea fishing at Dubai Marina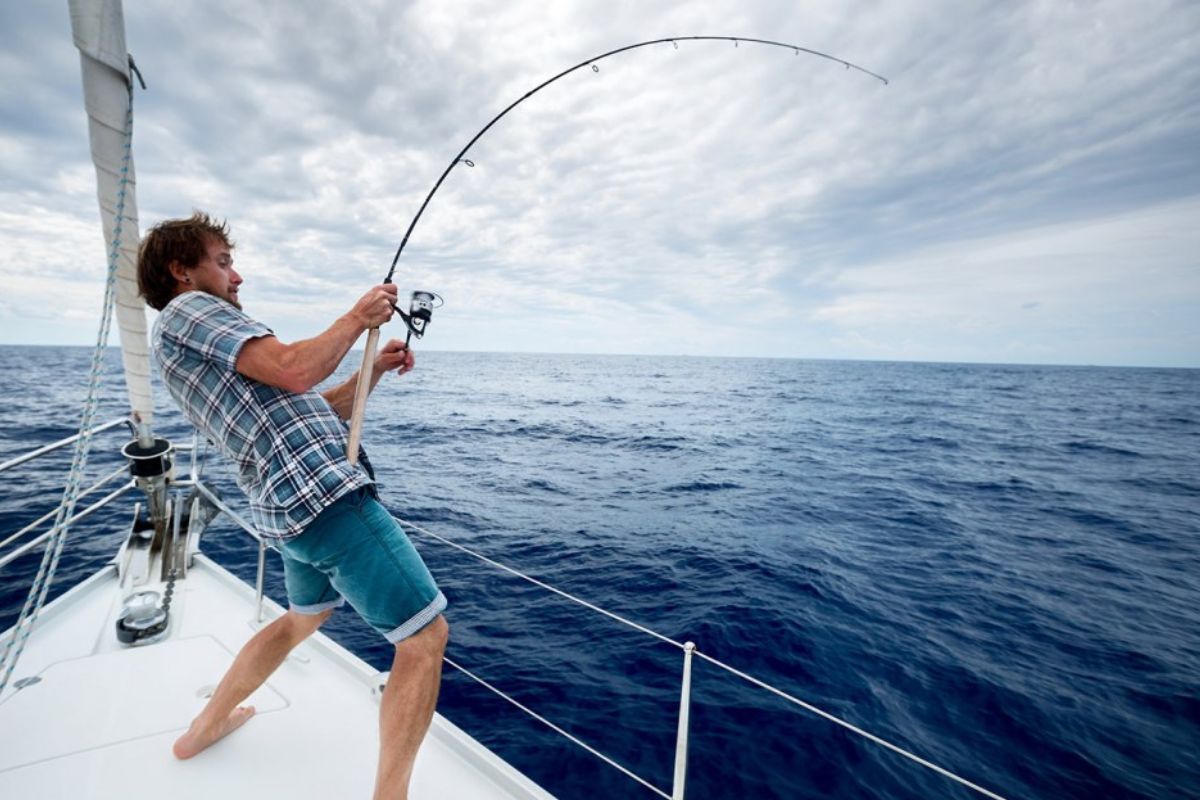 Go deep sea fishing while admiring the Marina's waterfront views. Take a fishing tour boat in the area and return with a fresh catch of Barracuda, Snapper, Hammour, or King Fish! You'll have plenty of time to unwind as you patiently await your catch. This is definitely the most enjoyable activity to do in Dubai Marina.
Restaurants to visit in Dubai Marina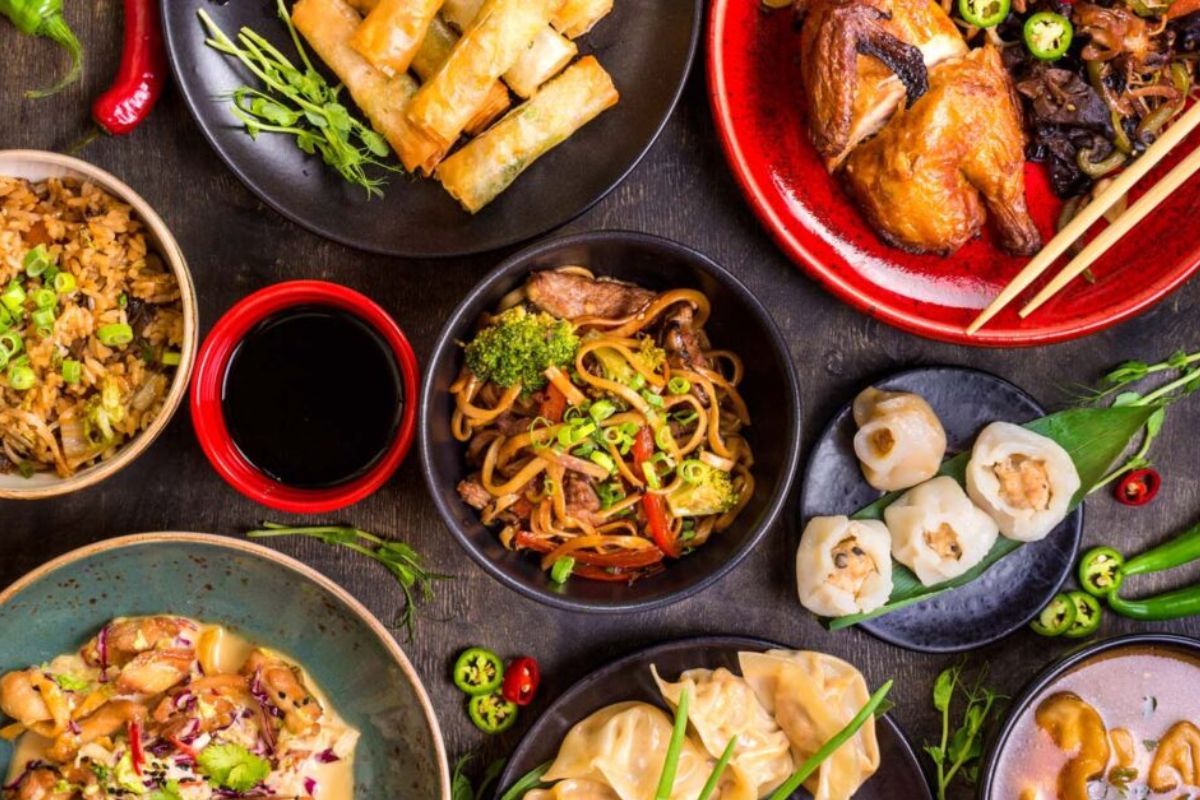 Dubai Marina has a wide array of restaurants that offer exemplary, global cuisines. From sophisticated settings to comfort food everything here is just mouthwatering! If you want to experience the quintessence of dining with the spectacular view of Dubai Marina, try some of these restaurants in Dubai Marina.
• 101 Dining Lounge
• Rhodes W1 Restaurant
• Massimos' Italian Restaurant
• Bussola
• Indego by Vineet
• Toro Toro Dubai
• Nova Restaurant & Lounge
• MasterChef, The TV Experience Restaurant
• Atelier M
• Leonardo Restaurant
• Sloane's
• Operation Falafel
Also Read:

https://focus.hidubai.com/free-dubai-marina-cruise-for-emirates-boarding-pass-holders-this-month/
https://focus.hidubai.com/rta-opens-4-way-footbridge-at-vital-dubai-marina-junction/
https://focus.hidubai.com/newest-attractions-for-thrill-seekers-in-dubai/
https://focus.hidubai.com/16-spots-to-see-the-best-views-in-dubai-at-night/