The holiday season is here in Dubai! The best way to celebrate this holiday is on the streets decorated with lights to give you Christmas-sy vibes. Be it the creamy hot chocolates, or freshly prepared gingerbread cookies, Dubai has a lot to offer during the Christmas season.
At this time of the year, Dubai hosts many winter pop-ups among which most of them at Christmas-themed. Christmas celebrations in Dubai can match up to the ones in European countries. The tree lighting ceremony, Santa's grotto, and the letters to Santa are some of the popular events that happen in Dubai during the Christmas season.
One of the best ways to celebrate Christmas in Dubai is by visiting the various Christmas markets across the city. These Christmas fairs are capable of bringing joy and smiles to the kids. You can also shop for products that are popular in this season like candy canes, sugar cookies, and so on.
Enjoy the Dubai winters by going outdoors this holiday season to witness Christmas magic. Here are the best Christmas markets in Dubai you can visit this year.
Winter City at Expo City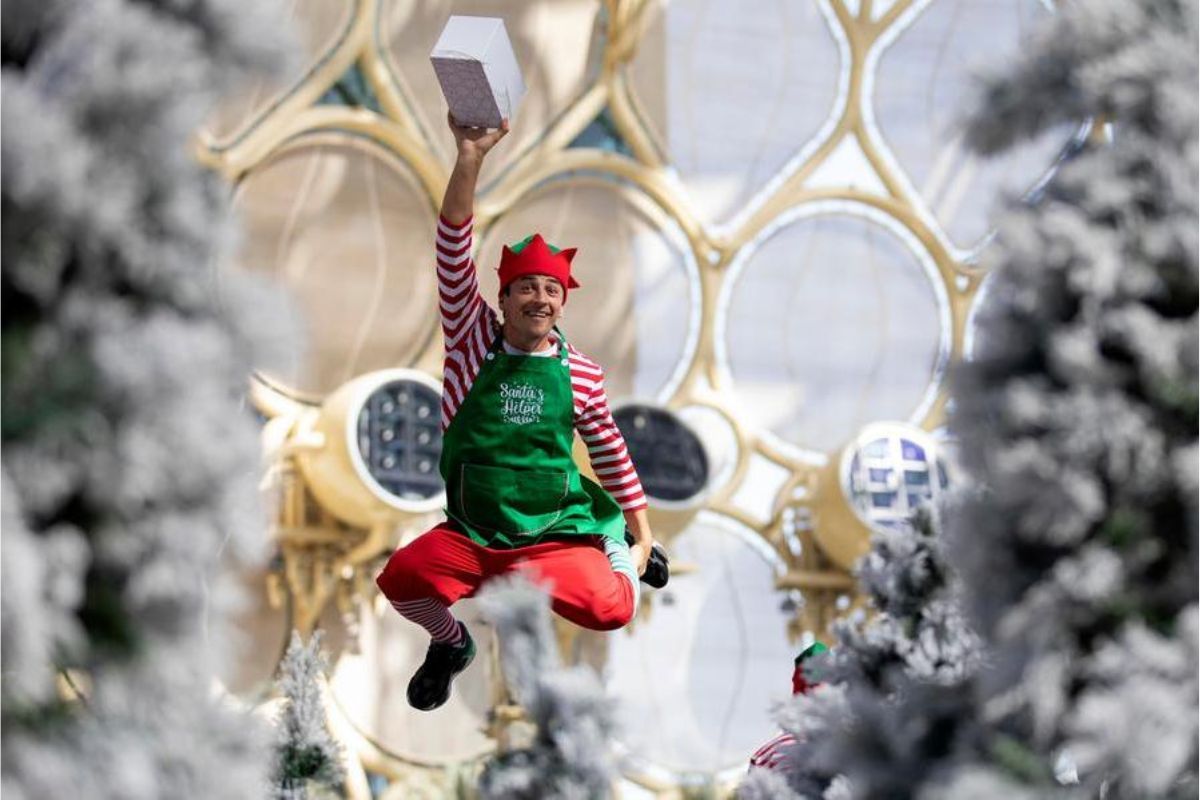 Winter City is a Christmas-themed zone set up in Expo City Dubai. For the vibes, they have used Chalet-style huts, pine trees, and more. Winter City is also home to a 52-foot-long Christmas tree.
The mobility district, water feature, and Al Wasl Plaza are all decked up for the season. The Winter City hosts a Christmas tree lighting ceremony every day at 6 pm from December 9 onwards.
You can participate in the gingerbread-making workshops that are hosted at Expo City Dubai. Kids can also write a letter to Santa at the North pole. Mrs. Santa Claus's show will come back for the second edition on December 26.
You can also visit Santa's grotto and a toy factory that gives you customized teddy bears. Festive treats are sold along small stalls set up at Winter City.
Ticket pricing: You can enter free of cost to the Winter City. However, you need to pay to attend the workshops.
Opening hours: It is open from 3 pm to 11 pm. However, during the school breaks, from 10 December to 1 January, it opens at 10 am. Winter City will be at Expo City Dubai from 23 November 2022 to 8 January 2023.
Location: It is located in the Expo City Dubai.
Festive Market at Madinat Jumeirah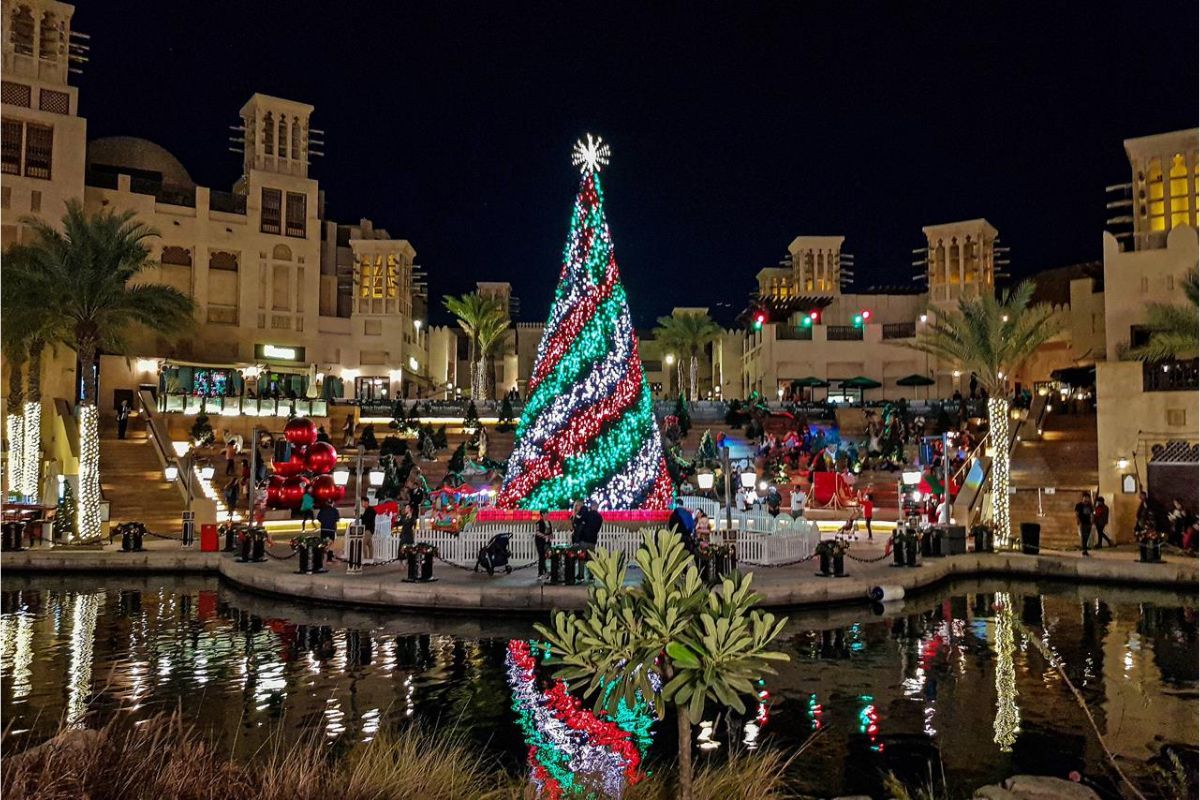 Madinat Jumeirah Festive Market is a top spot to have a memorable Christmas experience in Dubai. The place is spread across 1750 sqm. of land filled with all types of fun activities for you.
This Christmas market will offer your family a perfect night out with various immersive activities that could engage your kids as well. Madinat Jumeirah is home to a 36ft tall Christmas tree all decked up in Christmas ornaments and baubles. North Pole train, a four-lane bungee, an abra ride with Santa Claus, and Ginger Breadhouse are some of the attractions that Festive Market offers. The place also offers live festive music entertainment for visitors.
While at the Festive Market, you can also choose to shop or dine at any of the outlets. Jumeirah One members can redeem their points on festive food and beverage at some of the selected stalls.
Ticket pricing: You can enter free of charge.
Opening hours: On weekdays it is open from 3 pm to midnight, while on working days it is open from 12 pm to midnight. However, you can only find this Festive Market from 15 December to 30 December.
Location: It is located on the Madinat Jumeirah Fort Island, a 2-minute walk from Souk Madinat Jumeirah.
Winter Garden at Al Habtoor City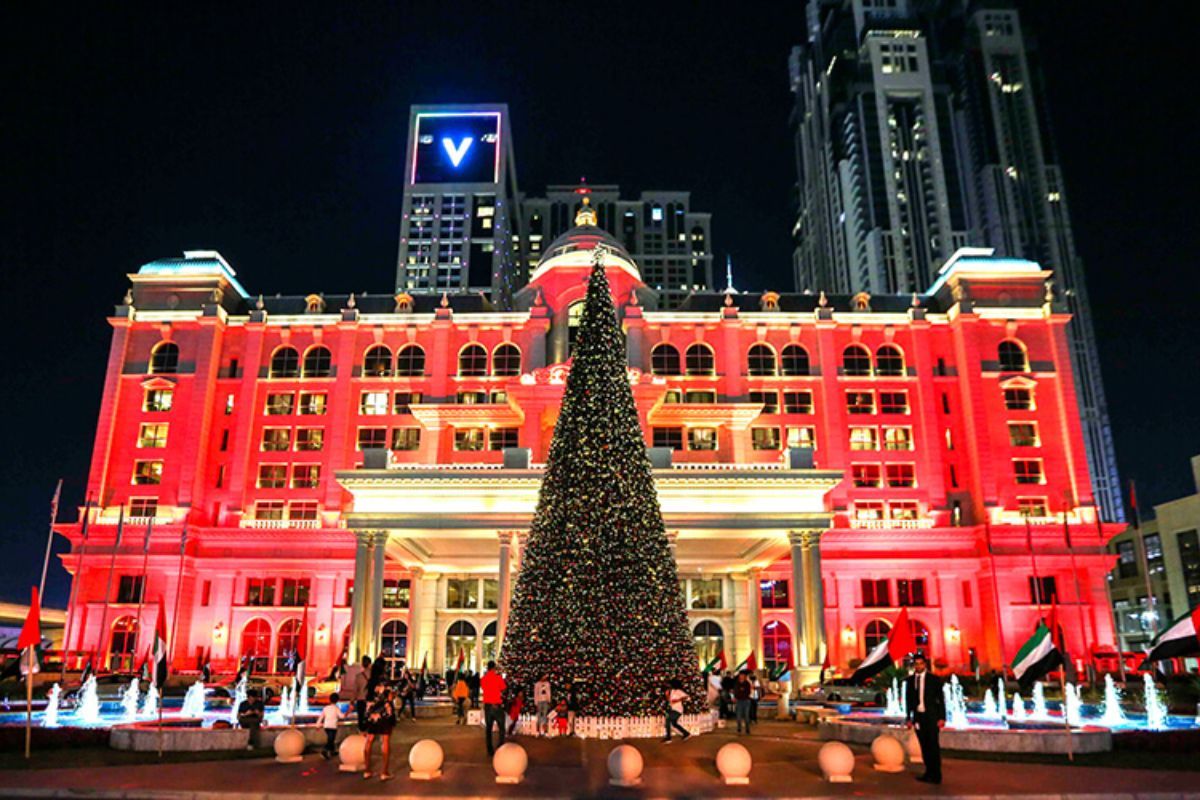 Winter Garden returns to Al Habtoor City for another eventful season. This time of the year, the lush greens of Al Habtoor Palace light up offering various fun activities for the visitors.
Winter Garden hosts many stalls from where you can have not just festive treats but also other delicious food from the stalls. Food is one of the most important things for visitors while at the Winter Garden. The hot chocolate at Casa Pons is heavenly along with those caramelized pecans.
The decorations and festivities at Al Habtoor Garden give you the perfect ambiance for European Christmas celebrations. This is a pet-friendly place, therefore you can bring your pets along with your family to enjoy a night out. The place also offers pet grooming services.
Other activities in which you can engage yourself while at Winter Garden include live entertainment and children's activities.
Ticket pricing: The tickets are priced at AED25, however, you can redeem the money for food and beverages at the stalls there.
Opening hours: It is open from 4 pm to midnight daily until December 31.
Location: It is located in Al Habtoor City, near Al Habtoor Palace.
Winter Wonderland at Ski Dubai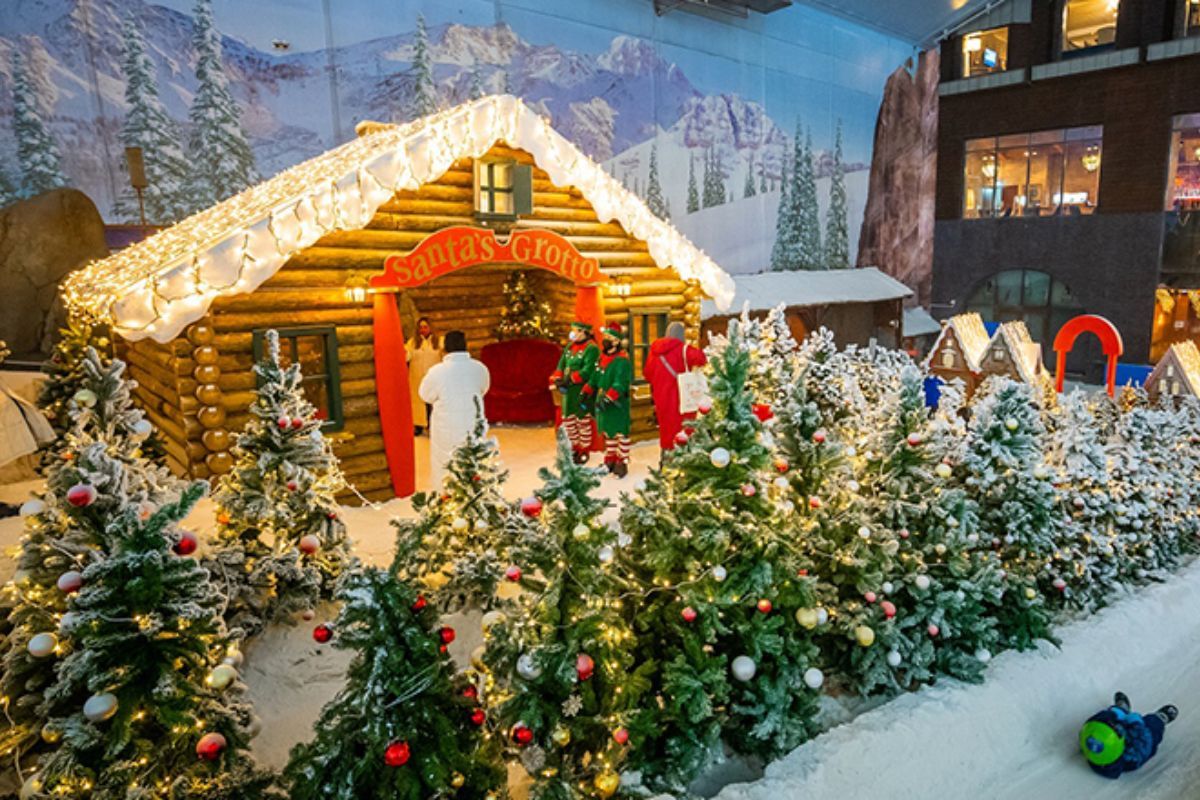 Winter Wonderland at Ski Dubai is the perfect dreamy White Christmas you need. Ski Dubai is a popular indoor ski resort in the Mall of the Emirates. Ski Dubai is always cold and full of snow giving the apt atmosphere for Christmas.
Winter Wonderland offers various packages for you to spend your time with Santa Claus while sipping on the finest hot chocolates. The place also includes a Santa's Grotto to enhance your Christmas experience at Winter Wonderland. You can also treat yourselves to the festive food stall set up in Ski Dubai or just chill under a blanket with your loved ones while at Snow Cinema.
Ski Dubai will take you away from Dubai for a few hours by offering you snow and temperatures less than 5 degree Celsius.
Ticket pricing: The 'Meet Santa' tickets are available for AED125, while 'Meet Santa and Snow Park' tickets are available for AED275. You can have 'Breakfast with Santa' for AED125. Check out their website for more package details.
Opening hours: It is open from 12 pm to 9 pm daily till December 25.
Location: It is located inside the Mall of The Emirates in Dubai.
WinterFest at McGettigan's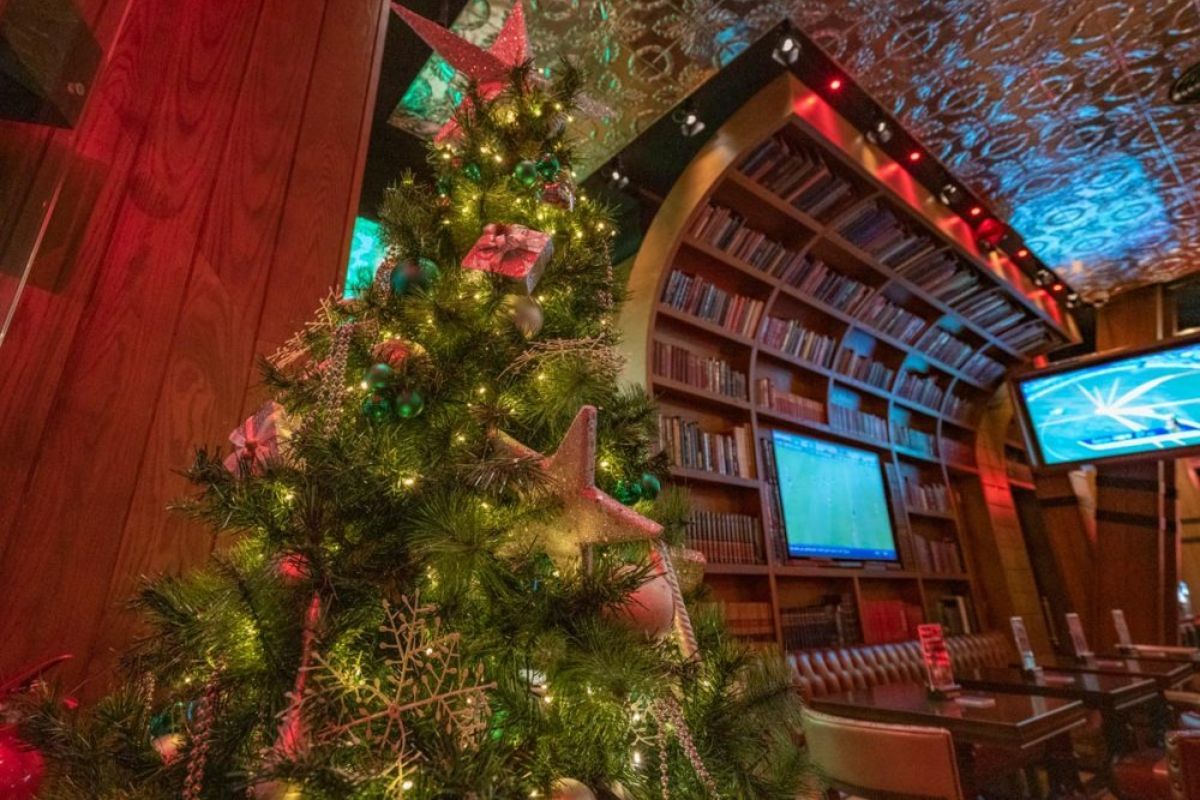 Dubai Media City Amphitheatre becomes home to a Christmas Market for the first time this year. McGettigan's hosts WinterFest during the football season making the hustle double by turning their World Cup fan zone into a Christmas Market.
You can visit the festive market stalls to buy your favorite Christmas treats and candy canes. You can also taste their mince pie and mulled wine while enjoying the beautiful Dubai weather. There are also various fun activities organized for the kids to engage themselves. You can play in the snow park and visit Santa's grotto while at the WinterFest.
The place also has a marvelous Christmas tree all decked up in ornaments and lights. You can rollerblade around this tree as much as you want. The WinterFest also offers an opportunity to snow fight with real snow at their park.
They are also hosting a 'Festive Family Fun Day' on December 11 packed with fun activities.
Ticket pricing: The tickets to WinterFest are priced at AED50, which can be fully redeemed for the activities, food, and beverages at the place.
Opening hours: It is open from 10 am to 12 am until December 24.
Location: It is located in the Dubai Media City Amphitheatre.
Festive Ripe Market at Academy Park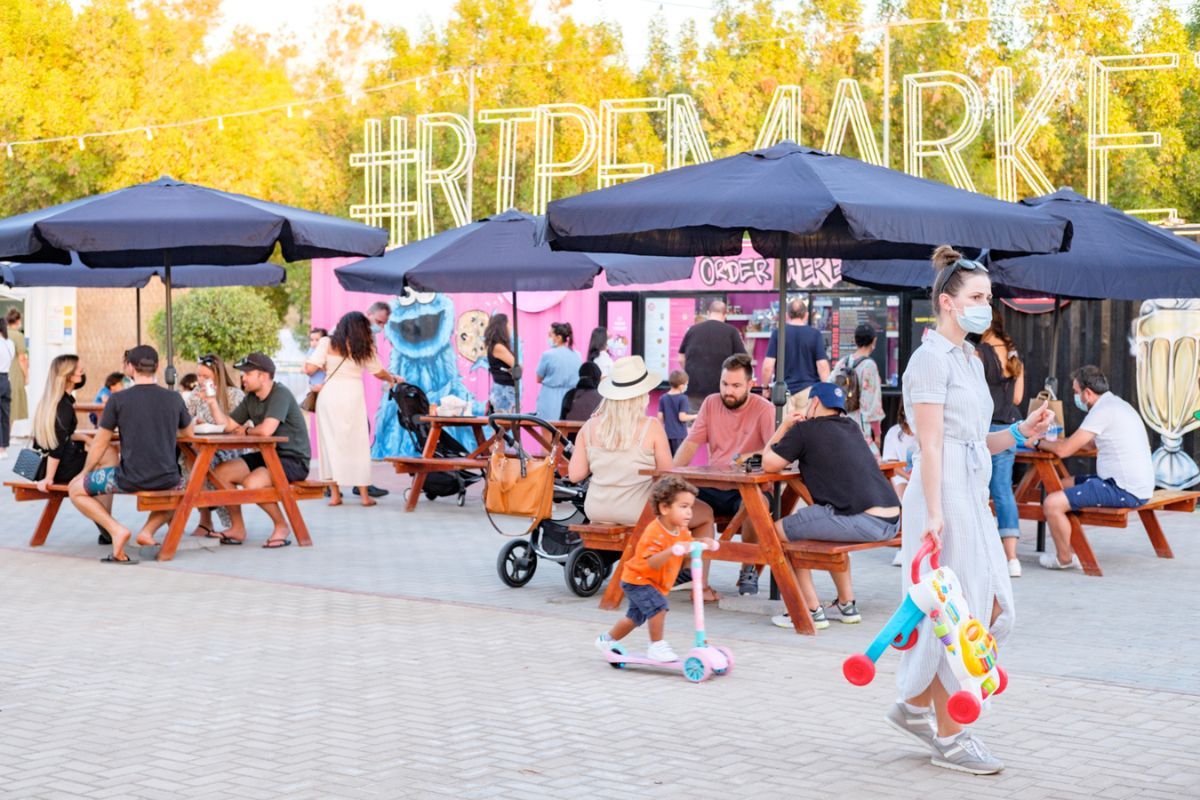 Ripe Market at Academy Park has brought a festive theme to their market. You can engage in the Christmas theme fun activities at the Ripe Market. You can shop for festive treats and food at the stalls here.
The festive market hosts activities like writing letters to Santa, and also meeting Santa on Christmas. You can also create your own fresh wreath and decorate your baubles. Christmas carols happen every now and then which you can watch while at Ripe Market.
The Christmas Market at Ripe Market has a Christmas tree covered with lights. They even have a small market for selling Christmas trees. You can choose yours from this place.
Ticket pricing: The tickets are priced at AED5. Children under the age of 12 and senior citizens above 60 years of age can enter for free.
Opening hours: It is open only on weekends. On Saturdays, they are open from 9 am to 9 pm while on Sundays they close at 7 pm. The festive Ripe Market closes on 1 January 2023.
Location: It is located in Ripe Market at Academy Park in Umm Suqeim.
Also read: