Healthcare and government services are ranked by UAE consumers as providing the best customer experience.
A recent report by ServiceNow, a digital workflow company, highlights that nearly all UAE consumers anticipate commercial brands to comprehend and address their specific requirements. The study, which involved interviews with 13,000 adults in Europe, the Middle East, and Africa (EMEA), including 1,000 respondents from the UAE, identifies the key factors for success among the country's brands in delivering exceptional customer experiences. An overwhelming 92 percent of participants expressed the significance of brands understanding their needs.
These findings are particularly significant as consumer loyalty is currently at an all-time low. In the UAE, 91 percent of surveyed consumers (15 percentage points higher than the EMEA average) stated that they are less loyal to brands compared to two years ago. Disappointing experiences were cited as the reason by nearly one in four respondents (23 percent).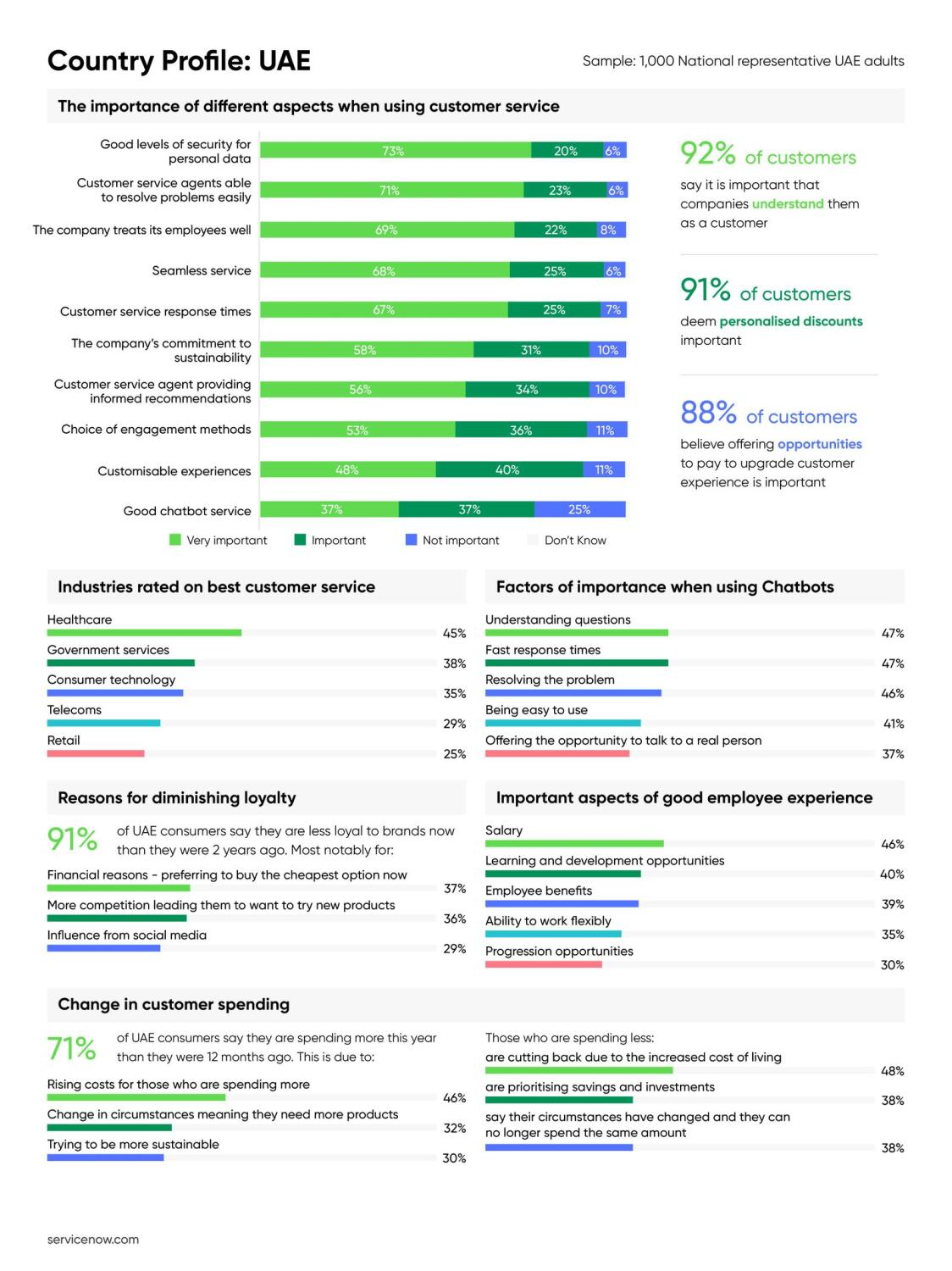 Ali Kaddoura, the GCC Country Manager at ServiceNow, commented on the report's results, noting that while some findings were expected, the standout aspect is the growing expectation among consumers for brands to have a deep understanding of their individual preferences. The report revealed that 93 percent of UAE consumers expect seamless service, while 94 percent expect customer service representatives to easily resolve their issues.
When examining specific expectations, the researchers discovered that 79 percent of the UAE participants emphasized the significance of brands consistently being aware of their shopping habits. Additionally, 86 percent of respondents stated that companies should remember their preferred communication channel. The majority of participants (91 percent) expressed a desire for personalized discounts, while 86 percent urged brands to provide tailored recommendations during customer engagement sessions.
"In light of the tech-savvy nature of UAE consumers, it was intriguing to find that technology played a significant role in their brand loyalty,"
commented Kaddoura. He highlighted a noteworthy finding that 86 percent of respondents, which was 15 percentage points higher than the EMEA average, considered it important for brands to deliver a customer experience supported by the latest technology. Similarly, 85 percent of participants, which was 21 percentage points higher than the EMEA average, stated that they would likely be more loyal to a brand that invested in technology to enhance the customer experience.
Kaddoura emphasized the need for UAE organizations to prioritize technology enhancements, whether in response to consumers' explicit demands for improved tech or their implicit requests for more personalized experiences. He suggested that brands invest in a unified foundational technology platform to optimize the value of existing technology investments and bridge gaps between siloed systems, departments, and processes.
He advised UAE brands to look to the top-ranking sectors in customer experience, namely healthcare, and government, as examples. Kaddoura highlighted the UAE government's implementation of the trusted identity system, UAE Pass, and its technology-driven response to the COVID-19 crisis, including the management of lockdowns and the app-based rollout of vaccines. He also mentioned the healthcare system's utilization of technology, such as telemedicine, to address the pressures of the pandemic. These sectors serve as shining examples of leveraging technology to deliver exceptional customer experiences that other industries can learn from.
The ServiceNow customer experience report not only reflected consumer sentiments about their own experiences but also touched upon the treatment of employees, considering the growing focus on environmental, social, and governance (ESG) factors. In the UAE, 91 percent of those surveyed deemed it important how brands treat their employees, and three-quarters stated they would be less likely to engage with a company if they knew its employees were unhappy.
Mark Ackerman, area vice president for the Middle East and Africa at ServiceNow highlighted the strong connection between employee and customer experience, emphasizing the need to provide exceptional experiences for both. He expressed satisfaction in witnessing the growing realization that as humans, individuals are both consumers and employees. Neglecting the well-being of internal "consumers" through aspects like fair compensation, benefits, technology resources, and development opportunities can negatively impact brand loyalty. The data from the study supports this perspective.
News Source: Khaleej Times