CarSwitch takes the entire process off the seller & buyer hands employing a fleet of certified specialists and cutting edge technology to inspect, certify, and warranty every car, vet serious buyers, match them with trusted sellers and guide the two through the full transaction. Imad Hammad, Founder/CEO of CarSwitch shares details about his business.
Which industry does your business belong to?
Car Showrooms & Service Centres.
What is your business type?
Services.
How old is your business?
1-5 years.
Who are your customers?
People (B2C).
How did you initially come up with the idea or concept for the business?
Used cars offer much more "value" than new, and yet its an incredibly opaque, and potentially dangerous, process to buy a used car - particularly from a private individual. That's the space CarSwitch digitizes and transforms.
Tell us about some of the major turning points in the history of your business.
The points of funding mark some of the larger turning points, as with investment we're able to further scale and transform the operation. The few of note were our Seed rounds where we up'd the digital experience and included online inspections. The second would be our pre-Series A where we up'd the game leveraging data from the platform to guide pricing. Now with the completion of our Series A, we've considerably advanced the online experience to almost automate the end to end transaction.
What made you choose Dubai as a location to setup your business?
UAE is at the center of car transactions for the region, both within the GCC but also Africa and Asia. Internet penetration is high, consumers value services and raise the bar on what companies must provide enabling accelerated learning. Finally, it's a business friendly hub where its relatively easier to establish a business and recruit top talent.
Finally, what sets your business apart from the competition?
CarSwitch is the only player that provides used car buyers, and sellers, a digital experience to transact with Trust and confidence. Though there are substitutes / alternatives, no one else does it like CarSwitch.com. Just have a look yourself.
Can you name some of your clients?
As a P2P market place our customers are individuals.
What service(s) or product(s) do you offer/manufacture?
For car sellers, they set the price and we visit to inspect and photo the car. We then advertise, handle all calls, test drives, negotiations, and paper work to transfer. So you sell for your price, without doing any of the work.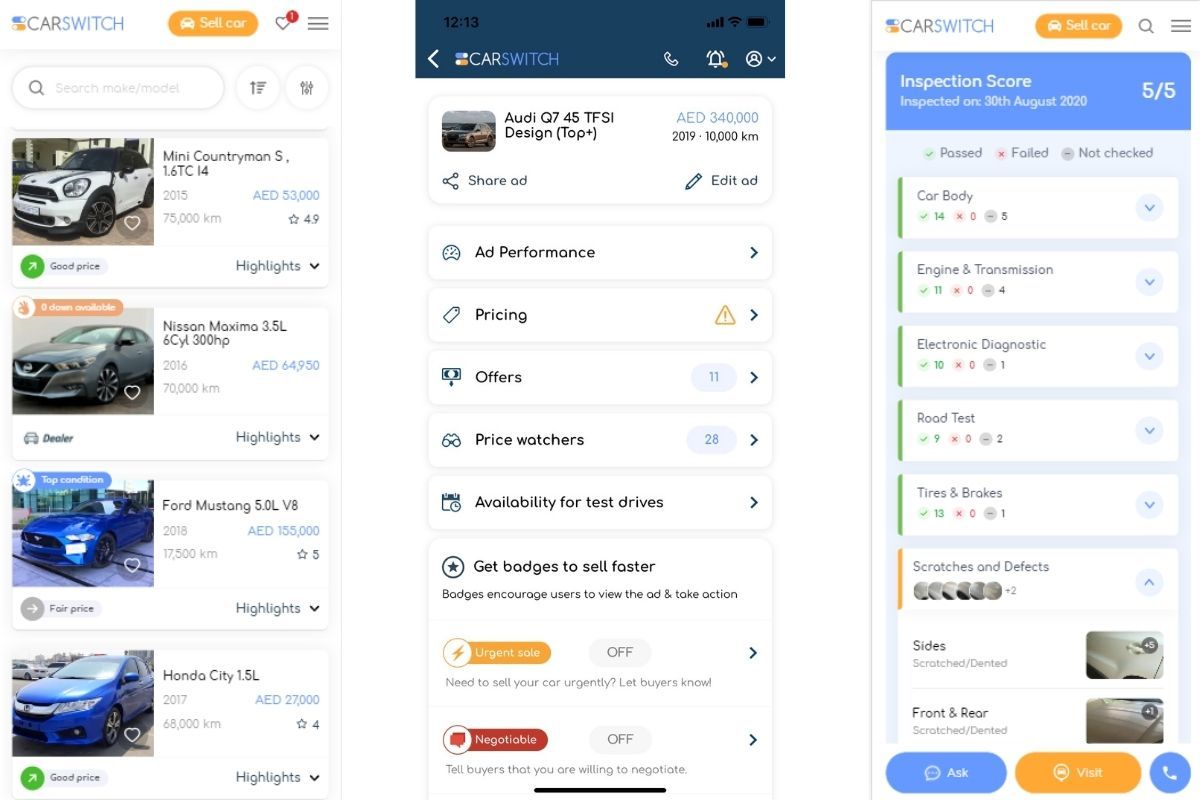 What are the key strengths of your products/services?
For buyers, it's completely free and you have complete Peace of Mind in your purchase. Every car is pre-inspected with reports online, all features validated, consistent and detailed pictures for every car. Insurance and finance right in the app, and help with all paper work all free.
Are there any exclusive products/services that you offer (not offered anywhere else in Dubai)?
The entire service is not available anywhere else.
Can you share some of your products and pricing?
Sellers pay AED 150 admin fee to get listed and a success fee from AED 1k which only applies upon sale and deducted from selling price.
What are the best ways for your customers to contact your company?
Through our website - https://carswitch.com/
Is there anything else you want to convey to your potential customers?
Everything you ever needed to buy, or sell, a used car under one roof - pre-inspected cars, with warranty, service, insurance, finance and transfer.
You can find us here - https://www.hidubai.com/businesses/carswitch-media-marketing-it-websites-portals-jumeirah-lake-towers-al-thanyah-5-dubai-2