Dubai is a popular tourist hub and attracts millions of tourists every year with its architectural wonders, luxurious resorts, and vibrant nightlife. This makes it easier for businesses to reach a more diverse audience in Dubai. Many exceptional restaurants have found their home in this beautiful city. You can experience unique fine-dining experiences in Dubai like dining in the sky, underwater, inside the pods, and middle of the deserts. Many restaurants in Dubai also offers fascinating views of Dubai skyline, the city, beaches, horizons, and more. Some of the popular restaurants from where you can enjoy 'good food with a good view' vibe are Pierchic, At.mosphere, Thiptara, Nobu, and  CÉ LA VI.
CÉ LA VI is an exquisite restaurant in Dubai boasting a prime location and extraordinary flavors of Asian and international fusion. Here is why you need to visit  CÉ LA VI, one of the top restaurants in Dubai.
CÉ LA VI Dubai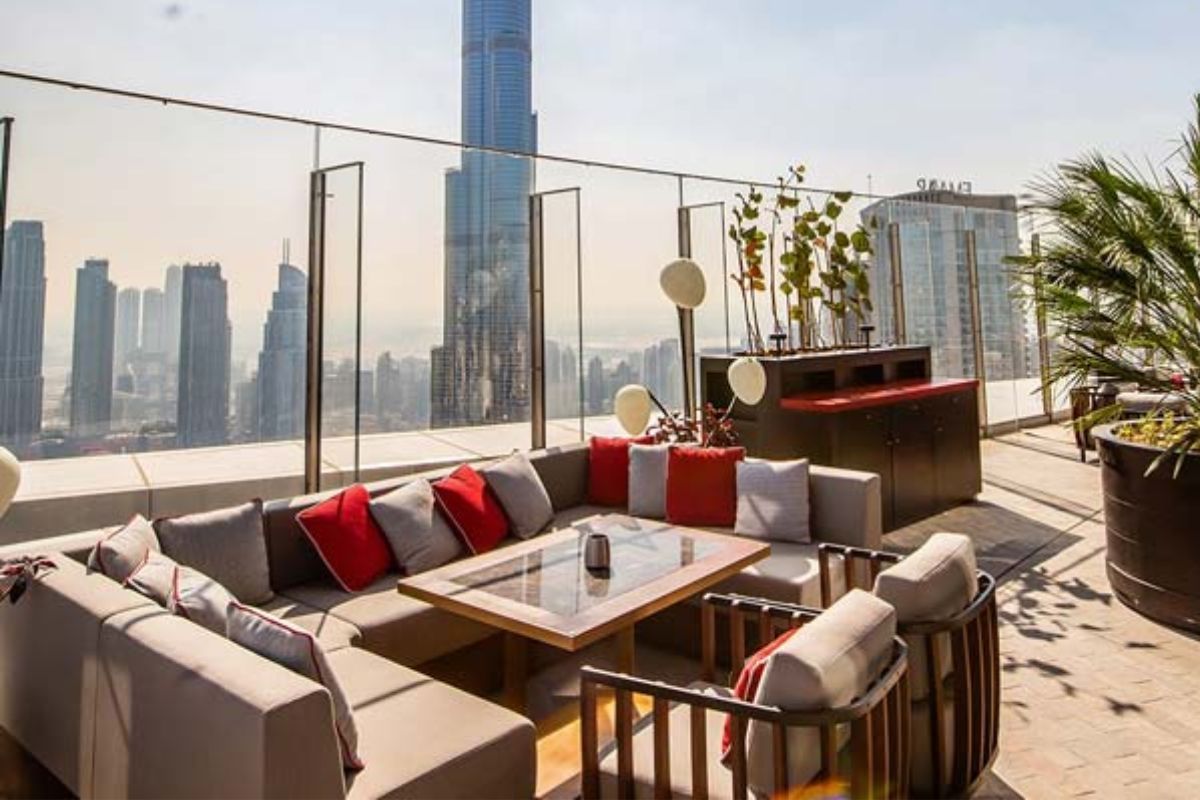 CÉ LA VI is a contemporary eatery popular for its stunning rooftop setting. This successful restaurant has branches in popular cities like Tokyo, Singapore, and Hong Kong. The franchise opened their outlet in this booming city in January 2020 and was well received by the tourists and residents alike until the lockdown in March. The restaurant reopened in June 2020 and is experiencing high footfall ever since.  CÉ LA VI Dubai is located in Address Sky View, a venue similar to its flagship branch in Singapore.
CÉ LA VI translates to 'This is Life' in French and is a popular French proverb. The restaurant originates in Southeast Asia and draws inspirations from the rich heritage of the region that embraces art. These artistic influences are tightly woven into the CÉ LA VI essence resulting in a distinctive dining experience that honors Southeast Asian heritage.
At  CÉ LA VI, you can embark on a sensory adventure that combines beautiful views, outstanding cuisine, and an amazing dining experience. The restaurant attracts a mix of tourists, businesspeople, and local residents seeking a special and memorable dining experience. The place is also included in the list of best business lunch spots in Dubai.
What to expect at  CÉ LA VI Dubai
Restaurant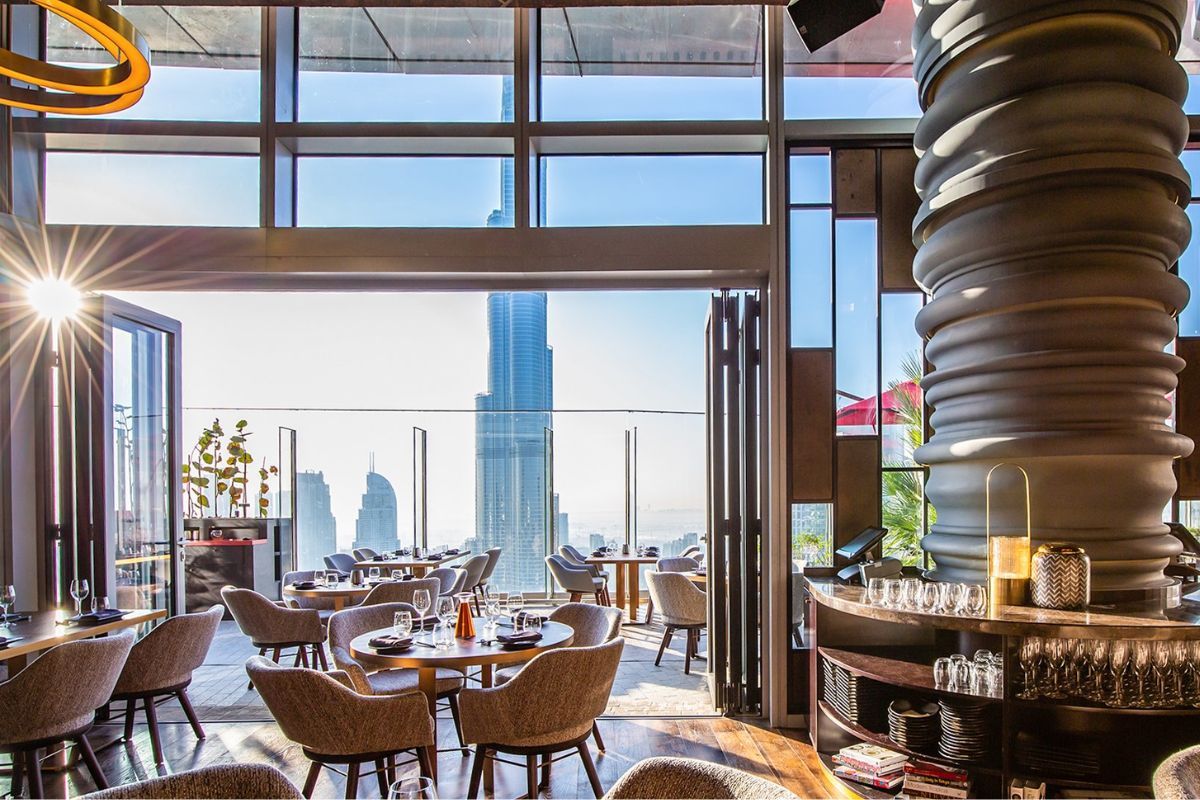 The restaurant at  CÉ LA VI Dubai is one of the highlights of the place. You can taste blends of Asian cuisine and international cuisines at this restaurant in Dubai. Their executive chef, Howard Ko, has a 12-year experience of culinary, baking, and pastry arts. The restaurant has won some great titles including 'Favorite Business Lunch Spot'.
Brunch on 54 offers a one-of-a-kind brunch experience for families and loved ones to enjoy on a Saturday afternoon. You can indulge in a delectable set menu while enjoying the spectacular views of the Dubai skyline. Live entertainment and groovy music are played during brunch to add a festive vibe.
Lunch Set Menu lets you to devour the three-course meal prepared by the executive chef of  CÉ LA VI, Howard Ko. You can book for this package for business lunches or casual meetings.
SkyBar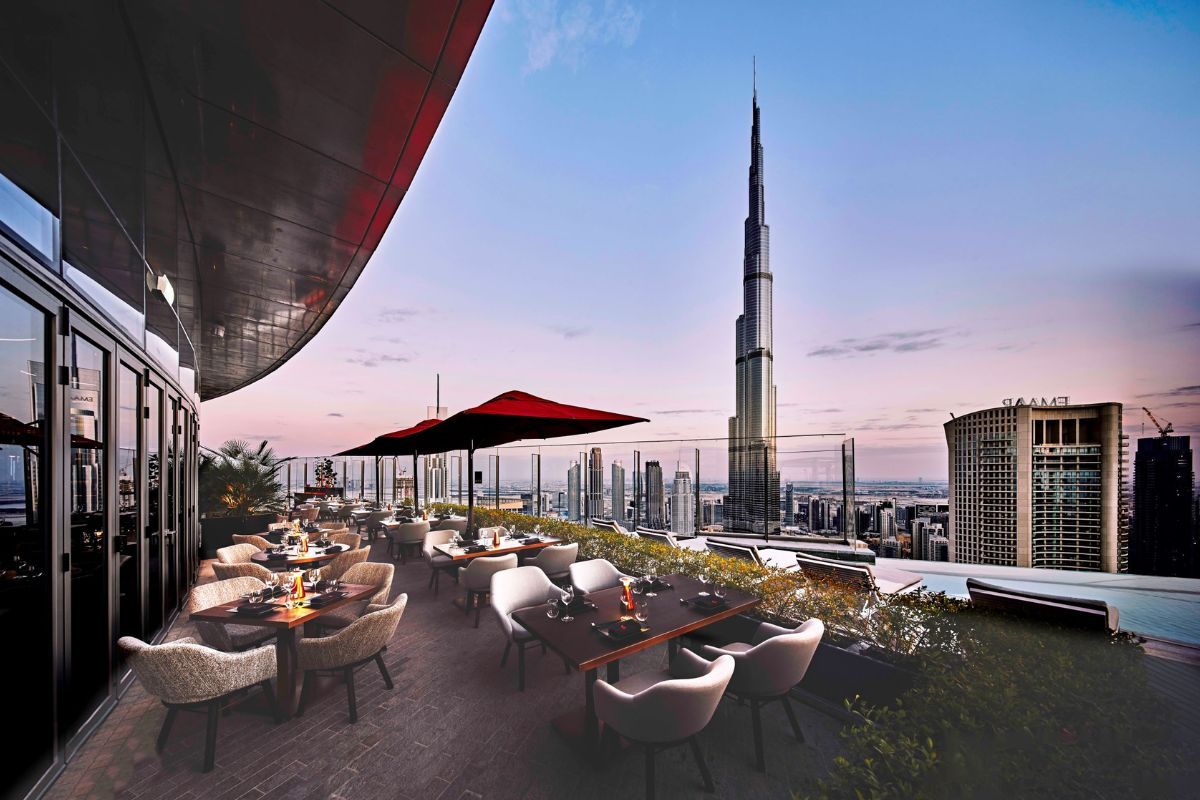 CÉ LA VI Dubai is home to a rooftop bar, SkyBar. At SkyBar, you can enjoy an extraordinary nightlife experience with views of a wonderful city skyline. The SkyBar offers a stylish and vibrant ambiance with its modern decor and expansive terrace. The bar at  CÉ LA VI Dubai has won titles like 'Highly Commended Best Rooftop Bar'. The rooftop bar also lets you to host private events. The venue can accommodate large groups of 12 or more.
Pool Deck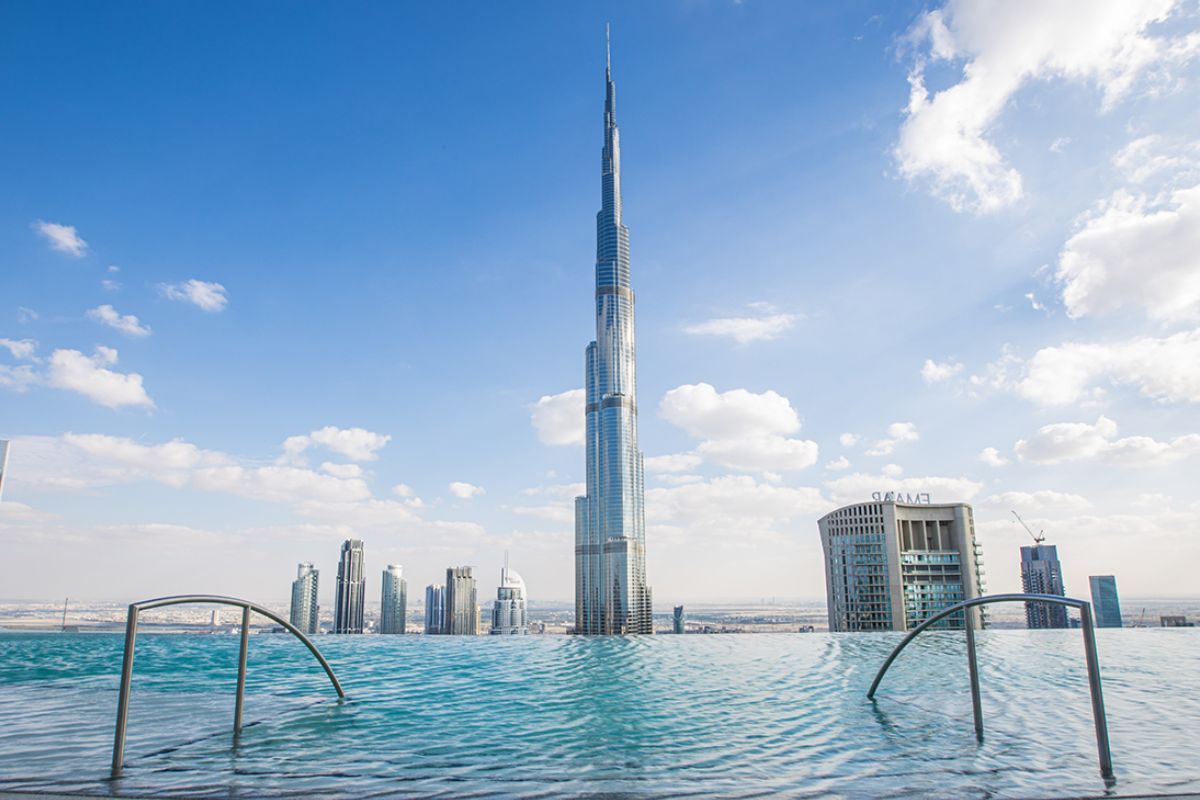 The pool deck at  CÉ LA VI Dubai offers a combination of elegance, stunning views, and relaxation. You can unwind on comfortable loungers or take a refreshing dip in the infinity pool. The infinity pool at  CÉ LA VI Dubai boasts exceptional views of Burj Khalifa and Downtown Dubai. A day at this pool deck is an excellent way of refreshing yourself. Whether you choose to bask in the sun, indulge in poolside drinks and snacks, or soak in the unparalleled beauty of the surroundings, you will surely have a wonderful time at  CÉ LA VI Pool Deck.
Club Lounge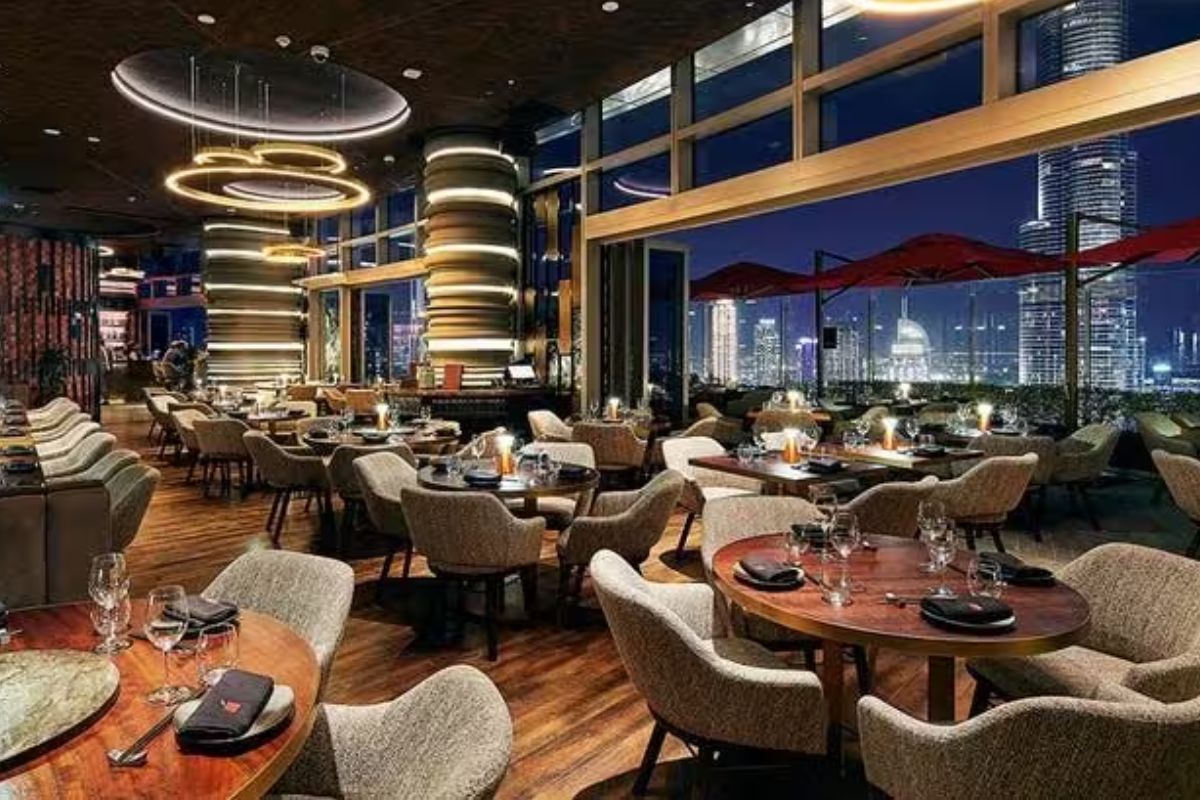 Club Lounge at  CÉ LA VI Dubai is a vibrant space where you can enjoy the pulsating nightlife of the city to the extreme. The luxurious setting of this club lounge is perfect for those seeking an exclusive and high-energy experience. The lounge provides the ideal vibe for partying with its contemporary decor, sleek furnishings, and an atmosphere infused with electric energy. The club lounge features a spacious dance floor and state-of-the-art sound system to entertain the guests with their live performances and DJ events. You can also taste some of their signature cocktails to enhance your experience with them.
Things to do at  CÉ LA VI Dubai
Enchanting views
CÉ LA VI Dubai is located on the 54thfloor of Address Sky View Towers and hence provides a beautiful aerial view of the city. You can enjoy a panoramic vista of Dubai's majestic skyline. Awe-inspiring views of well-known attractions like the Burj Khalifa, the Dubai Fountain, and the glittering Arabian Gulf can be enjoyed from the massive floor-to-ceiling windows. This creates an enchanting backdrop for an extraordinary dining experience. You can also see one of the best sunsets in Dubai at their terrace.
Exceptional culinary experience
With a fusion of Asian and international cuisines,  CÉ LA VI Dubai is sure to take you on an exceptional gastronomical journey. Head chef Howard Ko brings an impressive 11 years of experience from Michelin-starred restaurants, showcasing his exceptional skills. The restaurant offers a diverse menu that showcases innovative flavors and culinary techniques. Each dish is meticulously prepared using the finest ingredients to create a magic on your plate and palate. They also have great expertise in the presentation of your meal. The combination of the stunning setting and delectable cuisine creates a perfect atmosphere for special occasions.
Here are some of the must-try dishes you need to try while at  CÉ LA VI Dubai.
· Shrimp croquettes
· Grilled Korean short ribs
· Lightly torched balfegó bluefin tuna
· Salmon tartare wrapped in shiso leaves
· Sea bass roulade
· Black truffle "sushi rice" risotto
While at  CÉ LA VI Dubai, check out their dreamy collection of desserts. Here are some popular suggestions from their dessert menu.
· Baked Alaska
· Cheese & charcuterie platter
·  CÉ LA VI dessert platter
· Vegan coconut tart
Visit their website to see their extensive menu that includes vegan options, beverages, Late night bites, and more.
Perfectly crafted cocktails
CÉ LA VI Dubai is a perfect place to 'drink with a view' in Dubai. At  CÉ LA VI Dubai, you can choose from an extensive beverage menu that includes an impressive selection of wines, signature cocktails, and premium spirits. Their in-house mixologists will create the perfect fusion of drinks for you. Classic beverages like Pisco Sour, Old Cuban, and Paloma adorn their beverages menu.
Host a private event
CÉ LA VI Dubai provides an opportunity to host an event at their picturesque settings. Their private dining room can accommodate up to 10 guests for intimate dinner gatherings or corporate meetings. The private room is set like in middle of a bamboo forest to provide a lush ambiance. Events like fashion shows, launches, weddings, and parties can also be hosted at  CÉ LA VI Dubai. You can rent out their premium spaces to make your memorable day more memorable. Visit their website to know more about private events.
Pricing at  CÉ LA VI Dubai
The average pricing for two at  CÉ LA VI Dubai is AED350. Their Lunch Set Menu costs AED140 for one while the Brunch on 54 is priced at AED390.
Opening hours at  CÉ LA VI Dubai
Restaurant
Lunch: 12 pm to 4 pm daily
Lunch Set Menu: Monday to Friday – 12 pm to 3 pm
Dinner: 6 pm to 12:30 pm daily
Club Lounge
Brunch on 54: Saturday – 12:30 pm to 4 pm
Night Lounge: 6 pm to 3 am
Sky Bar
Bar Snacks: 12 pm to 2 am
Pool Deck
12 pm to 2 am
Location of  CÉ LA VI Dubai
CÉ LA VI Dubai boasts a prime location in the heart of the city. It is situated on the 54th floor of Address Sky View Towers. The location offers stunning views of Dubai skyline including architectural marvels like Burj Khalifa. The location enables the restaurant to provide a captivating backdrop for their guests allowing them to immerse themselves in the vibrant atmosphere of the city while enjoying their culinary experience.
How to reach  CÉ LA VI Dubai
CÉ LA VI Dubai can be easily accessed via Sheikh Zayed Road/E11. If you are planning to travel by Dubai Metro, take the red line and get down at Burj Khalifa/Dubai Mall metro station. The restaurant is at a walkable distance from here. Visit RTA Journey Planner to know which bus to take from your desired location.
Also read: