Dubai is known for its skyscrapers and exotic attractions it has to offer to the world. People come to Dubai for this adventures and thrilling life experiences. Dubai also has amazing places where you can just chill and not do anything.
One such activity to do in Dubai is sunset. The sky appears the most beautiful during sunrises and sunsets. Dubai winters bring vibrant skies during the sunsets. The sky is usually filled with colors like orange, pink, and violet during these golden hours.
Here are some of the best sunsets you can catch while you are in Dubai.
Sunset Beach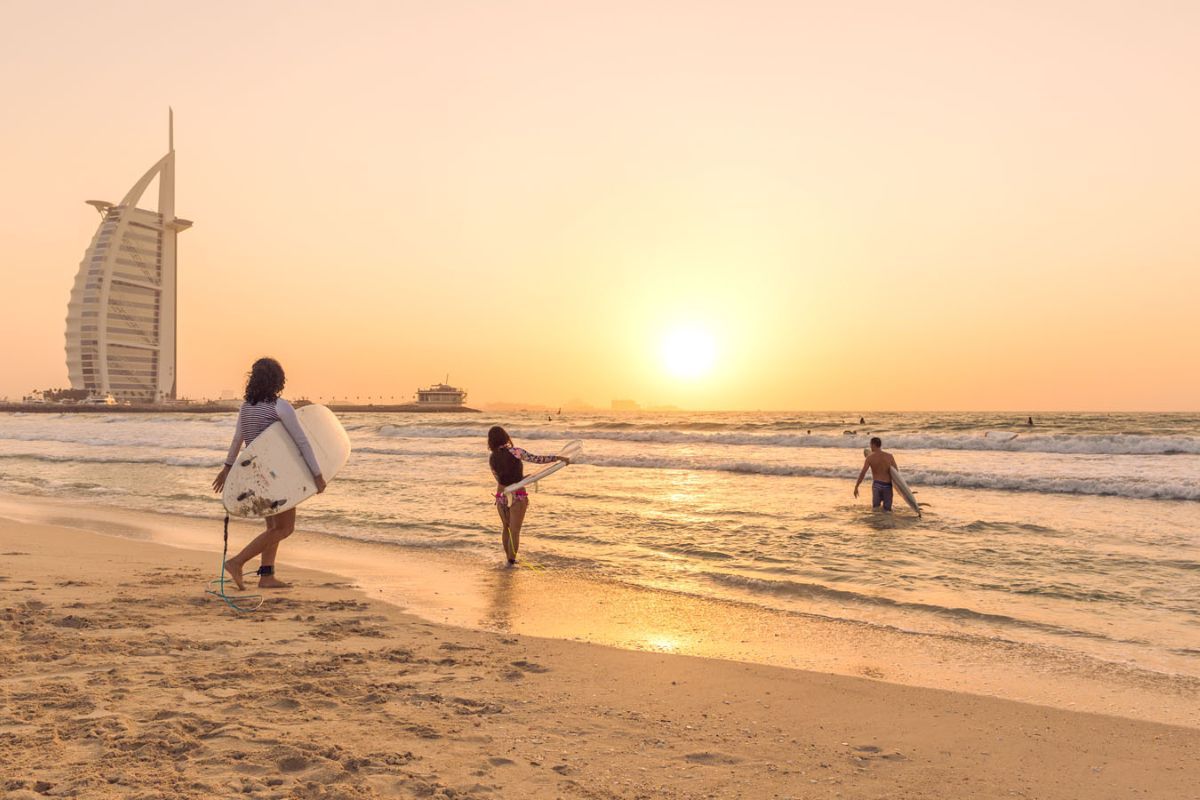 Sunsets at the beach are the OG! Whenever someone mentions sunsets, most of us have the imagery of sitting on a seashore and watching the sun go down slowly.
Sunset Beach is also called Umm Suqeim Beach which is located in the Jumeirah region. From here, you can also have Burj al Arab, the iconic landmark in Dubai, in the backgrounds. Like any other typical sunset view, sunset at Sunset Beach is when sun dips into the water beautifully. You can relax on the sand beds while sipping on some mojitos. Sunset Beach is also one of the best places to have a picnic.
You can come a little early to engage in other activities in the beach. Surfing and fishing are allowed in the beach. You can also enjoy the waves and swim at the waters. You can also watch kite surfing from the Kite Beach which is next to the Sunset Beach. You can also make use of the library stations installed here to donate or borrow books if you are a booklover.
Spending the night at the beach is also not a problem when it comes to Sunset Beach as high-power lights are installed on the shores.
How to reach the Sunset Beach
You can reach here by your private transport since there are few parking slots available. While using metro, get down at Umm Al Sheif metro station or Mall of the Emirates metro station. From here you can take a bus or a taxi to the destination.
La Mer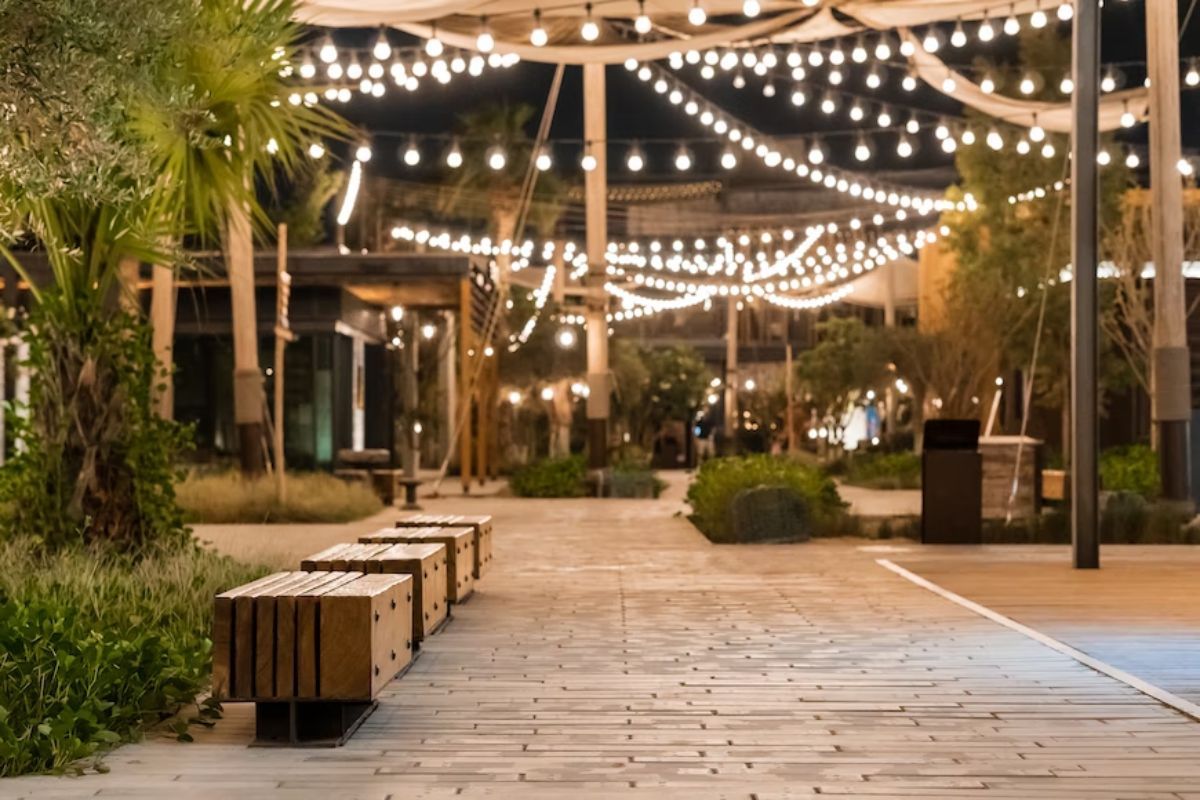 Sunset at La Mer Dubai is also like a beach sunset but its not your typical beach scene. La Mer beach is a modernized version of a beach.
La Mer Beach is situated along Jumeirah coast. Meraas has developed La Mer into an entertainment hub. You can see many architectural wonders in La Mer. Many photogenic areas can be found in La Mer. One can take strolls through the streets well designed with wall arts. Every corner of La Mer is like a place straight out of a photograph.
The shores have many beach chairs which you can make use of, for free. You can also take a dip in the waters. The sunset at La Mer is best viewed from the seashore. You can lay on the chair or any other installed seating in the walk and have a glance at mesmerizing evening sky and the setting sun.
After seeing the sunset, you can take a stroll through La Mer to enjoy the place. You can also do shopping and dining from La Mer. Many food trucks and restaurants for fine dining can be seen on the La Mer Walk. La Mer walk has a wooden flooring to bring more naturality to the place. Events are also conducted on La Mer stages.
Laguna Water Park is also located in La Mer. You can take your kids for a fun evening at the water park.
How to reach La Mer
You can reach this Instagram-worthy place by private or public transport. La Mer has parking for private cars. Bus services are also available to this destination.
Al Seef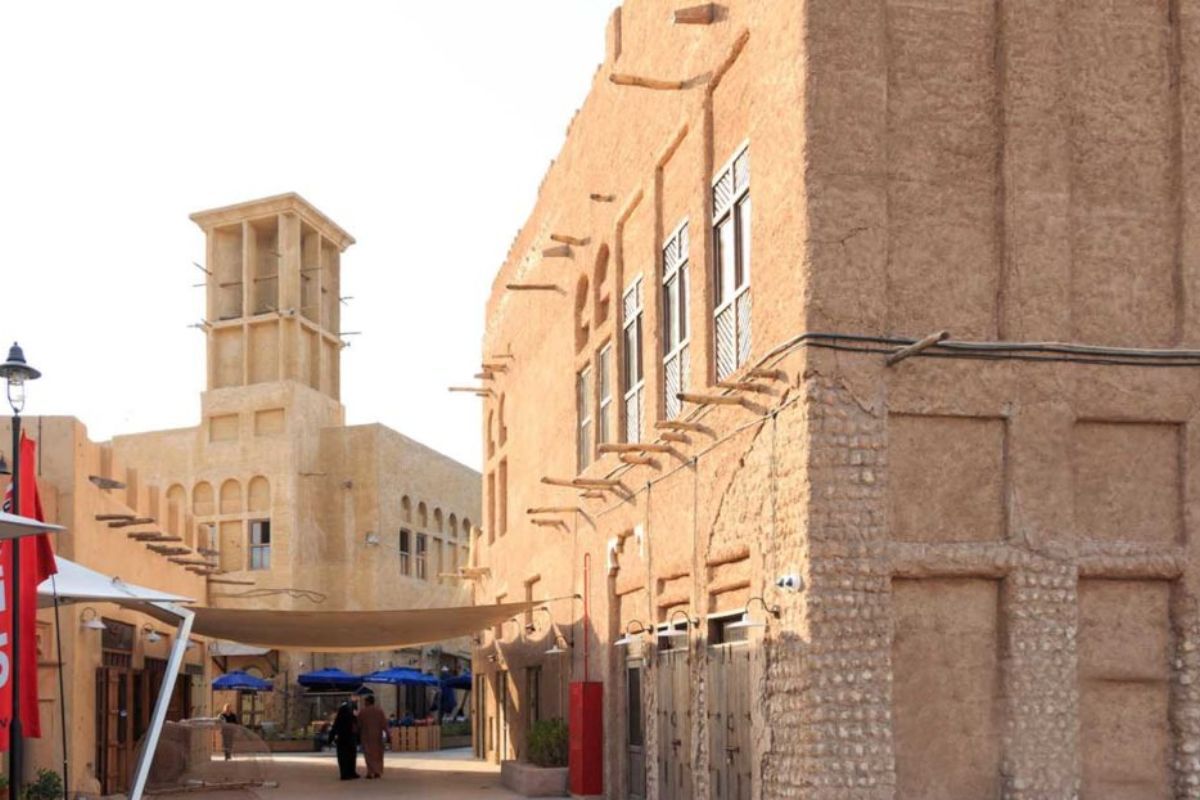 Al Seef Dubai is a place for people who would like to see more of Dubai's ancient architecture. You can see an ancient Dubai village with modern facilities.
You can watch sunset at Al Seef amidst the crowded streets. Every corner of Al Seef will show you a different sunset because of the building design. You can watch the orange sky slowly turning into night with the ancient barajeel structures in the foreground. You can also choose to watch the sunset from the modern part of the Seef from behind the contemporary styled buildings while dining from the rooftop of any restaurant there.
Al Seef is a beautiful place for an evening walk. There is a water body next to it from where you can simply sit and relax. There are many seating arrangements made. After watching the sunset, you can also walk around Al Seef for shopping or dining. Al Seef offers many outlets for shopping and dining on its ancient-themed streets.
If you are a tourist in Dubai, and is looking for a place to buy souvenirs, this is the perfect spot. You can purchase vintage dishes and traditional dresses from here.
How to reach Al Seef
Reaching Al Seef is easy. You can either take a private transport or public transport to reach here. There is a large basement parking slot where you can park your car. If you want to come by metro, you can get down at Burjuman Metro station and walk to the destination. Bus services are also available. Al Seef also has a marine route; therefore, you can take the water taxi also to reach the place.
BlueWaters Island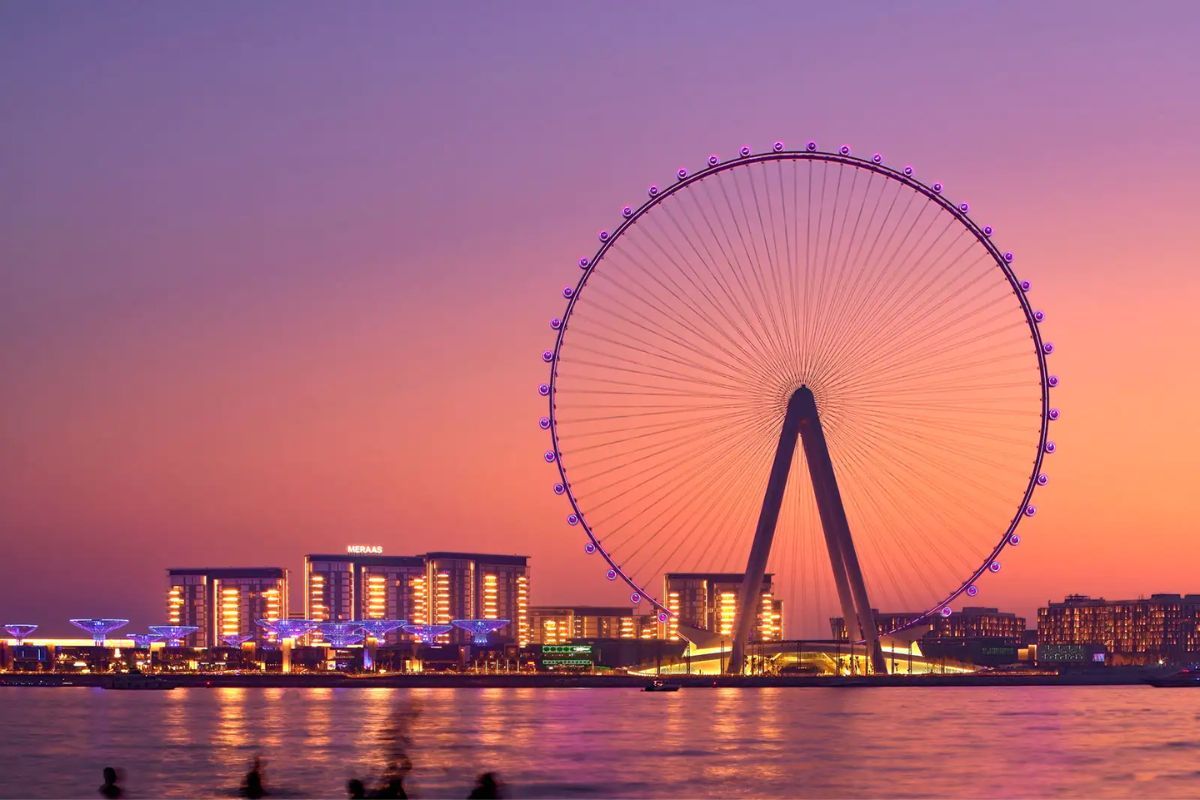 Bluewaters Island is one of the perfect places to watch the sunset in UAE. It's location near the sea makes it more beautiful by having no obstacles between you and the setting sun.
You can watch the sunset from a small height if you stand on the bridge connecting Bluewaters Island and JBR Walk. However, you can also watch the sunset from between the minimally designed buildings. Bluewaters Island is also home to the largest observatory ferris wheel, Ain Dubai. You can also watch the sunset from Ain Dubai, but you have to purchase a ticket.
Bluewaters Island is also an entertainment hub for the public. You can shop or dine in the streets of Bluewaters Island. Bluewaters Island is also full of Instagram-worthy corners.
How to reach Bluewaters Island
You can use both private transport and public transport to reach here. Large parking area is available. Bus services also take you to this destination.
The Pointe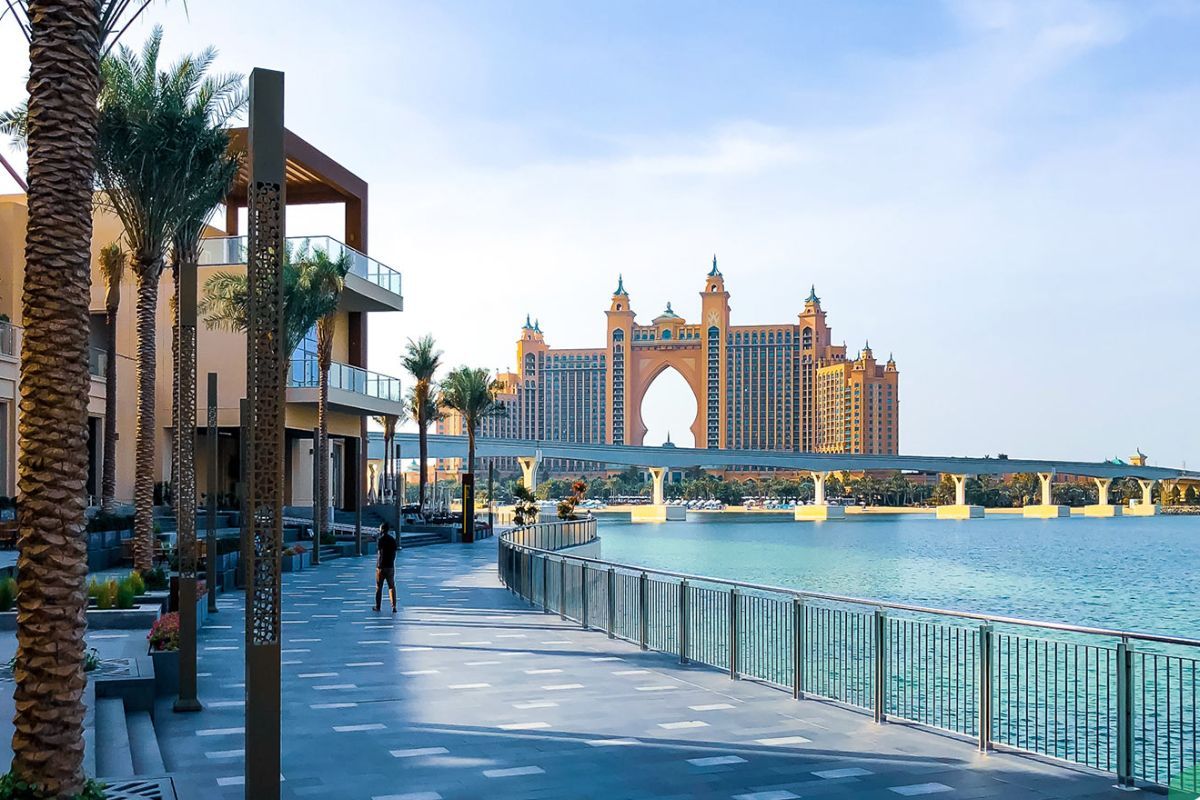 The Pointe at Palm Jumeirah offer stunning views of the sea and the beautiful buildings around. You can have a look at the Atlantis from distant shore.
Sunset at The Pointe is fascinating with a sun setting slowly into the sea. If you want to capture the perfect sunset, find a spot from where you can see the sun right in the middle of the Atlantis hotel.
The Pointe has many outlets for you to shop. You can also visit the restaurants and cafes facing the sea to have a 'good food with a good view' experience. The Pointe also offers many places for you to just chill and do nothing. The Pointe also has a small shore and there are some bean bags spread around in it. The Pointe also hosts events on some weekends.
How to reach The Pointe
The best way to reach the point is through monorail and it is one of the most beautiful journeys you can have in a public transport in Dubai. You can also take your private transport as there are parking slots available.
Dubai Creek Harbour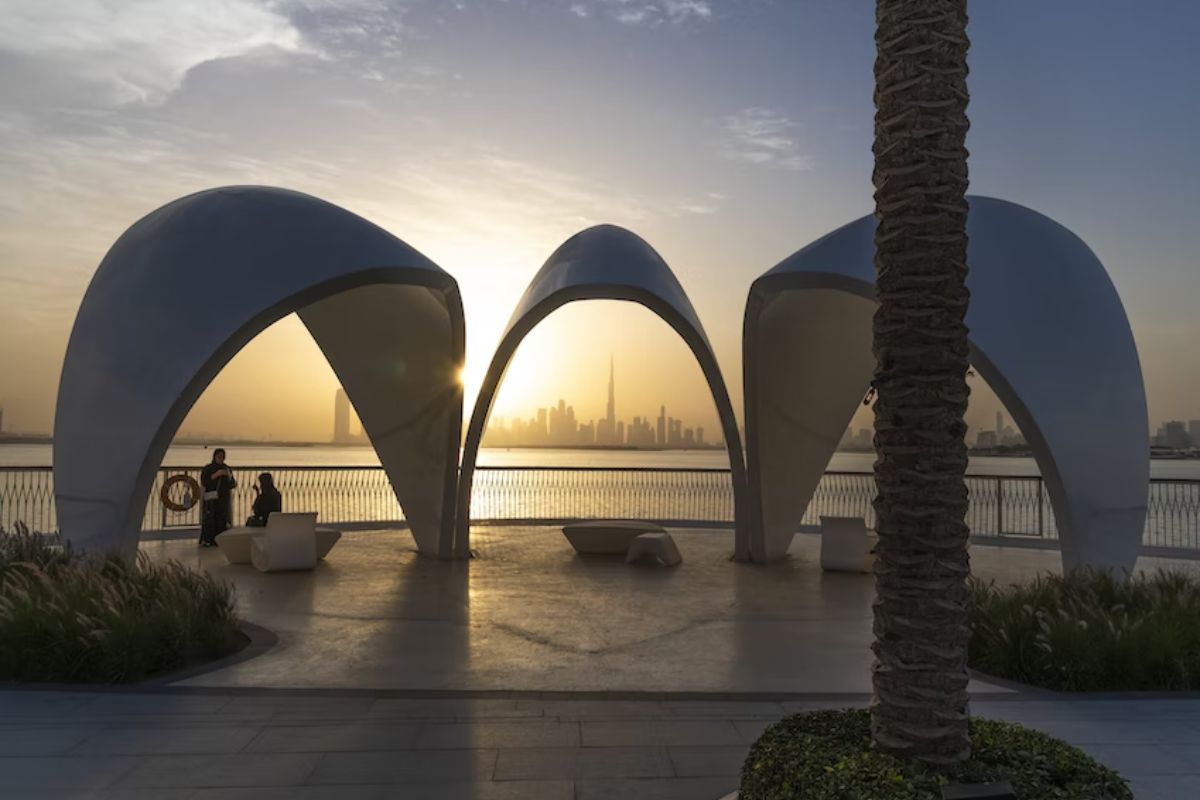 Dubai Creek Harbour is one of the few places in Dubai from where you can see the entire skyline of Dubai. Located next to the Ras Al Khor sanctuary, it also has a water body on one side.
During the evening, you can see the most beautiful sky from Creek Harbour. You can see the silhouettes of iconic landmarks of Dubai like the Burj Al Arab, Burj Khalifa, the Museum of the Future, and Emirates Towers. Most of the seating installations are facing the skyline which makes it easier for you to just relax while watching one of the beautiful sunsets in Dubai.
Dubai Creek Harbour is one place where kids can really enjoy their time. There are many play areas with fun rides and slides in Dubai Creek Harbour. The art installations are placed all over the place. There are also special places from where you can take wonderful photograph of yours with Dubai skyline in the backdrop. Dubai Creek Harbour also offers Dhow cruise service on hourly rates.
How to reach Dubai Creek Harbour
You can take your private transport to the destination. There are parking slots available in the area. Public transport can also be chosen. However, there are no metro stations nearby, so you will have to opt for a taxi service.
Jadaf Walk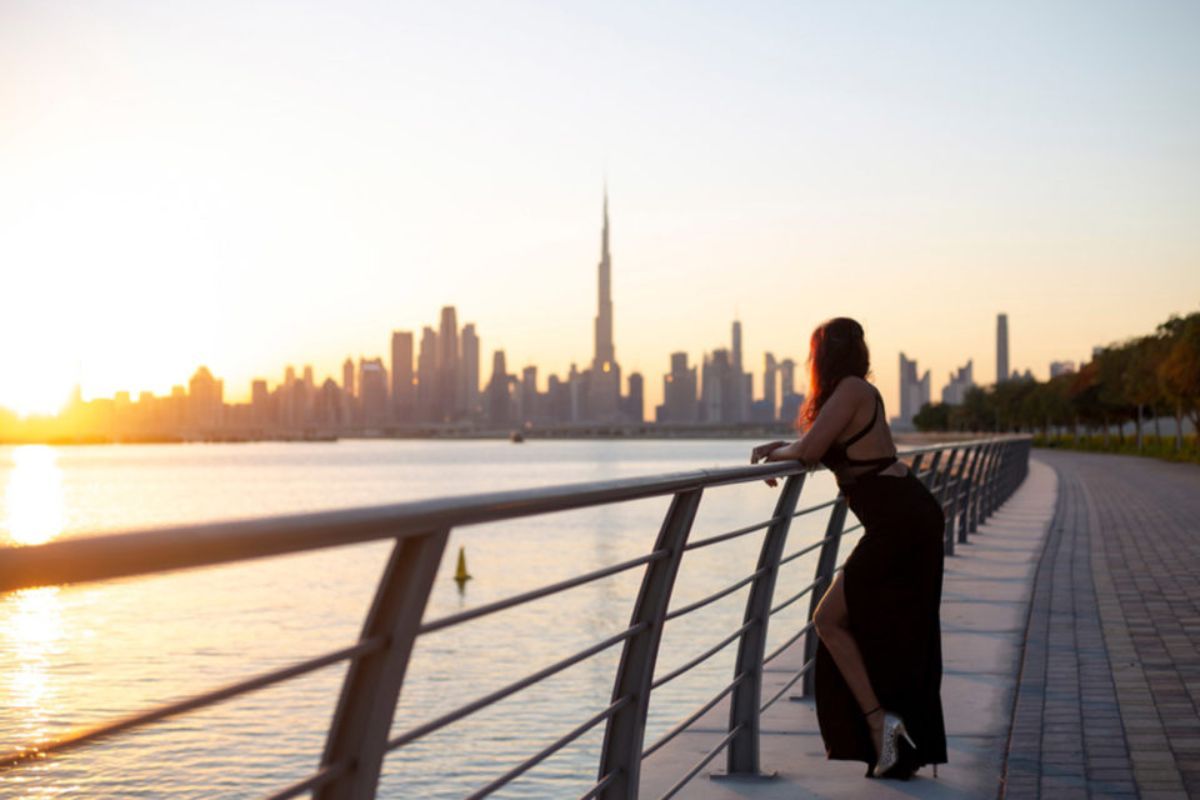 Jadaf Walk is a latest attraction in Dubai. It has been only few months since it was open to the public. There is boardwalk where you can walk along the waterfront facing Ras Al Khor Wildlife Sanctuary.
The view Jadaf Walk offers is similar to the one offered in Dubai Creek Harbour. Dubai skyline can be seen from there without any other obstacles. Sunset at Jadaf Walk will feature Dubai's iconic landmarks like Burj Khalifa, and Burj Al Arab. There are also few seating arrangements in the area.
Jadaf Walk is perfect for an evening walk with your loved ones. The spot has not been arranged fully, however; it is under progress.
How to reach Jadaf Walk
You can bring your private transport to Jadaf Walk. There are parking spaces available for private transport. You can also take the metro to the Creek metro station from where you can walk a few metres to reach the destination.
JBR Walk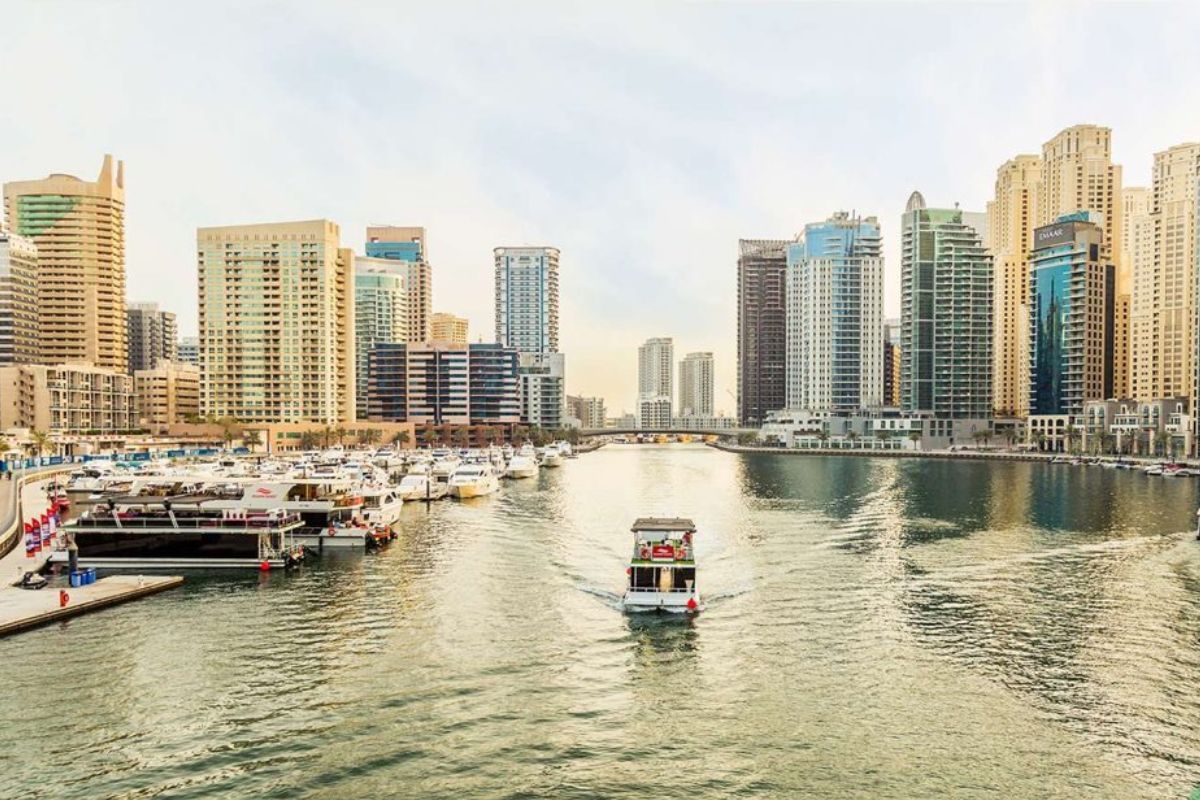 JBR Walk is an attraction in the Jumeirah Beach Residence, more popularly known as JBR. This place is full of high risers and offices. JBR Walk faces Bluewaters Island and the magnificent Ain Dubai.
When you see the sunset from here, you will have the Ain Dubai in your view which is amazing to have. JBR Walk sunset will also feature the colorful reflections of the sky in waters.  JBR Walk also hosts many shopping outlets from where you can shop and dine.
How to reach JBR Walk
You can take the tram to the JBR Walk if you wish. If you intent to take the metro, get down at DMCC which is close to JBR, from there you can either hire a cab or take a tram or bus to JBR. The distance from DMCC metro station is walkable.
Please make sure you know the timings of sunset and try to reach the spots early so that you do not miss the sunset. Also keep in mind the time that will be spent for finding a parking slot and a good spot from where you can watch the sunset.
Also read: