We've committed to being more transparent about how Instagram works. As part of that effort, over the past couple of months, we've given people more information about features like Search and Ranking. Today, we're providing an update on changes we're making to your Instagram Feed.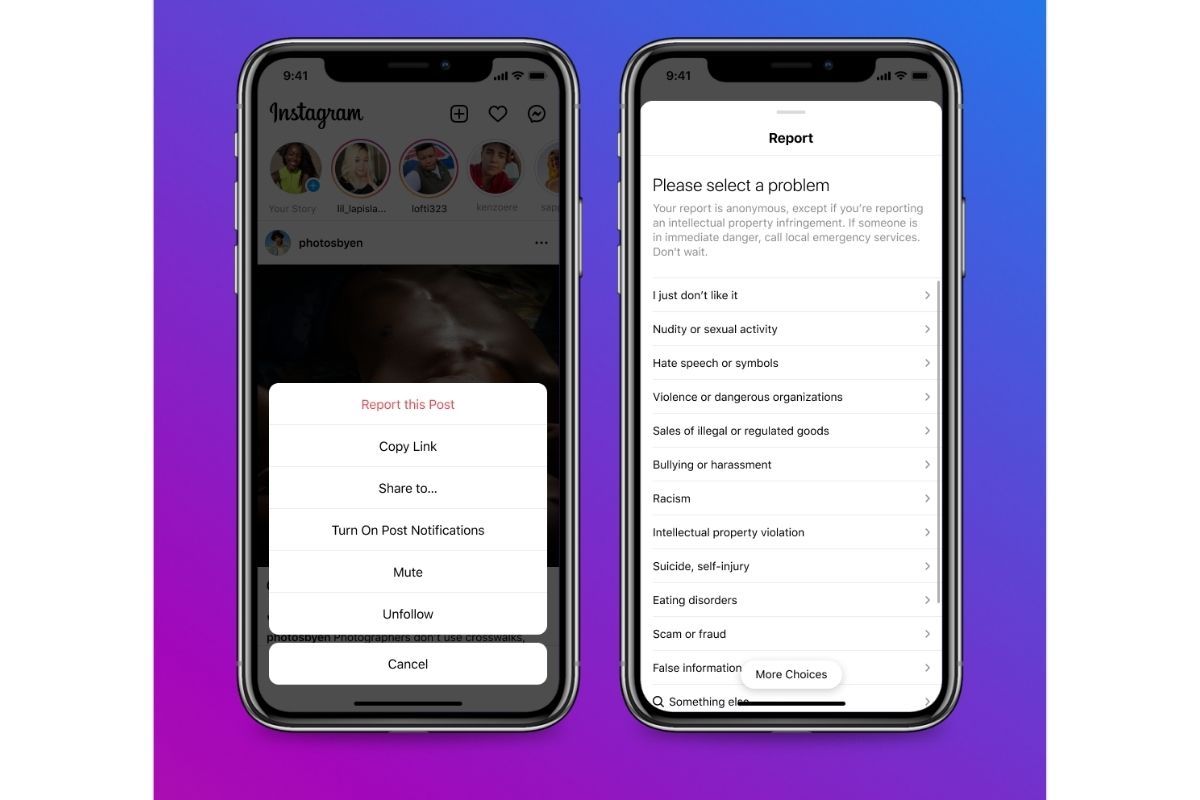 In addition to removing content that goes against our Community Guidelines, we're now taking stronger action against posts that may contain bullying or hate speech, or that may encourage violence, by showing them lower in Feed and Stories.
We will also show potentially upsetting posts lower in your Feed based on your history of reporting content.
These changes only impact individual posts, not accounts overall. As always, we only remove posts that break our rules and we tell people if their post has been removed.
Addressing Potentially Harmful Content on Feed and Stories
At Instagram, we're always trying to show you content from the accounts you engage with and have the most value to you, while minimizing the likelihood that you come across content that could be upsetting or make you feel unsafe. We've always removed content that goes against our Community Guidelines, and use our Recommendations Guidelines to determine the types of content we show in Reels and Explore. Previously, we've focused on showing posts lower on Feed and Stories if they contain misinformation as identified by independent fact-checkers, or if they are shared from accounts that have repeatedly shared misinformation in the past. Today, we're announcing some changes to take this effort even further.
If our systems detect that a post may contain bullying, hate speech or may incite violence, we'll show it lower on Feeds and Stories of that person's followers. To understand if something may break our rules, we'll look at things like if a caption is similar to a caption that previously broke our rules. We're constantly improving our systems to be as precise as possible, not only to help remove harmful content from Instagram, but to also make our enforcement as accurate as we can.
How Reporting Content Affects Your Feed
Your Feed is a collection of posts from the people you follow, ads, and posts we recommend to you. We rank content in your Feed based on how likely we think you are to interact with a post in different ways, like commenting, liking and saving. These signals help us connect you to the content that we think you want to see the most.
Now, we'll also consider how likely we think you are to report a post as one of the signals we use to personalize your Feed. If our systems predict you're likely to report a post based on your history of reporting content, we will show the post lower in your Feed.
You can visit the Instagram Help Center to learn more about how to report content and keep track of your reports. Look out for more updates from us in the weeks to come, as we continue sharing more on how all the different parts of Instagram come together.
News Source: Instagram Blog