His Highness Sheikh Mohammed bin Rashid Al Maktoum, Vice -President and Prime Minister of the UAE and Ruler of Dubai, today launched the International Programme for Government Directors to train and qualify government administrative competencies.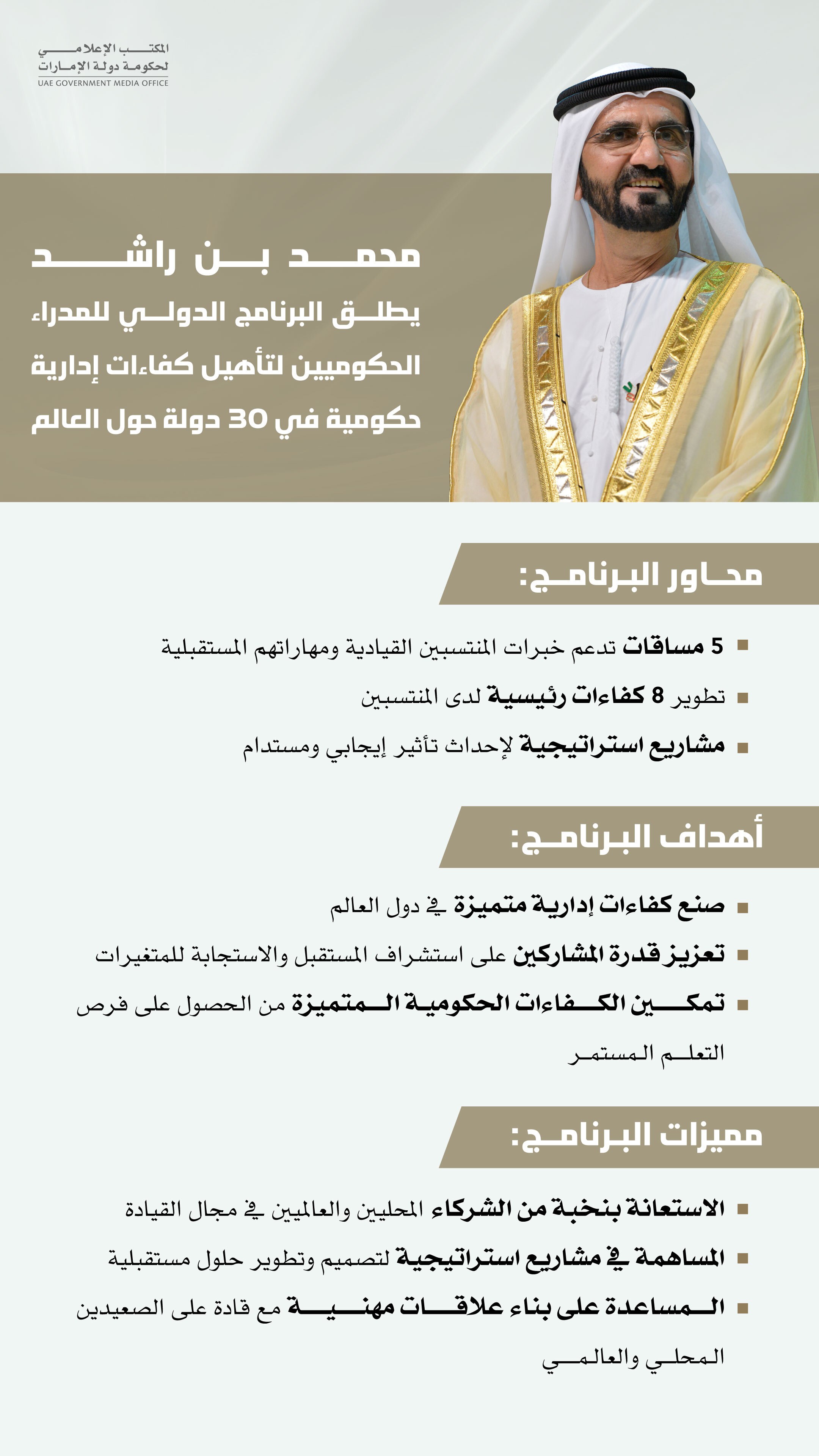 The programme seeks to build knowledge bridges with diverse governments throughout the world and export Emirati competence in government management to 30 nations around the world.
"Today we launch an international program on training government directors in partnership with 30 countries throughout the world, as part of our knowledge and administrative engagement with various countries and governments,"
H.H. Sheikh Mohammed said.
"The programme seeks to export Emirati expertise in government administration and to construct knowledge bridges with other governments in order to promote government administrative competences defined by flexibility, innovation, and the ability to deal with future changes,"
H.H. Sheikh Mohammed.
Sheikh Mohammed emphasised that international collaboration extends beyond economics and politics to encompass knowledge and administration, which are the true capital of all countries seeking to increase their competitiveness and consolidate the sustainability of their development journey.
The programme, developed in collaboration between the Mohammed Bin Rashid Center for Leadership Development and the Government Experience Exchange Programme, aims to improve its members' ability to anticipate the future, keep up with and respond to changes, make appropriate strategic decisions, prepare for future societal challenges, and develop policies and programmes that promote comprehensive and sustainable development.
The International Programme for Government Directors provides distinguished government competencies with opportunities for continuous learning to develop and improve their leadership and management skills, as well as to keep up with the world's rapid changes by learning the latest management concepts and tools and training them to apply them in performing their duties more effectively.
Mohammad bin Abdullah Al Gergawi, Minister of Cabinet Affairs, and Chairman of the Executive Office of H.H. Sheikh Mohammed bin Rashid Al Maktoum, said the International Program for Government Directors is part of a knowledge exchange system with 30 nations throughout the world to impart Emirati expertise in creating government capabilities.
"The International Programme for Government Directors strives to create capacities and produce adaptable and distinguished government competencies based on innovation, knowledge, and future vision,"
Al Gergawi explained .
The programme seeks to develop eight key skills: Strategic Foresight; Global Citizenship; Disruptive Mindset, Passion & Commitment, Value Creation; Curiosity & Agility; Diversity & Inclusion and People First.
It also features courses on strategic leadership, innovative leadership and digital leadership and dialogues with leaders and decision-makers in vital sectors to develop leadership skills and capacities. The programme also organises field tours for its participants to introduce them to the UAE best practices in key sectors like sustainable energy, capital markets, infrastructure, space, economy, digital transition, services and logistics.
News Source: Emirates News Agency