Chocolate is loved by everyone, however you like yours be it dark, white, milk or with any other flavors. It is loved in all its forms including ice-creams, cakes, mousse, donut, spreads and many more. No dessert is complete without chocolate! A sweet soo yummy and decadent, you can't stop at just one bite! Dubai is a city of dreams and a cultural hub of food. If you are a chocolate lover, then Dubai has just the thing for you – An event that is all about chocolates! The Salon du Chocolat Dubai 2023 is the perfect event for you to celebrate your love for chocolates, it is set to be one of the most exciting events of the year in Dubai. The event brings together chocolatiers, pastry chefs, and chocolate enthusiasts from around the world to celebrate the world's most beloved sweet treat. Want to know more about it exciting event in Dubai?  Read More to find out.
About Salon du Chocolat Dubai
Salon du Chocolat Dubai is an annual event that is part of the global Salon du Chocolat series. It was first established in Paris in 1994 and has since then expanded to over 20 cities worldwide including New York, Dubai, London, Shanghai, Cannes, Lyon, Beirut, Hong Kong and more. The idea is to invite chocolatiers and chocolate makers from all over the world to learn about where chocolate comes from and the process of making great chocolate, highlighting the producers as well as the famous chocolatiers. The popular event will bring together professional chocolate tasters, chocolatiers, chocolate aficionados, authors, and pastry chefs to celebrate those who share a passion for chocolate and pastry. This year's Salon du Chocolat will be held at Galeries Lafayette Gourmet in Dubai Mall.
Event Details:
Dates: 18th – 20thMay 2023
Location: Galeries Lafayette Gourmet, Dubai Mall
Timings: 02:00 pm – 10:00 pm
What to expect?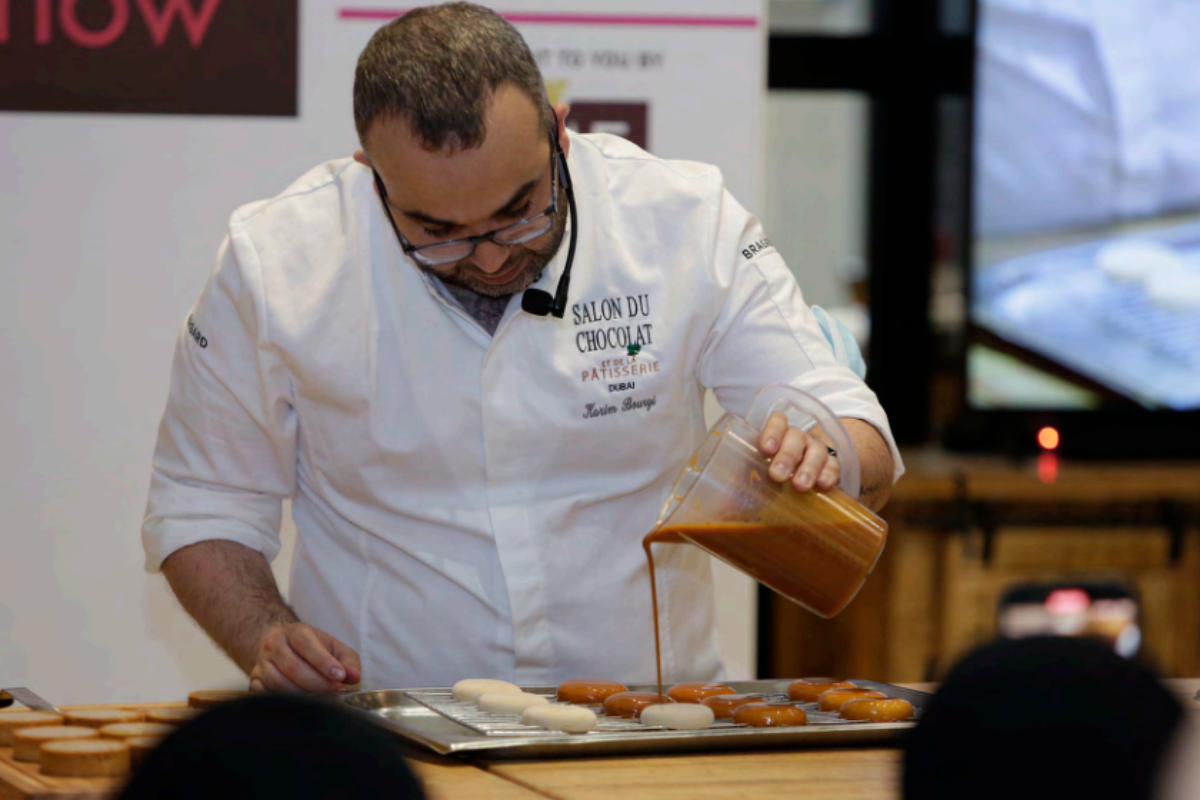 The three-day event will provide visitors with a plethora of activities ranging from masterclasses to workshops and chocolate sampling from various stands. More than 50 brands, 30 pastry chefs, 60 exhibitors, and over 3,000 visitors are expected to attend Salon du Chocolat Dubai 2023. You can expect to find everything from traditional chocolate bars and truffles to more exotic creations, such as chocolate-covered insects and unique flavor combinations. The exhibition allows the industry's key players to showcase their products and skills.
Here's a quick look at the exhibitors who are expected to attend:
Chocolatiers
Confectioners
Pastry specialists
Sweet shops
Dates and honey producers and suppliers
Ice cream shops both artisanal and traditional
Chocolate producers and importers
Suppliers of ingredients, materials, and equipment
Events At Salon Du Chocolat Dubai 2023
This ultimate celebration of all things chocolate will include a number of competitions, events, and workshops. The following events will take place at Salon du chocolat Dubai 2023:
1. Choco Demo –  A lovely setting where master pastry chefs gather to exchange knowledge and make delectable, decadent chocolate desserts. This event includes the following desserts that you will get the chance to witness and learn more about - Peanut Lollipop Brownies, Chocolate and Raspberry Tart, Iced Baba, Raspberry and Orange Blossom Sundae, Chocolate Praline and Coffee, Textures of Chocolate, Hazelnut Milk Chocolate Tart, Cacao, Vanilla and Ginger Dessert, Khanforoosh Travel Cake, Raspberry Chocolate Surprise, Passion Pot, Chocolate Soufflé and Chocolate Puff Waffle, Coriander Praline and Clementine Confit.
2. Pastry Show - a vibrant setting where top pastry chefs conduct hands-on courses to produce creative and delectable pastry creations. The confections included in this event that you will get to experience are – Peach and Chocolate Bonbons, Walnut rolls, Gluten-free Chocolate Ginger Nama Cake, Vanilla Caramel Chocolate Snack Bar, Black Forest Petit Fours, Coconut Chocolate Cake, Chocolate and Caramel Candy, Choux Pastries with Vanilla and Pistachio Cream, Nut and Caramel Brownies, Liselotte cake, Chocolate Tart, and Chocolate Macarons.
3. Chocolate Fashion Show - Discover the creativity of outstanding pastry chefs and fashion designers as they present their magnificent chocolate dresses and sweet abayas in this one-of-a-kind fashion show! Don't miss the opportunity to enjoy the perfect union of two magnificent worlds at Salon du Chocolat Dubai 2023, which will be held under the theme "La Femme et la Mode," which translates to "Women and Fashion." This is a highlight event of the Salon du Chocolat that is eagerly anticipated by both participants and visitors.
4.  Competitions– You will get to watch 4 competitions taking place during these 3 days, where pastry chefs compete to showcase their artistic skills and creativity. These competitions are- Elle & Vire Cheesecake Competition, Best Pastry Showpiece, Best Chocolate Showpiece and Best 3D Cake Design. There is nothing better than watching a pasty competition live!
Where to get the passes for Salon du Chocolat Dubai 2023?
You can get your pass from the Salon du Chocolat Dubai's official website. You can also register to become an exhibitor if you're a professional in the chocolate and pastry industry and you'll get a 9 sq. m. space at the event for AED 10,890 plus value added tax of 5%.
Location:
Galeries Lafayette Gourmet, Dubai Mall
Also Read: