As the National Day Long Weekend approaches, we're gearing up for what promises to be the ultimate road trip season. The delightful weather in Dubai sets the stage for a perfect break from the routine, inviting you to embrace the calming influence of nature. Picture serene drives, a gentle breeze, and open roads—a recipe for relaxation during this much-anticipated weekend.
Trade your office view for breathtaking landscapes as we recommend destinations that not only offer tranquility but also serve as a welcome respite from daily life. With the National Day Long Weekend just around the corner, it's an ideal time to unwind, rejuvenate, and savor the positive energy our chosen spots have to offer. Let the soothing winter melodies guide you to places where time slows down, and every moment becomes a refreshing pause.
Keep reading for our top picks, as we unveil not just road trip destinations but moments of tranquility that linger long after the journey ends.
LIWA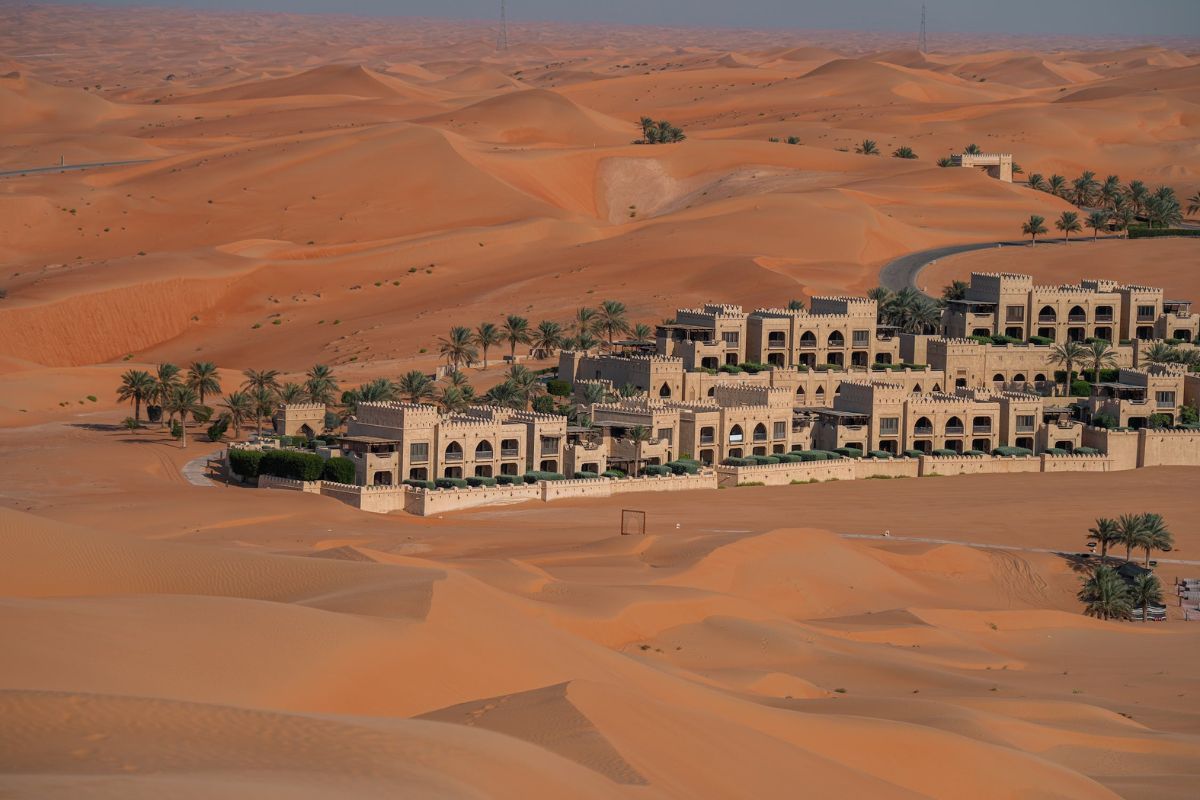 Embarking on a road trip to Liwa, located on the edge of the Empty Quarter, the world's largest contiguous sand desert, is a rewarding adventure from Dubai. This journey, covering around 332 km, takes about 3 hours and 28 minutes and leads to one of the Arabian Peninsula's largest oases. Liwa's 650-foot-high dunes, notably featured in "Star Wars: The Force Awakens," offer a blend of historical significance and modern cinematic fame.
Liwa, about 220 km from Abu Dhabi, is rich in heritage sites, including the towering 300-meter-high Tal Mireb dune. The area is dotted with villages and attractions like Mezairaa Town, Liwa Forts, and the Sheikh Hamad Auto Museum, tracing back to its 18th-century origins with the Bani Yas tribe.
Accommodation options like the luxurious Qasr Al Sarab Desert Resort and Liwa Nights Bedouin Glamping Retreat offer a blend of comfort and authentic desert experience. Visitors can engage in activities like sightseeing, hiking, exploring forts and oases, and enjoying the local architecture and culture.
The journey through the desert, with its serene environment and golden sand mountains, is both beautiful and tranquil, though care must be taken due to occasional sandstorms. This road trip offers a unique combination of natural beauty, cultural richness, and a touch of cinematic history, making it a must-visit destination in the UAE.
MUSANDAM PENINSULA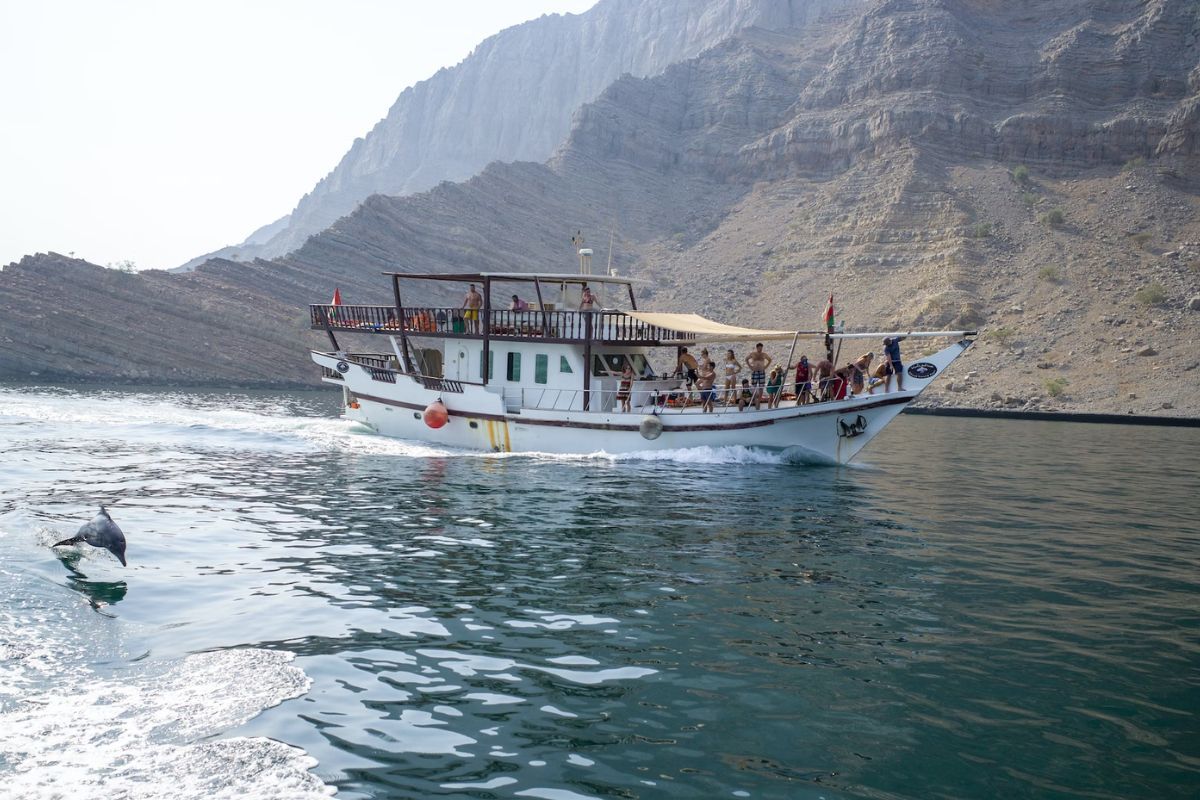 The road trip from Dubai to the Musandam Peninsula, an Omani enclave, is a breathtaking journey lasting about 2 to 3 hours over a distance of 196 km. The drive itself is stunning, with the route winding along the coast, offering views of tranquil bays and local fishermen at work. Musandam is renowned for its striking fjords, making it an ideal spot for water sports like fishing, kayaking, and white-water rafting.
The town of Khasab, surrounded by mountains, offers unique trekking experiences using secret staircases built by Pakistani goat herders. Staying overnight in Khasab is recommended for enjoying a dhow cruise, dolphin spotting, and a thrilling four-wheel-drive tour up the 6,260-foot Jebel Harim mountain.
Dibba, another highlight in Musandam, is located between towering mountains and the sea. It's famous for its vibrant marine life, crystal clear turquoise waters, and diving sites. A dhow cruise in Dibba is a must to fully explore the fjords and incredible islands.
A day in Musandam can be magical, with activities like sailing with dolphins, swimming with green turtles, and enjoying a generous lunch on a boat featuring freshly caught local fish and traditional Omani dishes.
A crucial tip for those planning this trip is to ensure the rental car from Dubai is permitted to be driven into Oman, as some rental agencies have restrictions.
HATTA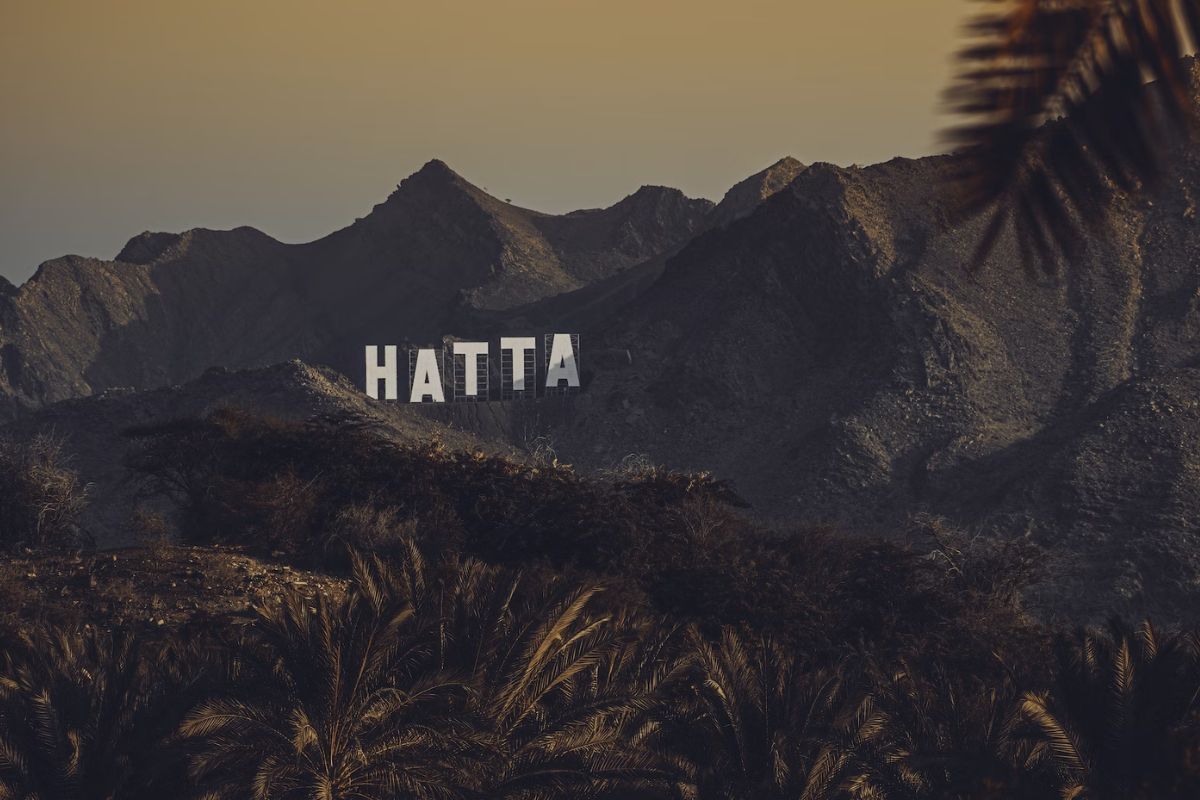 Hatta, a scenic destination located 135 km from Dubai, is an ideal road trip spot offering a blend of desert landscapes and mountainous terrain. The journey from Dubai takes approximately 1 hour and 30 minutes, making it perfect for a weekend getaway.
In Hatta, outdoor enthusiasts can indulge in activities like mountain biking, hiking, and kayaking at Hatta Dam. The Hatta Heritage Village provides a cultural experience, showcasing the area's rich history. For those seeking adventure, the Hajar Mountains offer trekking opportunities with breathtaking views.
Accommodation in Hatta ranges from the luxurious JA Hatta Fort Hotel, offering panoramic mountain views and activities like archery and mini-golf, to more nature-immersive options like the Hatta Cedr Trailers for a 'glamping' experience. Additionally, Hatta is home to the Meraas development of Wadi Hub Centre, where visitors can try various adventure sports.
The Hatta Dam is a highlight, featuring stunning turquoise waters surrounded by rugged mountains. Visitors can rent kayaks, paddleboards, or enjoy tours along the waters, rich in bird and fish species. Nearby, the Hatta Heritage Village, dating back almost 3,000 years, offers insights into the area's history and culture.
Popular attractions in Hatta include the Hatta Fort Hotel, Hatta Hill Park, and Hatta Rock Pools. The Hatta Dam Green Lake is another must-see, offering opportunities for hiking, mountain biking, and kayaking in a picturesque setting.
JEBEL HAFEET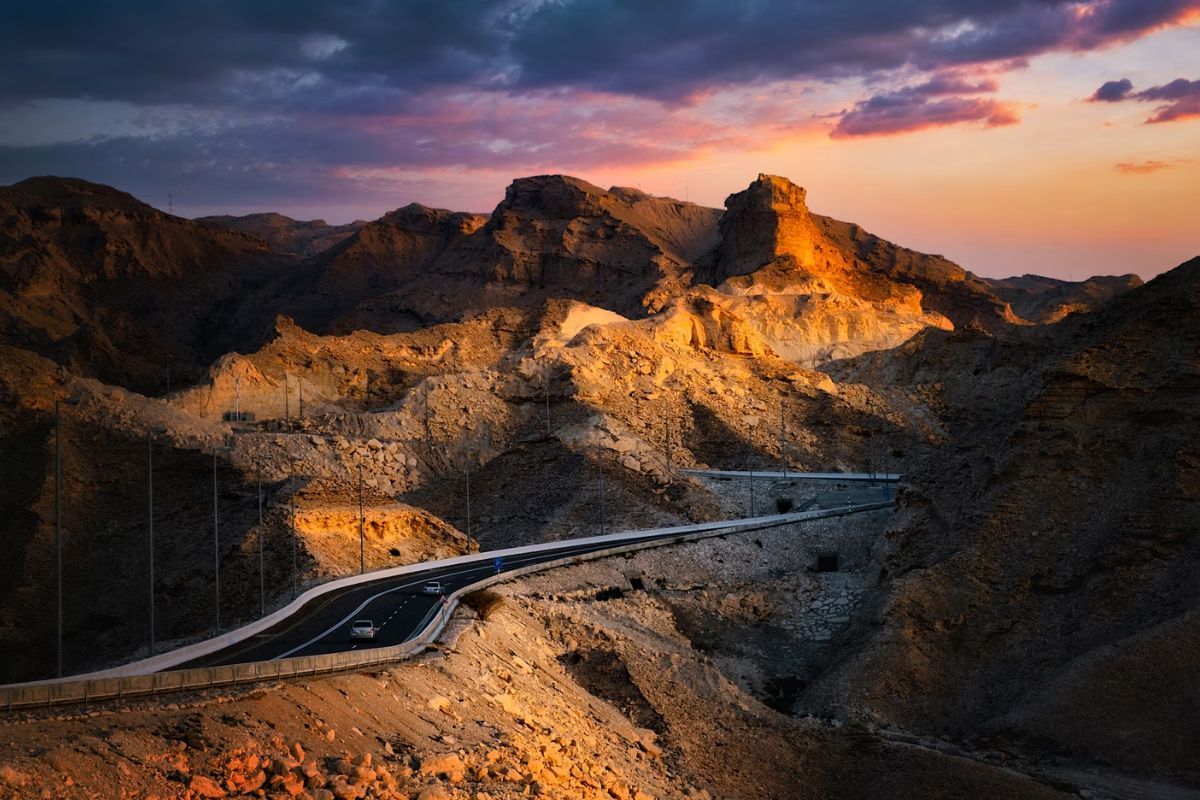 Jebel Hafeet, standing at an elevation of 1,249 meters, is the highest peak in Abu Dhabi and the second highest in the UAE. This mountain, located near the border of the United Arab Emirates and Oman, is a must-visit for its spectacular driving experience and stunning natural beauty. The Jebel Hafeet Mountain Road, stretching 12 km with 60 turns, is acclaimed as one of the best driving roads in the world, offering an exhilarating journey with breathtaking views.
The drive from Dubai to Jebel Hafeet covers a distance of 159 km and takes approximately 1 hour and 53 minutes. Apart from the drive, there are several activities to enjoy at Jebel Hafeet, including hiking, mountain climbing, and photography. The area is known for its beautiful sunsets and sunrises, making it a perfect spot for nature lovers and photographers.
At the base of the mountain, you can find Jebel Hafeet Park and the Al Ain Hot Springs, ideal for relaxation. The Jebel Hafeet Desert Park, part of the Jebel Hafeet National Park, includes historic sites like the Hafit Graves and Mezyad Fort.
The summit of Jebel Hafeet offers panoramic views of the city of Al Ain, the adjacent desert, and parts of Oman. There's also a café at the top, although many prefer a DIY picnic to fully enjoy the scenery. The journey up the mountain is as spectacular as the destination itself, making a road trip to Jebel Hafeet a memorable experience for anyone visiting the UAE.
FUJAIRAH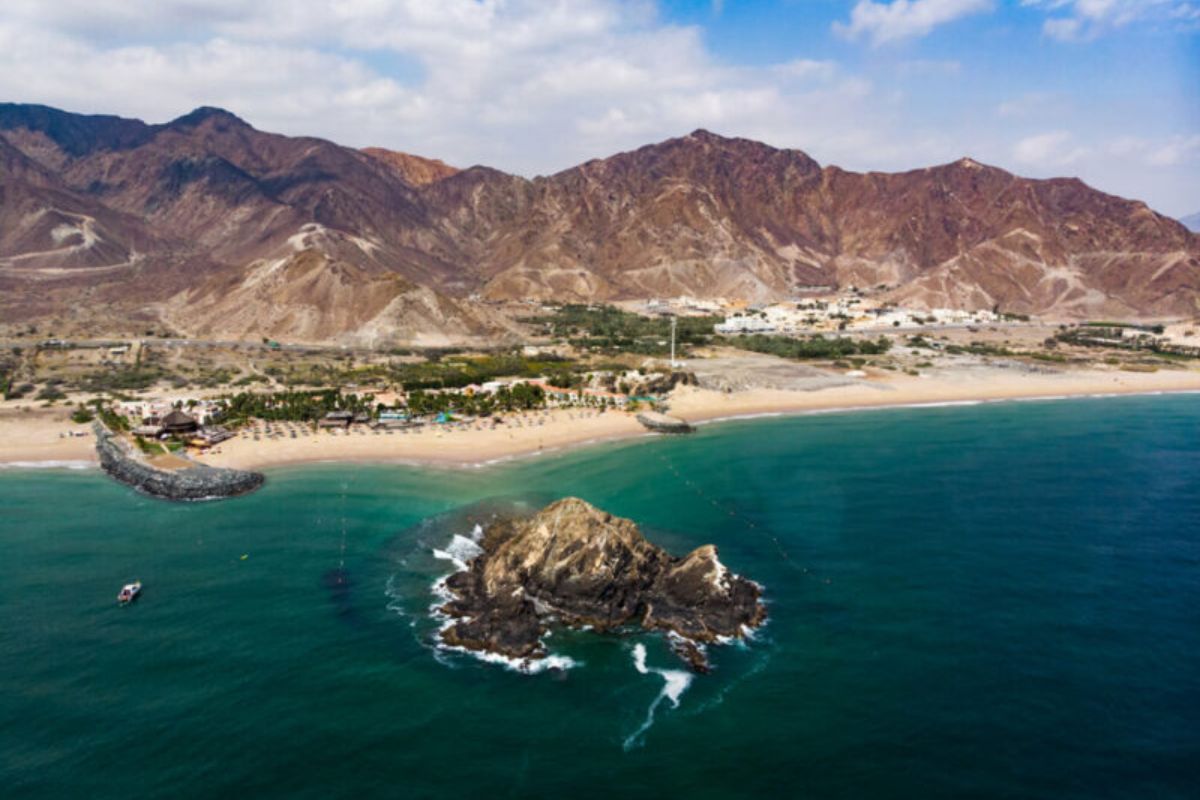 Fujairah, on the east cost of UAE, offers a rich mix of natural beauty and adventure, making it an ideal road trip destination from Dubai, approximately one and a half hours away. Known for its dramatic mountains, pristine waters for snorkeling, and stunning beach sunsets, Fujairah is a treasure trove of experiences.
Accommodation options range from the beachside Al Bahar Hotel & Resort, offering water sports and private beach access, to the city-centric Concorde Hotel with its rooftop pool. The region is also famous for its golden sand dunes, herds of camels, Bedouin culture, and local food, providing an authentic UAE experience.
The journey to Fujairah and Masafi is best experienced via the Maleha road, known for its breathtaking views of sand dunes transitioning into mountains. The route offers opportunities for photography, with chances to capture camels traversing the desert. A popular lunch stop is 'Rabiee Al Dar,' a local restaurant known for its delicious biryanis.
Fujairah's Friday Market is a vibrant local market perfect for a pit stop, while nearby food trucks offer authentic local kebabs and snacks. The region is ideal for camping, with the Masafi Mountains providing a stunning backdrop for outdoor enthusiasts. These mountains are also great for hiking, trekking, and overnight camping.
For a sweet treat, the local dumpling shop in Masafi offers traditional Lukheimat, a must-try local delicacy. Fujairah is also a top scuba-diving destination, with nearby attractions like the Al Rafisah Dam, Snoopy Island, and Wadi Wurayah in the Hajar Mountains. The emirate offers a plethora of activities, including parasailing, deep sea fishing, kayaking, snorkeling, and hiking.
Popular attractions in Fujairah include Al Hayl Castle, Fujairah Fort, and Snoopy Island, known for its resemblance to the animated character. The Sandy Beach Hotel and Resort near Snoopy Island offers an array of water sports and beach activities.
UAE offers an array of stunning road trip destinations that are perfect for exploring during the National Day holidays. Each destination, from the soaring heights of Jebel Hafeet in Al Ain to the serene waters of Fujairah, presents its unique blend of adventure, culture, and natural beauty.
These road trips offer a chance to witness the UAE's diverse landscapes, ranging from rugged mountains and tranquil beaches to vast deserts and lush oases. As the UAE celebrates its unity and progress, these road trips offer a fitting way to experience the heart and soul of the nation.
Also Read: