The country has been actively and determinedly striving to achieve the goal of net zero emissions by 2050 in all areas, with particular emphasis on the transportation sector.
On Tuesday, Al-Futtaim Auto & Machinery Company (Famco) unveiled the inaugural heavy-duty electric truck in the UAE and Middle East. Produced by the renowned Swedish automotive manufacturer Volvo, this truck has a remarkable capacity of 40 tonnes and can travel up to 300 kilometers on a single full charge. Recharging time is also impressive, with only 2.5 hours required in DC mode and 9.5 hours in AC mode for a complete recharge. The initial batch of these trucks has already been purchased by the fast-moving consumer goods (FMCG) leader, Unilever.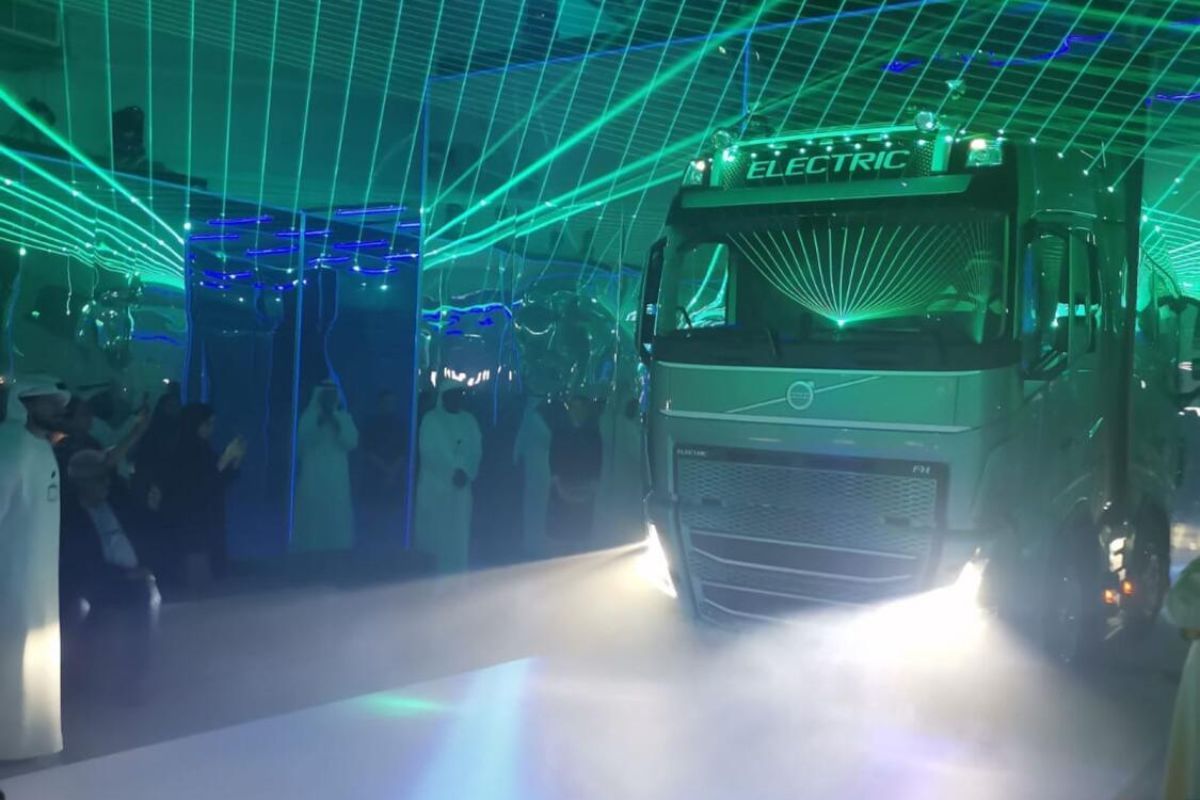 Ramez Hamdan, the Managing Director for Industrial Equipment in the UAE, Saudi Arabia, and Qatar at Famco, stated that the newly launched electric truck is one of the fastest vehicles to be charged and has undergone testing in both hot and cold weather conditions.
Regarding the economic aspect, Hamdan emphasized that the overall cost of an electric truck is significantly lower than that of a diesel-operated truck, considering factors such as vehicle downtime and diesel consumption expenses. He mentioned that approximately 65% of the costs associated with traditional trucks come from diesel, so businesses can save a substantial amount by adopting electric trucks. While there may be an initial higher investment, firms will begin to observe cost savings in the short term by utilizing electric trucks.
The electric truck is accompanied by a 10-year warranty and service contracts. It is primarily suitable for transporting fast-moving consumer goods (FMCG) and logistics purposes.
However, Hamdan declined to disclose the price of the newly launched electric truck.
According to Ramez, the UAE government is providing significant support for electronic mobility solutions. This support includes initiatives such as free Salik tolls, exemption from registration renewal fees, and even free parking. Currently, owners of electric cars in the UAE enjoy the benefits of free parking and Salik exemption.
The UAE is actively pursuing its goal of achieving net zero emissions by 2050, with a particular focus on the mobility sector. The country is ranked eighth globally in terms of readiness for electric mobility. The Swedish ambassador to the UAE, Liselott Andersson, expressed her country's commitment to reaching net zero emissions by 2045 at the latest, emphasizing the responsibility of everyone to reduce greenhouse gas emissions.
Hamdan stated that Famco is dedicated to the UAE's net zero 2050 strategy. They are working with prominent companies and the government to develop the necessary infrastructure for charging electric trucks, making it more convenient for companies to operate them. There is growing interest from companies to transition to electric trucks, and Famco aims to have all of their units electric by 2050 or even earlier, starting with 5-10% of their total volume. As infrastructure continues to improve, this percentage is expected to increase.
Currently, there are three charging stations available in different locations for Unilever trucks.
News Source: Khaleej Times