The vibrant shopping scene of Dubai is one of the major reasons for attracting tourists to this small city. Dubai boasts a plethora of malls that cater to every shopper's desire. Uptown Mirdiff Mall is a hidden gem among the best places to shop in Dubai. This retail haven needs to be on your list if you are looking for a diverse shopping and entertainment option in Dubai.
Looking forward to an evening at this upscale shopping destination? Here is what you need to know before visiting Uptown Mirdiff in Dubai.
Uptown Mirdiff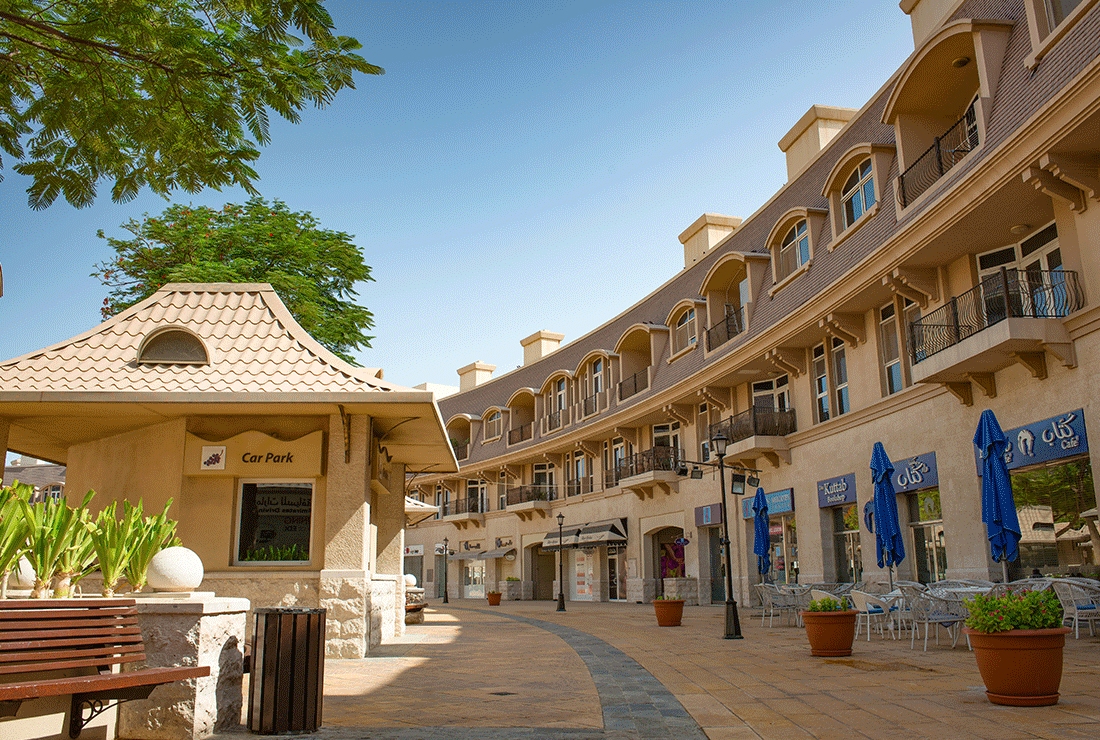 Uptown Mirdiff is a must-visit shopping destination for all the shopaholics in Dubai. This al fresco shopping mall in Dubai features an impressive array of stores, dining options, and entertainment facilities. There are also a variety of restaurants that offer delicious food from around the world. From fitness centers to fashion stores, Uptown Mirdiff surely has everything to make your day better. Various events and fairs are organized throughout the year to attract visitors to this less popular mall in Dubai. Plan a family day out to this outdoor retail haven in the city.
Things to do at Uptown Mirdiff
Uptown Mirdiff in Dubai offers a variety of fun activities. From clothes to electronics, it houses over 150 stores with a wide variety of items to shop for. From popular eateries to grocery shopping, here are some of the top things to do at Uptown Mirdiff in Dubai.
Shopping
Shopping is definitely the most popular thing to do at Uptown Mirdiff. The shopping mall offers a diverse range of products, including fashion, accessories, electronics, home decor, and beauty products. This shopaholic paradise showcases both local and international brands. You can indulge in a diverse range of shopping options from renowned fashion labels to boutique stores. Clothing, accessories, gadgets, furnishings, and cosmetics are some of the products you can buy at Uptown Mirdiff. As this is a less touristy place, it is better to buy souvenirs from here to bag a reasonable price.
Fashion: Keep up to date with the latest fashion trends at the fashion stores in Uptown Mirdiff. You can choose from a variety of items to fit your individual style including fashionable footwear and accessories. You can get great discounts on premium brands at popular stores like Brands for Less. Clothing, accessories, footwear, and bags can be found in this store. Visit Barakat Opticals to get your hands on the latest collection of eyewear.
Home goods: Find ways to decorate your home with one-of-a-kind furnishings and home décor goods from Uptown Mirdiff. Check out shops that sell furniture, lighting fixtures, artwork, rugs, and other decorative items to give your home a sense of class. At Restonic, you can find cozy mattresses and beds for a great price. Do not forget to visit 2XL to explore premium home furnishing goods to upscale your living area.
Athleisure: Fitness enthusiasts can shop for sports and fitness apparel and accessories at specialized stores in Uptown Mirdiff. Stores like Adidas sells exceptional quality products in this category.
Others: You can take your kids to Toys for Less for an excellent collection of toys and other related products. You can also go grocery shopping at Spinneys to buy fresh fruits and vegetables, bakery, dairy products, and more.
Dining
In addition to being a shopping center, Dubai's Uptown Mirdiff Mall is also a haven for foodies. The al fresco mall offers an array of dining options to satisfy every palate. Uptown Mirdiff features a variety of dining options for all tastes, whether you're looking for a quick snack, a leisurely meal, or an exciting culinary experience.
Café: Uptown Mirdiff Mall in Dubai is home to many beautiful cafes where you can chill with your friends and family. Most of these cafes provide a great ambiance along with a refreshing coffee mix. You can savor specialty coffees at these cafes to have a great start to your day. Some popular cafes inside Uptown Mirdiff are:
· Caribou Coffee
· Filli Café
· The Kana Café
· Starbucks
· Baskin Robbins
Restaurant: This upscale shopping destination houses a diverse range of restaurants that cater to different tastes and culinary preferences. You can treat yourself to yummy gooey burgers or popular cuisines like Levantine at the restaurants here. Throw a pizza party at the pizzerias inside this shopping mall for an upscale experience. Some popular eateries inside Uptown Mirdiff are:
· Burger King
· Hamburgah
· KFC
· Live'ly
· Pizza Hut
· Zaroob
Health and Fitness
If you live in the Uptown Mirdiff neighborhood or in nearby areas like Mirdif and Al Warqa, you can head to Uptown Mirdiff Mall to meet your health and fitness goals. This shopping haven is home to Fitness First, a fitness center specifically operated for ladies. Physio and Rehab Centre is an ideal destination for those who are looking forward to good physiotherapy under expert medics. Silkor at Uptown Mirdiff is home to trained aestheticians who are ready to work on your aesthetics. The shopping center is also home to health centers and pharmacies where you can stock up your medical supplies. Some of the popular clinics and pharmacies in Uptown Mirdiff are:
· Mediclinic
· Health Bay Polyclinic
· Health First Pharmacy
Institutions
Uptown Mirdiff has many institutions that could teach you and your kids. If you are living in the neighborhood visit this retail haven to check out the institutions. Music, art, and mathematics are some of the subjects that are being taught in these institutions. The mall also has a nursery for budding talents. Brooklyn Melodies Music Centre is a popular music school from where your child can learn to read various musical instruments like guitar and piano. This music school has professionals that could take classes in ballet and other forms of dance. Idea Nursery is ready to take kids under the age of 9 to nurture them holistically. La La Land is the perfect place to register your kids as they are popular for their fun techniques of teaching your kids. It is one of the popular additions to the novel edutainment spots in Dubai. Mathnasium is for the genius kids who like to study advanced math and also for those who are struggling with the subject. You can enroll for driving classes at Emirates Driving Institute located inside the Uptown Mirdiff retail center.
Other services
Uptown Mirdiff also houses various other services to make life easier for the people in the neighborhood. Some of them are:
Black Arrow Real Estate: The RERA-certified team at Black Arrow real estate will help you find suitable homes or properties in the region. You can also choose them to sell your properties in Dubai.
Champion Cleaners: You can opt for premium laundry services at Champion Cleaners. Services like dry cleaning, sanitizing, carpet, and upholstery cleaning, and restoration are taken by them.
Synergy Labs: This is a premium pet care center that is a one-stop shop for pet parents. They have services like pet grooming, pet clinic, pet boarding, and pet accessories. You can also book an appointment with them through their website.
Visit the official website of Uptown Mirdiff to learn more about their services.
Opening Hours of Uptown Mirdiff
Saturday to Thursday – 10 am to 10 pm
Friday – 3 pm to 11 pm
Location of Uptown Mirdiff
Uptown Mirdiff is conveniently located in the Mirdif area of Dubai. This region is relatively calm compared to other parts of Dubai. The retail complex is situated on Algeria Street in close proximity to the Uptown Mirdiff residential community. The mall's central location in the Mirdiff area helps the residents and visitors equally to access the amenities and services at Uptown Mirdiff.
How to reach Uptown Mirdiff
Uptown Mirdiff is easily accessible by the major highways of Dubai. It is just a short drive from Sheikh Mohammed Bin Zayed Road/E311. The area has a great transportation network and therefore getting around is easier. However, there are no metro stations nearby. You can visit RTA Journey Planner to know which bus to take from your desired location.
Also read: