The diverse range of cuisines and restaurants in Dubai attracts foodies from around the world. The city's food scene is popular for its inclusivity of different trends, cultures, and ethnicities. People following strict diets find it difficult to control their cravings at the sight of the vibrant platters. In this city, you can easily pass these unhealthy platters as you can find multiple replacements. With an emphasis on fitness and wellness, it's no surprise that there are plenty of healthy restaurants to choose from in Dubai. Check out the best healthy restaurants in Dubai if you are considering eating healthy without compromising on the taste.
SEVA Table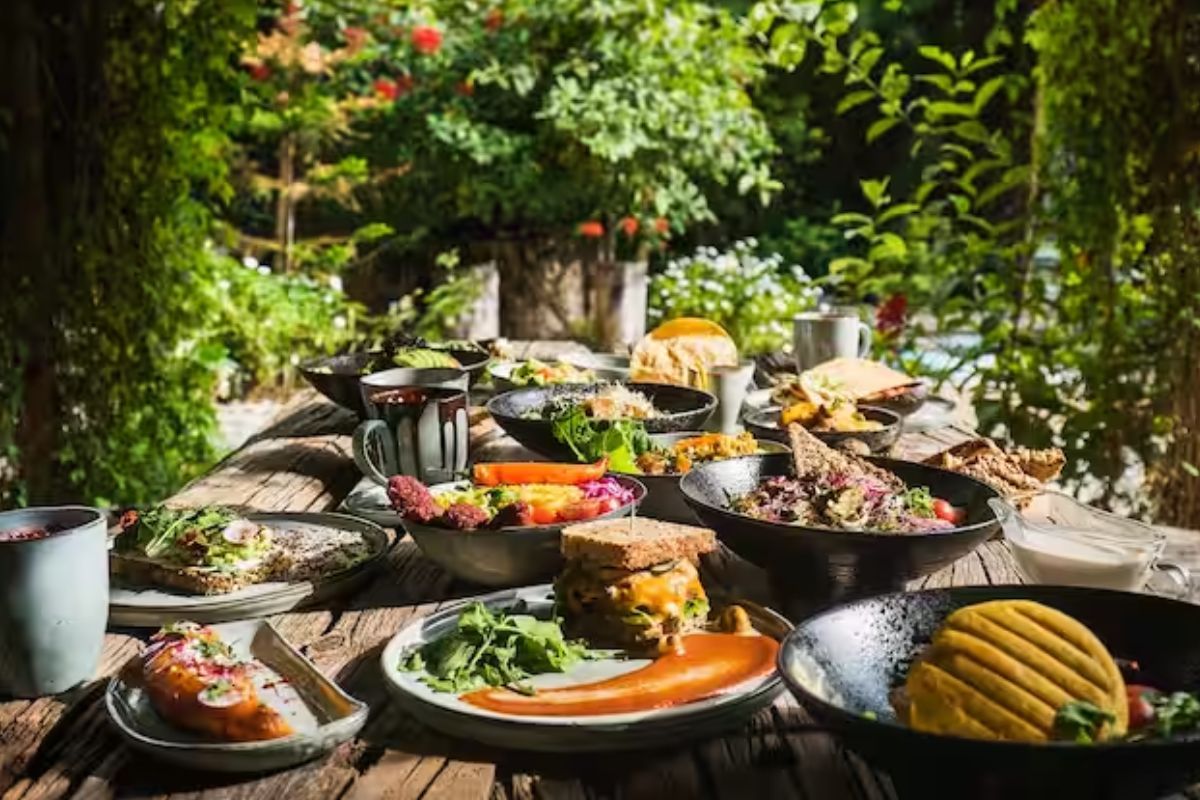 SEVA Table is a popular plant-based café in Dubai that serves dishes made with healthy and organic ingredients. It is the first restaurant in the Middle East that is 100 percent plant-based. The restaurant offers a variety of plant-based dishes on its menu like smoothie bowls, salads, sandwiches, and wraps. The food served here is free of gluten, sugar, dairy, and artificial additives. You can also try their organic coffee and fresh juices that are made from locally sourced ingredients. The café is located inside a wellness centre providing a calm and tranquil ambiance to the visitors. The interior of SEVA is inspired by nature and features cobblestone pathways, wooden log tables, and colorful furnishings. Visit their website to learn more.
Average pricing: AED215 for two
Location: Jumeirah 1, Jumeirah Beach Road, Dubai
Brambles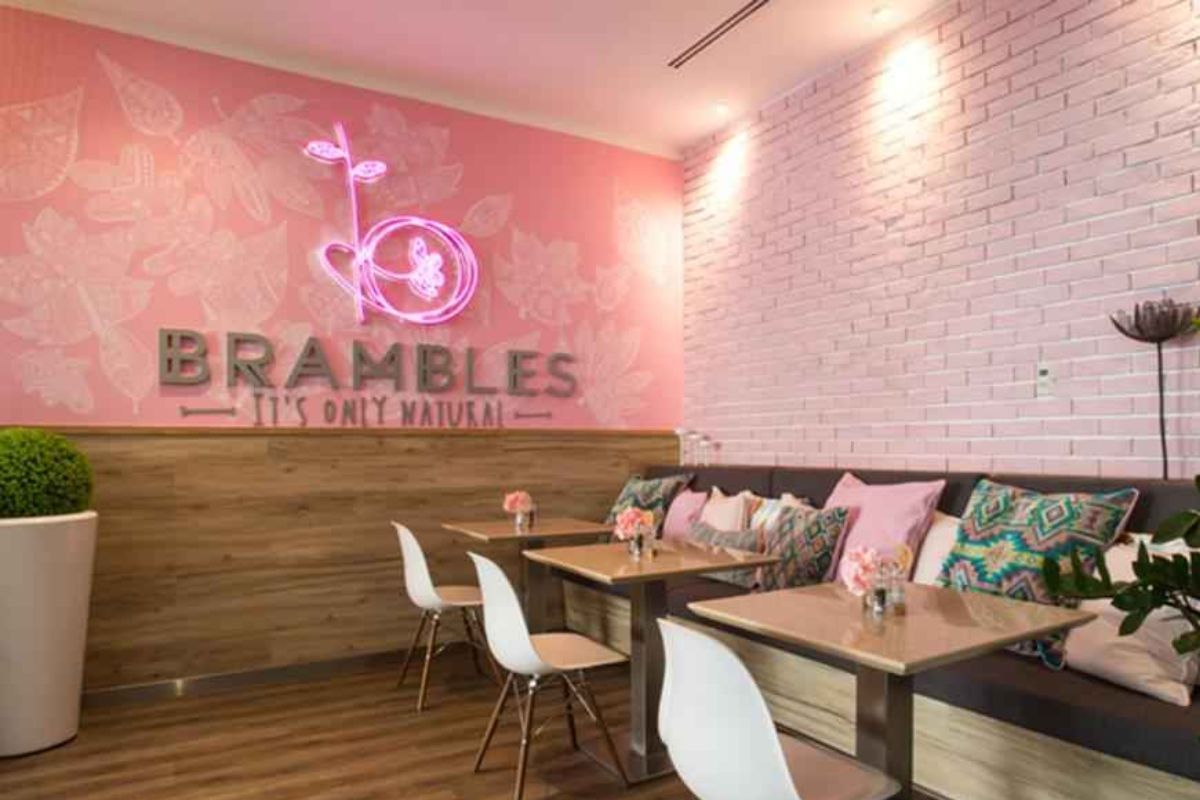 Brambles is a North Californian café in Dubai that resonates with the Cali culture in its taste and vibe. The restaurant serves tasty breakfast, lunch, and dinner prepared from organic and locally sourced ingredients. The café also offers gluten-free and vegan options on their menu. You can taste a variety of organic teas and coffees at Brambles. The café also has an exclusive dessert menu featuring healthy treats. The avocado pizza at this café has stolen many hearts. You can see varieties of acai bowls on their menu. Visit their website to learn more.
Average pricing: AED140 for two
Location:
Grand Heights Hotel Apartments, Barsha Heights, Dubai
Citadines Metro Central, Barsha Heights, Dubai
Vietnamese Foodies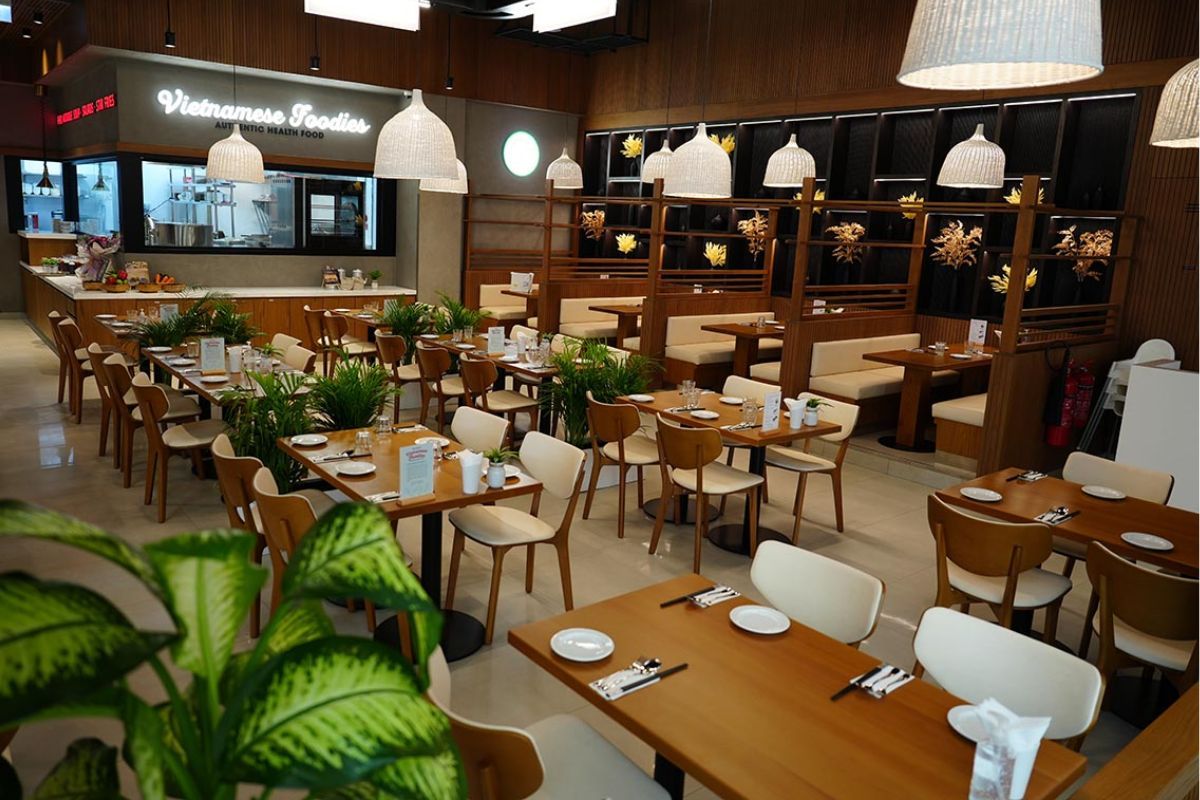 Vietnamese Foodies, as the name suggests, is a Vietnamese restaurant that serves super fresh dishes in Dubai. The success of their first branch in Jumeirah Lake Towers led them to open two branches in Downtown Dubai, one in Nakheel Mall, and one in Dubai Hills Mall. This family-run restaurant draws inspiration from the vibrancy of Saigon City. They are popular for bringing the tastiest, healthy, and most authentic Vietnamese cuisine to the table. The owner and Executive Chef, Lily Hoa Nguyen, serves her own recipes at affordable prices. All meals are carefully put together using classical cooking techniques. The Pho is simmered for at least 14 hours to bring the authentic flavor of soup noodles in Vietnam. Visit their website to see their exclusive Vietnamese menu.
Average pricing: AED170 for two
Location:
Lake Terrace Tower, Cluster D, Jumeirah Lake Towers
Nakheel Mall, Palm Jumeirah
Time Out Market Dubai, Souk Al Bahar, Downtown Dubai
Burj Vista Residence, Sheikh Mohammed Bin Rashid Boulevard
Dubai Hills Mall, Dubai Hills
Ultra Brasserie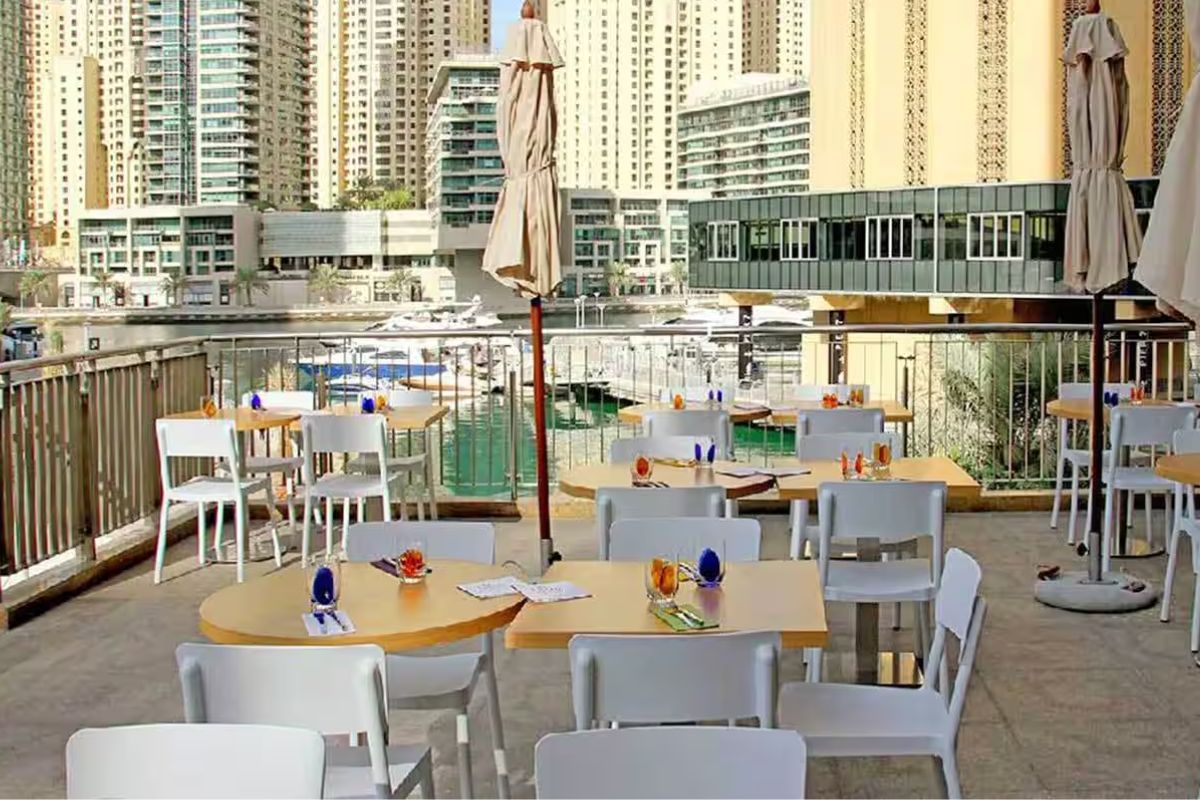 Ultra Brasserie is a restaurant in Dubai developed by Gate Hospitality, a popular hospitality company. The restaurant boasts an eclectic menu featuring creative and simple dishes with a twist of innovation. They constantly update their menu to bring a diverse selection of culinary delights. The restaurant aims to provide great value for money while infusing contemporary twists into classic dishes. Some of the popular dishes on their menu are Shakshuka, Scrambled Tofu and turmeric, tiger prawns with couscous, and roasted olive and corn-fed chicken. They have separate sections for smoothies, organic teas and coffee, pasta, salads, breakfast rolls, sandwiches, sides, and fresh fruit blends. Check out the detailed menu on their website. You can also subscribe to their meal plans to taste their healthy dishes daily.
Average pricing: AED185 for two
Location:
Emaar Square Downtown Dubai
Marina Plaza, Dubai
Harvest & Co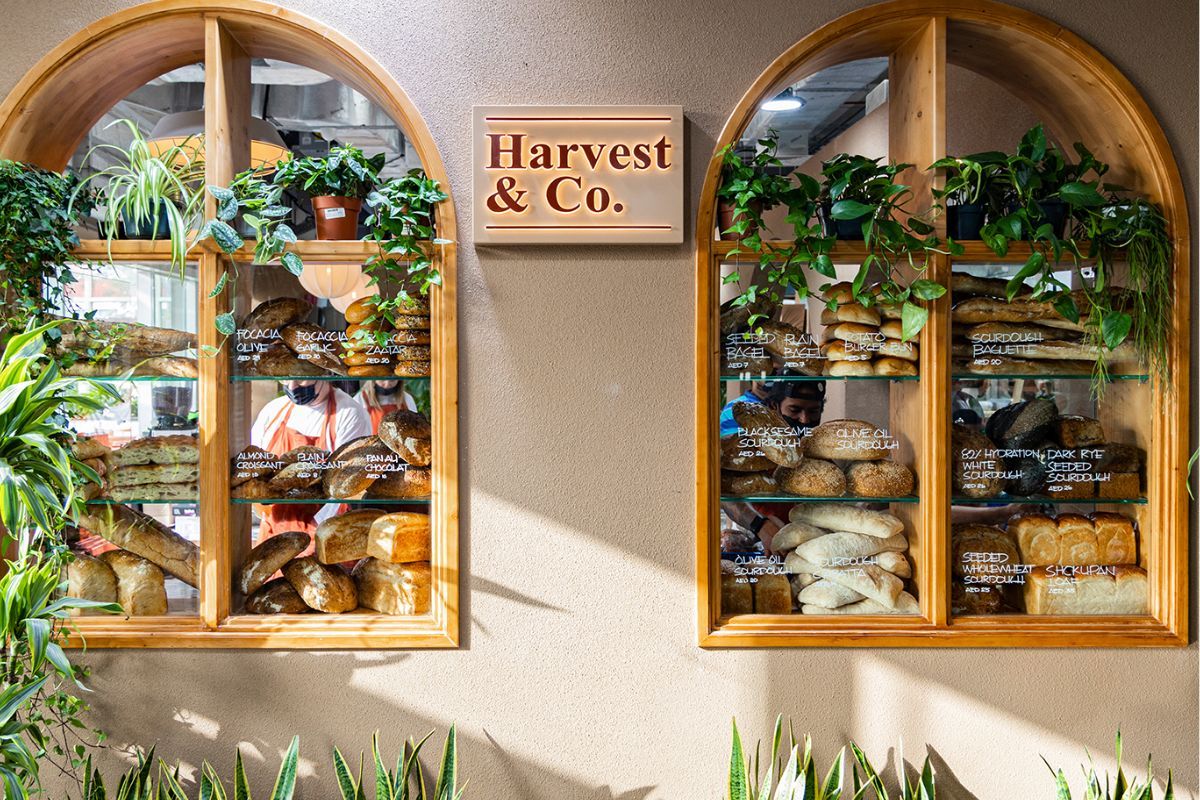 Harvest & Co. is a farm-to-table restaurant located in the tranquil and green setting of Dubai Garden Centre. Despite being located in the industrial surroundings of Al Quoz, the restaurant creates a cozy atmosphere with its rustic-meets-modern aesthetic that resembles a greenhouse. The farm-style open kitchen is stocked with fresh, colorful produce, which is the highlight of the menu. They serve an array of pantry staples, such as jams, chutneys, oils, vinaigrettes, and soft cheeses. The restaurant is popular for offering comfort home-like foods like scrambled eggs and porridge. The menu features a long trail of sandwiches including people favorites like smoked turkey baguette, breakfast burrito, and chili beef & cheese toastie. Check out their website to have a look at their extensive menu which includes special sections for salad bowls, porridges, drinks, specialty coffee, pastries, and more.
Average pricing: AED200 for two
Location: Dubai Garden Centre, Al Quoz Industrial Area 3
The Cycle Bistro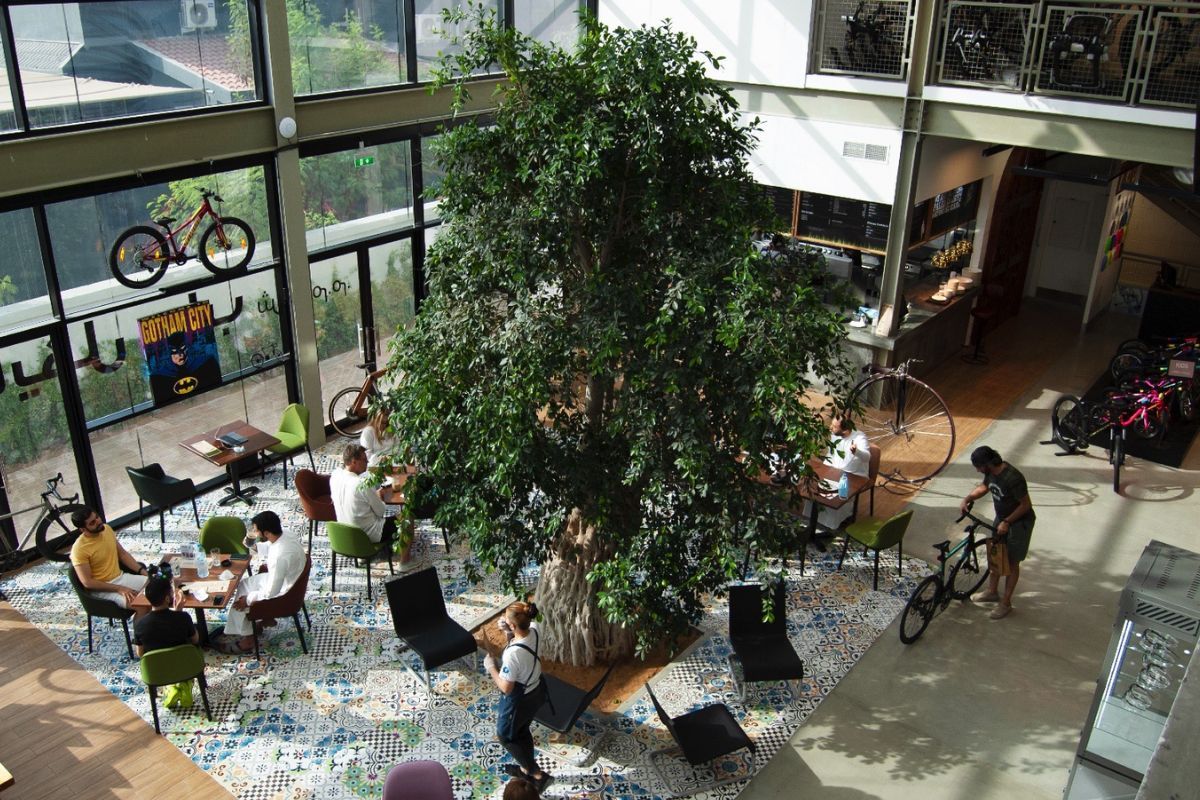 The Cycle Bistro is a unique restaurant concept in Dubai. They claim to be the first and only truly Paleo restaurant in Dubai. The ingredients are locally and internationally sourced to create healthy and delicious dishes. The restaurant does not use any preservatives or additives in their dishes making it the ultimate health food restaurant. Their menu is revised every three months to include seasonal variations in their dishes. The restaurant's interiors create a lively atmosphere to relax and savor every bite of the nutrient-packed dishes. You are encouraged to hire a bike from The Cycle Hub and ride to the restaurant to work up an appetite. The gluten-free, dairy-free, and sugar-free options are predominant on their Paleo menu. Tikka chicken breast, cauliflower satays, and Butternut Gnocchi are the menu favorites. You can also subscribe to their meal plan for a healthy diet throughout the week. Visit their website to learn more.
Average pricing: AED175 for two
Location:
Dubai Autodrome Grandstand, Motor City, Dubai
Jumeirah 1, Jumeirah, Dubai
The Açaí Spot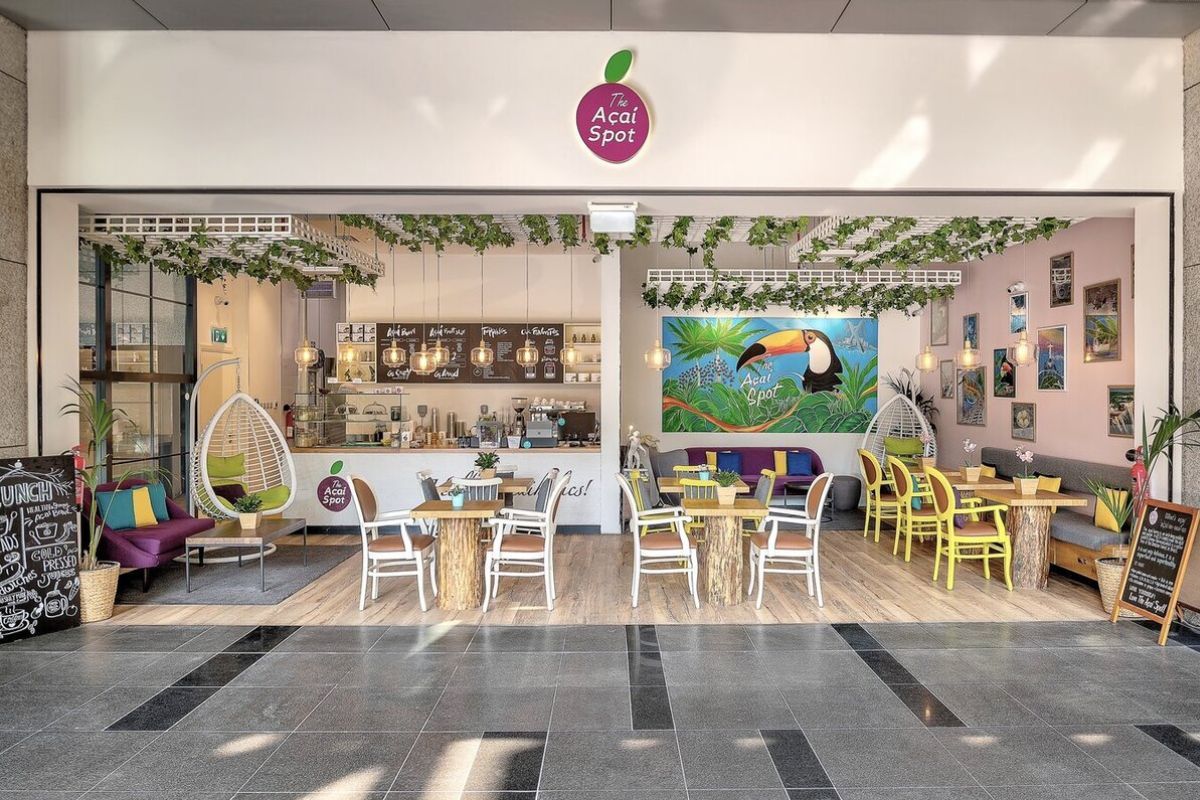 The Açaí Spot is a restaurant in Dubai that has been dedicated to serving a selection of açaí bowls and other açaí-based products. The café is decorated with inspirations from the Copacabana sidewalk and features hanging plants. The interiors of this restaurant are aesthetically pleasing and provide you with a perfect hangout that is calm, cozy, and comfortable. Açaí is an anti-oxidant-rich berry with its origin in Brazil. Açaí bowls are popular among health freaks and are mostly consumed as breakfast and pre or post-workout meal. They also serve yummy croissant sandwiches, salads, and more. Visit their website to order your açaí bowl.
Average pricing: AED150 for two
Location:
Deira City Centre
DIFC
Dubai Marina
Me'aisem City Centre
Umm Suqeim
Dubailand
Bounty Beets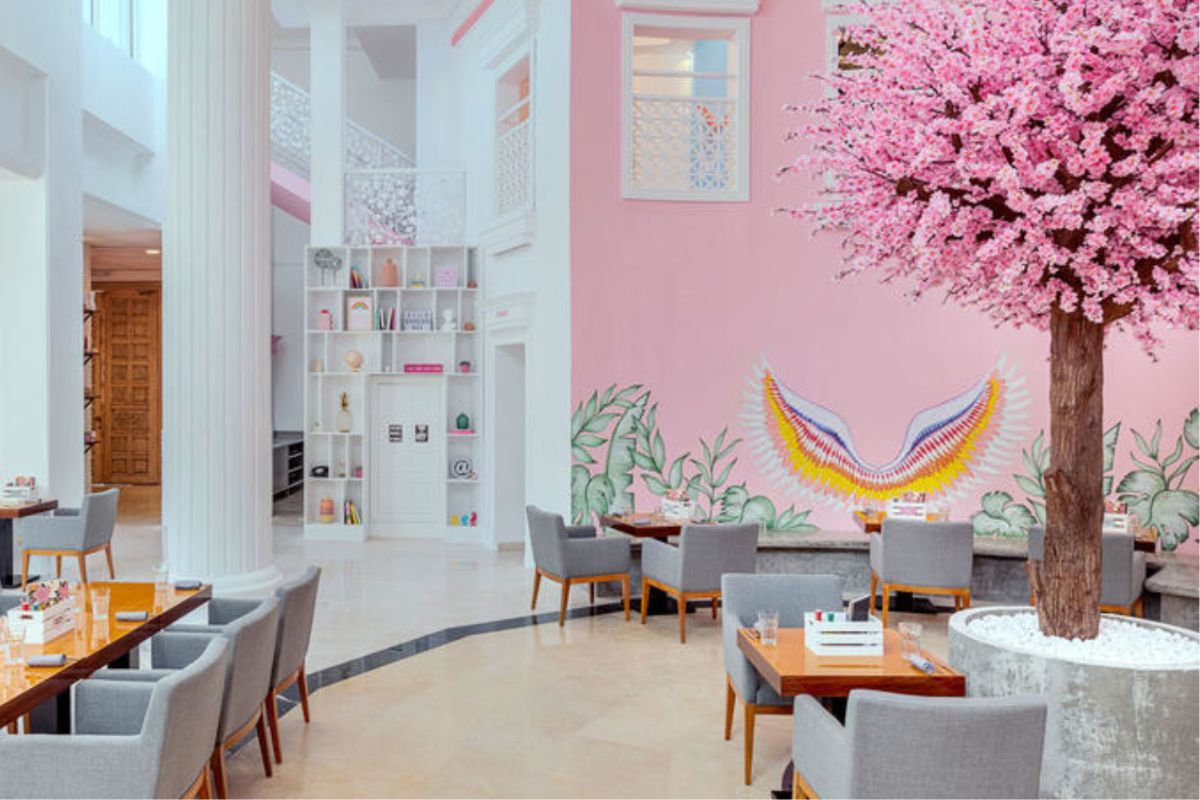 Bounty Beets is a restaurant in Dubai that is popular for its breakfast menu. The restaurant offers a lot of choices for people who are vegan, vegetarian, or gluten-free. They promote healthy eating, going green, and inspiring a positive community overall. The interiors of the restaurant are done in pink with many interesting phrases and murals on the walls. They have many Instagram-worthy spots inside the restaurant. They have special packages for all-you-can-eat breakfast spreads. The exotic fruit platter, going bananas, and bunbelievable are some of the must-try dishes on their menu. Visit their website to check out their unique menu.
Average pricing: AED320 for two
Location: Le Meridien Mina Seyahi Beach Resort & Marina
Comptoir 102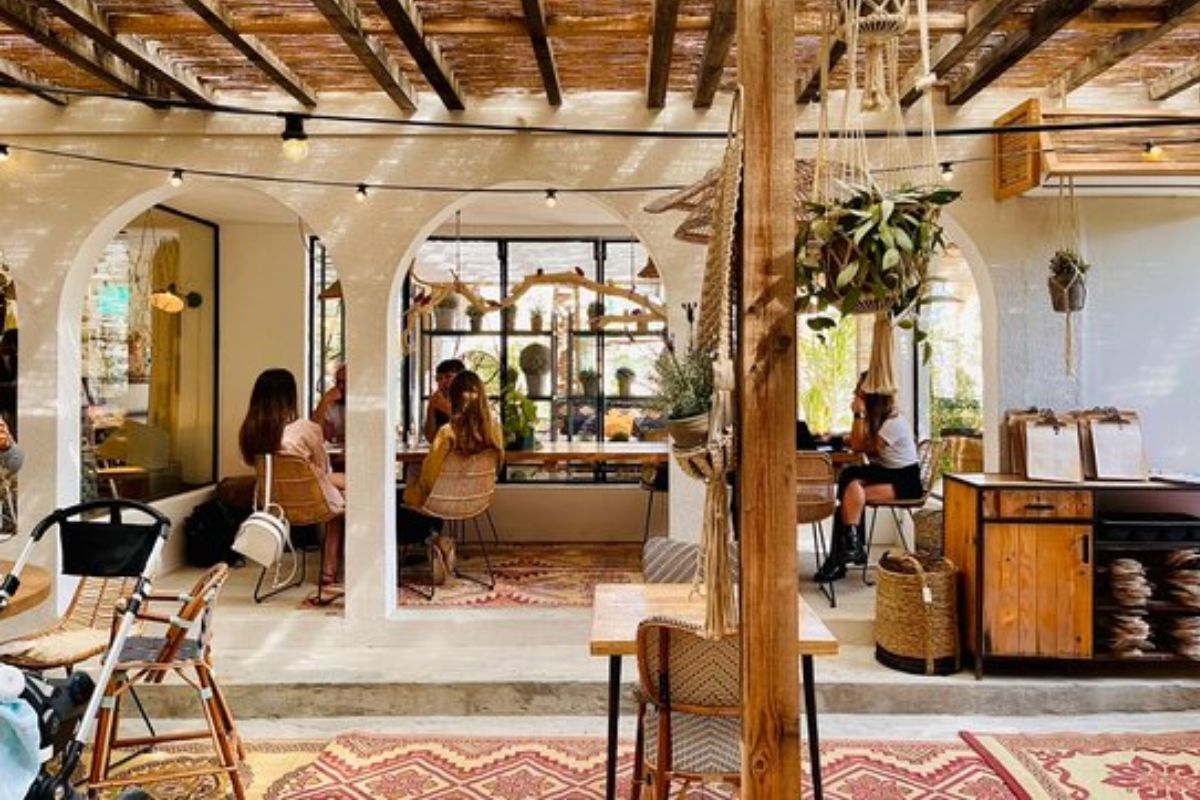 Comptoir 102 is primarily a shop that sells beautiful things like clothes, decorations, and gifts. They also have a cafe where you can relax and eat healthy delights. The restaurant has won titles like Best Healthy Café in Dubai. The café aims to nurture a conscious and healthy lifestyle by bringing more sustainable and nutritious food to its guests. The ingredients are locally sourced from organic farms. Their plant-based menu changes to suit the harvest season and includes sugar-free, dairy-free, raw, vegan, and gluten-free options. Some of the best-selling dishes on their menu are 102's Mezze Platter, Mushroom toasts with poached eggs, and vegan nutcheese plate. The menu also features a wide collection of pita sandwiches, bagels, salad bowls, healthy desserts, coffee, tea, smoothies, superfood, and detoxifying water. Visit their website to learn more.
Average pricing: AED235 for two
Location: 102 Beach Rd, Jumeirah 1, Dubai
XVA Café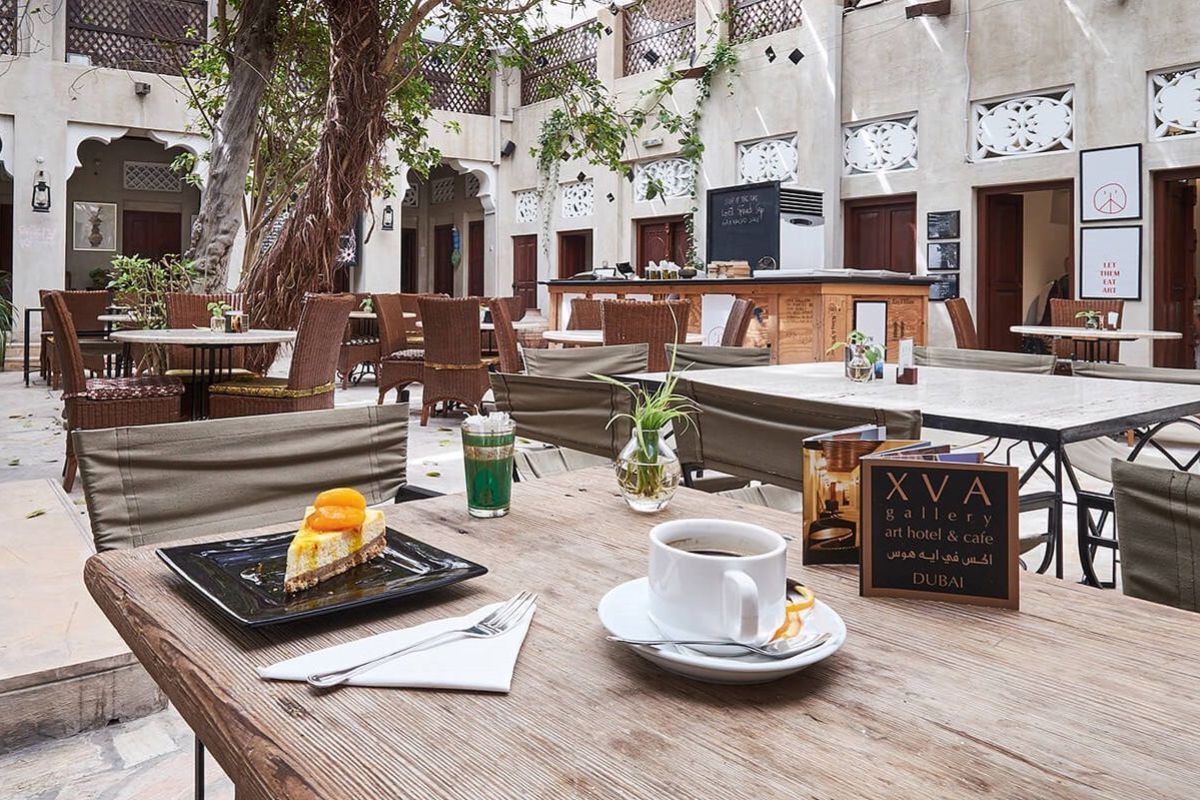 The XVA Art Hotel is a small and cozy hotel in Al Fahidi Historical Neighbourhood. The hotel also has a restaurant called the XVA Café which serves vegetarian food with regional influences. This café is hailed as 'Dubai's best kept secret'. You can try their special Bastakiya breakfast that includes labneh with orange honey, hummus, eggs, balaleet, zaatar, toast, and coffee. Other must-try items on their menu are Tuna cutlet, XVA Thali, and Beitinjan Feta. The menu also features separate sections for breakfast, starters, salads, sandwiches, drinks, and desserts. Visit their website to know more about their services.
Average pricing: AED180 for two
Location: Al Fahidi St, Near Dubai Museum, Al Fahidi Historical District, Dubai
Also read: