Dubai is certainly a popular tourist destination in the world. The city is popular for its mighty buildings, pristine beaches, and shopping malls. Dubai is also home to a rich and diverse culinary scene. You are open to a wide variety of dishes from international cuisines like steak, hotpots, pizza, and more. But when in Dubai, you need to taste the Arabic food available here at the authentic Arabic restaurants in Dubai.
Arabic cuisine is one of the most popular and widely liked cuisines in the world. The subtle taste of spices and the different varieties in the dishes makes it easier for people to enter the world of Arabic cuisine. Most Arabian dishes are healthy, nutritious, and rich in proteins. In Dubai, you can find many Arabic restaurants that serve authentic Arabic dishes. It is best to visit Arabic restaurants to eat Arabic dishes as they follow traditional cooking methods to bring out the best flavor in the food. When visiting Dubai do not skip eating any of these yummy Arabic treats as the Arabian culinary experience is a whole different thing.
Are you confused about which authentic Arabic dish you should try out while in Dubai? Here are some of the most popular Arabic foods in Dubai.
Baba Ganoush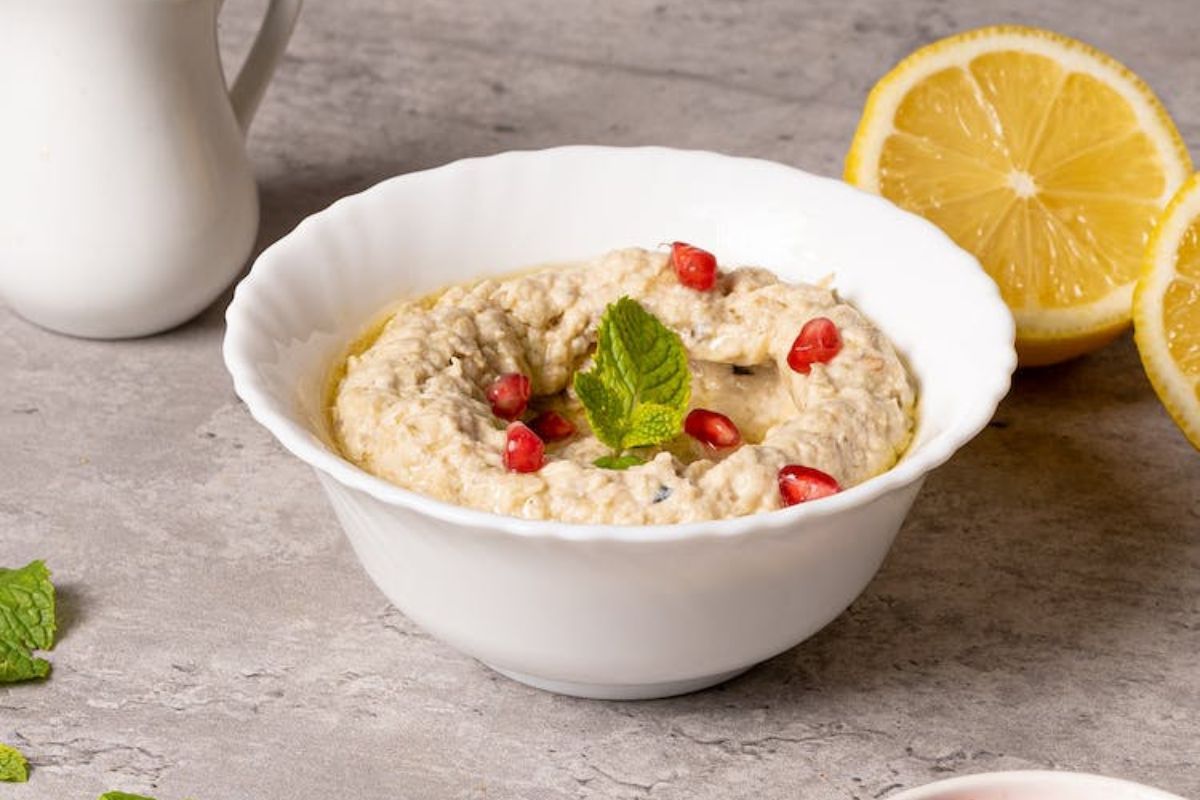 Baba Ganoush is a popular Middle-Eastern dip commonly seen on appetizer spreads. It is made from roasted or grilled eggplant which is then mixed with tahini, olive oil, lemon juice, garlic, and salt. It is often consumed with different types of Arabic bread or vegetables. This dish has a slightly smoky flavor from the roasted eggplant. It has a creamy texture. Baba Ganoush is rich in fiber, vitamins, and minerals. It is also a vegan and gluten-free alternative to other dips. This dish is most popular in the Levant region like Lebanon, Syria, and Palestine.
Most of the Arabic restaurants in Dubai serve Baba Ganoush on their mezze platter. You can also find them in Mediterranean buffet spreads and supermarkets in Dubai.
Popular restaurants: Baba Ghanouj, Tawook Workshop, Just Grills, and Healthy BBQ
Average price: AED20
Labneh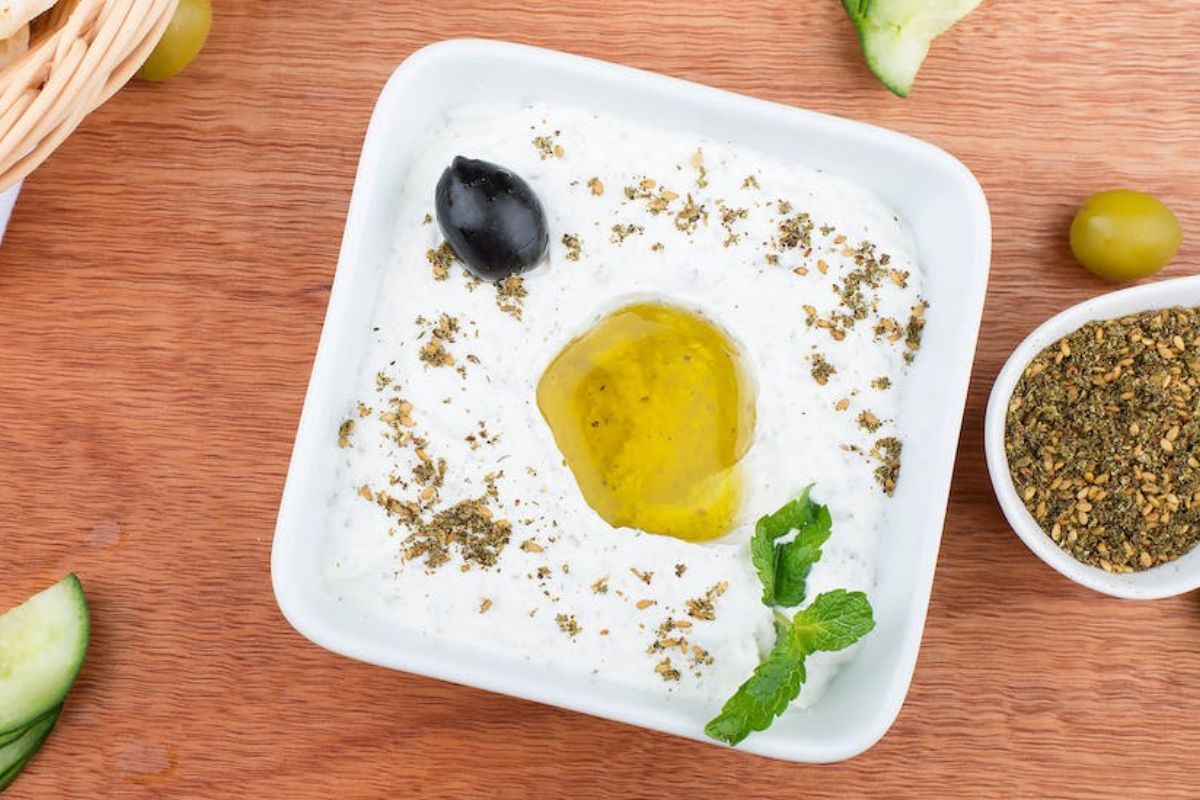 Labneh is a Middle Eastern variant of Greek yoghurt. The only difference between Labneh and Greek yoghurt is that Labneh is strained twice while the Greek yoghurt is only strained once. Labneh is a thick, creamy, and tangy yoghurt that is widely seen on mezze platters and Arabic buffet spreads. The plain yoghurt is strained through a cheesecloth or a fine mesh sieve to create a thicker, creamy consistency to the labneh. During the straining process, the whey from the yoghurt is removed. The taste of labneh is similar to that of a cream cheese, sour and tangy flavor. Labneh is often flavored with herbs, spices, and olive oil. This dip is highly nutritious and rich in protein and calcium. It is also low in fats and calories. Labneh is commonly used as a spread for Arabic sandwiches and salads.
Labneh is served in most of the authentic Mediterranean restaurants in Dubai. You can also buy packed labneh from supermarkets and groceries in the region.
Popular restaurants: B-route, Bisso's Bakery, Bait al Zain Mandi, and Grill Station
Average price: AED17
Tabbouleh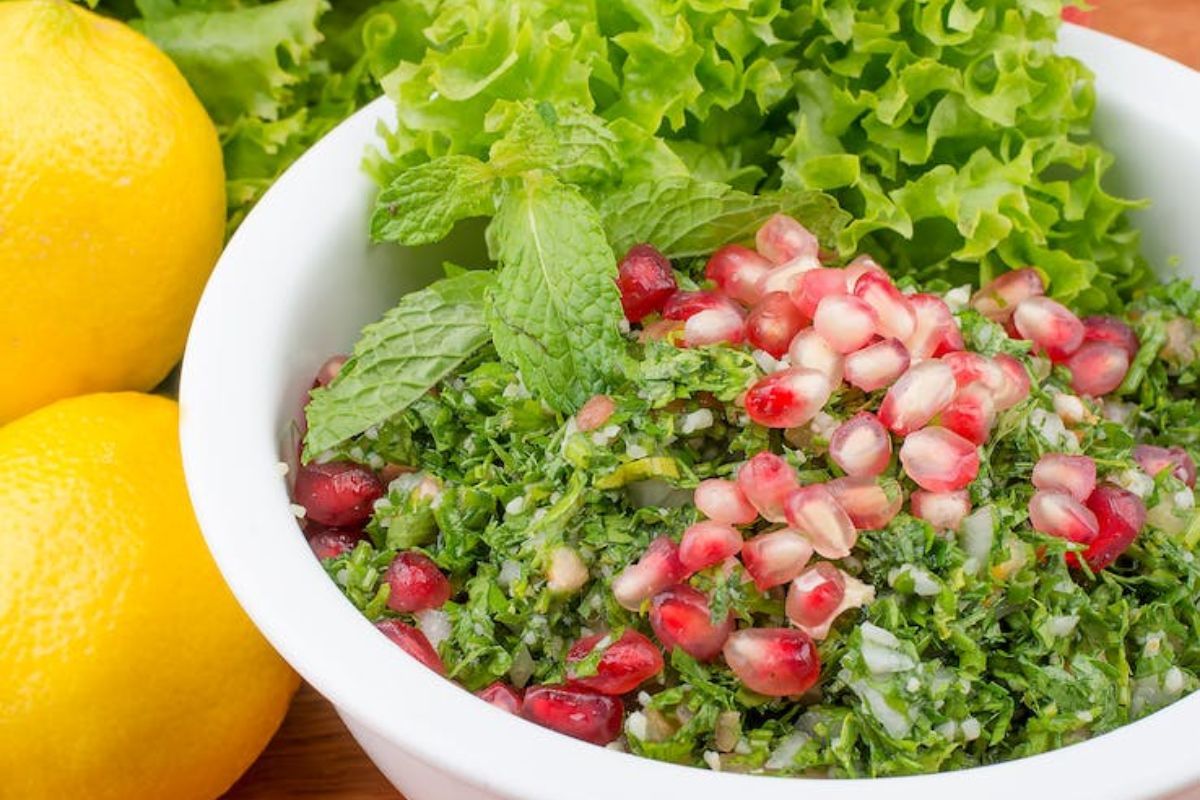 Tabbouleh is a popular salad originating from the Levant region. This yummy vegetarian salad is made with finely chopped parsley, tomatoes, mint leaves, onion, and bulgur. Olive oil, lemon juice, salt, and pepper are used to season the salad. Tabbouleh has got a tangy flavor. There are not many variations for this salad. However, bulgur is often replaced with semolina. This salad is served in mezze platters or as a side dish in Middle Eastern cuisine. Tabbouleh is rich in fiber, vitamins, and antioxidants. You can often see this in combination with falafel.
Most of the Arabic restaurants in Dubai serve tabbouleh. Some popular supermarkets like Lulu and Carrefour also have this yummy salad on their salad spreads.
Popular restaurants: Baba Iskender, Beirut 961, Kish, and Koussa Blaban
Average price: AED20
Hummus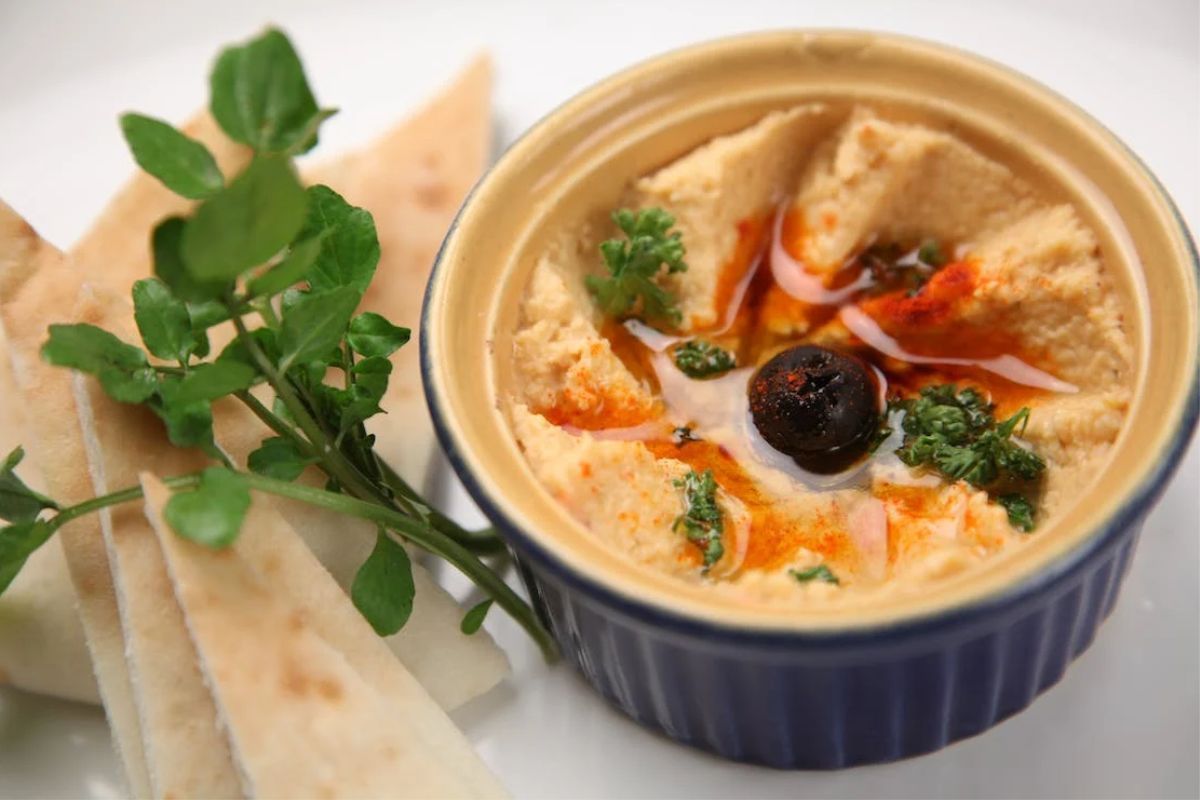 Hummus is a popularly liked Middle Eastern dip served on mezze platters. It is made from mashed chickpeas, tahini, olive oil, lemon juice, garlic, and salt. It has got a smooth and creamy texture and a nutty and tangy flavor to it. This chickpeas-based dip is generally served with Arabic bread or vegetables. Hummus is a nutritious dip rich in protein, fiber, and healthy fats. This dip is often used as spread in Arabic sandwiches like falafel and shawarma.
You can find hummus in almost every supermarket in Dubai. Most of the restaurants that serve Arabic cuisines, serve authentic hummus on their mezze platters. You can also find canned hummus on grocery aisles in Dubai.
Popular restaurants: Nabati House, Sahelnom Café, Wejdan, and Bait Al Zain Mandi
Average price: AED18
Fattoush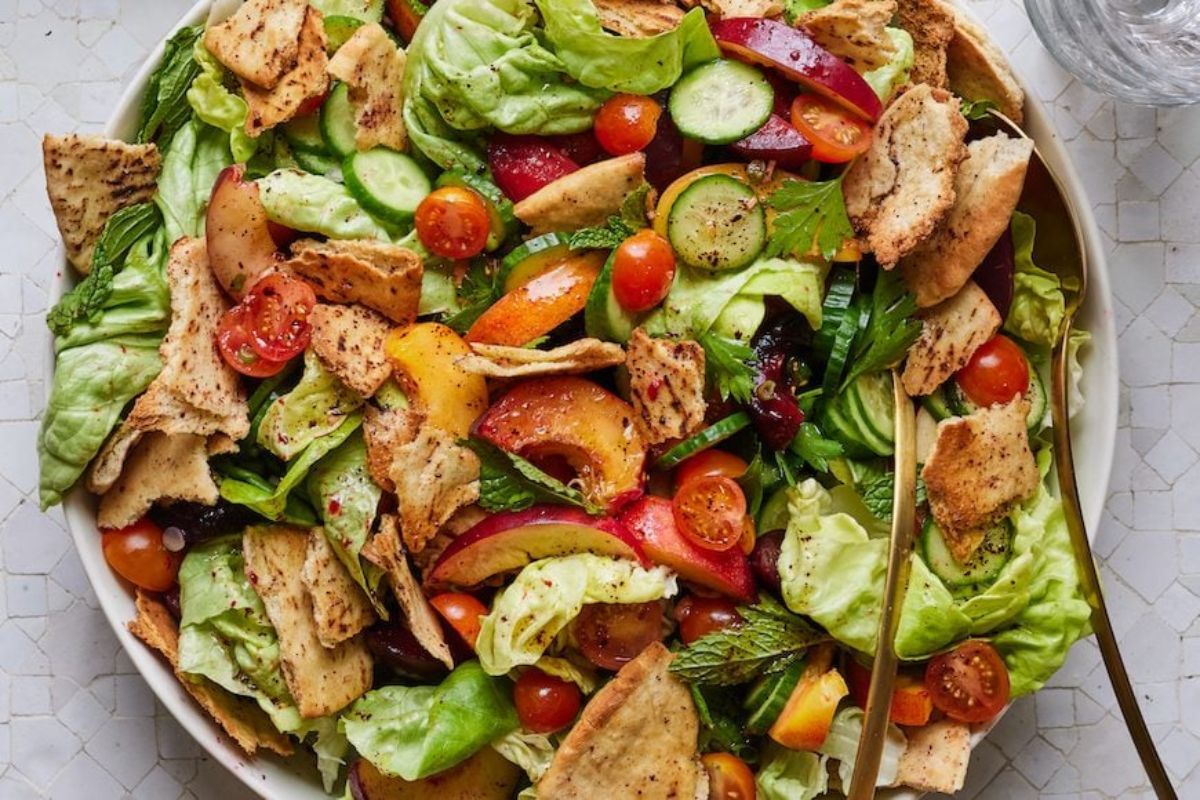 Fattoush is a Middle Eastern salad that is popular in Levantine countries such as Lebanon and Syria. Fattoush is made with mixed greens, tomatoes, cucumbers, onions, radishes, and mint. A tangy mixture of lemon juice, olive oil, and sumac is generally used to season this nutritious salad. You can also find fried pieces of pita bread in the salad. This unique addition brings extra crunch and taste to the salad. Parsley, purslane, and pomegranate seeds are other ingredients you can add to your Fattoush salad. It can be served as a light meal itself or as a side dish. You can see them in Mediterranean appetizer spreads.
Treat yourself to this wholesome healthy salad at any of the authentic Arabic restaurants in Dubai. You can also buy this salad from most of the supermarkets in the region.
Popular restaurants: Maraheb, Nayaab Handi, Bravo Avocado, and Kamat
Average price: AED20
Shawarma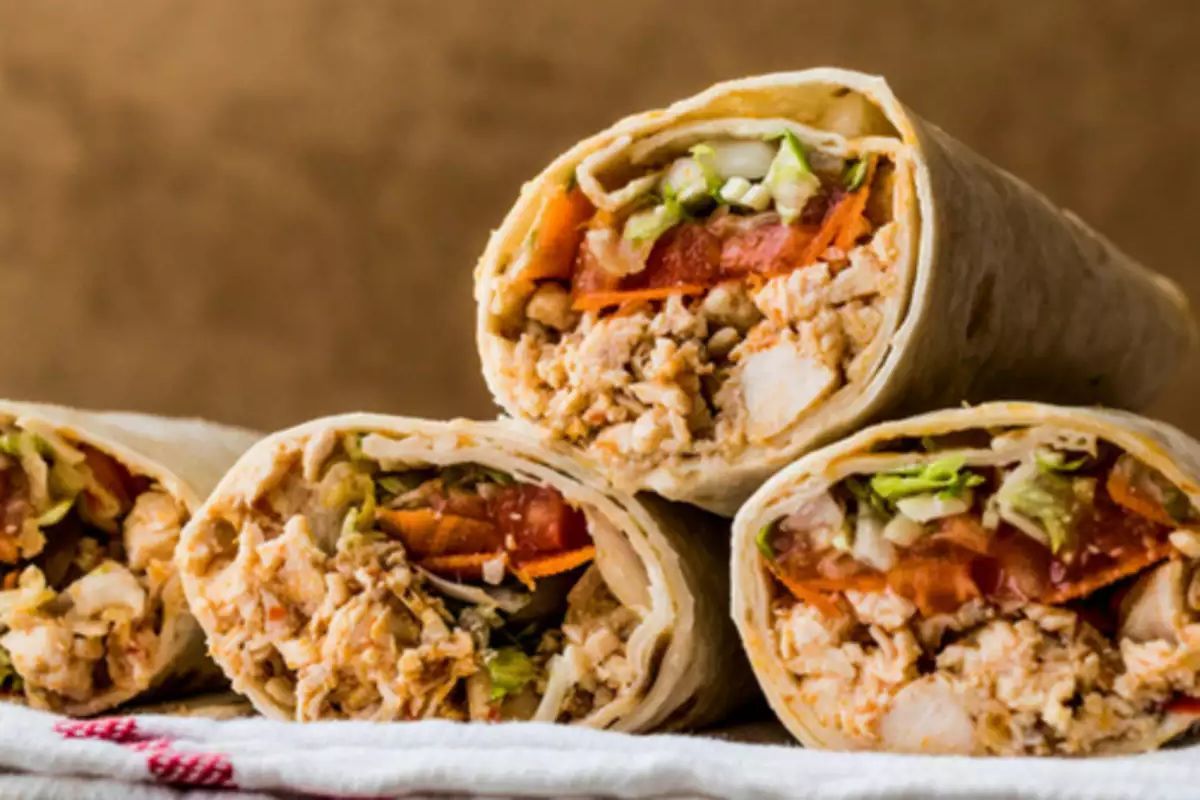 Shawarma is the most popular Middle Eastern dish around the world. Every country has adopted this Arabic sandwich and has added spices and twists to suit their taste buds. This dish is made of meat, mostly chicken or lamb. The meat is marinated with special shawarma spices and then roasted on a spit. The meat is then thinly sliced into the Arabic bread. The shawarma sandwich includes veggies, French fries, garlic paste, and pickles. Shawarma generally uses pita bread, however, there have been small changes over the years and some vendors in the region now serve romali roti shawarmas. Sauces like tahini and hummus are also used as spread in shawarma sandwiches.
Most of the cafeterias in the region serve shawarma sandwiches. At the Arabic restaurants in Dubai, you can find different forms of shawarma like shawarma pizza, shawarma boxes, and shawarma plates. This is a street dish in Dubai and therefore should be consumed by a street vendor rather than from a high-end restaurant to indulge in a complete experience.
Popular restaurants: Jabal al Noor, Antar Cafeteria, Laffah, and Zaatar W Zeit
Average price: AED7
Falafel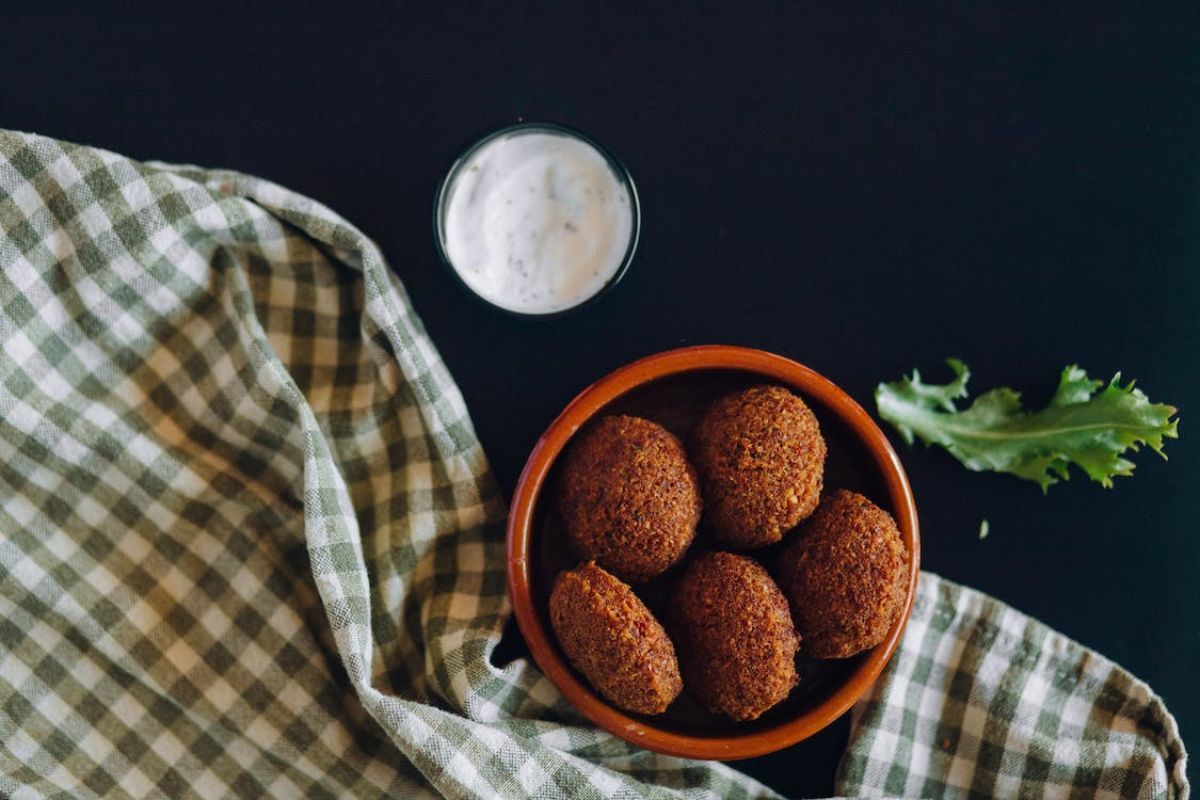 Falafel is a snack popularly found in Middle Eastern cuisine, especially in Egypt and the Levant. It is a fried ball or patty-shaped fritter made from a mixture of ground chickpeas, broad beans, or both.  Falafel is usually served in a pita or a flatbread known as a taboon. The sandwich will be filled with veggies, tabbouleh salad, pickles, hummus, and tahini. The fillings may differ according to the region. This snack is an excellent vegan option for someone who likes to try Arabic cuisine. Falafel is rich in protein, fiber, and healthy fats. You can also choose these fried balls as a snack instead of a sandwich.
You can buy falafel from street vendors in Dubai. Most of the cafeterias in the region serve yummy falafel sandwiches.
Popular restaurants: Jabal al Noor, Operation Falafel, Zaatar W Zeit, and Manoushe Street
Average price: AED10
Manakesh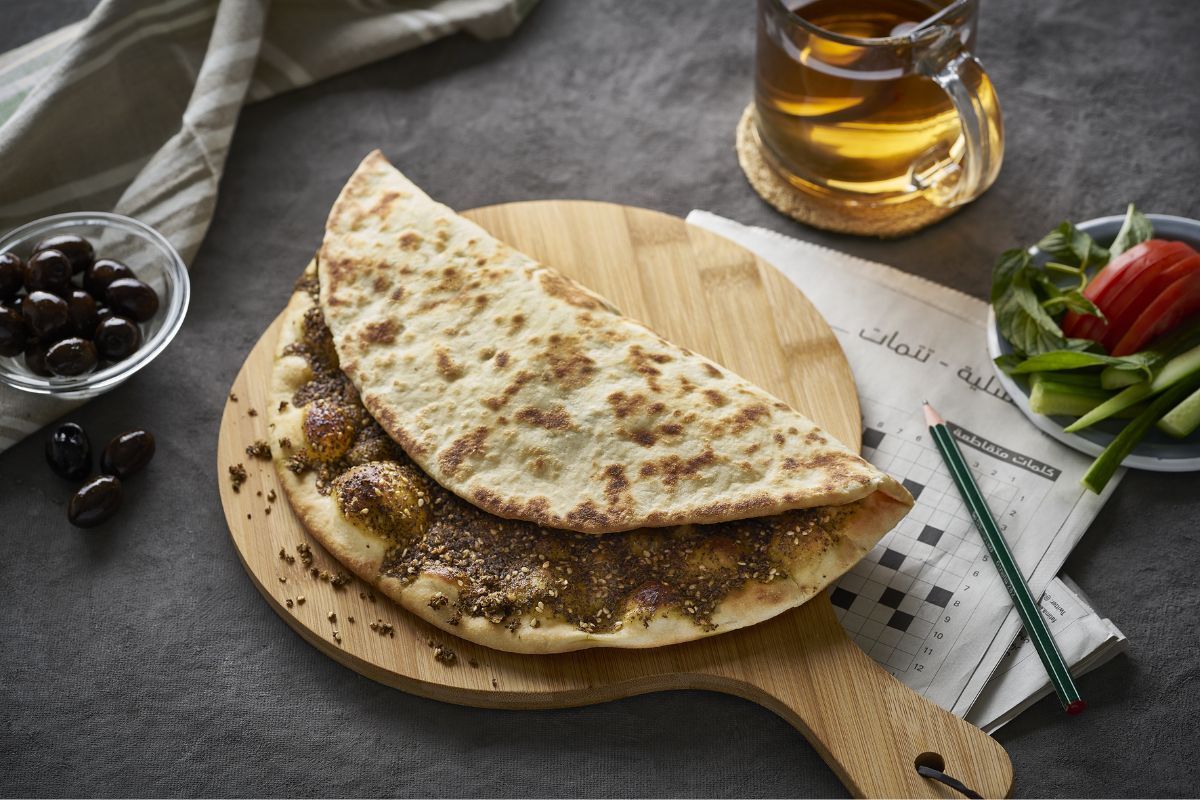 Manakesh is the Levant dish popularly seen in street food stalls and bakeries. It is a type of flatbread that shares similarities with pizza and is sometimes referred to as "Arabic pizza". The flattened dough has a circular area that is hand-pressed for the filling. Cheese and zaatar are normally used as fillings for the manakesh though occasionally meat is also preferred by the people. Minced lamb is a particularly popular meat topping for bread. The dough is made from flour and is typically thicker than the pizza crust. Manakesh is traditionally baked in a wood-fired oven or on a hot griddle until crispy and golden brown. You can see Manakesh on breakfast spreads. They are also popular in Arabic street food stalls. Dipping your manakesh in hummus or baba ganoush can enrich the taste of this Arabic flatbread.
You can buy Manakesh from the supermarkets and bakeries in Dubai. Some of the restaurants in the region also serve delicious Manakesh.
Popular restaurants: Beirut Dreams, Levant Eats Restaurant, Feras Al Diyafah Sweets, and Fatafeat Al Sham
Average price: AED20
Also read: