Dubai is a haven for foodies where delectable and mouth-watering foods from different parts of the world can be found at every nook and corner of the city. You can find everything here, from unique cafes to high-end fine dining restaurants. Even after having a vast variety of food options, it is the classic Burger that steals the deal becoming a favorite of many. Crispy and juicy chicken with fresh lettuce, tomatoes and cheese placed within a buttery soft bun served with the classic side of fries. A food so yummy it will make you go mhmmm…in just a bite.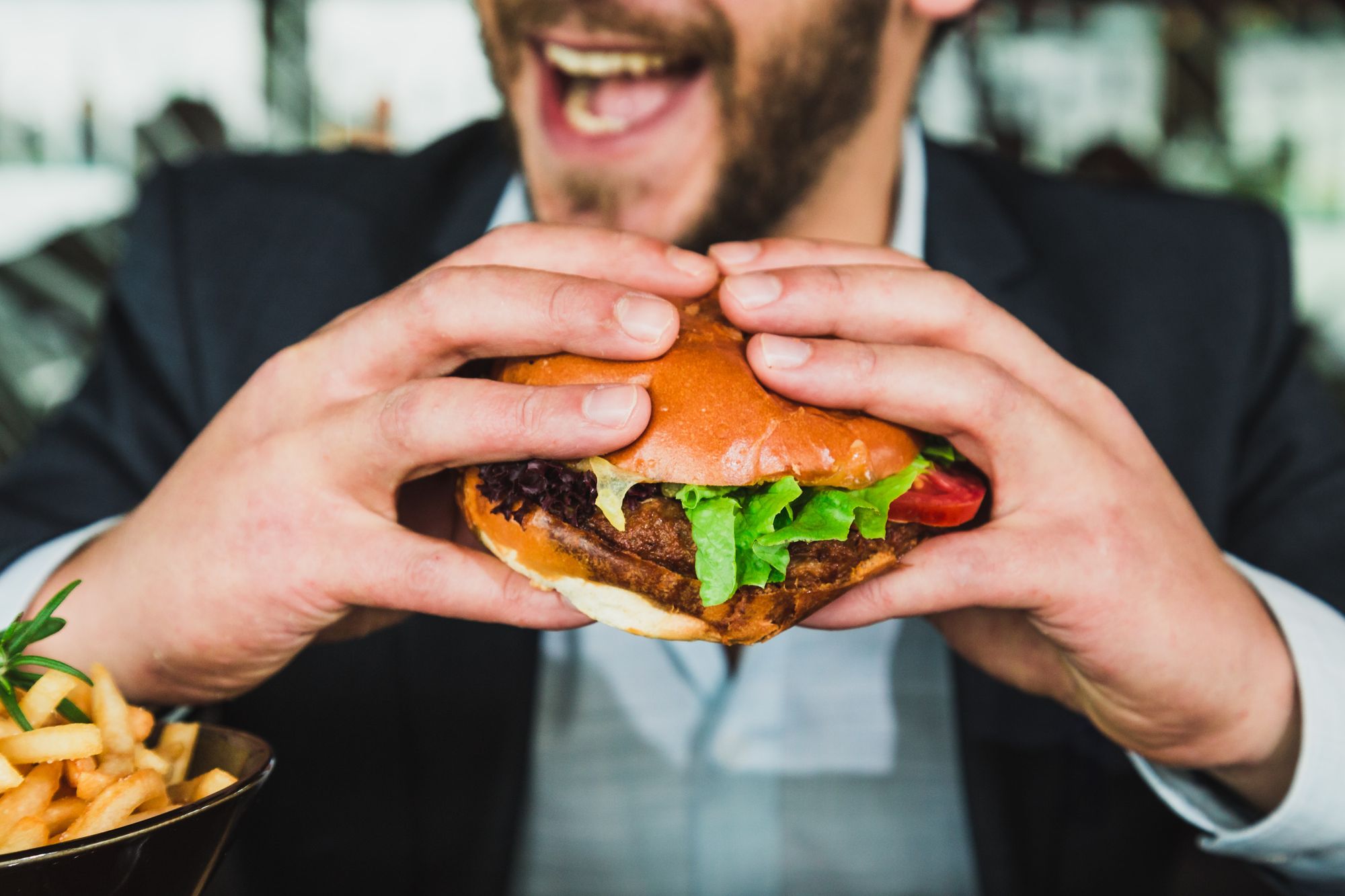 This mouthwatering dish is a favorite of many from kids who love the classic McD's to foodie parents who love to indulge in various other kinds of juicy and delectable burgers – no what everybody has a soft spot for a yummy and cheesy burger.
Are you drooling already and craving for a piece of this heavenly goodness? Fret not because here's a list of the best burgers in Dubai.
1. High Joint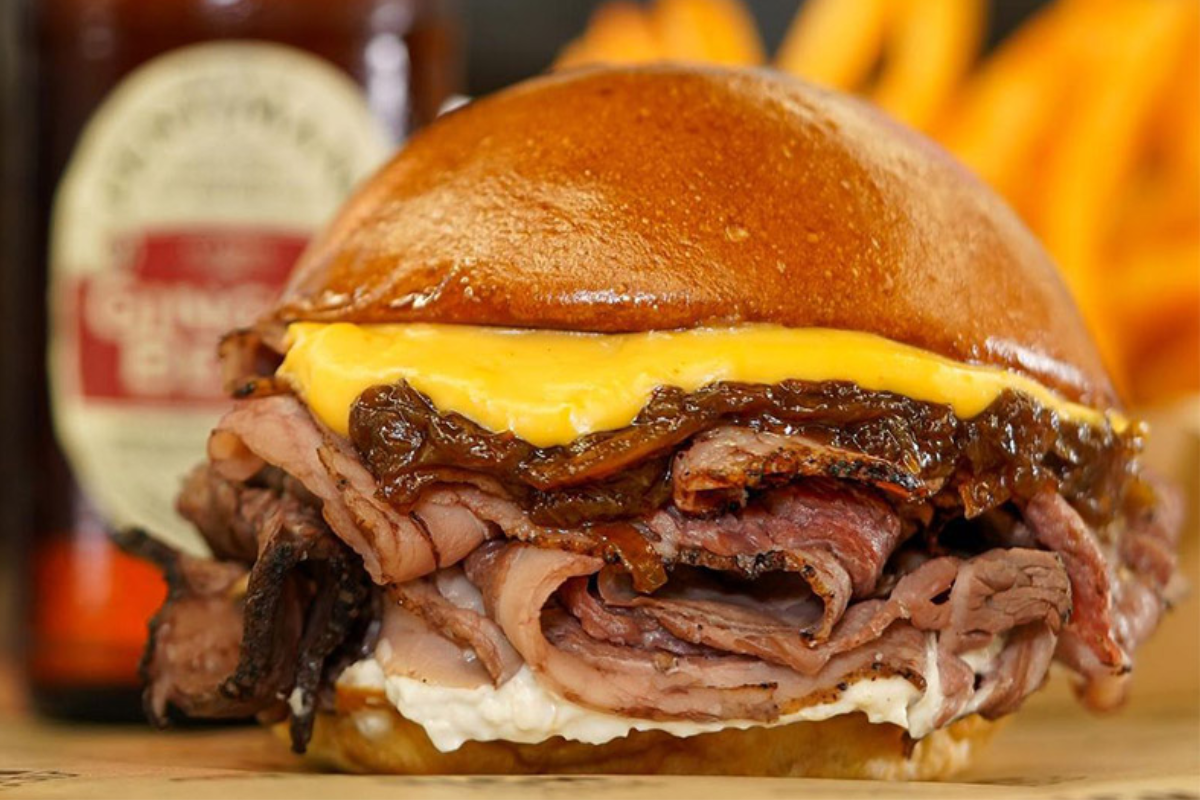 Every Dubai foodie knows and loves High Joint. It deservedly won the Favorite Burger Category at the What's On Dubai Awards 2022, so you know you're in for a treat! From the first bite, their delectable burgers will have you floating on cloud nine. The burgers are made with a combination of 100% fresh and antibiotic-free premium quality prime cuts. The High Jamz Burger is a particular favorite, with caramelized and crispy onions, Pepper Jack cheese, beef bacon, and a ranch sauce that complements the wagyu beef patty perfectly. Other must try include - Monkey High Burger, Spicy Mango Slaw, Haloumi Katsu High, Fries and variety of chicken wings.  Get a food high at High Joint.
Location: Multiple, including Al Safa and Motor City
Timings: 07:00 am – 12:00 am
Cost for 2: AED 120
2. Ugly Burger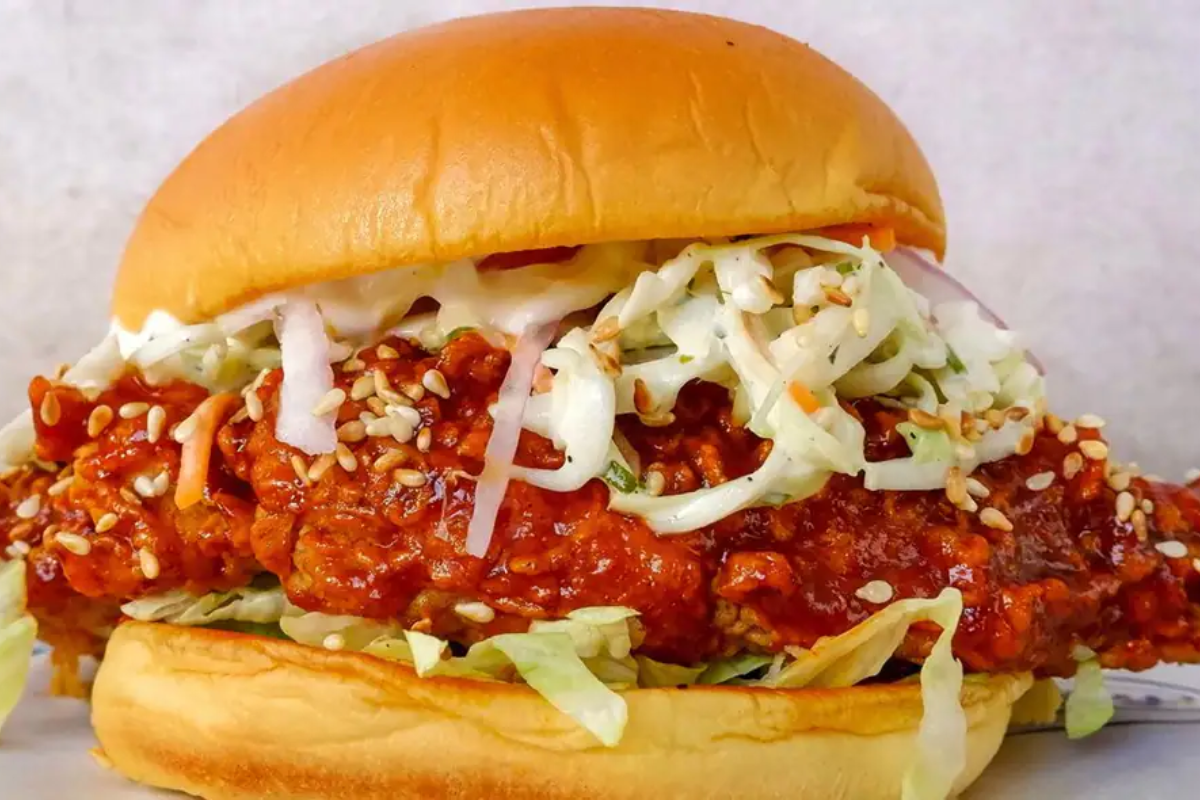 Don't be fooled by the name; the food served at Ugly Burger is delicious. Its Truffle Burger   is incredibly tasty and is wrapped in a rich, but not overpowering, truffle paste and aioli. It is an excellent choice for a truffle treat. The restaurant also features interesting Asian touches, such as a crisp shrimp katsu encased in a soft bun and served with Thai-style mince topped Pow Pow fries. Do you have a sweet tooth? then, try The honey yuzu Silky Milkshake which  goes well with their scrumptious burgers. Other must try items include – Chicken Satay Burger, The classic Double, Kansas City, Bulogi Burger, Shrimp Balls, Nashville Fried Chicken burger, Original KFC (Korean Fried Chicken) and many more.
Location: Shogun Media City
Timings: 12:00 pm – 10:00 pm
Cost for 2: AED 110
3. SALT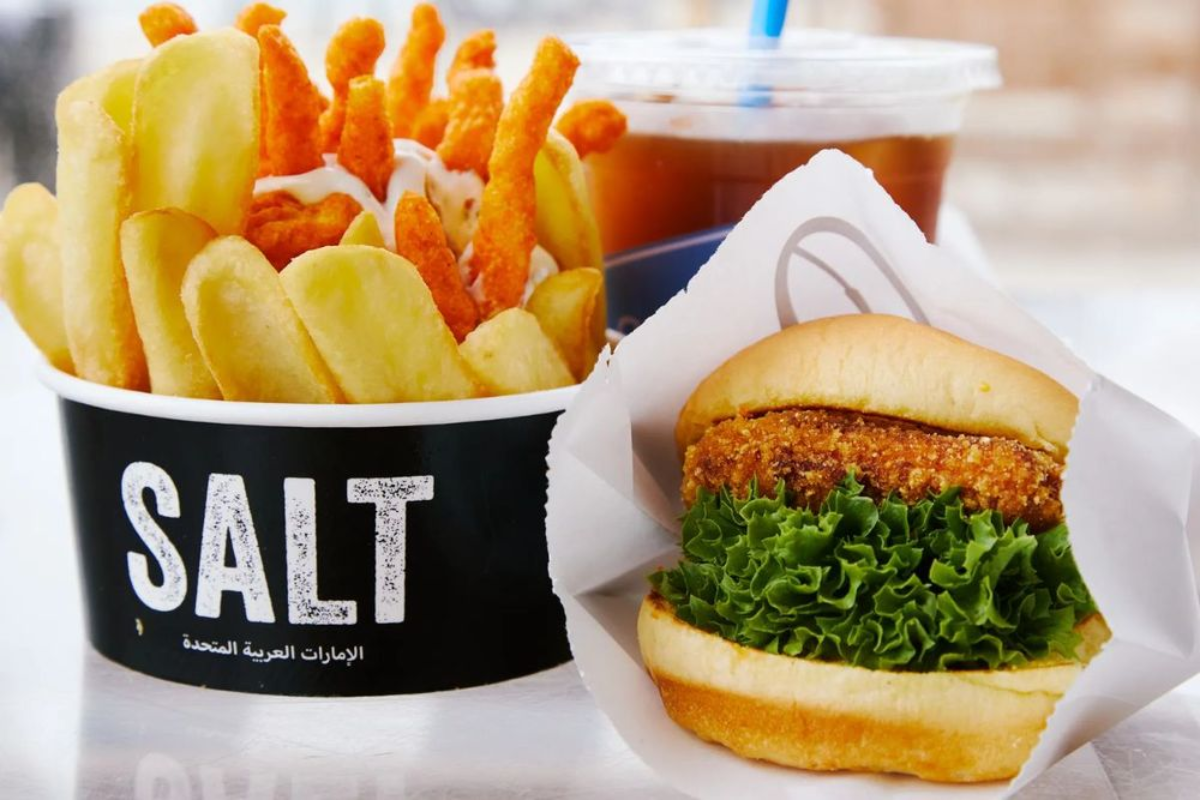 SALT is a popular fast-food restaurant that celebrates how food brings people together. It started out as a food truck and is today the best burger joint in the city. SALT's menu is small and easy to eat, and it defines family-friendly beachside fun at its best. There is something for everyone. From delicious croissant sandwiches, to the original X2 SALT, the fastest- moving spicy X2 HOOK and an assortment of drinks and delectable shakes. Their menu offers 3 main sliders – two comprise of wagyu beef and one chicken. Fries are offered alongside the slider to complete the meal with the option to add cheese and jalapenos. They also offer vegetarian and gluten- free options. They occasionally offer specials, but the Jalapeno-topped Hook and Cheeto Chicken are always a good choice. The success of SALT also inspired a sister chain, Parker's, where the Truffle Burger, topped with white cheddar, crisp onion, and ranch, steals the show.
Location: Street 2, Kite Beach, Umm Suqeim.
Timings: 08:00 am to 03:00 am | 05:00 am to 03:00 am (Fri- Sat)
Cost for 2: AED 150
Read more about - Salt Burger Dubai
4. Pickl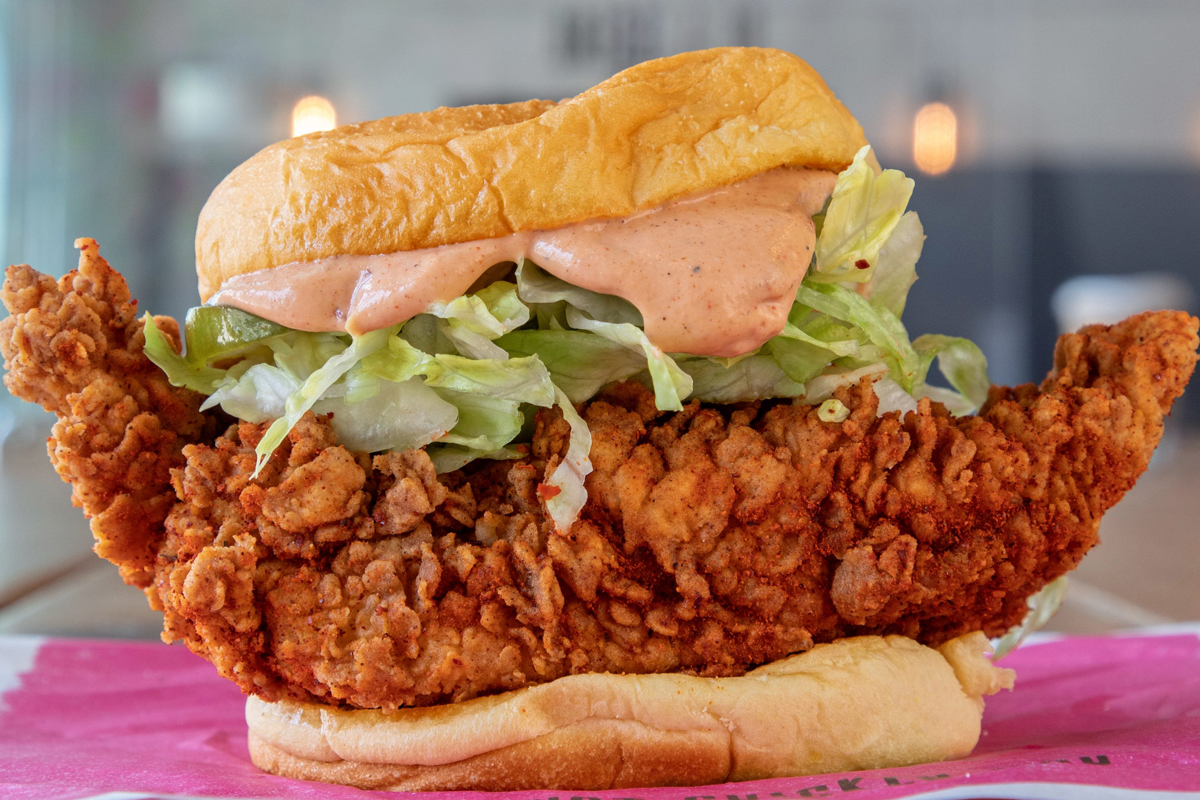 Pickl is a local favorite known for its famous fried chicken, sandwiches, and burgers. From the towering Double Stack to the fiery Nashville, everything Pickl does has a serious swagger to go with all that flavor. The Chicken Sando, which is its specialty, is made with freshly fried chicken, "comeback sauce," dill pickles, and lettuce and is perfectly nestled inside a potato bun. There are cheeseburgers, double cheeseburgers, bacon cheeseburgers, triple bacon cheeseburgers, and BBQ bacon cheeseburgers available for beef lovers. For the plant-based eaters, Pickl also offers two "impossible" burgers, so the vegetarians in your group won't feel left out. Pair their delicious burgers with their crispy and delicious fries, or tenders along with a milkshake for the perfect combo and hearty meal like no other.
Location: Multiple locations including Time Out Market Dubai, City Walk and JLT
Timings: 12:00 pm – 02:00 am (Sun-Thu) 12:00 pm – 03:00 am (Fri-Sat)
Cost for 2: AED 130
5. She Burger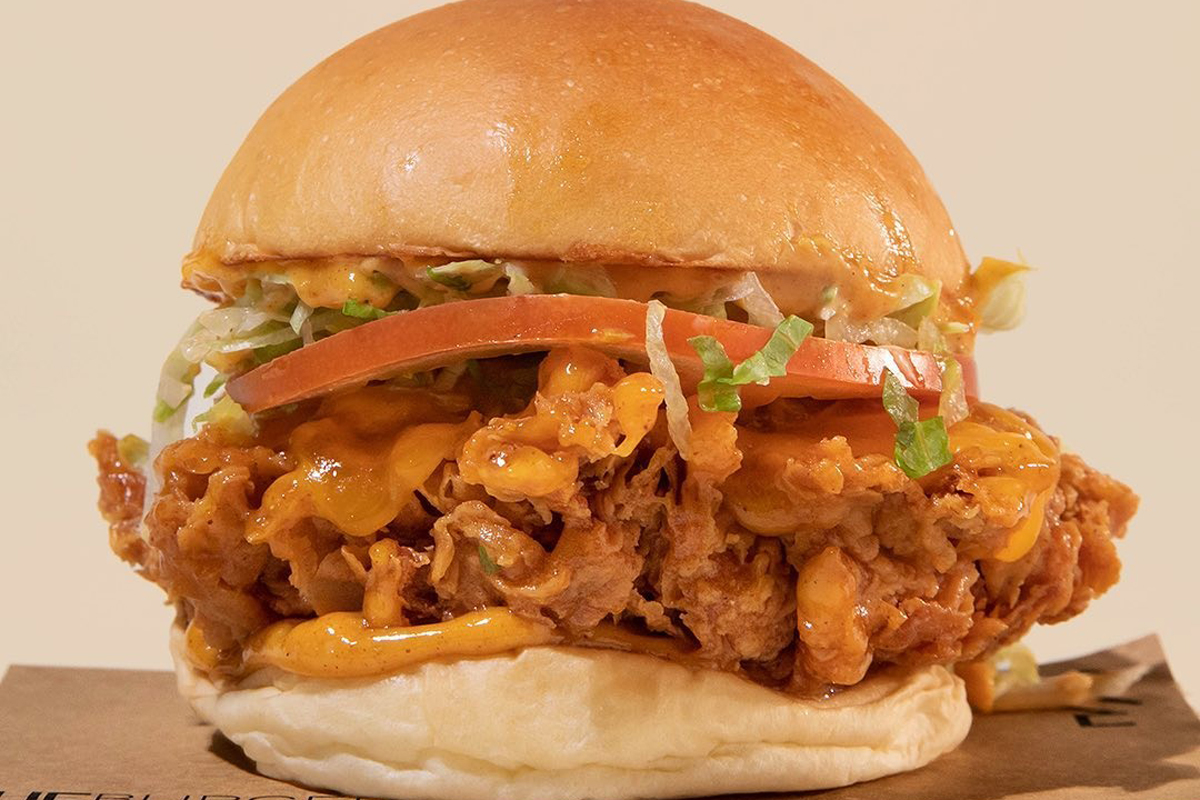 When it comes to burgers, She Burger keeps it simple, but isn't that sometimes exactly what we need? Their chicken is breaded in a batter made of laban, which gives the burger flavor and keeps it crunchy while stopping it from drying out. It's then sandwiched in a freshly prepared on-site bun and topped with lettuce, tomato, American cheese, and Sante Fe sauce. The end result is seriously tasty, with a spicy edge that will warm your belly without setting it on fire - the perfect medium, in our opinion. The menu offers a variety of chicken dishes, including classic chicken, Buffalo chicken, Hell's chicken (a chicken sando in the Nashville style), and more. For fish fans, there's a'shark' bite burger made with a crispy fish fillet, and for vegetarians, there's a veggie burger with a soya chunk pattie. She Burger is a low-key spot and one of the top burger spots in Dubai.
Location: Dar Wasl Mall, Al Safa
Timings: 01:00 pm – 11:00 pm
Cost for 2: AED 165
6. Black Tap
Black Tap is where you can find some of the most Instagrammable crazy shakes and gourmet craft burgers. These burgers taste as awesome and mouth-watering as they look! They have an impressive array of sandwiches, wraps, salads, beverages, and even vegan burgers. The menu boasts a wide selection of craft burgers made with Omaha USA beef. The Greg Norman and Mulberry Street Burger are two award-winning burgers that are offered on the menu. Other must try items include- The Philly Cheese Steak burger, Truffle Burger, Pear Bacon Jam Burger, Vegan Burger, The Mexico City, The Texan Burger, The Carolina Burger, The Old Fashioned, Crispy chicken tenders, Pizza fries and more.
Location: Dubai Mall and Mall of the Emirates
Timings: 12:00 pm – 01:00 am
Cost for 2: AED 225
7. Five Guys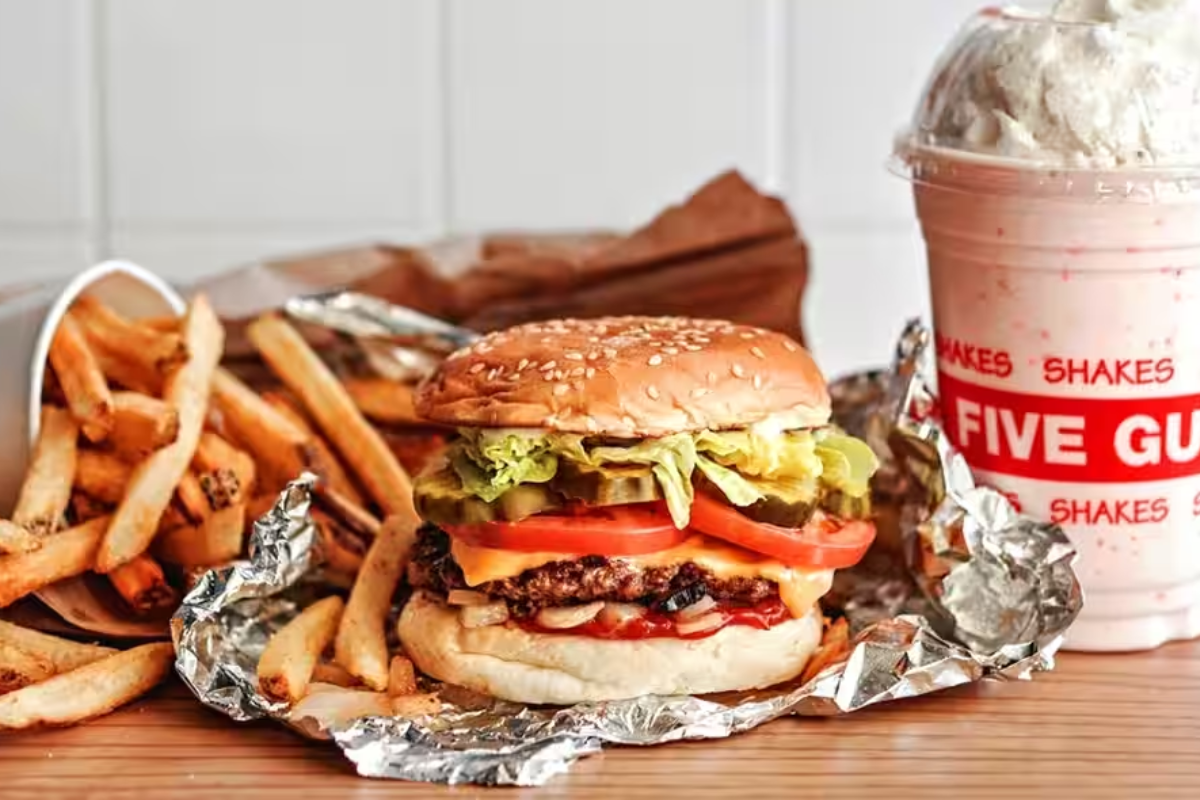 Five Guys is an American burger joint in its true sense and is very popular among foodies of Dubai. Its impeccable ambience sets it apart from other burger spots in the city. What makes it unique is the that it allows you to choose your own ingredients and sauces and build your burger. Their Hamburger, cheeseburger, all beef hotdog, milk shakes and Cajun fries are worth a try. Their fries and milkshake paired with the burger makes one hell of a meal. Additionally, you can sample their boardwalk-style fries and Shake mix-in combinations. This certainly sounds like a filling meal. The best hotdogs in Dubai can also be found at Five Guys!
Location: Multiple locations including Dubai Marina and Dubai Mall
Timings: 10:00 am – 12:00 am
Cost for 2: AED 125
8. Jailbird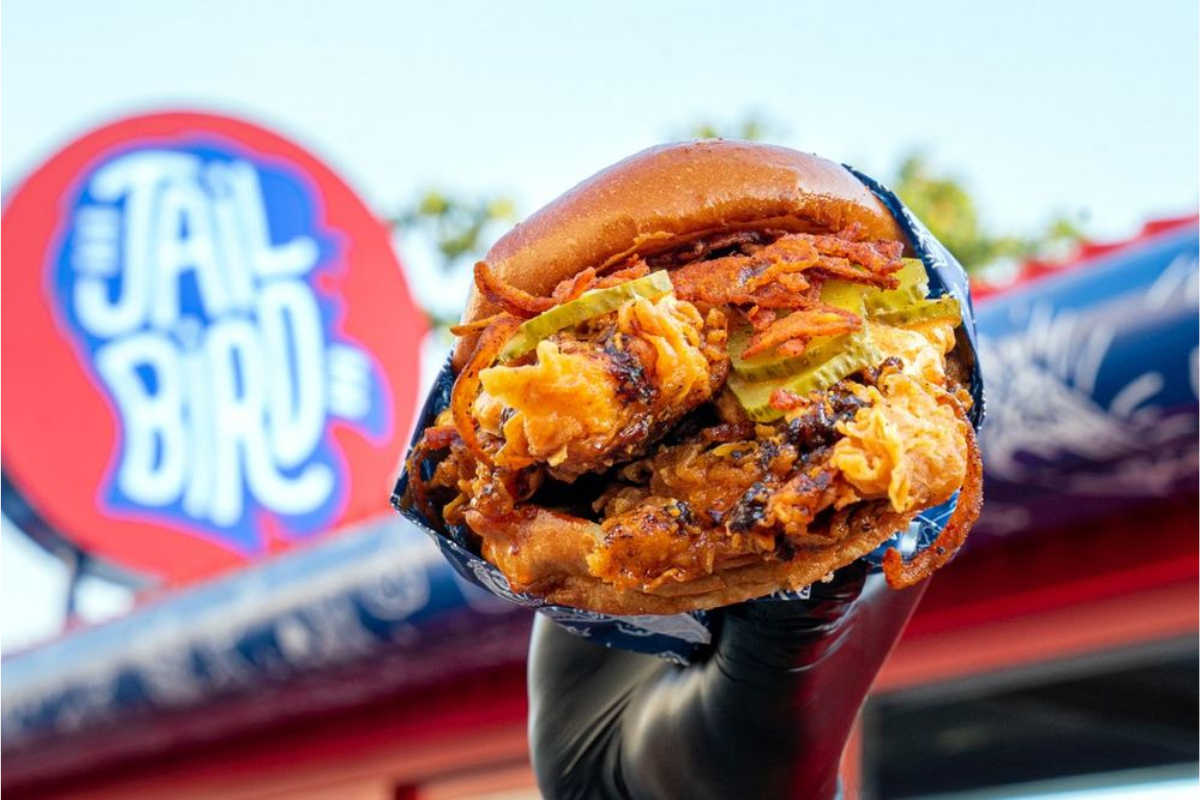 Another scrumptious burger joint you MUST TRY in Dubai is Jailbird. It has a high rating for its quality and taste of food do you know it is going to top-notch. Their chicken tenders are juicy and crispy, and the fires are the ideal side dish. The dipping sauces, on the other hand, are so good that you'll be licking your fingers when you're done eating. Their Nashville-style chicken burgers are delectably decadent, dripping with cheese and bursting with flavor. So, if you're in the mood for some comfort food, head to Jailbird and indulge in a delicious meal. Must try items – Nashville Style Burger, Korean BBQ Burger, Big Bang Burger, Flamin Waffles, Tenders, Little birds, Crunchy Tender fries, Sando Melt and more.
Location: Multiple locations including Jumeirah, Mirdif, Al Safa
Timings: 11:00 am – 11:00 pm
Cost for 2: AED 70
9. Lads Burger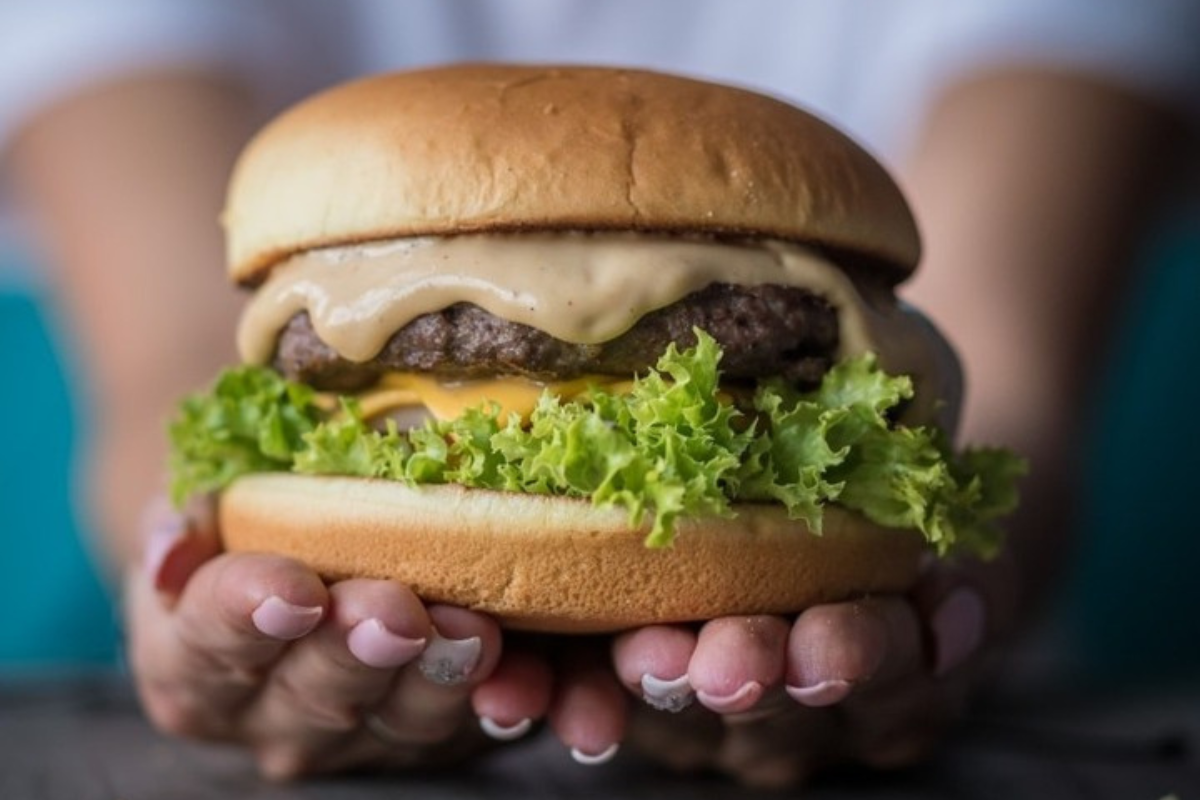 Lads Burger, one of the best burger joints in Dubai, prides itself on serving only the highest quality ingredients. If you enjoy pineapple on pizza, you'll love their pineapple-loaded burger! The bun is covered in pineapple-coconut sauce and has a piece of grilled pineapple on top of it, along with beef bacon, white cheese, and melted cheese. Totally tropical! In addition to beef burgers, you can also get fish, chicken, and vegan options here. Other items to try at this unique burger joint in Dubai include- Crispy Chicken, Cocktail fries, Chicken Escalope Burger, Chicken Mushroom burger, Kinder Mozzarella Crepe, Fettuccine crepe, Chicken Cup, Mozzarella sticks, onion rings and more.
Location: Multiple location including Umm Suqeim, Palm Jumeriah, and Springs Souk
Timings: Open 24hrs
Cost for 2: AED 120
10. Good Burger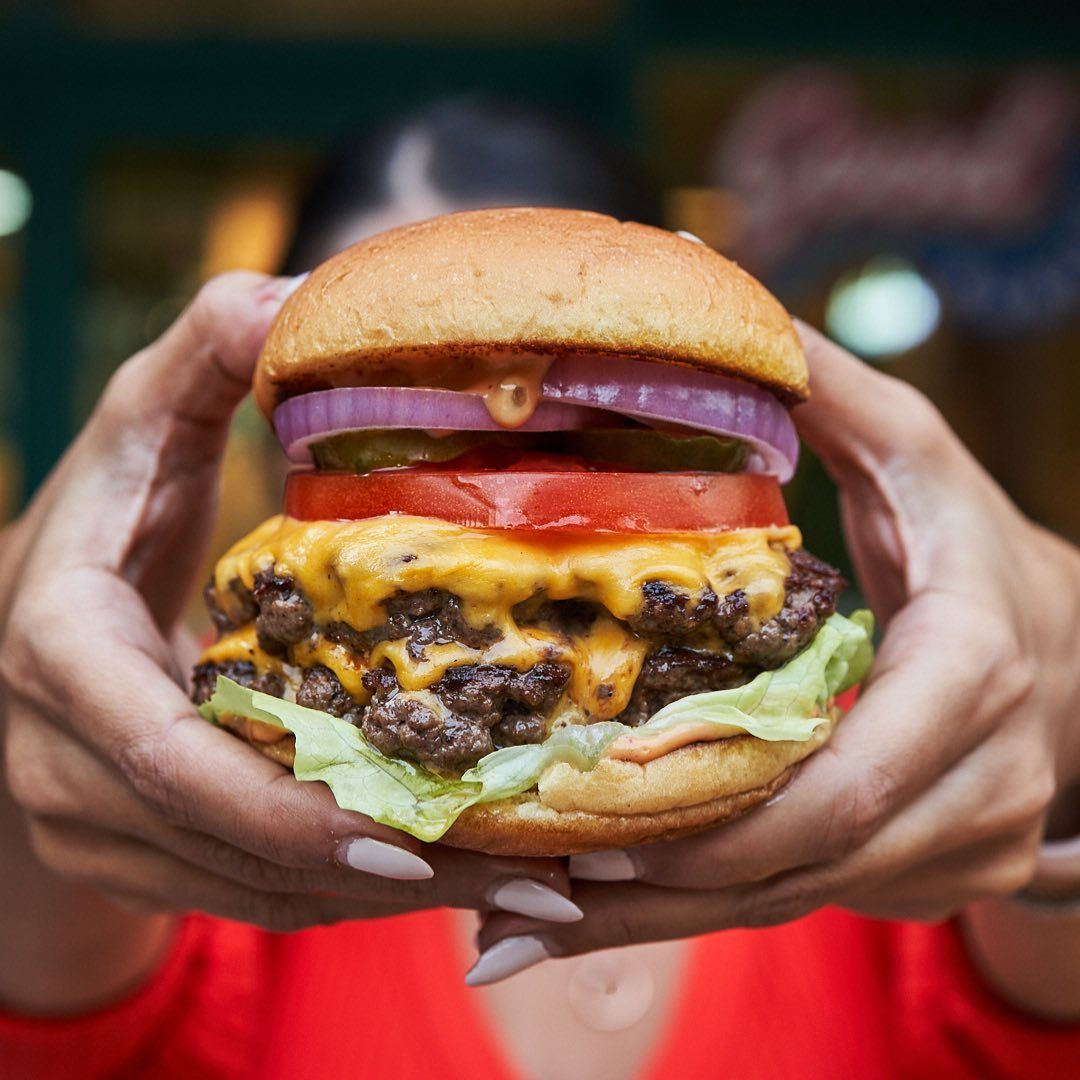 Good Burger is the sister restaurant to the well-known JLT-based Maiz Tacos. These understated burgers really hit the spot, whether they are made in the traditional American style with pickles, cheese, tomato, lettuce, and special sauce or with buttermilk chicken or a decidedly more decadent truffle creation. Must try items from the menu include- The Original Good Burger, Bougie Burger, Custom Good Burger, Mushroom & Cheese Burger, Buttermilk Fried Chicken Sandwich, Nashville Hot Chicken, The Good Sando, Messy Fries, Buffalo Chicken Fries, Waffle Fries, Onion Rings, Milkshakes and more.
Location: Maiz Tacos, JLT
Timings: 12:00 pm – 10:00 pm
Cost for 2: AED 110
Honorable Mentions
Hard Rock Café
Brasserie Boulud
SLAB
Parkers
Also Read: