Dubai is home to many world-class restaurants. This city is a foodie's dream destination. From local Arabic dishes like kabsa to international dishes like wagyu beef and tacos are served in restaurants in Dubai.
Steaks have found a place in several multi-cuisine restaurants worldwide. A steak is a thick piece of meat cut across muscle fibers. It is generally grilled or fried with an ample amount of butter and seasoning. It is served with a side of mashed potatoes, steamed vegetables, and flavorful sauces.
Dubai residents have grown an interest in steaks over the past few years with popular steakhouses being established in the region. Are you looking for the best spot to try some juicy steaks in the region? Check out some of the best steakhouses in Dubai to treat yourself to a big chunk of the delicacy.
The Meat Co.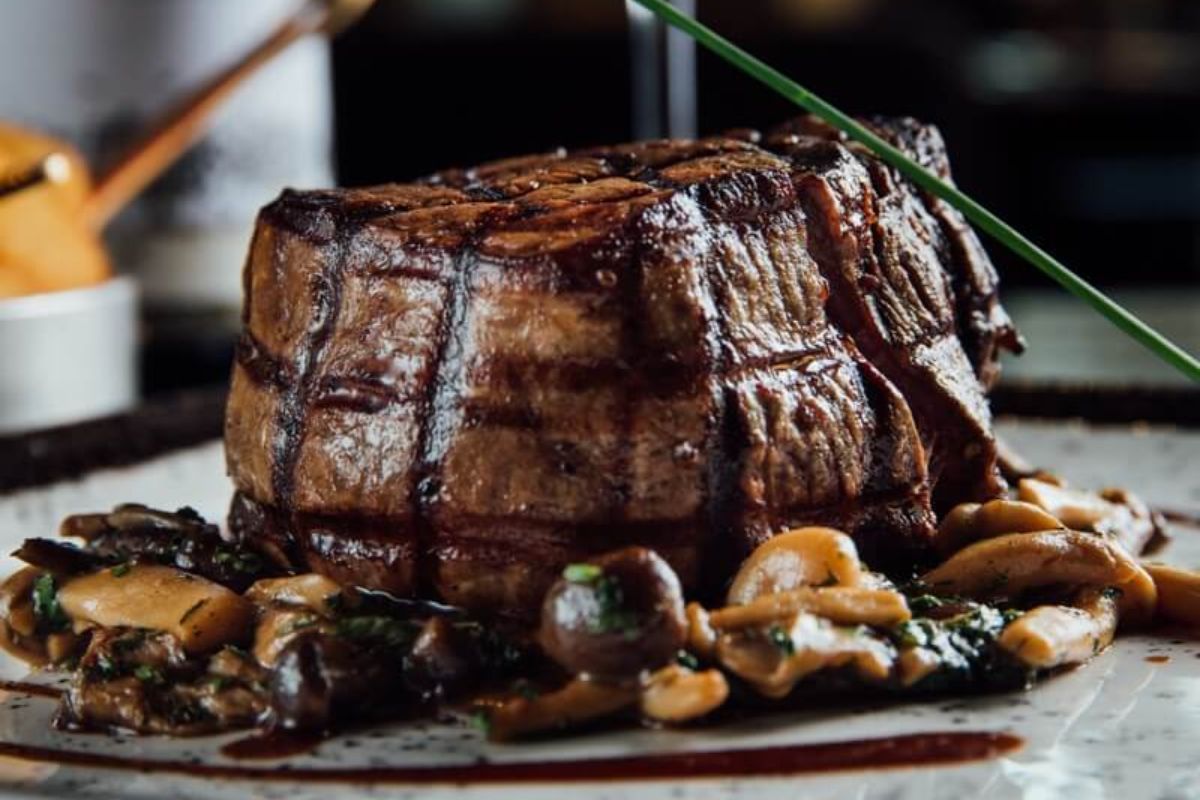 The Meat Co. offers juicy steaks in a serene atmosphere. They are popular for their modern décor and elegant lighting. This steakhouse upholds its African heritage through the taste they deliver. They have opened their meat goodness in two of the most prominent locations in Dubai.
At The Meat Co., you can have the tastiest steak and other meat dishes including lamb, chicken, and seafood. They source their meat from the best producers in the world. Their specialist chefs use unique cooking methods to make sure they cook the steak to perfection. Try out the signature dishes like Prime Tomahawk steak and Mayura Station Signature Wagyu at this steakhouse in Dubai. You can also enjoy South African heritage through their raw bar and specialty dishes.
The Meat Co. also provides mesmerizing views of Dubai Fountain and Madinat Jumeirah. Visit their website to know more about their services.
Menu Pricing: AED505 for two
Location: Souk Al Bahar – Dubai Mall, Souk Madinat Jumeirah – Jumeirah Promenade
Nusr – Et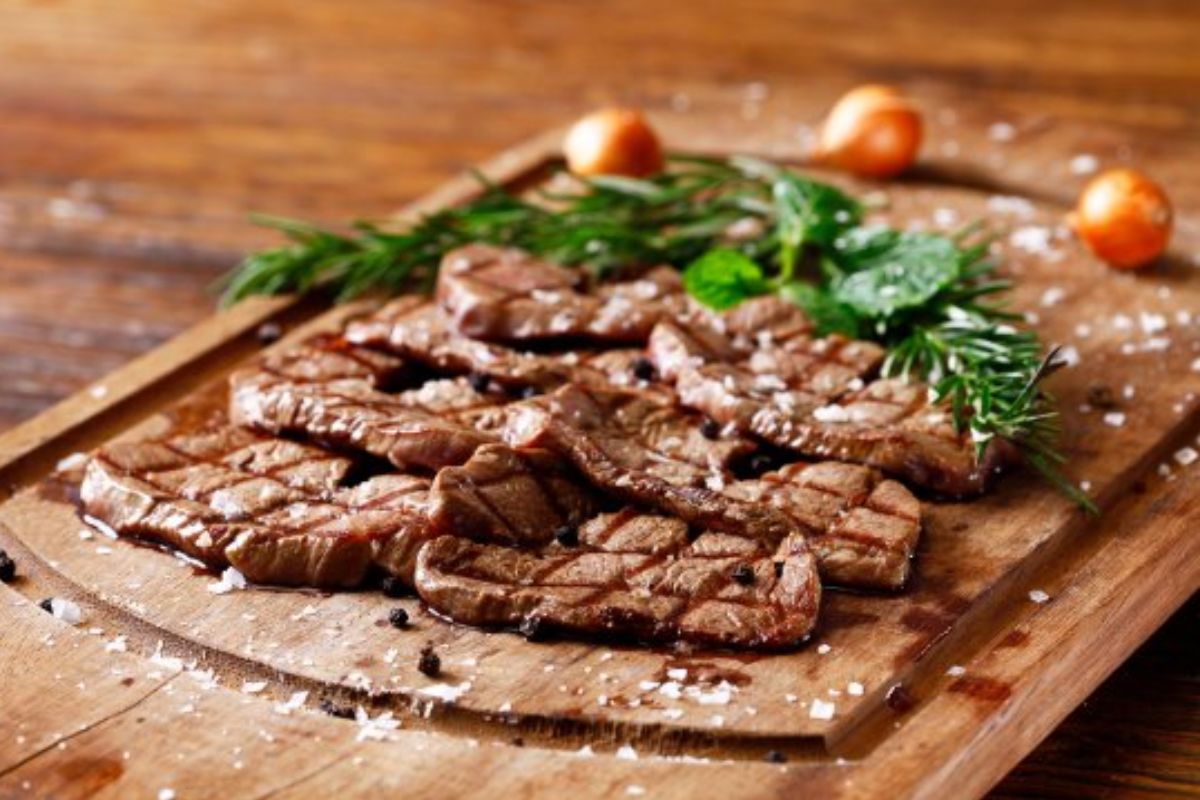 Nusr-Et is one of the most popular steakhouses in Dubai. The steakhouse has gained wide recognition with the owner Nusret Gokce, popularly known as Salt Bae, going viral for the unique seasoning style video on Instagram. The menu at this world-renowned restaurant chain features Turkish favorites and succulent cuts of meat.
At Nusr-Et, you can taste delicious steaks ranging from porterhouse steak to fillet-mignon. You can treat yourself to high-quality cuts of meat including wagyu and Angus beef. The restaurant also serves lamb, chicken, and seafood dishes. You can also try their special juicy burgers. The 'Salt Bae' steak is the signature dish on their menu. This dish is prepared and seasoned by the famous Turkish chef Salt Bae. You can opt for truffle mashed potatoes and creamed spinach to go as a side for your steak. The popular Turkish flaky dessert baklava also holds a place on their menu.
Indulge in a luxury dining experience at this steakhouse to enjoy impeccable service, high-quality food, and stunning views of the Arabian Gulf.
Menu Pricing: AED900 for two
Location: Restaurant Village, Four Seasons Resort, Jumeirah
Observatory Bar and Grill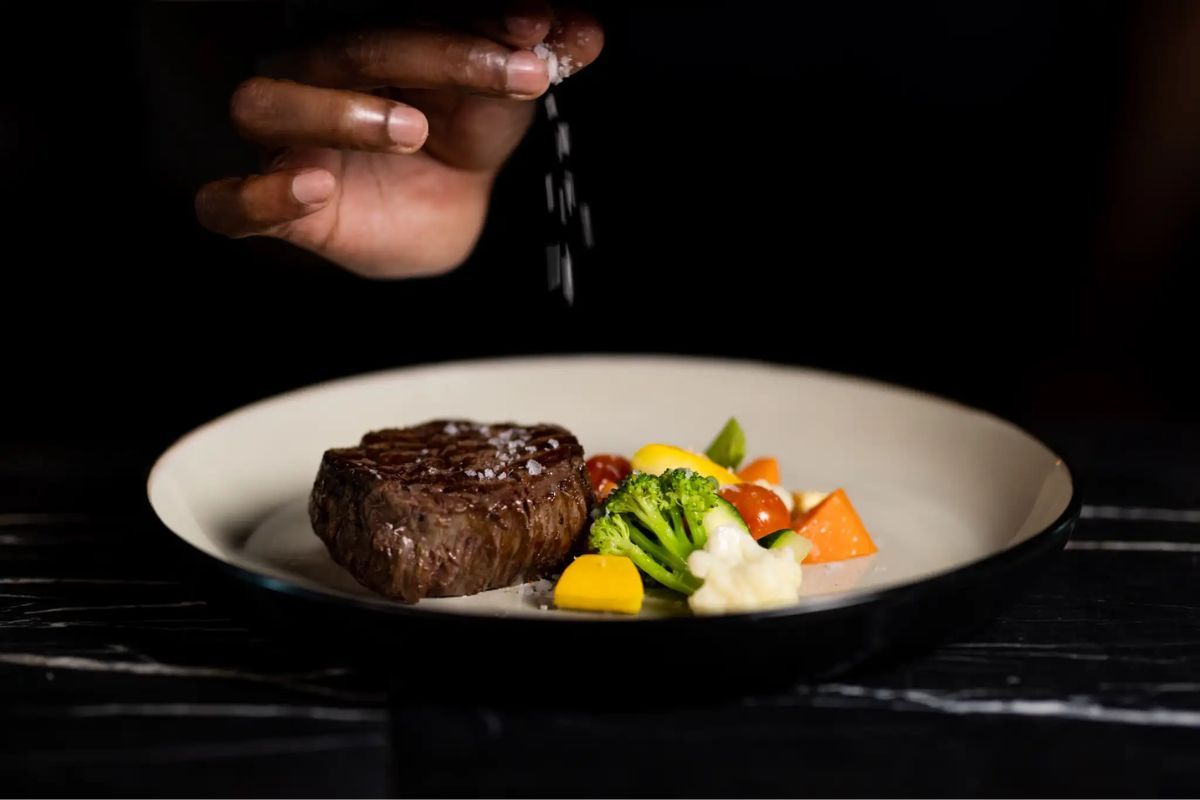 Observatory Bar and Grill is a famous restaurant serving tasty dishes along with stunning views of Dubai. This steakhouse offers both outdoor and indoor dining options to elevate your dining experience with them.
At the Observatory Bar and Grill, you will be offered a wide range of dishes to choose from their menu featuring contemporary international cuisine. The menu has a special focus on high-quality grilled meats and seafood. The restaurant sources its meat from Australia. The meat is tenderized using special techniques and then seasoned to perfection. They also offer a wide range of steak options to choose from like rib-eye, striploin, tenderloin, and wagyu beef. The steaks served in this steakhouse are cooked to order on a charcoal grill providing the steak with a special smoky flavor. You can opt for delicious sides like truffle mashed potatoes, grilled asparagus, bearnaise sauce, and peppercorns.
Observatory Bar and Grill offers a sophisticated and elegant atmosphere for you to enjoy a romantic date or a family night while enjoying breathtaking panoramic views of Dubai Marina and Dubai skyline. Visit their website to book your table.
Menu Pricing: AED495 for two
Location: Dubai Marriott Harbour Hotels & Suites, Dubai Marina
Hunter & Barrel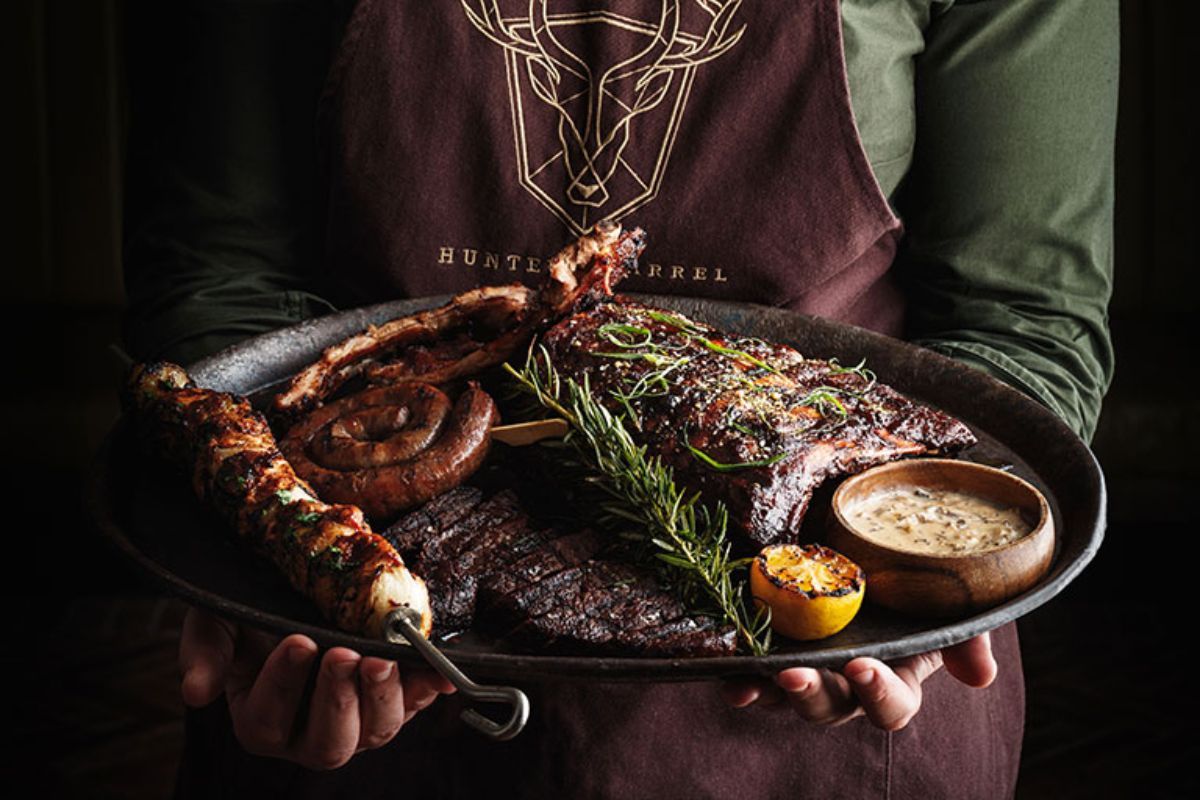 Hunter & Barrel is a restaurant and bar in Dubai that serves meat and wood-fired dishes. The restaurant provides a unique dining experience to visitors with its modern and rustic atmosphere. The interior of this restaurant features wood, metal, and leather to provide you with a warm and cozy ambiance.
At Hunter & Barrel, you can taste the premium steak and other meat dishes. Beef ribs and Braised Lamb Shoulder are people's favourites on their menu. They also serve Lobster Fettucine, Char-grilled prawns, lamb cutlets, and grilled chicken. Their menu also features tasty appetizer bites like goat's cheese and baby spinach, grilled calamari, charred edamame, and open-fire prawns. Other than meat, you can also try their exclusive beverage collection which includes a selection of craft beers, cocktails, and wines to upgrade your dining experience.
Hunter & Barrel also has a special vegan menu that includes a hearty vegan burger and special grain kebab skewers. Visit their website to see the menu before booking yourself a table at this premium Australian steakhouse.
Menu Pricing: AED550 for two
Location: Vida Hills Hotel, Emirates Hills, Dubai
Asado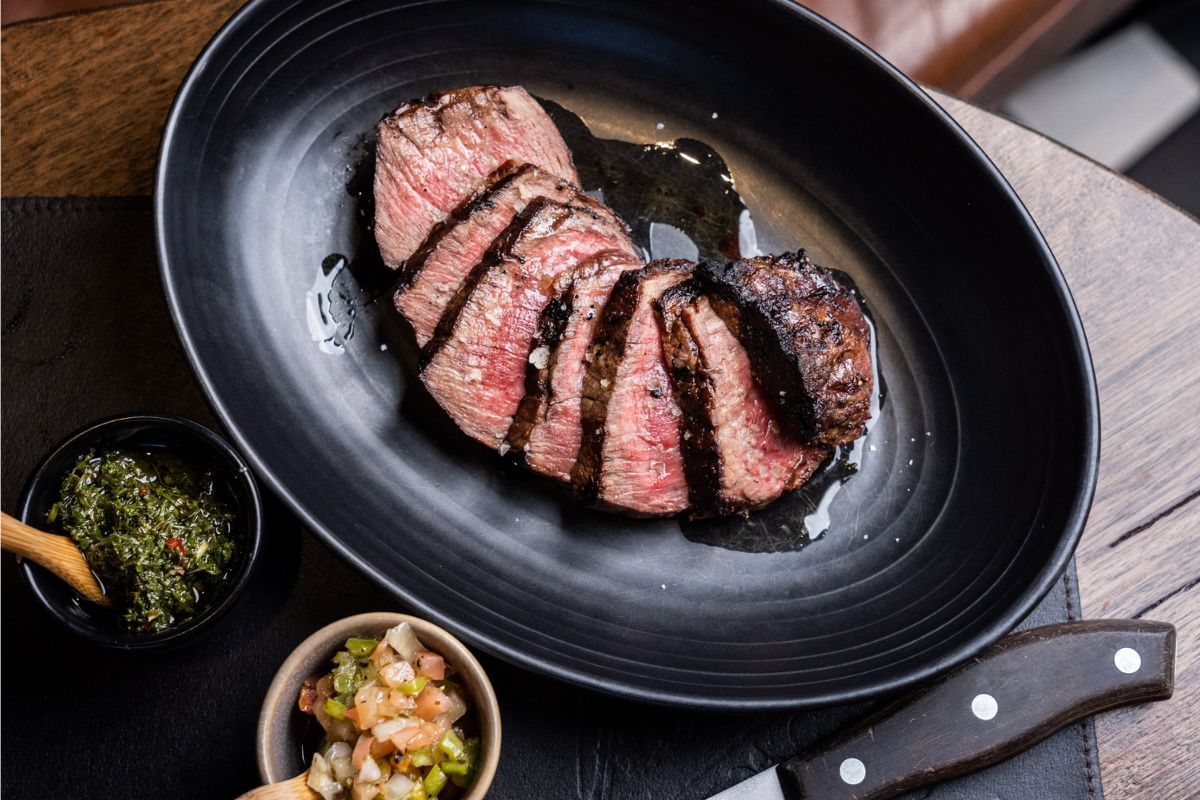 Asado is a popular Argentinian steakhouse in Dubai overlooking the magnificent Dubai Fountain and Downtown Dubai. Their unique interiors feature dark woods, a dim-lighting walk-in wine cellar, and exposed brickwork. Their outdoor terrace also gives you breathtaking views of Burj Khalifa.
At Asado, you will be served fine cuts of meat made using age-old Argentinian recipes. You can choose from their steak options like tenderloin, rib-eye, and sirloin. These meats are sourced from the finest ranches and farms across the world. The meat is then cooked on an open-flame grill to achieve its unique flavor. You can also taste their exclusive selection of seafood dishes, salads, and appetizers. Asado also offers a premium wine list featuring the best labels from Argentina and other countries.
Visit their website to book a table to indulge in a fine dining experience with mesmerizing views of popular landmarks in Dubai. The restaurant also has 50 percent off for children under 11 years old.
Menu Pricing: AED580 for two
Location: Palace Downtown, Sheikh Mohammed Bin Rashid Blvd, Dubai
Carna by Dario Cecchini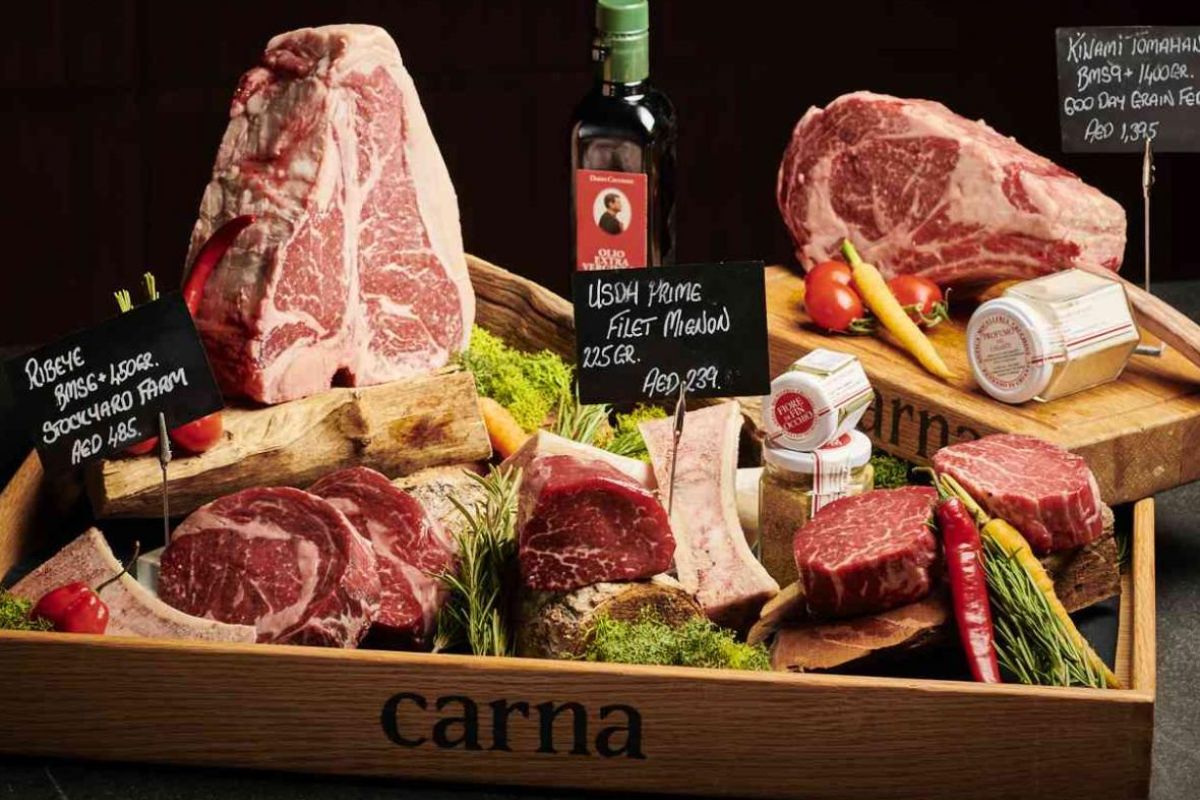 Carna is a contemporary steakhouse concept by Netflix-featured legendary butcher Dario Cecchini. The steakhouse is popular for its premium quality meat and ambiance. This Italian butcher is trying to preserve the art of butchery through his venture. Carna offers warm-lit, leather seating, and wooden accents for you to enjoy your dining at their place.
Carna serves prime cuts of the finest steaks sourced from the world's most prominent locales. Other than regular steaks, you can also try their Chianti sushi made with tartare or Bistecca alla Fiorentina. The menu also features regional flavors and creative dishes made with beetroot, corn, cauliflower, and mushrooms. They also provide vegan delights and seafood for those who want to eat something that is meatless. You can also enjoy their beverages at their whiskey bar.
Sustainability has been at the forefront of every dish at Carna. The restaurant follows a zero-waste philosophy and has pledged to reduce its carbon footprint. Visit their website to know more about their restaurant.
Menu Pricing: AED550 per person
Location: SLS Dubai Hotel & Residences, Marasi Drive, Business Bay, Dubai
Graze Gastro Grill & Bar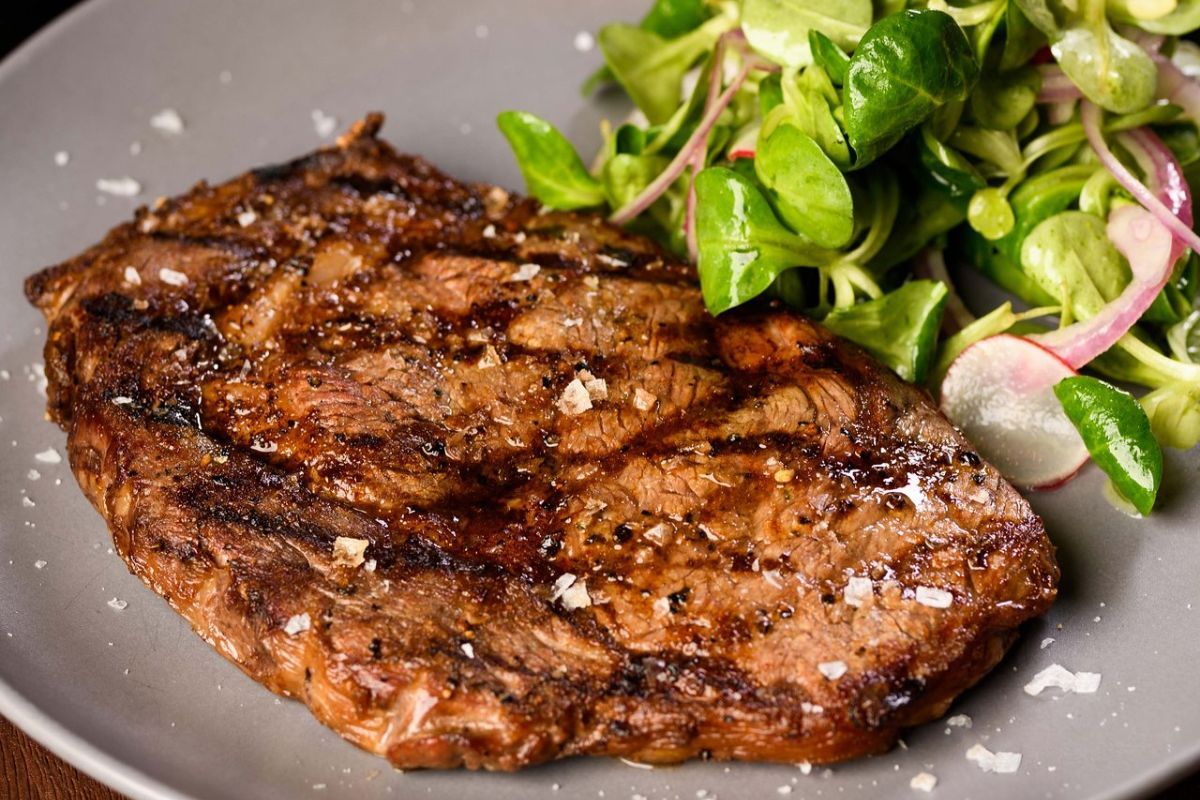 Graze Gastro Grill is a social and urban steakhouse in Dubai. This high-end restaurant offers a contemporary, elegant, and warm atmosphere to visitors. The steakhouse is popular for its premium steaks made with high-quality meat imported from Australia. You can visit this top-rated restaurant for exceptional food, outstanding service, and a sophisticated atmosphere.
At Graze Gastro Grill, you can choose from a wide variety of choices in poultry, meat, and seafood. The restaurant also serves an exquisite selection of side dishes such as baked truffle mac and cheese and Josper grilled greens. The menu also features an impressive collection of vegetarian dishes like roasted cauliflower with quinoa and pomegranate. They have yummy varieties in the seafood category like grilled octopus with fennel and lemon. At Graze Gastro Grill, they employ specialist chefs who use modern techniques to grill the fine cut of meat to perfection. The steakhouse also provides unique experiences like Graze Saturday Brunch, 'No Bull' – 3 Course Set Menu, and Graze Supper Club.
The outdoor terrace dining setup overlooks the luminous City Walk Dubai. Book a unique fine dining experience at Graze Gastro Grill on their website.
Menu Pricing: AED600 for two
Location: La Ville Hotel & Suites, City Walk
Also read: