A hidden gem that offers a serene escape into the natural world in Dubai is for sure the Dubai Butterfly Garden. Nestled within the heart of Dubai, this enchanting garden is a mesmerizing oasis that beckons visitors with its vibrant colors and the graceful fluttering of thousands of butterflies.
Let's explore the attractions, ticket prices, and more about the Dubai Butterfly Garden.
Introduction to Dubai Butterfly Garden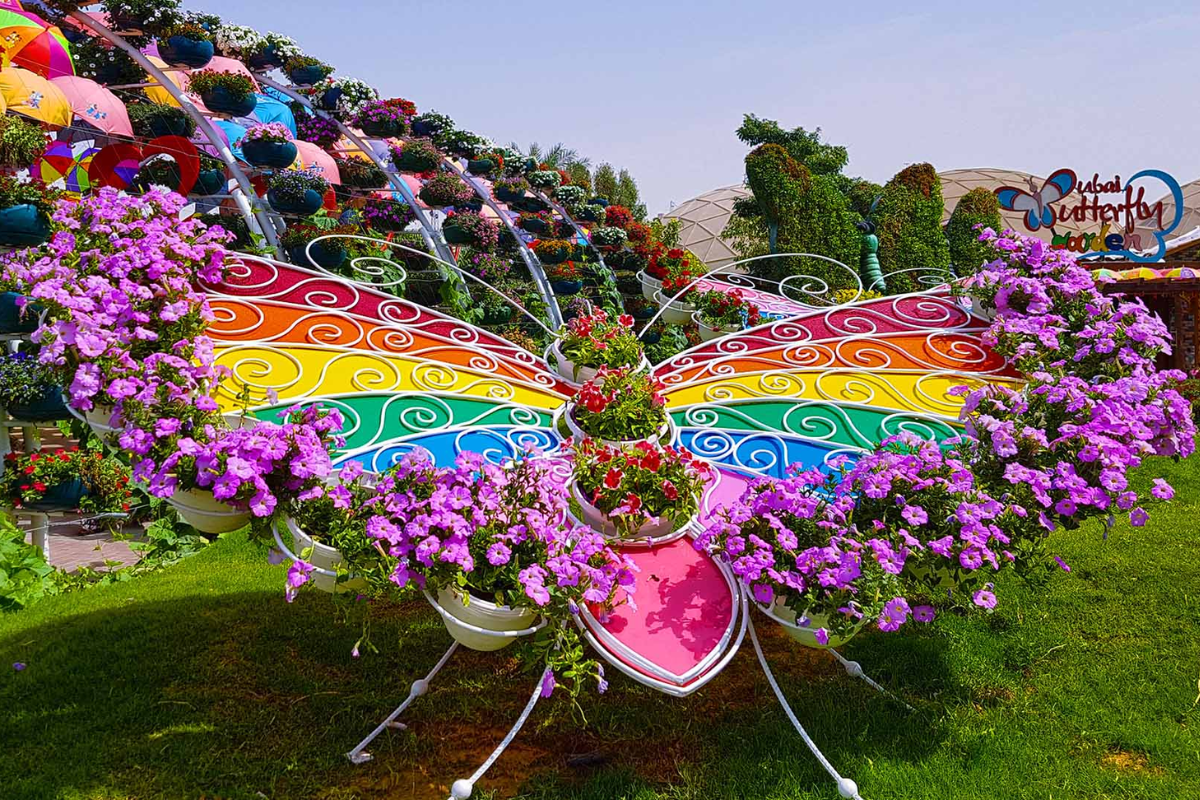 Claimed to be the World's Largest Covered Butterfly Garden, the Dubai Butterfly Garden is a true hidden gem of not only Dubai but the wider UAE and region. It is a testament to the city's ability to transform arid landscapes into vibrant and lush paradises. It's a part of Dubai Miracle Garden, a renowned botanical haven in the heart of the desert city. The Butterfly Garden, which opened its doors to the public in 2015, quickly gained popularity as a unique and enchanting attraction.
The circular garden can accommodate around 300 people and has ten custom built domes and a butterfly museum. The ten domes are divided into four sections. Each dome is filled with thousands of beautifully winged creatures, featuring 15,000 butterflies of around 50 varieties in different sizes and colours flying around the visitors and standing over the flowers and plants. Also, many nectar plants of different colours are planted to feed the butterflies. Spanning more than 6,673 square meters of indoor and outdoor gardens packed with thousands of colourful plants and flowers, the garden maintains a pleasant 18-25 degrees Celsius all year-round. It's a perfect climate-controlled environment for all—people, plants, and butterflies.
Attractions at Dubai Butterfly Garden
While the domes at the center of the butterfly park are the stars of the show and other attractions like fountains and birds also add to the park's popularity, there are also other perks that make any visit to Dubai Butterfly Garden enjoyable, especially for families with kids.
BUTTERFLY ENCLOSURE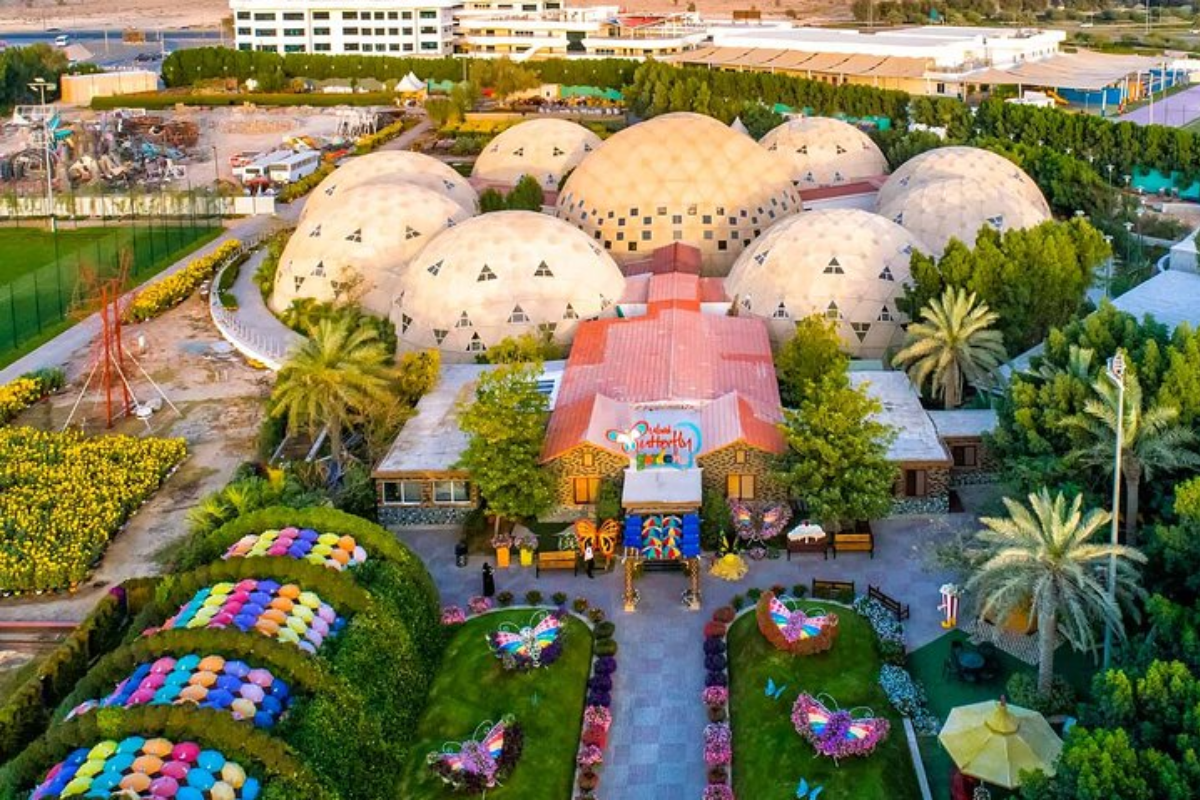 The main attraction, of course, is the butterfly enclosure. It's a spacious, temperature-controlled area where you can witness hundreds of colorful butterflies fluttering freely amidst lush vegetation. The garden is home to around 15,000 butterflies from over 50 different species, creating a kaleidoscope of colors and patterns.
Every path is lined with vibrant foliage while trailing ivy hanging from the ceiling completes the natural look. Go further in and get ready to be greeted by a frenzy of fluttering butterflies, chasing each other around the dome, flying high above the ceiling, or perched on feeding stations like hanging trays of nectar or fruit scattered throughout the space.
Careful attempts have been made to make the steel structure replicate a natural element. Recorded bird sounds are complemented by the occasional chirps of real canaries, parakeets, and budgies in cages dotted across space. The domes are kept bright and airy, with plenty of natural light streaming in from the windows above, while a mini waterfall in the second dome adds to the natural look.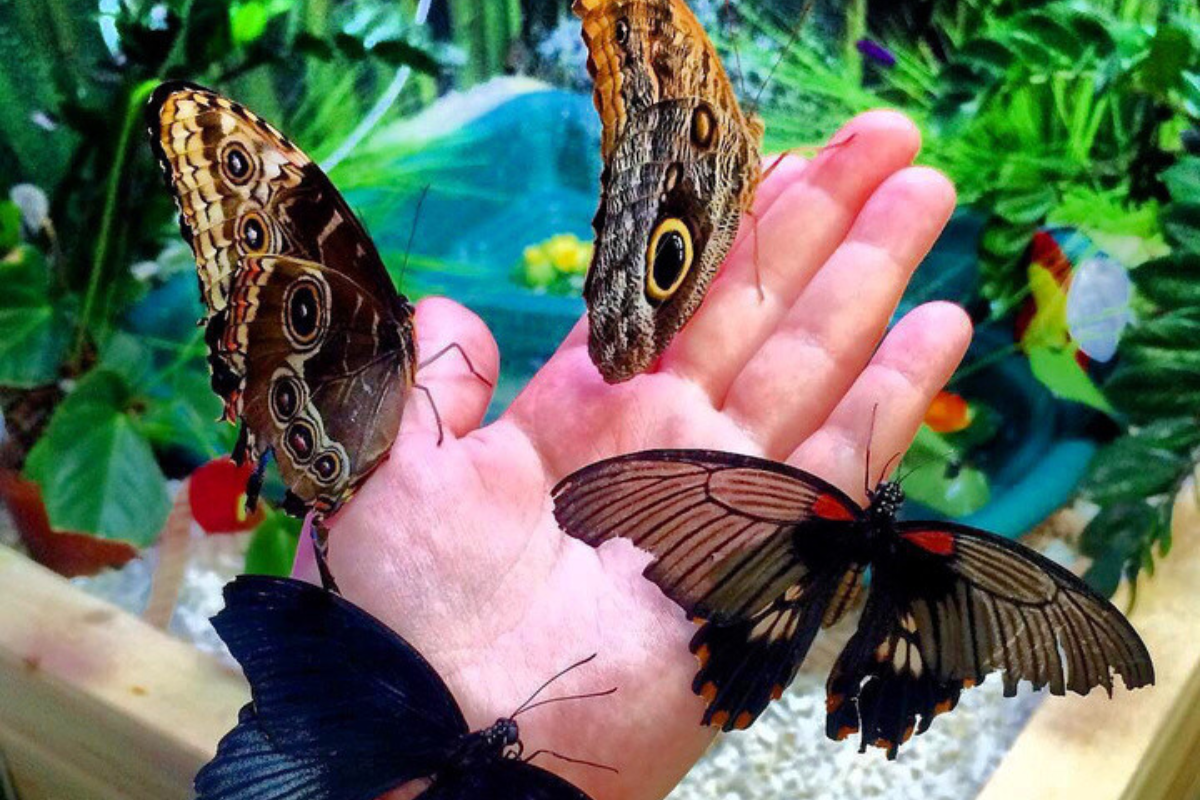 This makes it an excellent place for people who want to see different types of butterflies in one place, including the following butterfly species - White Angled-Sulphur, Monarch, Red Rim, African Queen, Tailed Jay, Doris, Orange Oakleaf, Owl Butterfly, Clipper, and Golden Birdwing.
BUTTERFLY MUSEUM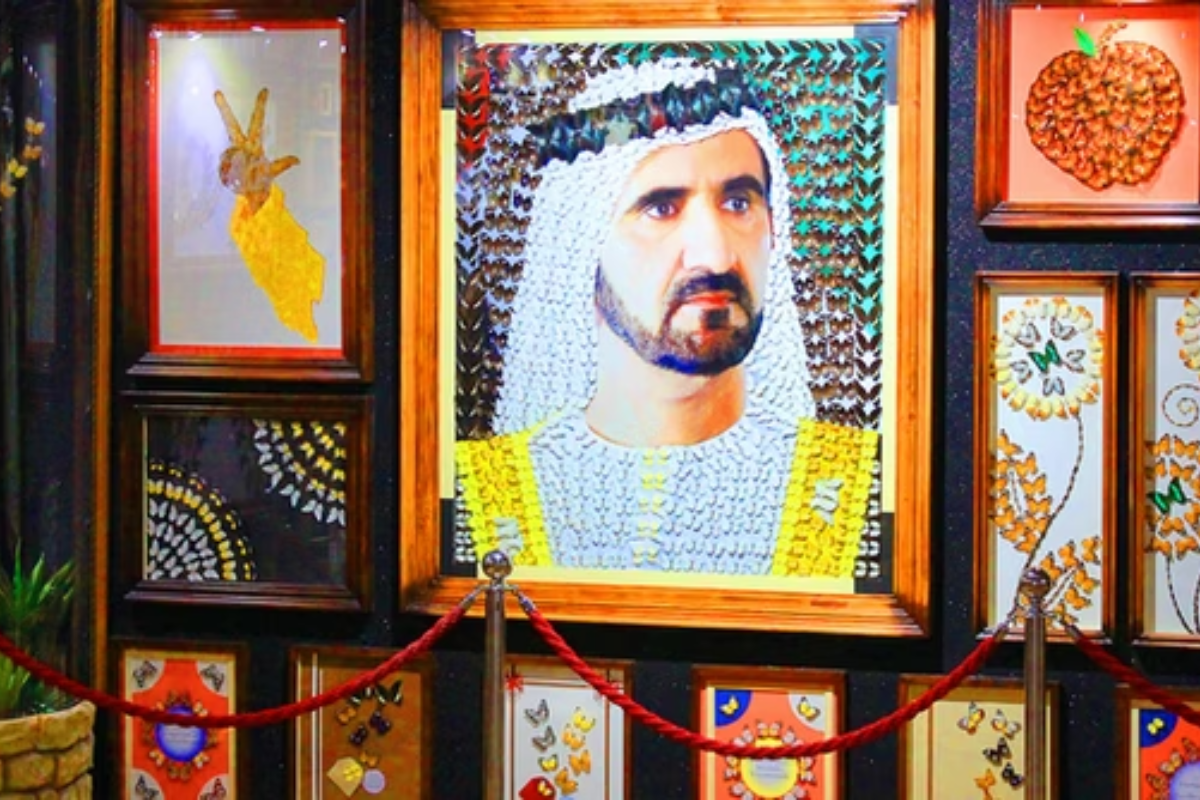 The first room in the indoor garden is the Butterfly Museum, which features hand-crafted pieces of art and paintings made by thousands of pressed butterflies from around the world. A notable piece is a mural of Sheikh Mohammed bin Rashid Al Maktoum. The Butterfly Museum is a treasure trove of information about butterflies. Here, you can explore a vast collection of butterfly specimens from around the world.
KOI POND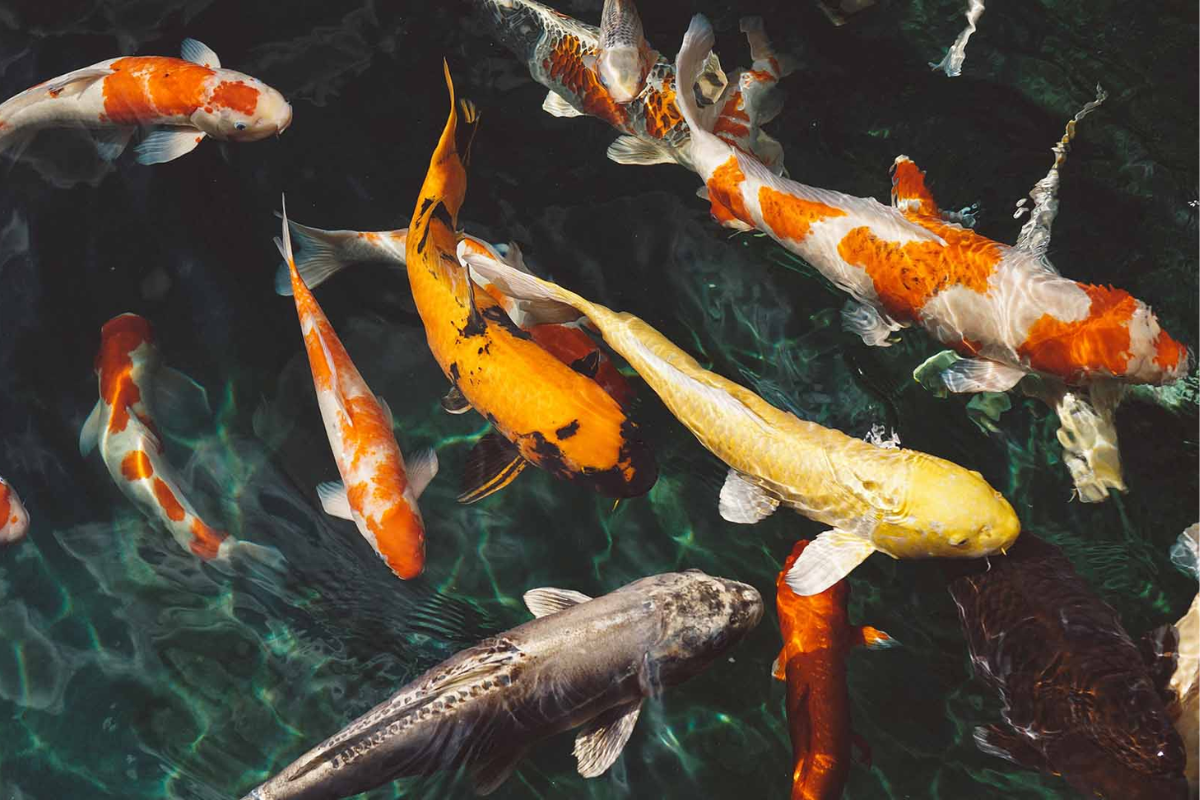 If you're interested in water-based natural creatures, you might want to stop by the lovely Koi Pond with an artificial fountain adjoining the pond in Dome 2. Witness the magnificent Koi swim alongside each other in stunning shades of orange, white, and gold. The sound of running water adds an element of tranquil serenity to the garden and has a soothing effect amidst the cacophony of bird sounds in the indoor space.
EDUCATIONAL DISPLAYS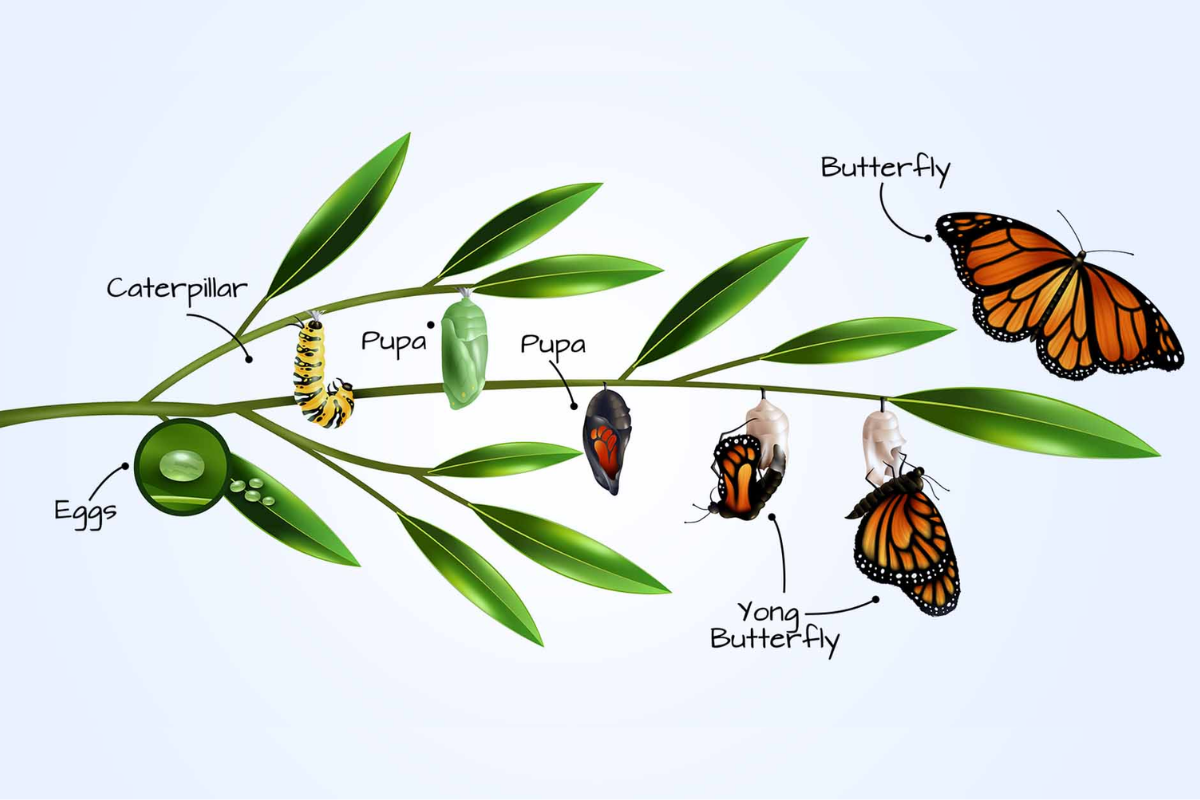 The Dubai Butterfly Garden isn't just a place to admire these beautiful insects; it's also an educational hub. The main premise of this indoor butterfly garden in Dubai is to educate the masses. Visitors here get to witness the actual life cycle of butterflies from the pupal stage to adulthood and gain more insight into their metamorphosis. To make the most of their visit, Dubai Butterfly Garden also gives visitors the opportunity to recognize and learn about different butterfly species.
Throughout the garden, you'll find informative displays and interactive panels that teach visitors about the lifecycle of butterflies, their habitat, and their importance in the ecosystem. It's a fantastic place for kids and adults alike to learn about these fascinating creatures. There are multiple presentations, videos, life-like exhibitions, animations, butterfly-life cycle videos, and movies that provide an insight into their metamorphosis. Visitors also get to spot multiple rare butterflies and learn about them.
THEMED GARDENS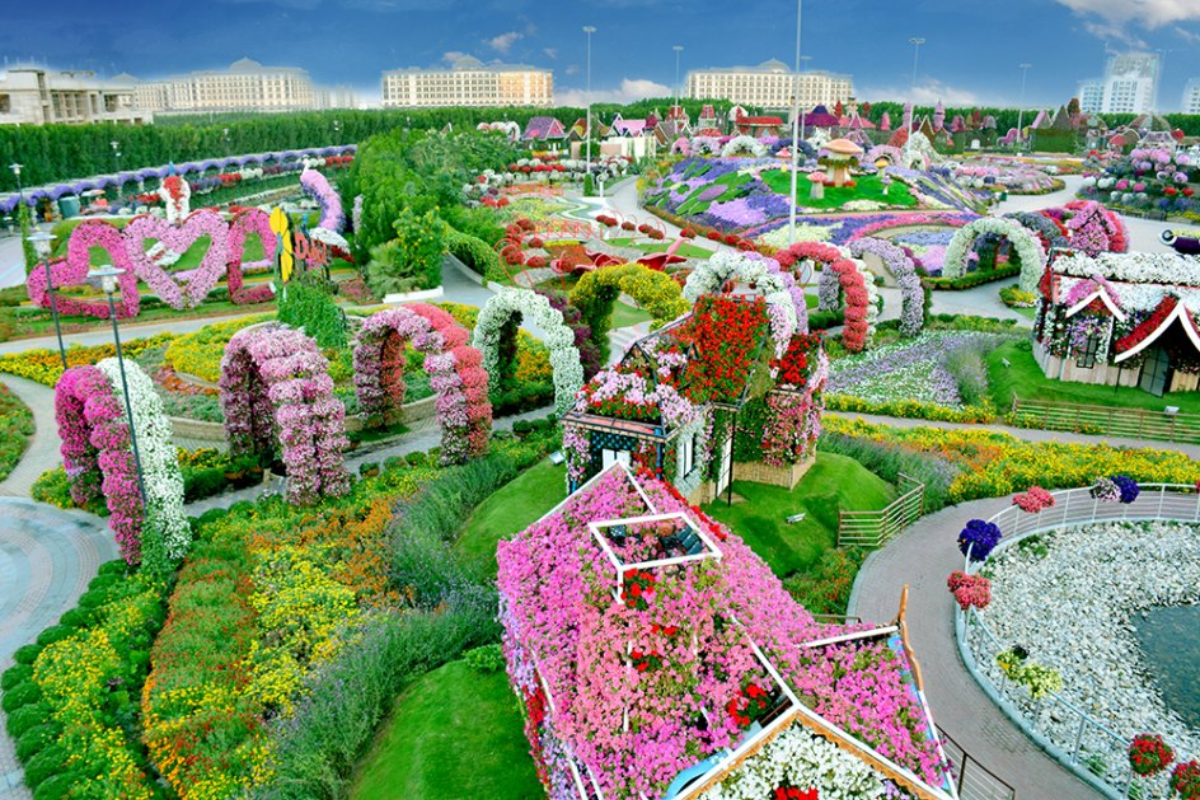 The garden is divided into different themed areas, each designed to create a unique ambiance. From the heart-shaped pathway of love to the colorful domes resembling butterfly wings, every section offers a different visual experience.
FLORAL DISPLAYS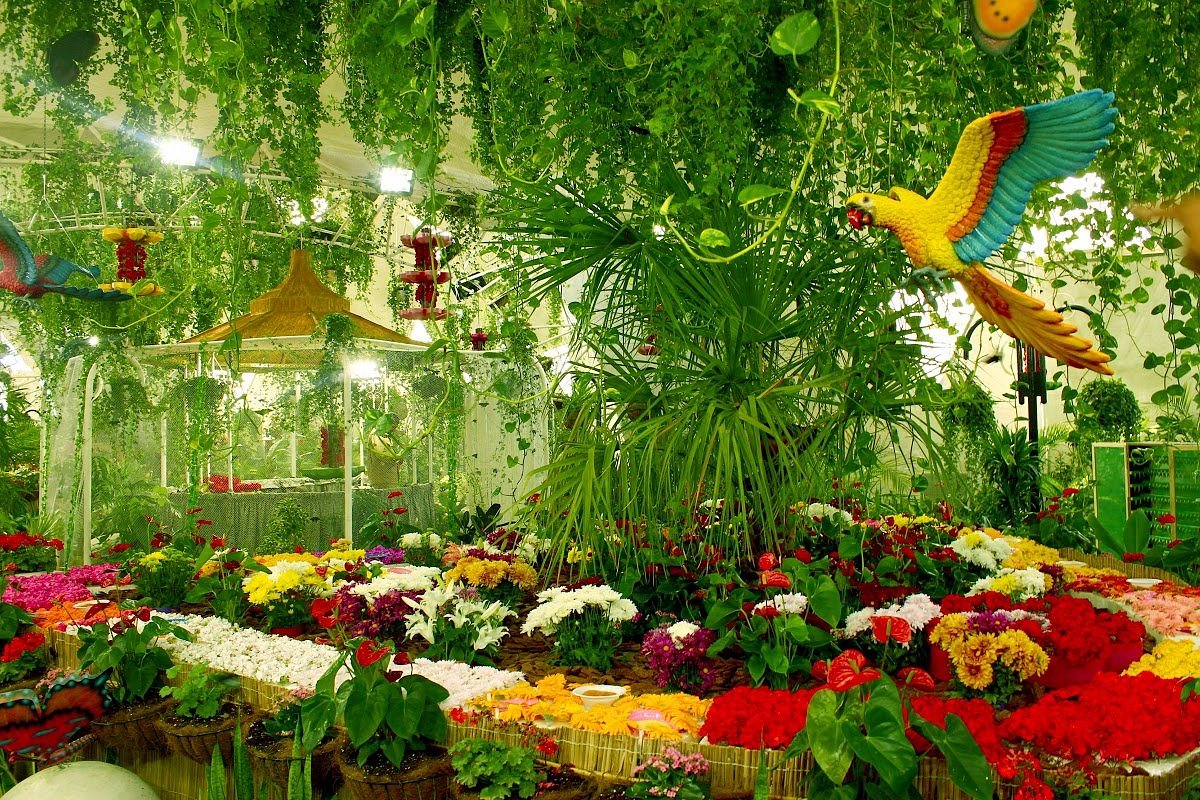 While butterflies take center stage, the garden also features an array of beautiful flowers and plants. The combination of vibrant blooms and fluttering butterflies creates a mesmerizing spectacle that's perfect for nature enthusiasts and photographers.
DINING OPTIONS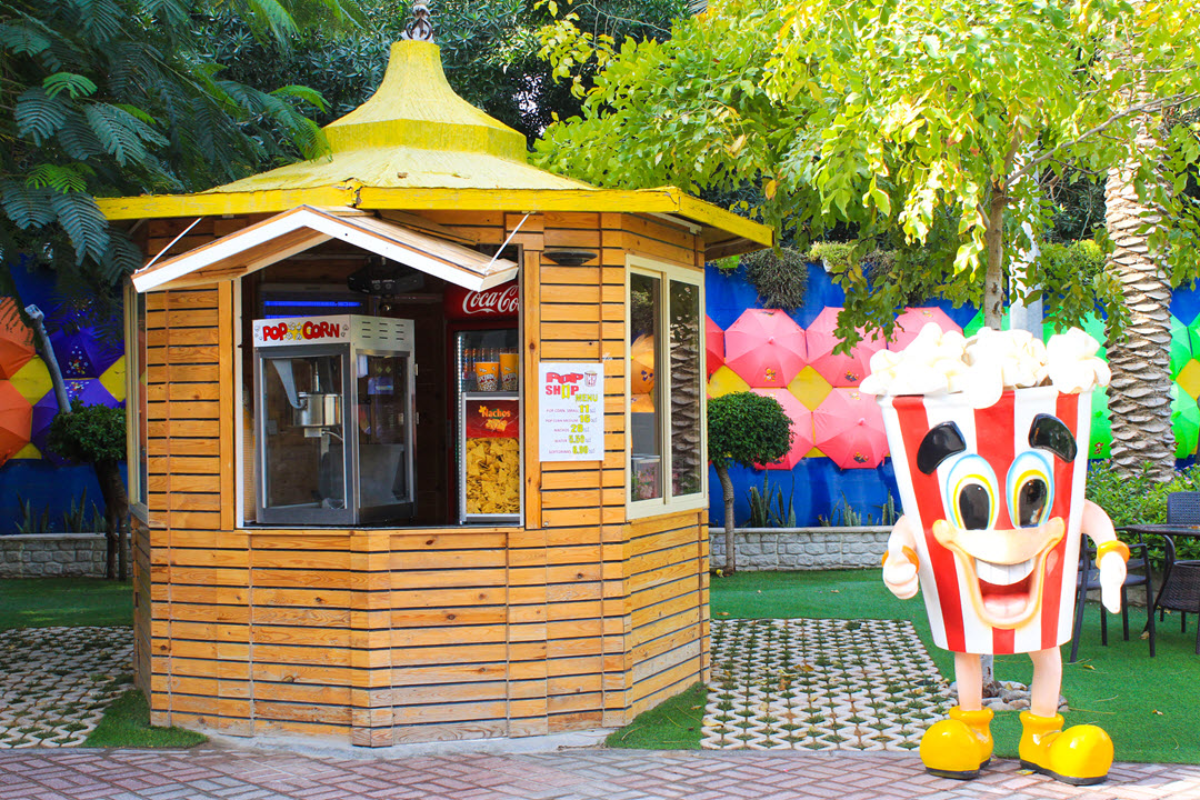 After strolling through the garden, you can refill yourself at the food kiosk, which is enough to satiate any hunger pangs. Other food outlets include a Starbucks coffee shop and a candy shop. Serving a variety of coffee, fresh fruits, juices, ice cream, and candies, these food outlets ensure that families never have to cut their visit short to grab some food.
Other facilities of note include a parking area, prayer room, souvenir shops, wheelchair access facilities, toilets, a first aid room, and even a car hire service.
GIFT SHOP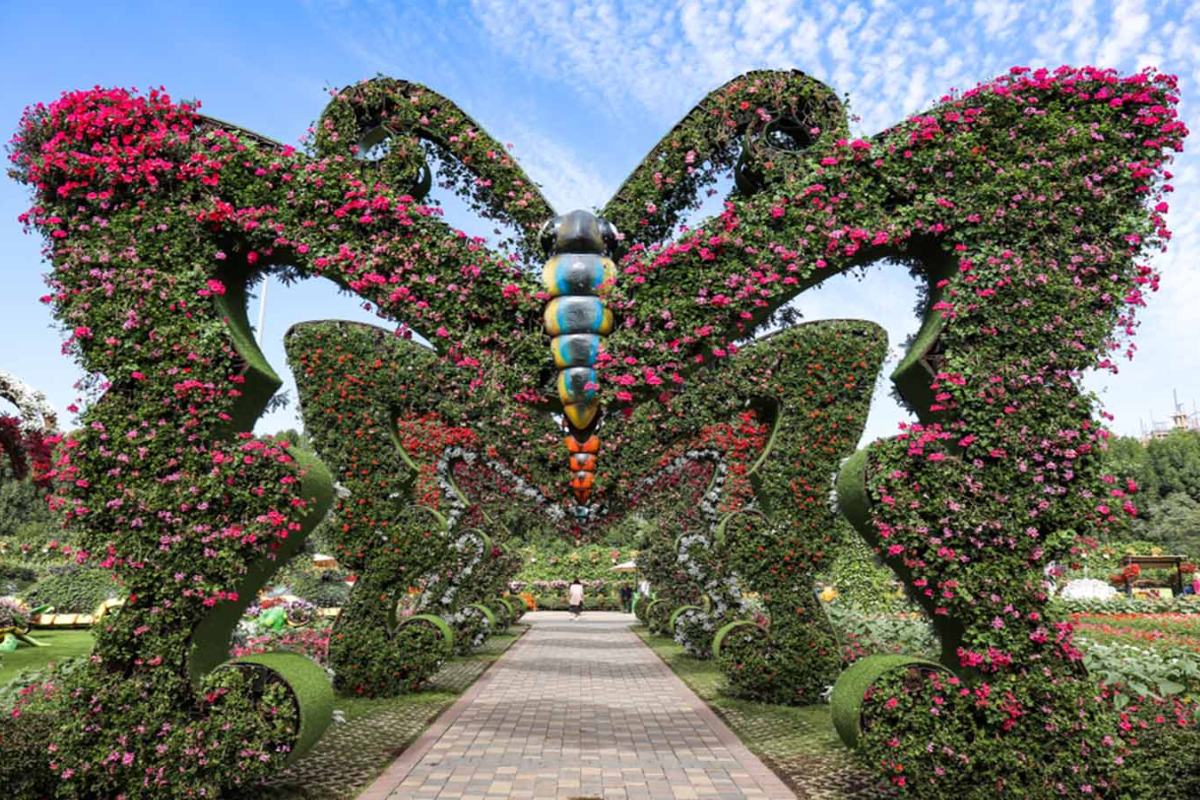 Don't forget to visit the gift shop, where you can find a variety of butterfly-themed souvenirs, including handicrafts, toys, and accessories. It stocks a broad range of locally made jewellery, as well as carefully preserved butterflies in frames that will last years. For children, there's a large selection of toys, books, clothing, and accessories. It's located right by the museum at the garden's entrance.
Ticket Prices and Timings

Ticket Prices:
Adults and Children: AED 55
Children under 3 years: Free
They may sometimes offer limited-time discounts on admission tickets for groups of 3 or more. The general admission ticket grants full-day access, so it's best to come in the morning or afternoon to get the most out of your experience.
Where to get Dubai Butterfly Garden tickets?
You can purchase your tickets at the gate itself, or save time and beat the queues by booking your Dubai Butterfly Garden tickets online.
Days & Timings:
From Saturday to Friday
9:00 AM to 6:00 PM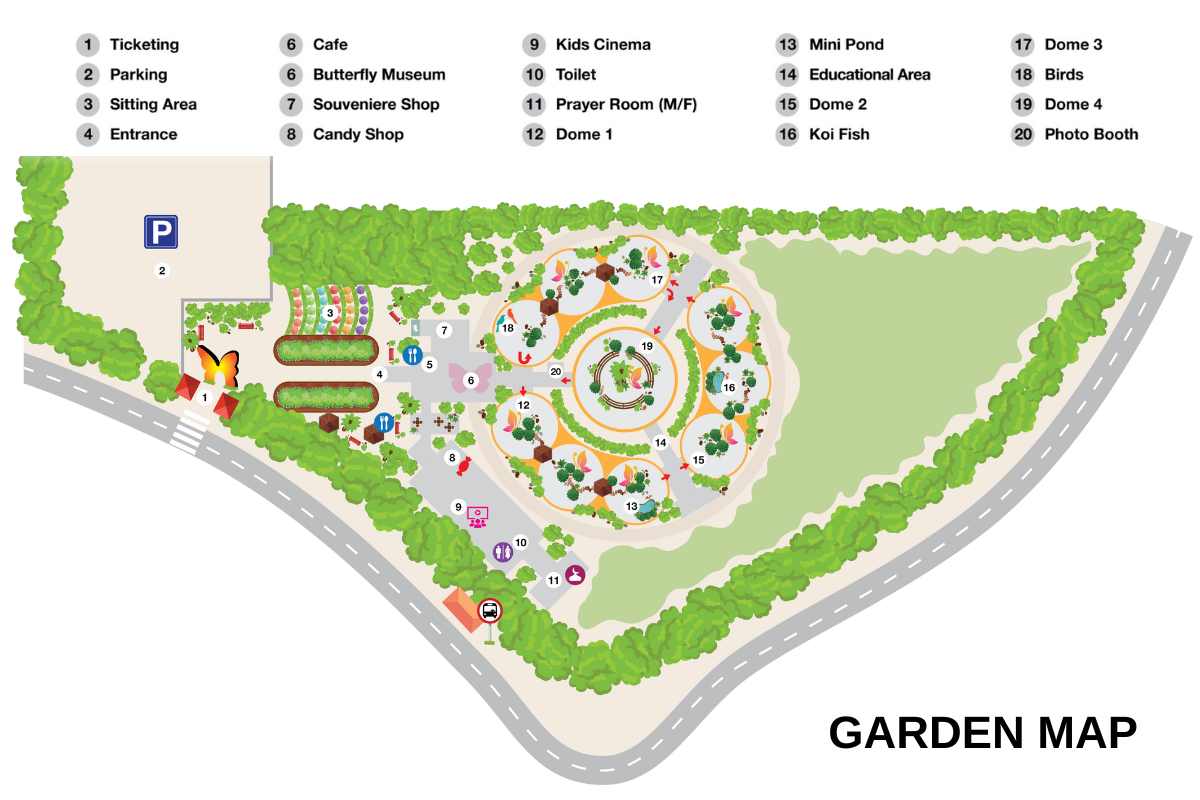 Location and Contact

Location: Al Barsha South 3, Dubailand Area, Beside Dubai Miracle Garden – Dubai
The Dubai Butterfly Garden is located next to the Dubai Miracle Garden, just off Sheikh Mohammed bin Zayed Road. It is easy to access from Mohammed Bin Zayed, Umm Suqeim, and Al Khail roads, and there is a direct bus that comes here from the Mall of the Emirates.
Contact: +971-4-422-8902
Email: info@dubaibutterflygarden.com
Events

In addition to operating as a botanical garden, the Butterfly Garden in Dubai also offers special packages and rates for hosting birthday parties for kids. But this place isn't only an ideal option for little ones. Dubai Butterfly Garden also hosts a number of corporate events with a fun twist. Get in touch with them for more details and bookings.
Dubai Butterfly Garden Rules

Like other recreational facilities in the UAE, Dubai Butterfly Garden has rules in place to ensure that visitors enjoy their time at the park.
Bringing food and beverages inside the garden is strictly prohibited, as these can attract predatory insects that can harm the butterflies.
Children are to be always supervised by adults.
Management is not responsible for any lost belongings.
Visitors are advised to watch their steps while walking around the domes to avoid stepping on butterflies.
Visitors must avoid disturbing the butterflies while they are feeding and should not be grabbing them.
Visitors must avoid touching a butterfly's wing or any other area that may render them unable to fly.
Entry into restricted areas is strictly prohibited.
Tips for Visiting Dubai Butterfly Garden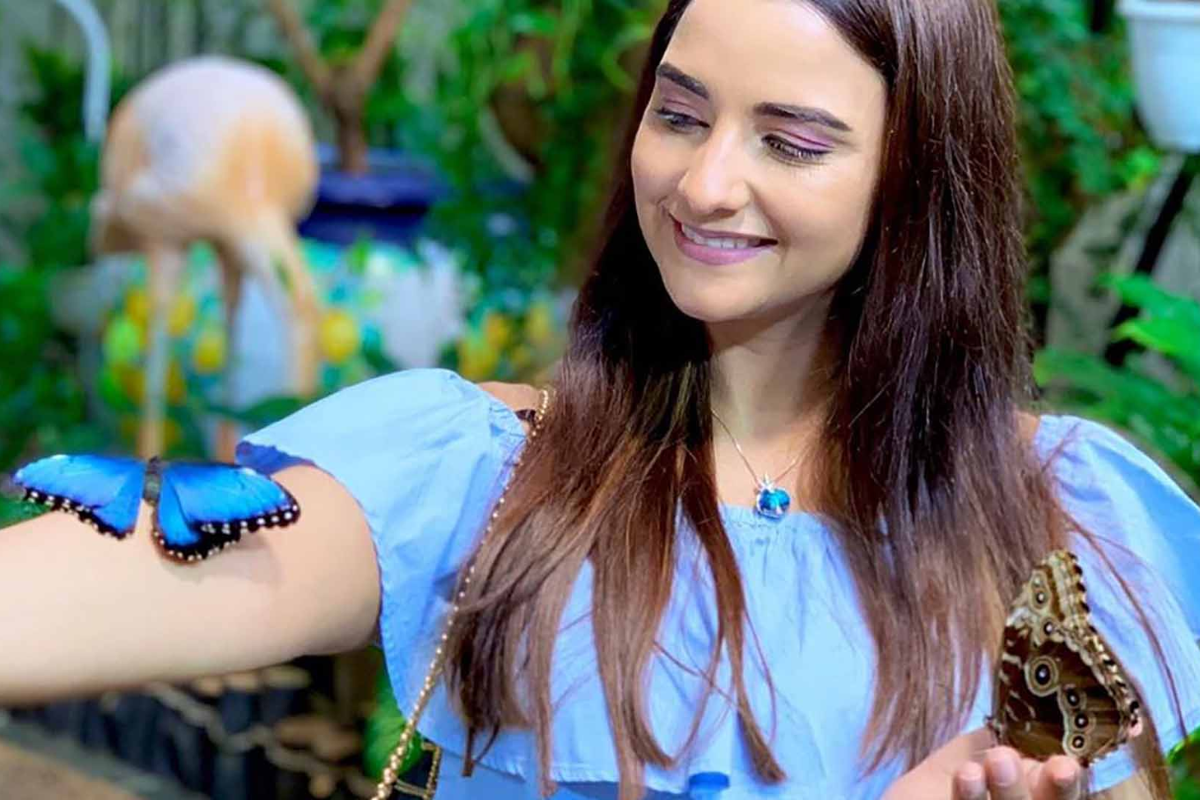 Go Early: To avoid the crowds and the midday heat, it's best to visit the garden early in the morning when it opens. This also provides an opportunity to see butterflies when they are most active.
Wear Comfortable Clothing: It's a long day ahead with lots of fun, so dress comfortably and wear comfortable shoes for walking.
Bring a Camera: The garden is a photographer's paradise. Don't forget to bring your camera or smartphone to capture the vibrant colors of the butterflies and the stunning floral displays.
Respect the Butterflies: While it's tempting to try and touch the butterflies, please refrain from doing so as it can harm these delicate creatures. Enjoy observing them from a respectful distance.
Stay Hydrated: Dubai's climate can be quite dry, so make sure to carry a water bottle to stay hydrated during your visit.
Plan Your Visit: Combine your trip to the Butterfly Garden with other nearby attractions like the Dubai Miracle Garden or the Global Village to make the most of your day.
Also Read: