Dubai is one of the world's most popular tourist destinations. It is a city that has an ever-growing list of new, exciting, and one-of-a-kind attractions, activities, and experiences. This city can never bore you! There are many things to do, places to visit, and experiences in this magnificent city. From Skyscrapers, shopping malls, thrilling activities, tourists hotspots and many more... the city of dreams has it all! One such attraction that has recently opened in Dubai is AYA Universe. It is UAE's first immersive, experiential entertainment park.
Take a journey across the stars and beyond. Here's all you need to know about AYA Dubai.
About AYA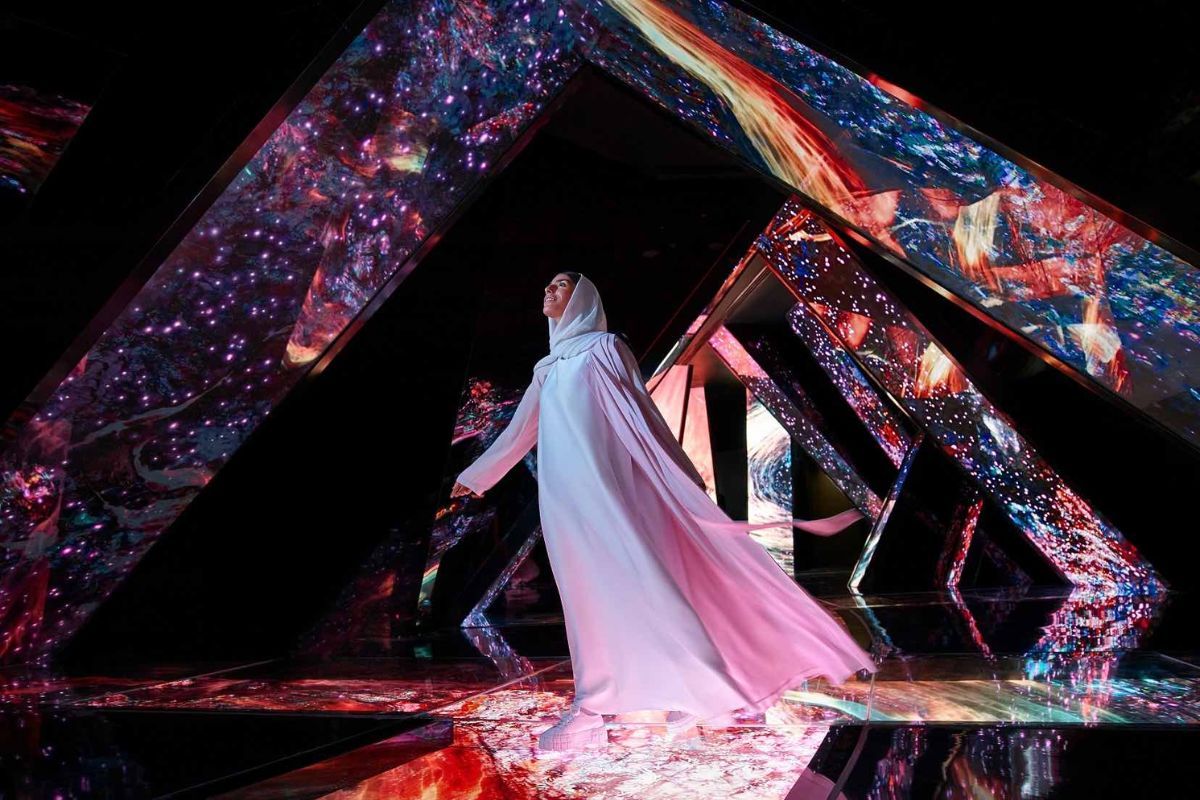 AYA is a futuristic light and sound park that provides an immersive entertainment experience for people of all ages. Opened in December 2022, it combines advanced technologies with beautiful art and design to provide a one-of-a-kind sensory experience that will delight and inspire you. HyperSpace, a Future Forward Entertainment company that builds and operates physical parks for a digital world, launched the project. AYA invites daring visitors to enter a vast universe of vibrant, interactive experiences spread across 12 distinct zones, each with its own distinct theme and interactive elements. These experiences will allow you to play, drift, and dream your way through observatories filled with a million stars, gardens of blooming light, a river of color that generates storms and pools, and many more. Every step you take at AYA will give you an out-of-this-world experience like no other.
Alexander Heller, CEO of Hyperspace said,
"Aya has been designed to evoke wonder and awe in an out-of-this-world trip to a beautiful universe. It combines entertainment and interactive technology to deliver immersive storytelling in an entirely new way – a first for Dubai and for the world."

"It's like when TikTok and Fortnite had a big physical baby, it's a park powered by tokens and digital assets."
Travel is a recurring theme that is used frequently throughout all zones. AYA aims to be a transformative experience that transports you to a land far away. The concept is that you will travel to a distant universe and interact with technology in ways you have never done before.
What to expect inside?
AYA offers a variety of interactive installations designed to stimulate the senses and engage the mind. All these exhibits creatively use light, sound, and motion to create a truly immersive experience.
One of its most notable features is its cutting-edge sound system, which employs advanced audio technology to create a fully immersive sound experience. The sound system will transport you to a whole new world of sound and music, whether you're exploring the park on your own or taking one of the guided tours. A popular light show is the "Galaxy Light Show" which is a spellbinding display that uses lasers, projections, and music to transport you to a galaxy far, far away. From music production and sound design workshops to special events with live performances and DJ sets, there is always something exciting to look forward to at AYA.
AYA has 12 out-of-this-world zones where you can explore luminous gardens, command galaxies, and dance with lights.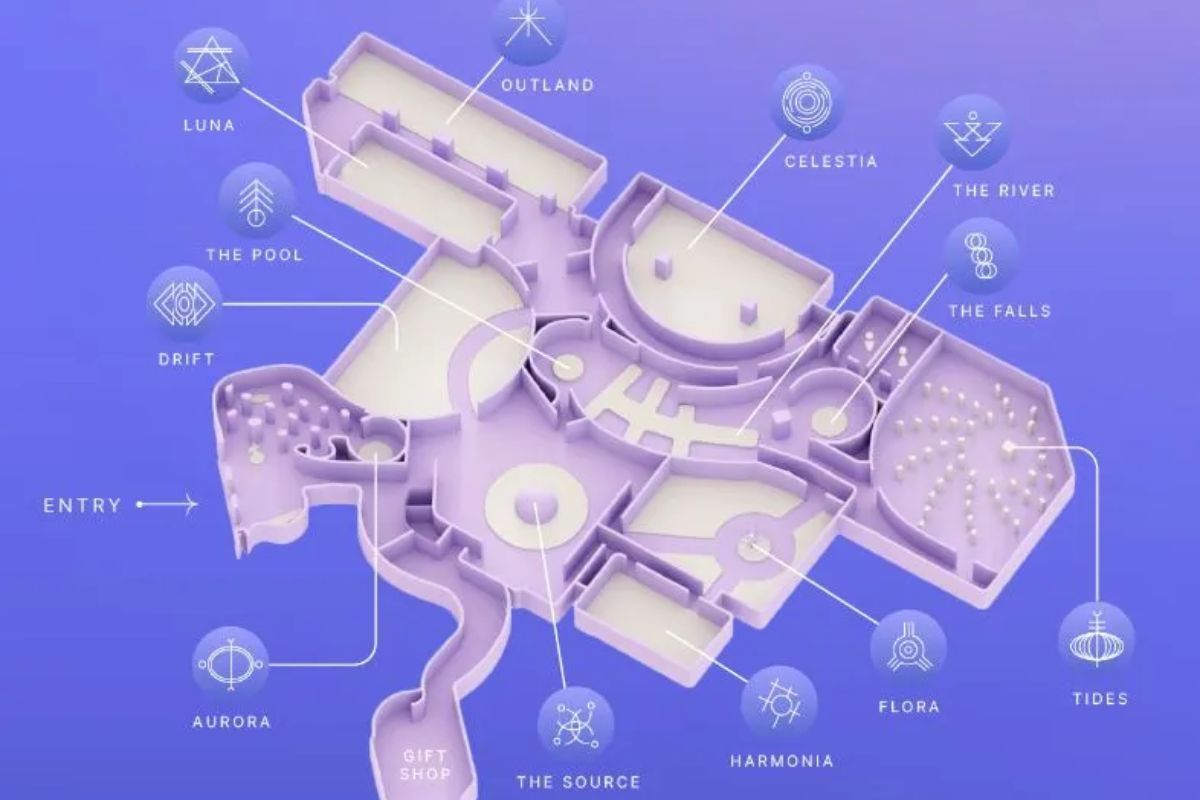 Let's learn a little more about them:
1. AURORA: Movement and gesture control provides an interactive experience that immerses visitors in 230 square feet of interactive artwork designed to stimulate the senses. Pools made of cosmic dust and reflected from beyond the stars will provide a preview of what's to come, with waves of light cascading across the zone and a rainbow of colors dancing.
2. THE SOURCE: The first AYA experience is located in this 3,250 square foot zone. The experience is ignited by a mystical chamber of digital pools and a touch reactive dome that tunes into human senses, while surrounding projections breathe new life into the zone. A six-minute display with reactive LED pools will transport visitors into the beautiful universe, using the most recent touch reactive technology.
3. DRIFT: This 2,000 square foot zone, allows visitors to travel to the center of the AYA universe, is another sizable area to explore. Lying back on a lush hillside that softly vibrates in time with the music will make you feel weightless as a panoramic projection takes you to a tranquil new setting.
4. OUTLAND: To introduce new characters and avatars for the AYA experience, this zone is spread across three chapters. Movement governs a corridor of imagination where visitors' presence summons new creatures from this alluring new world. Visitors can dance alongside the avatars of this uncharted domain thanks to technologies like skeletal tracking and projection mapping.
5. THE POOL: The journey to the beginning of the river exploration is bridged by immersive projections. The next chapter of the experience starts out with an infinity vortex to capture the senses of those who step inside.
6. THE RIVER: Every step you take inside this 2,000 square foot area creates storms and pools of color and light, as well as The Deep and The Dunes. This area is brought to life by a river of vibrancy in a secret unlockable chapter of the adventure with LED screens and detection sensors that pick up on movements of those inside.
7. THE FALLS: The conclusion of the river journey in this area of the attraction is signaled by an audio responsive waterfall that runs upside down to defy the laws of gravity.
8. CELESTIA: Celestial events in this completely immersive zone that projects a mapped vision of the cosmos are triggered by interacting with light beams. Those who connect with the 13-minute show will be treated to a light show that spans five distinct chapters and an interactive spatial game.
9. FLORA: In this bioluminescent garden, creatures created by light respond to and react to visitors' movement. This nine-minute show immerses viewers in an intelligent oasis of all living things using presence detection technology.
10. TIDES: The focal point of this eight-minute performance, which consists of four distinct storytelling chapters, is an infinite mirrored chamber decorated with LED totems and an interactive monolith.
11. HARMONIA: The show's three-minute finale will feature a robotic light display in a vast, mirror-like infinity zone.
12: LUNA: Step into the Luna zone to travel beyond stars. This video better explains what you can expect in this magical and instagrammable zone.
Dining And Shopping Options at AYA
There are a variety of international cuisines available at the park, including Middle Eastern, Asian, and Western flavors. AYA's retail store offers a variety of souvenirs and gifts, such as clothing, accessories, and other items that are ideal for taking home as a reminder of your visit. The AYA store has something for everyone, whether you're looking for a unique gift for a loved one or a special treat for yourself.
Location
AYA is located on the first floor of Wafi City Mall at the top of the elevators of the grand atrium. Wafi Mall is in Dubai's Wafi City and Umm Hurair district on Oud Metha Road and is easily accessible from anywhere in the city.
Timings
Timings of AYA Universes is as follows-
Monday-Friday 10:00 am – 10:00pm, Saturday-Sunday 10:00 am – 12:00 am
Ticket Price
You can buy the ticket for AYA offline or online by selecting the date and time of your choice. The ticket price for adults is AED 99 while children under 3yrs are free of charge.
FAQ's
Is it a guided tour or you can explore on your own?
To have an out-of-this-world experience, guided tours are required. During your visit, the AYA team will be available to answer any questions you may have. However, you are free to explore the park on your own too.
Is there a limit on the time you can spend there?
The recommended hours to spend at AYA is 2 hours. However, if you'd like to stay for a few more hours, you can.
Are people with light sensitivity/epilepsy at risk at AYA?
AYA contains bright lighting effects that flash or strobe. Which is why this park may not be suitable for people who are sensitive to these conditions or have a history of photosensitivity epilepsy.
Also Read: