Dubai is famous for its vast variety of malls and shopping outlets. From enormous malls with an extensive list of luxury stores to affordable shopping outlets, there's something for everyone. WAFI is one of the best malls in Dubai and is known for being the distinctive shopping, dining, and leisure destination in the city. Wafi Mall is well-known for its unique Egyptian theme and eye-catching sphinx statues. Get to know all there is know to about this beautiful mall, here is a complete guide to Wafi Mall in Dubai.
About Wafi Mall Dubai
The WAFI Mall opened in 1997 as one of the first malls in Dubai to offer a unique mix of retail, leisure, dining, and entertainment. Located in Wafi City a mixed-use developed in the heart of Dubai, it has over 300 stores and boutique shops that offer you an excellent shopping experience. One of the most eye-catching features about the mall is its architecture, which is themed after an Egyptian era and is styled with stained glass pyramids. The walls, stores and the columns of the malls are all decorated with Egyptian symbols and artwork. Since it's opening, the Wafi mall has been a hub for family entertainment, luxury dining and retail shopping chains spread across 5 levels of the mall. Wafi mall offers and electric and exciting range of venue which includes the Khan Murjan Souk located underground along with delectable range of Wafi Restaurants, Cleopatra's Spa and Wellness and Pharaoh's Club that are all equally popular among the people of Dubai.
What to expect at Wafi Mall Dubai: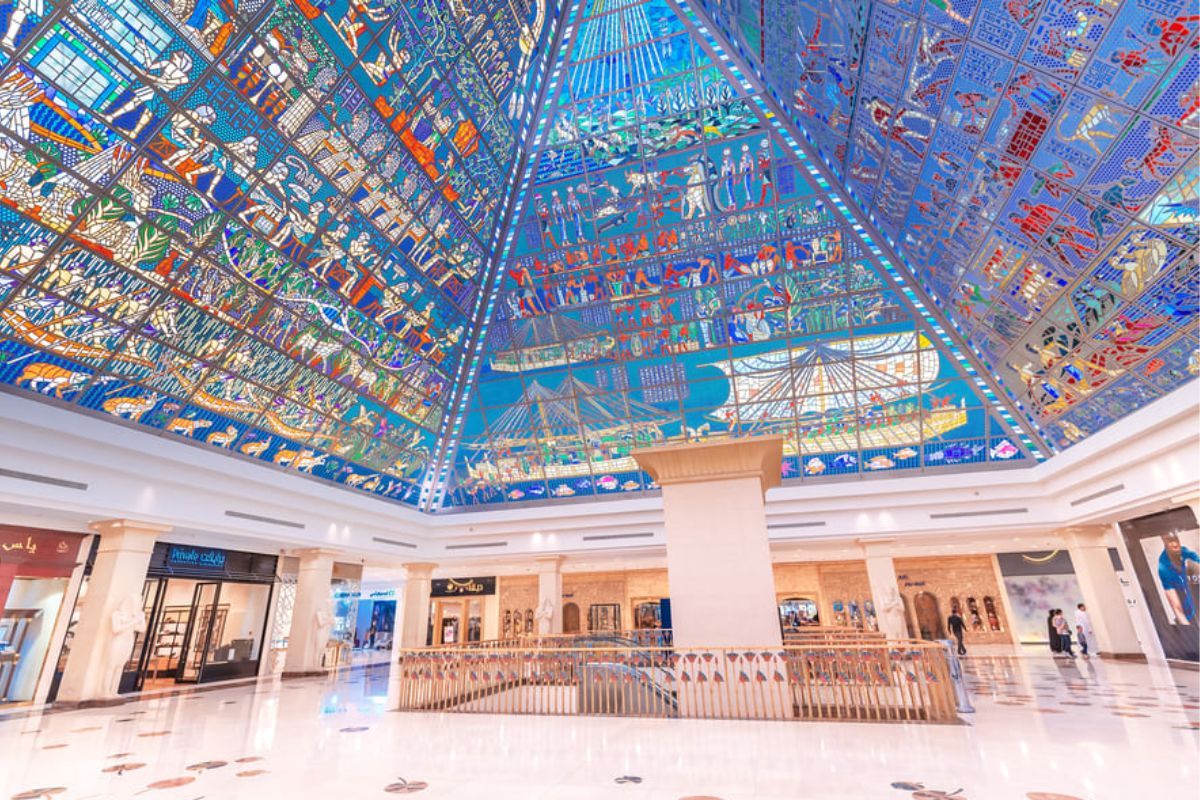 The Wafi Mall Dubai is home to several luxury and high street shopping outlets, upscale and casual dining restaurants, popular wellness spot Cleopatra's Spa, fitness favorite Pharaohs' Club and the five-star hotel Raffles that lies adjacent to the mall. Shop at a wide range of shops while admiring the interior design of the mall including its stained-glass pyramids, pharaoh sculptures and columns with hieroglyphics. The mall has many stores to shop from including designer stores Baldinini and Chopard and local gems like Etoile La Boutique. The underground Arabian Souk offers handicrafts and plenty of artisan treasures from across the Middle East is an experience that you can't miss out on.
WAFI Mall is home to the Salam department store, the mall's largest store, as well as Carrefour. The department store covers an area of over 10,000 square meters, sells a wide range of products, including apparel, perfumes, cosmetics, home accessories, and photography. WAFI, which is spread across three floors, provides administrative solutions from renowned service providers such as VFS Dubai and Dubai Courts to its customers. Wafi Mall is a popular destination for those looking to apply for a visa for an overseas vacation.
Raffles Dubai, a 5 hotel with a similar Egyptian aesthetic, is located adjacent to Wafi Mall and offers sophisticated stays as well as exceptional dining. The hotel is especially well-known for its award-winning afternoon tea service at Raffles Salon. Other nearby hotels include the Sofitel Dubai the Obelisk, Arabian Park Hotel, and Wafi Residence.
Shopping in Wafi Dubai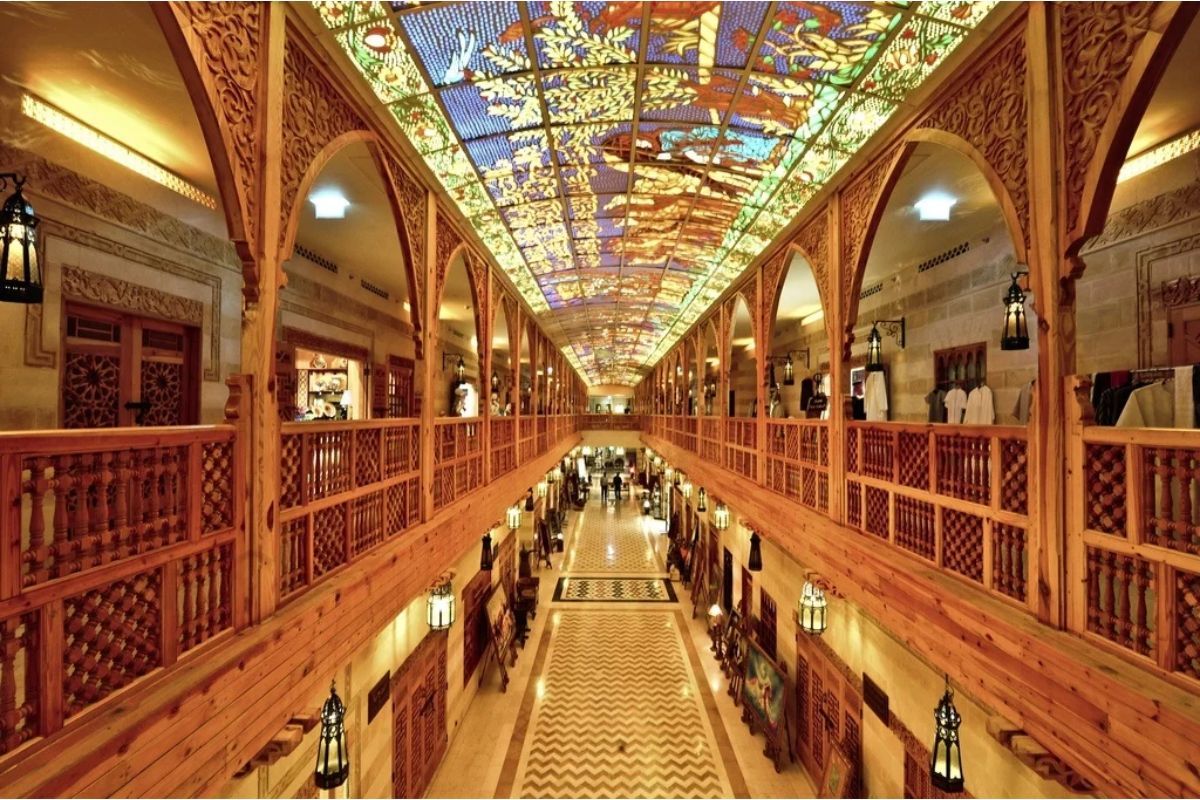 There are unlimited options for you to shop at Wafi Mall. You can shop clothing for men, women, children, and a wide range of other products. Popular stores at Wafi include Marks & Spencer, Matalan, The One, Burberry, Roberto Cavalli and Chopard. Marks & Spencer is among the biggest stored at the mall.
Other local and international brands you can find here are:
• Pierre Cardin
• Rolex
• Antonio
• Aspesi
• Balmain
• BC Collection
• Canelo
• Caresse
• Cesare Paciotti
• Damas
• Mont Blanc
Khan Murjan Souk
WAFI Mall is also home to the Khan Murjan Souk, which is a traditional souk featuring intricate Arabian handicrafts, carpets, and garments. This 50,000 square feet underground market is designed like a 14th century Baghdad souk. It has more than 100 quaint shops that sells handicrafts, antique jewelry, Turkish rugs, exotic herbs, and spices along with calligraphy specimen. This one-of-a-kind Arabian underground souk is immensely popular and attracts large groups of people.
Restaurants in Wafi Mall Dubai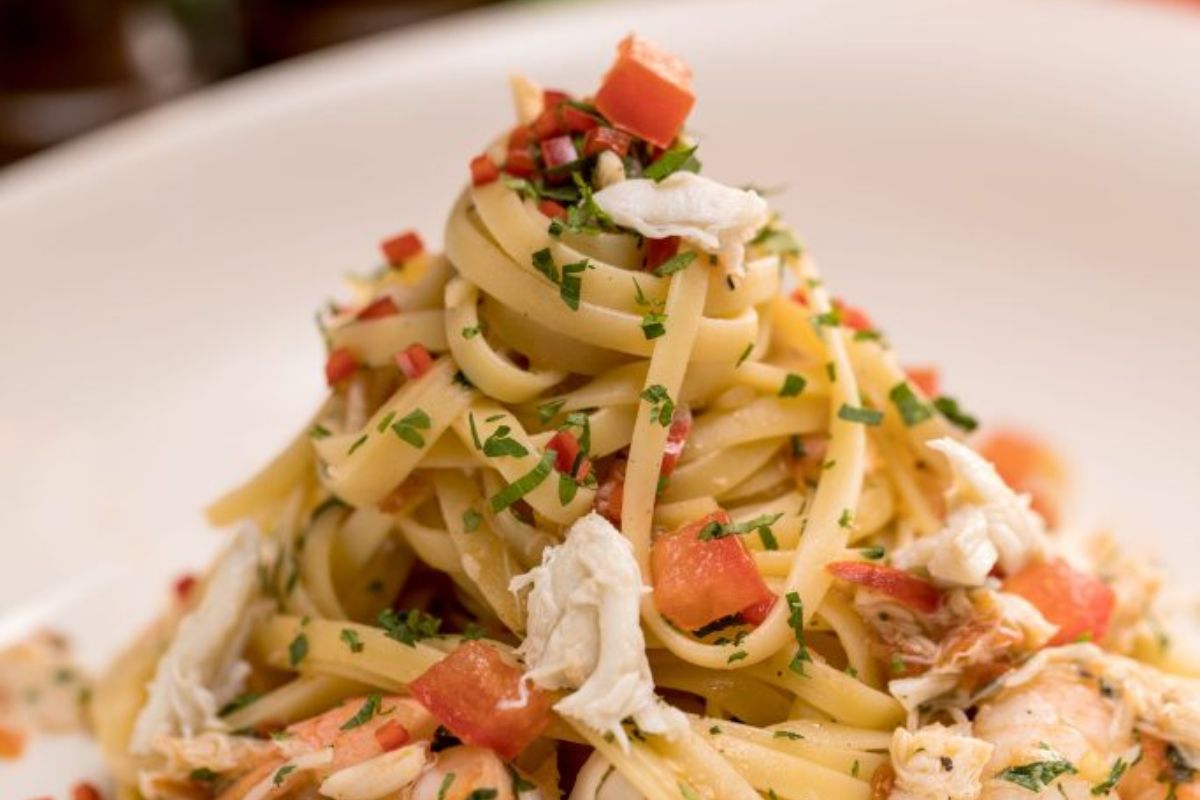 Indulge in a unique fine dining experience with Wafi Restaurants in Dubai. Take a culinary trip across continents and enjoy dishes from Spain, Thailand, China, India, and Britain. Some of the best restaurants to try at the mall include: -
1. Vintage: This is a must-try and ideal location for cheese and wine enthusiasts. It has a large selection of grapes, freshly baked breads, unique hams, and continental platters. Weekly specials include the delectable cheese fondue night, flight night, and our fantastic cheese & cold cuts nights with an unlimited choice of wine, chutneys, and homemade bread from their sommeliers.
2. Seville's: If you're looking for some out of the ordinary dining experience, visit this vibrant Spanish restaurant and taps bar with al-fresco dining, inspired by the tastes of Andalusia. Enjoy a tempting selection of regional specialty dishes with a unique menu of small-sharing dishes that is perfect for a night out with a good company. Discover a variety of traditional hot and cold tapas and dishes like Gambas Al Ajillo, Tortilla De Patatas, and Paella de Marisco paired with your choice from an unbeatable selection of Spanish wine and cava.
3.Thai Chi: This is the perfect place for lovers of the Orient. It combines the exotic flavors of Thailand with tantalizing Chinese dishes. The flavors are replicated perfectly albeit with a twist. It is a unique two restaurants in one that presents you with mouth-watering blends of the two cuisines and flavors. Enjoy from a wide selection of Oriental favorites including Dim Sum, Tom Yum soup, Pad Thai as well as the unknown hidden gems from the kitchens of the Far East. The restaurant will take you on a culinary journey, and a memorable dining experience.
4. Asha's: An innovative style of Indian restaurant boasting a traditional North Indian menu with succulent meats, vegetables and fish, Asha's offers authentic Indian food in a modern setting. Try their signature dishes Daal Makhani, Murgh Malai Kebabs and Spicy Keralan chili garlic prawns that sit alongside exclusive creations including the boatman prawn curry and indulgent saffron-infused Lamb Kesar Biryani.
5. Biella:  A bustling and extremely popular Italian café and pizzeria that has enviable reputation of being one of the most highly acclaimed and popular destination in Dubai. It offers the best pizzas in Dubai. The food is delicious and covers a full selection of pasta, authentic specialty pizzas and salads. Biella focuses on a large selection of fresh fruit cocktails, as well as Italian made soft drinks, and Italian cappuccino which are a must after your meal.
Other popular restaurants, cafes and eateries at Wafi mall are:
• Paul
• Bosporus
• Flavours
• WAFI Gourmet
• Khana Khazana
• La Aristocrat
• Loge
• Noodle Factory
• Papa John's Pizza
• Rose Café
Entertainment in Wafi Mall Dubai:
1.  Lazy River & Pool: A cool and relaxed environment where visitors can kick back and relax on the roof deck after a few hours of frantic shopping. Professional swimmers can train here, while children can take aerobic and aqua lessons under the watchful eye of qualified instructors.
2. Tee & Putt: The ball glows in the dark on an 18-hole mini golf course with many twists and turns. The neon-coloured lights add to the fun and excitement, making it one of the best family activities.
3. Kids Connection: An indoor kids park par excellence, with children of all ages having a great time sliding, running, climbing, and crawling with the help of see-saws, swings, and many fun rides. There is also a trampoline-covered arena where the kids can jump up and down in joy. Older children prefer to practice their skills on the softball field, while the more daring among them explore the bouncy castle. A variety of electronic games are also available for a fee.
Wafi City Rewards
WAFI Mall's loyalty program enables frequent visitors to take advantage of incredible discounts in a wide range of stores. You can also use your reward points at WAFI's cafes, restaurants, and spa. You can obtain your WAFI Rewards card from any customer service location within the complex. Every dirham spent at WAFI, Khan Murjan Souk, Wafi Health Club & Spa, or Wafi restaurants earns you one point. And you can redeem points worth 1% of your total points collected.
Location and Timings
The Wafi mall is in Dubai's Wafi City and Umm Hurair district on Oud Metha Road and is easily accessible from anywhere in the city.
The mall is open from Monday to Wednesday from 10:00 am to 10:00 pm and from Thursday to Sunday from 10:00 am to 12:00 am
How to reach Wafi Mall
You can reach the mall from metro taking the green line and getting down at the Dubai Healthcare City Metro Station from there it is a 5-minute walk to the mall. The mall is a 10-minute drive from Dubai International Airport. You can also take a taxi, Careen, or Uber to the Wafi Mall. The mall has over 2,500 covered parking spaces with direct access to the entrances and designated spots for disabled guests. Valet parking is also available at all main entrances, as well as VIP parking at the main atrium entrance.
Other attractions to visit near Wafi Mall:
Other attractions you can visit near Wafi Mall are:
• Children's City
• Dubai Dolphinarium
• Dubai Creek
• Creek Park
• Dubai Frame
• Bur Dubai
• Dubai Garden Glow
• Zabeel Park
Also read: