Dubai is a city of wonder. Before the rise of the glittering skyscrapers, luxury restaurants and hotels, and the iconic Burj Khalifa. Beyond the urban city of Dubai, the city had much humbler beginnings. Dubai was a set of villages that housed Emirati families of merchants, fishermen and pearl divers.
After the rapid growth after the oil boom the rapid growth, what was left to preserve the history was Old Dubai. So here is a list of the top 5 things to do and see in Old Dubai.

Walk around Al Bastakiya Quarter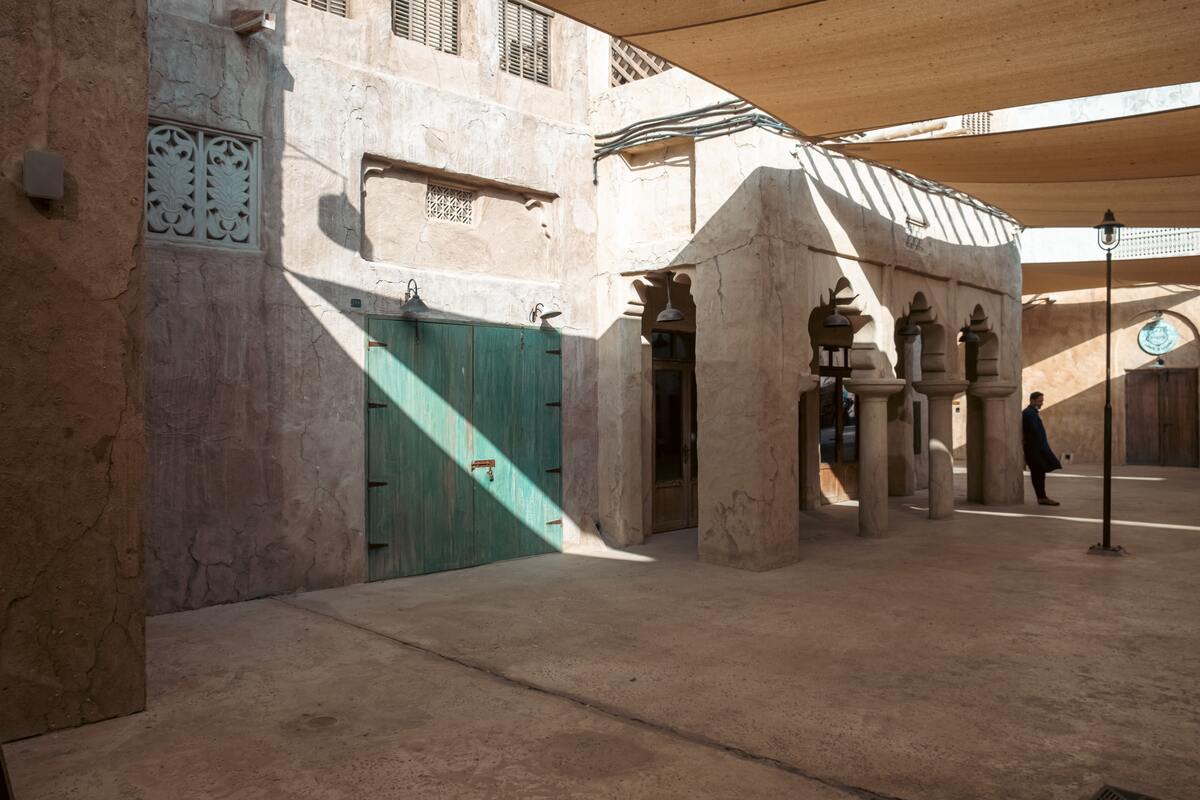 Al Bastakiya is a historic quarter that has existed since the 19th century—considered the oldest residential quarter in Dubai—now known as Al Fahidi Cultural and Historic District. Back then, the Emirati merchants of that time built the village to house fishermen, tradesmen and pearl divers. Much of the architecture is inspired by established merchants.
One of the great technologies of the time was the wind towers (known as Barjeel)  which functioned on natural cooling, transporting the wind into the house's rooms. Most of these wind towers were installed in the houses of wealthy pearl merchants, and slowly they were installed in other families' homes.
This was an impressive method used to beat the desert heat. The earlier models of these wind towers were made of palm fronds, and the only issue is that palm fonds are highly flammable, so later, as the Emirati people looked for sturdier materials for longer endurance and better safety, they replaced them with sea stone and coral were locally found and were better materials for wind tower construction. Inside the Al Bastakiya, there are houses, stalls and carriages.
The village will make you feel that you have been transported through time. Have a walk around its maze-like structure and observer the beauty of old Dubai.
The town feels like its inhabitants have abandoned it, leaving behind their cooking supplies, clothes, and sand furniture. Occasionally walk inside the houses and museums, have a feel of the old way of living, and enjoy your exploration. The village will help you unwind from the hustle and bustle of the lively city.  

2. Explore the local arts and culture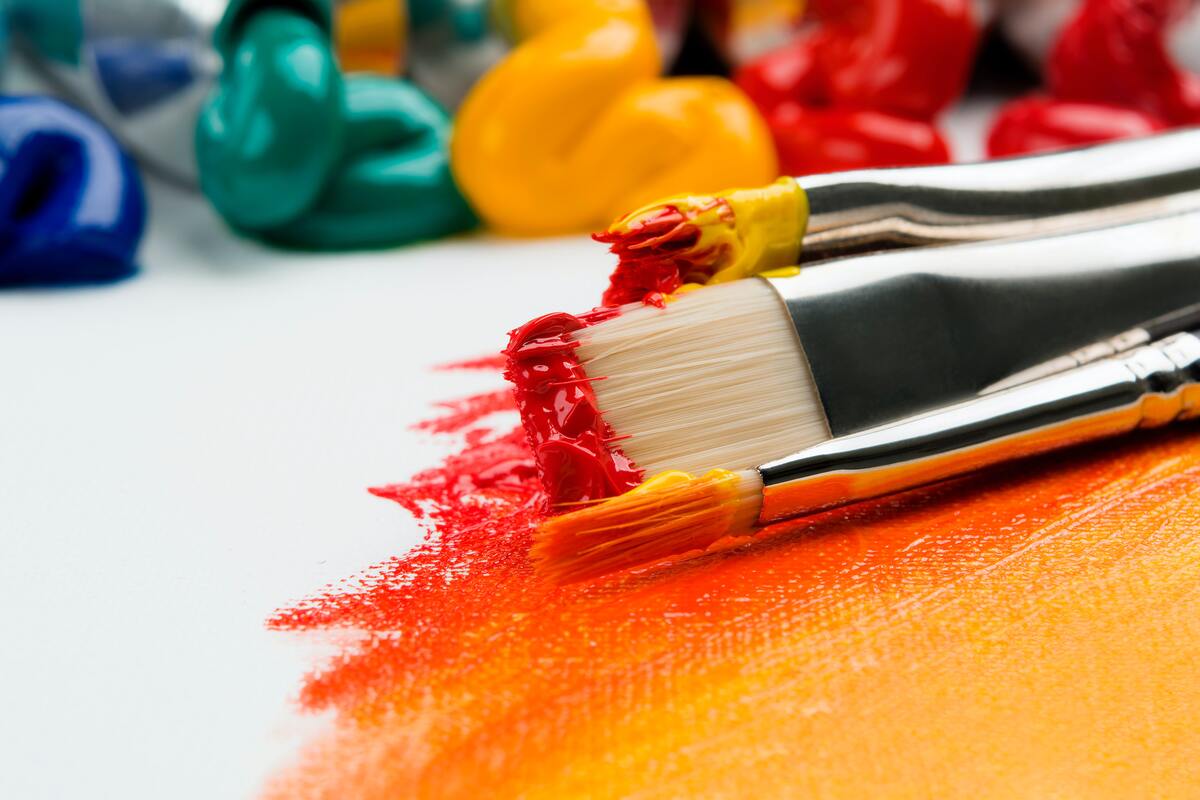 Learn about history and culture at Dubai Museum
Once you have toured the streets of Al Bastakiya, your head must be filled with many questions about old Dubai's culture and way of life. Then do not worry. Just head straight to Dubai Museum. All your questions will be answered, and you will learn so much more about the history of Dubai, how it was and how it came to be a city of innovation. Inside you will encounter colourful historical exhibits.
The building of Old Dubai was built in 1787, and it was once a monarchy's residential place, then turned it a prison and later into a fort to store weapons and arsenal. After its long history, it got to be renovated on the orders of Sheikh Rashid bin Saeed Al Maktoum. Later, in 1971, the United Arab Emirates was formed. The fort was opened and renamed as Dubai Museum.
Now a place that captures the heritage and fascinating history of this nation. Dubai Museum thrives on its visual galleries, which recreate pieces of history for you to imagine. From Arab houses, mosques, souks and date farms. Showing a visual representation of fishermen and pearl divers diving under the sea.
Explore the arts at AVA Gallery
AVA Gallery is a contemporary art gallery that originates from Italy. Stated operating since 2018 in the United Arab Emirates. AVA Gallery has taken part in hosting numerous exhibitions, workshops, art classes, art fairs and more throughout the years. This AVA Gallery attempts to inform the masses on the value that art can influence and reflect the state of our environment.
It encourages individuals to tap into their creativity and passion through many workshops and art classes for participants of different age groups. At the same time, AVA Gallery brings forth the art of diverse artists from different backgrounds, from international to local artists. Many are now well-known talents. Look at the art gallery and let your emotions take hold during the timeless tour.

3. Enjoy Emirati hospitality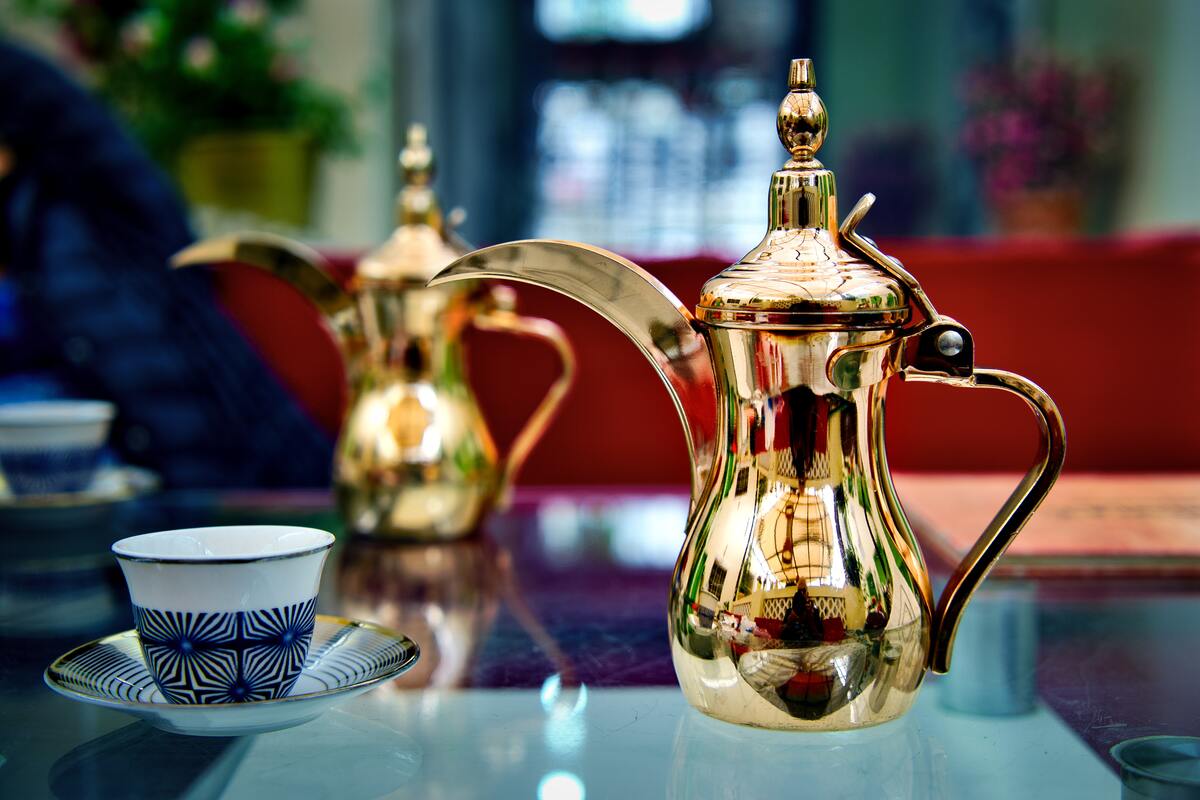 Enjoy a cup of coffee in the Coffee Museum.
Coffee Museum is found inside Al Fahidi Historical Neighbourhood in Old Dubai, and you can visit the unconventional Coffee Museum. For all coffee lovers, you need to visit this museum. You can get on a tour demonstrating the long and precise process of coffee harvesting, brewing and serving in the Emirati culture. You will also learn how to distinguish the various types of coffee and where they are harvested and brewed.
The coffee tour does not end without tasting a cup of coffee, and there, you can try Japanese coffee, Arabian coffee and many more. Go deep into the history of coffee, and try out the Majlis, a gathering that is essential in Emirati households until today. Al Majlis consists of a living room designed to hose guests with a cup of coffee and other treats, which shows the importance of good hospitality in Emirati culture. End your tour with a souvenir to take back home.

Timings: 9 am to 5 pm every day of the week, only closed on Friday
Have lunch at the Arabian Tea House
After exploring and long walks, take a break at the excellent Arabian Tea House. Known for its extensive brewed teas and beverage selections. Here you can enjoy a traditional lunch, dinner and breakfast cooked the Emirati way. The Arabian Tea House will definitely transport you to the old times, with its beautiful original style of decore, all established inside a historic building in Old Dubai. Time tends to fly by when sitting in the tea house. Try out the Arabian Gahwa, a cup of traditional Arabic coffee, as you enjoy your own company in this dreamlike cafe.

4.  Go on a shopping spree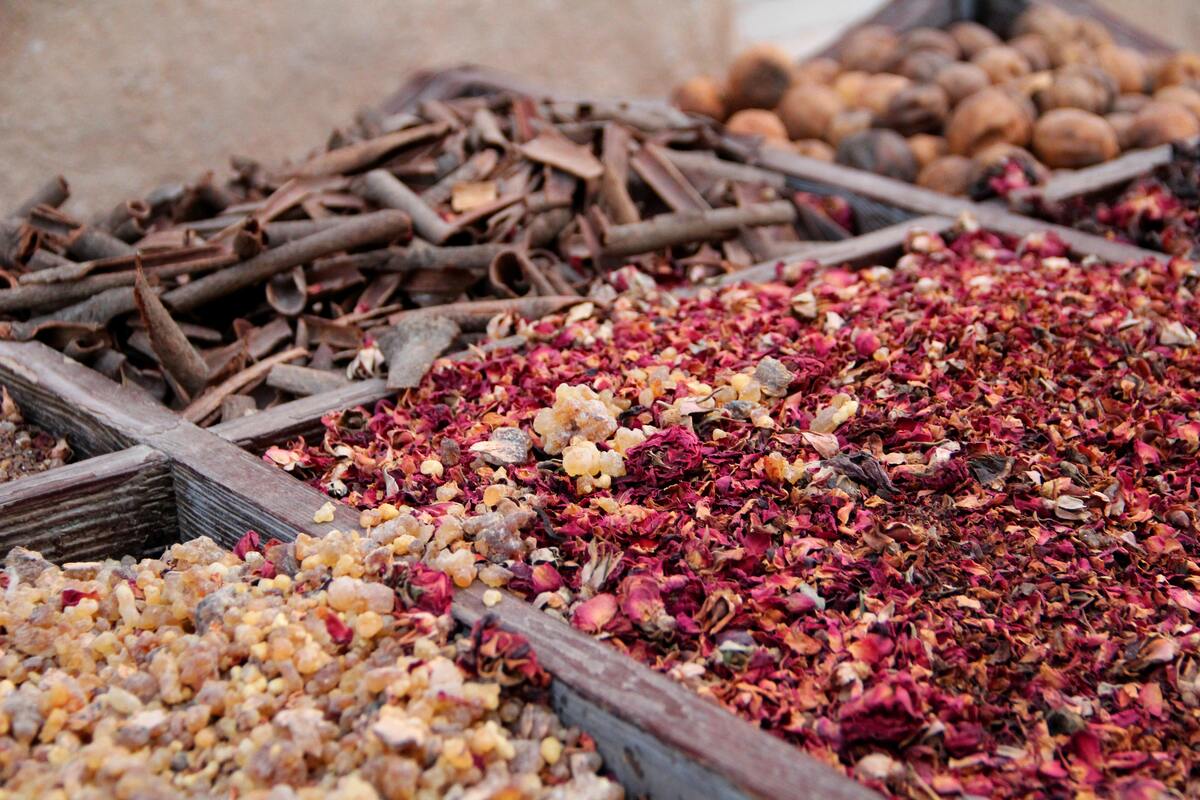 After all the fun tours and the new views on the history of this Middle Eastern nation, an urge to collect new precious items will eventually kick in. And when it does, you must head straight to the souks in Old Dubai. Start with the Spices souk, known for its vibrancy in colours and smells. Explore the spices and herbs used for food seasoning, herbal medications, and warm brews.
Do not hesitate to ask the shop owners about the uses of different spices; they will give you ideas and sometimes even recipes to try out at home. If you are considering upgrading your home decor to something more unique to your current style, go ahead with the Textile Souk. There you will find patterns that have influenced Dubai from neighbouring countries such as current-day Iran and India, along with some Arabian designs.
In the souks, you can find traditional clothes from around the middle east and south Asia. All are located in the Textile souk. Based on the name of the market, you can find any raw materials, handmade pillows with creative patterns and colour combinations, beautiful table clothes, and rich Persian carpets made and designed by hand. There are also headscarves and so many more dresses and designs. Almost anything you are looking for can be found in this souk. There are also silks and laces for creative designers and tailors to bargain for and purchase reasonably.
There are many souvenir options to buy and take back home, all from the basics like Dubai's iconic monuments printed on the ceramic mug, magnets and keychains. However, if you want something of more excellent value, try exploring the shops further. You might like a painting by a local artist on sale—pieces of Arabic calligraphy or clothes and home decor.

And best for last, do not forget to stop by the Gold Souk and explore the glittering traditional jewellery. You will find unique designs that differ from the jewellery in shopping centres in Dubai. The abra is also known as a water taxi, moving on a creek that dominated the history of Dubai for hundreds of years.

Timings: from 10 Am to 2 Pm, open daily

5. Take a boat ride across Dubai Creek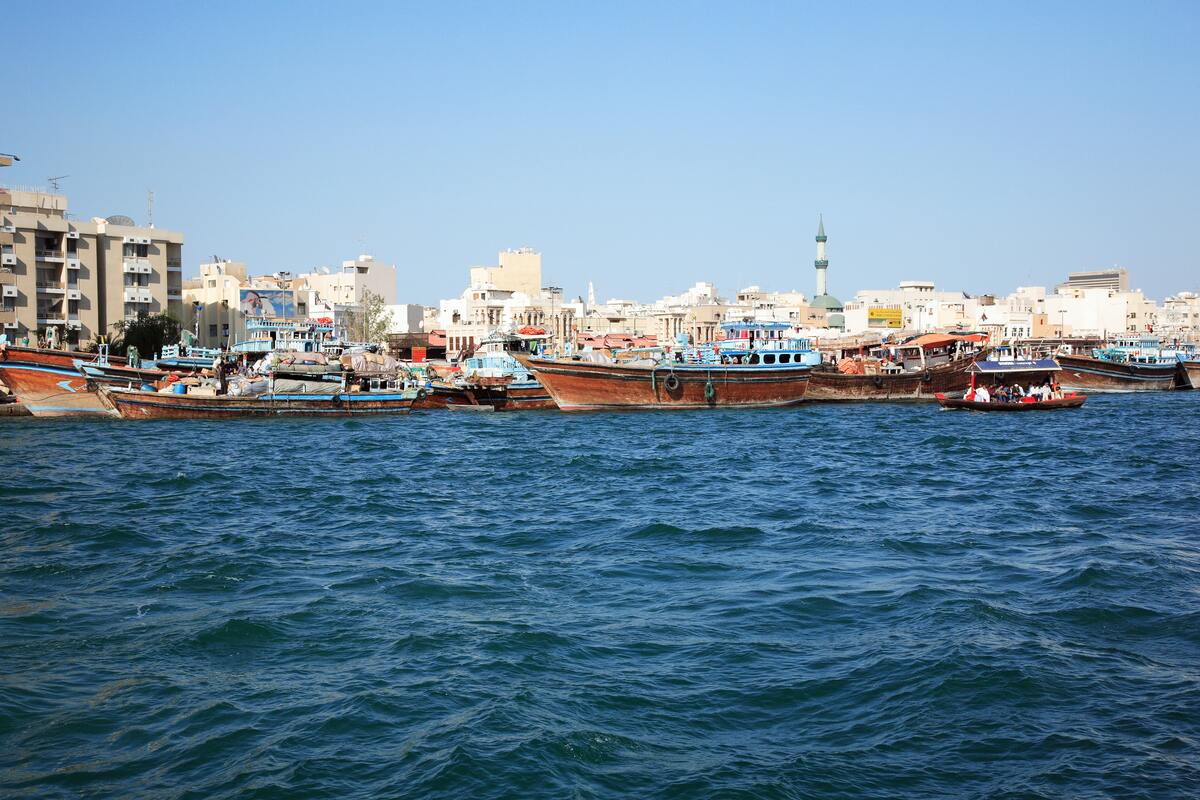 Dubai Creek has a significant place in Dubai's history. This saltwater canal is where the fishermen and pearl divers caught their source of income by selling it to the merchants. Tourists can cross the Creek by paying one Dirham to sit inside the abra, a boat that will take you on a lovely drive to the other side of Old Dubai—moving people from Al Bastakia to the souks. Aside from taking the abra ride. Take a moment to take in the few scenes of the local workers who take packages stocked the traditional method on the Dhows, a wooden boat used for trade. Watching the workers bring in imports and send exports will give you an idea of the contrasting lifestyle of modern-day Dubai to the old ways of living.
READ MORE