Bring back the past to your shopping experience. Skip the malls to explore the Souk in Deira Dubai. There you can find interesting items you never thought you'd need, from jewellery and home décor to traditional tea sets and rich spices.
This enticing and ever-busy market has a deep history representing the ambience and architectural structure of an Arab market.
Gold Souk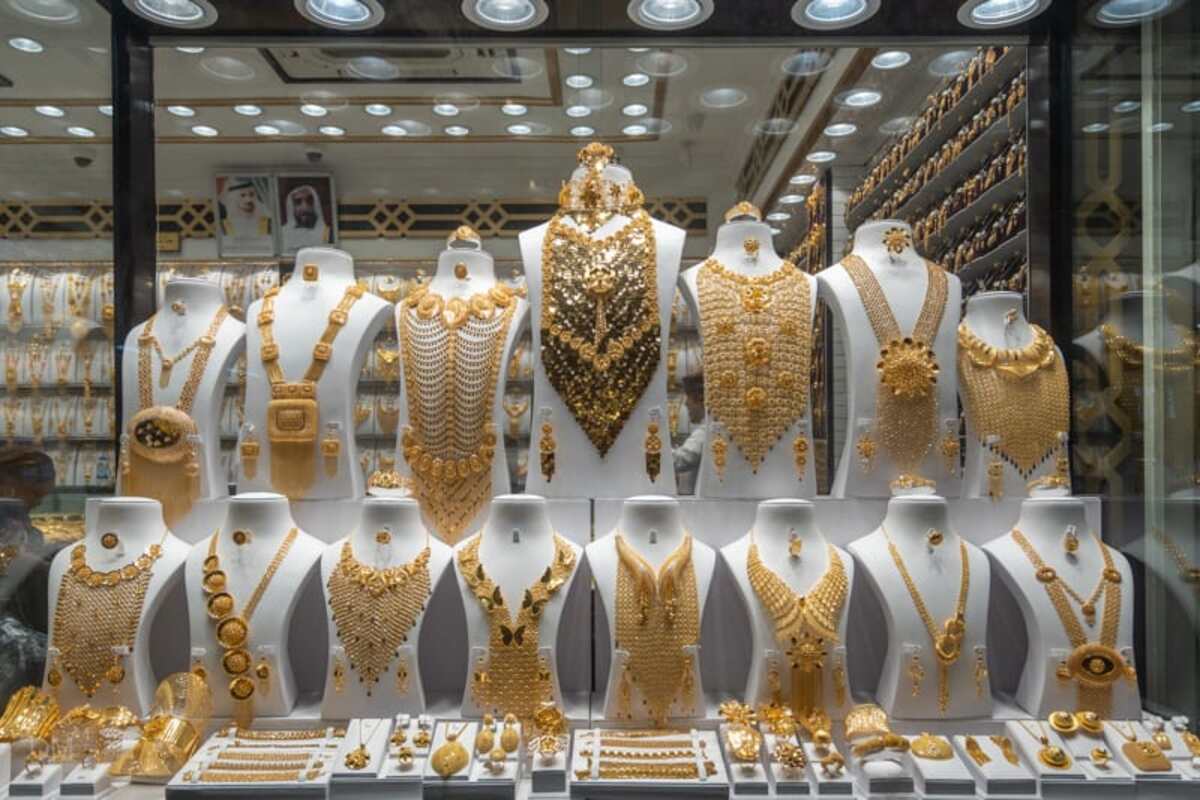 Gold Souk, as the name shows, is a market of jewellery stores. Bring the best of your bargaining suits since no price is set. There you will find designs of the middle east and Southeast Asia.
Although it is known as the Gold Souk, do not be fooled there, you will also find pieces encrusted with diamonds and pearls. There are also silver and rose gold pieces to pick the best suit your style.
Location: Deira, Near Al Ras Metro Station
Timings: Open all days: 10:00 AM to 10:00 PM (Some shops are closed for lunch breaks between 1:00 PM to 4:00 PM. Make sure you give them a call before visiting). Timings on Friday: 4:00 PM to 10:00 PM
Perfume Souk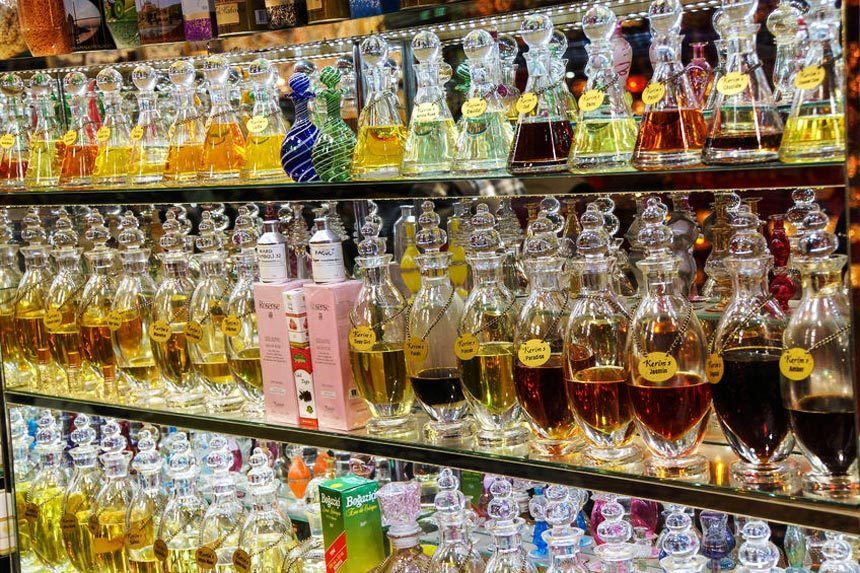 After crossing the Spice Souk and the Gold Souk, your sense of smell will catch on the aromas of perfumes and incents. At Sikkat Al Khali Street. You can try out modern scents there, and through the large variety, you might spot your favourite on the shelf. Instead of exploring the traditional Arabian oud, there are types of backdoors to use for your house, crystals, powders and incense sticks.
If neither of these options is up to your taste, then you can customise your smell according to the scent you are searching for. Similarly to the Gold Souk, only settle for the first price. Instead, bargain to get the best deal you can get. Remember to get a souvenir for your loved ones to bring back to your home the enchanting smells of the Perfume Souk.
Location: Deira, Sikkat Al Khali Street, Near Al Ras Metro Station
Timings:  Everyday 10:00 AM to 2:00 PM and from 4:00 PM to 10:00 PM. On Friday: 4:00 PM to 10:00 PM
Textile Souk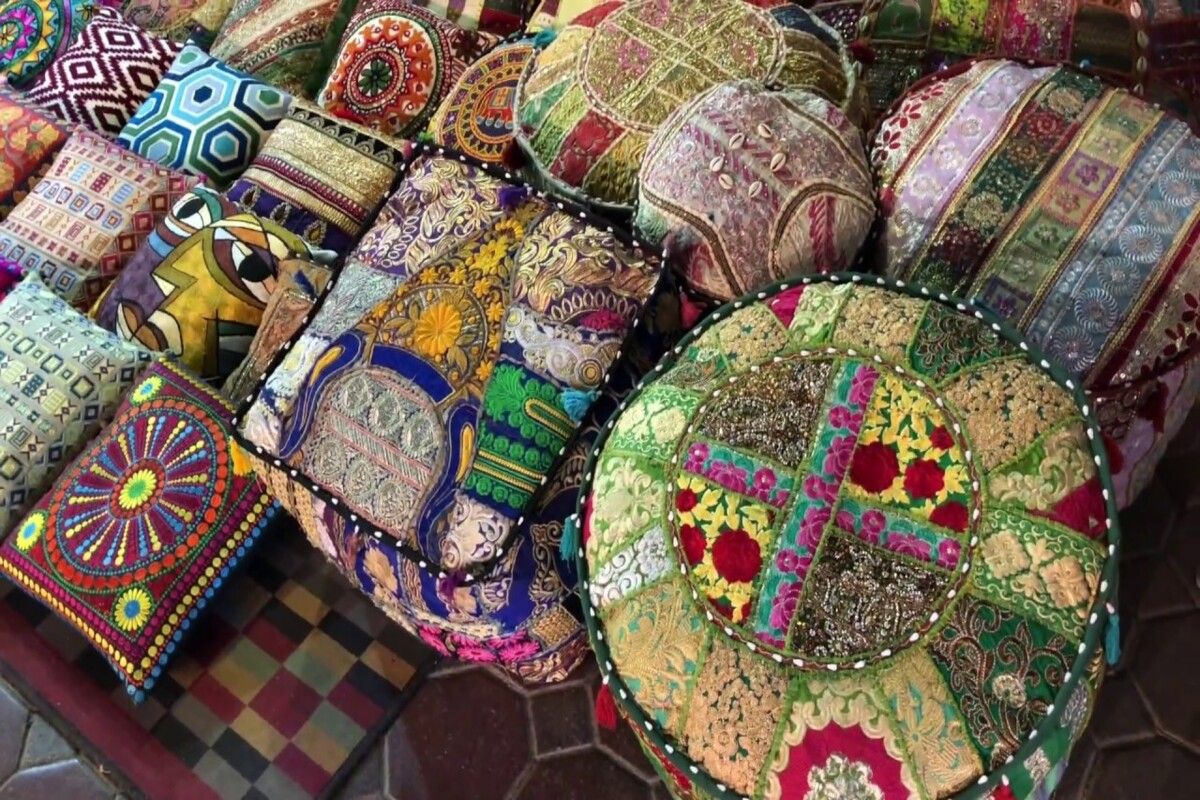 Open your mind to new forms of fashion to what you are usually used to wearing. Look around the Textile Souk near the Creek in Bur Dubai. Try out chic looks in capsule elements of Arabian dressing styles, from gulf countries to northern African dresses. All are made with so much care by local stylists. If you are on the more creative side of design, check out the high in quality fabrics. All come in vibrant and dim colours, all rich to the touch. There are silks, laces, and cotton. Stitching machines of different sizes and under other brands. You'll find specific items like buttons of various forms, stones and pearls to decorate your costumes under your design.

Location: Bur Dubai, Near Bur Dubai Abra Station
Timings: Daily, 10:00 AM to 10:00 PM. On Friday: 4:00 PM - 10:00 PM
Spice Souk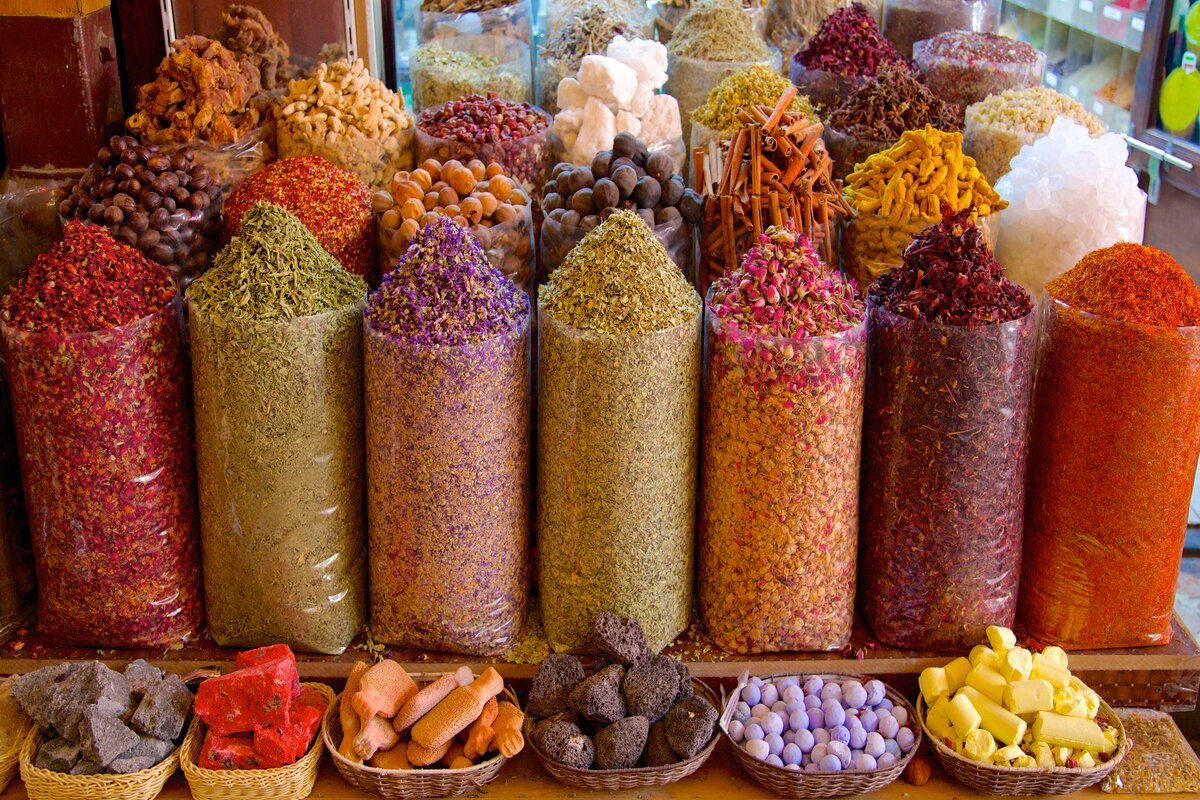 The Spice Souk is a place where your senses are engaged with the warm colours of saffron, cumin and black pepper. There your nose can sense the tingling kick of each dried herb.
This lovely Souk offers all kinds of spices you can think of, some of which you might not even try to use before. All are stacked in the open for you to examine and decide which spice you will fill your plastic bag.
Aside from purchasing spices, you can ask the vendors to tell you about the properties of some of their products. Learn from them how to introduce new flavours in your home dishes or discover how to use herbal remedies with dried leaves and nuts.
They might reveal their tips and trick after all the vendors are willing to answer all your questions about culinary and spices.
Location: Deira, Near Al Ras Metro Station
Timings:  Everyday 10:00 AM to 2:00 PM and then from 4:00 PM to 10:00 PM. On Friday: 4:00 PM to 10:00 PM
Flea Market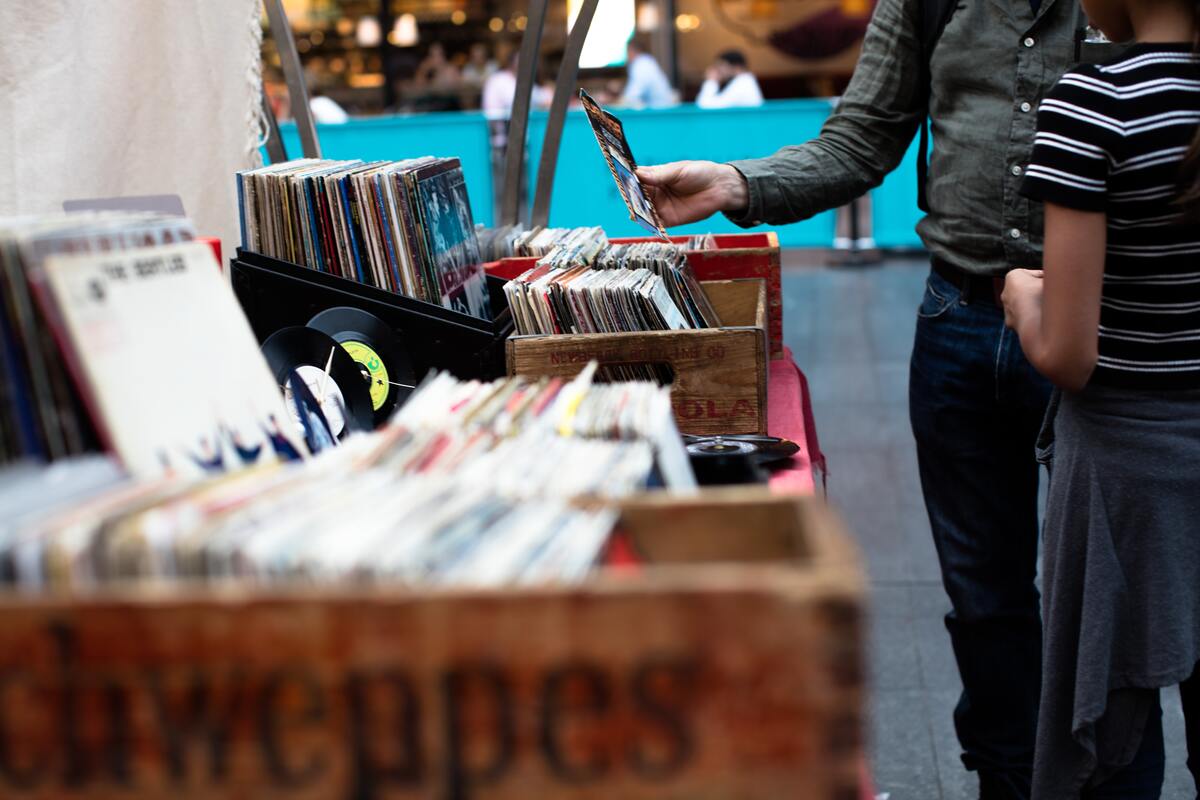 If you are thinking about the state of the planet under climate change, but you need to do some shopping, then do not hesitate and visit the Flea Market. There are great second-hand items that you might be interested in taking back home.
There are around 300 stalls, all selling furniture, music, antiques, clothes, books and more. The Flea Market is a moving market. In other words, it is held around 2 to 3 times per month, always set in a different place in the city of Dubai.
Try showing up on the first days of the opening of the market. Since then, you can easily find things that pique your interest. Aside from shopping, you can make friends with local shopkeepers, making it a great place to socialise and meet new and exciting people.
To stay up to date for a future visit, click the link to Dubai Flea Market's official website.
Location: Ibn Battuta Mall, Zabeel Park, The Greens, Jumeirah Lakes Towers.
Global Village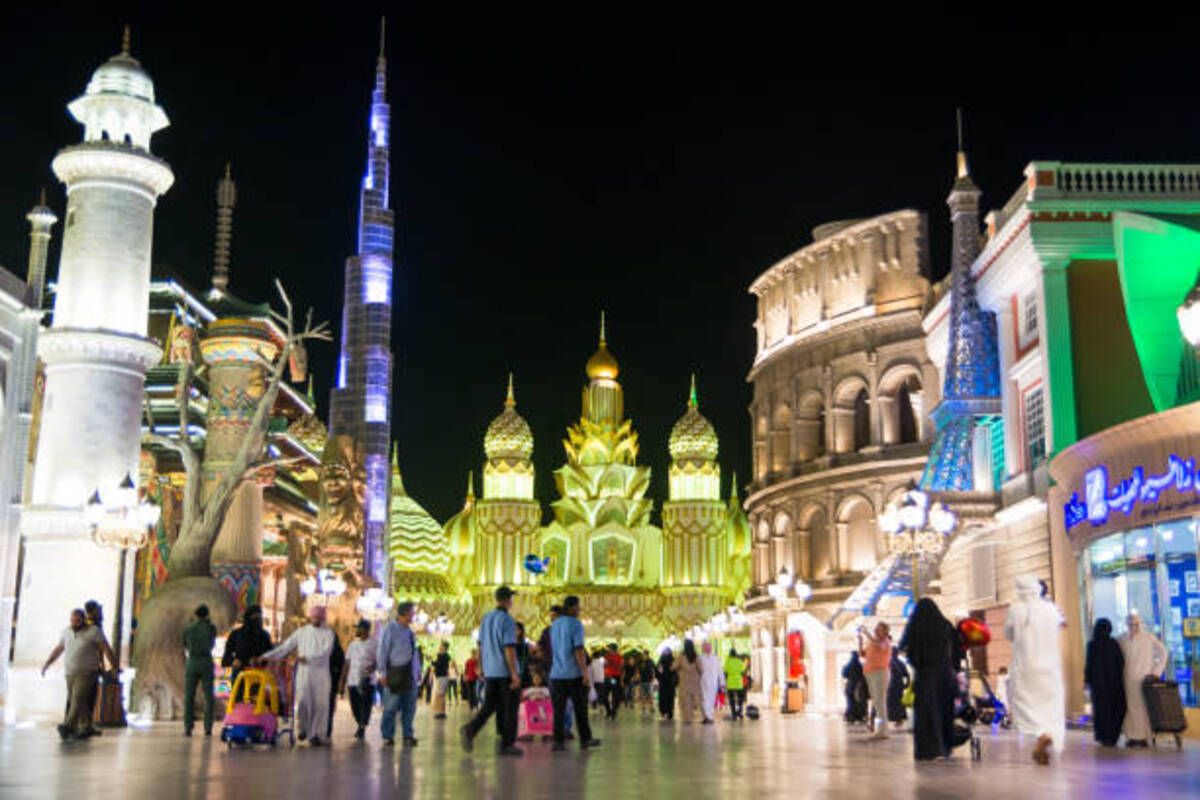 Have you ever wished to travel worldwide and explore elements of different cultures? Then visit Global Village Dubai. There you will find items from around 90 countries!
All-inclusive of merchandise; entertainment; dining services, and shops. Global Village spreads around 17,200,000 sq ft. You would need to organise various visits to explore all the countries in Global village. Global Village is a seasonal market opening its doors from October to April.
The lovely thing about Global Village is that it never ceases to impress, no matter how many visits you experience, there is always something new to discover.
Location: Sheikh Mohamed Bin Zayed Road and Emirates Road - Exit 37 - E311 - Dubai
Timings: 4:00 PM to 11:30 PM (till 12:30 AM on Thursday and Friday)
Entry Ticket: AED 15 per person
Meena Bazaar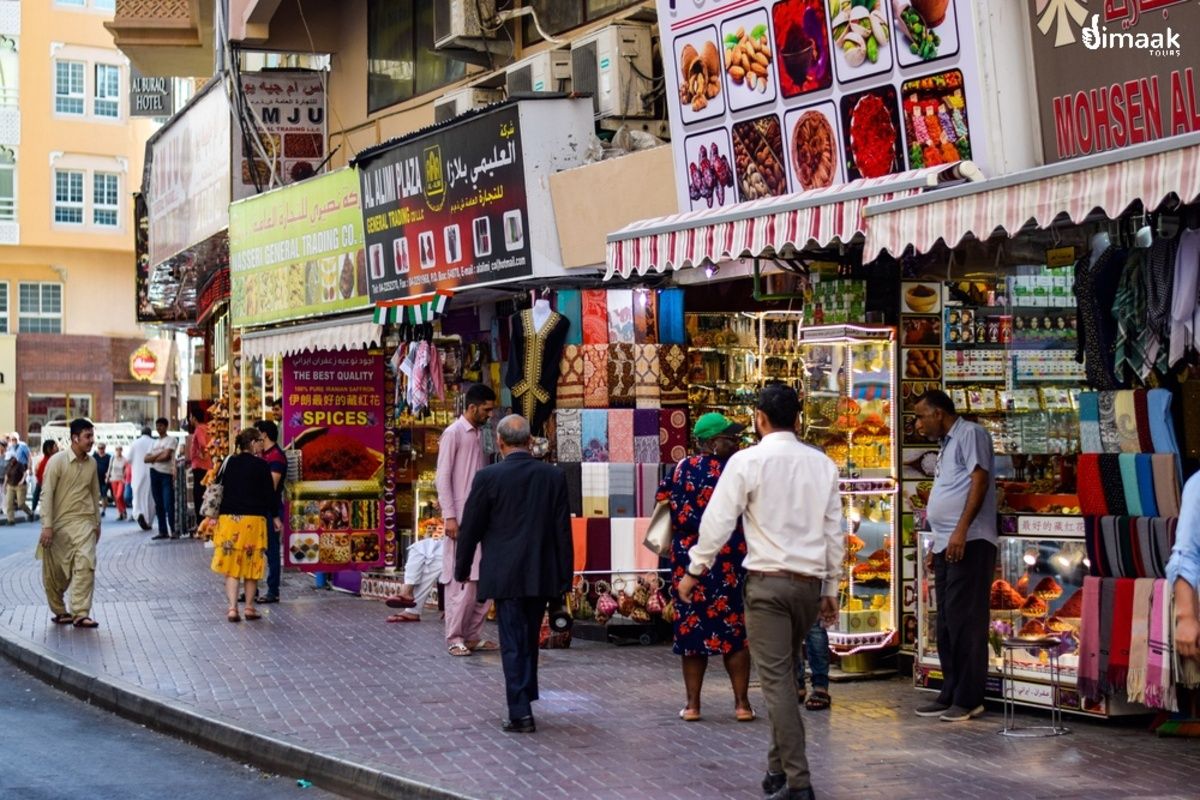 Unlike other markets on this list, Meena Bazaar is a fusion of different small needs, each selling anything from watches to textiles and jewellery.
There the market's prices are very economical. You need to rely on your skills to assess the quality of the products you buy. After that, you must bargain the prices for each item you fancy.
Regardless, Meena Bazaar offers its visitors the freedom to bargain and discuss the worth of any product displayed for purchase. Aside from shopping, Meena Bazaar provides a priceless experience not often found in modern cities.
Location: Close to Khalid Bin Waleed Street, Bur Dubai
Timings: Everyday 9:00 AM to 10:00 PM
Souk Madinat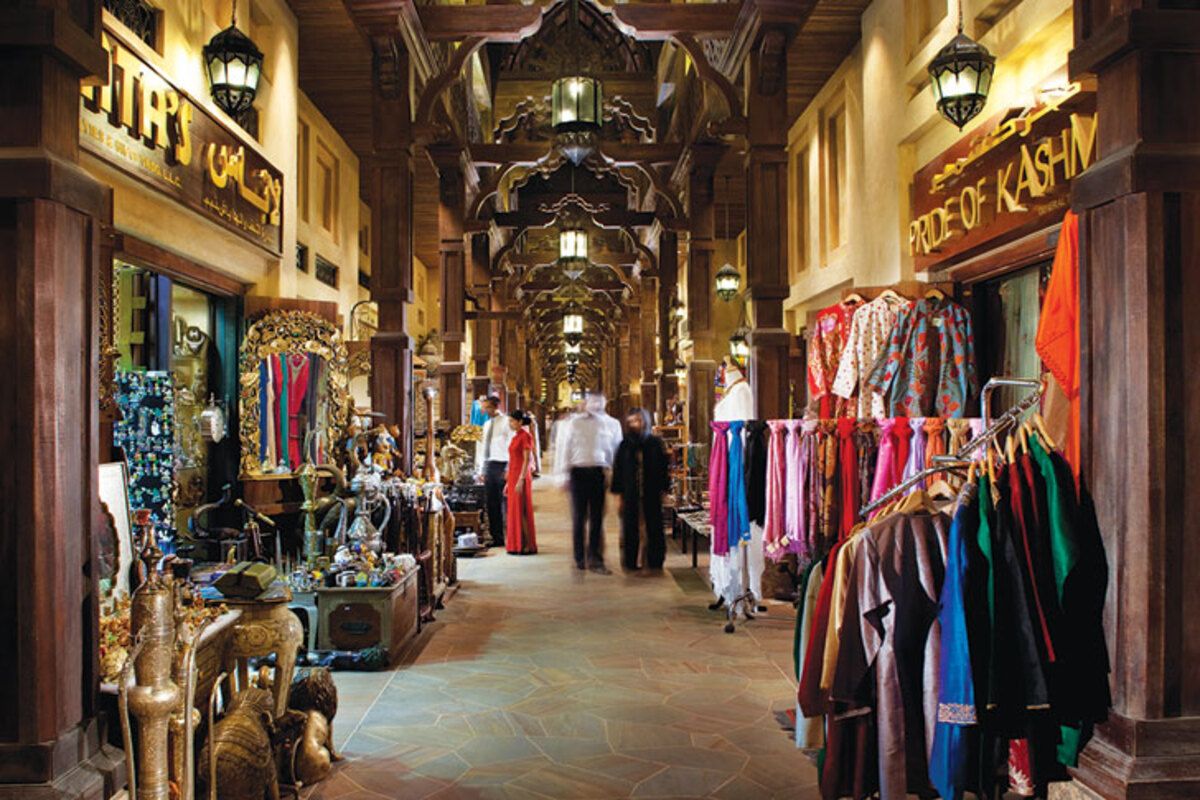 Souk Madinat might appear to have a more historical allure through its beige traditional Emirati buildings that form the market. Located in Jumairah, Souk Madinat is made of narrow pathways.
On each side are open doors of retail shops. But do not be fooled by its looks. Unlike other traditional and affordable local Souks in Dubai, Madinat Souk has luxurious products, all set in designer stores and five-star restaurants. If you want to splurge, feel free to catch up with a live show to entrain yourself after a long shopping day.
Location: Al Sufouh Rd, Jumeirah
Timings: Everyday 10:00 AM –11:00 PM
READ MORE