Dubai is undoubtedly a city of endless experiences. The diverse shopping experience offered in Dubai can be rarely matched by other popular cities. Be it shopping for luxury products or affordable items, Dubai has you covered. Popular for its shopping malls, Dubai houses many popular global designer brands like Saint Laurent, Dior, and Armani. These unique luxurious shopping experience attracts thousands of tourists to this city of skyscrapers every year.
Dubai is not all about the bling. Dubai has created a culture where the tradition and heritage of the region is appreciated. The souks that you find around the city's old neighborhoods are preserved for those who would like to indulge in a unique Arabic style shopping experience. Dubai Textile Souk is one among the popular souks in the city where you can shop for quality fabrics for a reasonable price.
While in Dubai, never miss the chance to visit Dubai Textile Souk for the shopping experience and to have a wonderful time at the place. Here's what you need to know about Dubai Textile Souk, one of the best historic places to shop in Dubai.
Dubai Textile Souk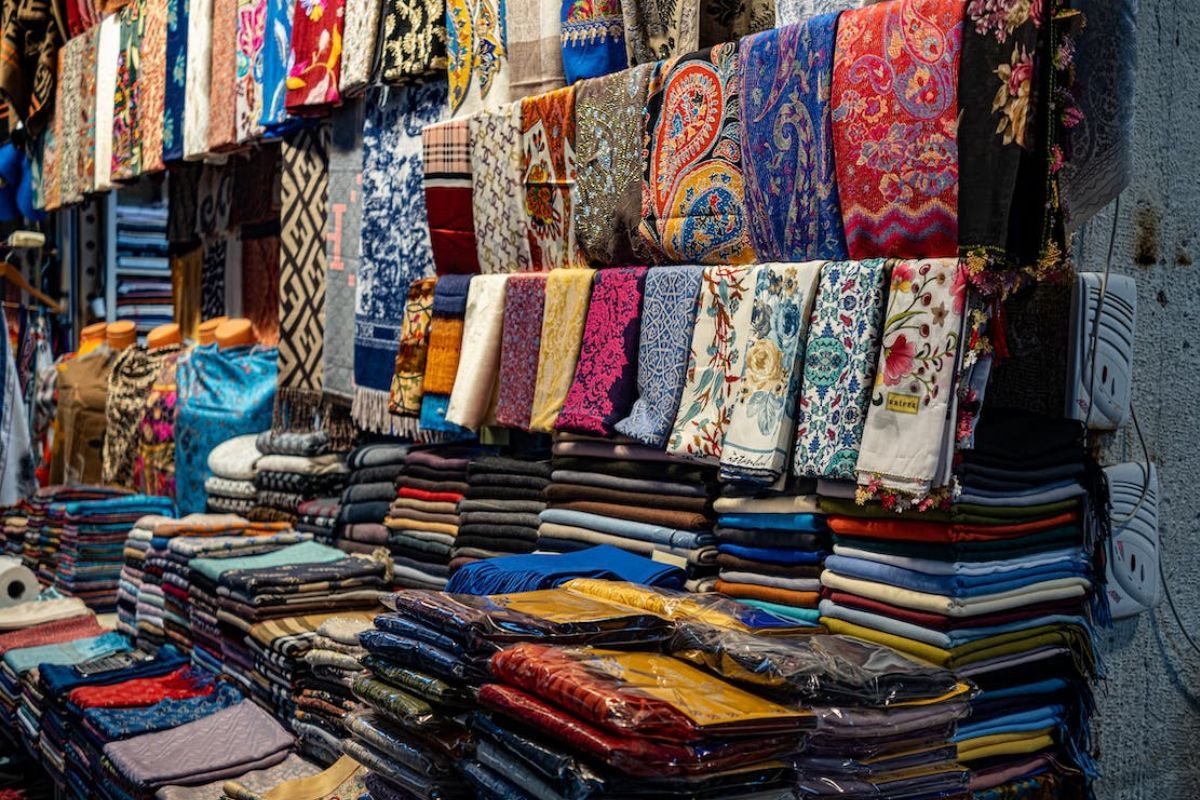 Dubai Textile Souk is a traditional marketplace located in the historic district of Bur Dubai in Dubai. This bustling souk is known for its colorful collection of fabrics, textiles, and clothing items. The textile souk is one of the oldest marketplaces in the city. You can walk through the narrow alleys of the souk to have a glance at the small shops and stalls. Each shop offers a unique selection of fabrics and textiles. These shops sell everything everything from silk and cotton to wool and cashmere, in a variety of colors, patterns, and designs.
The shops import most of their fabrics from India, Pakistan, and other countries making the souk a hub for international trade. Bargaining is a common practice in this textile souk, so don't be afraid to haggle over prices. The vendors are used to negotiating, and it's all part of the shopping experience. The vendors at the souk will make sure you have a great street-like shopping experience. They are always willing to offer advice and help you find what you're looking for. The souk also offers ready-made garments in various designs and collection. There are some shops in the souk that offer tailoring services also. You can have a garment made according to your desired specifications. Whether you're looking for a traditional Emirati dress or a modern outfit, you're sure to find something that suits your style and taste.
Dubai Textile Souk's historic location also makes it one of the most visited tourist destinations in Dubai. If you're interested in exploring more of the area, the Dubai Museum and the Sheikh Saeed Al Maktoum House are both within walking distance. There are plenty of restaurants and cafes in the area, so you can take a break and enjoy a meal or a cup of coffee while you're there.
History of Dubai Textile Souk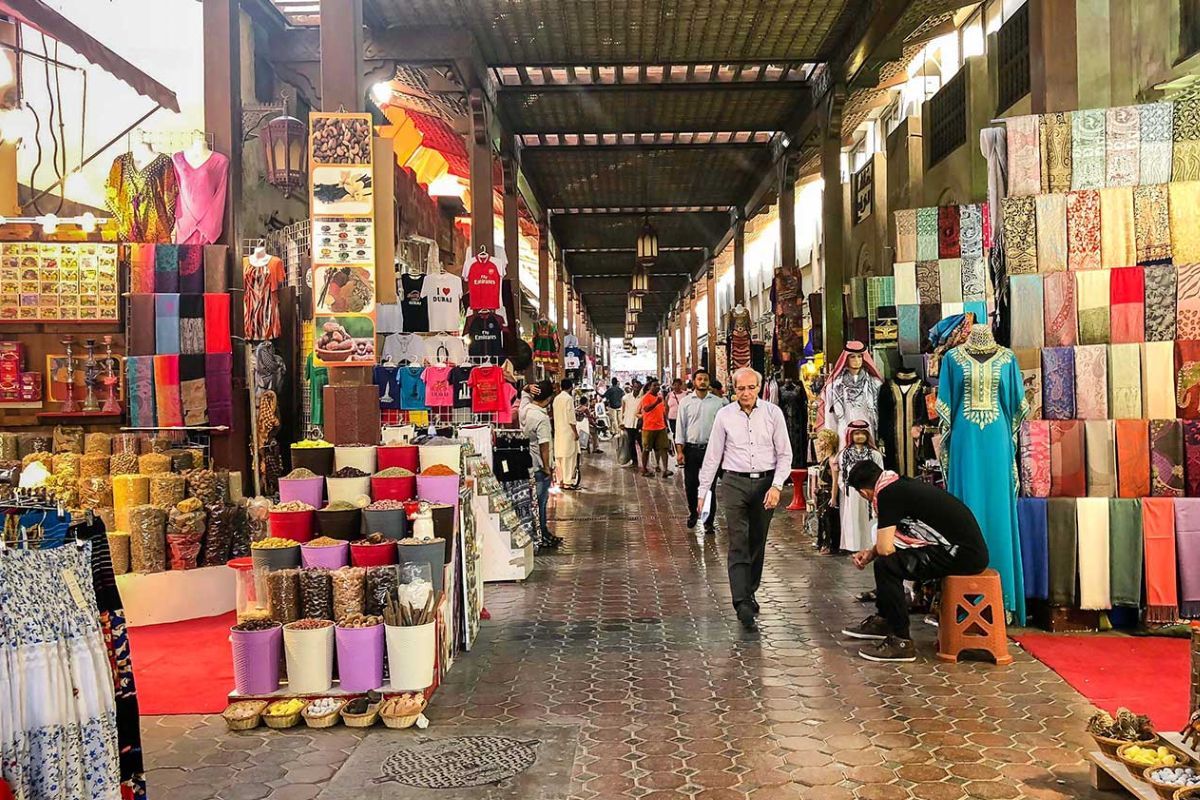 Dubai Textile Souk has a rich history that dates back to the early days of the city's history. Dubai became a hub for international trade due to the city's location on the Persian Gulf Coast. As people from all corners of the world started heading to Dubai, the city turned into a vibrant blend of diverse cultures and customs. The Dubai Textile Souk emerged as a popular hub for trading, where vendors would gather to exchange all sorts of fabrics and textiles.
The souk has remained relevant even when many shopping malls were opened across the city. It continues to be a hub for textile and fabric trade. People often come here to shop for ethnic collection. Today it has become a popular destination for locals and tourists to look for fabrics to take home or just want to soak up the atmosphere. The vibrant and colorful marketplace offers visitors a glimpse into the city's rich history and traditions.
Things to do at Dubai Textile Souk
Dubai Textile Souk is a bustling marketplace that's full of energy and excitement. Shopping or not shopping, this souk has a lot in store for you. Check out some of the best things to do while at Dubai Textile Souk.
Textile Shopping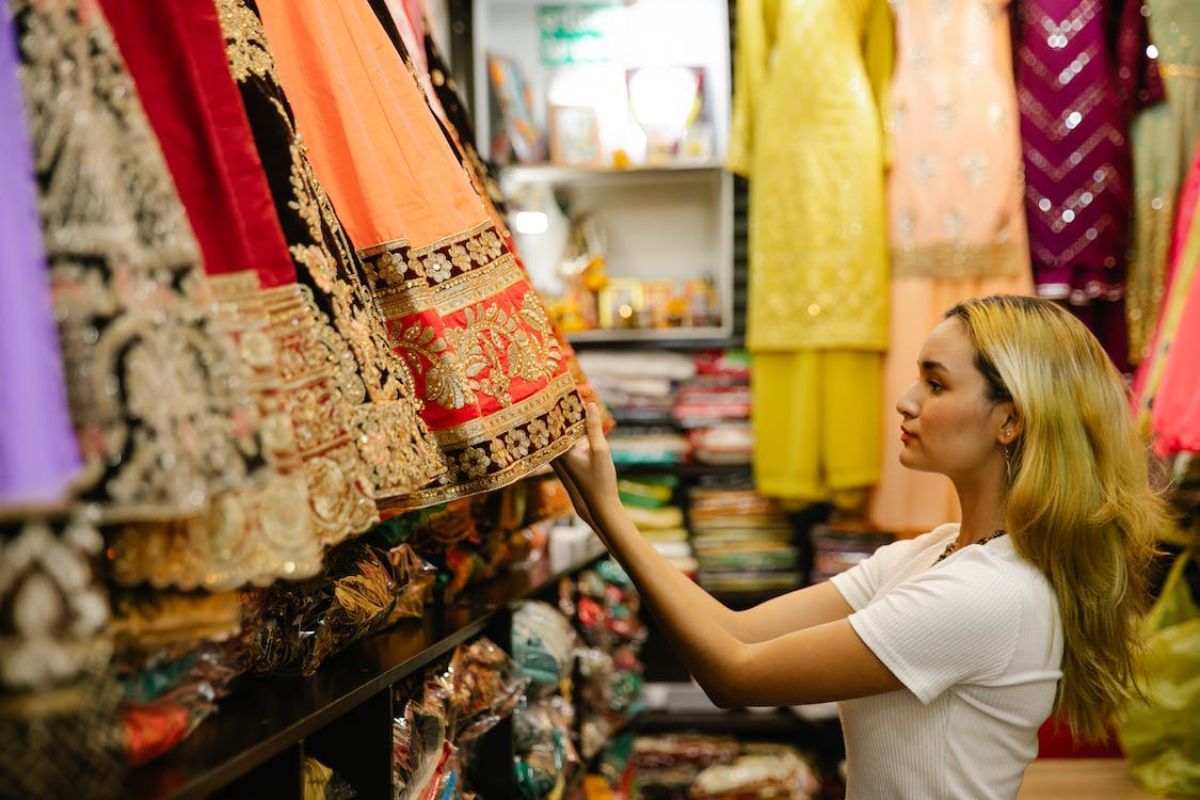 While in textile souk, the most important thing to do is 'textile' shopping. The stalls at the souk will offer you a great collection in ethnic wears. Whether you're looking for silk, cotton, wool, or cashmere, you're sure to find something that suits your style and taste. From readymade dresses to fabrics, you can get a great price for the desired products. This is also a space to take out your bargaining skills as there no fixed prices for the products. You might not be able to find designer labels like in the modern shopping malls.
Custom Tailoring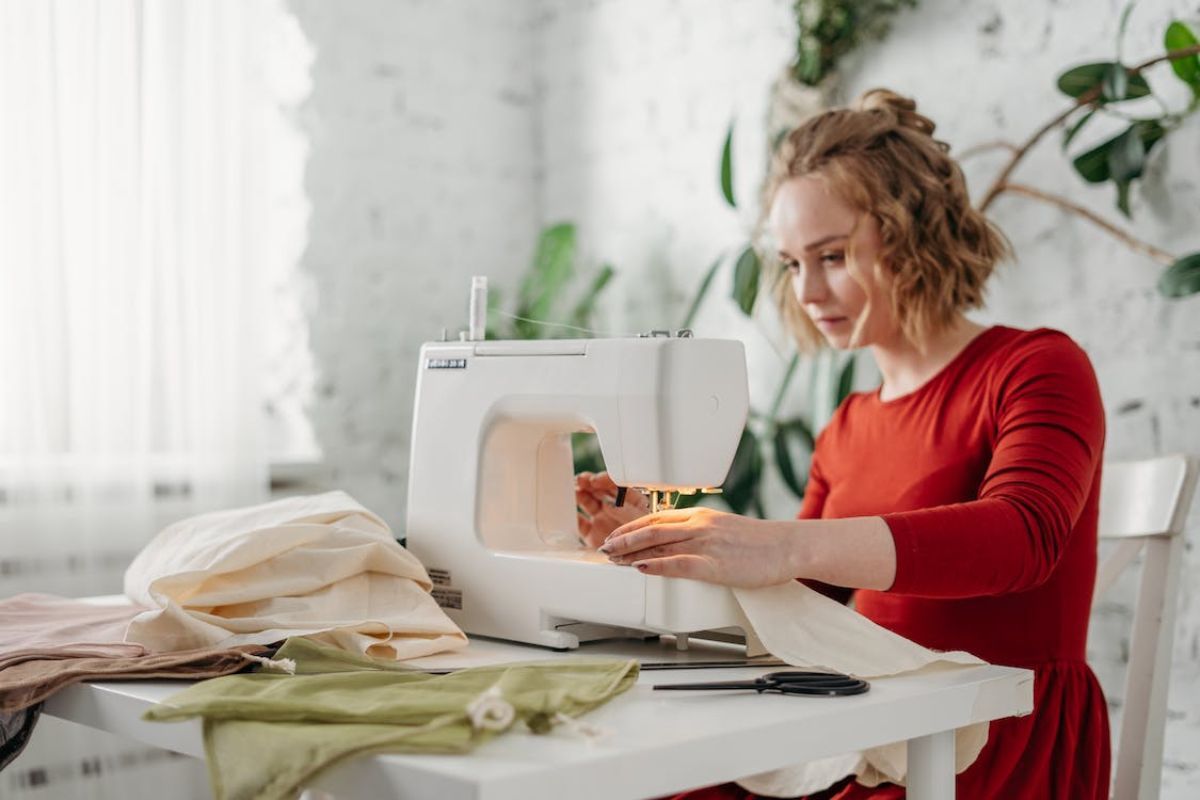 There are many vendors in textile souk that offers custom tailoring services. You can purchase the fabric from the souk or get your own and meet these expert designers to create magic for you. The tailors in Dubai Textile Souk are extremely talented and has become an expert in the field over the years. You can get traditional Emirati dresses, Indian salwar sets, or Pakistani suits stitched perfectly according to your desired measurement and fitting. These tailors also have great knowledge about modern fashion and trends. So, you can get a great modern outfit tailored for a special occasion.
Explore Emirati culture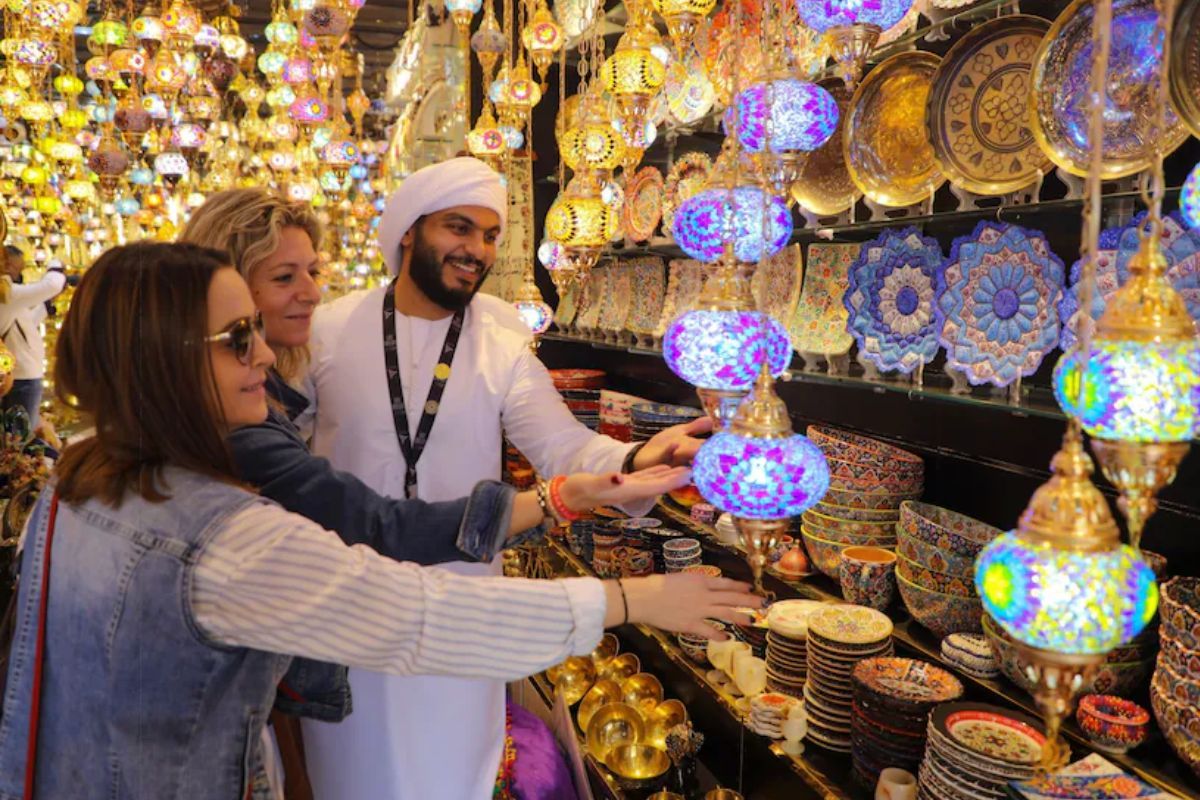 The souk is a hub for Emirati culture and traditions. Take the opportunity to talk to the vendors and learn more about their way of life. The vendors in the shops might not be locals but they have been in the region for so long and therefore, knows a great deal about the traditions and heritage of the city. This traditional marketplace is not just stocked with clothes. Some of the stalls offer a diverse range of Arabic trinkets and precious adornments. By exploring this souk, you can understand more about Dubai's customs and traditions.
Street food Experience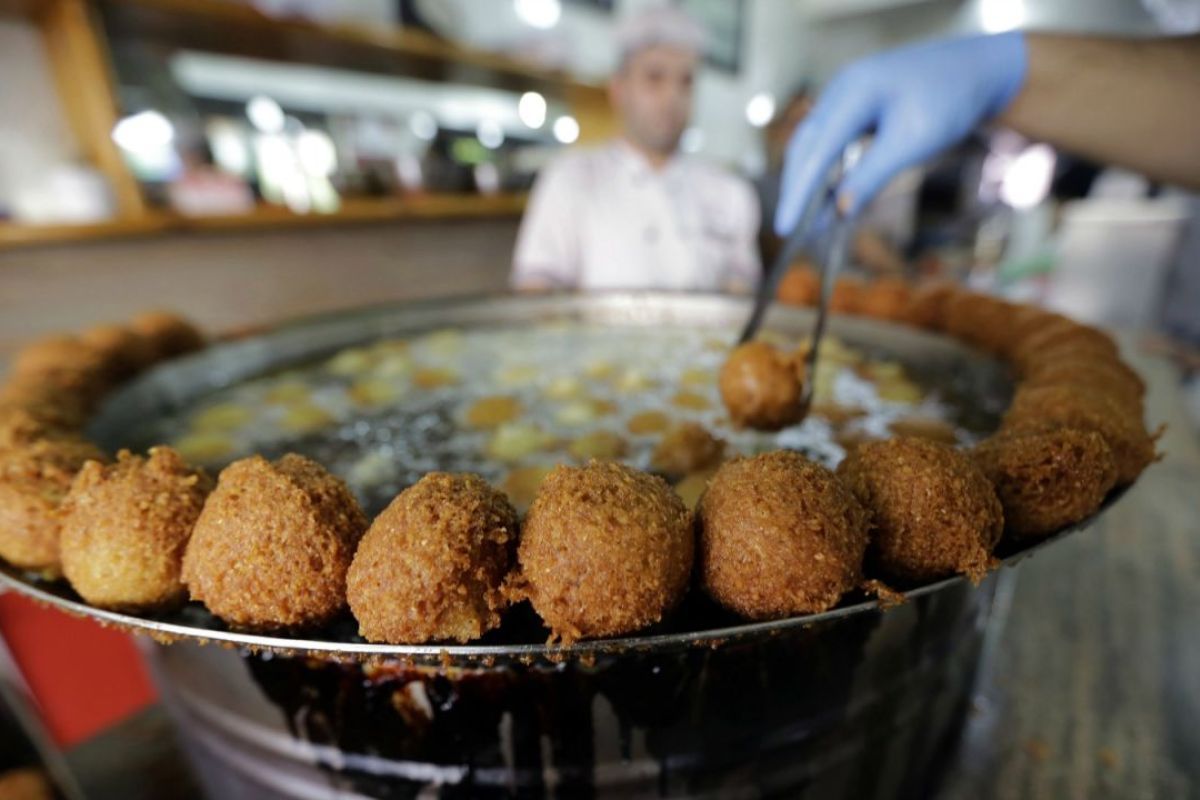 You might not be able to find any fine dining experience or a proper restaurant set-up inside Dubai Textile Souk. But if you are a tourist, you should indulge in this street food-like experience at the souk. You can choose from a wide variety of Arabic street foods from the small food stalls here. The dining experience at the souk is truly authentic and unique. You can savor traditional Emirati dishes such as machboos, luqaimat or samosas. You can sip on your piping-hot karak while watching the bustling crowds and enjoying the traditional Arabic music.
Abra ride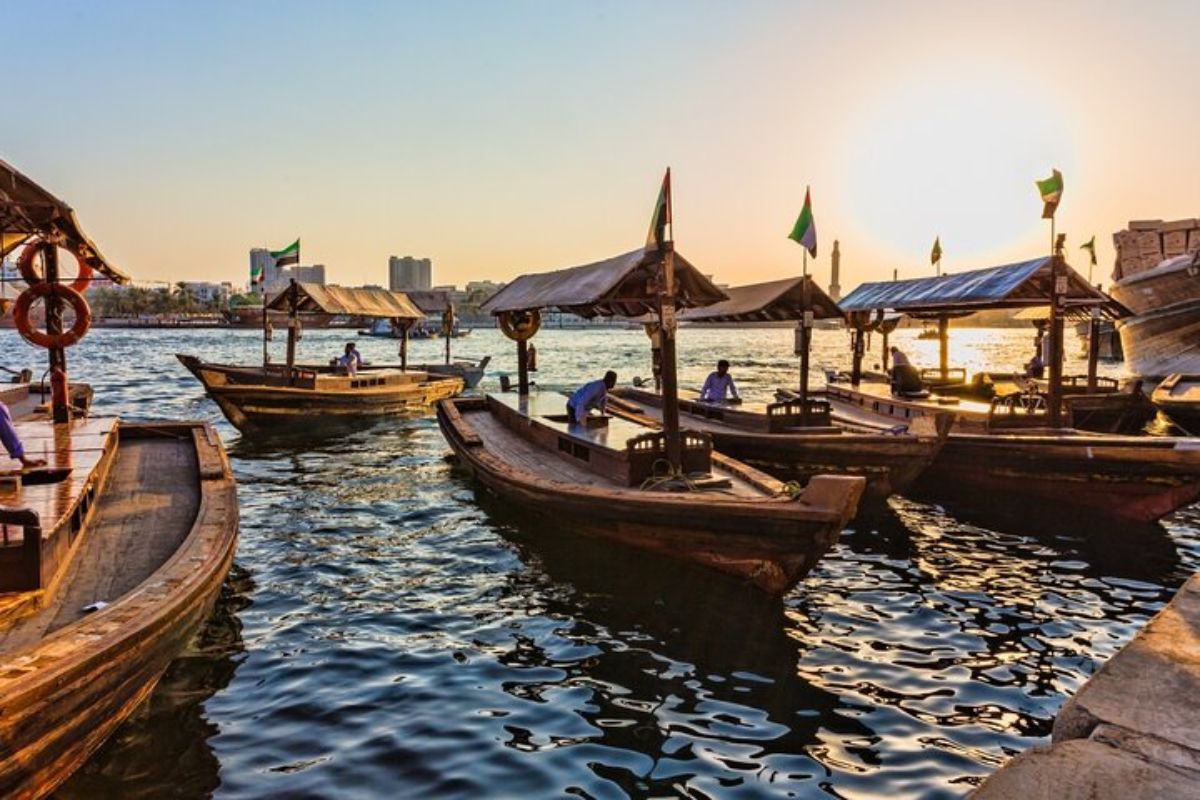 This particular experience is not inside the textile souk but very close to it. You might not want to miss out the ride on Abra, a traditional boat, to cross to Deira side of Dubai. Deira is home to many traditional souks like Spice Souk and Gold Souk. You can take a stroll through these souks to have a different experience. Many locals use Abra as a mode of public transportation. You can also enjoy the beautiful Dubai Creek and the flocks of bird that fly above you. This is also the cheapest way to reach Deira from Bur Dubai. A one-way ride would cost you only AED1.
Visit Nearby Attractions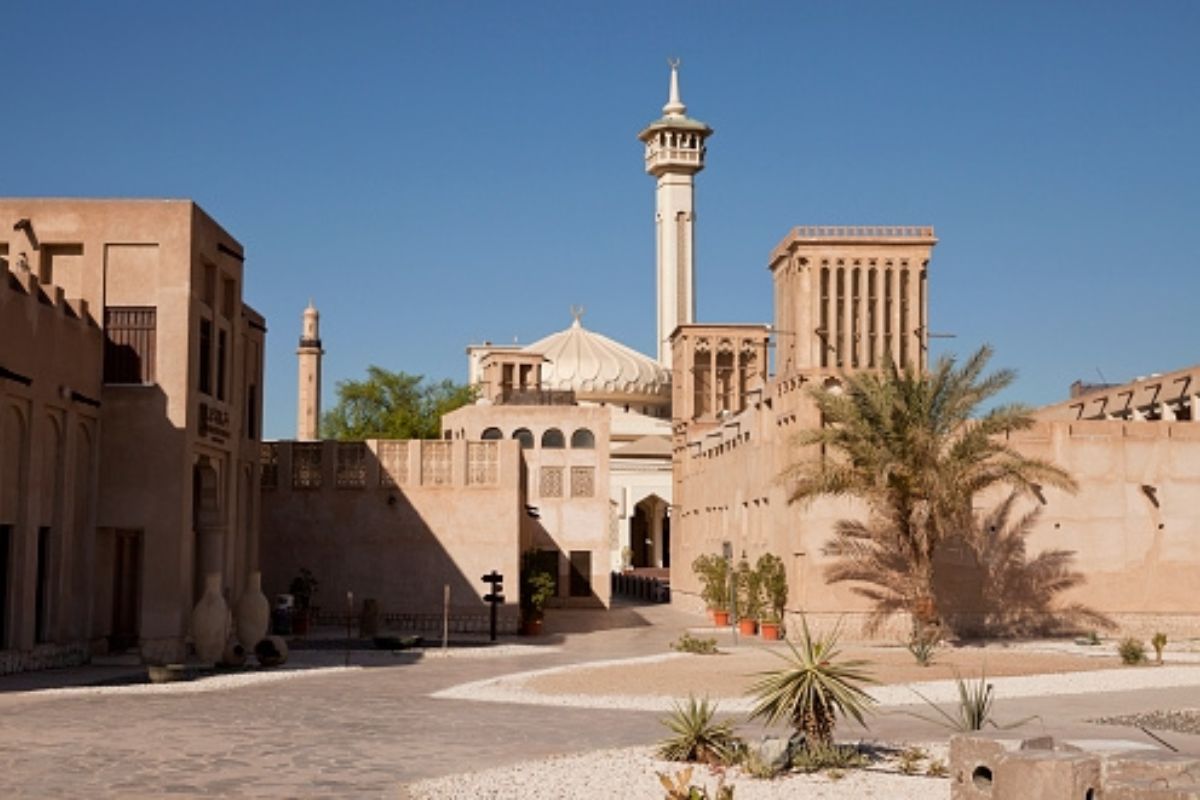 There are many popular tourist attractions near Dubai Textile Souk. These attractions are proud symbols of Dubai's rich culture and heritage. If you are interested to see more of old Dubai, take a stroll around the neighbourhood to have a glance at the traditional Arabic architecture. Al Fahidi Fort is a must visit for history-enthusiasts. The fort itself dates back to the 18th century and is a fine example of traditional Emirati architecture. This fort houses Dubai museum, one of the best museum in the city. The museum attracts everyone with their life-size models of traditional Emirati people, houses, and markets. Bastakiya Quarter is another popular attraction near this souk. This area is filled with restored traditional houses, cafes, and art galleries. It's a great place to wander around and admire the unique architecture, as well as to take in some contemporary art. The Bur Dubai Grand Mosque is also at a walkable distance from the souk. You can enjoy the traditional Islamic architecture and the tallest minaret at this beautiful mosque in Dubai.
Timings of Dubai Textile Souk
Monday to Saturday – 9 am to 2 pm and 4 pm to 9 pm
Friday – 6 am to 2 pm and 4 pm to 9 pm
Sundays remain closed.
How to reach Dubai Textile Souk
Dubai Textile Souk is located in the historic neighbourhood of Bur Dubai. The beautiful Dubai creek is located near to this textile souk. Many historic sites like Al Fahidi neighbourhood and Al Shindagha are near to this traditional souk in Dubai. The souk can be easily accessed via Sheikh Khalifa Bin Zayed Rd/D88.
If you are planning to travel by metro, take the green line and get down at Sharaf DG metro station. From there you can either hire a cab or walk to the destination. There are many buses that take you directly to the location. Visit RTA Journey Planner App to know which bus to take from your desired location. You can also take the abra from Deira Creek to reach Bur Dubai side from where you can walk to the souk.
Also read: