Vending machines have come a long way since their humble beginnings, dispensing snacks and drinks with the push of a button. In recent times, vending machines have evolved into quirky, innovative, and even bizarre contraptions that dispense far more than just chips and soda. In the United Arab Emirates (UAE), vending machines have become a popular trend, with various types of machines available across the country. From gold bars to smartphones, the UAE is now home to an array of unique vending machines that cater to the most unusual desires.
Let's explore some of the unusual vending machines found in the UAE:
Gold Vending Machine – Dubai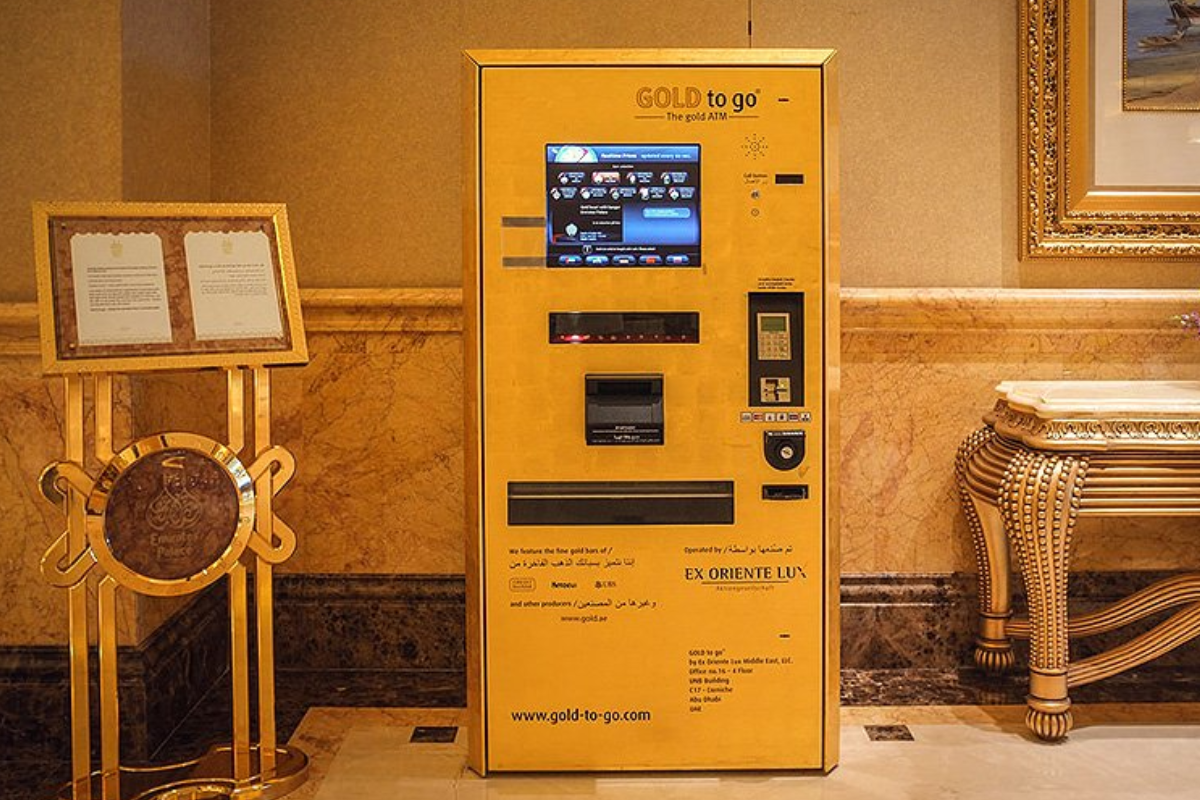 Dubai is known for its opulence and extravagance, and what better reflects this than vending machines that dispense actual gold bars? These Gold to Go machines allow customers to purchase 24-karat gold bars and coins based on current market prices. These machines allow you to buy anything from a 2.5-gram, 24-karat gold coin to a one-ounce gold bar.
In addition, there's even an internal computer capable of updating the gold prices every 10 minutes to reflect real-time fluctuations in the international gold market. Moreover, the machine has security cameras inside and outside for high security.
At one stage, there were multiple machines across the UAE, from Emirates Palace in Abu Dhabi to the Observation Deck of the Burj Khalifa. Currently, we know that one unit still remains at Atlantis The Palm.
Also Read - Gold Investment in the UAE: 7 Factors Residents Must Consider Before Buying
---
Bread Vending Machine – Dubai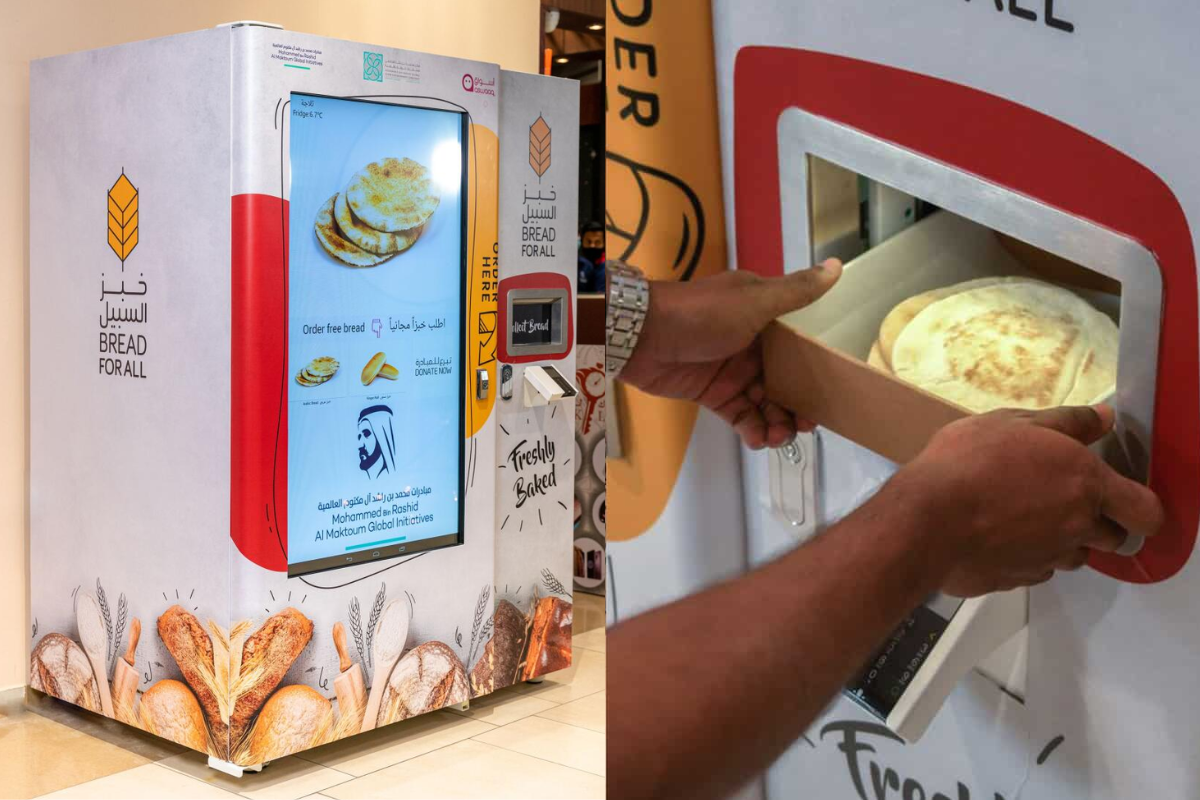 Dubai has introduced vending machines to distribute free bread among the poor as consumer prices surge in the emirate. 'Bread for All' is a new initiative designed to help poor families and underprivileged workers by offering free bread via smart vending machines. In what is a modern and social approach to charity work, the user-friendly vending machines prepare and dispense bread throughout the day.
The vending machines have a computer touch screen, AFP reported, allowing people to select different types: loaves for sandwiches, pita bread, or flat Indian-style chapatis. Press a button, and anyone can get the bread they need. The bread machines are the initiative of a foundation set up by the ruler of Dubai, Sheikh Mohammed bin Rashid Al-Maktoum.
In partnership with Aswaaq supermarkets, the smart vending machines will be located at outlets in Al Mizhar, Al Warqa'a, Mirdif, Nad Al Sheba, Nadd Al Hamar, Al Qouz, and Al Bada'a.
Read More - New vending machines in Dubai to provide free bread to underprivileged families
---
Ice Cream Vending Machine – Dubai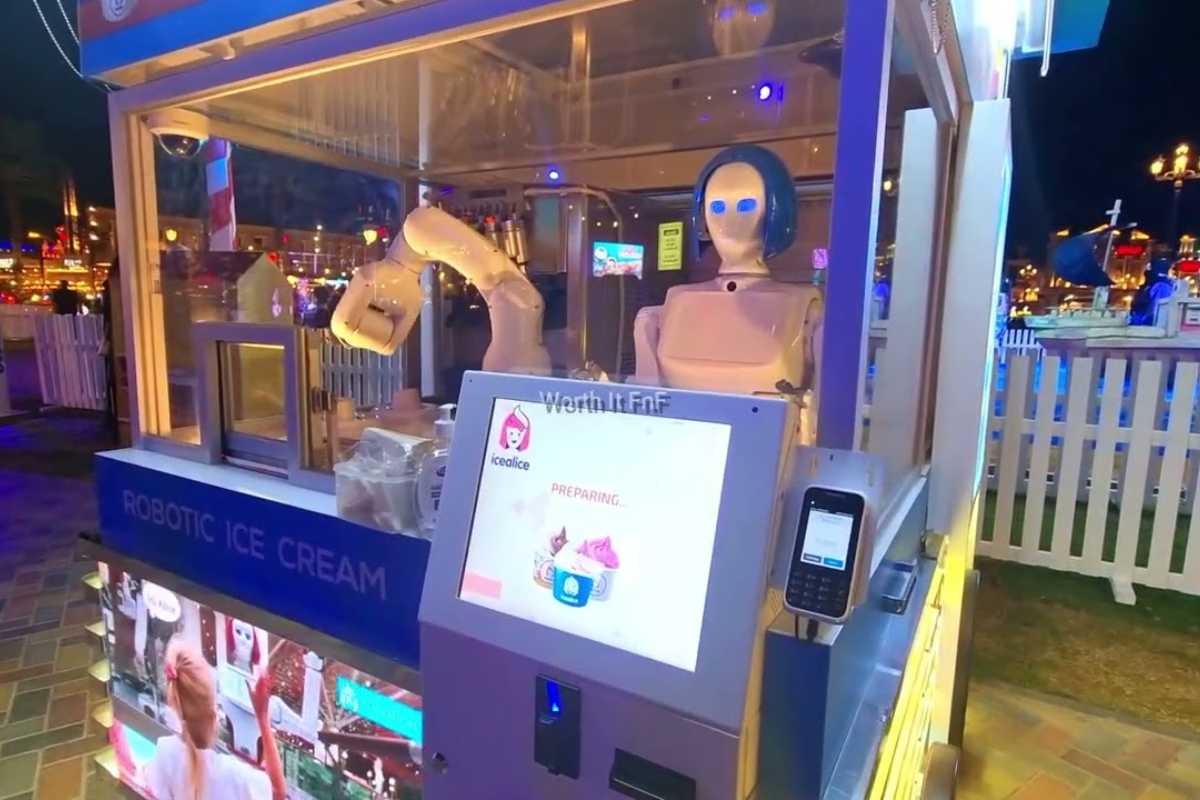 Icealice is the world's first mannequin-AI robotic vending machine. The robot is named Alice, and besides serving you ice cream, it can also talk to you and answer your questions using recognition and sensory tools throughout the entire process until the collection of the selected product. Now that's a unique experience!
Priced at AED25, you can choose from three to four flavours or opt for mix-flavour ice cream—the choice is yours. This is located in Global Village and Dubai Festival City Mall.
Also Read - The Ultimate Guide to Finding the Best Ice Cream in Dubai
---
Medicine Vending Machine – Dubai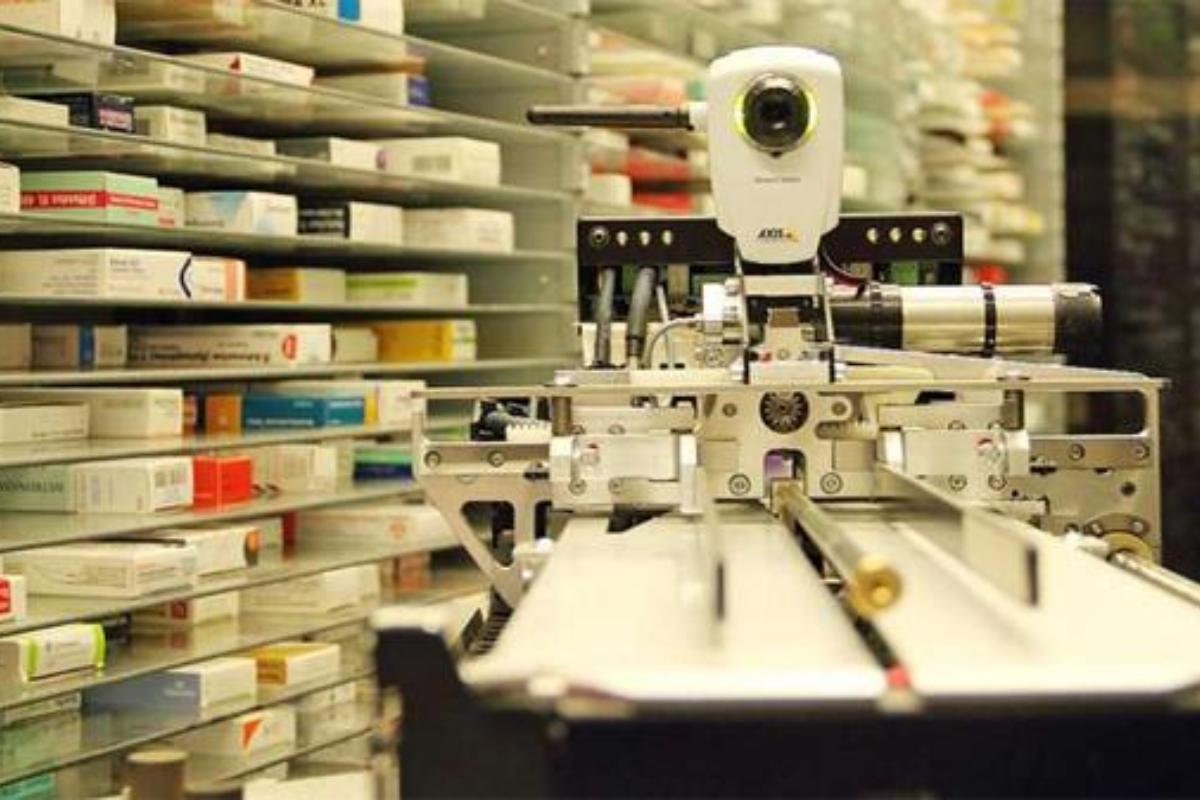 You no longer have to wait for your turn at pharmacies. Dubai has made it easier for you! A robot dispenses medicines in Dubai's and the Middle East's first-of-its -kind 'Smart Pharmacy'. Dubai Health Authority inaugurated a robot-operated, fully integrated system called the smart pharmacy in order to reduce waiting time and the chances of making mistakes. The system is operated by a robot that can store up to 35,000 medicines, prepare 12 prescriptions in a minute, and dispense 8,000 medicines in an hour. How cool is that!
It dispenses the prescribed medication with a click of a button based on a barcode, minimizing any human error. The smart pharmacy has been installed in various DHA hospitals in the city, including Rashid Hospital, Latifa Hospital, and Dubai Hospital.
Also Read - New wellness-inspired pharmacy launched in the UAE; 25 more stores coming up
---
Fresh Juice Vending Machine – Dubai, Sharjah & Ajman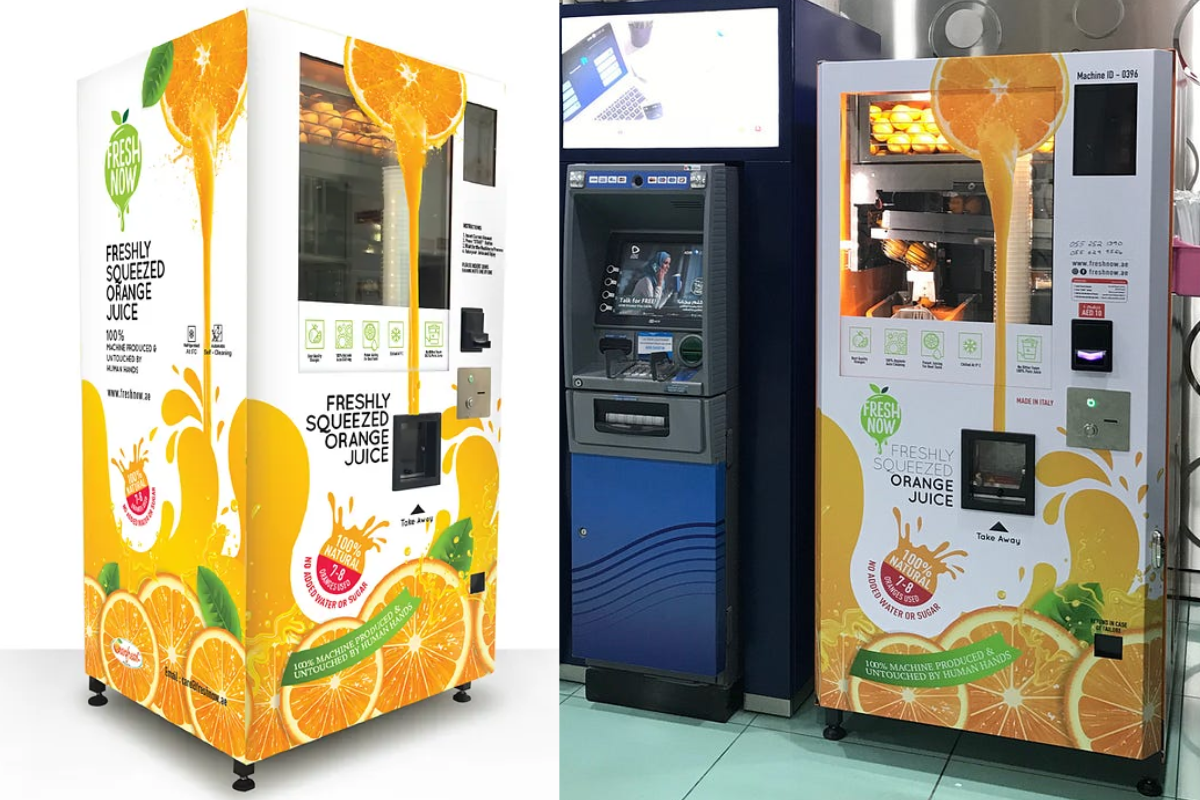 How refreshing it would be to have a freshly squeezed cup of orange juice on the go! And when that comes with the added assurance of zero added water, flavour and preservatives? Hold on, it doesn't stop there. And when it comes out of a vending machine? And when it is first of its kind in Dubai?
These innovative 'FreshNow Vending Machines' offer commuters a taste of pure citrus goodness with zero added water, flavorings, or preservatives. What sets them apart is the transparency of the process; right before your eyes, you can witness the magic unfold as whole oranges are meticulously squeezed to yield the freshest juice imaginable. The Orange Juice vending machines are available at many spots across the UAE, including various metro stations, outdoor spots, and malls.
---
Cupcake Vending Machine – Abu Dhabi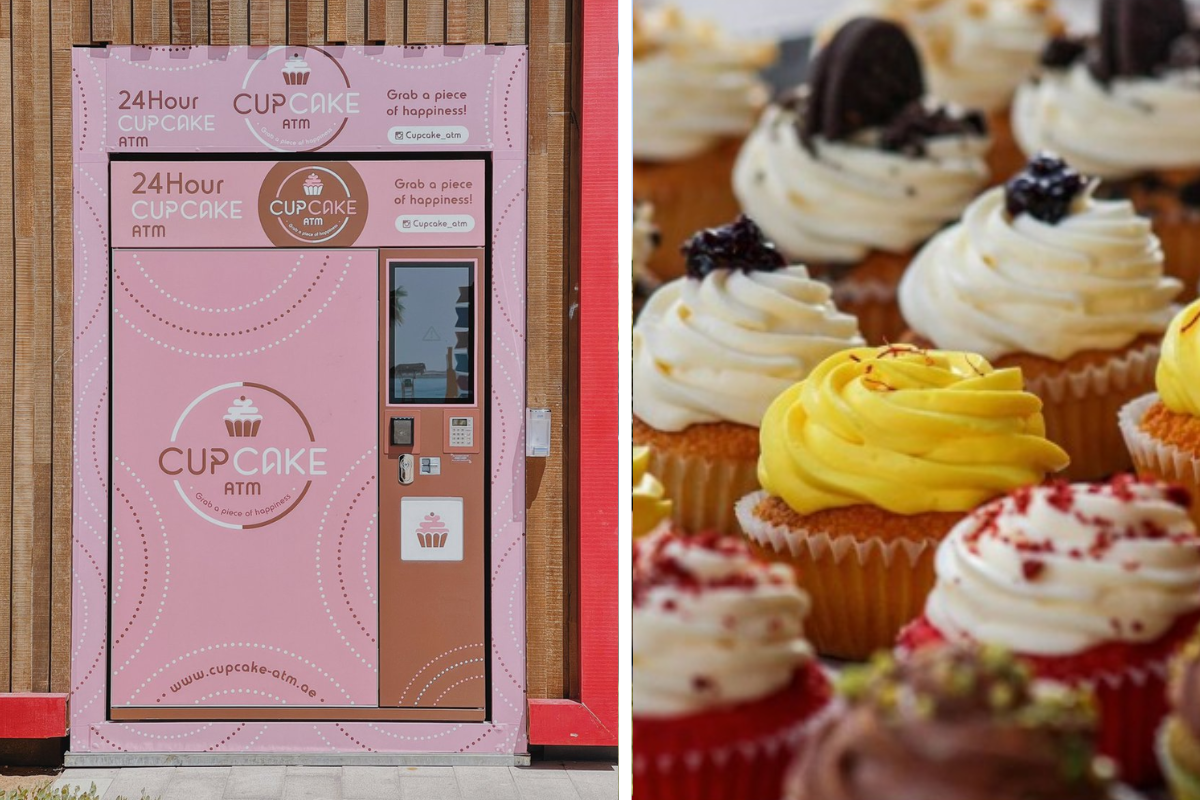 'Cup Cake ATM' is essentially a luxe vending machine that gives you access to Instalicious muffins 24 hours a day, and that sounds like a pretty sweet deal to us. You'll find this first UAE location at Marsana, on Hudayriyat Island's Leisure in Abu Dhabi. The Cupcake ATM looks just like a regular ATM, except that it's drenched in pink.
Customers can bite into over eight varieties of cupcakes, including oreo, red velvet, saffron, lotus, pistachio, Nutella, and blueberry. The cupcakes are priced approximately at AED 18 - AED 24, and it just takes seconds to get them out. The cakes come packed in cute, little pink little carboard boxes and are restocked several times a day.
---
Cotton Candy Vending Machine – Abu Dhabi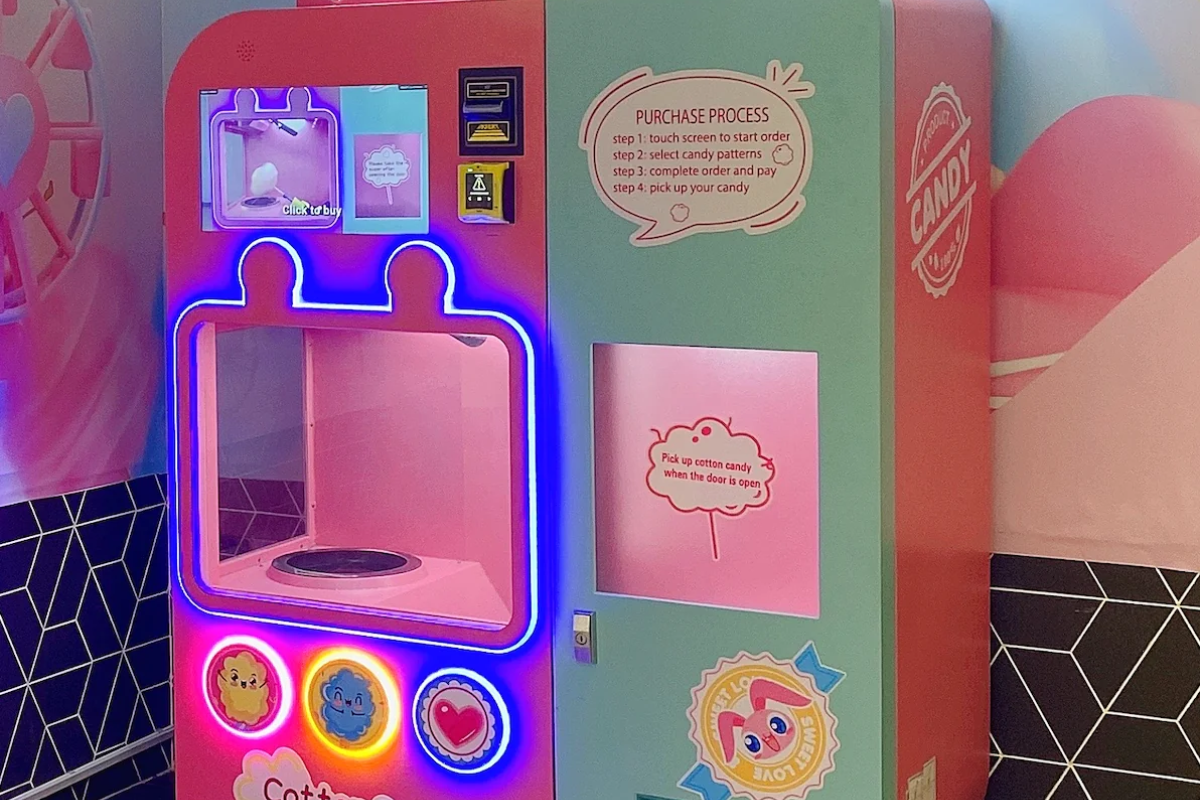 The cotton candy vending machine is a delightful fixture that doesn't fails to captivate both young and old alike. What sets these machines apart is their remarkable customizability. One can choose from an array of vibrant colours and designs, from classic pink vanilla to exotic tropical blends. You can watch in awe as the machine whirls and twirls, creating vibrant, sugary creations and customizable masterpieces that reflect individual tastes and preferences. The cotton candy machines are available at various malls, including Deerfield Mall and Al Wahda Mall.
---
Smartphone Vending Machine – Abu Dhabi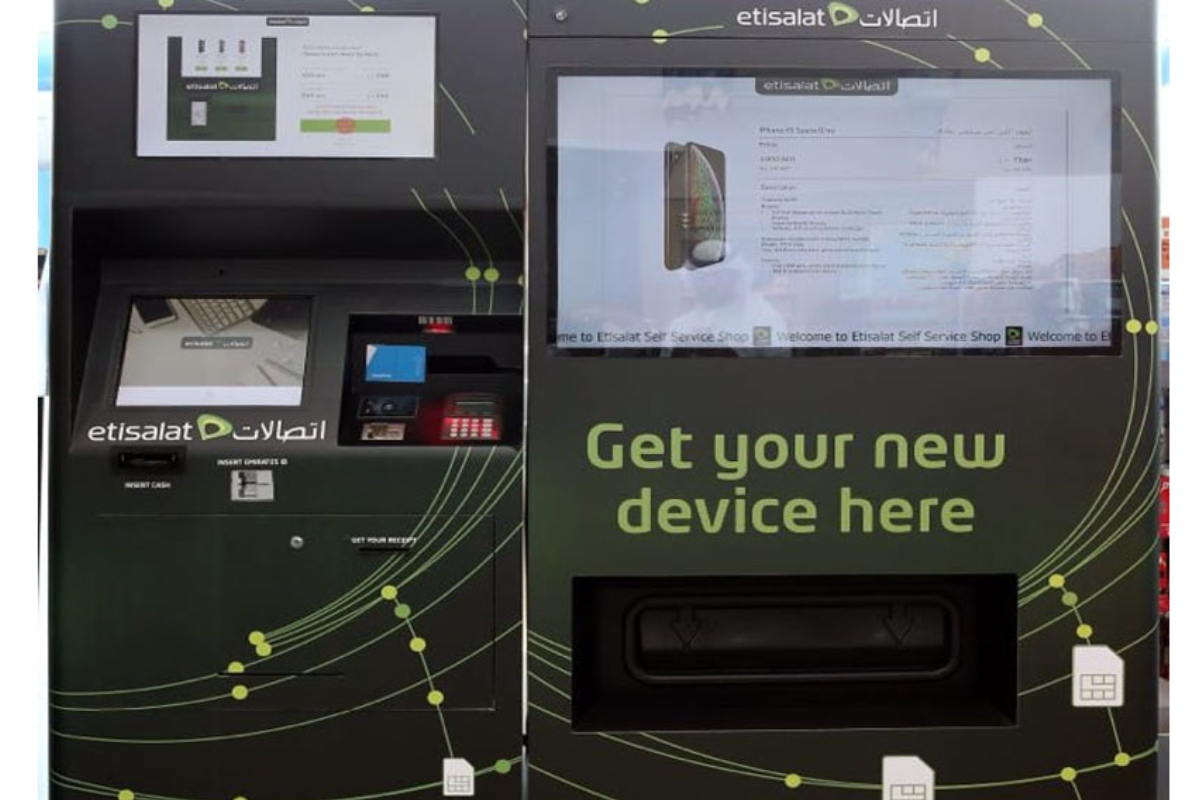 Etisalat has launched a smartphone self-service vending machine by partnering with ADNOC Distribution. The machine will allow customers 24/7 access and a five-minute turnaround time to buy a smartphone automatically. The first machine is available at the ADNOC Distribution service station located on the Abu Dhabi Corniche.
The vending machine provides a range of handsets and accessories for both Android and iOS. When prompted, a customer inserts his or her Emirates ID card, checks the personal information displayed on the screen, enters or modifies the mobile number, and selects the item and the payment method. Both cash and credit cards are accepted. The machine will dispense the product and issue a receipt at the end of the transaction.
Also Read - Reasons Behind the Surge in Mobile Shopping Among UAE Consumers
نطلق اليوم آلة بيع ذاتية للهواتف الذكية هي الأولى من نوعها في الدولة بالتعاون مع @ADNOCdist بهدف توفير تجارب تسوق رقمية سهلة وغير مسبوقة لعملائنا، الان وخلال فترة زمنية لا تتعدى 5 دقائق يمكن لعملائنا اقتناء هاتف ذكي من أول آلة في محطة أدنوك في كورنيش أبوظبي على مدار الساعة pic.twitter.com/HLUTSBbSc5

— اتصالات الإمارات (@etisalatUAE) June 25, 2019
Also Read: