Discovery Gardens is a well-known residential community located within the larger district of Jebel Ali. It is renowned for its unique blend of Mediterranean and contemporary architectural styles, creating a visually striking landscape within the bustling city of Dubai. This residential community is particularly acclaimed for its vast thematic gardens, offering residents a serene escape amidst Dubai's urban environment & barren deserts.
If you've been looking to shift to Discovery Gardens, look no further than this curated list of pros and cons. Hopefully, it helps you in making a thought-out decision.
The Pros

Green Spaces and Parks:
Discovery Gardens features a variety of themed gardens and parks, providing ample outdoor spaces for children to play, families to relax, and residents to engage in recreational activities. These green areas create a safe and inviting environment for families to spend quality time outdoors.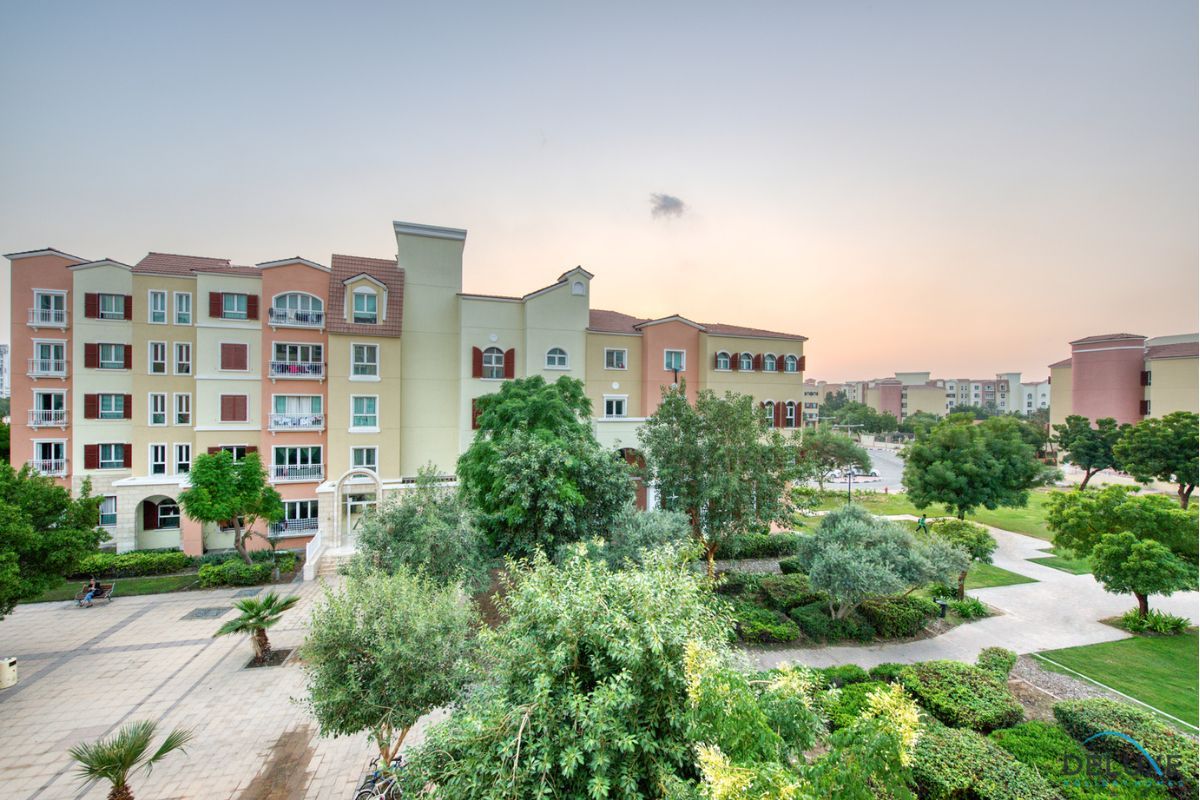 Affordable Housing Options:
Discovery Gardens offers a range of affordable apartments that fit in well for families, single occupants, and students who are looking for cost-effective living arrangements. According to the current listings, the cheap studios in Discovery Gardens are available for rent at a starting price of around AED 38,000 annually. Despite comparatively lower rates, the flats are spacious and come with plenty of amenities.
Diverse Community:
The diverse population within the community creates an environment where families hailing from a wide array of cultural backgrounds can discover a warm and all-encompassing atmosphere. It promotes cultural exchange and understanding, enriching the overall community experience and offering unique opportunities for cross-cultural interactions.
Community Amenities:
Discovery Gardens offers a variety of facilities that cater to the need of families and enhances the living experience of those living within the community.
Children's Play Areas: Many buildings within the community have dedicated play areas for children with age-appropriate play structures and equipment. These spaces encourage kids to engage in physical activities, make friends, and develop important social skills.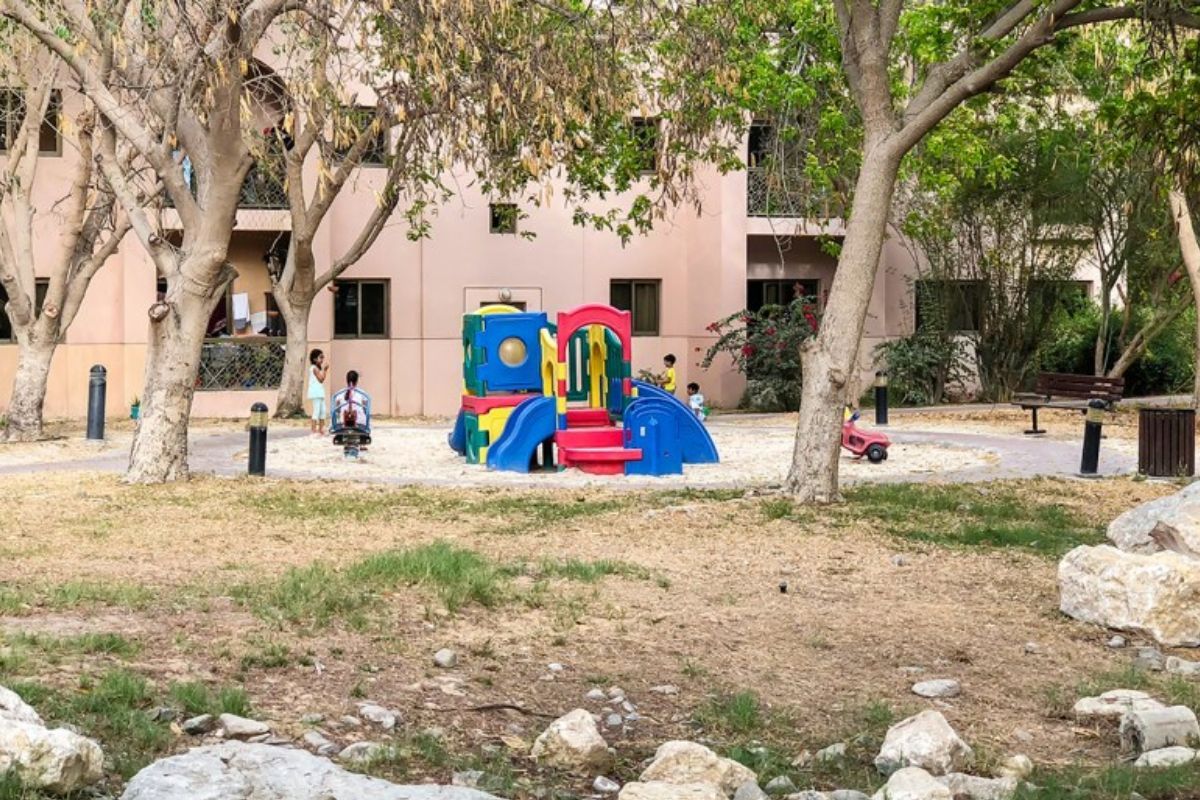 Most clusters within Discovery Gardens provide Swimming pools which are an excellent replacement for outdoor recreation, especially during the warmer months.
The community provides fitness centers with well-equipped gym equipment for families who like to stay fit and maintain a healthy lifestyle.
Families can also stay physically active and enjoy friendly sports competitions through basketball and tennis courts available within the community.
There are several community parks with dedicated walking/jogging pathways and there are also dog-friendly paths between residences.
Like any other community, Discovery Gardens also has prayer and worship facilities including mosques.
There are plenty of Restaurants with dine-in, takeaway, and delivery options ranging from American, Middle Eastern, Asian, and Italian cuisine.
The availability of convenience stores and retail outlets within the community ensures that families have easy access to everyday essentials without needing to travel far. This convenience is particularly beneficial for those living in the Zen cluster and those around streets 1-4. For the others, it's a bit of a walking distance but nonetheless still provided within the community. There is also a Carrefour market available in the Discovery Gardens Pavilion.
Regular events are organized by the community to offer families opportunities to come together, socialize, and enjoy shared experiences. These events can range from holiday celebrations to outdoor movie nights.
The presence of medical facilities and healthcare centers is another bonus for those living in the Discovery Gardens. There is an Aster clinic available in the Zen cluster to visit for all common ailments.
The community also nests some good hotels like Parkside Hotel Apartment, ZiQoo Hotel Apartment, and Chelsea Gardens Hotel Apartments, amongst many others.
Schools and Nurseries: The proximity to schools and nurseries is a significant advantage for families. It reduces commuting time and simplifies drop-offs and pick-ups for parents, making it more convenient for families with school-age children. The schools present close by include the prestigious GEMS Winchester School which offers a British curriculum and Delhi Private School which offers an Indian curriculum. There are many notable nurseries in Discovery Gardens, such as Chubby Cheeks Nursery and Jebel Ali Village Nursery in Discovery Pavilions.
Convenient Location

Discovery Gardens enjoys excellent road connectivity via major highways like Sheikh Zayed Road(E11) which runs parallel to Dubai's coastline and serves as a vital route connecting Discovery Gardens to key areas like Dubai Marina, Downtown Dubai, and Dubai International Airport. It is also accessible via Mohammed Bin Zayed Road(E311) which offers connectivity to areas like Jebel Ali, Dubai Investment Park, and Dubai World Central. If you're new to Dubai, then you need to know about the zip code of Discovery Gardens Dubai. It doesn't use one.
Discovery Gardens benefits from its proximity to the Dubai Metro, which is a convenient and efficient mode of public transportation in the city especially since there is a metro station in the community. Developed in 2021 as a part of Route 2020 expansion, Discovery Gardens Metro Station operates on the Red Line of the Dubai Metro. It's even convenient if you find a place at Street 8 Discovery Gardens, as it's situated equally distanced from a bus stop and everyone's favorite hypermarket, Carrefour.
The residents can also use RTA taxis and buses that stop at various locations within the community.
Proximity to Entertainment

Discovery Gardens benefits from its convenient proximity to a range of entertainment options in Dubai, providing residents with diverse opportunities for leisure and enjoyment.
The iconic Ibn Battuta Mall is located right next to Discovery Gardens offering a wide array of retail outlets, dining options, entertainment venues, and even an IMAX cinema, making it a popular destination for residents seeking shopping, dining, and movie experiences.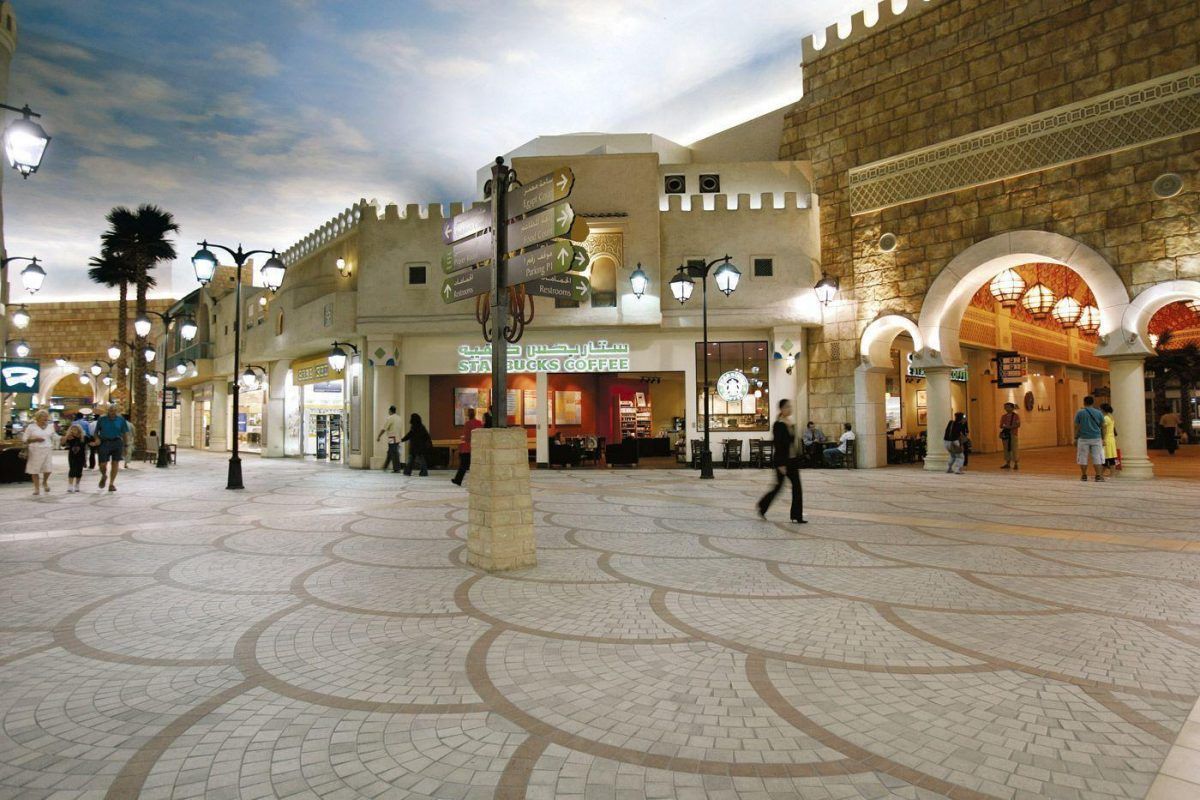 Situated not far from Discovery Gardens, The Jebel Ali Recreation Club offers a variety of sports and recreational facilities, including tennis courts, swimming pools, and fitness centers. It's an excellent place for families to engage in sports activities.
The bustling waterfront Dubai Marina is not that far. The residents can enjoy its vibrant nightlife and upscale restaurants or explore the Marina Walk, take boat cruises, and visit attractions like The Walk at JBR (Jumeirah Beach Residence).
The stunning white beach at JBR is just a quick drive away, offering a delightful day of sun and sand. From engaging in water sports to enjoying the splash pad, savoring meals at beachfront restaurants, and participating in fitness activities at clubs, The Beach JBR provides a diverse array of enjoyable experiences.
The Cons

Traffic Congestion:
Due to the scale of Discovery Gardens and not enough entry-exit options, there's often traffic congestion during peak hours. However, the latest addition of the Mohammed Bin Zayed Road(E311) has made a considerable difference.
Parking Challenges:
Most Residents complain of parking issues at Discovery Gardens since there are no allotted parking spaces given to residents. Parking would generally be a problem during peak hours after 8 p.m.
Maintenance Issues:
Many residents complain of maintenance problems faced during their stay. The staff does not respond regarding the issues in a timely manner despite constant complaints by the residents.
Limited Property Variety:
Discovery Gardens is an apartment-only community. Therefore, if you're looking to live in a villa, this place is not for you. Also, the apartments here vary in size and space. One might find it difficult to get a hold of the larger apartments due to the popularity of this area.
Click here to view apartment options in Discovery Gardens.
In summary, Discovery Gardens offers a mix of compelling benefits and considerations for potential residents. The community's lush thematic gardens, affordability, family-focused environment, convenient amenities, and cultural diversity make it a desirable living destination. Nevertheless, it's crucial to balance these positives with factors like potential traffic congestion, limited property options, and parking issues.
By thoroughly assessing these pros and cons, individuals can make a well-rounded decision that matches their preferences, ensuring a harmonious and fulfilling lifestyle within this unique enclave in Dubai.
Also Read: