As the blazing summer heat casts its relentless rays upon Dubai, seeking refuge in a refreshing treat becomes a delightful necessity. Recently, I stumbled upon a hidden gem known as "Soso Sulashy," a vibrant and colourful slushy shop that promised to transport me to a world of icy delight, the perfect solution for the sweltering weather. Nestled in a quaint corner in Al Aweer Area, this charming establishment stood as a beacon of respite, beckoning visitors with its colourful array of frozen concoctions. Let's take a tantalizing trip into the world of Soso Sulashy, where frozen fantasies become a reality.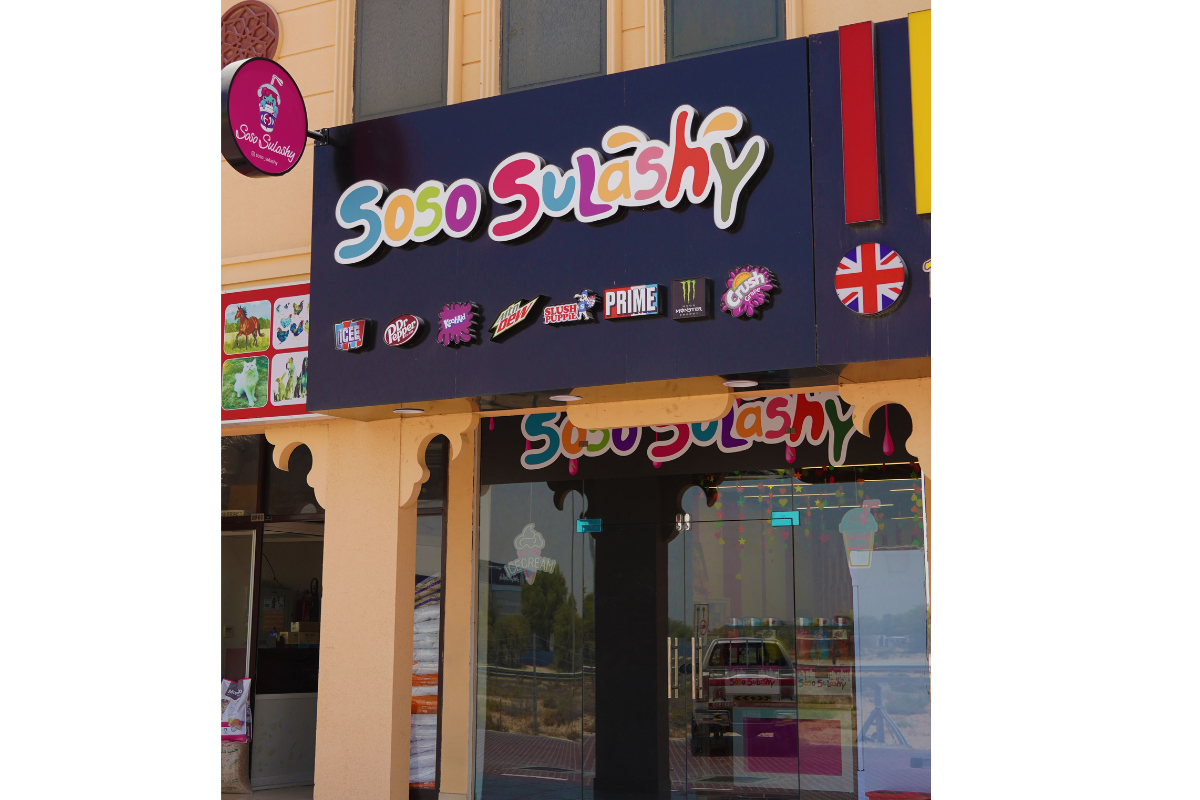 A Vibrant Oasis: As soon as I stepped into Soso Sulashy, I was enveloped in an atmosphere overflowing with vibrancy and energy. The interior of the shop was adorned with quirky decorations ranging from hanging paper lanterns to eye-catching neon colours, all of which contributed to an enchanting ambiance. The sight of numerous slushy machines, as well as a section dedicated to sweet candies, and a shelf brimming with sour and tangy treats like Skittles and Nerds – adding to the shop's charm. And if that wasn't enough, they even had a frozen fridge housing a tantalizing assortment of ice creams, from classic flavours to unique concoctions like Mountain Dew ice cream, popsicles, ice cream biscuits, delightful mochis, and much more!
A Kaleidoscope of Flavours: Soso Sulashy had a remarkable menu of more than 40 slushy flavours, each one seemed more tempting than the last. From classic favorites to innovative combinations, there was something to suit every taste bud. The friendly and passionate staff members were enthusiastic to guide me through the extensive selection, explaining different flavours, and happy to share their experience and more about the shop. I tried their combination drink, a delightful blend of Peach, Dragon fruit Redbull, Raspberry, and Mountain Dew Pitch Black II flavours. It was absolutely remarkable. From the first sip, a wave of refreshing flavours hit my taste buds, it was a perfect balance of sweetness and tanginess with a hint of fizz. While the icy and smooth texture provided a gratifying sensation with every sip.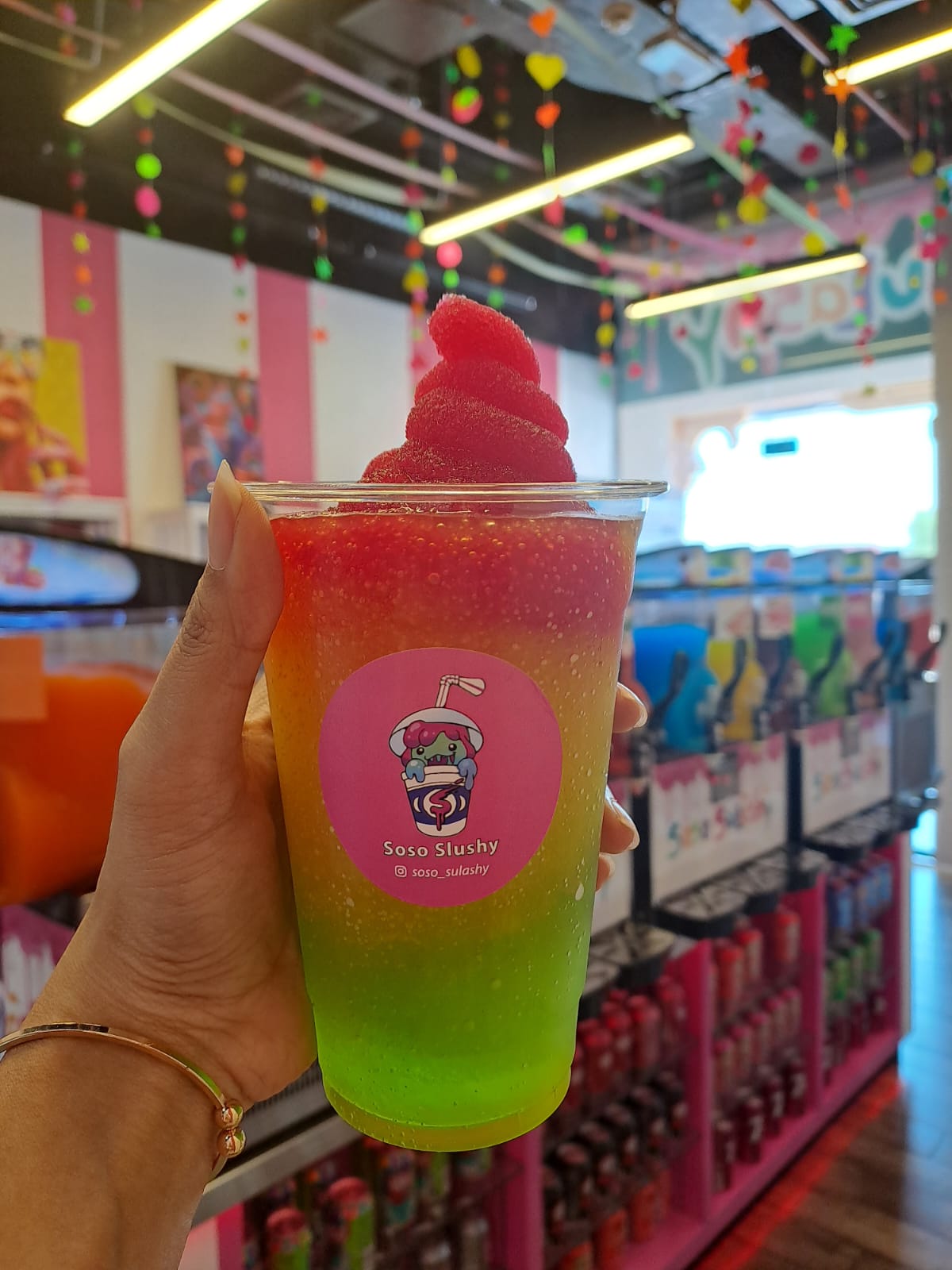 The Magic of Customization: One of the standout features of Soso Sulashy is their commitment and dedication to customization. Customers have the freedom to mix and match flavours, creating personalized slushy blends that are tailored to their specific tastes. The flavours are very unique, and you can get a customizable bucket or cup and then top it with candy. The skilled staff behind the counter would artfully blend the selected flavours, ensuring that each sip was a one-of-a-kind and memorable experience. This level of personalization allows customers to embark on a flavourful adventure, where every visit holds the promise of a new and delightful surprise.
Beyond Slushies: Soso Sulashy is not just limited to slushies. They also offer a variety of delicious desserts and treats to complement their frozen delights and drinks. From Fun Jelo and candies to mouth-watering cupcakes and cookies, there was no shortage of treats to tantalize one's taste buds. The shop truly excelled at creating an immersive experience, transforming a simple visit for a refreshing drink into a delightful culinary adventure.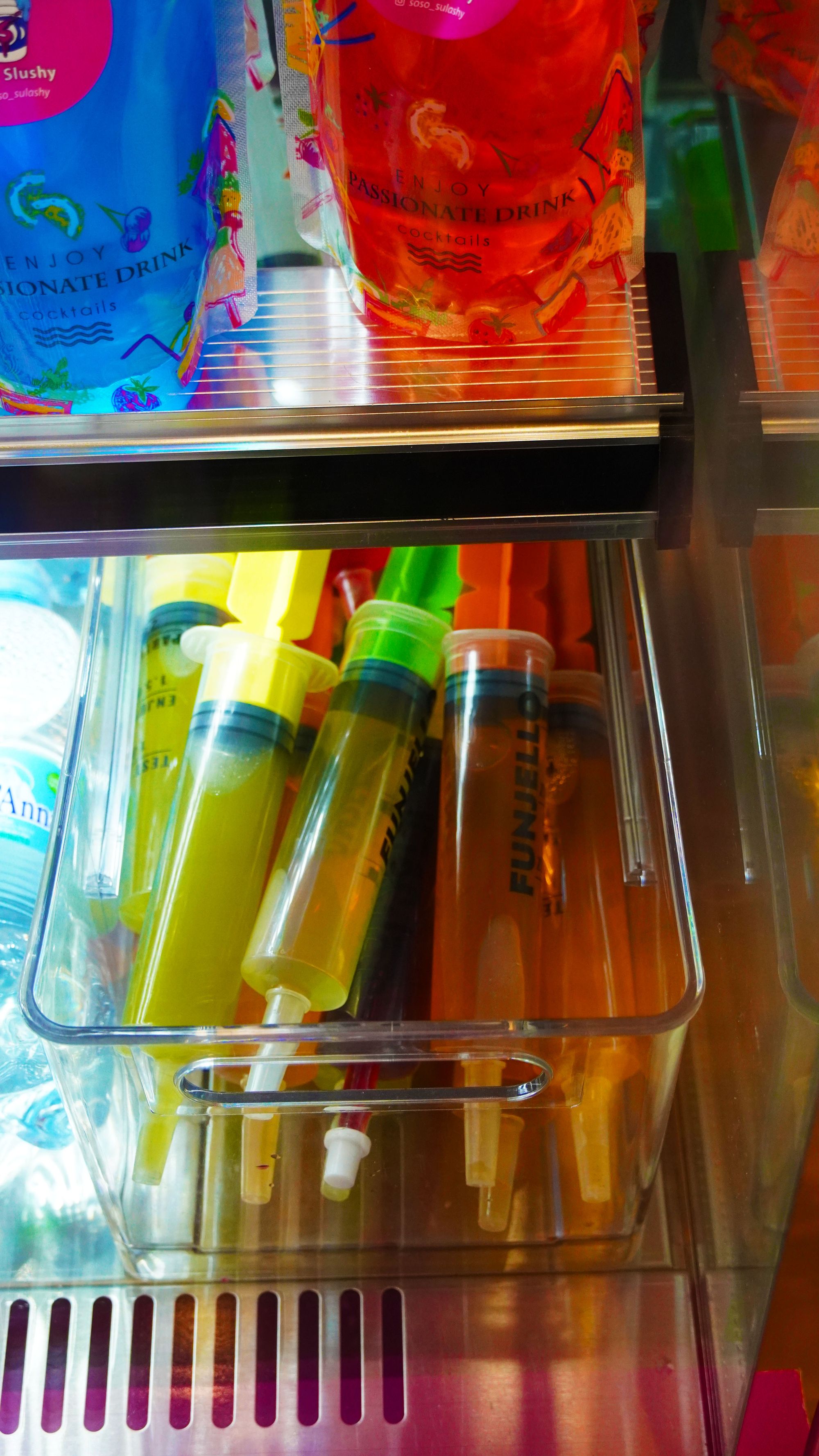 I also had the amazing opportunity to speak to their staff and learn more about them and their experiences. When asked to the staff about their best dish on the menu, they recommended Mix Mango Cocktail, which is mounted with fruits, has refreshing juice, and a tinge of spice. A perfect blend of sweet and spicy! They also shared their experiences with the shop and stated that the owner was inspired and got the idea to open Soso Sulashy in Dubai from a shop that he had visited in England. And they also gave good news that they will soon be opening their branch in Jumeirah too! So, Jumeirah residents, be prepared for this delightful shop to open soon in your area.
Soso Sulashy is undoubtedly a haven for slushy enthusiasts and those seeking relief from the summer heat. With its vibrant atmosphere, kaleidoscope of flavours, and customizable options, this slushy shop stands as a testament to the art of frozen indulgence. Whether you're a fan of classic flavours or yearn for bold and daring combinations, Soso Sulashy is sure to leave you with a frozen smile on your face and a refreshed spirit.
Price Range: 5-60 AED (Slushies starting from 25 AED)
Hours: 10 AM – 12 AM
Phone: 056 298 8818
Also Read: