Commitment to consumer protection and enhanced customer outreach is contributing to enhancing the shopping experience in Dubai and encouraging more shoppers to raise their concerns.
The Commercial Compliance and Consumer Protection (CCCP) sector in the Department of Economy and Tourism received over 60,000 feedback from shoppers in 2021 as retailing in Dubai recovered from the impact of Covid-19.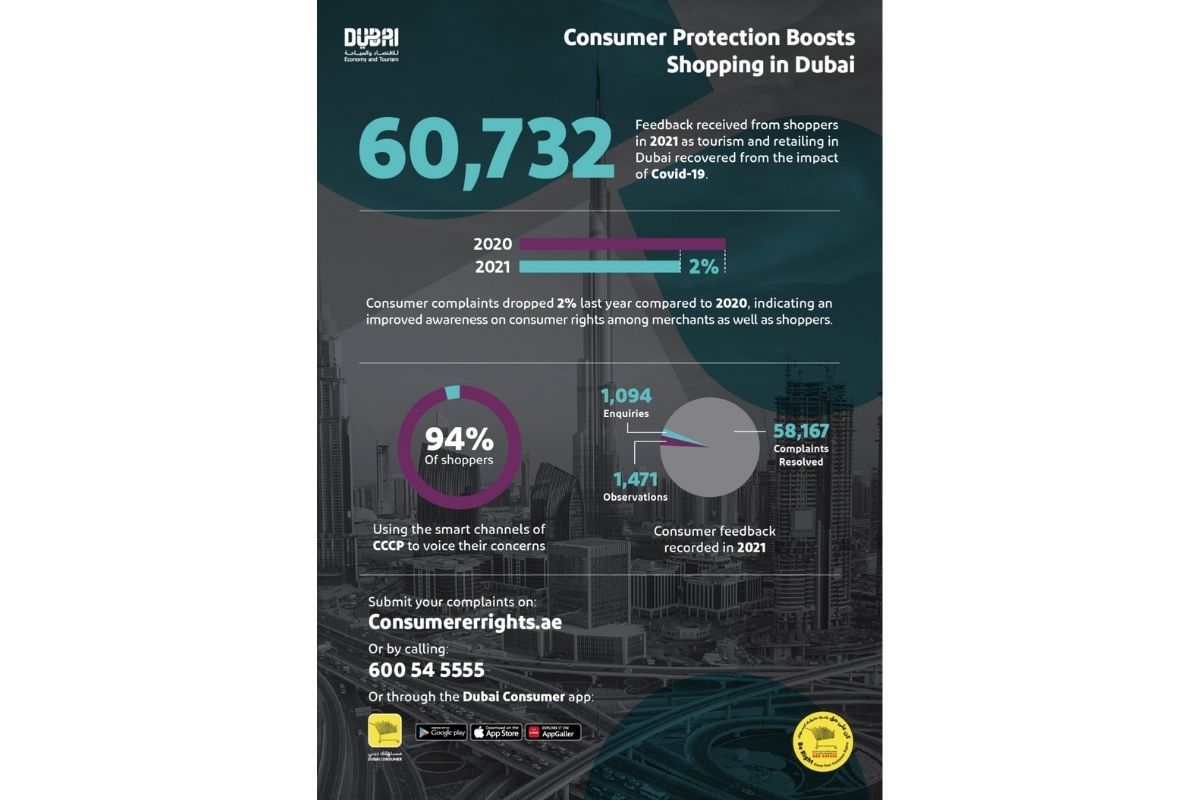 Ease of communication was also a major factor driving consumer engagement, as is evident from 94% of shoppers using the smart channels of CCCP to voice their concerns have their complaints resolved in 2021.
With an event-packed Retail Calendar and promotions catering to diverse groups, residents and visitors alike had more reasons to shop in Dubai in 2021. The year saw the closing of the 26th Dubai Shopping Festival (DSF) and the opening of the 27th, the Dubai Summer Surprises (DSS), Eid in Dubai, Back to School, Dubai Home Festival, Dubai Food Festival, Chinese New Year, Diwali in Dubai, Collection Launch (Spring/Summer and Fall/Winter) and the Dubai Fitness Challenge, in addition to two editions of the 3 Day Super Sale (3DSS) as well as special Off-season promotions, all bringing in more visitors to malls and retail hubs in the emirate.
However, consumer complaints dropped 2% last year compared to 2020, indicating an improved awareness on consumer rights among merchants as well as shoppers. The 60,732 consumer feedback recorded last year included 1,094 enquiries and 1,471 observations too, in addition to the 58,167 complaints resolved.
"We are committed to ensuring that the shopping experience in Dubai is well-aligned to the customer happiness that the city promotes as an integral element of its competitiveness. Shoppers in Dubai, including visitors, tourists and residents, are constantly being reminded of their consumer rights. We have also made it easier for them to connect with us instantly and have their complaints and concerns resolved amicably,"  said Mohammed Ali Rashed Lootah, CEO of the CCCP sector.

"The decrease seen in consumer complaints despite visitors returning in large numbers to malls and markets in Dubai in 2021 underlines an increased awareness among consumers as well as merchants. Such shared knowledge and mutual trust have a major impact on Dubai sustaining its reputation as a retail hub and tourist destination," added Lootah.
A vast majority of the consumer complaints received in 2021 came from the Services sector, which continues to evolve as a key economic activity in Dubai. While Services accounted for 34.41% of the complaints, Electronics (13.59%), e-Commerce (10.84%), Readymade garments and accessories (8.07%), Shipping (6.24%), Cars (5.87%), Furniture (5.7%), Car rental (4.67%), Decoration and maintenance of buildings (3.53%), Textiles and personal items (3.01%), Auto repair workshops (2.67%) and Salons (1.31%) followed in that order.
Refunds (25.26% of the complaints), failure to comply with the purchase agreement (15.53%), defective product (11.69%) and commercial fraud (14.04%) were the top reasons for the consumer complaints received in 2021. Non-compliance with after-sales service (4.01%), exchange (6.22%), non-compliant commercial activity (3.29%), failure to comply with warranty terms (2.73%), annoying promotional calls (2.36%), shop policy inconsistent with the law (2.22%), refuse to repair device (1.97%), non-compliance with terms of promotion (1.89%), price increase (1.45%), failure to adhere to price list (0.72%), Value Added Tax (0.27%) Annoying promotions in malls/markets (0.19%), and fraudulent gold & diamond transactions (0.16%) were also among the list of complaints received.
Emiratis accounted for 24% of the consumer complaints in 2021 while the rest were mostly from Indians (14%), Egyptians (11%), Saudis (4%) and Jordanians (4%).
Consumers can submit their complaints through the Dubai Consumer app available on the Apple, Google, and Huawei stores, on the Consumererrights.ae website, or by calling 600 54 5555.
News Source: Dubai Media Office