Pink is not only the color of joy, but it's also the color of aesthetics and beauty...
Dubai is a city of cafe's and its easy to see why when you look at the numerous amounts of different café's this city is home to. From activity-based cafes to Instagrammable cafes – this city's café culture is unlike any other. Now, if you're a fan of all things pink and dream of immersing yourself in a whimsical environment while sipping your favorite brew, then you're in luck. Dubai boasts a delightful array of pink-themed cafés that are a feast for your eyes and a treat for the taste buds. The upcoming Barbie movie might have caused an international shortage of pink paint, but Dubai's pink cafés are no less either! These super cute pink filled cafés will leave you in awe of their aesthetics, design, interiors, ambiences and plus the food not only looks out of this world but tastes delicious too.
Join us as we embark on a journey to explore the pinkest cafés in Dubai, where pink isn't just a color but a way of life.
Vibe Café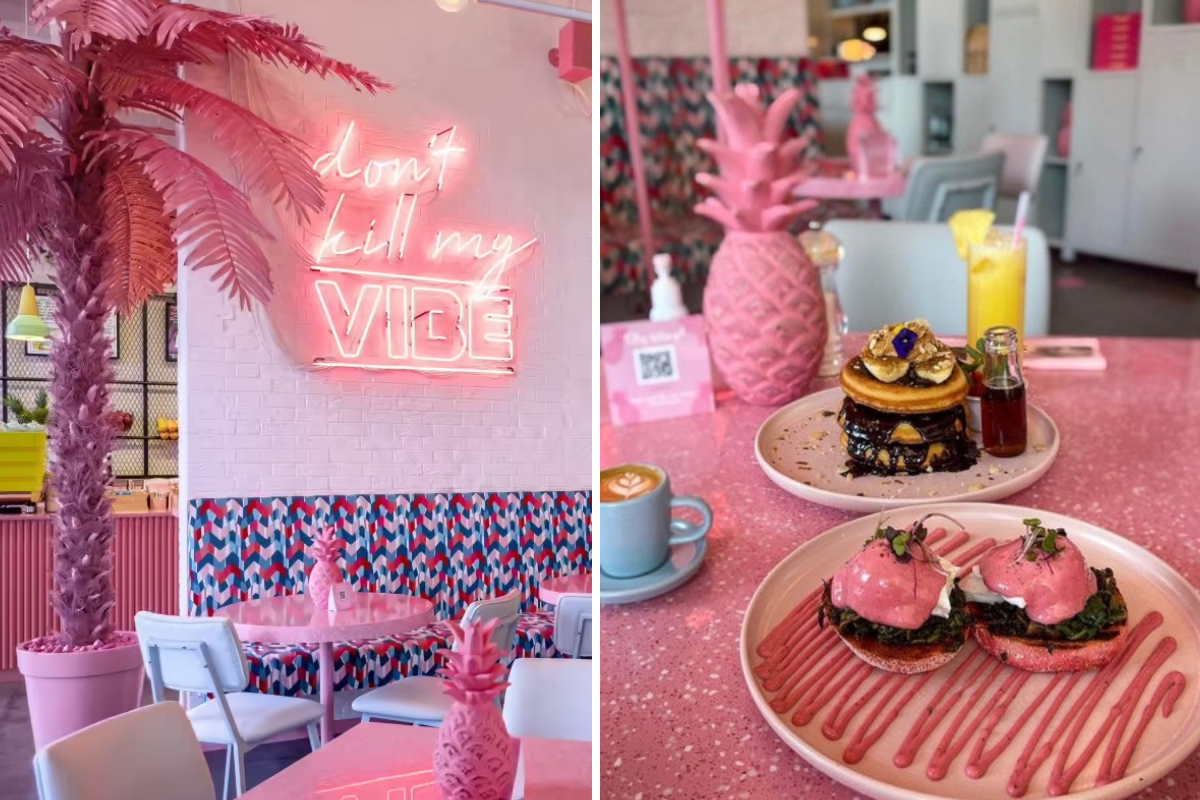 Filling your feed with aesthetic food content is easy when you're visiting The Vibe Café. You'll be guaranteed a smile as soon as you enter this brightly colored, tropical-style café, which will take you to a small Caribbean roadside stop, with the promise of "only positive vibes." Not only does this café have picture-perfect pink corners, but it also offers spectacular pink dishes. From Pink ice cream to pink sliders, pizzas, and coffees – you're in for pink-filled yet tasty ride. We must give them credit for names like "I'm Benedicated to you," "Don't go Bacon my heart," and others because their brunch dishes are works of art. Each table has pineapple ornaments in the color bubblegum, and there are palm trees and other vegetation lining the windows, along with neon signs that illuminate the room.
Pink dishes to try - Issa Florentine Ting, I'm Benedict'ed to You, Beet You up, You are Tofu-rifffic, Mini Pink SLiders, Vibe Signatue Pasta, What She Order? Fish Fillet, Burnt Cheesecake, Rose Milk Cake and more.
Location: Al Wasl Road, Jumeirah
Timings: 12:00 am - 10:00 pm.
Cost for 2: AED 300
Saya Brasserie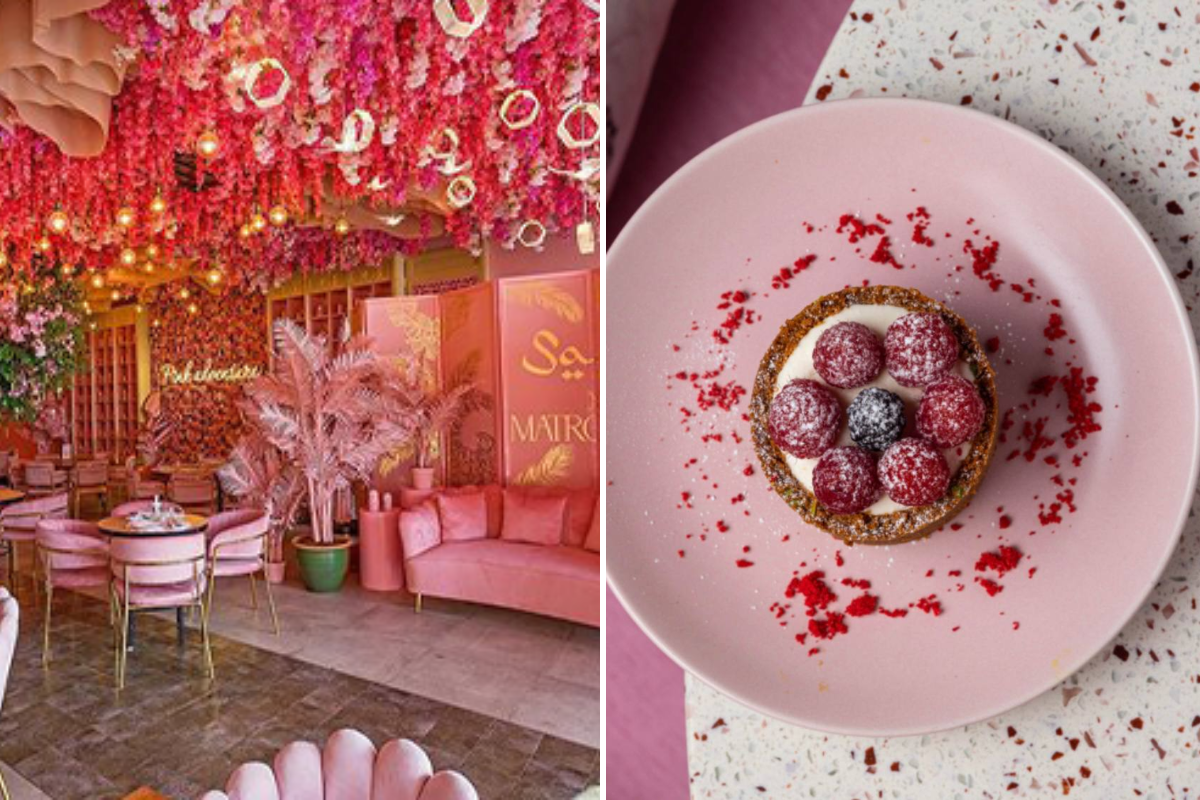 The Saya Caffe was built to be photographed, with feathered ornaments hanging from the ceiling, plush velvet sofas, and a love-heart covered wall. It is all about pink hues and floral fantasies and has become every café lover's favorite. Pose with a pink burger, lavender bubble tea, or blue Spanish latte alongside plastic flamingos for the perfect Insta-worthy photos - Your Instagram feed will be more vibrant than ever! The pinkish whimsical themes are carried over to their menu, which is a fusion of Moroccan, Mediterranean, and American dishes served on marbled pink plates.  
Pink dishes to try - Rose Hummus & Avocado Toast, Saya Signature Pink Benedict, Signature Smashed Avo, Rose Mutabla & Avocado Toast,  Very Berry French Toast, Around the Block Cake, Cascading Rose, Saya Treat and more.
Location: City Walk, Dubai
Timings: 09:30 pm - 12:00 am
Cost for 2: AED 250
Tania's Teahouse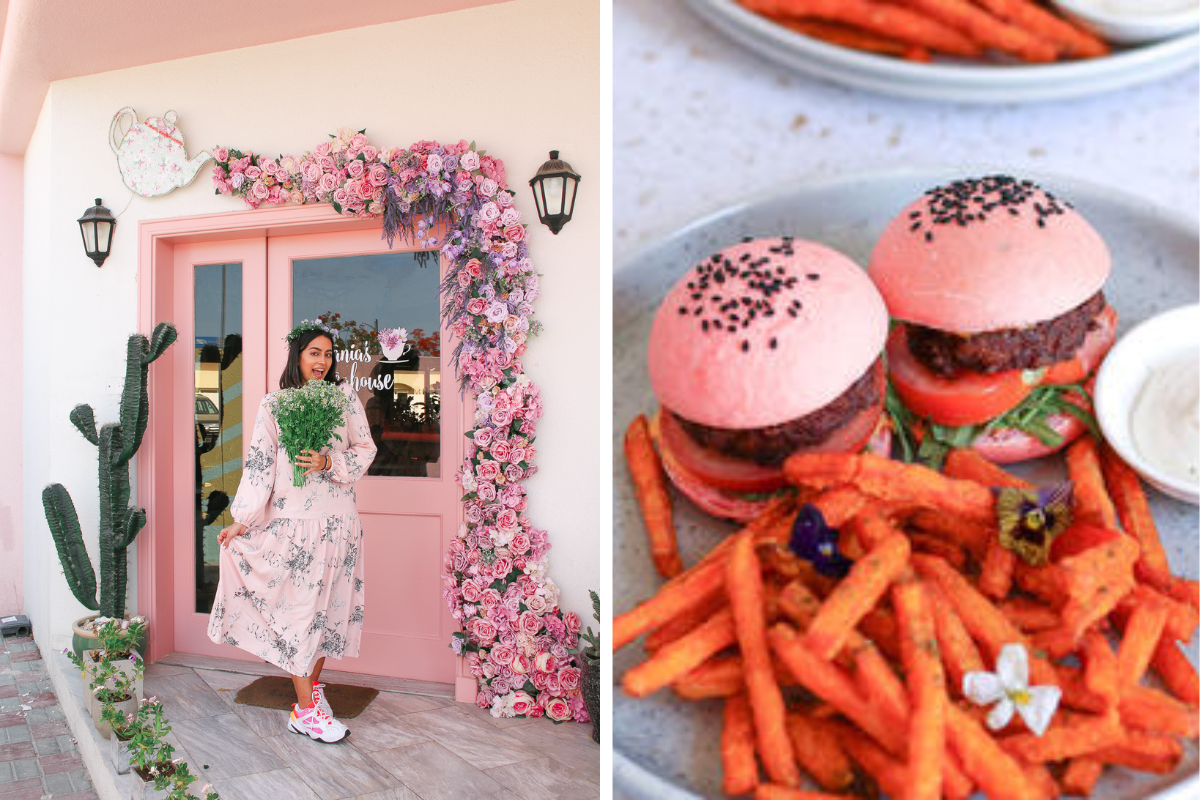 This café is so photogenic that it has been named the world's 7th most Instagrammable café! Tania's Teahouse is a two-story villa that has been converted into a cozy and stylish café. It was among the first to capitalize on Instagram-worthy interiors and dishes, and their 'Habib-tea' slogan adorns the quirky merchandise available for purchase. With its elegant interiors in pastel pink shades and whimsical foliage with rose gold accents, it's the ideal spot for your Instagram feed. The café serves specialty flavored teas, coffees, and food dishes that are all named differently. Some of the highlights of this whimsical café include pastel-hued fairy toast, rainbow-bright beetroot hummus, and garlic bread in a teacup.
Pink dishes to try - Chipotle Champ Slider, Unicorn Cheesecake, Holy Raviolli, So-Fish-ticated Salmon and various cookies, teas, lattes and more.
Note - Tania's Teahouse is currently closed and is soon going to open it's new branch in Dubai Hills Mall.
Bounty Beets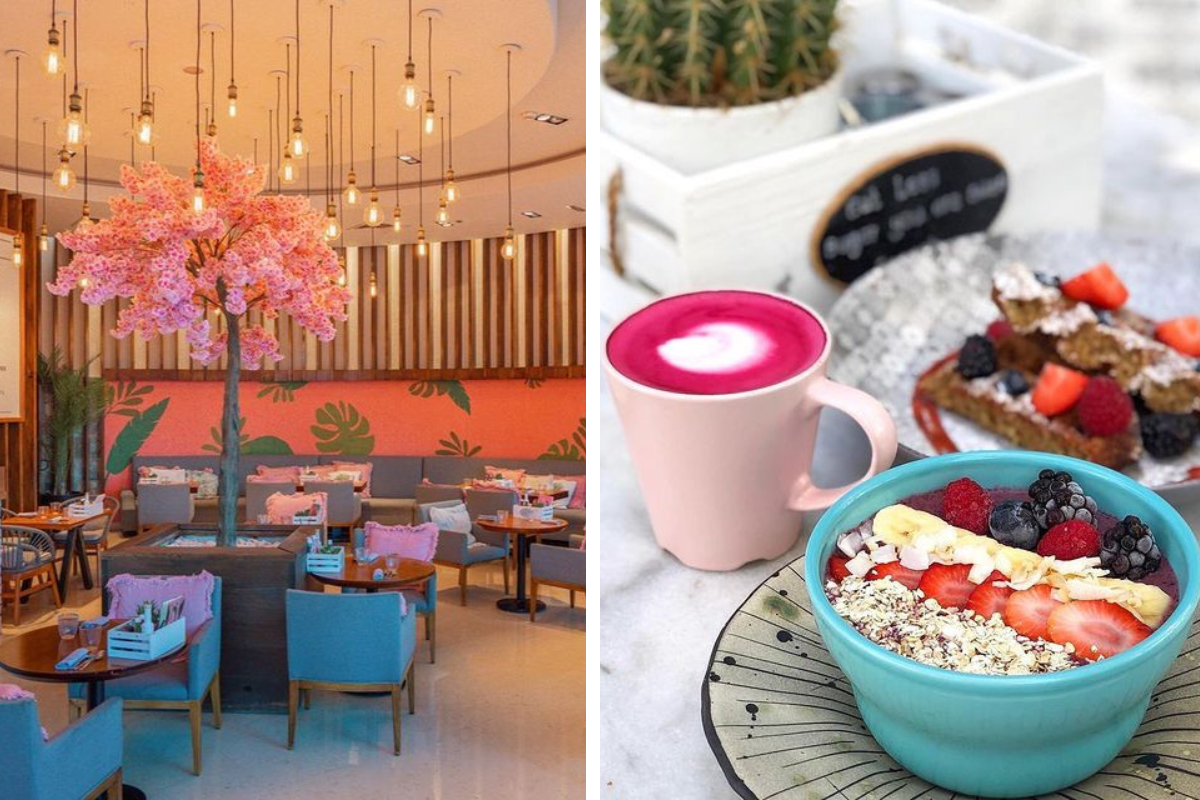 Bounty Beets is the dream place of every social media fan ever! With plenty of wall art, props and food, that is a feast for the eye. The botanical touches and flamingo mural fools you into thinking you are in Miami itself. Boasting delicious organic, gluten-free, and vegan options, Bounty Beets promotes wellness through healthy eating, and inspiring a positive community overall. Which makes it a favorite of healthy eating foodies in Dubai. On a menu packed with the newest and trendiest foods, pick from classic favorites like "You're all I Avo Wanted" and a whole breakfast section called "First Breakfast, then I'll Change the World." Their creative breakfast options are also popular, particularly their towers of gluten-free charcoal pancakes.
Pink dishes to try - Everyday I'm Waffling, Elle Woods, I love choco-lot, Holy Crepe, Drive Me Nuts, I'm Feeling Saucy, I once was Blind but Now Acai, Cake it Easy, Imposickle, Cookie Monster and many more.
Location: Le Meridien Mina Seyahi, Dubai Marina, Dubai
Timings: Daily 08:00 am – 10:00 pm
Cost for 2: AED 320
EL & N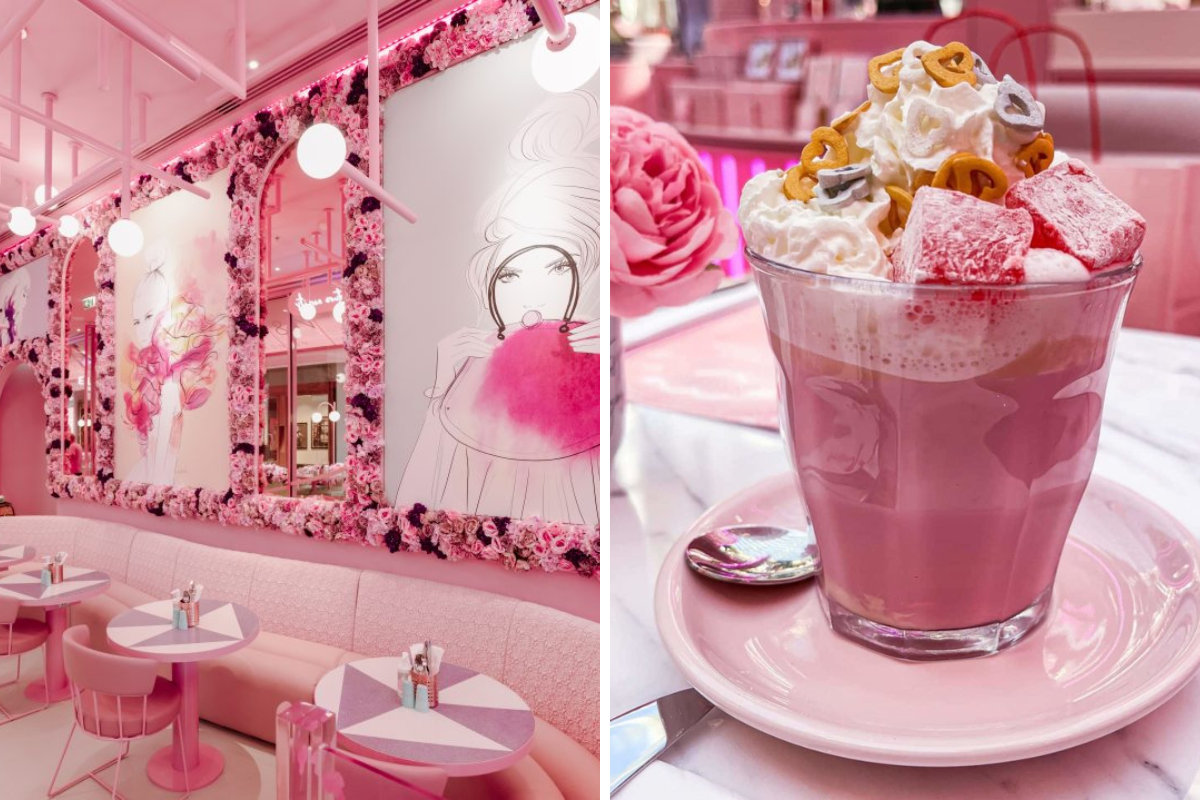 This London based café is one of the most Instagrammable in the city. It's the ideal spot for a late-morning breakfast with your girlfriends and experience everything pink this café has to offer. From the moment you step food in this café, everything you see screams PINK, from the crazy pink decor to the Instagram-worthy dishes and dainty corners. With balloons, flowers, cute props, and even better food, this cutsy café in Dubai is a haven for beautiful Instagram pics. Their breakfast menu is limitless with sweet and savory items as well as their famously beautiful beverages, Lattes, Frappes and more. You must try some of their picture-worthy dishes like Match Rose Iced Latte and French Toast.
Pink dishes to try - Turkish Delight Hot Chocolate, Red Roobios Latte, Red Velvet Cake Latte, Ruby Latte, Matcha Rose Iced Latte, Hibiscus and mixed Berry Mocktail, Chicken & Pink Waffles, Strawberry Cheesecake, Mixed Berry Cheesecake, Rose Macaron, Strawberry Tart and more.
Location: Unit 02, Gate Village Building 02, DIFC
Timings: Sun-Thu 08:00 am - 12:00 am | Fri-Sat 08:00 am - 02:00 am
Cost for 2: AED 225
Leto's Secret Garden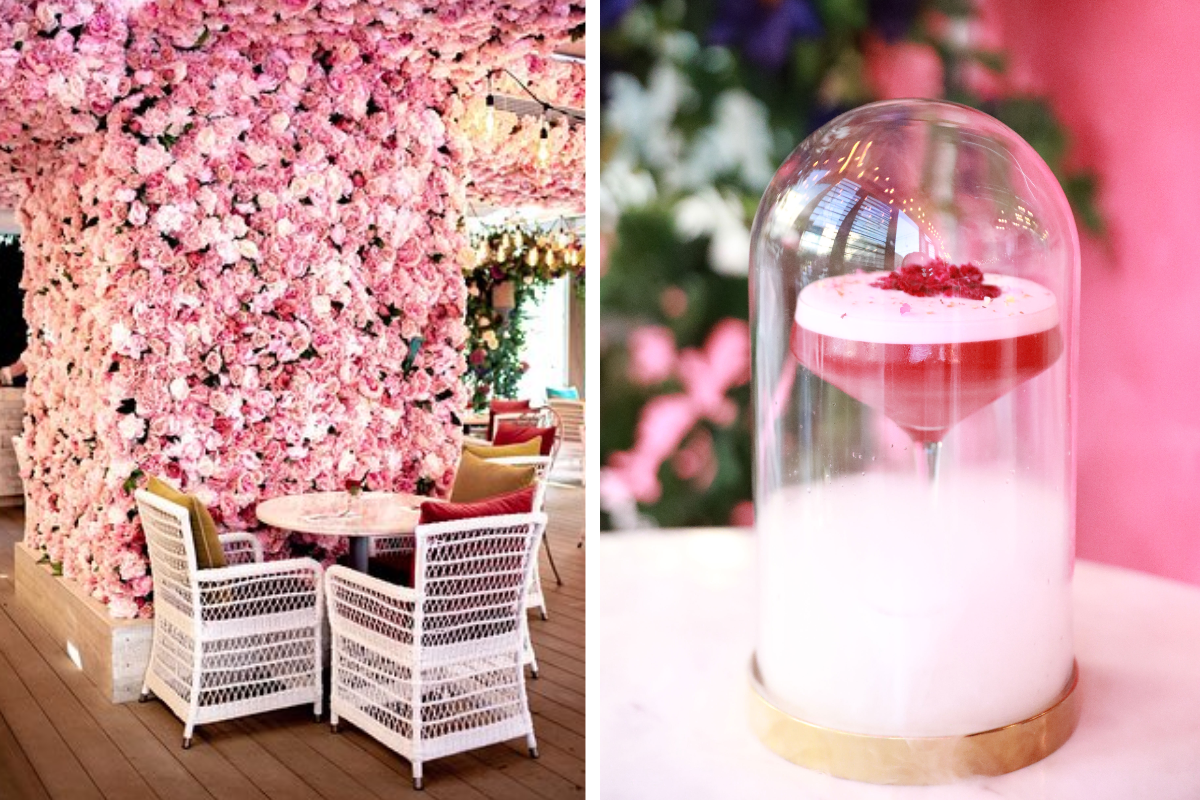 Roses, peonies, and many more. L'ETO's Secret Garden has nothing to hide. Pink flowers decorate the storefront. Before you settle into their garden-themed seats and begin sipping some of the most Instagrammable mocktails, take a photo or two of the wall of flowers. You should, of course, sample their exquisite pastries and treats. It is quite popular among all sweet lovers in Dubai, thanks to its insta-worthy setting and décor, as well as their mouth-watering selection of deserts. Choose from their broad cheesecake menu, which includes flavors such as triple chocolate, ricotta, and classic strawberry.
Pink dishes to try - Raspberry Ricotta Cheesecake, Lychee Raspberry Macaron, Strawberries in Love, Ricotta Pancakes, Pink L'amour - Candylicious, Blueberry and Apple Napoleon Cake, Rose Latte, Raspberry White Chocolate Martini and more.
Location: Dubai Mall, Downtown Dubai
Timings: Sun-Wed 10:00 am - 11:00 pm | Thu-Sat 10:00 am -12:00 am
Cost for 2: AED 200
Nabi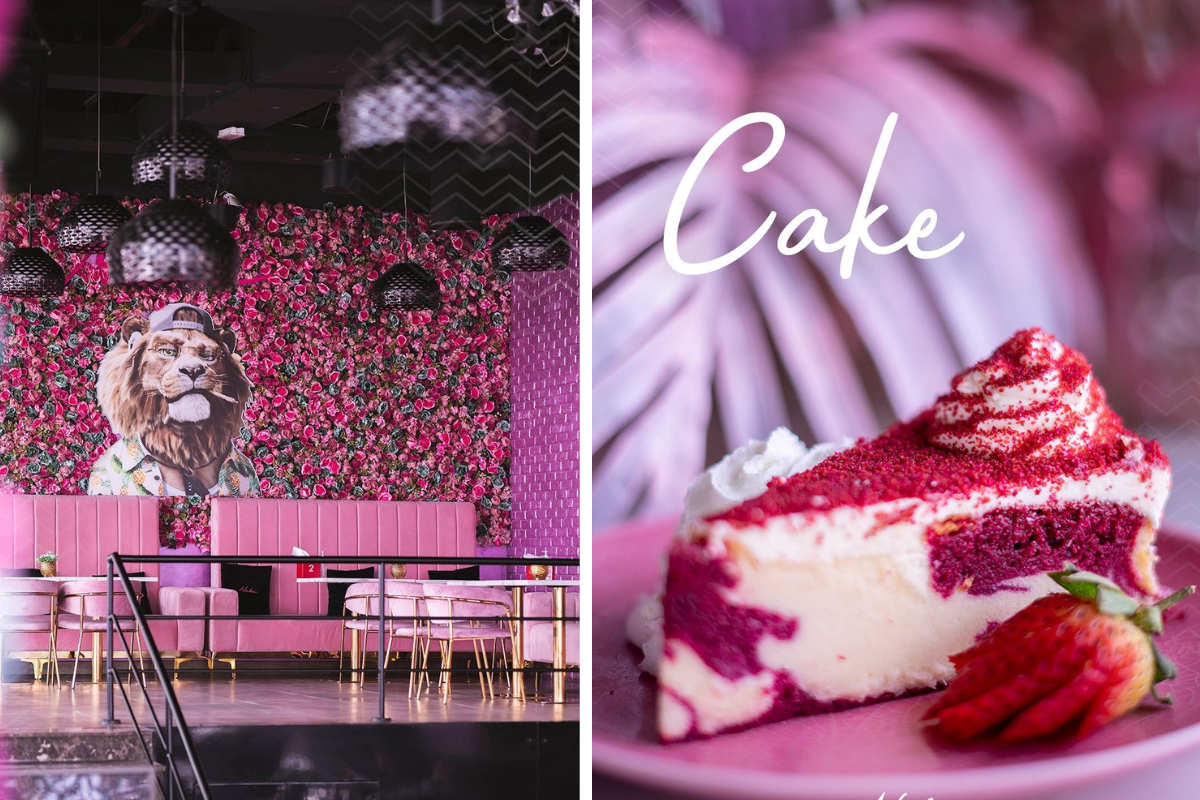 This café and lounge in Business Bay is a little less well-known, but that doesn't mean it's any less fantastic. It's a pink lover's paradise, with pink floral walls, a pink rooftop seating area, and pink down to the crockery and food. So, after you've taken your gaze away from the stunning interiors, don't forget to order delectable dishes such as Labneh, Za'atar, Chicken Wings, and Fajita. They also offer shisha.
Location:  The Wharf Tower, Business Bay
Timings: 10:00 am - 03:00 am
Cost for 2: AED 110
Also Read: