‌‌Everything is not what it seems at the Museum of Illusions. There's more than what meets the eye.‌‌
Seeing is deceiving in this museum of illusions that makes you question your sense of reality, perception, and imagination. A unique and captivating experience, the museum consists of over 60 mind-bending exhibits that are interactive, fun, and intricately designed to challenge the viewer's senses, and is the largest collection of optical illusions and immersive installations. ‌‌
Inside the museum, viewers encounter complexly designed installations, in which you can participate in, observe and decipher, like the Dilemma Games and the crafty Ames Room.‌‌
The interactive and educational nature of the museum makes it a perfect day trip for children, with schools often arranging field visits. Whether you are a tourist looking for a different experience or a resident wishing to go outside, while having a respite from the sun, the museum offers both an adult and children's experience and can be enjoyed by families and kids alike. The striking exhibits are created to be photographed, so don't forget to bring your camera! ‌‌‌‌
Who are they‌‌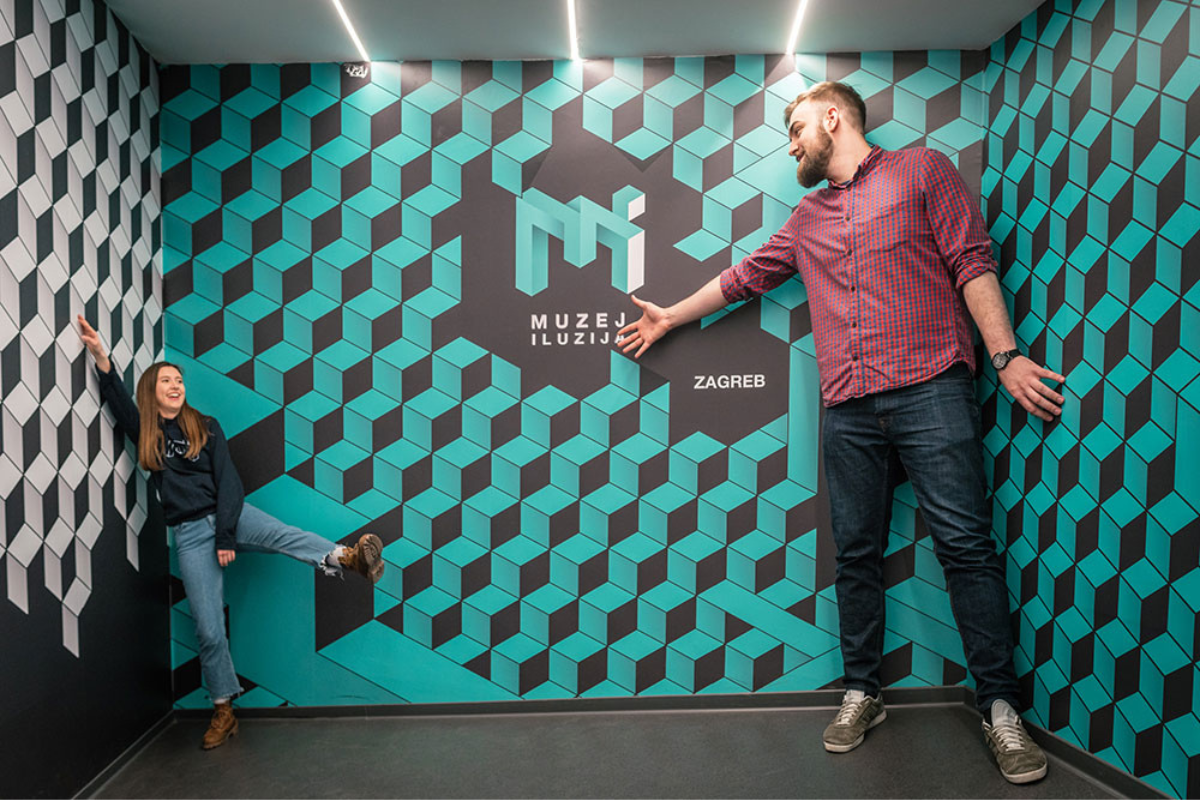 The Museum of Illusions is an international project, which is developing into one of the fastest-growing educational and entertainment experiences. Initially launched in Zagreb, Croatia in 2015, the initiative has become a recognizable brand with branches in over 40 cities across the globe, from Austin to Budapest, to Paris and Dubai, and they continue to expand. ‌‌
What to expect ‌‌
The museum features around 60 exhibits that present visitors with a series of shapes, sculptures, and objects that employ optical illusions to manipulate the mind of the visitor. The intriguing illusions are set up to make the visitors question the mechanisms of the exhibits and determine what causes the disoriented perceptions. The exhibits are engaging and guests can interact with each other, and click fun photos for their next Instagram post. The Museum is wheelchair and stroller accessible.‌‌
The museum can be rented out for special events and also has a gift shop for visitors wanting to take home a souvenir, or just window shop. ‌‌
The Exhibits ‌‌
Nothing is as it seems at the Museum of Illusions. Every mundane-looking room hides a whole different world of deceptions, if you look closely enough. The museum is a playground for your perceptions and is an immersive experience that puts to test the agility of your mind. Some of the exhibits include a seemingly rotating cylinder that is actually stationary, and an antigravity room that makes visitors appear as though they are suspended from the ceiling or walls. The exhibits are created for the visitors to participate in, and take photos of, like the Vortex Room which offers a sensory experience through light installations. The Clone and Infinity rooms utilize mirrors to create a kaleidoscopic pattern, that will have you seeing doubles or even more! You don't have to travel to Paris to experience the wandering eyes of the Mona Lisa, because the Hollow Face Illusion exhibit recreates 3D versions of a number of celebrities and famous figures that will have you questioning your mind, as you watch eyes follow you around. The portraits include that of Gandhi and Albert Einstein. The Ames Room is meticulously created to distort the size of a person as they walk from one to another.
How to get there‌‌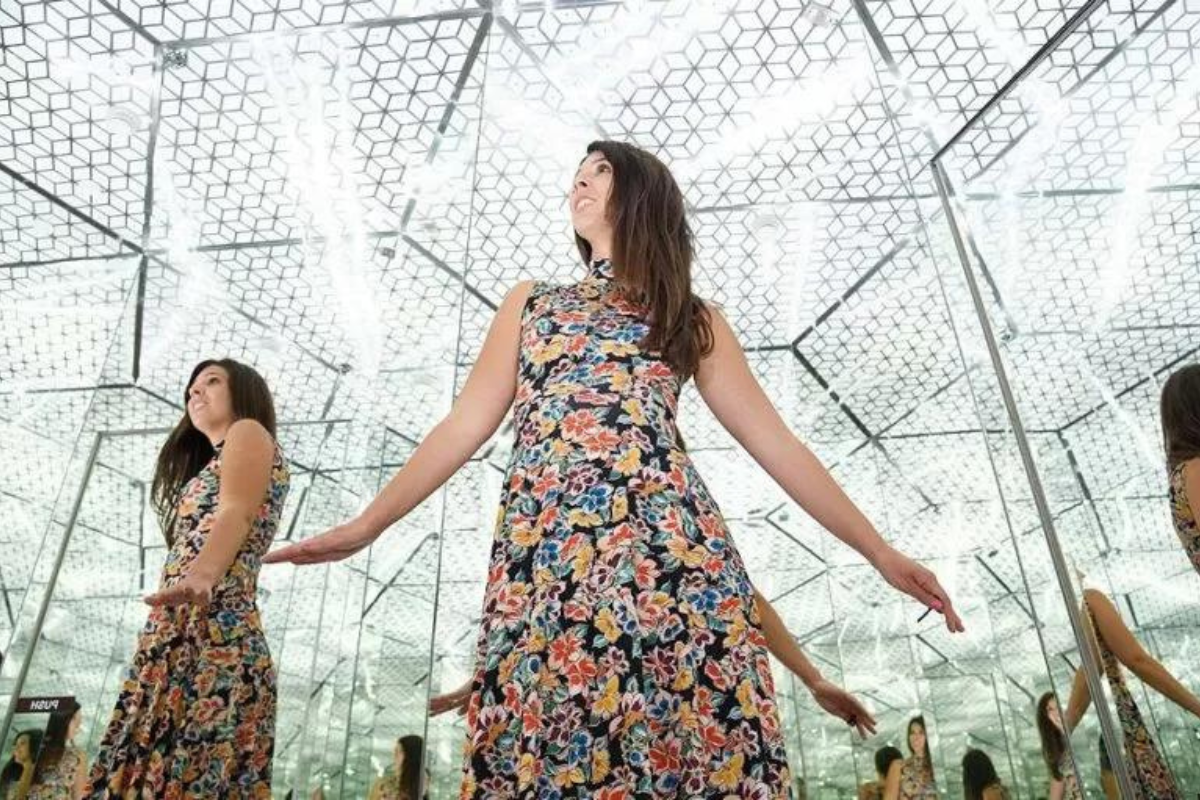 The museum is located at the heart of Al Seef, a vibrant heritage area, and market-themed street. It is merely a few minutes away from Dubai Creek, in Bur Dubai. For visitors travelling to Al Seef by car, free and valet parking is available in the basement of the Heritage Area.
Al Seef is also accessible by public transport including taxis, buses, and the metro. The museum is a 10-minute or 1 KM walk away from the Sharaf DG metro station, and 20 minutes or 1.7 KM walk away from the Burjuman metro station.
The Museum is also accessible by water taxis or Abras(ferries) across the Dubai Creek. For only a dirham, visitors can hop on and hop off the ferry, and journey across the Creek in under five minutes. ‌‌
What is the entry fee‌‌?
The museum offers a number of different packages at different price points, as per the visitor's age, and cheaper bundles for larger groups. Adults, or anyone above 16 years, are charged AED 80 for one ticket. Children between five to 15 are charged AED 60, and those under the age of five have free entry.‌‌
The Museum offers a Family package, for AED 225, which includes 4 tickets for two adults and two children, or one adult and three children. The offer is AED 35 to AED 55 cheaper than individual tickets. ‌‌
Yet another offer is the Family and Friends package, which includes five tickets for AED 320, which is AED 80 cheaper than individual tickets, so make sure to avail of the offer to save some bucks. ‌‌
Additionally, the Museum offers tickets for seniors above the age of 60 and students for AED 70. Tickets for POD (people of determination) come at a 50% discount for AED 40. ‌‌
Students are required to bring a valid ID to avail of the student offer, and children below the age of 15 are expected to be accompanied by an adult at all times. ‌‌
Although tickets are available on sight, the museum limited entrants to make it a safe and calm viewing experience, therefore make sure to book your tickets online to make sure you don't miss out. ‌‌
Keep an eye out for seasonal and festival offers, and bundles! ‌‌
What are the opening hours‌‌?
The Museum of Illusions opens its door to visitors at 10 AM and operates every day of the year. On weekdays from Monday to Thursday, the museum remains open till 10 PM. On weekends, i.e. Friday, Saturday, and Sunday, and on public holidays, the museum extends its working hours till 11 PM. Visitors who wish to visit on weekends and holidays are recommended to check if reservations are available as the museum remains packed on these days. ‌‌
Visit Duration
The Museum of Illusions has over 60 exhibits that take up to an hour on average to cover. However, visitors are welcome to stay for as long as they like, and rightfully so visitors tend to stay longer decoding the mind-boggling illusions, taking quirky pictures, playing games, and solving the perplexing puzzles. ‌‌
Other attractions nearby ‌‌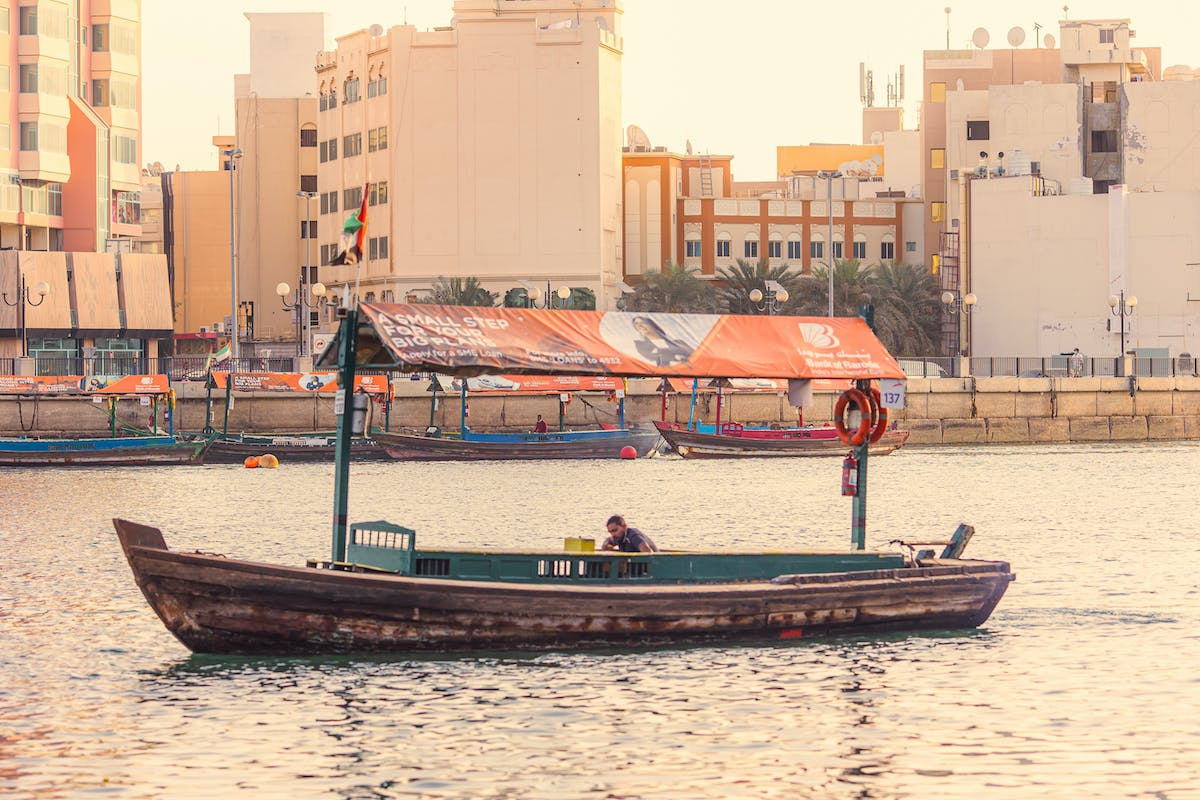 Dubai Creek (Khor) - Just a few steps away from the museum is Dubai Creek. The natural canal and waterway connects two parts of Old Dubai, Bur Dubai, and Deira. The path, lined with souvenir shops, souks, hole-in-the-wall snack shops, cafes, and ice cream parlors, is perfect for a stroll. Visitors can also ride across the canal on a traditional Abra, for no more than 1 dirham. ‌‌
Dubai Old Souk- Walking along the streets of Al Seef, will lead you to the Dubai Old Souk. The narrow alleyways are lined with little shops selling everything from fragrant perfumes and spices, vibrant rich textiles, intricately woven carpets, handmade clothes, glittery trinkets, lamps and souvenirs, and even precious metals like gold and silver. The shopkeepers are open to haggling, and even if you do not wish to purchase, strolling along the souk is cultural and experience.‌‌
The Sheikh Mohammed Centre for Cultural Understanding- Situated in the Bastakia Quarter, inside a time-worn Al Fahidi Wind Tower, the SMCCU is a great spot to visit for those interested in the culture and history of Dubai. Inside the windtower is a courtyard preserved in time where Q&A sessions are hosted and visitors can eat traditional Emirati meals. The centre arranges a series of interactive experiences including walking tours down Al Fahidi's sikka lanes, where guests can observe traditional Emirati architecture like wind towers and mosques, and falconry demos. ‌‌
Rustar Floating Restaurant- The Rustar, which holds the world record for the largest floating restaurant, is a 167 ft long dhow cruise operating within the Dubai Creek. The three level cruise is equipped with a bar, a dining hall, and an open air dinner deck where guests can enjoy international or continental cuisine set against the brilliant backdrop of the Creek. Open to both couples and families, the cruise offers live entertainment like singing, dancing, live band and other cultural performances. Its luxurious interior compares to the best 5 star hotel, and adds to the opulent ambience, and is a must visit for those looking to tour the Creek. ‌‌
Also Read: