Art 7 Design is a Graphic Design and Web Design Company located in Deira, Dubai. Ismail Khadim, Owner of Art 7 Design, shares the journey of the business.
Which industry does your business belong to?
Design Services.
What is your business type?
Services.
How old is your business?
1-5 years.
Who are your customers?
Companies (B2B).
Which industry segments are you targeting to sell?
Government sectors, Private sectors and People.
How many employees do you have?
1-9 employees.
How did you initially come up with the idea or concept for the business?
Our idea came through due to developments that happened in our country and the world in the areas of design and digital transformation, and it was necessary to keep pace with this development, especially in times of current crises.
Tell us about some of the major turning points in the history of your business.
Digital transformation.
What made you choose Dubai as a location to setup your business?
Dubai is the source of development.
Finally, what sets your business apart from the competition?
We have designers who have endless creativity and modern capabilities in the fields of graphic design and web design, as we use the reality that we go through daily to develop new ideas.
What service(s) or product(s) do you offer/manufacture?
Graphic Design, Infographic, Web design & development, Social media marketing & development, Gifts, Printing.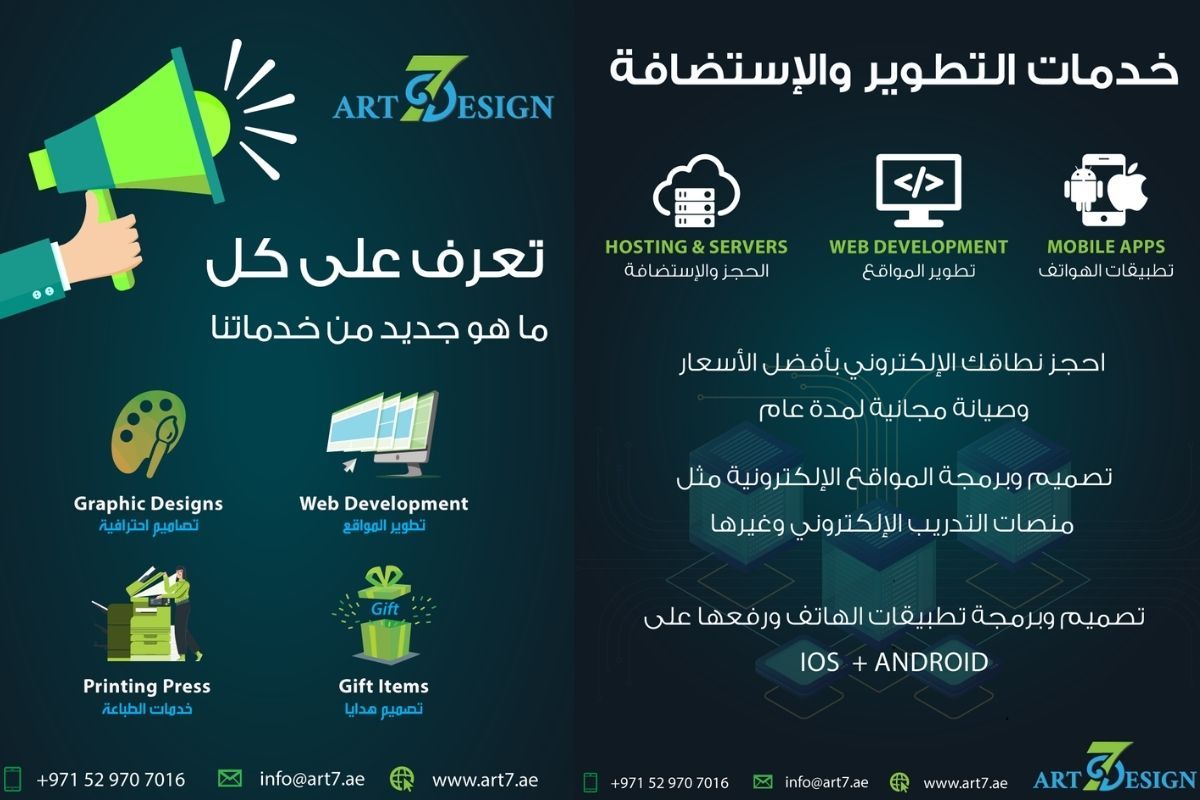 What are the key strengths of your products/services?
Professional designs, developing digital and smart platforms, speed and quality in delivery, 24h communication service, our employees speak Arabic, English and French languages, easy and flexible payments, competitive prices, awe are a national company supported by the government.
Are there any exclusive products/services that you offer (not offered anywhere else in Dubai)?
Digital and Smart Platforms with the latest technology.
What are the best ways for your customers to contact your company?
Via Email & Phone.
Do you have multiple branch offices, facilities or stores in Dubai?
No, we have just one branch.
You can find us here - https://www.hidubai.com/businesses/art-7-media-marketing-it-design-advertising-agency-port-saeed-dubai
Is there anything else you want to convey to your potential customers?
Contact us any time.