If you're looking to spice up your nightlife, Soho Garden DXB is the spot you've got to be. Launched first at Meydan in 2018, the joint has gone on to expand to other concepts such as Soho Beer Garden and The Foxglove. While these are two of the latest developments, the OG Soho Garden Continues to generate buzz and excitement among party-goers and has launched a new spot at Nakheel Mall's rooftop.
Palm Jumeirah
One of the most iconic locations in Dubai, Palm Jumeirah is one of the many dazzling manmade islands in Dubai. Shaped as a palm tree, the artificial island is home to nightlife and daylife alike, with stunning coastlines, hotels, resorts, food trucks, apartment towers, and retail stores.
Hotels
Whether you're a tourist or a resident, the Palm is the perfect place for a staycation or perhaps a vacation. Some of its most well-known hotels are:
W Palm
Taj Exotica Resort & SOa
Atlantis
The St. Regis
Places to visit and things to do  
Nakheel Mall
The Pointe
Atlantis Aquaventure Waterpark
Palm Jumeirah Board Walk
What is Soho Garden DXB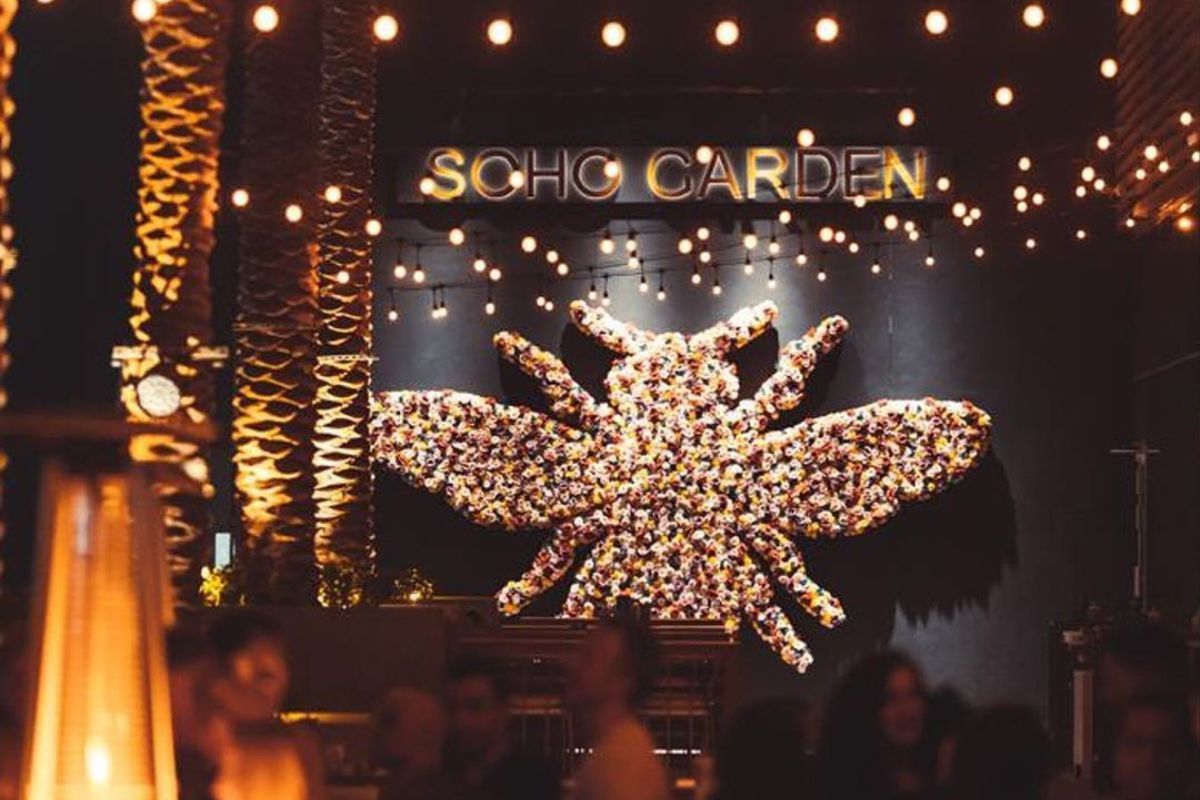 A mix of glitz, glamour and good times, Soho Garden DXB offers its guests the most stellar dining, entertainment, and lounging experiences.
Bringing you the magical soul of Soho from the West End of London, Soho Garden, Palm Jumeirah brings you a globally acclaimed experience.
Events at Soho Garden DXB
While you can always drop by for a drink or two or perhaps a munch with a friend, the rooftop location invites plenty of talent to offer its guests an unparalleled experience.
Some of the locations' past performers include Solardo, Lil Tjay, Jamie Jones, Richy Ahmed, Jenn Getz, Stefflon Don, and others.
To stay up to date on the events and performers at the location, visit the website below.
To make a reservation at Soho Garden, visit the link below
Please note visitors are advised to carry a valid proof of identification such as an Emirates ID or passport.
Queen B Ladies Night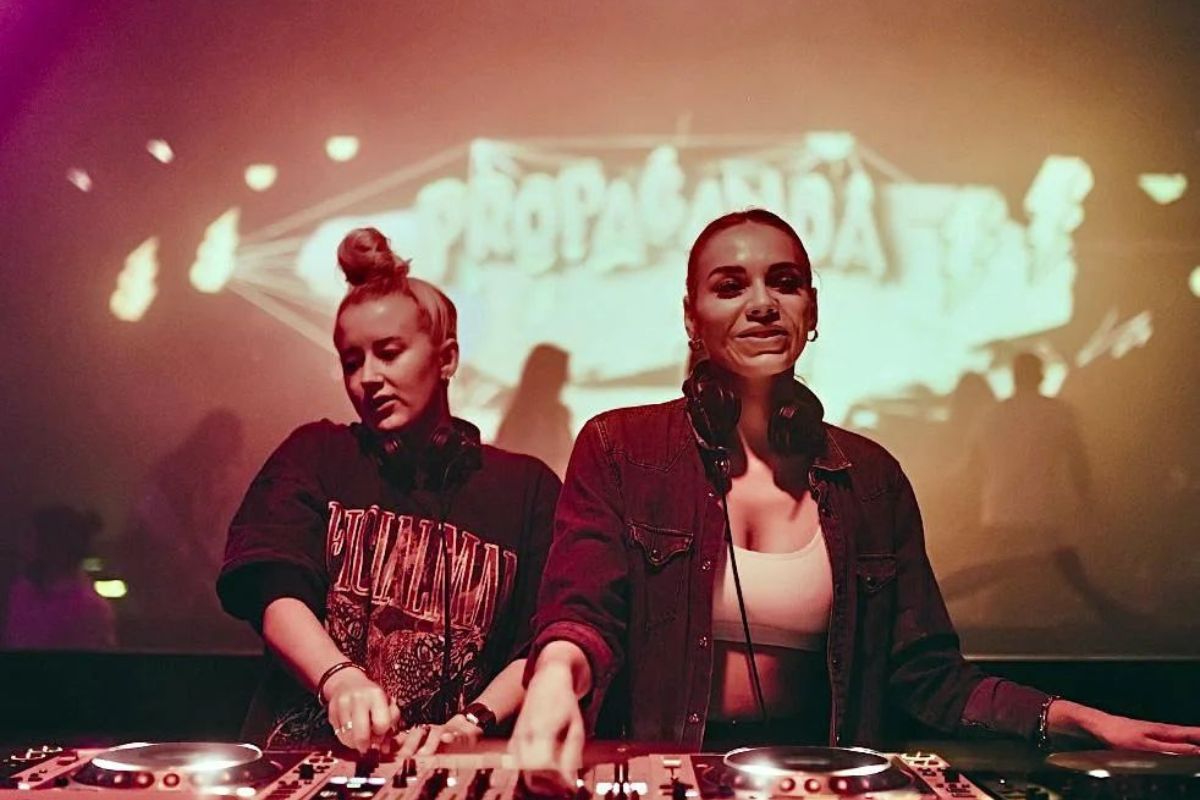 Girls gotta have some fun, and they sure will at this joint. Every Tuesday night, grab your girlfriends and drop by to enjoy delectable dishes and dazzling discounts.
Priced at a measly price of AED 100, ladies get four drinks on the house that include Soho-politan, Palm Bees and The Garden, house spirits, and white or red grapes. Let's not forget the tasty sides that come with the drinks. They are also served a food platter with a range of finger foods that include crispy prawns, lollipops with sweet and sour salad, fish tempura, crispy chicken spring rolls, sushi rolls with fresh salmon, and sushi rolls with spicy crab sticks.
The offer is valid every Tuesday from 8 pm onwards for ladies at the venue and is priced at AED 100 per person.  
The Green Room
Want a more private experience? looking for exclusive access to the finest service and premium food and drinks? Listen closely and don't tell a soul. Tucked away in a discreet corner of the Palm Jumeirah location of the Soho Garden, the green room is a deluxe dining and lounging experience giving guests access to a tasteful and luxurious atmosphere.
The exquisite experience offers diners the chance to enjoy 'Italian classics with a modern Asian twist' while sampling some of the finest cocktails and drinks.
To make a reservation for the green room, visit the link website below.
Menu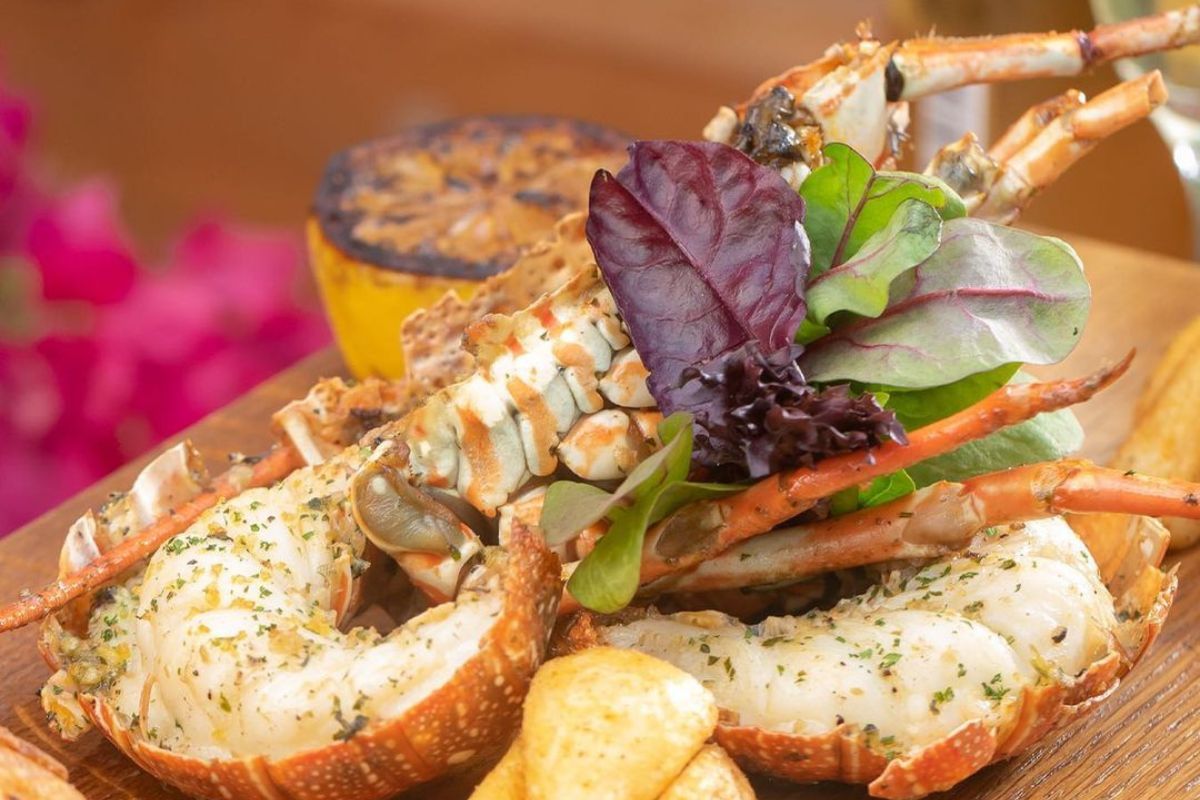 Not only does the menu look elegant with its floral design, but the dishes listed on it are also just as appetizing. From a range of Appetizers to kick start your meal to hearty main courses and perhaps some juicy meat right off the grill. If you think it ends there, think again cause their platters, pizzas and signature sushi rolls will leave you craving for more despite having had your fill.
Appetizers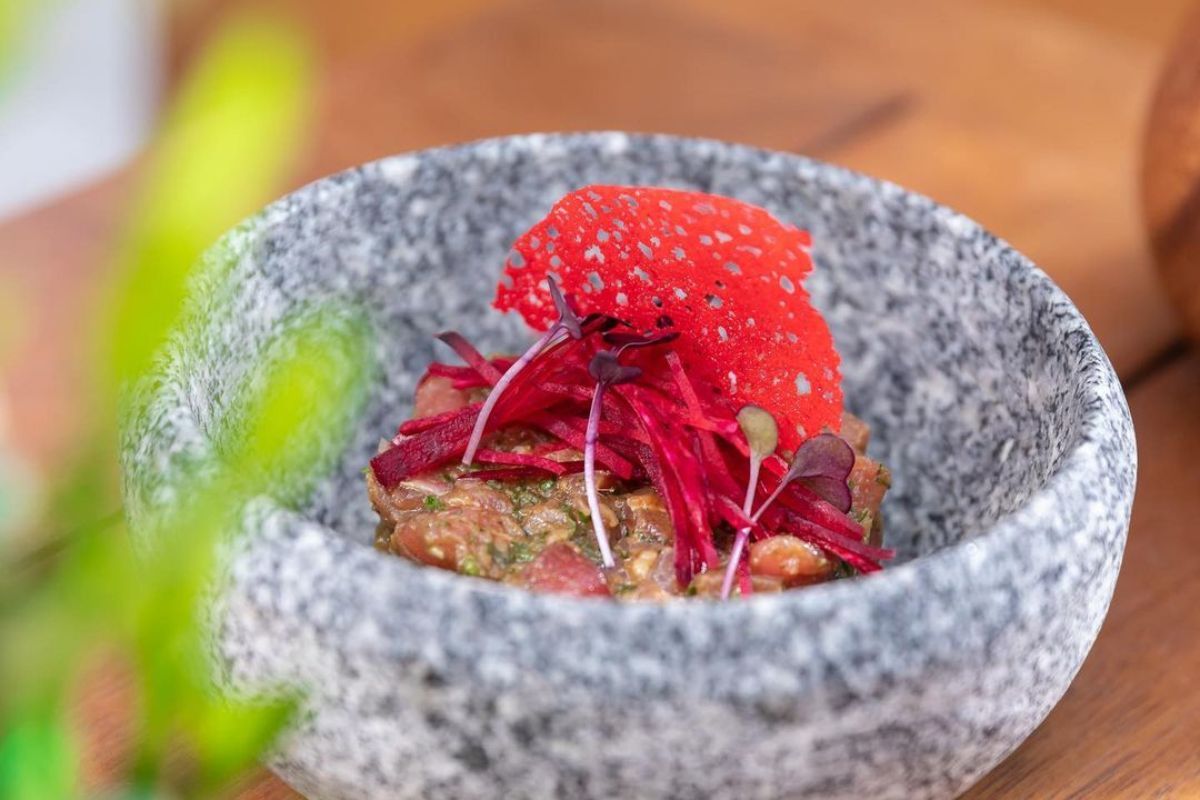 The appetizers at the joint start off at AED 40, offering customers Puffed Potatoes with Spicy mayo sauce and go up till AED 140 with a scrumptious Wagyu Katsu Sand Sandwich, 'Soho Garden' style. Other items on their appetizing menu of appetizers include interesting combinations such as Pani Puri stuffed with spicy salmorejo cream and 'Toro' tuna sashimi at AED 80, and Ricotta Hummus, balsamic berries jelly, extra virgin olive oil, black salt, and grilled pita bread at AED 60. Talk about a range of experimental fusion dishes!
Main Courses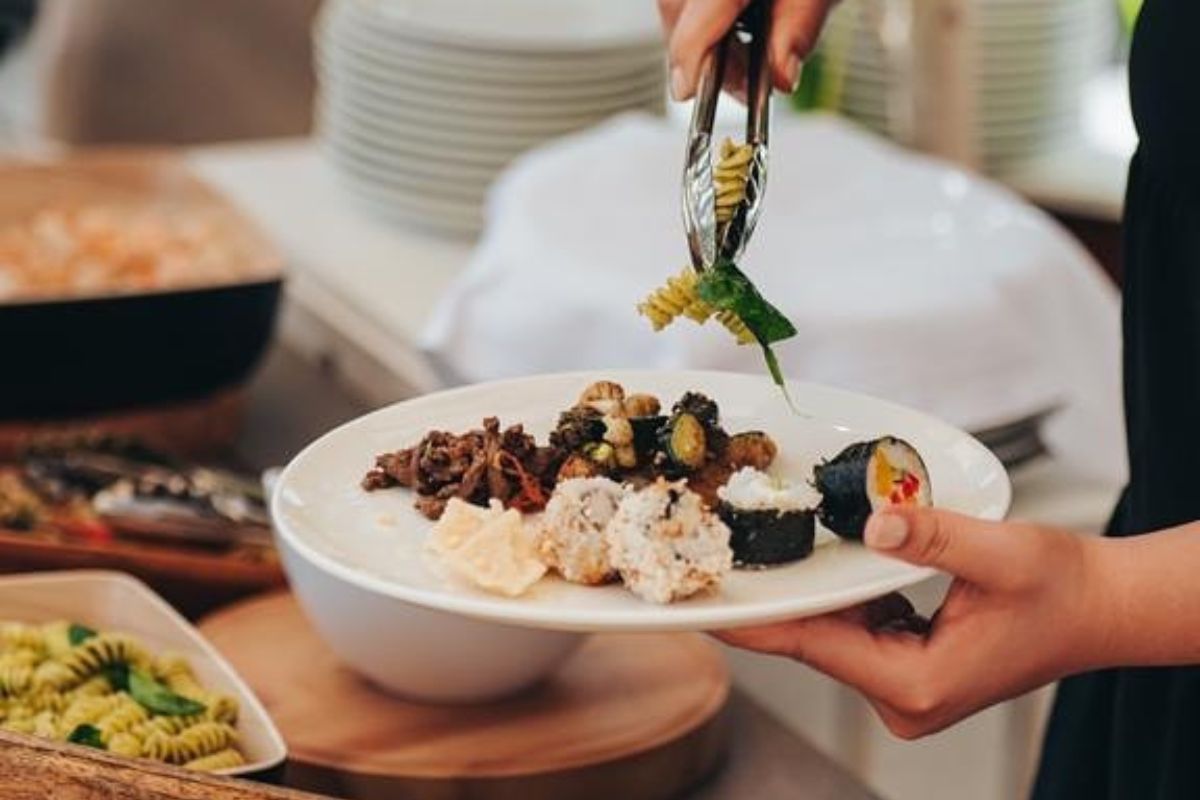 Their main course menu is just as, if not even more heavenly. Starting off at AED 70 for Chicken Tskune sticks with cured egg yolk in soy sauce and going up to AED 280 for their premium Oven baked sea bass in Himalayan salt crust with seafood cream, they're taking luxury to the next level!
If you want to try your hand at something out of the ordinary, they have a list of those, too, including Grilled octopus with 'Romesco' sauce and spicy paprika oil at AED 70, or perhaps have some French mussels cooked in baby Thai coconut broth priced at AED 85.  
If experiments are not for you, some other classics on their menu include the Wagyu Beef burger with swiss cheese and spicy mayo served at AED 100 or their Crispy Boneless marinated chicken leg burger sliders with spicy Japanese BBQ sauce priced at AED 80.
Signature Sushi Rolls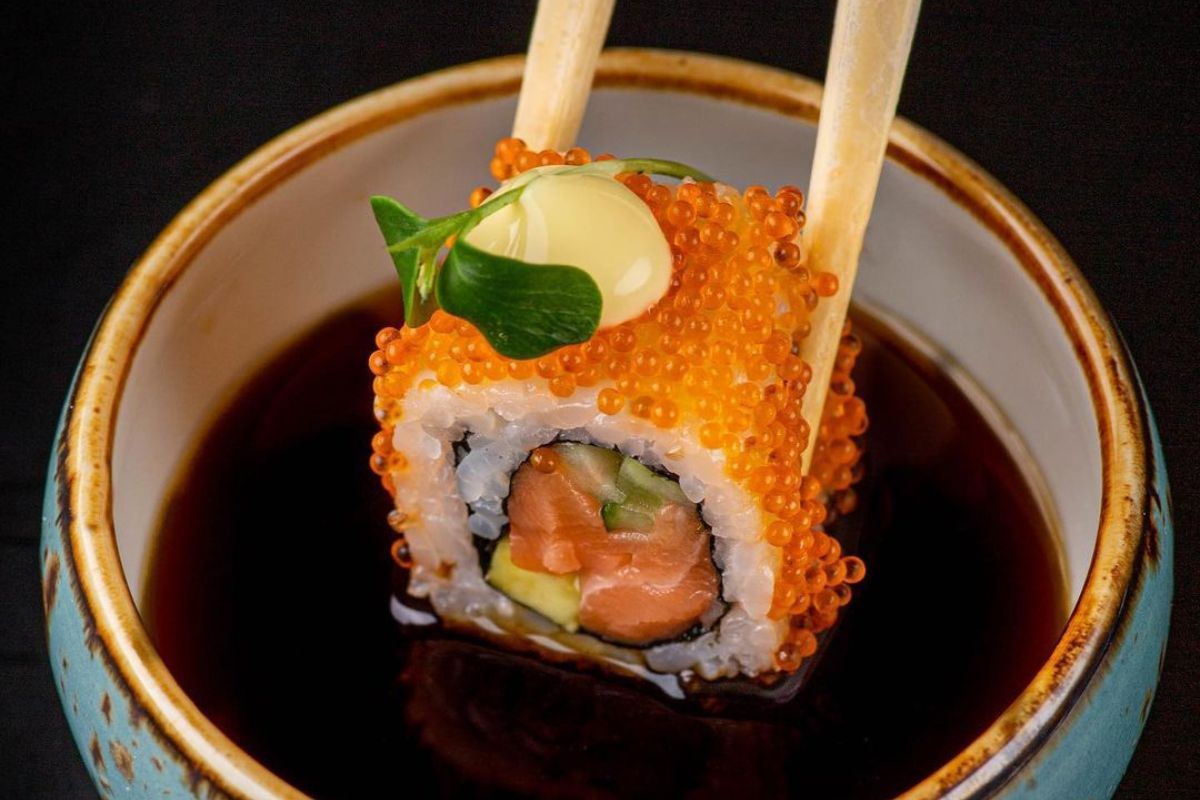 Let's be real; if you don't like sushi, you probably haven't tried the right ones for your tastebuds, well lucky for you cause Soho Garden has an extensive range of options, including Vegan and Vegetarian options!
Starting off at AED 65 for their Yasai, Vegan and Vegetarian sliced avocado and Japanese pickled vegetables sushi roll, they also have seafood sushi rolls such as Salmon Passion at AED 80 containing avocado, cucumber, asparagus, salmon and mango salsa.
For meat lovers, they also have a Wagyu beef tataki containing 24K gold leaf, asparagus, shisho salsa, truffle tapenade and crispy garlic. Yes, you heard that right, 24K gold leaf.
Sashimi and Nigiri
To put it simply, Sashimi is a popular Japanese speciality consisting of thinly sliced raw seafood or meat, often served with soy sauce as a side.
Nigiri, on the other hand, is similar to Sashimi; the only difference is that it's thinly sliced raw meat or seafood served over sweet and salted vinegary rice.
Their prices for both start at AED 30 for Ebi (Shrimp) and go up to AED 55 for Maguro (Tuna).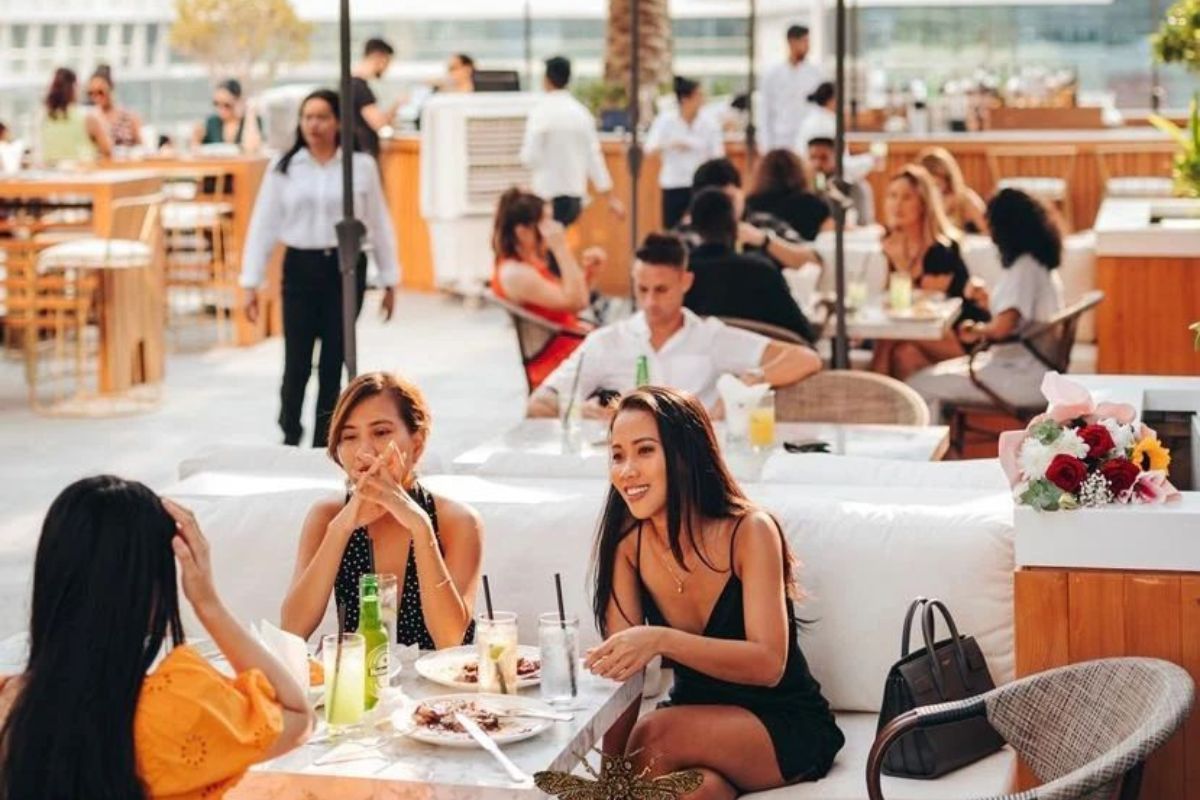 Flatbreads and Pizza's
Nothing tops pizza as a side to your favourite drink. Are we right, or are we right? The joint has a choice of 8 pizzas and flatbreads, including vegetarian options.  
From the classic Margherita pizza made with tomato sauce, mozzarella cheese and fresh basil at AED 79, to the seasonal Tartufo pizza made with Sliced truffle, gorgonzola, and wild mushroom at AED 110, you'll find a wide range of options.
The joint also offers to add caviar or truffle to some of their pizzas at an extra cost of AED 50 for each topping.
Grills, sides, and platters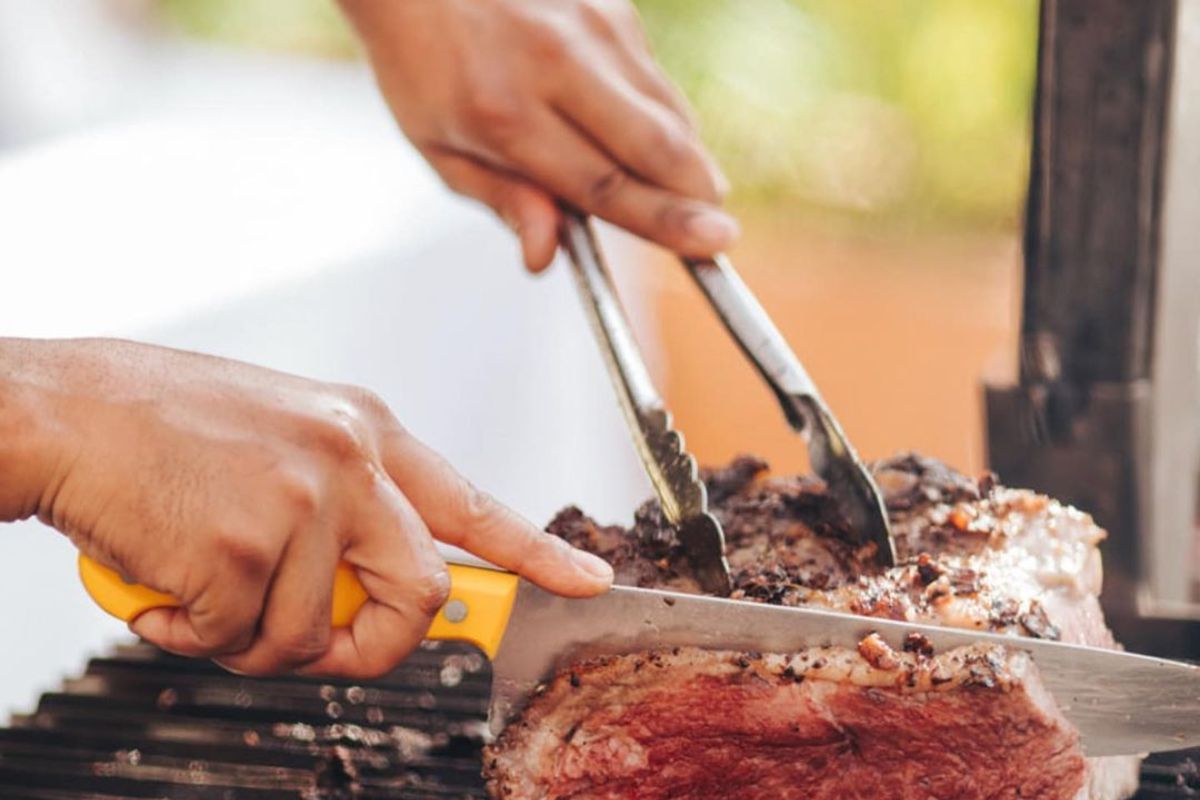 The options for grills include but are not limited to 200 grams of Australian wagyu beef fillet mignon (grade 4-5) at AED 160 or US corn-fed black Agnus T.bone priced at AED 55 per 100 grams.  
Have a go at choosing a side from their sides and sauces menu whether it's some classic crispy puffed potatoes at AED 30 or a mouth-watering roasted eggplant with goat cheese powder and miso at AED 35.
Pick your choice of homemade sauces, such as Soho garden's special black truffle sauce at AED 50, homemade beef gravy at AED 30 and more.
While you can choose from individual plates of Sashimi and Nigiri, the joint offers platters too. A platter of a selection of 5 kinds of Sashimi or Nigiri is priced ate AED 210. Their all-inclusive Mixed sushi and sashimi platter, on the other hand, is priced at AED 400.
Desserts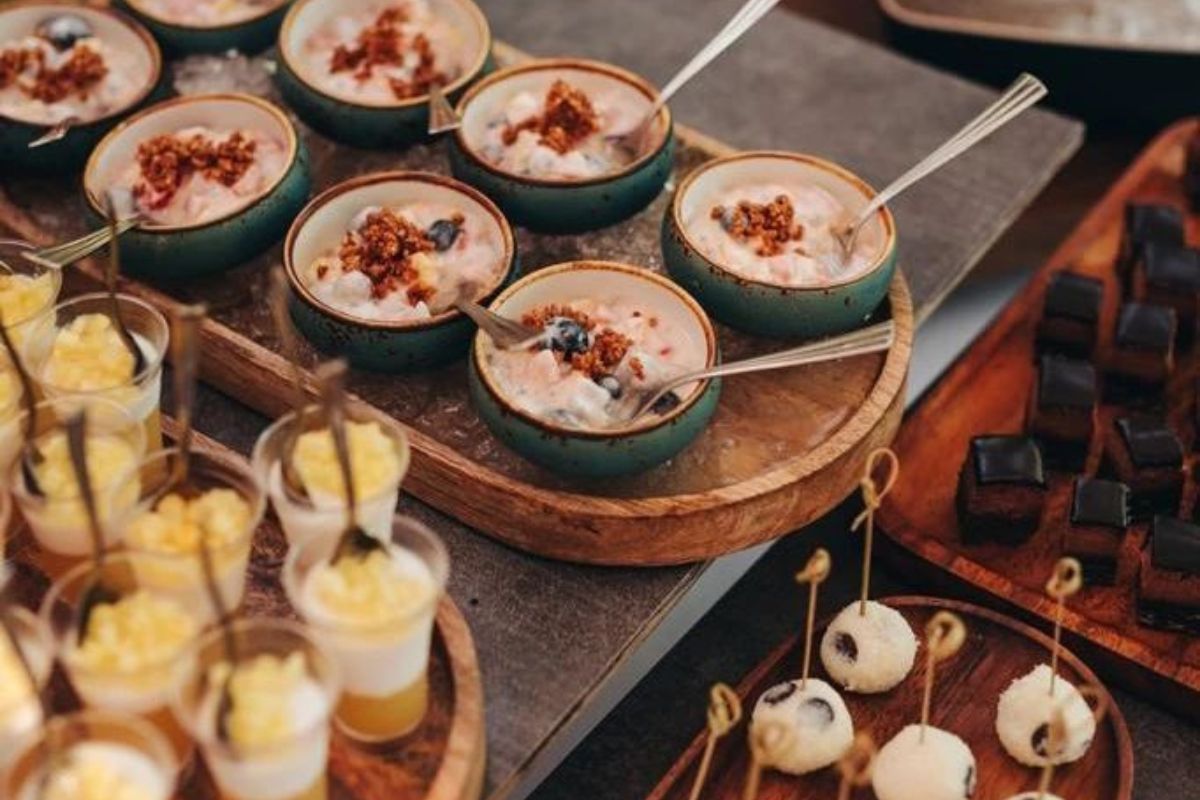 The favourite part of everyone's meal, Soho Garden, has some exquisite dessert options to satiate your palette.
Go basic but indulgent with the Double chocolate brownie served with vanilla bean cream and chocolate fudge at AED 50, or go fresh, fruity, and healthy with a Tropical fruit platter exclusively selected by the chef for AED 95.
If you're in the mood for something aside from the basics, tantalise your tastebuds with Chocolate fondant with matcha icecream for AED 50, one of their assorted mochi icecream at AED 60, or a Vanilla creme Brule with fresh berries at AED 45.
Drinks
Whether you like an occasional sip of alcohol or are cold sober, the joint has beverage options for both.
Alcoholic Drinks
The extensive 7-page long alcoholic drinks menu includes a range of cocktails starting off at AED 55, with the Glasshouse Punch concocted with Clarified milk, ginger, star anise, nutmeg, gin, brandy, and citrus.
Their menu also includes some of the finest Gin, Rum, Tequila, Pisco, Whisky blends, Single Malts, Irish Whisky, Bourbon, Japanese Whiskey and Cognac.
If you have an occasion to celebrate, their range of Wines is the perfect pairing for your evening.  From champagne to white wine and rose wine and red wine, have your pick.
Non-alcoholic beverages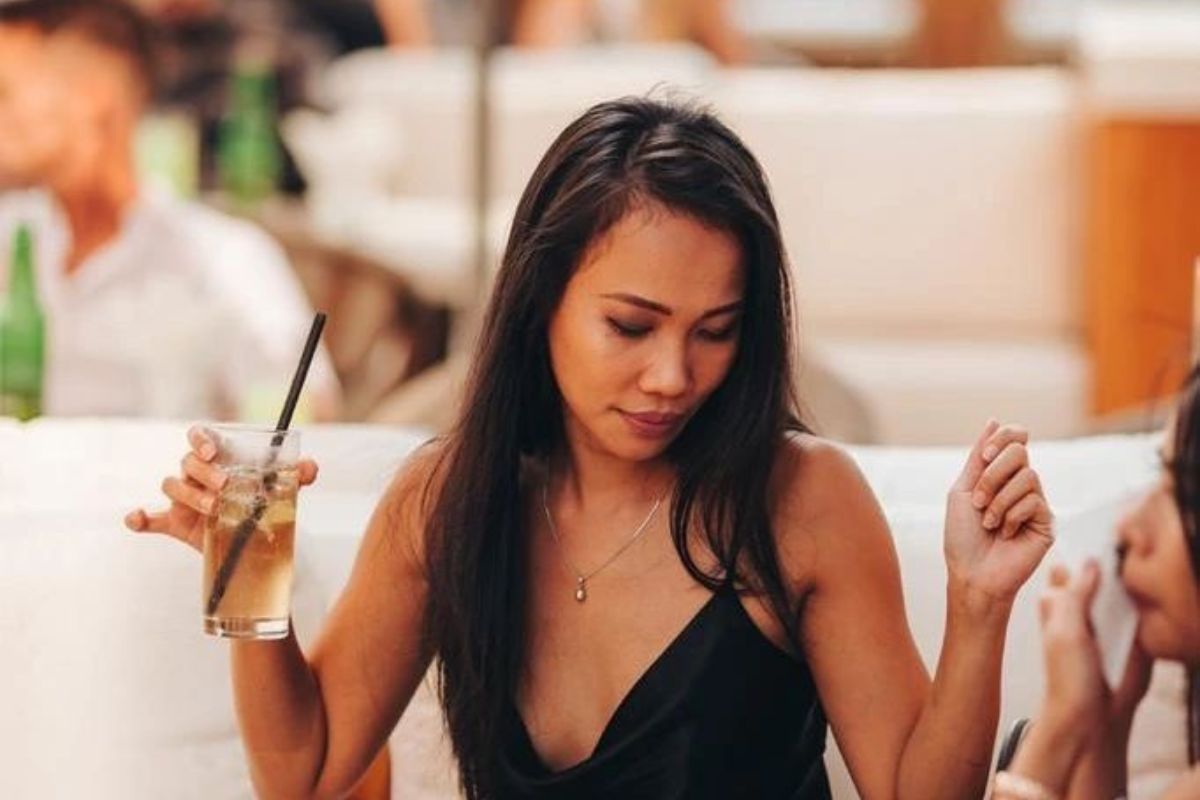 For those of us who prefer non-alcoholic drinks, Soho Garden offers soft drinks, Red Bull, and virgin mocktails.
Their Wanna be Spritz, concocted with 1883 Saveur spritz (non-alcoholic), Orange Juice and Soda & Tonic water is priced at AED 39. The Passionista consisting of raspberry, passion fruit, orange, and homemade infused syrup, is served at AED 39, as well as their Mango Mule made with mango, ginger & lime.
Location, contact timings, and details
Timings: Tuesday - Sunday, 5 PM - 3 AM
Contact and WhatsApp: +971 54 23 35 555
Email: reservations@sohogardendxb.com
Location: Nakheel Mall Palm Jumeirah - Rooftop West - Dubai - United Arab Emirates
Read more about Soho Garden DXB
Also Read