As the weather slowly shifts to the cooler side, outdoor parties and gatherings become more popular than ever. And what better way to bid adieu to summer and welcome the cool breezes of Dubai than a pool party?
Read on to see some of the best pool bars and clubs in Dubai.
Please note: always remember to carry identification such as Emirates ID, or Passport when visiting any places that serve alcohol.

1. Andreea's Beach Club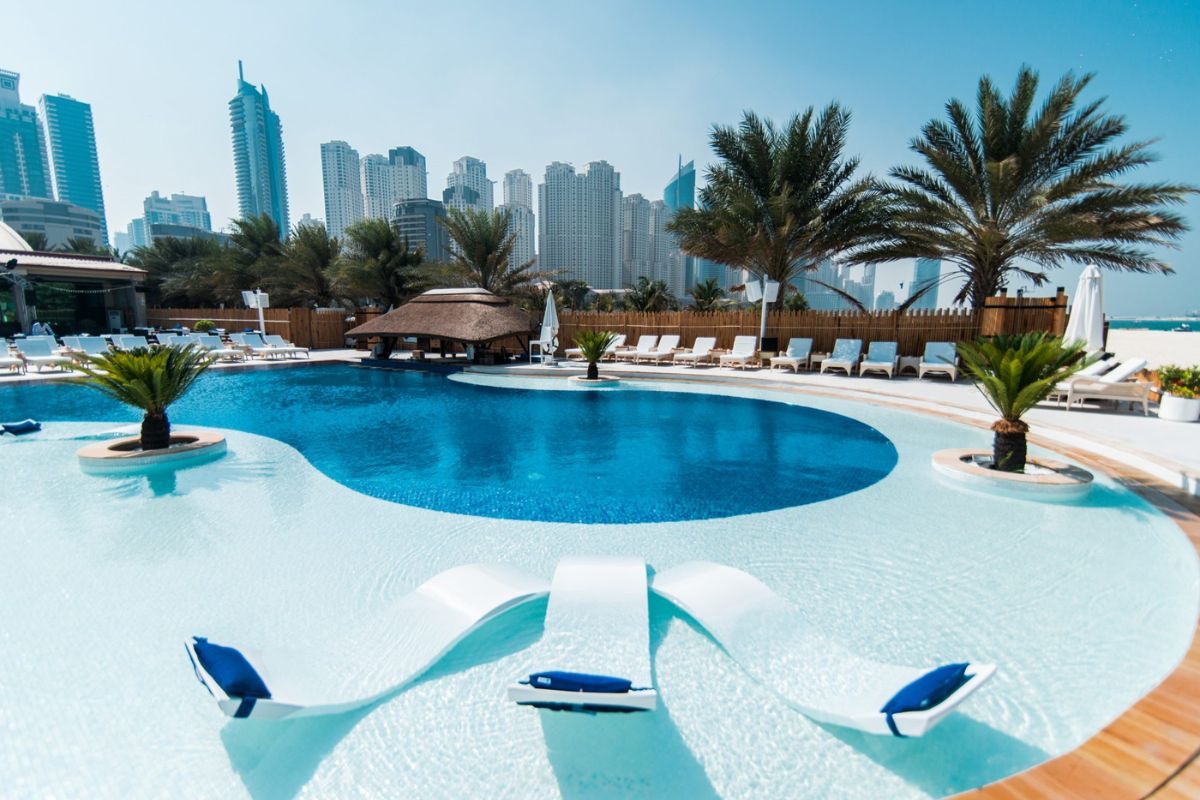 What better way to kick off than a beach club that offers you the luxury of a ladies' day and night to make the most of your escapades?
Equipped with a super-sized swimming pool to accommodate all your friends and more, a swim-up bar and in-water lounges, this pool bar is a cosy spot to hang out with a large party. With its sleek and classic decor reminiscent of a calming day out on a beach, the club offers you top-of-the-line amenities to give you the best possible experience. White-washed sunbeds for the perfect tans, umbrellas to shade you from the scorching sun, towels, luxury shaded cabanas, and more are guaranteed to have all your needs covered.
The spot offers an impressive menu of dishes to accompany your handcrafted drinks. From finger food like nachos and fried calamari rings to more filling juicy steaks and crunchy sliders, they've got it all.

Other things to note:
Resident DJ
Valet parking
Complimentary club car service from Hotel to beachfront
Ladies' days and nights
Timings: Daily, 10 am - 10 pm
Location: Habtoor Grand Resort Autograph Collection, Dubai Marina
Contact: +971 58 693 5778
Email: info@andreeas.ae
For more information and reservations, visit Andreea's Beach Club.
2. Aura Skypool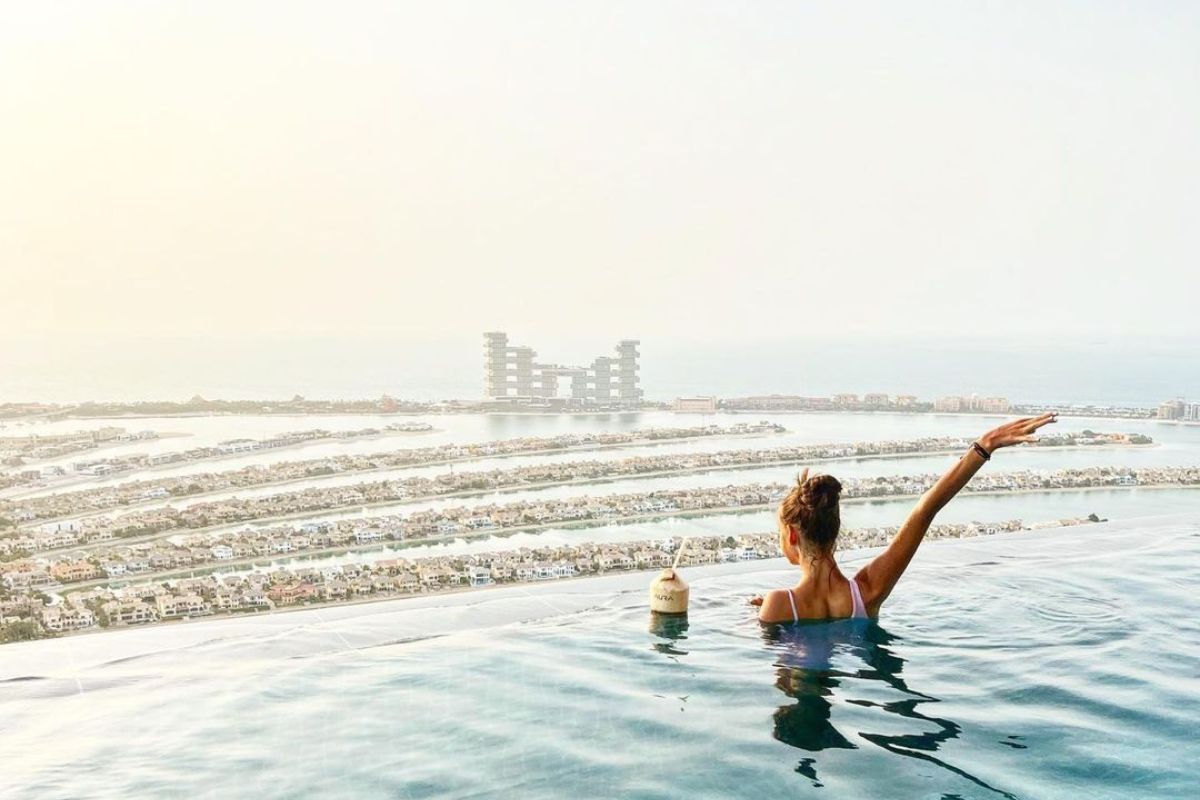 Go big, or go home… quite literally.
Dubbed as the world's highest 360° infinity pool at 200 meters above the ground, the Aura Skypool is suspended in the sky, giving you a sweet view of the skyline of Dubai, overlooking Palm Jumeirah and the Arabian Gulf. And if that isn't reason enough to want to drop what you're doing and go spend an evening gazing at the enchanting hues of the horizon, the Aura has a lot more to offer.
Bringing nature indoors with comfortable seating and relaxing views, the Lounge at Aura Skypool gives you the space to enjoy a quick snack, breakfast, lunch or dinner with your loved ones- or by yourself, if that's what you fancy. The space is decorated with the colours and textures of nature, truly bringing a beachside feel to the restaurant with its indoor plants and wicker chairs and wooden accents.
Their menu features Pan Asian cuisine and serves bites throughout the day, from breakfast to lunch and of course, the criteria that puts it on the map for this list, drinks. Sushi, salads, and sliders are only some of the dishes that are included on their truly extensive menu. Satay chicken, Bok Choy and Kung Pao, you might consider dropping by just for the food. They also have a range of desserts.

Other things to note:
They host private events
Live performances
Resident DJ's
Event tickets for events like New Year's Day, National Day, and more.
Complimentary Valet parking
Timings: Daily, 7 am - 10 pm
Location: The Palm Tower, 50th floor, Palm Jumeirah, Dubai, UAE
Contact: +97145662121
Whatsapp: +971585252121
Email: reservations@auraskypool.com
For more information and reservations, visit Aura Skypool.

3. La Baie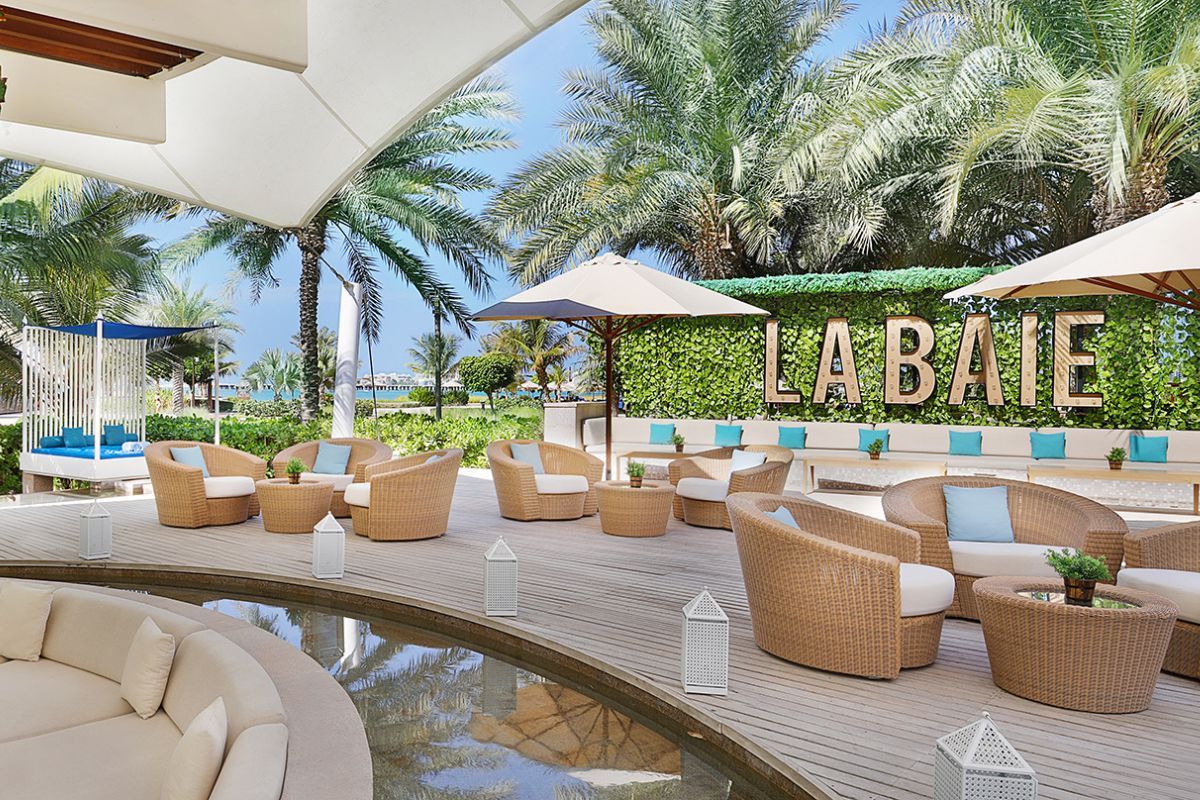 Looking for a chic backdrop for a poolside Instagram? La Baie is just the place you gotta be.
Floral arrangements, ladies' nights, shisha and more, this pool bar has everything you'd want… and more. A brightly lit space during the day, it sets the right tone as the sun goes down with its neon lights. The space features a swimming pool, restaurant, bar, outdoor terrace and lounge, comfort for those who enjoy the outdoors and those that'd rather be tucked into a cosy corner. The lounge gives you a clear view of the JBR Dubai beach.  
Read More about -  JBR Beach in Dubai
Their menu ranges from foods to nibble on to appetizers, desserts, full-course meals, and seafood platters. Their drinks span from alcoholic to non-alcoholic beverages and include some classic cocktails. You can find their menu here.

Other things to note:
Ladies' day every Friday from 4 pm - 8 pm
Private cabanas
Valet Parking
Vegan and Gluten Free Friendly
Swim-up Bar
Shisha
DJ's
Happy Hour every Monday- Thursday, 4 pm - 7 pm

FIFA World Cup 2022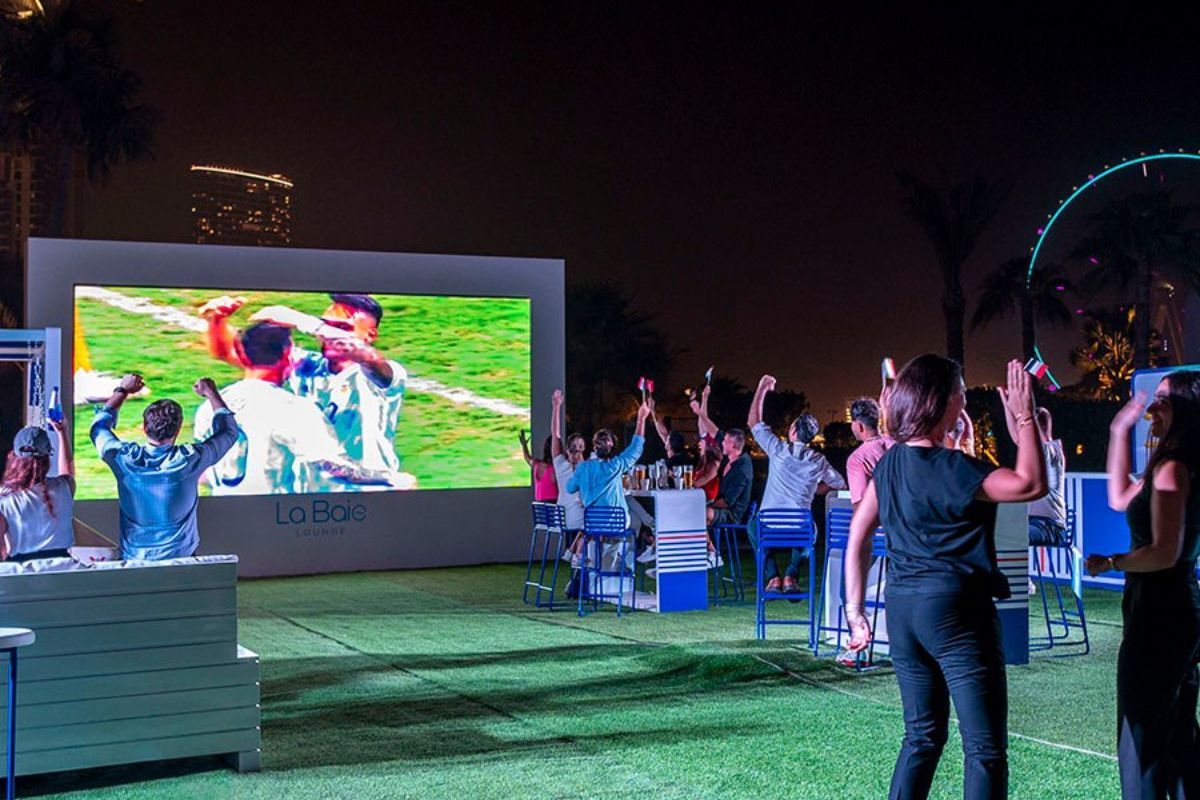 Drop by La Baie's Beer Garden Fan zone to make the most of the matches this year with your friends and family. There are seating and cabanas available on a first-come, first-serve basis.
The menu for the event also includes some classic bites to accompany your watching experience and their special 'Goalie' beer tower starting at AED 135.
Dates: 20 November until 18 December 2022
Timings: 2 pm onwards
Reservation is not required—first-come, first-serve basis.
Timings: Daily, 12 pm - 11 pm
Location: The Ritz-Carlton, Dubai
Contact: +971-4-399-4000
Email: dine.dubai@ritzcarlton.com
For more information and reservations, visit La Baie.
4. Drift Beach Club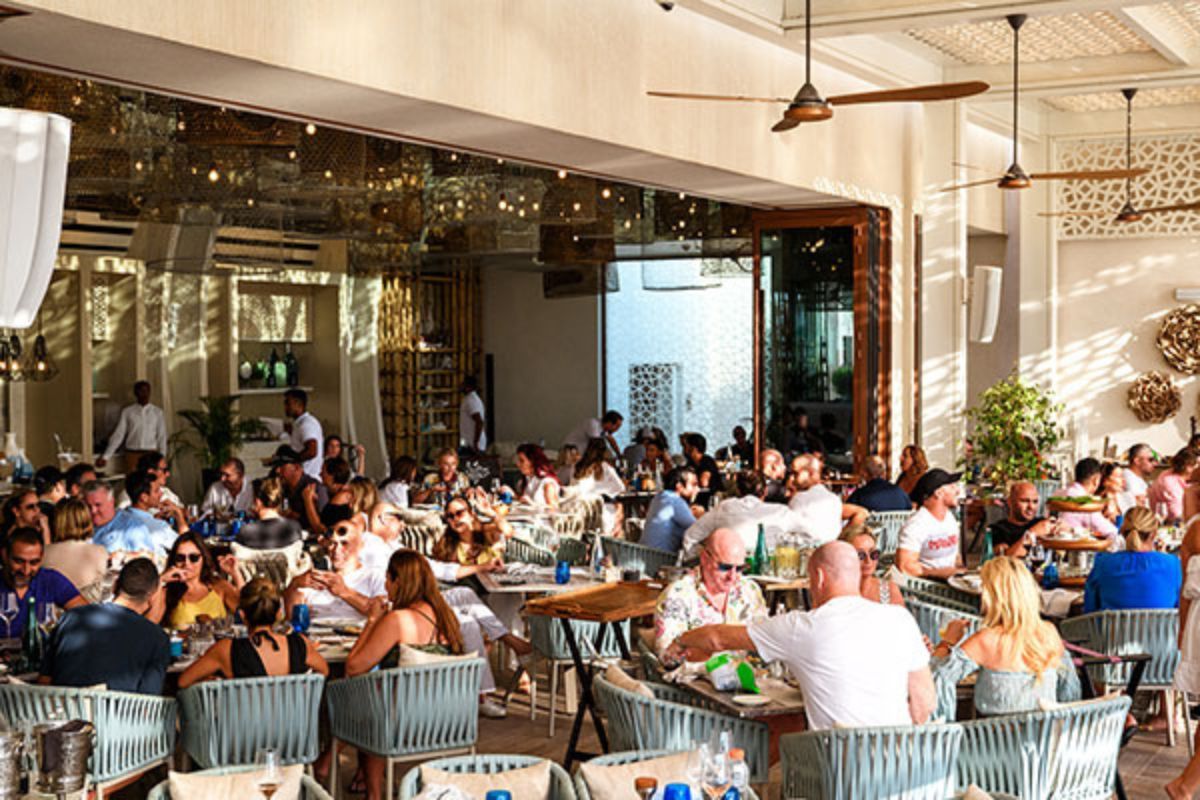 Did someone mention… luxury? This is for those of us who need a little TLC and pampering.
This private beach club has the best of the best, a 360 infinity pool looking over the beachfront and sun loungers upon request. Whether it's a relaxing evening in the chic urban space or a fun morning at the award-winning destination, Drift provides you with luxurious amenities.
The spot has a lineup of menus, including a breakfast menu, a pool and bar menu, an a la carte menu and a wide collection of some of the best wines and champagnes in town.

Other things to note:
Reserve sun loungers
Host a private event
Private beach cabana
Wheelchair accessible
Vegetarian friendly
Gluten-free options
Parking available
Ladies day

Please note children under 16 are not allowed in the restaurant or beach club. All guests between the ages of 16 - 20 must be accompanied by a parent.

Timings: Pool & Beach: 10 am - 7 pm
Restaurant: Monday - Thursday, 9 am - 8 pm, and Friday - Sunday, 9 am - 9 pm
Location: One&Only Royal Mirage, Dubai
Contact:  +971 4 315 2200
Email: info@driftbeachdubai.com
For more information and reservations, visit Drift beach Club.

5. Cavo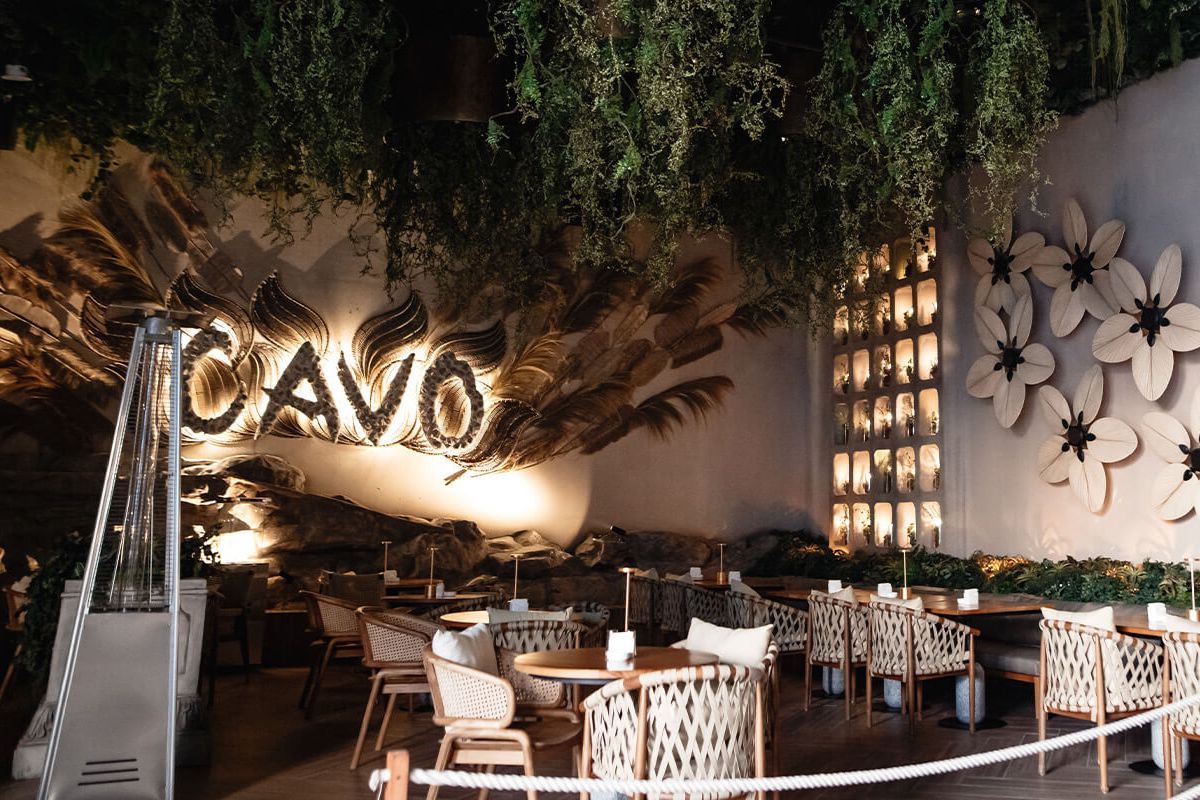 Dim lights and an upbeat atmosphere.
As evident by its name, Cavo houses a cave-like cosy atmosphere, but with a twist. Unlike a cave, the restaurant and bar look out to a stellar view of the tallest building in the world, Burj Khalifa.
Decorated with neon lights and hints of Mexican-inspired interiors, the spot is your go-to spot for a serene evening surrounded by music, drinks, good food and like-minded people. The elegant, luxurious spot has plants draped from the ceiling and decor created with natural materials that give it the look of a cave.
While their vibe is dark and dim, their menu matches your expectations with the comforting classic bar bites—corn on a cob, guac, sashimi, and drinks of your choice.

Other things to note:
Shisha available
Ladies nights
Vegan Options
Valet Parking
Live music
Attend events hosted by Cavo
FIFA World Cup 2022
Now screen the FIFA matches live from the poolside at Cavo and get a free shot for every shot scored. Some of their offers include Buy 1 Get 1 on Shisha, Free flowing bubbles at AED 149 per person and A beer bucket of 4 beers for AED 179.
Terms and conditions apply; for reservations and more, contact +971 55600 5358
Timings: Daily, 12 pm onwards
Location: Ramee Dream Hotel, Dubai, Business Bay
Contact: +971 55 600 5358
For more information and reservations, visit Cavo.
6. Mare by Bussola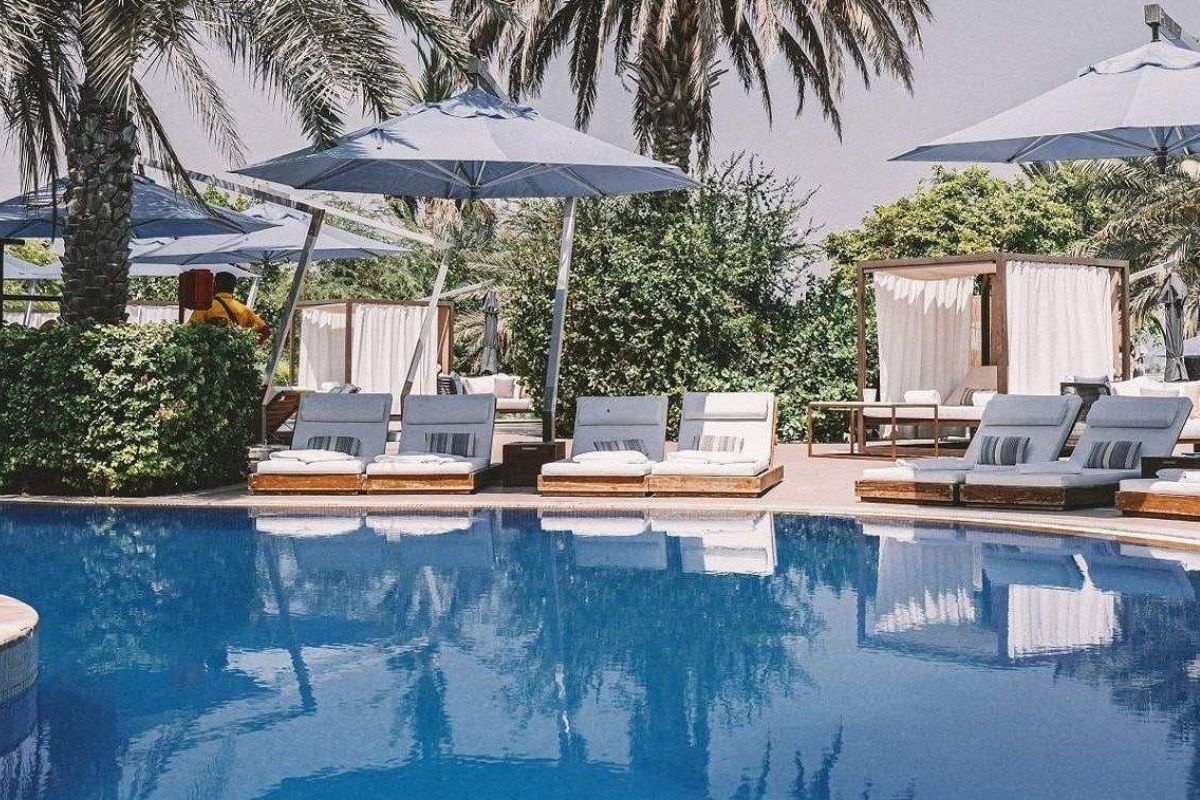 Escape to the Italian seaside on the weekends at Mare by Bussola.
Bringing to Dubai a taste of the Italian Riviera, the lounge gives you the vibes, flavours, and feel of travel without stepping out of Dubai. While a booking is necessary to visit the spot, we definitely know why. Their delectable Italian bites like Maccheroncini Alla Amatriciana and fusion shisha make this a sought-after poolside joint.
Other things to note:
Shisha available
Ladies nights
Vegan Options
Valet Parking
Gluten-free options

Please note Mare has a strict adults-only policy and will only admit ages 16 and above.
Timings: Pool open Daily from 9 am until Sunset
Location: The Westin Dubai Mina Seyahi Beach Resort & Marina, Dubai Marina
Contact: +971 4 511 7373
WhatsApp: +971 56 994 7429
Email: 03034.restaurants@westin.com
For more information and reservations, visit Mare by Bussola.
7. Nikki Beach Dubai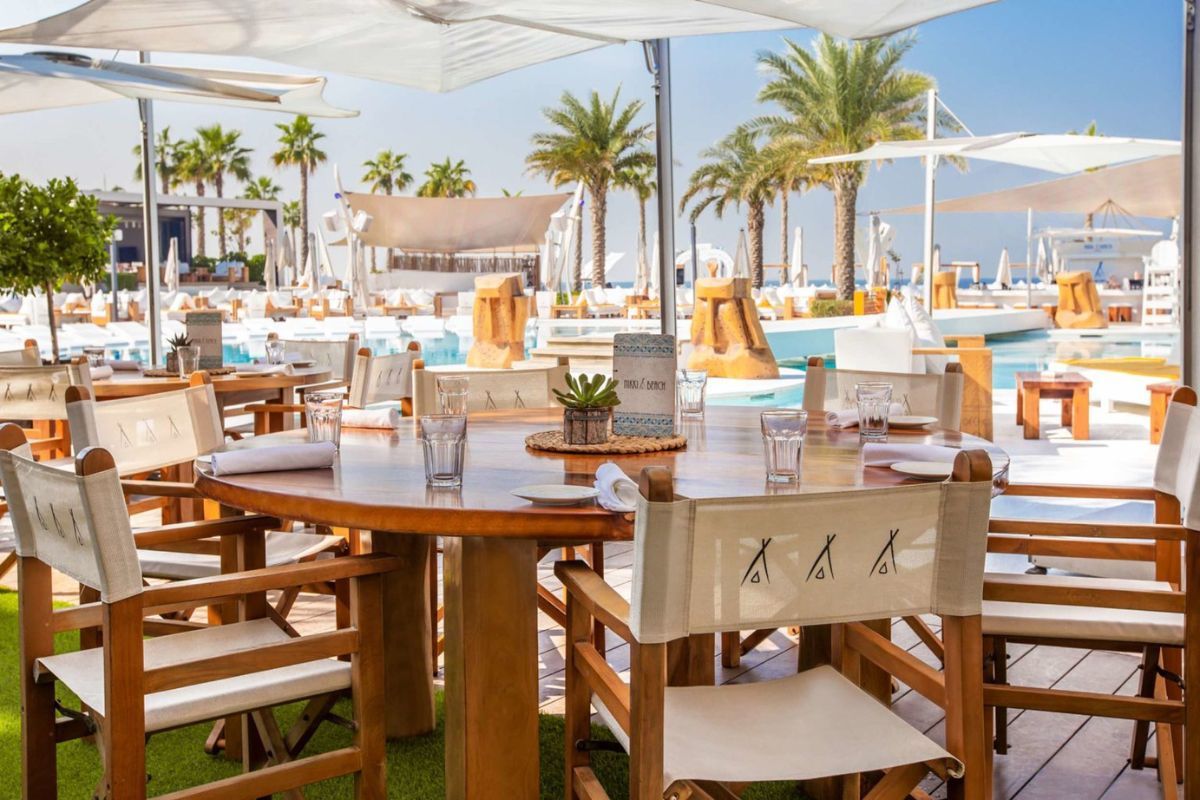 The Arabian Gulf on one side and the Burj Khalifa on the other, it doesn't get more Dubain than this, does it?
Bringing together elements of art and culture, the beach combines all the elements needed for a perfect night out: music, fashion, dining, and entertainment. Soak the Dubai warmth on a sunbed or catch a drink at the swim-up bar, or maybe try out a creative sushi roll; Nikki Beach has it all, literally.
Other things to note:
4-tier shisha terrace available
Enclosed and open cabanas
VIP Cabanas
Vegetarian friendly
Gluten-free options
Timings: Tuesday - Sunday, 11 am - 8 pm
Location: Nikki Beach Dubai, Pearl Jumeirah
Contact:  +971 54 791 0049
Email: reservations.dubai@nikkibeach.com
For more information and reservations, visit Nikki Beach.
8. Azure Beach Club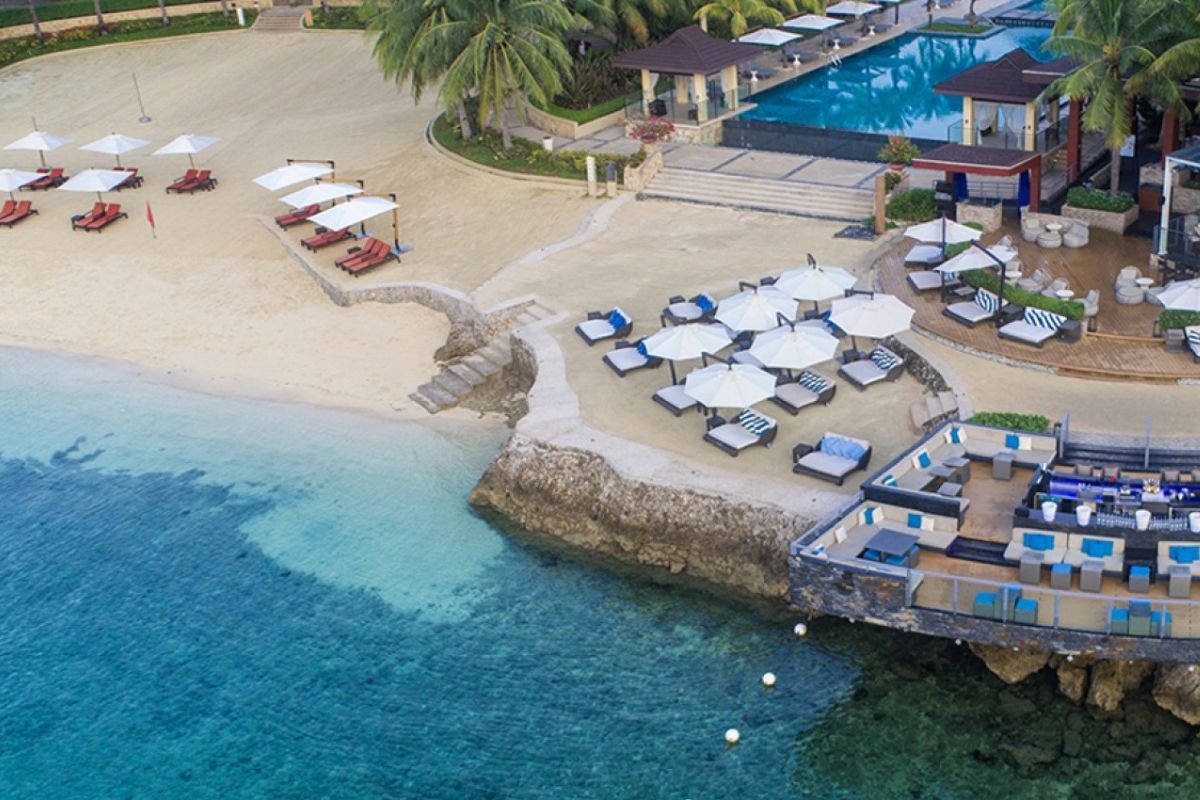 Glittering against the sun, the azure waters of this beach club earn it, it's name.
Awarded the best beach club in UAE for 2021 - 2022, this club aims to offer you 'a slice of paradise.' Whether it's exotic cocktails, Asian fusion cuisine or interesting shisha options, the lounge doesn't believe in making you choose, but instead giving you the best of all the worlds.  
Other things to note:
Shisha available
Ladies day
Private pool cabanas
Host private events
Vegan and vegetarian friendly
Gluten-free options
Timings: Pool & Beach Access: 10 am – 7 pm and Azure Lounge: 8 am-10 pm
Location: Rixos Premium Dubai, JBR, UAE
Contact:  +971 4 342 1924
Email: info@azure-beach.com
For more information and reservations, visit Azure Beach Club.
9.  The Bulgari Resort Beach Club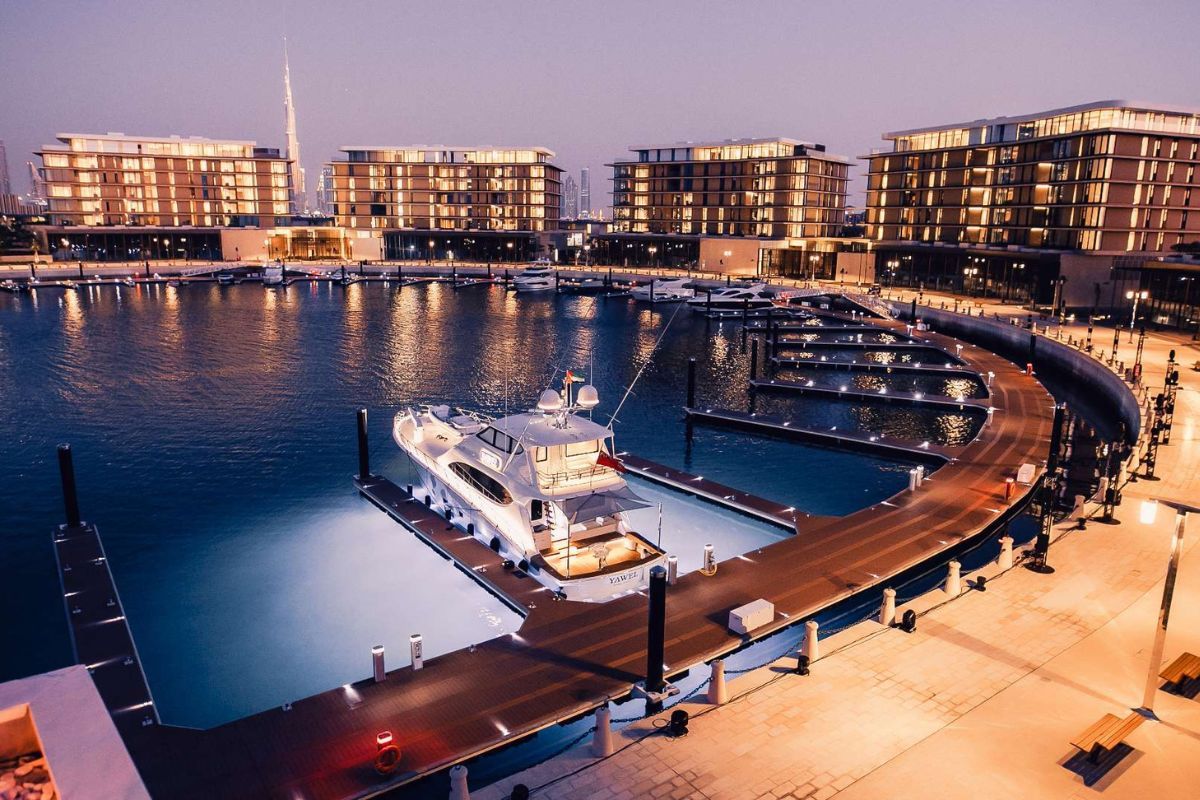 Head out to an artificial island, Daria Island, just off the coast of Dubai.
Options for kids and Adults alike, this club has over 14 private cabanas, a children's pool, a children's club and an outdoor pool. Oh, and let's not forget the bar and La Spiaggia restaurant.
Complimentary parking is available.
Location: Jumeira Bay Island, Jumeira 2, Dubai, UAE
Contact: +971 4 7775555
Email: dubai@bulgarihotels.com
For more information and reservations, visit Bulgari Hotel and Resorts.
10. Lime Pool Bar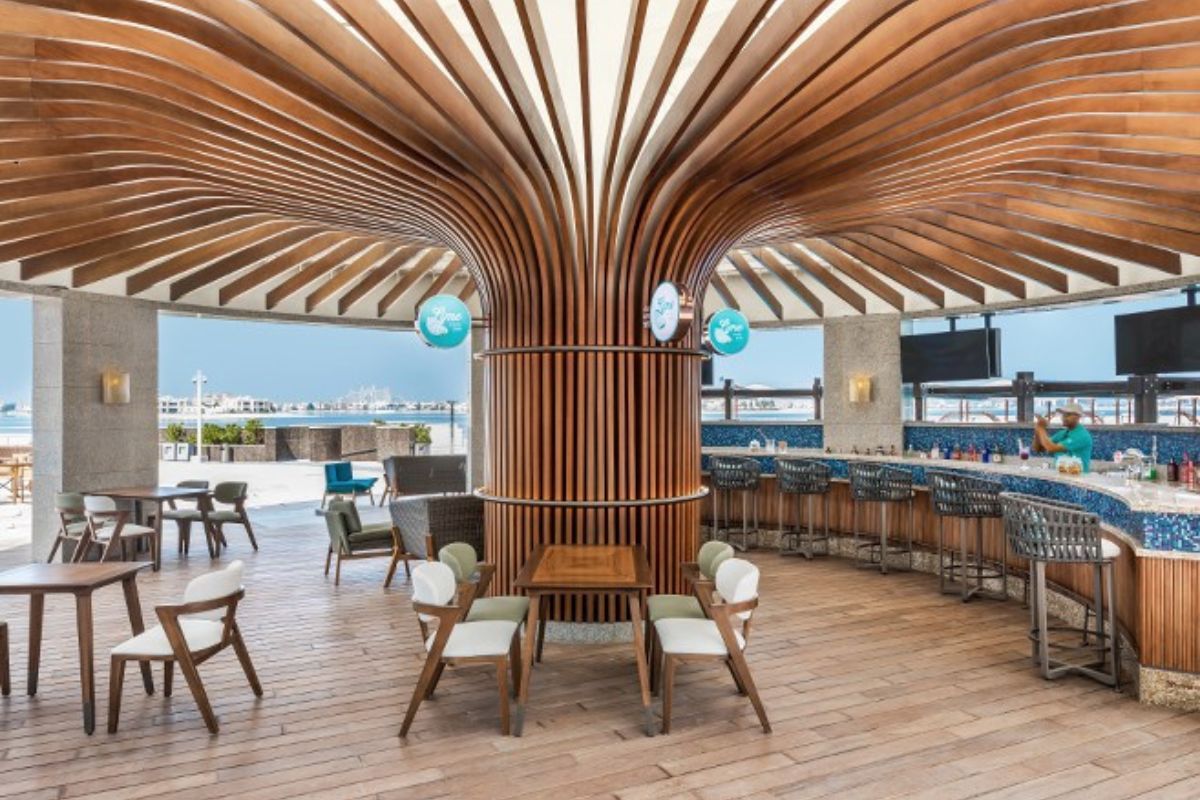 Never stand in line again with two bars at one location.
Featuring a kid's pool and play area, the pool bar has plenty for all ages. Their menu, too, includes delectable desserts that the younger and older crowds will both enjoy. Their international menu list has all your faves like Shawarma, Sushi, Sashimi, Jalapeno Poppers, and more.
Timings: Daily, 10 am - 7 pm
Location: East Crescent Road, Palm Jumeirah, Dubai, United Arab Emirates
Contact:   +971-4-275-4444
Email: reservations@ihcltata.com
For more information and reservations, visit Lime Pool Bar
Also read