If unforgettable were a place, you know it would be Brass Monkey.
With riveting activities, a retro atmosphere and truly mouthwatering dishes, this joint checks off all the points on the list of a perfect night out.
Located at Bluewaters Island, the restaurant was established in 2020 and has been the buzz of the town ever since.
Bluewaters Island
Adding another achievement to the extensive portfolio of wonders in Dubai, Bluewaters Island Dubai is one of the many artificial islands in the United Arab Emirates. Running a stretch of 400 metres, the island is a chic lifestyle destination for those looking to live in the prime spot in the city surrounded by all the best retail, entertainment, hospitality and residential options.
Housing the world's largest observation Ferris wheel, Ain Dubai, the Island is a must-see spot for tourists in town. Aside from the famous Ferris wheel that dons the skyline, Bluewaters Island is also home to a range of shopping spots, entertainment spots, and some of the most beautiful coastlines and seashores in the region.
Learn more about The magnificent Ferris wheel in Dubai
Frequented spots near Bluewaters Island

Restaurants
Mitts & Trays
The London Project
Brass Monkey
Shopping
Hard Rock - Rock Shop
Arabia To Go
Beyond the Beach Ocean
Experiences
Ain Dubai
Madame Tussauds Museum
Cove Beach
Resorts/Hotels
Caesars Palace
Address Beach Resort
Sheraton Jumeirah Beach Resort
Bluewaters Island Details:
Contact: 800-738245 (800 RETAIL)
Email: customercare@dubairetail.ae
Timings
Monday to Thursday
Retailers: 10:00 AM – 11:00 PM
F&B: 10:00 AM – 12:00 AM
Friday to Sunday
Retail 10:00 AM – 12:00 AM
F&B 10:00 AM – 12:00 AM
Bluewaters Island map and store locator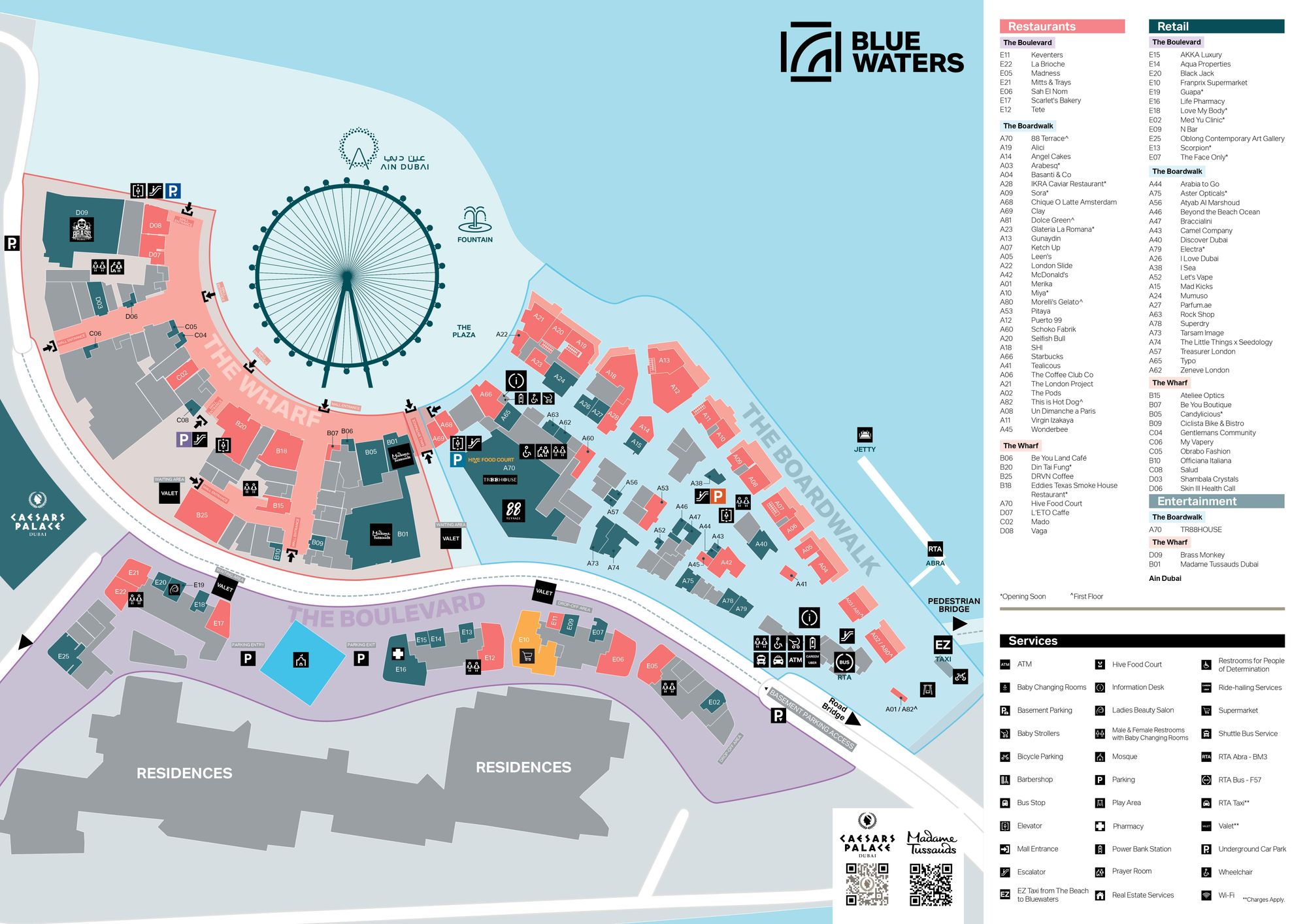 For more information, visit bluewatersdubai.ae
Location

Brass Monkey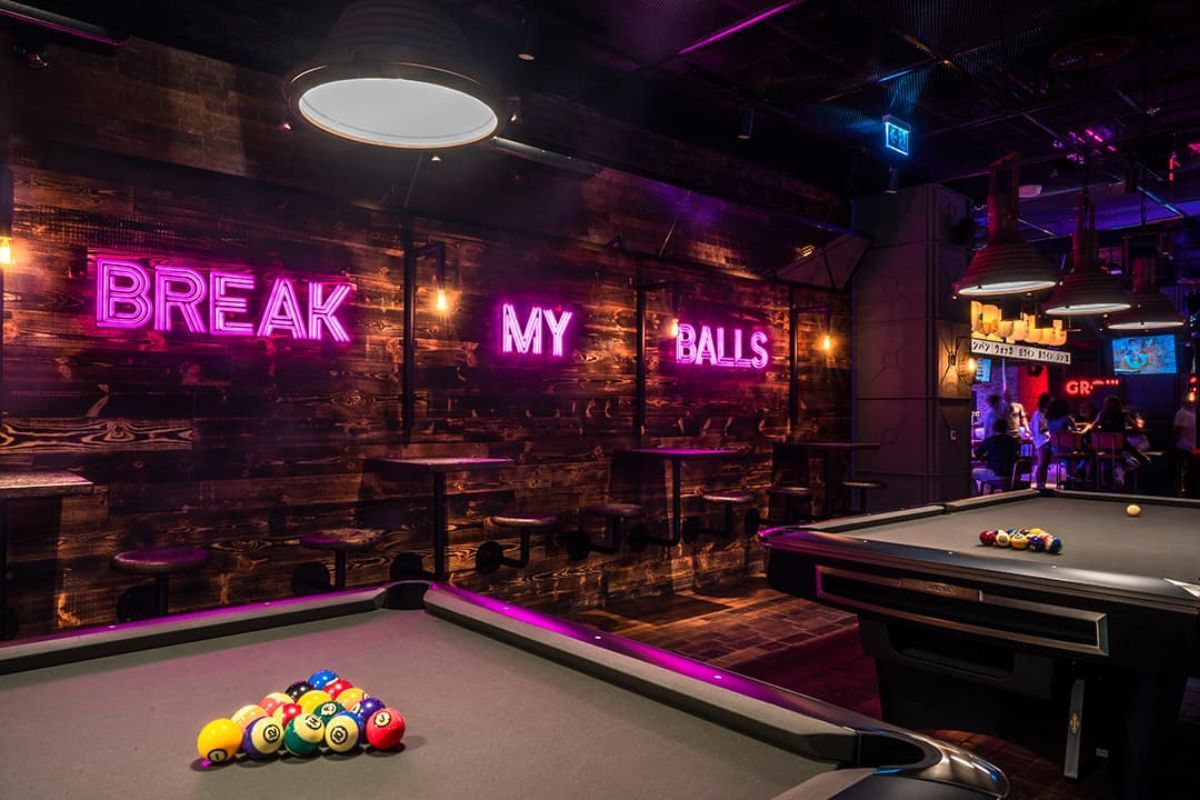 Now that we know all about the resting place of the chic spot, Brass Monkey, let's get into the details of all the snazzy experiences the spot gives visitors a chance to try their hand at.
Before we get into the specifics, it's important to note that Brass Monkey is a strictly adult joint and only those ages 21 and above are allowed on the premises after presenting valid identification.
Visit the link below to reserve a table at Brass Monkey:
What is Brass Monkey
A dining space, a drinking space, an entertainment space and more, Brass Monkey is a dynamic experience for all your senses. Branding itself with the phrase "Grow young again", the joint is a spot for "Big Kids."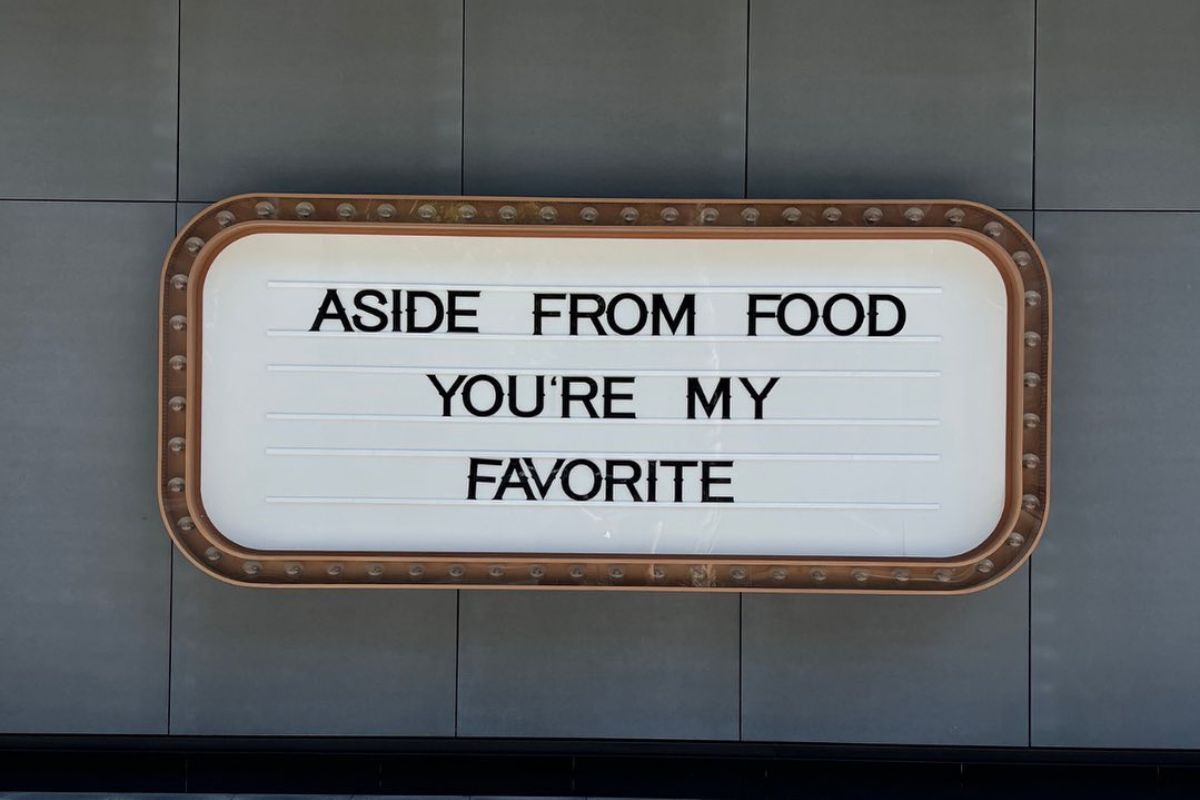 Transporting visitors back to simpler times, the joint has all the childhood classics of those ages 21 and above. Take a sip, sit back and forget all about adulthood and responsibilities this weekend.
What can you do at Brass Monkey?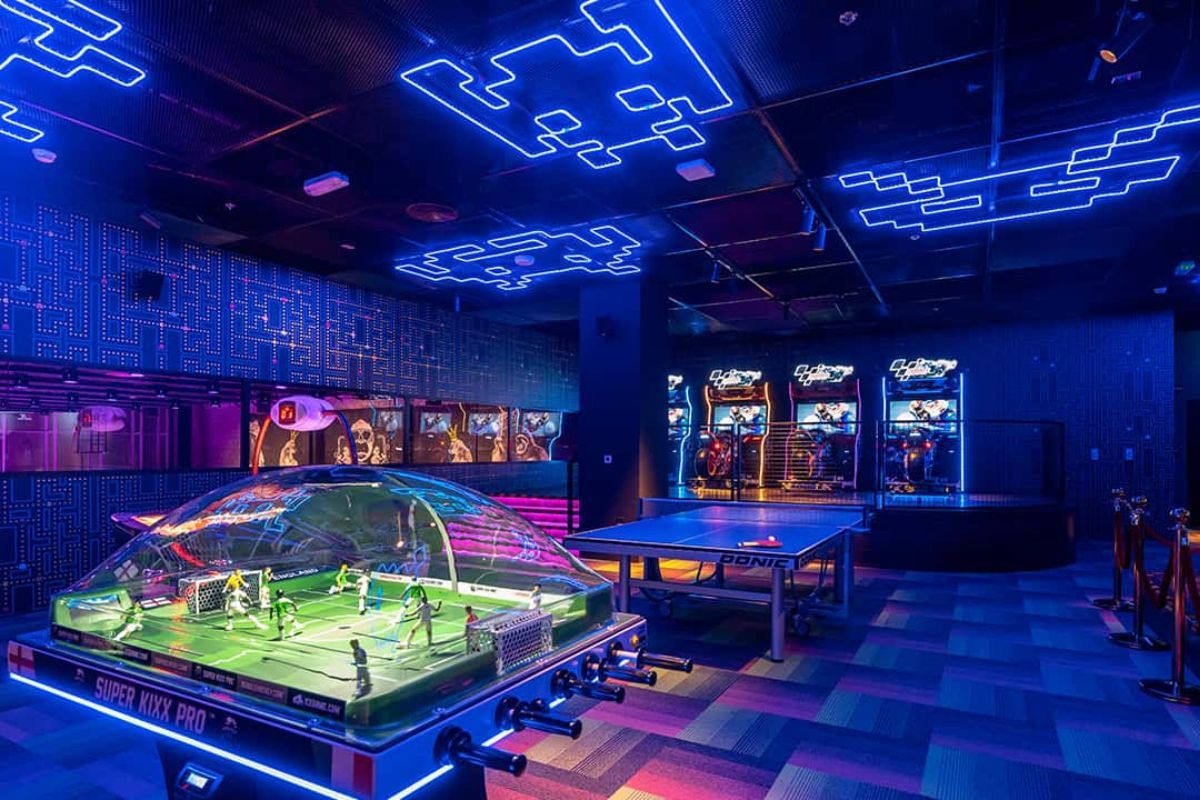 Play
If you're looking for the old and the new, loved by many or loved by few, Brass Monkey has it all for the perfect game night. From some of the classics, like arcades and bowling alleys, to some of the newer developments in technology, such as VR racing, you won't see a bored soul in sight.
Prices for play pass cards start at AED 100. P.s. the credit doesn't expire so feel free to come back later to enjoy another night out.  
Shoot through some hoops, defend against the space invaders, and play the classic PAC MAN. The retro arcade games here will have you re-living your childhood all over again.
There's not a lot that's better than bowling on a Thursday night with your best mates. Reserve your tables now and get access to their bowling alley.  
No hangout is complete without a game of Billiards. Challenge your mate to a game of billiards and show off your skills; the loser buys dinner!
Why miss out on the thrill of racing when you have virtual reality? Step into the driver's seat and zoom past your worries and troubles this weekend.
Dine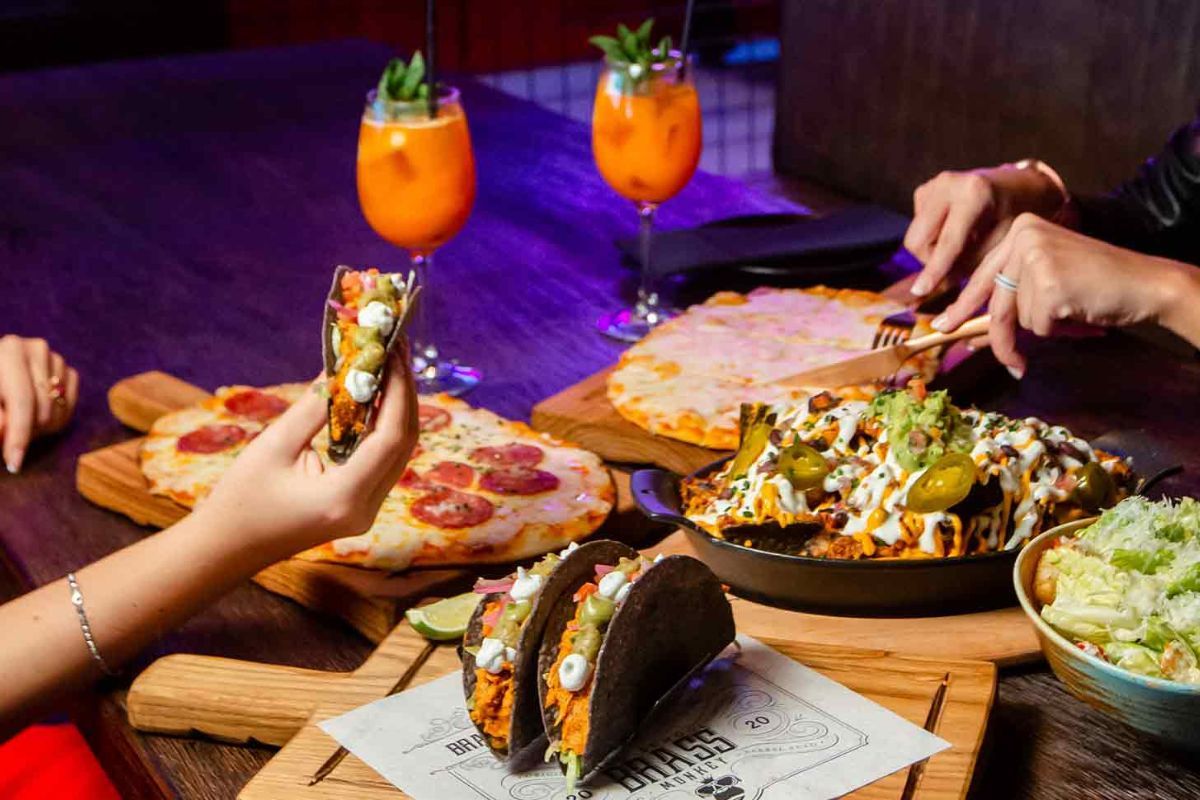 Grab lunch, brunch, or maybe just a munch! Starters, snacks, sliders, desserts and more- they have it all!
Starters: Step outside the region and grab yourself a mouth-watering BM Korean Corn Dog priced at AED 45, or perhaps get a classic case of Chips and Salsa for AED 30; the joint has some classic finger foods and vegan and gluten-free options too!
Chicken Wings: Is a game night complete without chicken wings? We think not!
Choose from the options of BBQ Chicken Wings or Gochujang (a type of Korean chilli paste) Chicken Wings, served with some healthy greens like celery and a side of tarty Blue Cheese Sauce, both dishes (with seven wings) priced at AED 55.  
Quesadillas: If a burst of flavour through their heavenly chicken wings is not your first choice of finger food, worry not cause the joint has some melt-in-the-mouth cheesy quesadillas to suit your liking.
Smoked Brisket Quesadilla at AED 70, Chicken Quesadilla, at AED 65 or Mixed Cheese Quesadilla at AED 65, whether you're a fan of meat or not, they've got heartily stuffed quesadillas for everyone served with a side of creamy Guacamole and Sour Cream to tingle your taste buds.
Tacos: You know what they say, a taco a day keeps the tiredness away! Okay, admittedly, no one says that but have you met someone who didn't jump up with joy after a taco?  The retro joint has a delectable range of taco options that aren't as easy to come across and will definitely keep your tiredness away.
Plated with three tacos per serving with a side of crunchy House Pickled Slaw, rich Guacamole, and just the right amount of Sour Cream, their taco menu offers Smoked Brisket Tacos at AED 70, Roasted Pulled Chicken Tacos at AED 60, Shrimp Tacos at AED 65 and Portobello Tacos at AED 70.
Nachos: Nothing goes better with a party or drinks than Nachos. Trust us.
Offering options between three types of Nachos, each that sounds more mouth-watering than the previous one, Brass Monkey serves a hearty amount of Nachos that will leave you wanting more.
From basics like the Classic Loaded Nachos at AED 70 to BBQ Smoked Brisket Nachos at AED 85 and Roasted Pulled Chicken Nachos at AED 75.
Sliders, Pizza, and Rolls: Skip the finger food and hop straight to the main course. You'll be truly spoilt for choice with the choices on their menu.
From beef Brass Monkey Classic Slider priced at AED 105, to seafood Warm Shrimp Rolls at AED 75, and even vegan options such as a Vegan Wild Mushroom Pizza at AED 80, you won't have to settle for a salad at this joint.
Salads: Speaking of salads, the join has its fair share of those too, and not just any boring salads, some of the crunchiest and most flavourful for you to enjoy, with a Classic Caesar Salad priced at AED 45, to a Cobb Salad at AED 60 and a Curly Kale and Quinoa Salad at AED 60.
Fries: You didn't think they'd forget the fries, did you? A menu staple, Brass Monkey offers you options in these too. Talk about taking it to the next level.
Starting off with BM Hand Cut Fries that you can never fo wrong with at AED 35, a fancier version made with Sweet Potato at AED 40, or if you're in the mood for something exquisite, you'll want to try the Truffle Fries with Fresh Parmesan at AED 45. P.s. they're all vegan!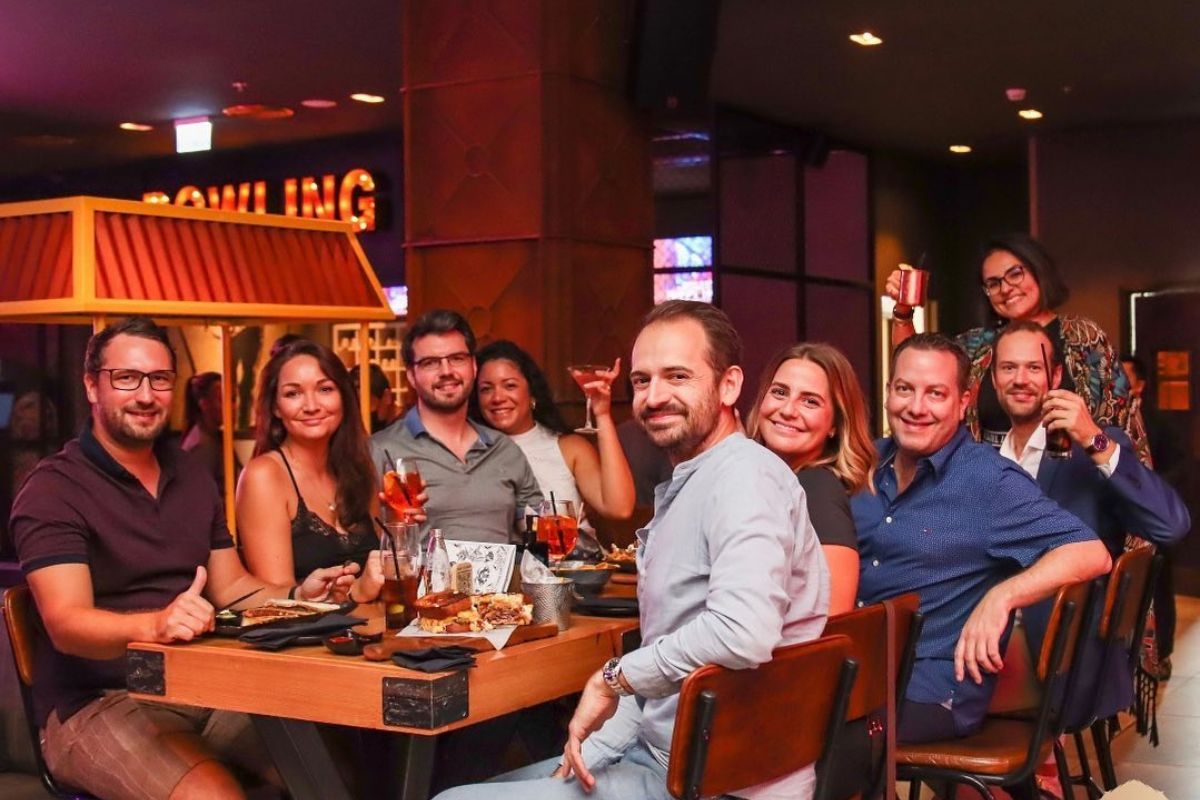 Desserts: All good things must come to an end, and so must meals, but with this menu, you get to choose your happy ending from their choices of sought-after desserts.
Reminding you of home with Grandma's Apple Pie priced at AED 45, or a warm gooey Chocolate Brownie at AED 50, or perhaps an OG like a Caramel Cheesecake at AED 45, this story will come to a sweet end.
Sauces are the soul of the food, and Brass Monkey offers you a range of House Sauces to add on to your meal at a price of just AED 10.
The sauces served include Sriracha Lime Aioli Sauce, Ranch Sauce, Blue Cheese Sauce, Buffalo Sauce, BBQ Sauce, Honey Mustard Sauce, and Spicy Mexican Sauce.
For a full list of all their dishes, view their menu here.
Beverages: their extensive range of drinks is best sampled yourself but includes alcoholic drinks and non-alcoholic drinks alike.
Cocktails, Whisky, Gin, Vodka, Tequila, Rum, Sake, Beer, Champagne, Sparkling wine, the list of their alcoholic drinks go on. Their non-alcoholic drinks, on the other hand, include multiple types of Coffees, Teas, Juices, Soft Drinks and Virgin cocktails.
For a full list of beverages, view their drinks menu here.
Party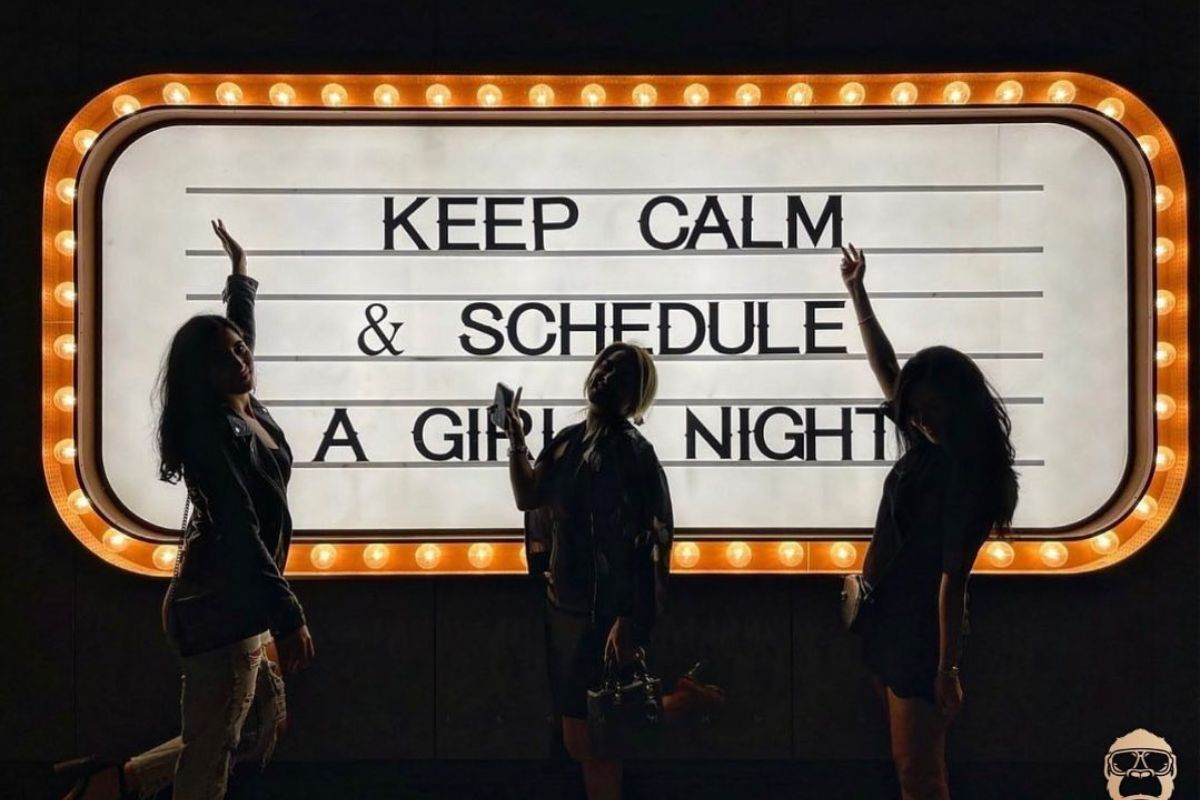 While every day of the week is the perfect day to visit Brass Monkey, some days might be just a tad snazzier. Here are some partying opportunities the join has for its guests.
Happy Hour
Every Monday, Tuesday, and Wednesday from 4 PM - 7 PM and every Sunday from 12 PM - 7 PM, selected drinks are served at AED 25 each.
Thirsty Thursday
Every Thursday from 4 PM - 7 PM, Selected two food items coupled with a choice bucket of 5 Beers is priced at AED 179.
Taco Tuesday
Every Tuesday, get yourself a Taco and Margarita combo at only AED 99.
Brunch
Every Saturday between 1 PM and 4 PM, get your hands on some hearty brunch, live music, 50% off Bowling, and 3 hours of the unlimited arcade experience.
Wing-it Monday
Wipe off the Monday blues every week with six pieces of Chicken Wings with a Birra Moretti Beer Pint priced at AED 99, only on Mondays.  
Ladies Night
Have a night o you and your girls every Wednesday between 7 PM and 1 AM and get selected food and drink packages at only AED 140 each.
Important things to note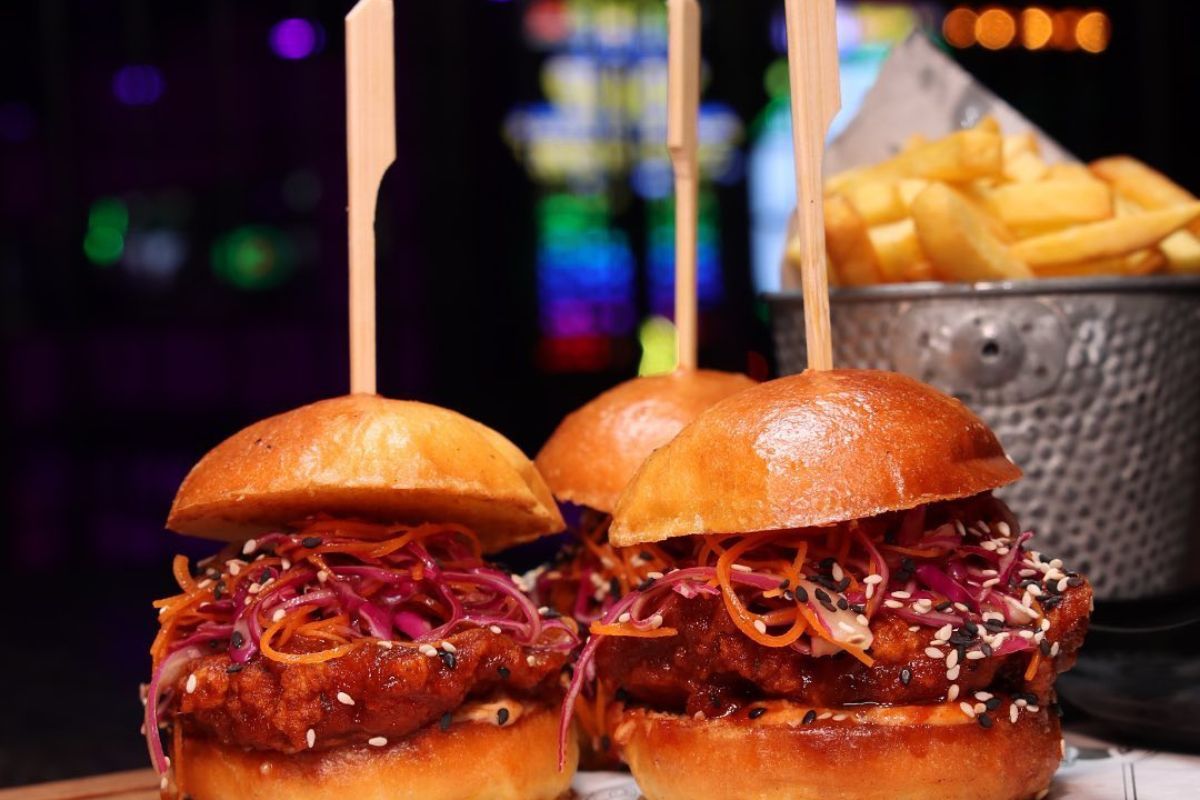 Only ages 21 and above are allowed at the venue.
Carry a valid proof of identification to be permitted onto the premises.
Smoking and E-cigarettes are permitted in designated areas only, and Vaping is strictly not allowed.
Face masks must be worn at all times.
Admission onto the premises is at the discretion of Brass Monkey Management.
Wearing swimwear or beachwear is strictly not allowed at the joint.
Brass Monkey is not obligated to hold a table beyond 15 minutes if a booking is not confirmed.
Games and bowling alleys are on a first-come-first-serve basis.
Contact, Location, and Details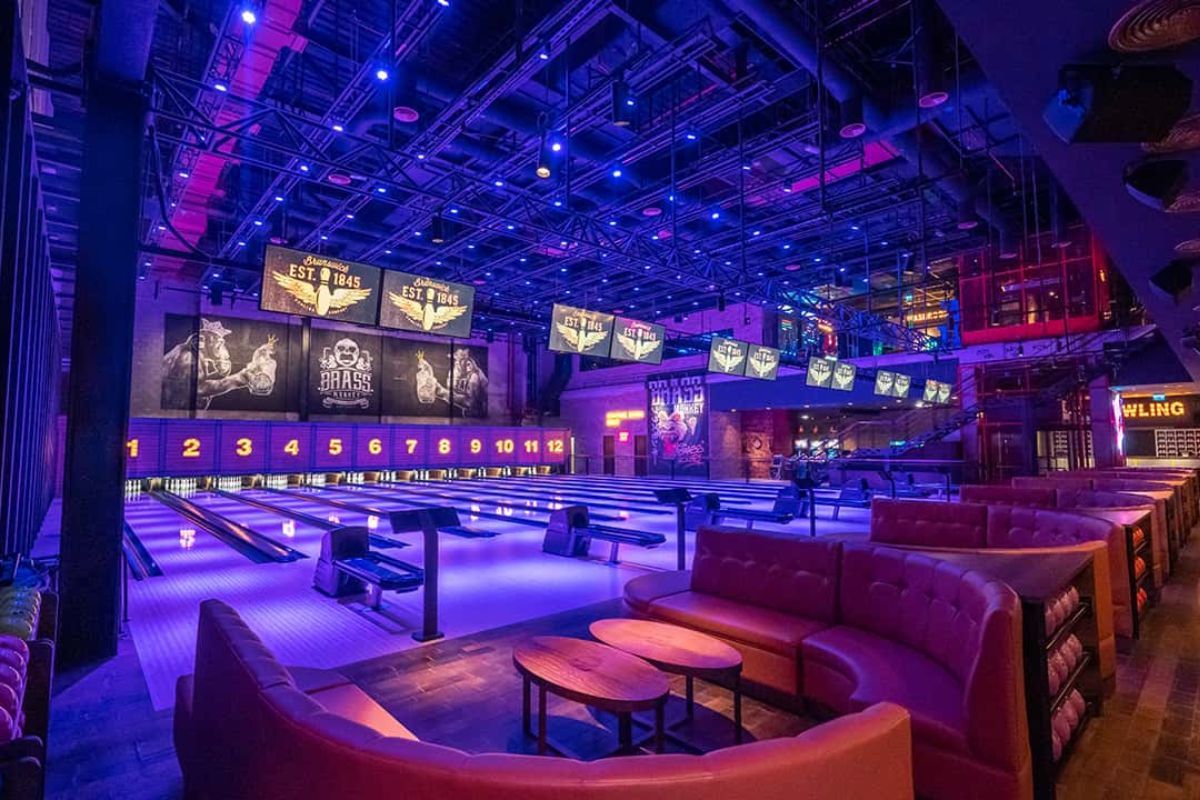 Phone: +971 4 582 7277
WhatsApp: +971 52 775 5317
General email:info@brassmonkeysocial.com
Reservations:reservations@brassmonkeysocial.com
Join the Brass Monkey team:careers@brassmonkeysocial.com
Location:
Brass Monkey Restaurant LLC
Bluewaters Island, The Wharf
P.O. Box 52810, Dubai, U.A.E
Also read