Dubai is a popular tourist destination in the world. The city is famous for its iconic skyscrapers, man-made islands, and vast sand dunes. As a globally popular tourist destination, it has a lot to offer in terms of attractions and experiences that cater to diverse interests. Be a shopaholic or adventure junkie, the city has a lot in store for you including cultural treasures, thrilling adventures, world-class shopping malls, and exquisite dining options.
Dubai is set to host the 2023 United Nations Climate Change Conference or Conference of the Parties of the UNFCCC (COP28). This event is considered to be one of the most important events of 2023 in the UAE. With regard to COP28, several sustainable strategies and initiatives were launched by the government to promote sustainable living and reduce carbon footprints in the region. UAE also aims to achieve a Net Zero Target by 2050.
Dubai Sustainable Tourism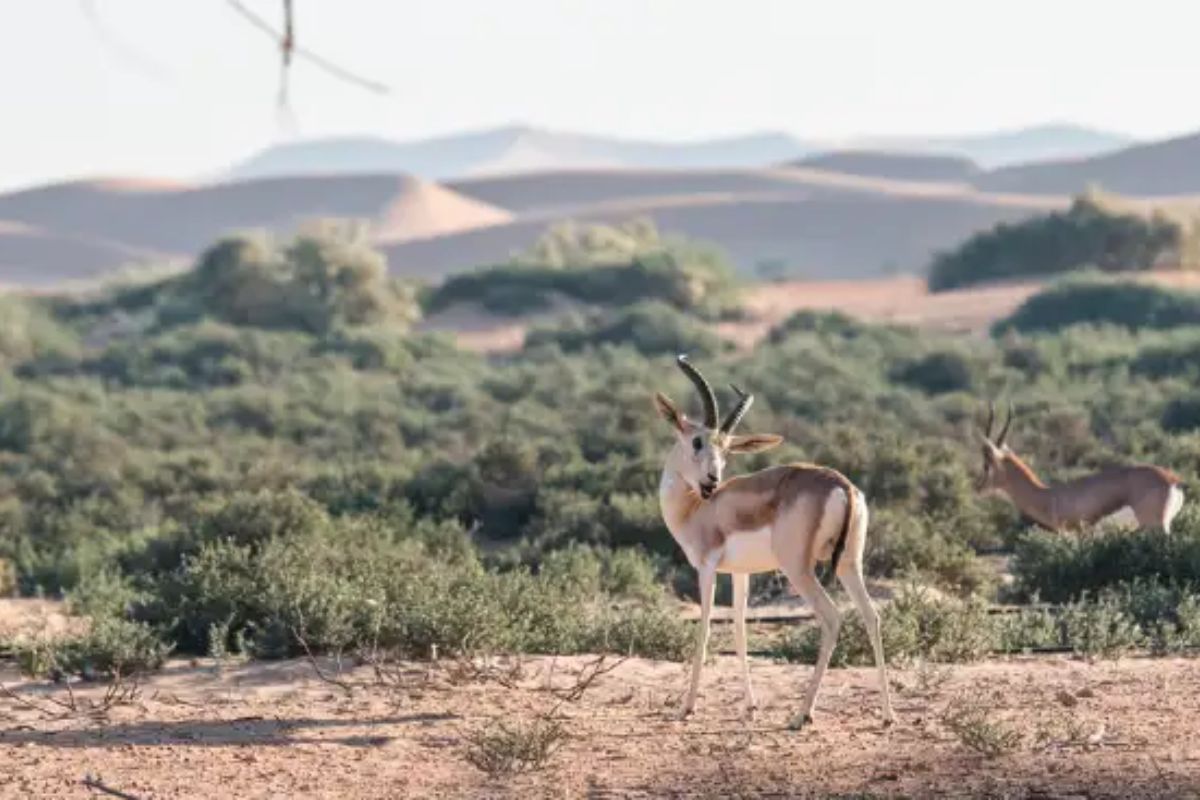 Dubai Sustainable Tourism (DST) is a public-private collaboration with the involvement of civil society. This initiative intends to support Dubai's larger clean energy and sustainable development goals through the integration of sustainability concepts into all facets of the travel and tourism industry. DST brings together all economic stakeholders involved in tourism and hospitality to build on a shared desire to realize the long-term goal of a sustainable economy. The ultimate goal of Dubai Sustainable Tourism is to create a responsible and sustainable tourism industry that will benefit both visitors and local communities for generations to come.
Dubai's sustainable tourism initiative aims to create a balance between tourism growth and environmental conservation, cultural preservation, and community well-being. Various efforts and measures were taken as a part of this initiative aiming at protecting the environment, preserving the cultural heritage, supporting local communities, and promoting responsible travel. As part of environmental conservation, many initiatives were taken to conserve its natural resources which includes promoting renewable energy, reducing carbon emissions, conserving water, and protecting its unique ecosystem. The city has also invested in green infrastructure including sustainable transportation options, green spaces, and eco-friendly accommodations. These initiatives have helped the city to reduce the environmental impact of the tourism industry.
Sustainable Tourist Attractions in Dubai
Dubai has a unique environment with desert lands, beaches, and rocky mountains. As a part of building sustainable tourism, the city has turned much of its land into conservation reserves to protect the natural habitat of the local flora and fauna. Here are some of the popular sustainable tourist attractions in Dubai.
Dubai Desert Conservation Reserve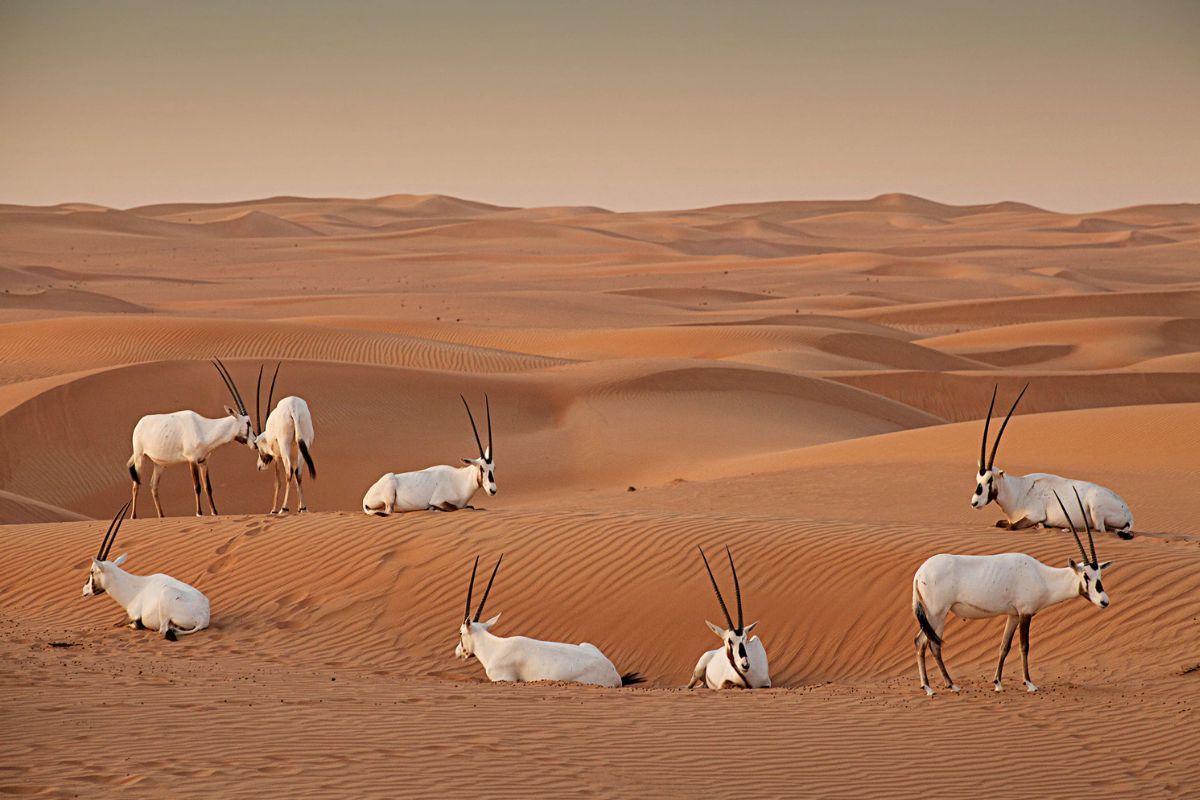 Dubai Desert Conservation Reserve (DDCR) is a nature reserve in the city that spans over 225 square kilometers in area. It makes up about 5 percent of the entire land area of the Emirate of Dubai. It was established on January 9, 2002. DDCR is home to many popular luxury resorts and desert adventures.
You can have a glance at one of the most beautiful sunsets in Dubai at this natural reserve. The DDCR is a protected area and therefore is more about preserving the unique desert ecosystem and the incredible wildlife that calls it home. If you are lucky enough, you can also spot any exotic animals in the desert.
DDCR also offers educational tours where you can discover the fascinating adaptations that enable plants and animals to survive in this extreme environment.
Ras Al Khor Flamingo Sanctuary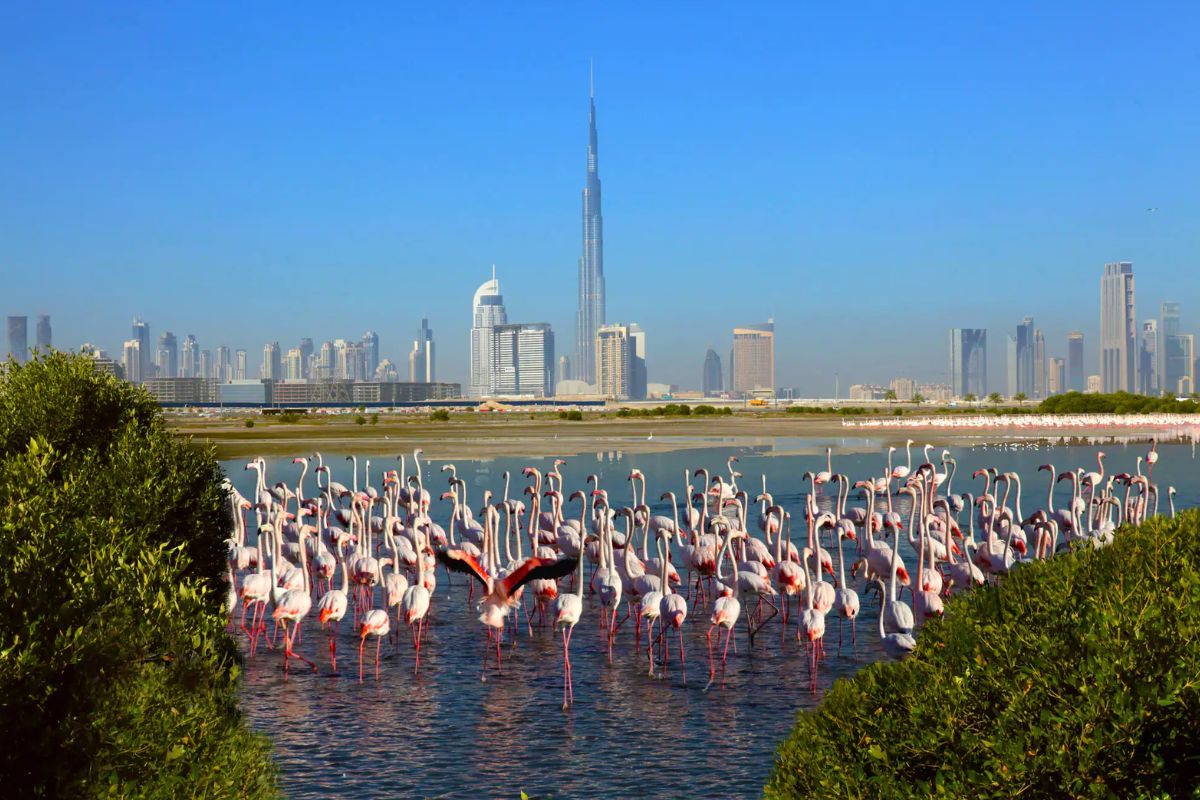 Ras Al Khor Flamingo Sanctuary is home to hundreds of gorgeous pink flamingos. This sanctuary can be termed a 'hidden gem' in Dubai as it is not popularly visited. The sanctuary is located in the wetlands not far from the busy city of Dubai.
The flamingos become the center of attraction in winter whereas fishes, crabs, and animals also use this vast reserve as a breeding ground each year. You can also see other colorful species of birds like grey herons, great egrets, reef herons, cormorants, black-winged stilts, sandpipers, and ospreys. You can stroll along the boardwalks and observation decks that are set up in the sanctuary and get up close to these stunning birds without disturbing them.
The Ras Al Khor Flamingo Sanctuary is also a great spot for photography enthusiasts, as the picturesque backdrop of Dubai's skyline adds a unique touch to your pictures. The entrance is free to this spot.
Dubai Turtle Rehabilitation Centre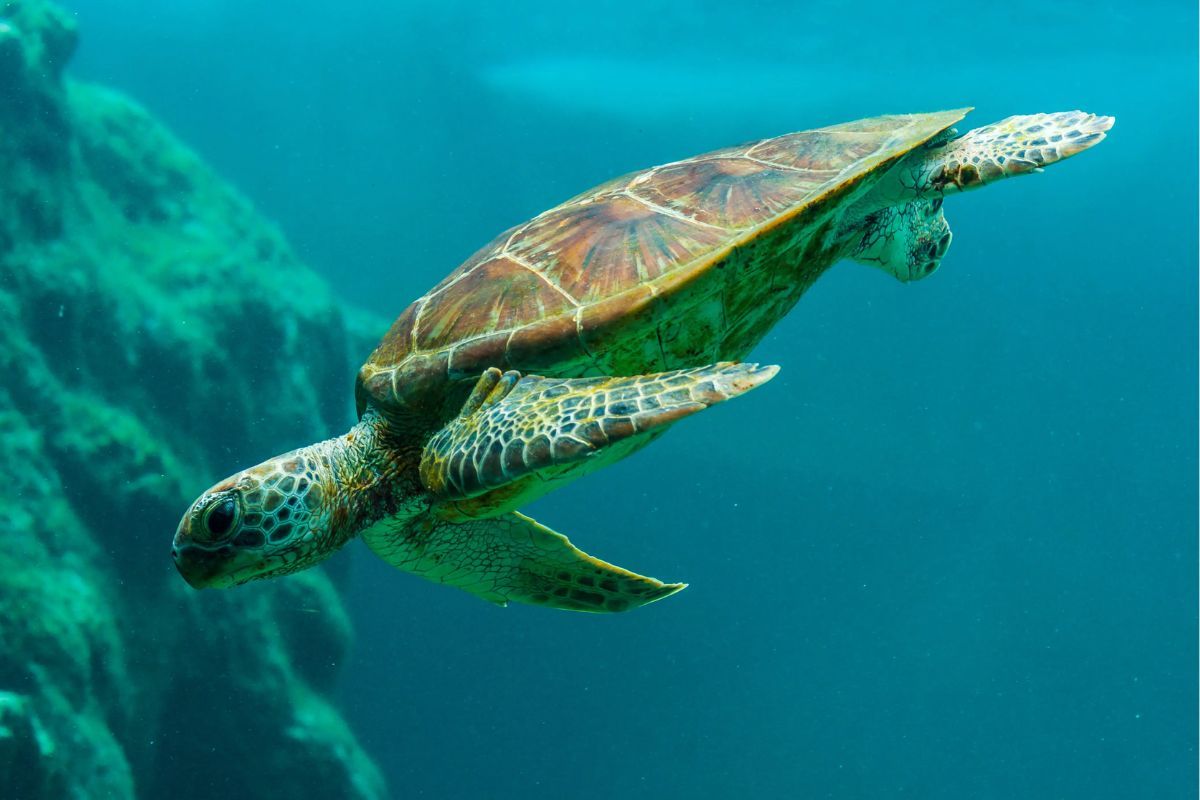 This rehabilitation center is opened as a part of the Dubai Turtle Rehabilitation Project. The project strives to protect, care for, and heal ill and injured turtles while also bringing attention to the dangers these marine creatures face.
This one-of-a-kind project in the region is carried out in cooperation with the Emirates Wildlife Protection Office. Since the beginning of the initiative in 2004, more than 560 turtles have been saved and returned to the water. These returning turtles are often attached with satellite tags to help the project's crew find their former patients and learn more about these threatened species.
You can also visit them during the feeding schedule to enjoy a unique experience. The entrance to this center is free of cost.
Al Marmoom Desert Conservation Reserve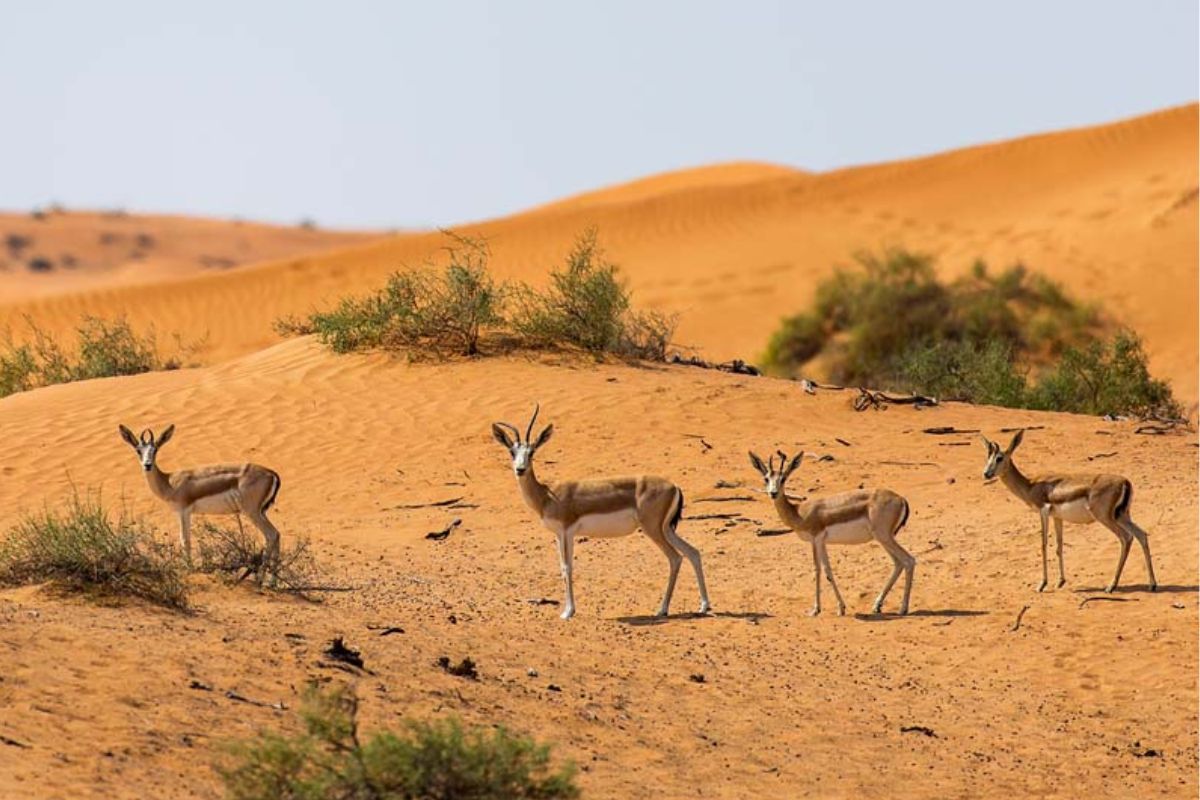 Al Marmoom Reserve project is the largest unfenced natural reserve in the UAE. It covers around 10 percent of the entire area of Dubai. The Mohammed Bin Rashid Solar Park, the largest renewable energy plant in the area, is located in the reserve. Al Marmoom Desert Conservation Reserve is renowned for its remarkable sustainability measures.
Al Marmoom Desert Conservation Reserve is home to a variety of native flora and fauna. It boasts the highest density of big flamingos in the UAE and one of the largest populations of Arabian oryx in Dubai. 158 kinds of migrating birds, 204 species of native birds, reptiles, and many more endangered species have made this conservation reserve their home. This reserve is also home to over 10 square kilometers of lakes including the Al Qudra Lakes. While at the reserve you can also visit the 3,000-year-old Saruq Al Hadid archaeological site which is one of the oldest sites in the nation dating back to the Iron Age.
You can book for Al Marmoom Bedouin Experience to travel across the dunes on a camel caravan, watch a falcon display, indulge in delectable local food, and relive the past through engrossing historical stories and folklore.
Al Qudra Desert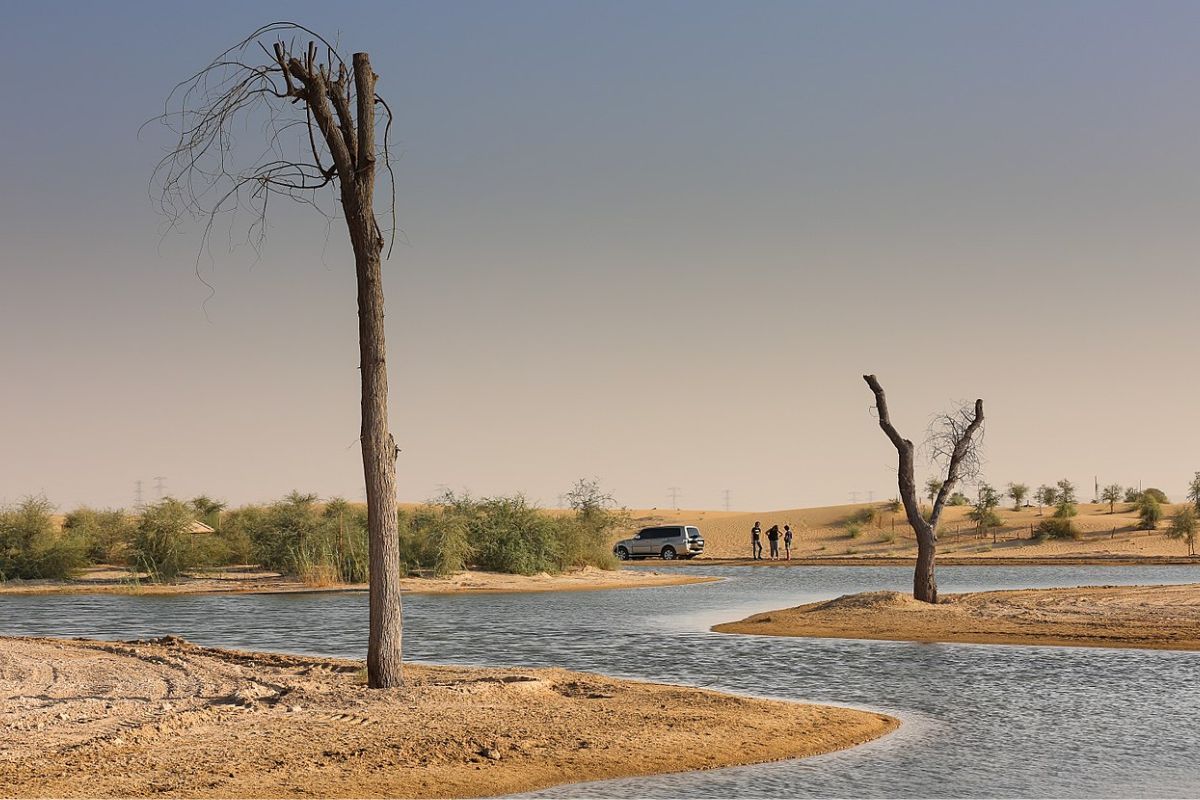 The Al Qudra Desert is a perfect example of how Dubai is combining tourism with sustainability. This vast desert area is situated inside Al Marmoom Desert Conservation Reserve.
At Al Qudra, you can learn about the local ecosystem and conservation efforts. You can also visit the beautiful man-made wetland, Al Qudra Lakes. The oryx, desert foxes, and around 170 bird species that inhabit the area around the lakes can all be found here in their native habitat. Migratory birds often make use of this lake as their habitat. Due to this, the spot has turned into a hotspot for birdwatching and eco-tourism. The campers in Dubai have made this desert their hub during the winters for overnight camping. Many food trucks can be seen at a short distance from this desert.
You can also enjoy a leisurely ride around Al Qudra Cycling Track, which is a network of lakes. While visiting this beautiful desert land, pay a visit to the neighboring tourist attractions like Love Lakes and Expo Lakes.
Also read: